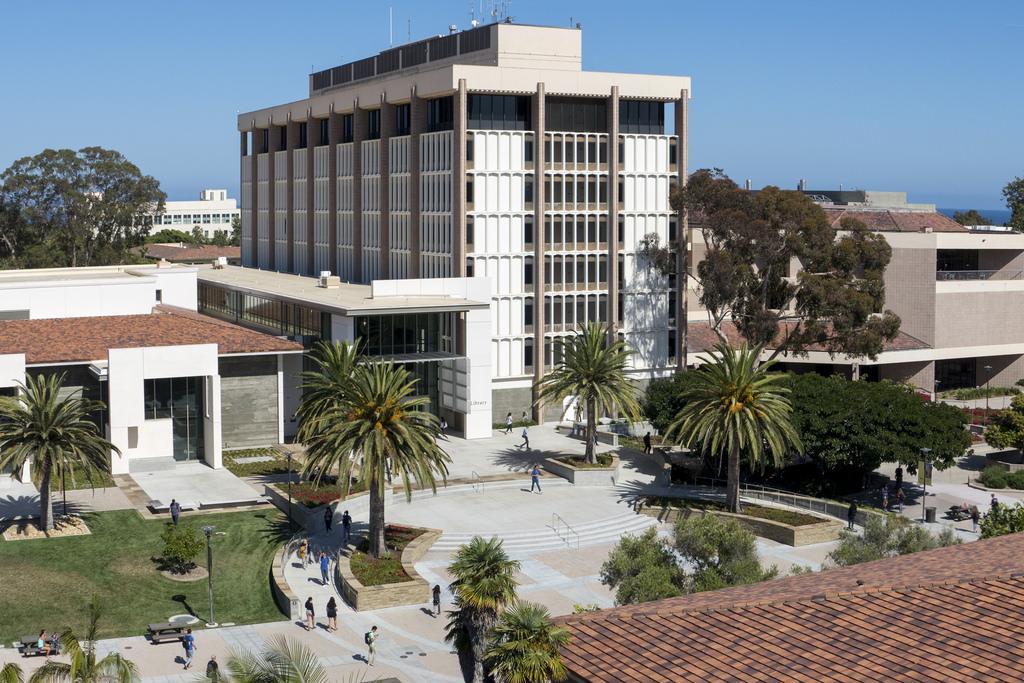 Public colleges where graduates earn over $55K right out of school
Public colleges where graduates earn over $55K right out of school
Despite an improving economy, finding a well-paying job after getting a college degree remains a challenge. The recession decimated the economy in the late 2000s, which led to thousands of companies outsourcing or automating the entry-level jobs that once served to help recent grads start climbing the career ladder. Older, unemployed professionals applied for many of these so-called entry-level positions, resulting in stiff competition within the job pool. Many entry-level positions now require three years experience or more working in-field. Some have turned to unpaid internships to get the experience needed to land their dream job, but many argue that forcing people to work without pay exploits their labor.
Luckily, not all college grads face this struggle. Plenty of state-funded public colleges feature high job placement rates—at a fraction of the cost of private institutions. Stacker used data from the Payscale Salary Survey to determine which public colleges had alumni that earned the most right after they received their diplomas. Payscale surveyed millions of graduates to determine their median salary in the first five years after graduation. Only graduates from four-year bachelor's degree programs are included in these numbers. University location, undergraduate enrollment size and median salary 10 years after graduation are included to give more context about each school and their long-term impact.
From state flagships to military academies, schools of every size on every coast are setting up their graduates to succeed. Click through to see if you recognize any on the list.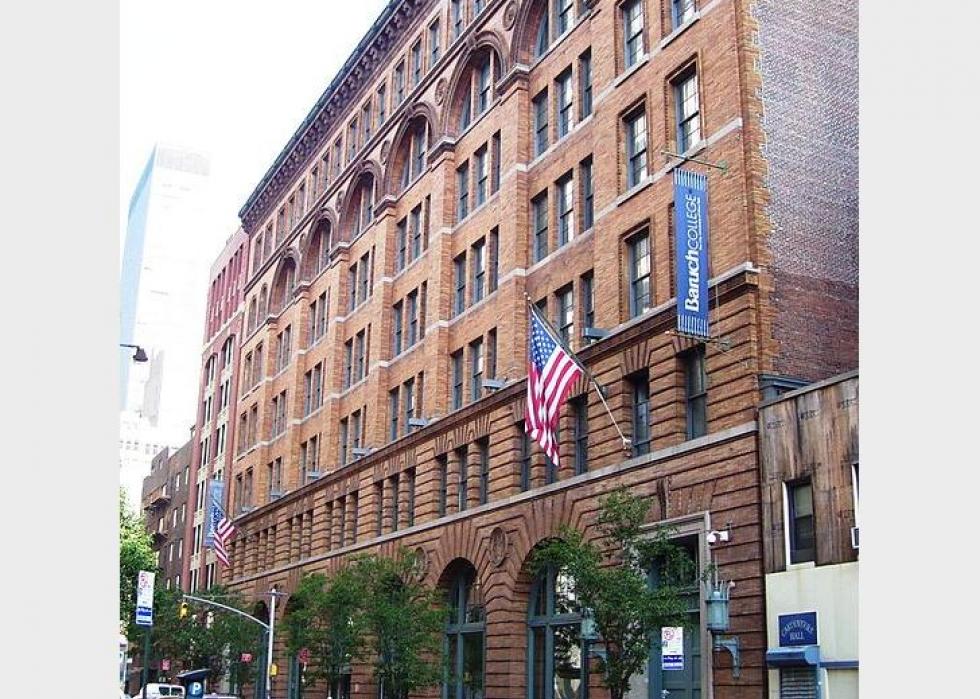 1 / 50
Beyond My Ken // Wikimedia Commons
#50. CUNY Bernard M Baruch College
Median salary for alumni 0–5 years from graduation: $57,100
Median salary for alumni 10+ years from graduation: $107,600
Undergraduate enrollment: 15,210
Location: New York, NY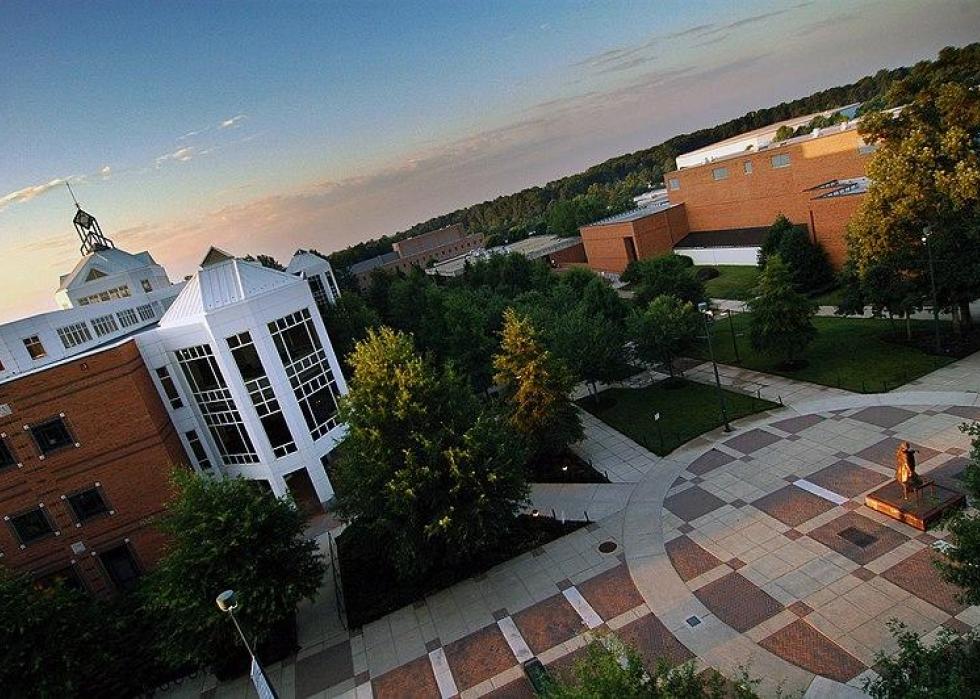 2 / 50
Nicolas Tan // Wikimedia Commons
#49. George Mason University
Median salary for alumni 0–5 years from graduation: $57,200
Median salary for alumni 10+ years from graduation: $106,200
Undergraduate enrollment: 23,817
Location: Fairfax, VA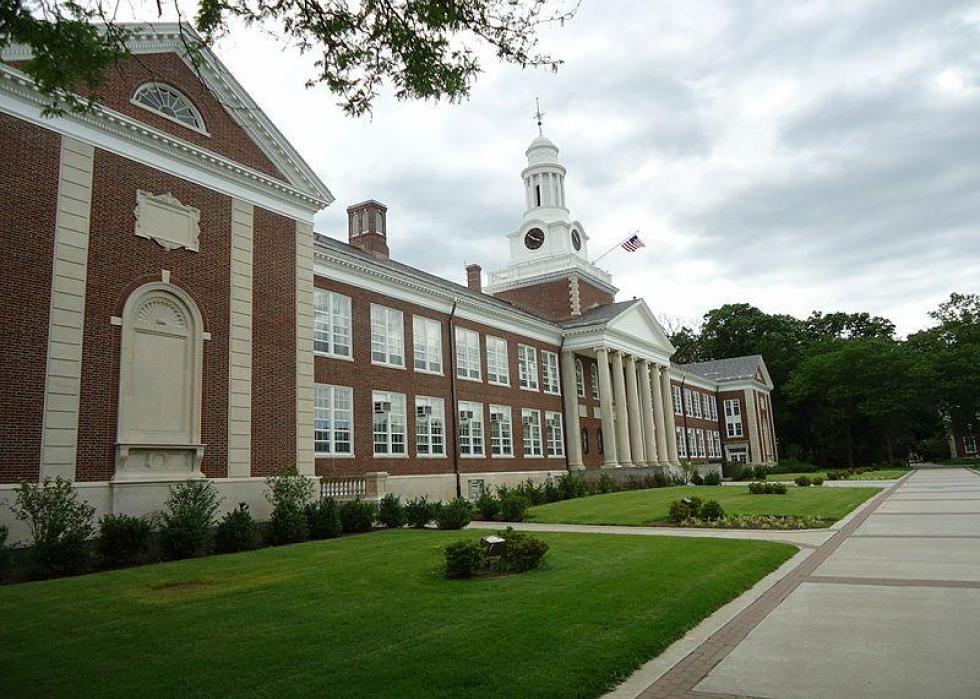 3 / 50
Tomwsulcer // Wikimedia Commons
#48. The College of New Jersey
Median salary for alumni 0–5 years from graduation: $57,200
Median salary for alumni 10+ years from graduation: $101,000
Undergraduate enrollment: 6,787
Location: Ewing, NJ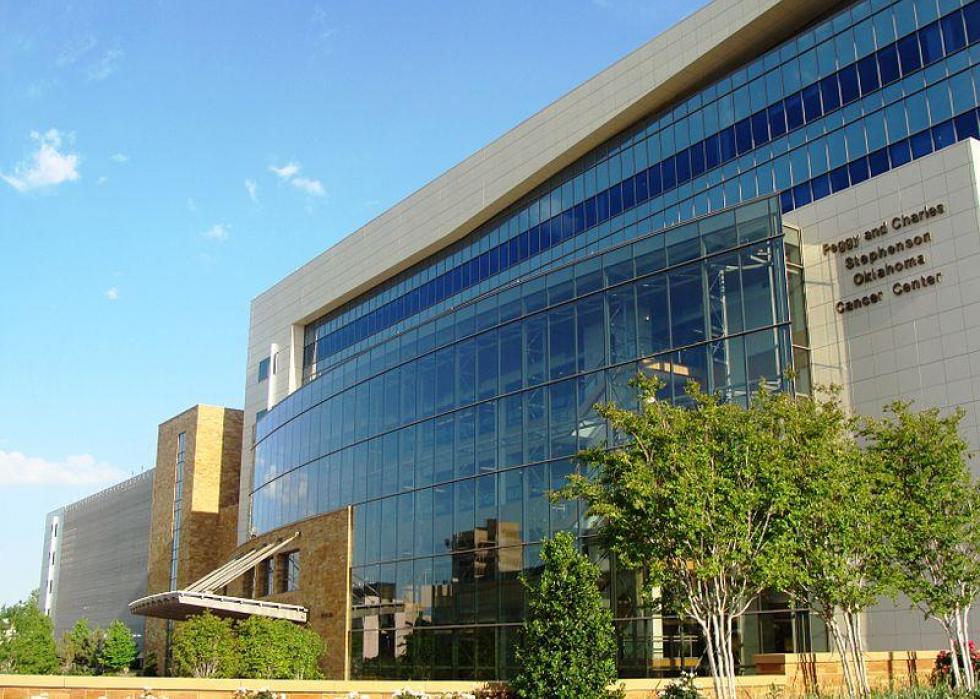 4 / 50
#47. University of Oklahoma-Health Sciences Center
Median salary for alumni 0–5 years from graduation: $57,200
Median salary for alumni 10+ years from graduation: $98,300
Undergraduate enrollment: 774
Location: Oklahoma City, OK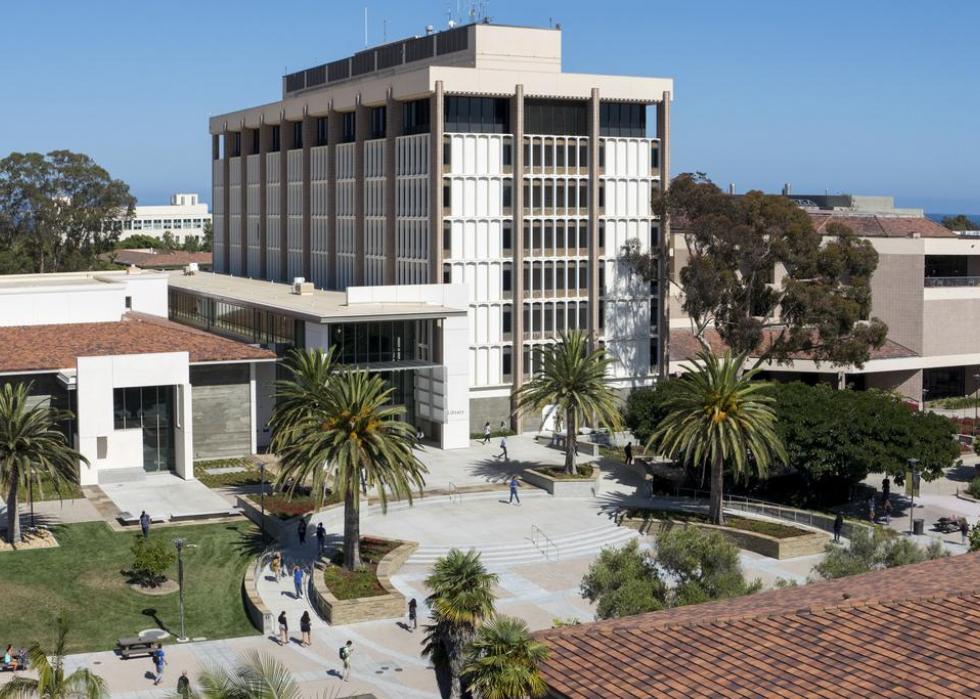 5 / 50
#46. University of California-Santa Barbara
Median salary for alumni 0–5 years from graduation: $57,300
Median salary for alumni 10+ years from graduation: $121,500
Undergraduate enrollment: 21,574
Location: Santa Barbara, CA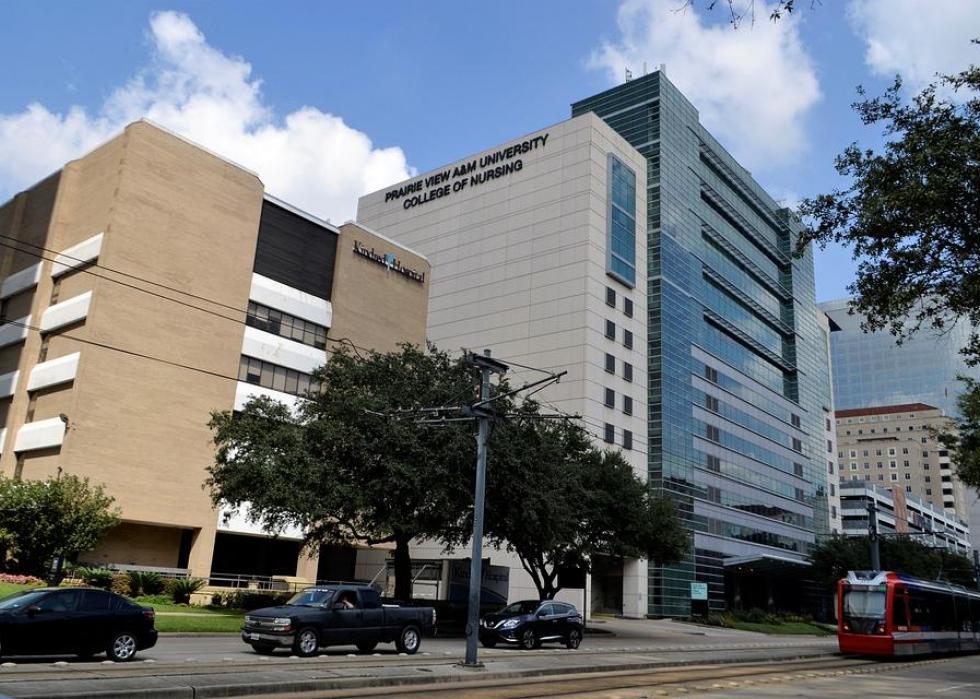 6 / 50
#45. Prairie View A&M University
Median salary for alumni 0–5 years from graduation: $57,300
Median salary for alumni 10+ years from graduation: $94,300
Undergraduate enrollment: 7,417
Location: Prairie View, TX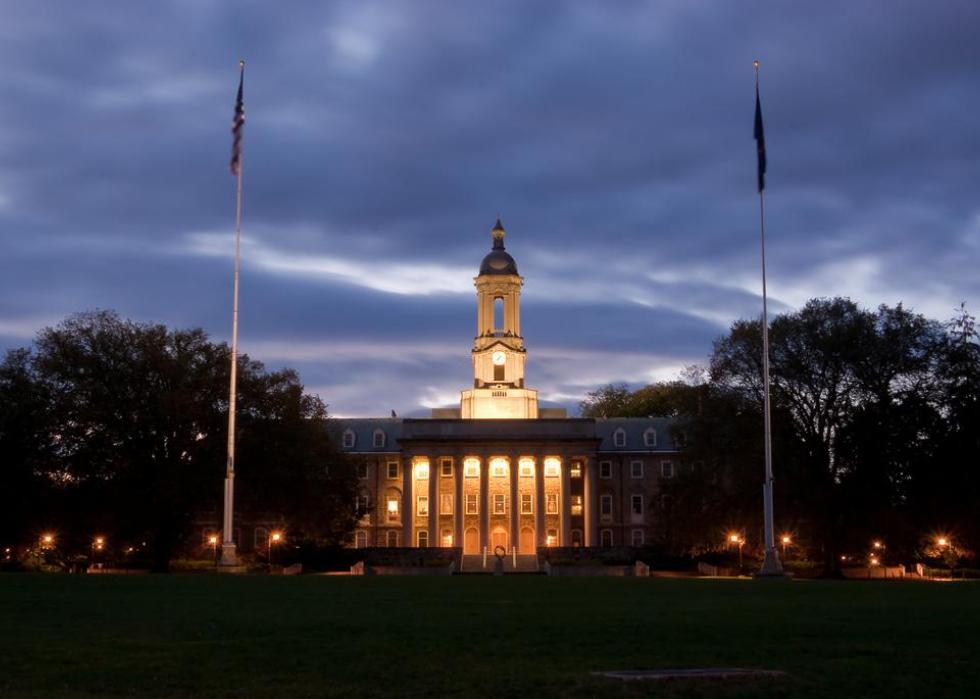 7 / 50
shidairyproduct // Flickr
#44. Pennsylvania State University-Main Campus
Median salary for alumni 0–5 years from graduation: $57,300
Median salary for alumni 10+ years from graduation: $103,100
Undergraduate enrollment: 41,359
Location: University Park, PA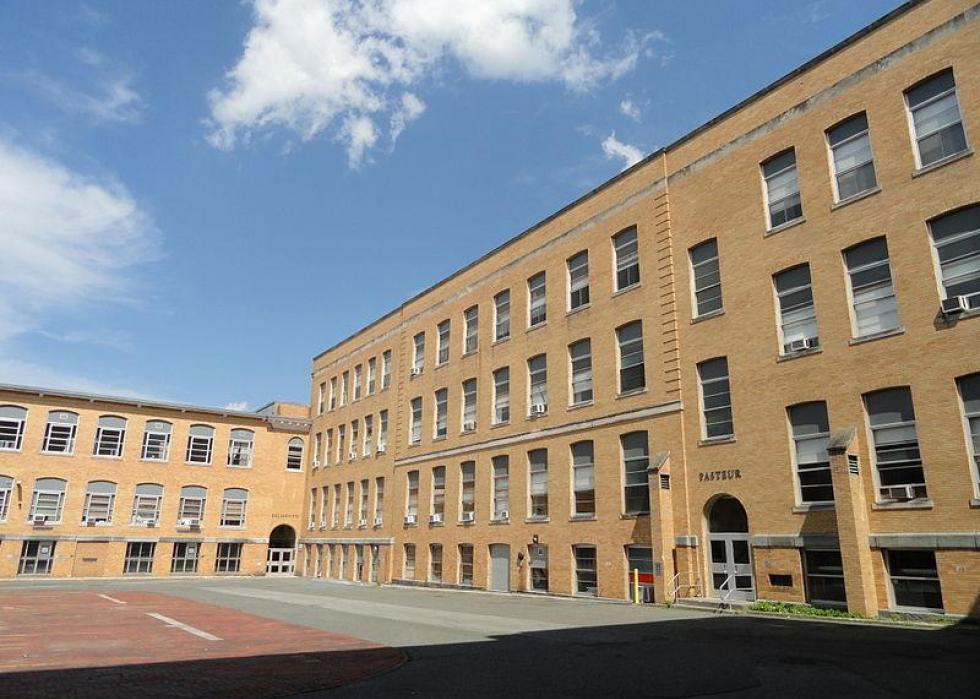 8 / 50
Daderot // Wikimedia Commons
#43. University of Massachusetts-Lowell
Median salary for alumni 0–5 years from graduation: $57,400
Median salary for alumni 10+ years from graduation: $107,300
Undergraduate enrollment: 13,637
Location: Lowell, MA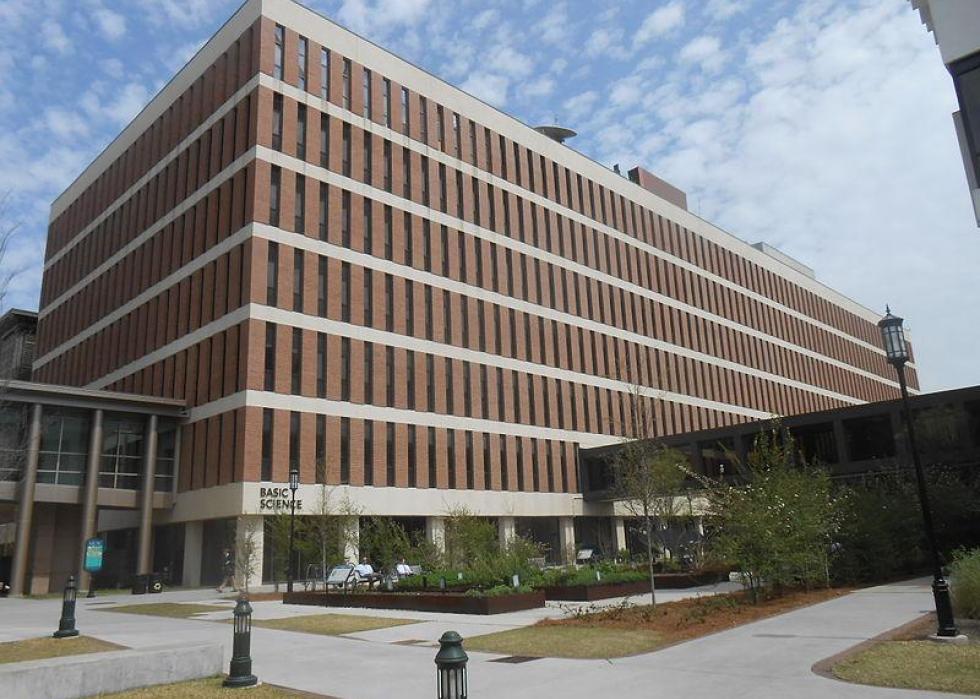 9 / 50
Profreader // Wikimedia Commons
#42. Medical University of South Carolina
Median salary for alumni 0–5 years from graduation: $57,600
Median salary for alumni 10+ years from graduation: $86,000
Undergraduate enrollment: 305
Location: Charleston, SC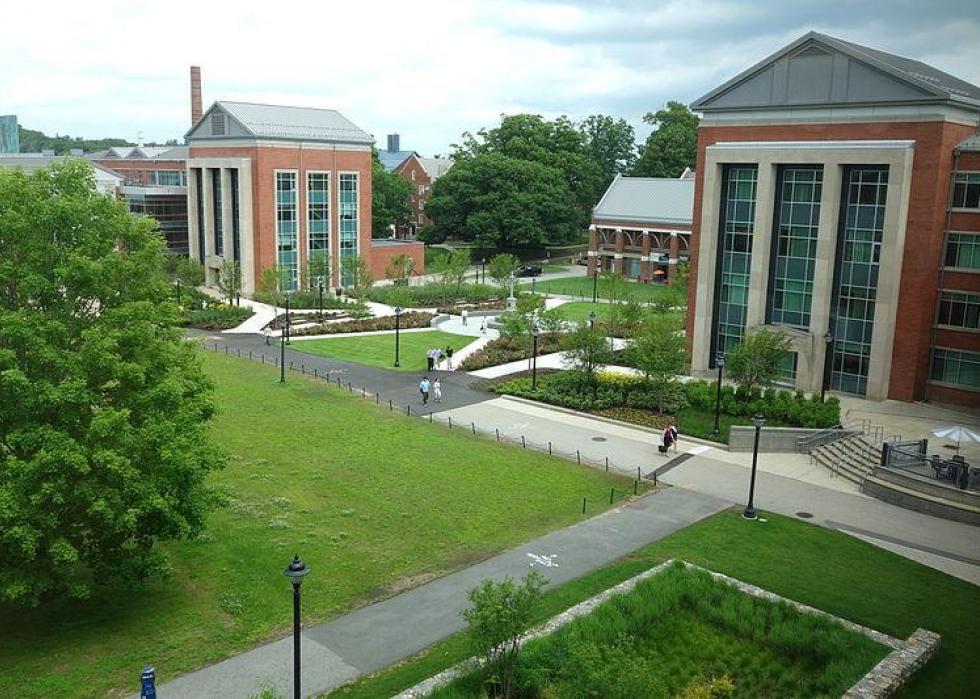 10 / 50
#41. University of Connecticut
Median salary for alumni 0–5 years from graduation: $57,700
Median salary for alumni 10+ years from graduation: $102,700
Undergraduate enrollment: 19,324
Location: Storrs, CT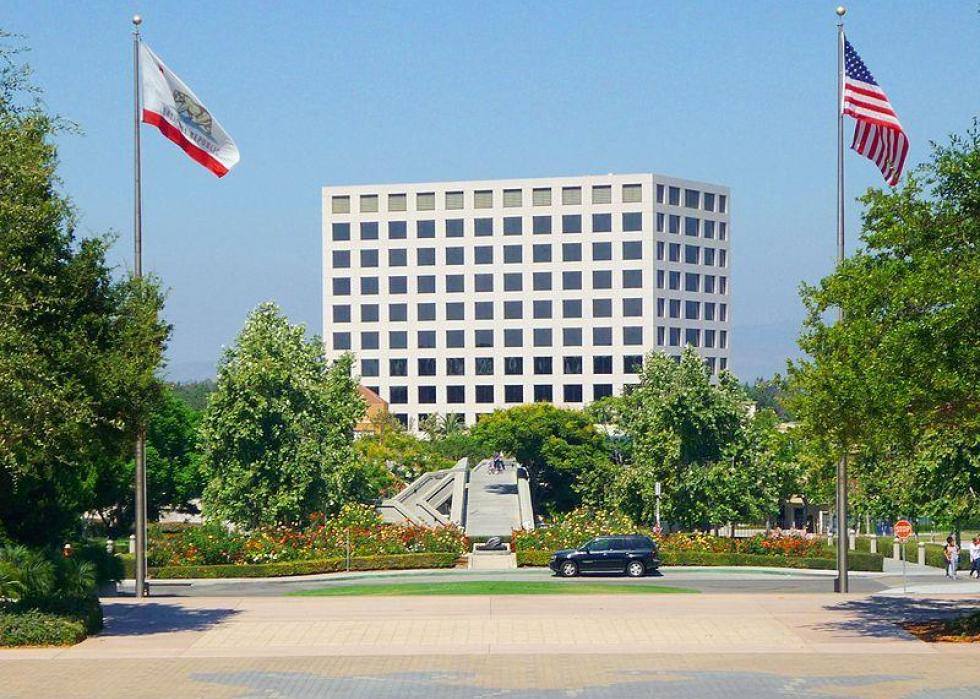 11 / 50
Mikejuinwind123 // Wikimedia Commons
#40. University of California-Irvine
Median salary for alumni 0–5 years from graduation: $57,700
Median salary for alumni 10+ years from graduation: $121,800
Undergraduate enrollment: 27,331
Location: Irvine, CA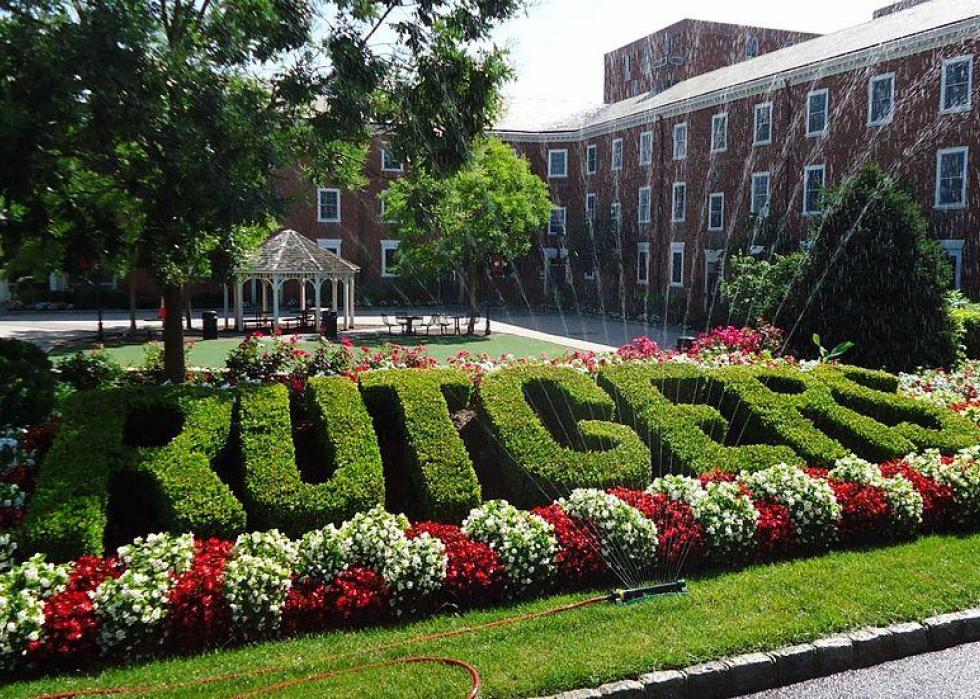 12 / 50
Tomwsulcer // Wikimedia Commons
#39. Rutgers University-New Brunswick
Median salary for alumni 0–5 years from graduation: $57,800
Median salary for alumni 10+ years from graduation: $111,600
Undergraduate enrollment: 36,168
Location: New Brunswick, NJ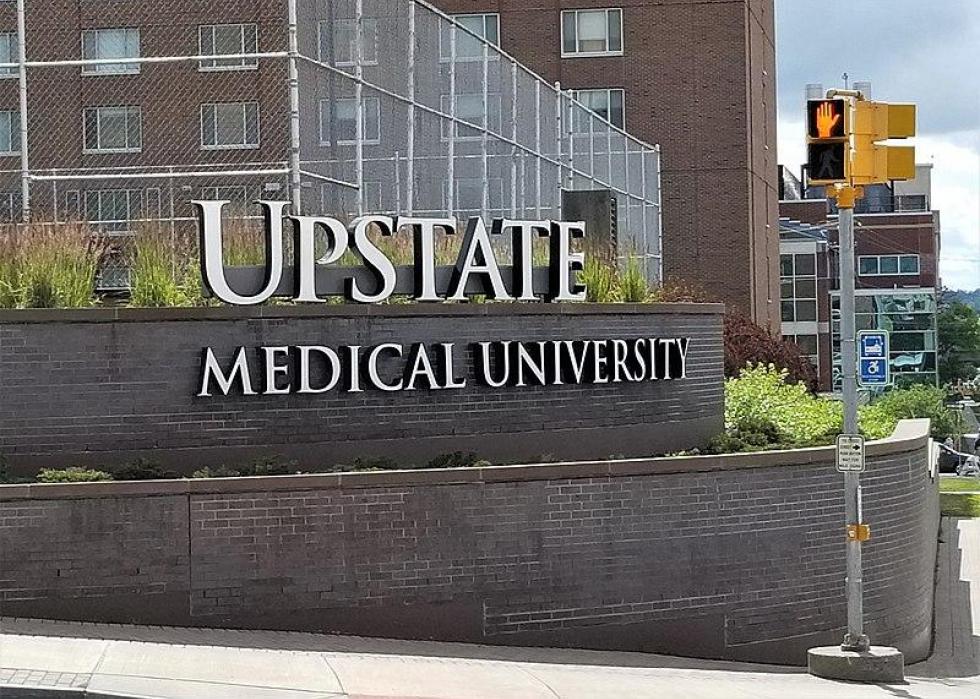 13 / 50
DASonnenfeld // Wikimedia Commons
#38. Upstate Medical University
Median salary for alumni 0–5 years from graduation: $57,900
Median salary for alumni 10+ years from graduation: $89,800
Undergraduate enrollment: 154
Location: Syracuse, NY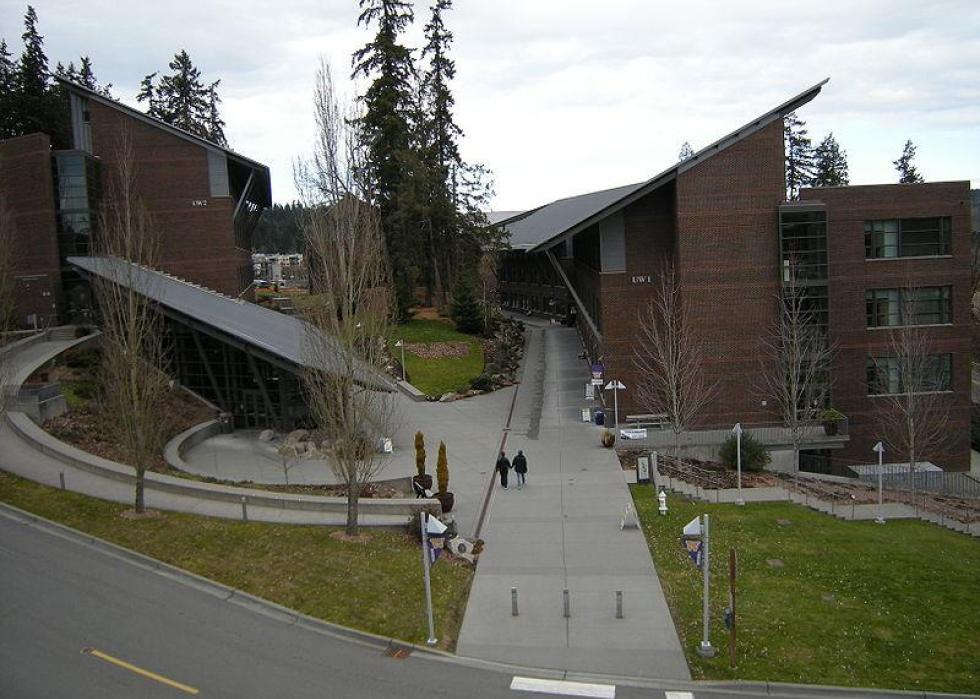 14 / 50
Joe Mabel // Wikimedia Commons
#37. University of Washington-Bothell Campus
Median salary for alumni 0–5 years from graduation: $58,200
Median salary for alumni 10+ years from graduation: $104,100
Undergraduate enrollment: 5,112
Location: Bothell, WA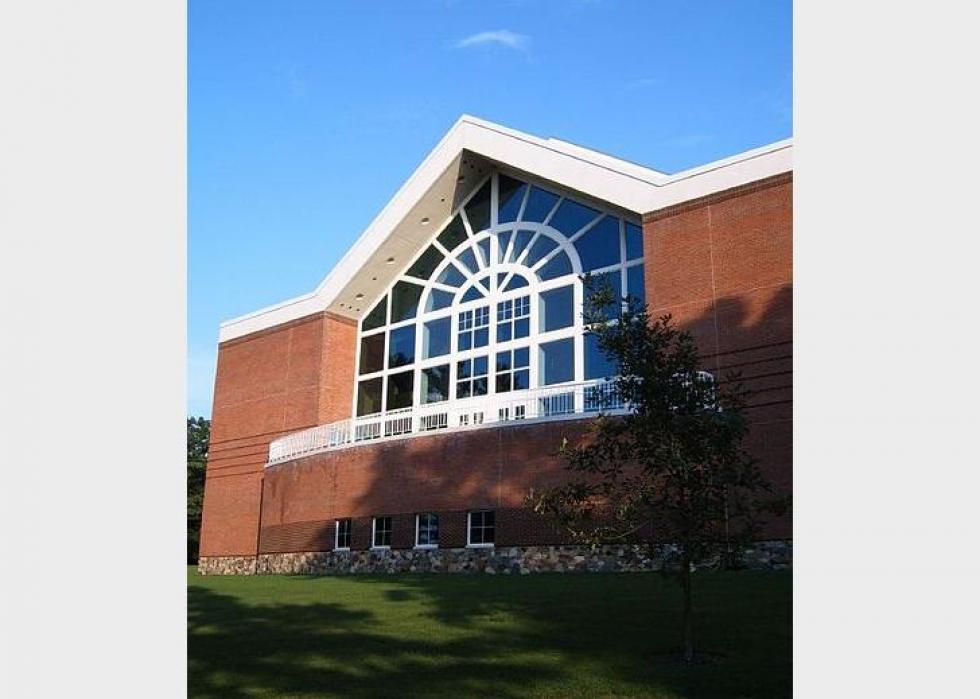 15 / 50
Melissa // Wikimedia Commons
#36. Pennsylvania State University-Penn State Erie-Behrend College
Median salary for alumni 0–5 years from graduation: $58,200
Median salary for alumni 10+ years from graduation: $90,700
Undergraduate enrollment: 4,420
Location: Erie, PA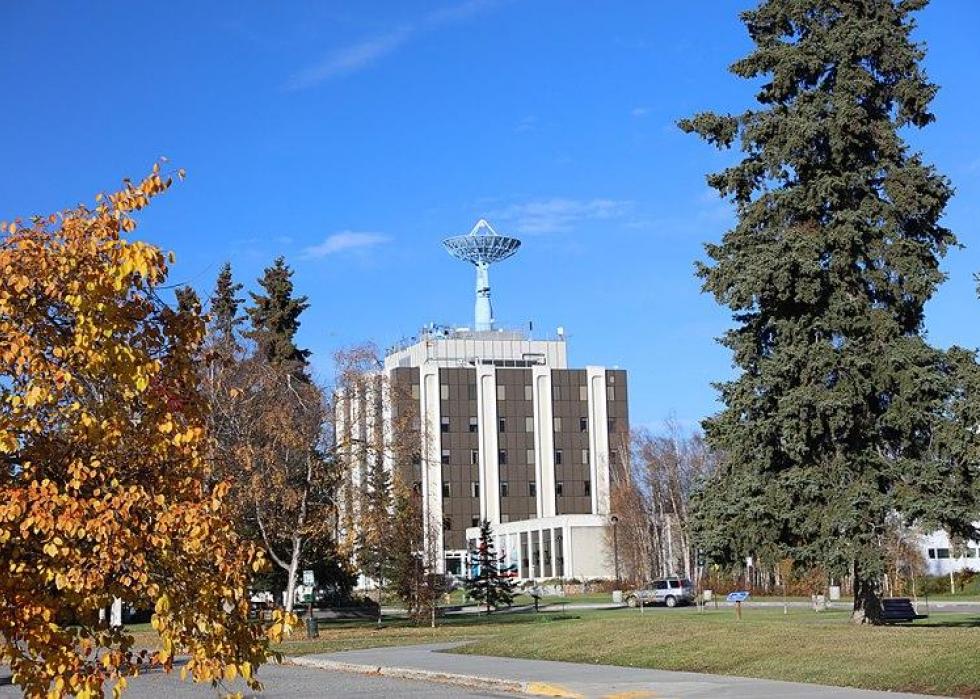 16 / 50
Enrico Blasutto // Wikimedia Commons
#35. University of Alaska Fairbanks
Median salary for alumni 0–5 years from graduation: $58,500
Median salary for alumni 10+ years from graduation: $97,200
Undergraduate enrollment: 7,162
Location: Fairbanks, AK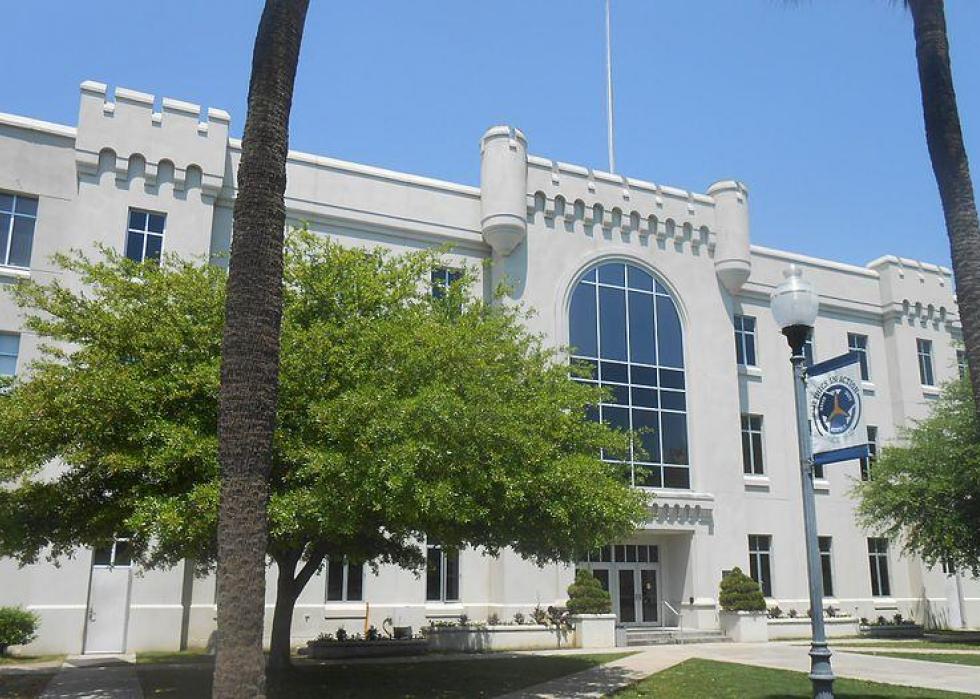 17 / 50
Profreader // Wikimedia Commons
#34. Citadel Military College of South Carolina
Median salary for alumni 0–5 years from graduation: $58,800
Median salary for alumni 10+ years from graduation: $107,200
Undergraduate enrollment: 2,773
Location: Charleston, SC
18 / 50
Yb20061462 // Wikimedia Commons
#33. Binghamton University
Median salary for alumni 0–5 years from graduation: $58,900
Median salary for alumni 10+ years from graduation: $111,200
Undergraduate enrollment: 13,632
Location: Vestal, NY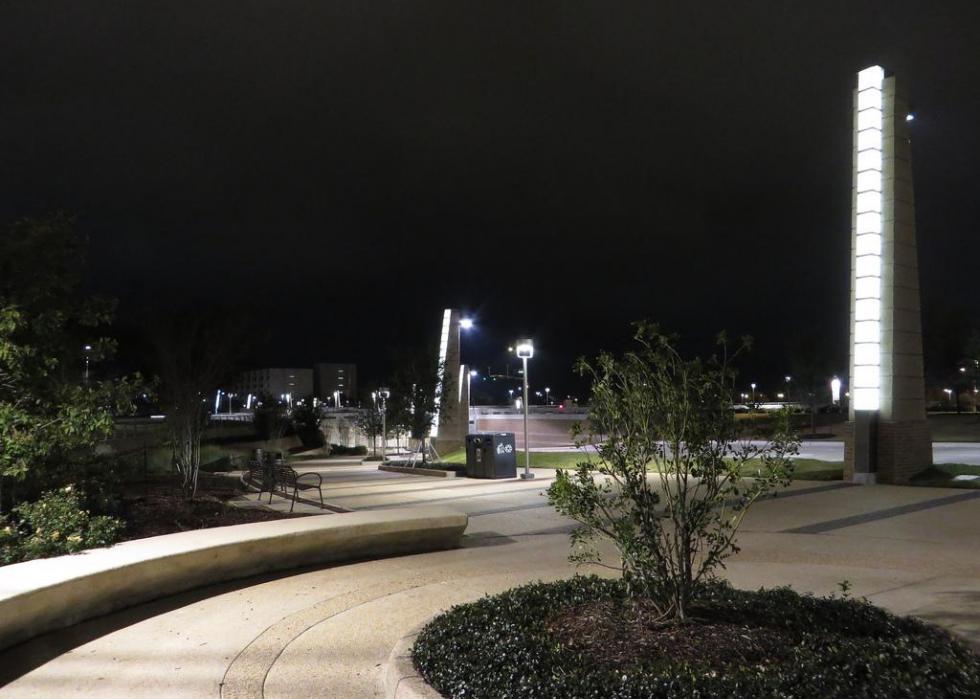 19 / 50
#32. Texas A&M University-College Station
Median salary for alumni 0–5 years from graduation: $59,000
Median salary for alumni 10+ years from graduation: $115,900
Undergraduate enrollment: 50,735
Location: College Station, TX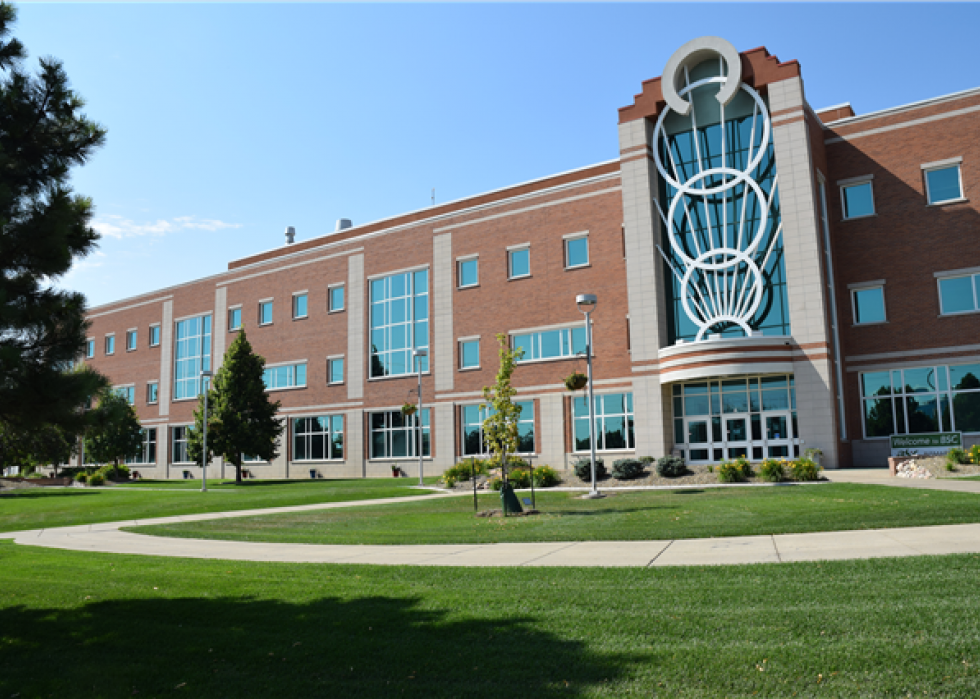 20 / 50
#31. Bismarck State College
Median salary for alumni 0–5 years from graduation: $61,100
Median salary for alumni 10+ years from graduation: $102,600
Undergraduate enrollment: 3,976
Location: Bismarck, ND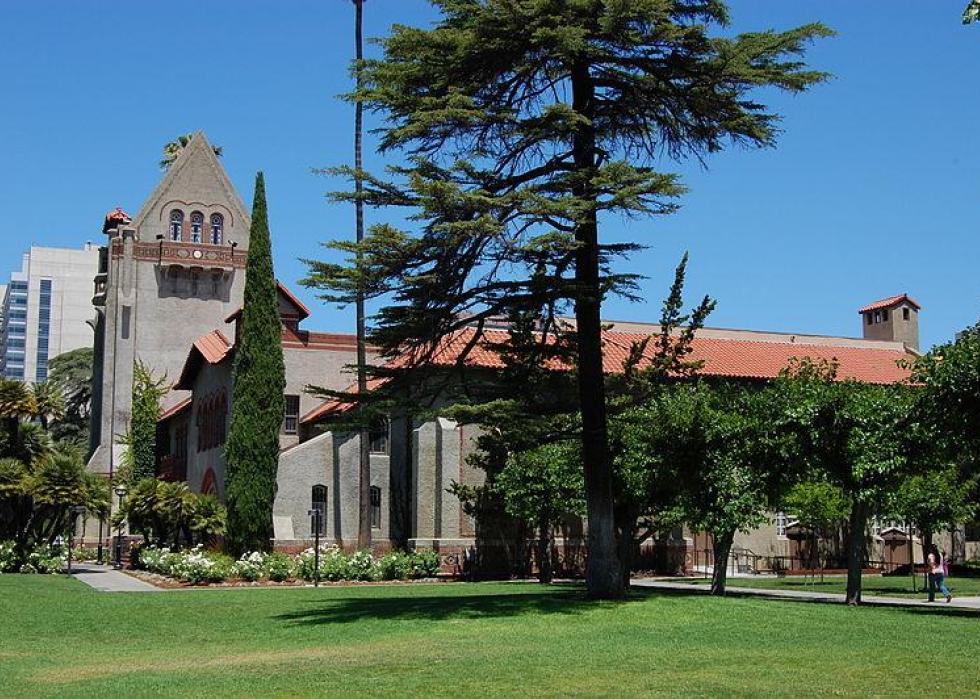 21 / 50
Eugene Zelenko // Wikimedia Commons
#30. San Jose State University
Median salary for alumni 0–5 years from graduation: $61,300
Median salary for alumni 10+ years from graduation: $112,400
Undergraduate enrollment: 26,432
Location: San Jose, CA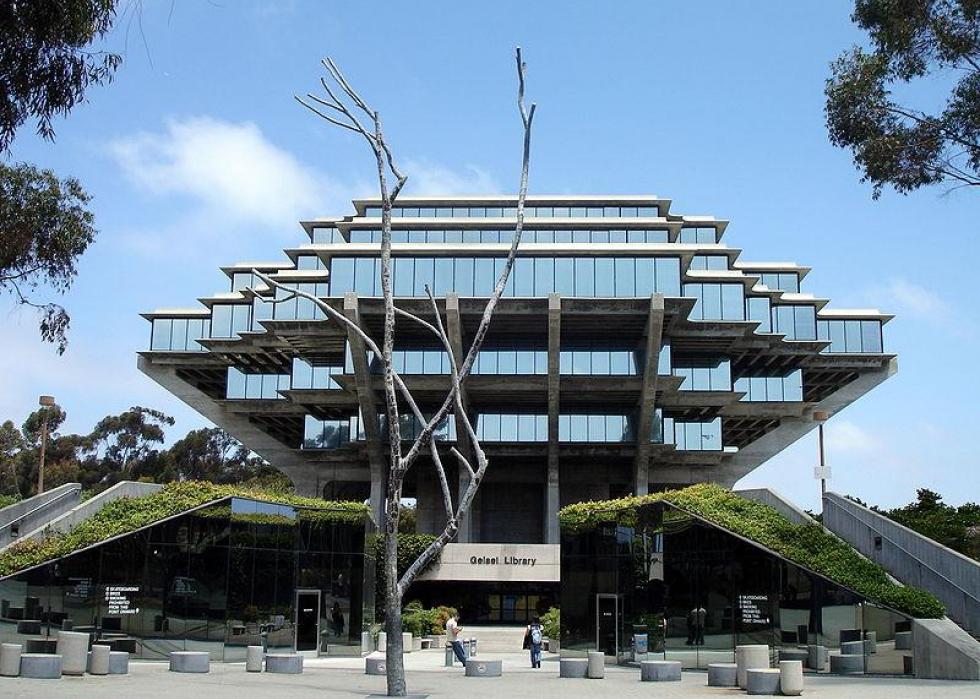 22 / 50
#29. University of California-San Diego
Median salary for alumni 0–5 years from graduation: $61,300
Median salary for alumni 10+ years from graduation: $126,800
Undergraduate enrollment: 28,127
Location: La Jolla, CA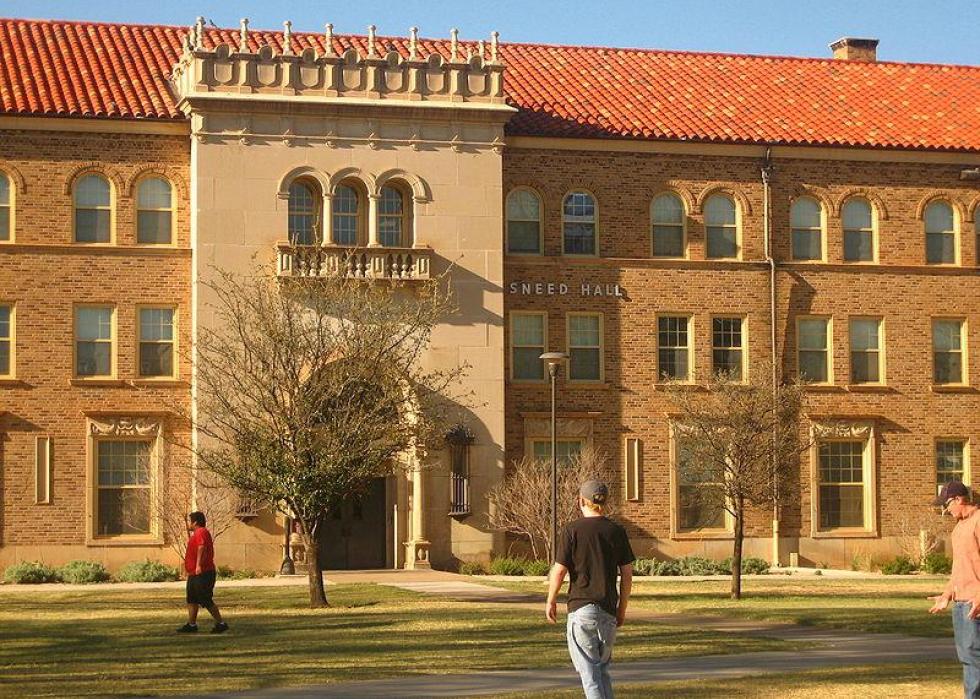 23 / 50
Billy Hathorn // Wikimedia Commons
#28. Texas Tech University Health Sciences Center
Median salary for alumni 0–5 years from graduation: $61,300
Median salary for alumni 10+ years from graduation: $93,200
Undergraduate enrollment: 1,281
Location: Lubbock, TX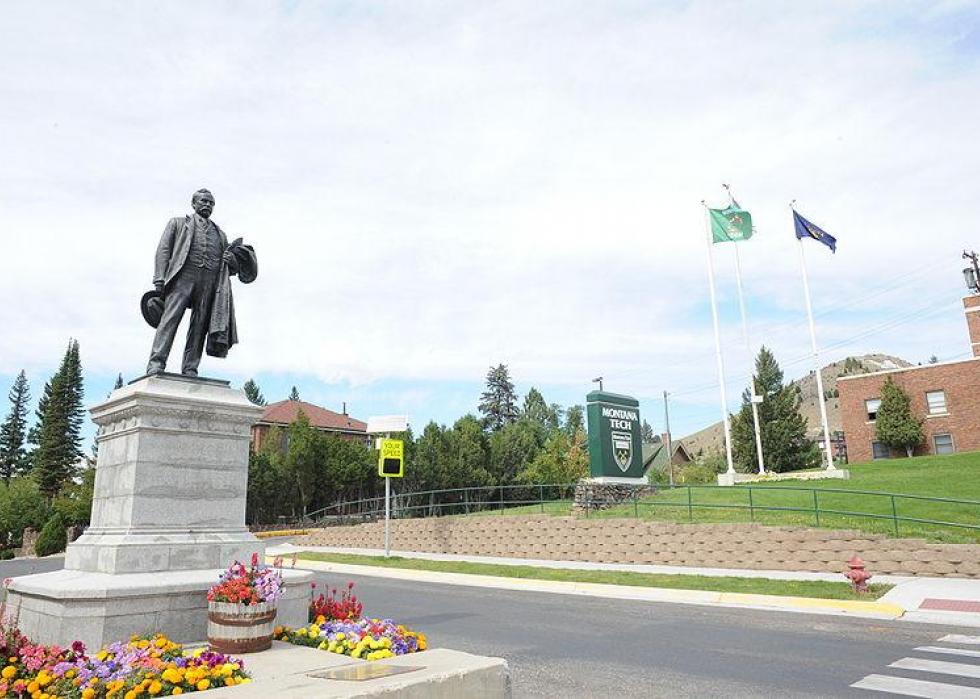 24 / 50
#27. Montana Tech of the University of Montana
Median salary for alumni 0–5 years from graduation: $61,900
Median salary for alumni 10+ years from graduation: $107,200
Undergraduate enrollment: 1,817
Location: Butte, MT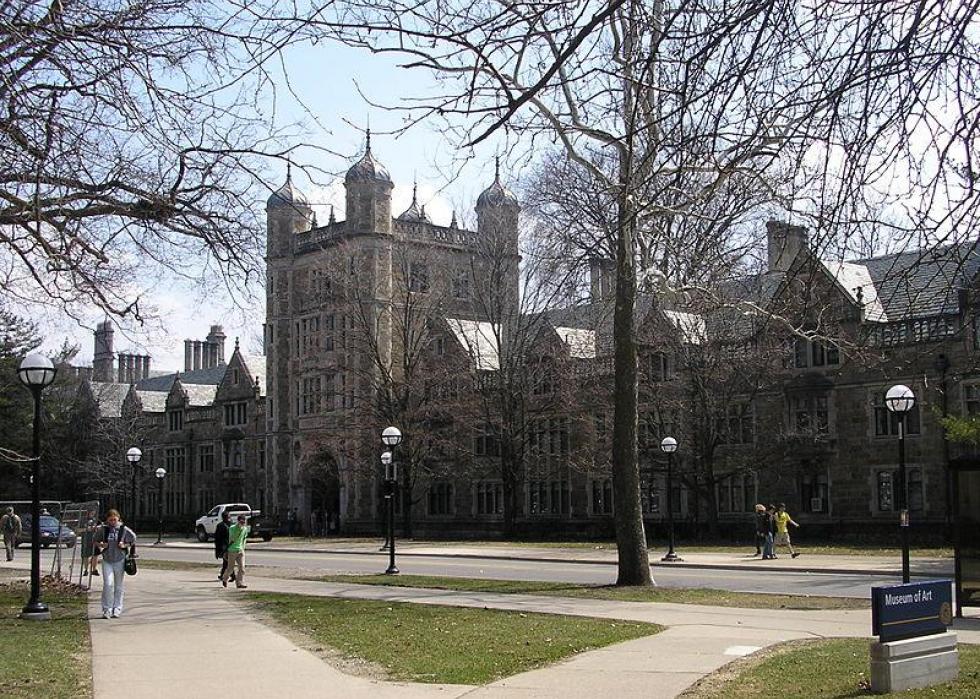 25 / 50
#26. University of Michigan-Ann Arbor
Median salary for alumni 0–5 years from graduation: $62,000
Median salary for alumni 10+ years from graduation: $107,900
Undergraduate enrollment: 28,983
Location: Ann Arbor, MI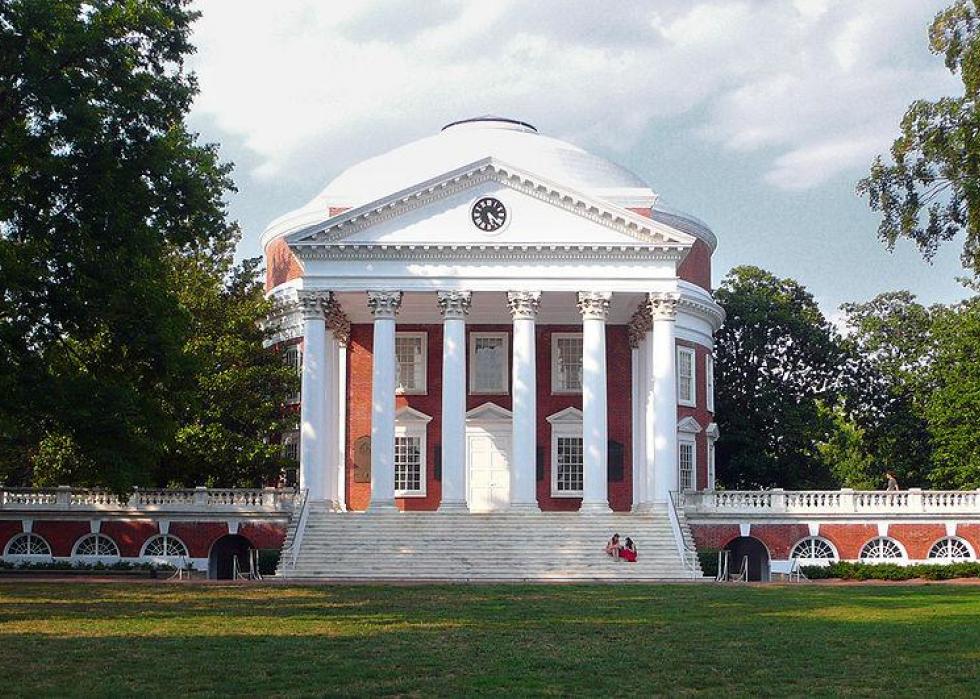 26 / 50
Patrickneil // Wikimedia Commons
#25. University of Virginia-Main Campus
Median salary for alumni 0–5 years from graduation: $62,300
Median salary for alumni 10+ years from graduation: $119,900
Undergraduate enrollment: 16,331
Location: Charlottesville, VA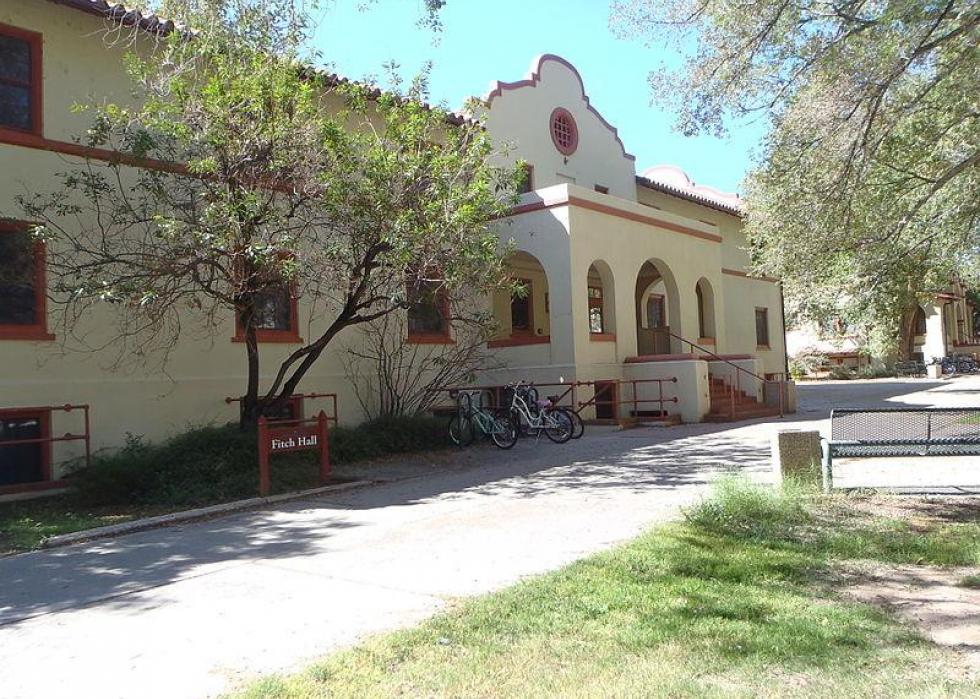 27 / 50
TDBurleigh // Wikimedia Commons
#24. New Mexico Institute of Mining and Technology
Median salary for alumni 0–5 years from graduation: $62,500
Median salary for alumni 10+ years from graduation: $121,500
Undergraduate enrollment: 1,569
Location: Socorro, NM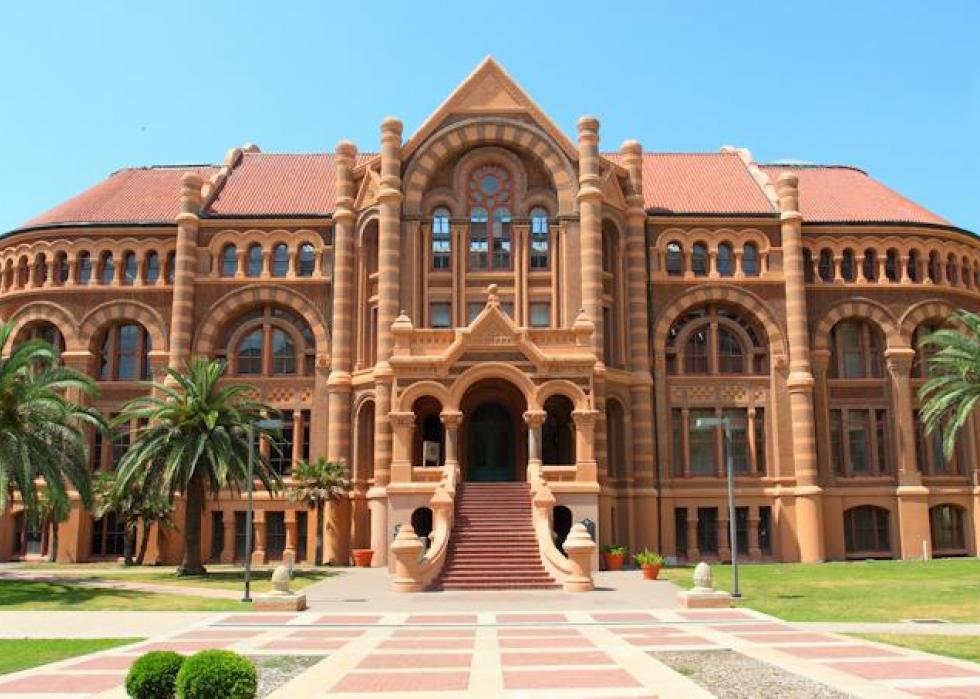 28 / 50
Nsaum75 // Wikimedia Commons
#23. The University of Texas Medical Branch
Median salary for alumni 0–5 years from graduation: $62,600
Median salary for alumni 10+ years from graduation: $96,700
Undergraduate enrollment: 628
Location: Galveston, TX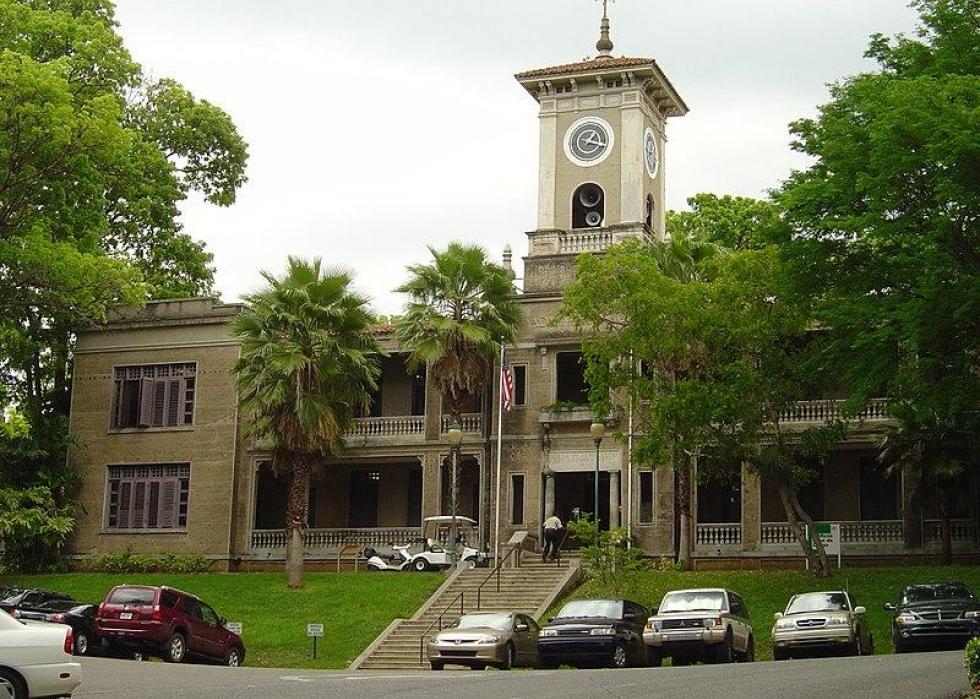 29 / 50
Joapsk8 // Wikimedia Commons
#22. University of Puerto Rico - Mayaguez
Median salary for alumni 0–5 years from graduation: $62,800
Median salary for alumni 10+ years from graduation: $102,600
Undergraduate enrollment: 12,000
Location: Mayaguez, PR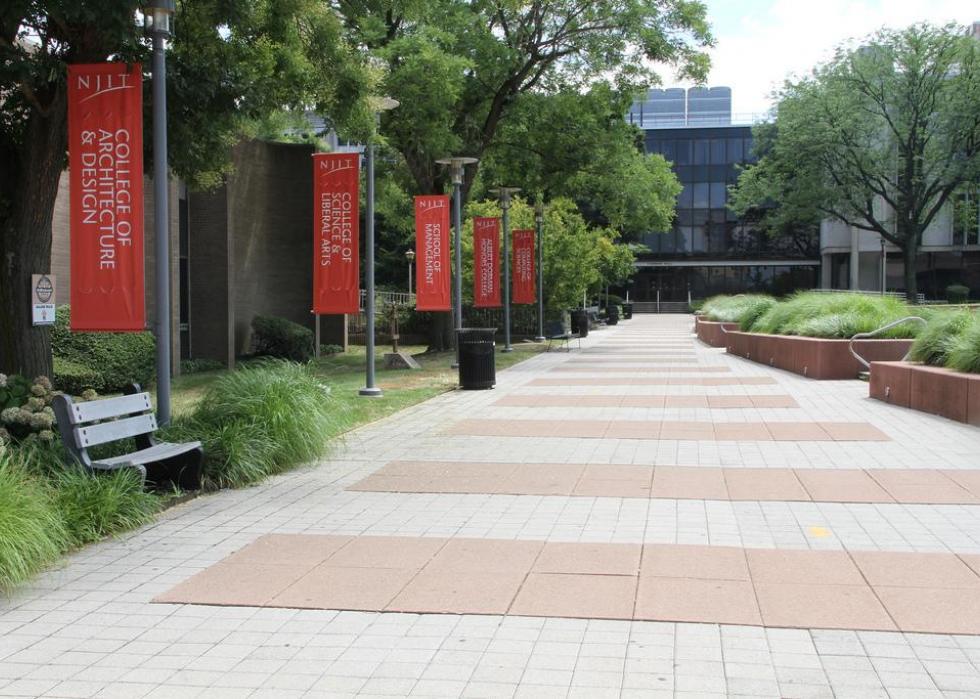 30 / 50
Romoer Jed Medina // Flickr
#21. New Jersey Institute of Technology
Median salary for alumni 0–5 years from graduation: $62,800
Median salary for alumni 10+ years from graduation: $121,100
Undergraduate enrollment: 8,211
Location: Newark, NJ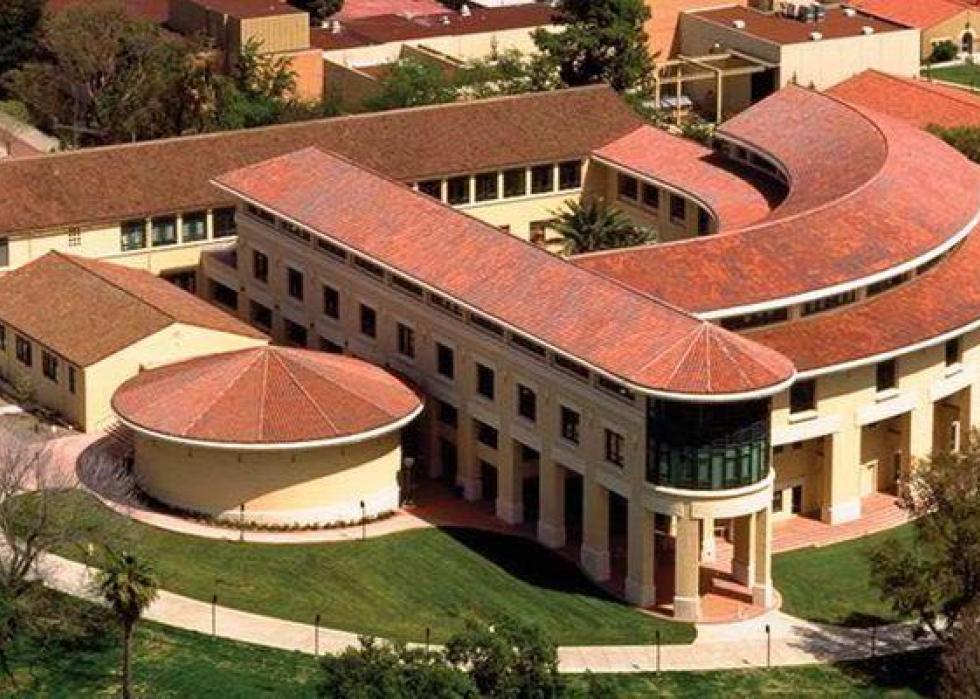 31 / 50
Indefiarch // Wikimedia Commons
#20. California Polytechnic State University-San Luis Obispo
Median salary for alumni 0–5 years from graduation: $63,500
Median salary for alumni 10+ years from graduation: $118,000
Undergraduate enrollment: 20,426
Location: San Luis Obispo, CA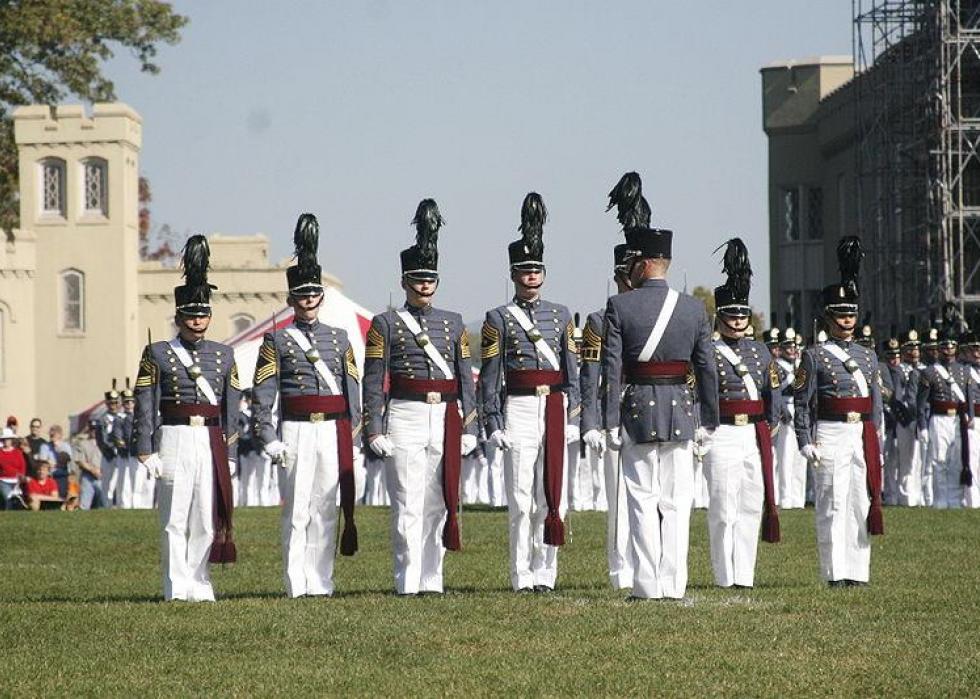 32 / 50
Mgiradi // Wikimedia Commons
#19. Virginia Military Institute
Median salary for alumni 0–5 years from graduation: $63,900
Median salary for alumni 10+ years from graduation: $121,600
Undergraduate enrollment: 1,713
Location: Lexington, VA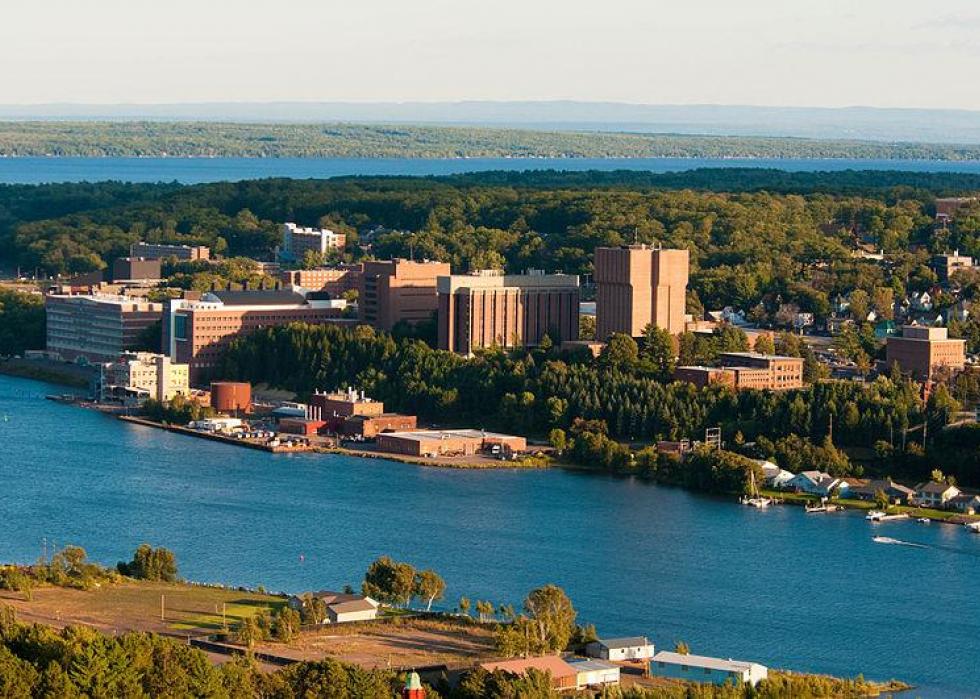 33 / 50
MTU Photo // Wikimedia Commons
#18. Michigan Technological University
Median salary for alumni 0–5 years from graduation: $64,600
Median salary for alumni 10+ years from graduation: $110,200
Undergraduate enrollment: 5,811
Location: Houghton, MI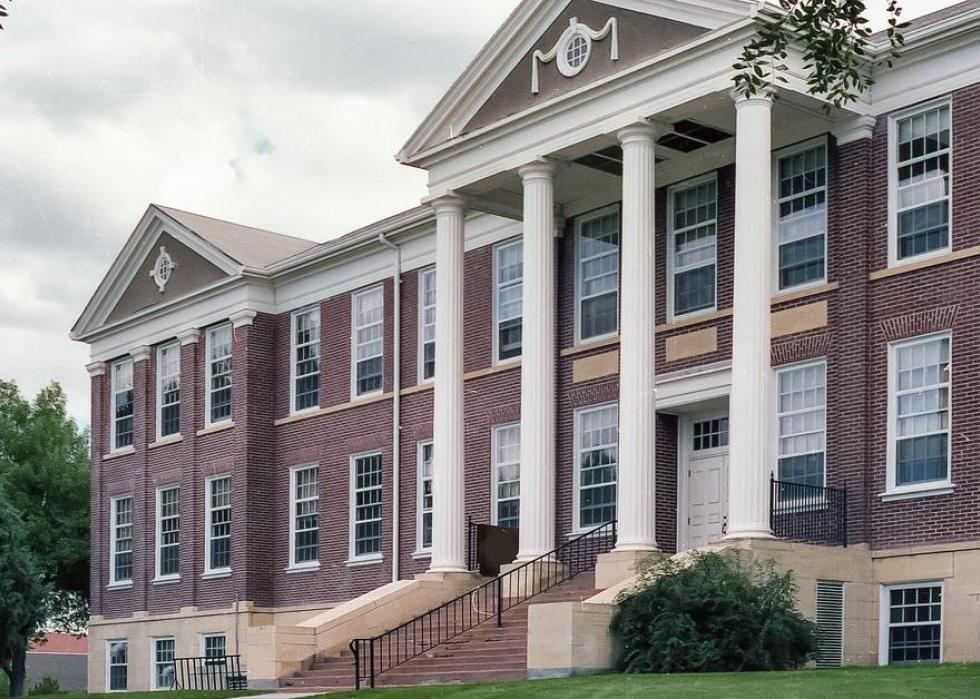 34 / 50
#17. South Dakota School of Mines and Technology
Median salary for alumni 0–5 years from graduation: $65,800
Median salary for alumni 10+ years from graduation: $113,700
Undergraduate enrollment: 2,435
Location: Rapid City, SD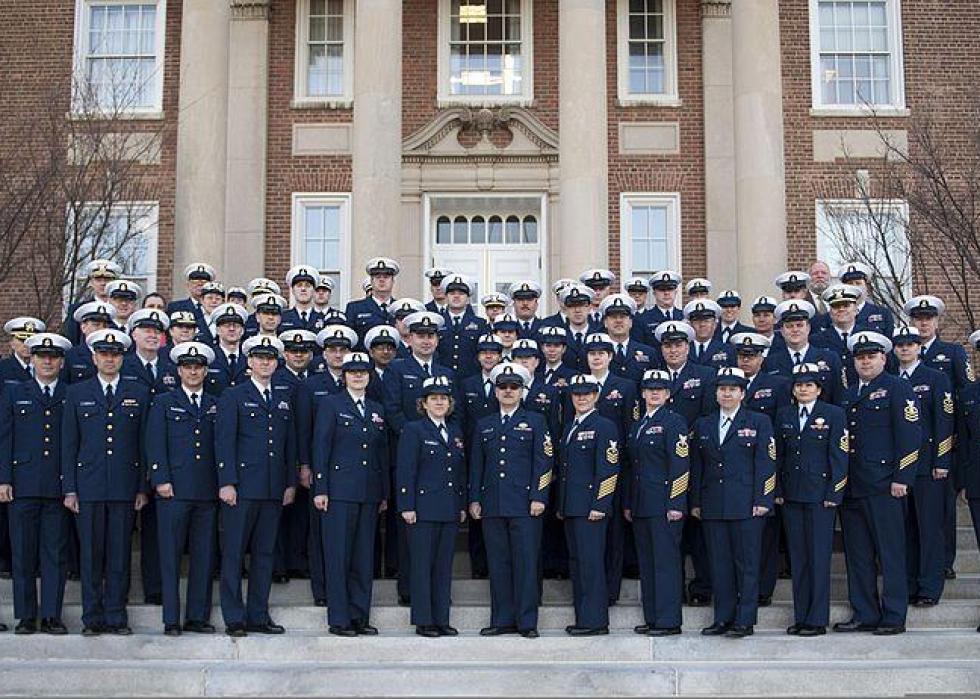 35 / 50
#16. United States Coast Guard Academy
Median salary for alumni 0–5 years from graduation: $66,400
Median salary for alumni 10+ years from graduation: $110,900
Undergraduate enrollment: 986
Location: New London, CT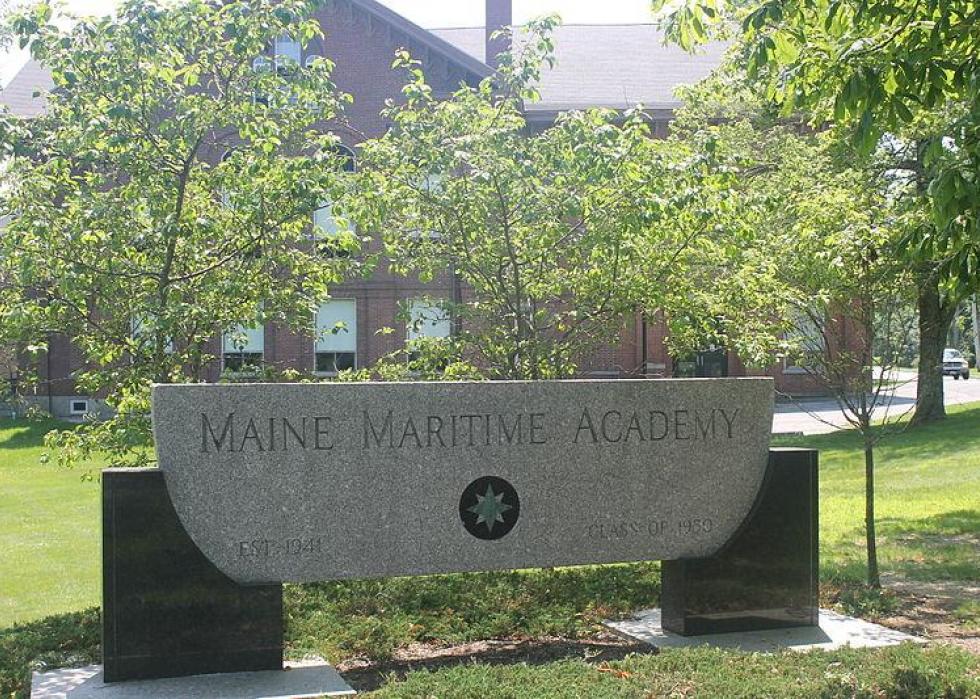 36 / 50
Billy Hathorn // Wikimedia Commons
#15. Maine Maritime Academy
Median salary for alumni 0–5 years from graduation: $66,700
Median salary for alumni 10+ years from graduation: $119,900
Undergraduate enrollment: 1,014
Location: Castine, ME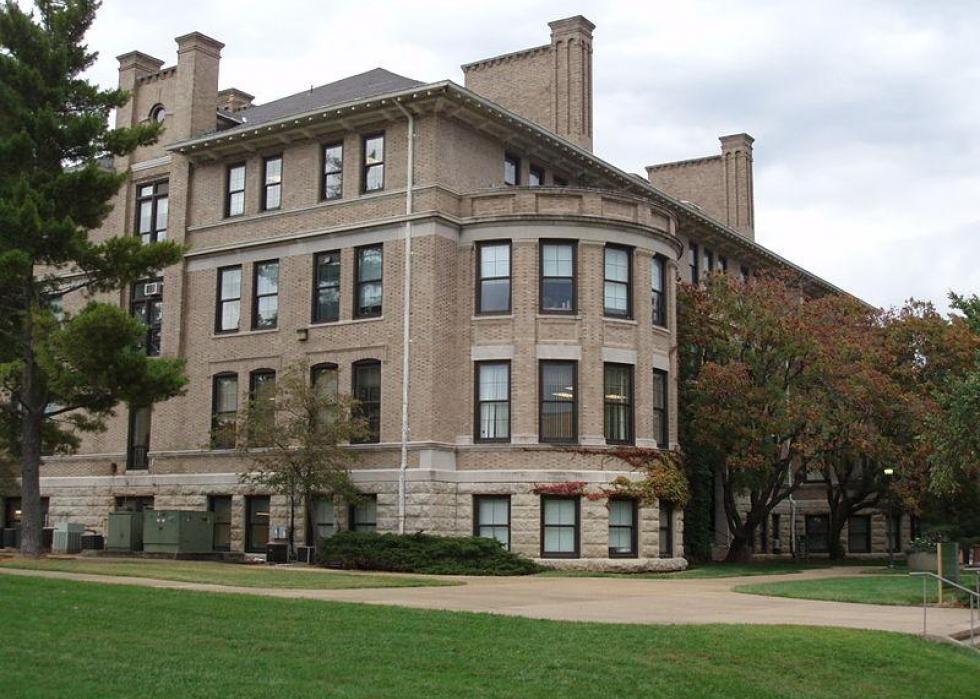 37 / 50
Adavidb // Wikimedia Commons
#14. Missouri University of Science and Technology
Median salary for alumni 0–5 years from graduation: $66,700
Median salary for alumni 10+ years from graduation: $116,400
Undergraduate enrollment: 6,906
Location: Rolla, MO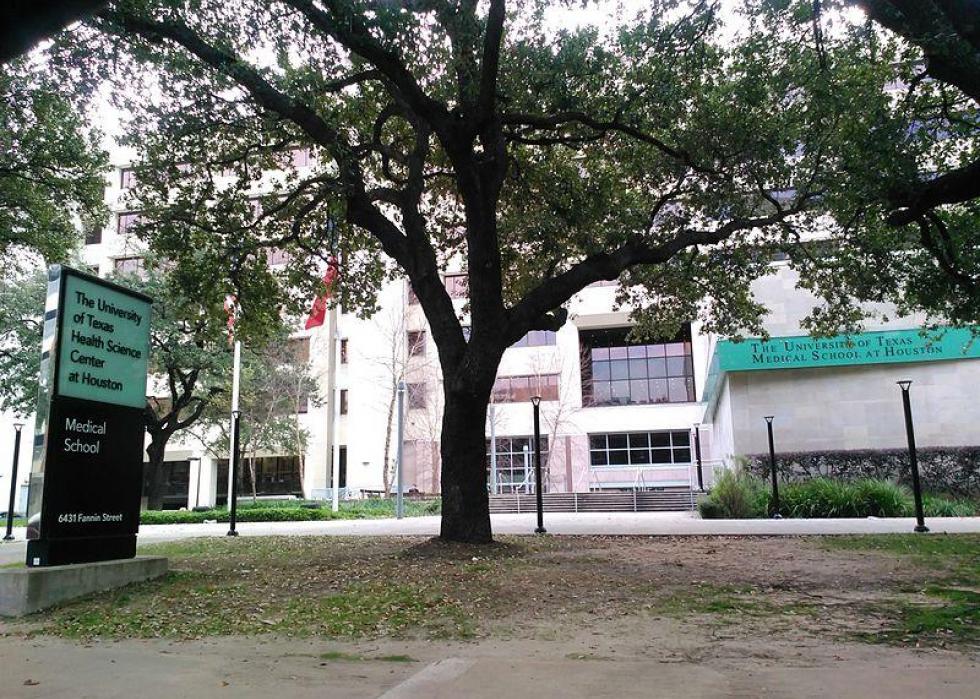 38 / 50
WhisperToMe // Wikimedia Commons
#13. The University of Texas Health Science Center at Houston
Median salary for alumni 0–5 years from graduation: $66,900
Median salary for alumni 10+ years from graduation: $97,200
Undergraduate enrollment: not available
Location: Houston, TX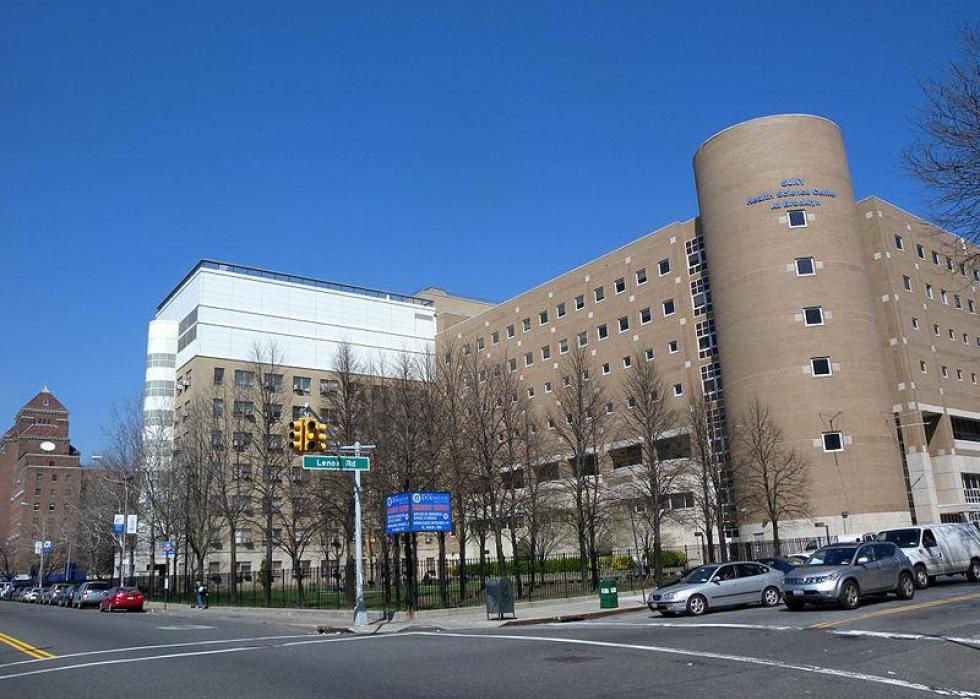 39 / 50
Jim.henderson // Wikimedia Commons
#12. SUNY Downstate Medical Center
Median salary for alumni 0–5 years from graduation: $67,100
Median salary for alumni 10+ years from graduation: $102,100
Undergraduate enrollment: 246
Location: Brooklyn, NY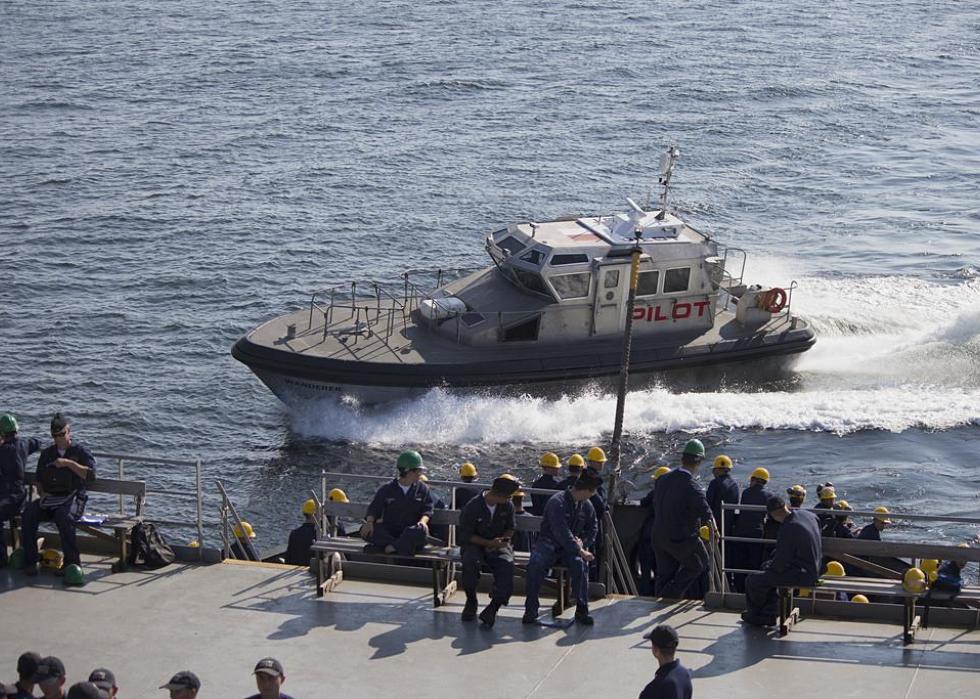 40 / 50
#11. Massachusetts Maritime Academy
Median salary for alumni 0–5 years from graduation: $67,200
Median salary for alumni 10+ years from graduation: $114,600
Undergraduate enrollment: 1,677
Location: Buzzards Bay, MA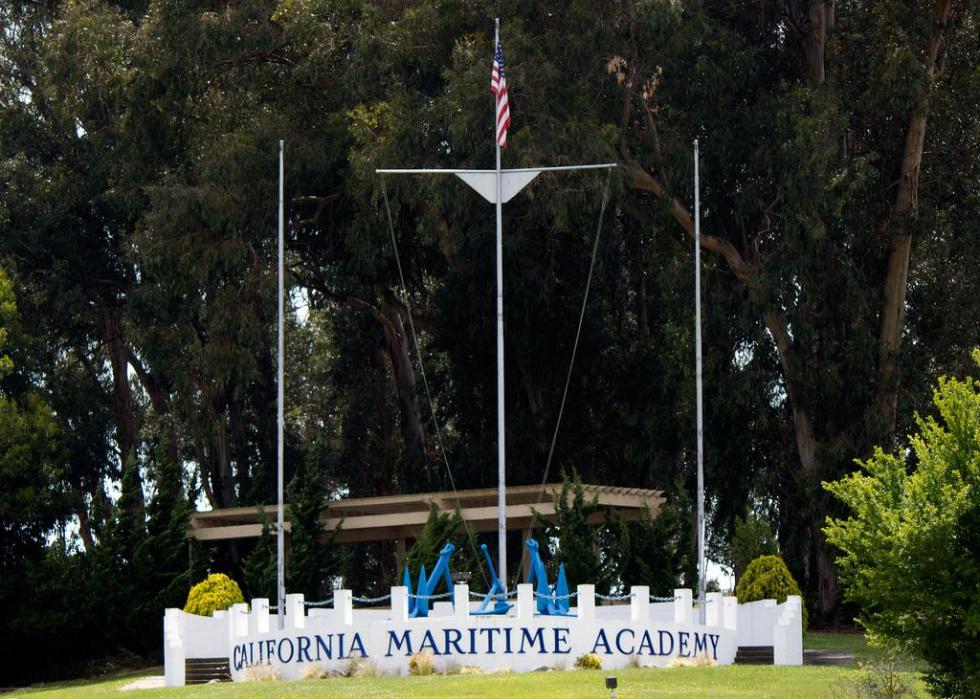 41 / 50
#10. California State University Maritime Academy
Median salary for alumni 0–5 years from graduation: $67,500
Median salary for alumni 10+ years from graduation: $129,100
Undergraduate enrollment: 1,107
Location: Vallejo, CA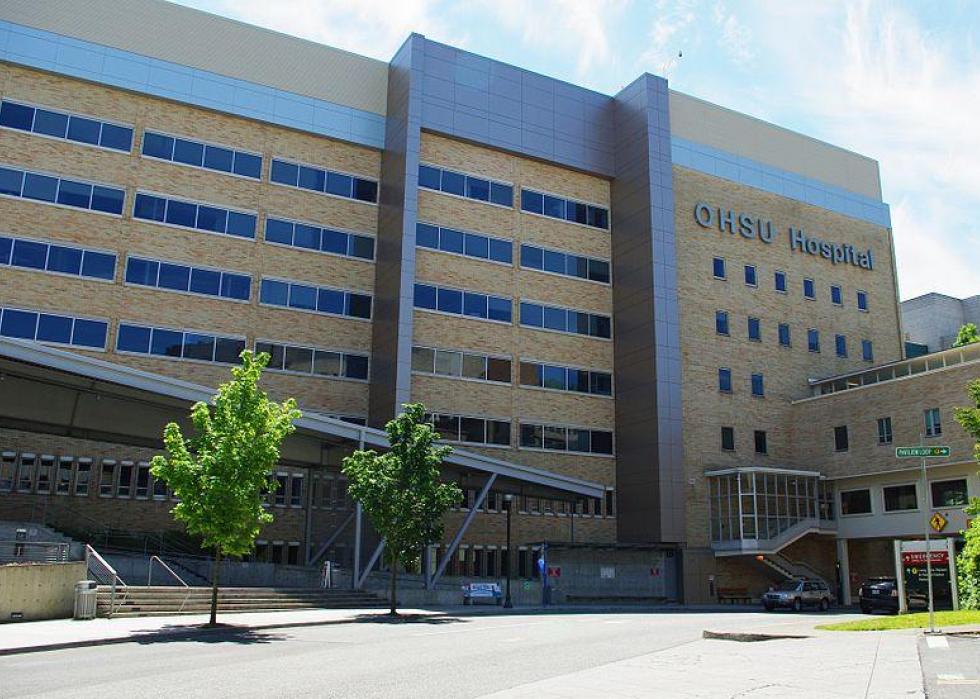 42 / 50
M.O. Stevens // Wikimedia Commons
#9. Oregon Health & Science University
Median salary for alumni 0–5 years from graduation: $67,500
Median salary for alumni 10+ years from graduation: $96,100
Undergraduate enrollment: 764
Location: Portland, OR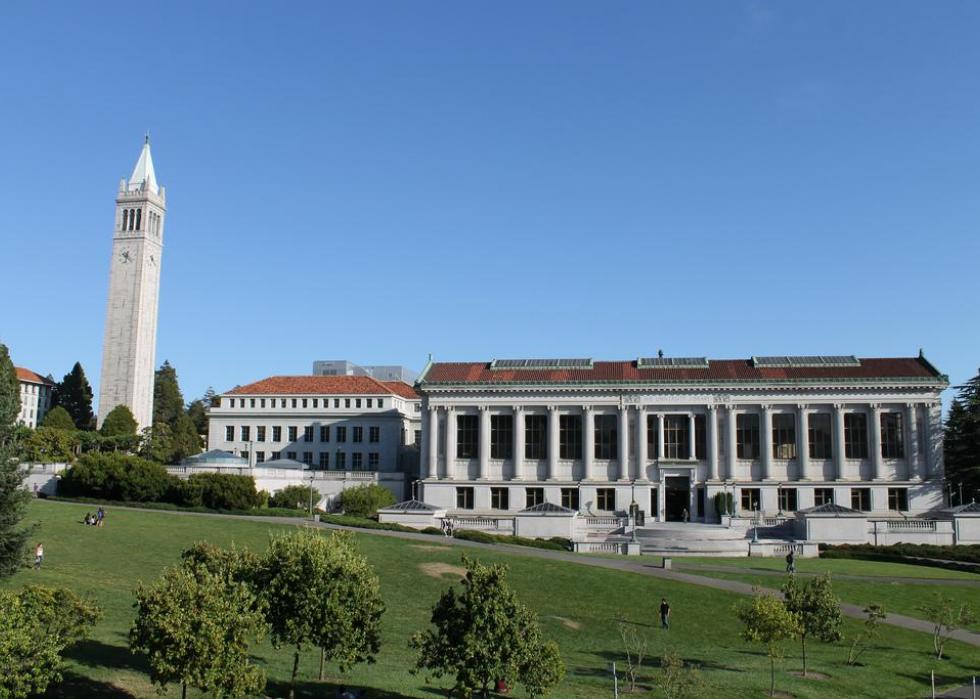 43 / 50
#8. University of California-Berkeley
Median salary for alumni 0–5 years from graduation: $68,300
Median salary for alumni 10+ years from graduation: $132,300
Undergraduate enrollment: 29,310
Location: Berkeley, CA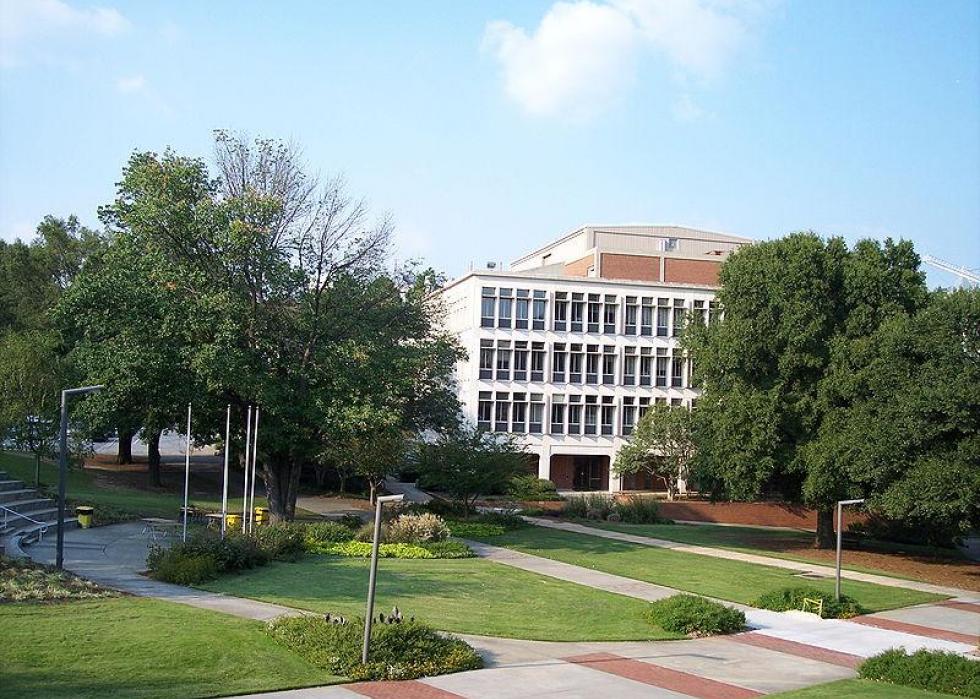 44 / 50
Tintazul // Wikimedia Commons
#7. Georgia Institute of Technology-Main Campus
Median salary for alumni 0–5 years from graduation: $70,800
Median salary for alumni 10+ years from graduation: $131,900
Undergraduate enrollment: 15,489
Location: Atlanta, GA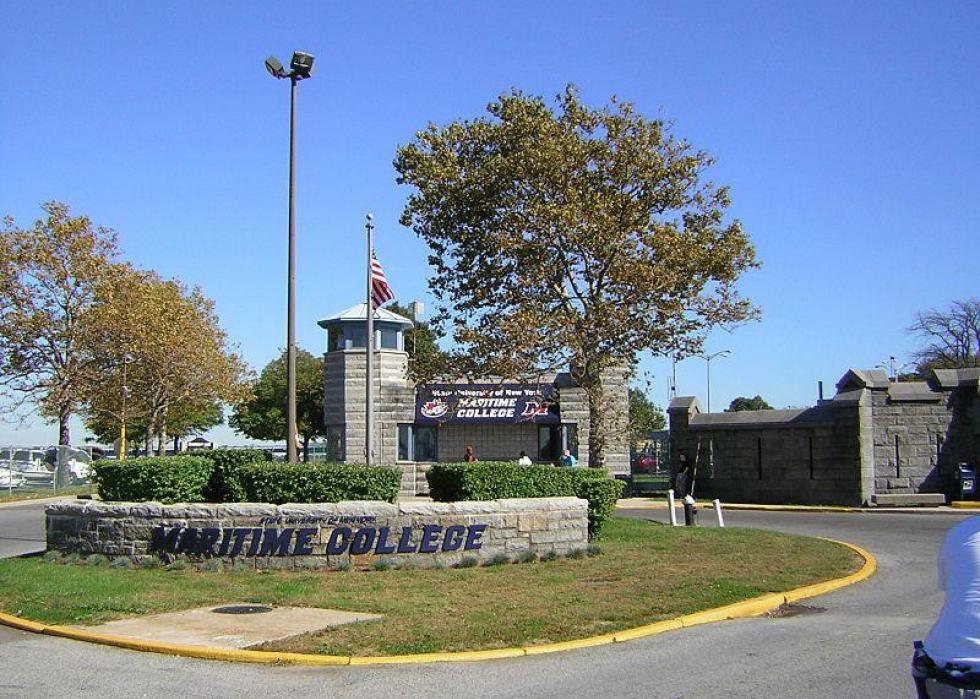 45 / 50
Jim.henderson // Wikimedia Commons
#6. SUNY Maritime College
Median salary for alumni 0–5 years from graduation: $73,300
Median salary for alumni 10+ years from graduation: $140,100
Undergraduate enrollment: 1,635
Location: Throggs Neck, NY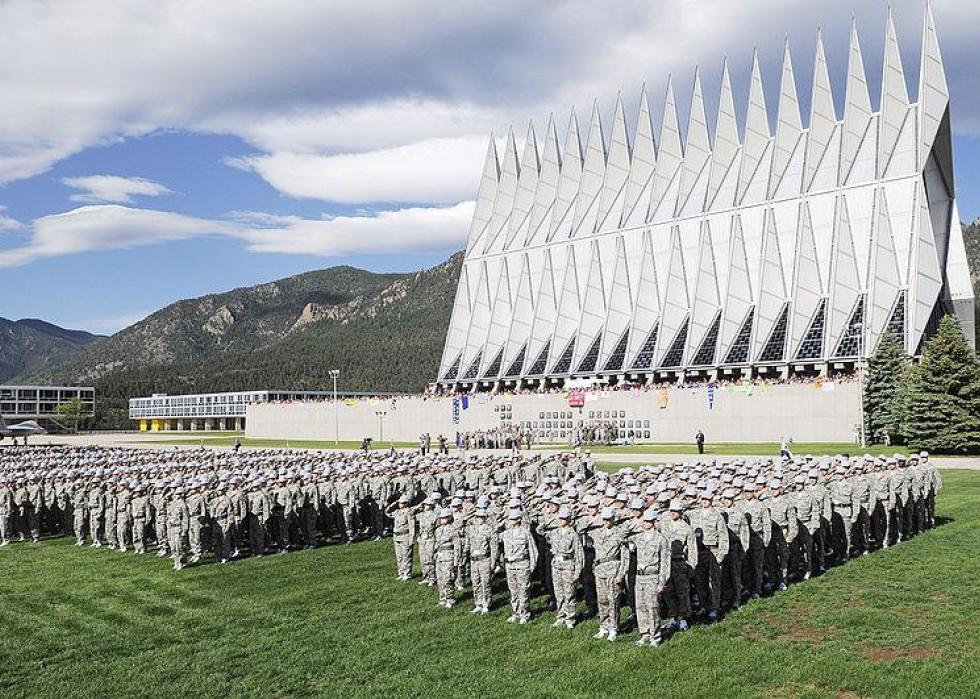 46 / 50
Mike Kaplan // Wikimedia Commons
#5. United States Air Force Academy
Median salary for alumni 0–5 years from graduation: $74,000
Median salary for alumni 10+ years from graduation: $137,300
Undergraduate enrollment: 4,237
Location: USAF Academy, CO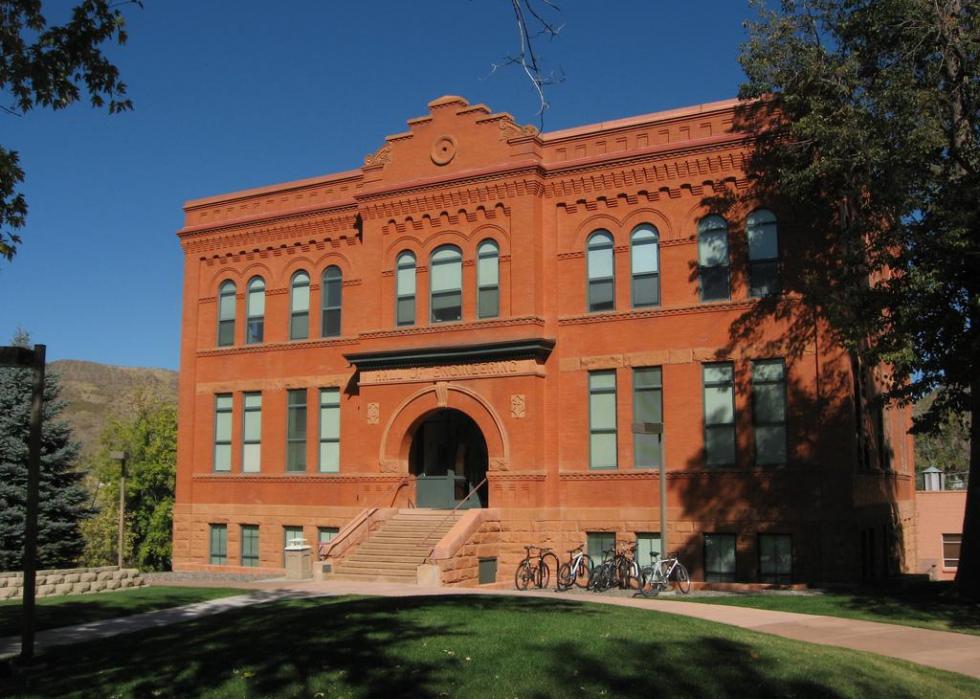 47 / 50
#4. Colorado School of Mines
Median salary for alumni 0–5 years from graduation: $74,100
Median salary for alumni 10+ years from graduation: $139,300
Undergraduate enrollment: 4,610
Location: Golden, CO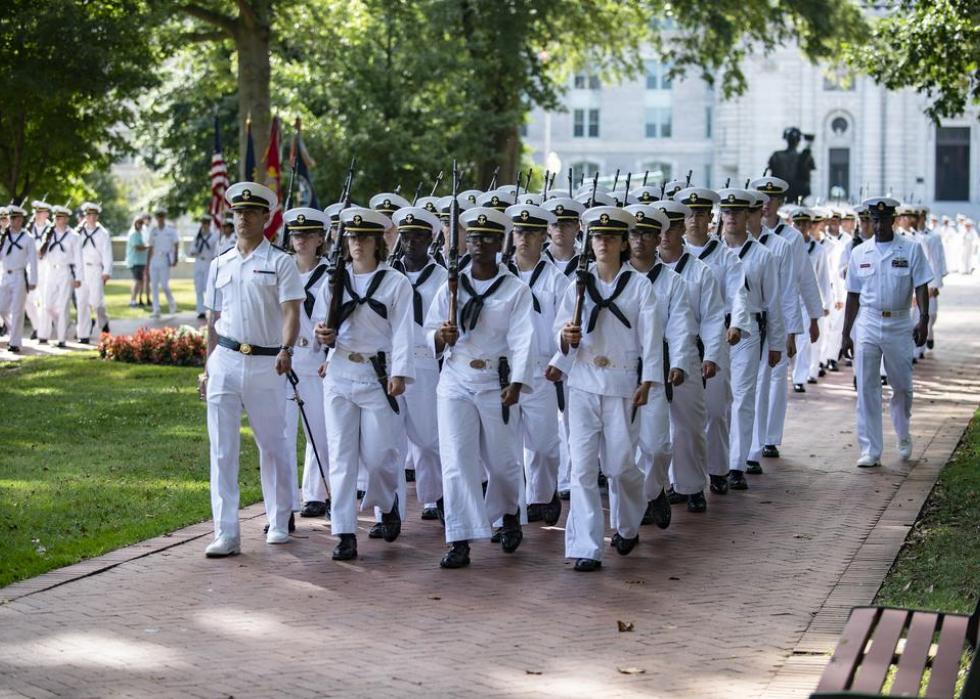 48 / 50
#3. United States Naval Academy
Median salary for alumni 0–5 years from graduation: $78,600
Median salary for alumni 10+ years from graduation: $149,800
Undergraduate enrollment: 4,528
Location: Annapolis, MD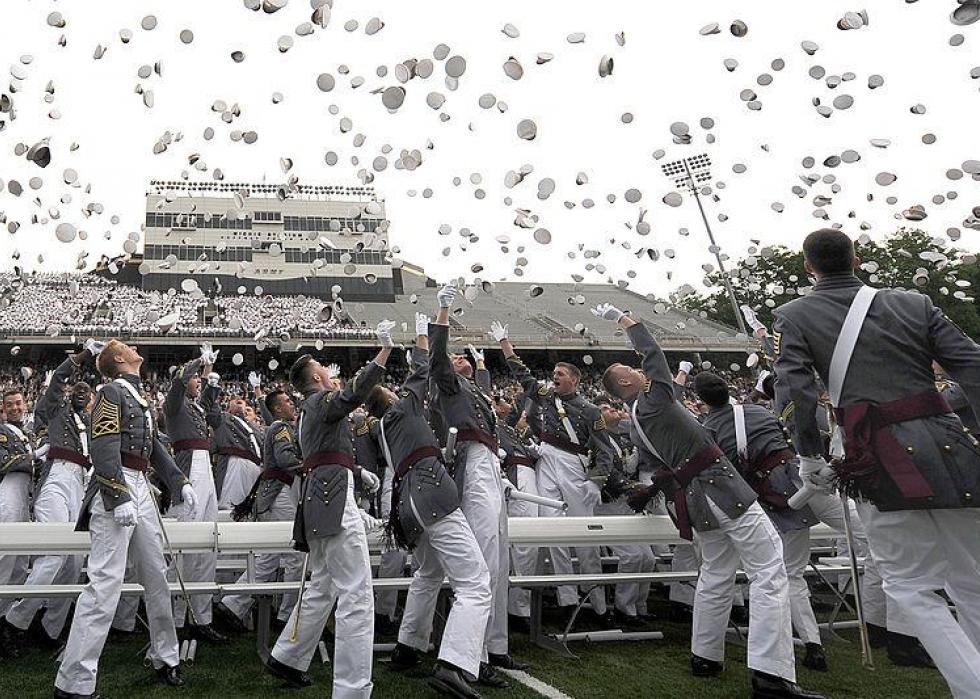 49 / 50
U.S. Army // Wikimedia Commons
#2. United States Military Academy
Median salary for alumni 0–5 years from graduation: $79,300
Median salary for alumni 10+ years from graduation: $141,900
Undergraduate enrollment: 4,389
Location: West Point, NY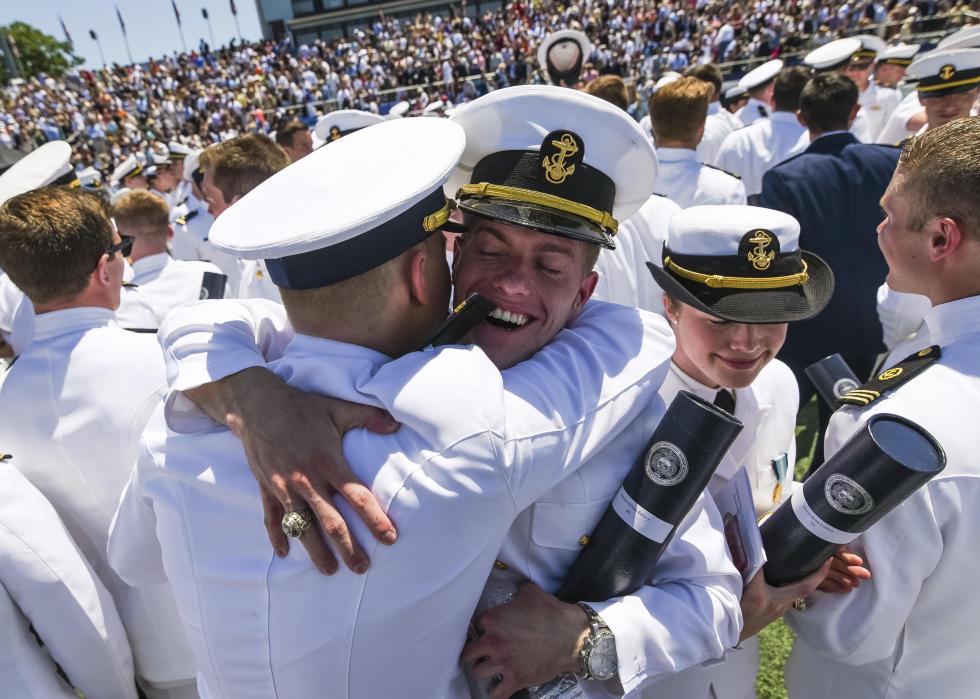 50 / 50
Master Sgt. Michel Sauret // U.S. Army
#1. United States Merchant Marine Academy
Median salary for alumni 0–5 years from graduation: $80,800
Median salary for alumni 10+ years from graduation: $136,600
Undergraduate enrollment: 904
Location: Kings Point, NY