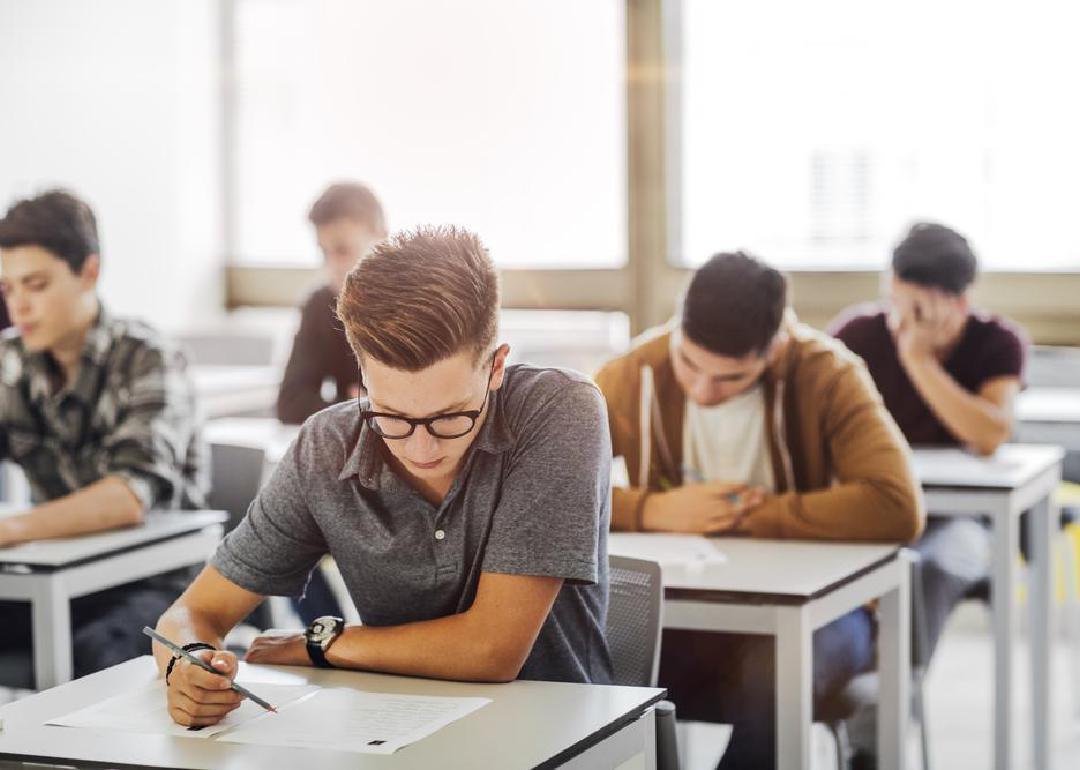 States with the highest SAT scores
LStockStudio // Shutterstock
States with the highest SAT scores
The source of dread for nearly 2 million high schoolers every year, the SAT, or Scholastic Assessment Test, is an almost four-hour-long juggernaut designed to test a student's abilities in reading, math, and (optionally) writing. Grade point average, extracurricular activities, and supplemental essays are all important factors on a college application; however, the SAT provides a way to compare students nationwide, no matter how grades are weighted or how many clubs exist at individual high schools.
The SAT has its fair share of naysayers. Many experts point to the fact that high SAT scores are only loosely correlated with success in college, which is better predicted by high school grades. Higher SAT scores are strongly correlated with higher family income, showing the advantages of tutoring. Several high-profile schools, including the University of Chicago and George Washington University, don't even require the SAT on their 2018 applications. To counteract the criticism, the College Boards, which administers the SAT, made sweeping changes to the test in 2016, no longer requiring students to memorize archaic vocabulary and getting rid of the point penalty for guessing. It remains to be seen whether the changes will affect students' scores.  
Stacker referenced College Board data reported by PrepScholar to rank the states with the highest performance on the SAT, drawing on results from the class of 2017. Each state's average composite score is included along with the average scores in Evidence-Based Reading and Writing ("Reading") and Math ("Math"), as well as the participation rate, which indicates how many students in the state took the test. Certain places mandate that high schoolers take the test, leading to higher participation rates but lower scores overall, while many of the leading states on our list have participation rates of less than 10%.
Read on to see where your state stacks up in mastering the SAT.
You may also like: Hardest college to get into in every state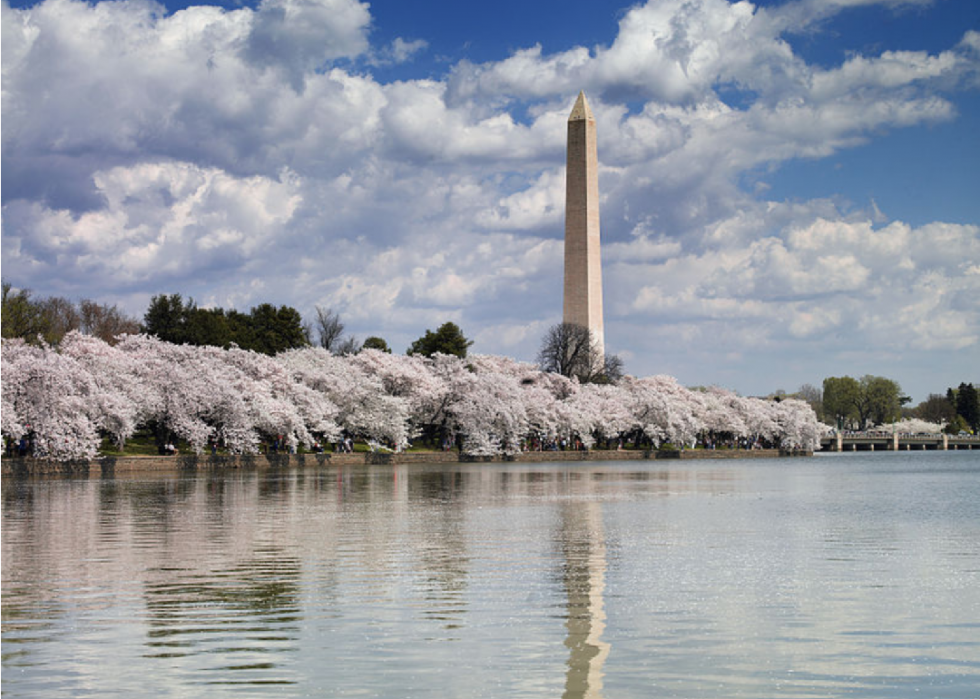 1 / 51
Public Domain // Wikicommons
#51. Washington D.C.
- Total score: 977
- Participation rate: 92%
- Top colleges that received students' scores: University of Maryland–College Park, Bowie State University, Temple University
- Share of this grade who took the PSAT last year: 85%
- Highest level of parental education: 24% graduate degree, 15% bachelor's degree, 4% associate degree, 29% high school diploma, 9% no high school diploma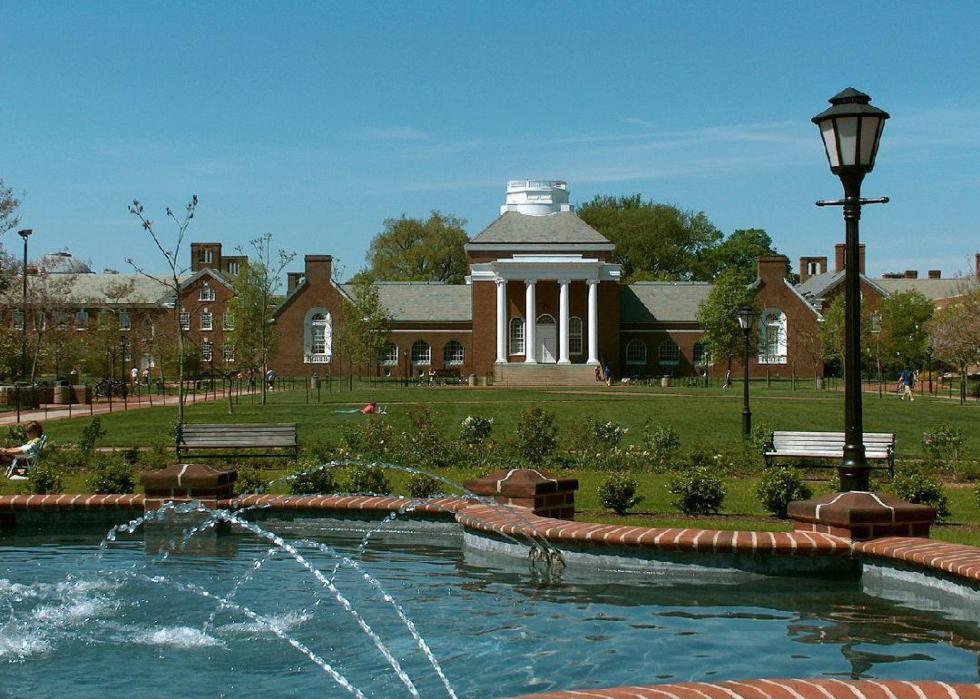 2 / 51
"University of Delaware" - Cargoudel // Wikicommons
#50. Delaware
- Total score: 998
- Participation rate: 100%
- Top colleges that received students' scores: University of Delaware, Delaware State University, Penn State University Park
- Share of this grade who took the PSAT last year: 61%
- Highest level of parental education: 17% graduate degree, 25% bachelor's degree, 8% associate degree, 31% high school diploma, 6% no high school diploma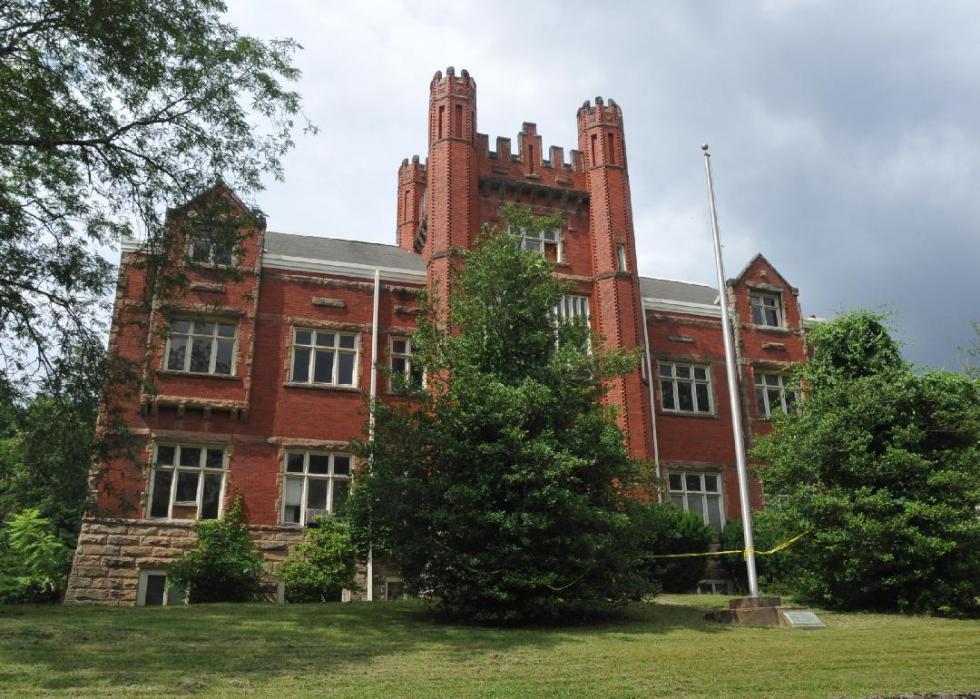 3 / 51
JERRYE AND ROY KLOTZ MD // Wikimedia Commons
#49. West Virginia
- Total score: 999
- Participation rate: 28.%
- Top colleges that received students' scores: West Virginia University, Marshall University, Fairmont State University
- Share of this grade who took the PSAT last year: 17%
- Highest level of parental education: 15% graduate degree, 21% bachelor's degree, 7% associate degree, 20% high school diploma, 1% no high school diploma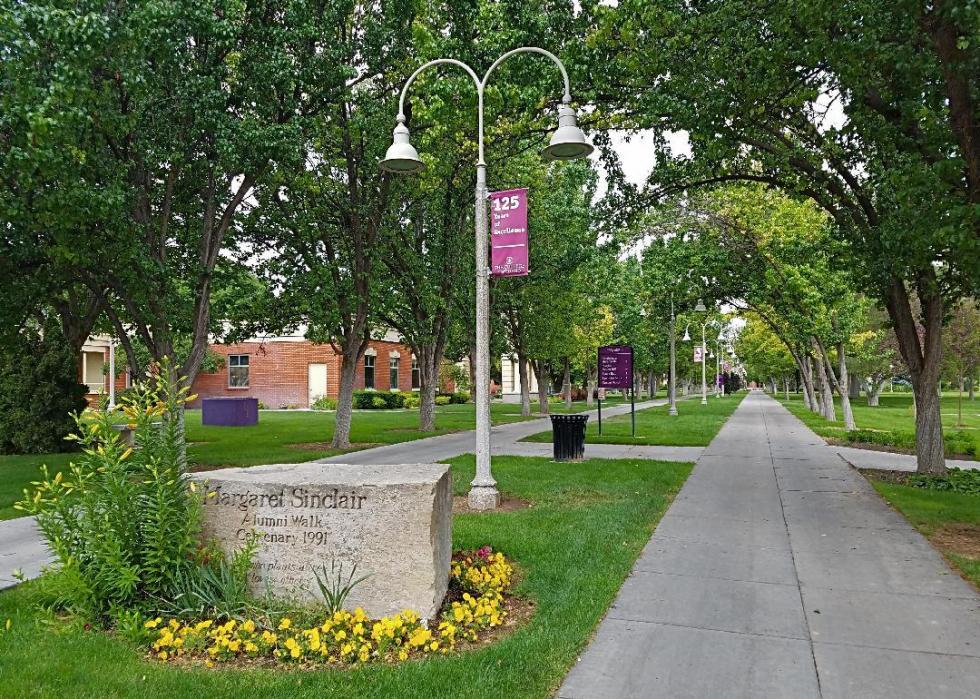 4 / 51
"College of Idaho" - Tamanoeconomico // Wikicommons
#48. Idaho
- Total score: 1001
- Participation rate: 100%
- Top colleges that received students' scores: Boise State University, University of Idaho, Idaho State University
- Share of this grade who took the PSAT last year: 31%
- Highest level of parental education: 12% graduate degree, 23% bachelor's degree, 7% associate degree, 27% high school diploma, 6% no high school diploma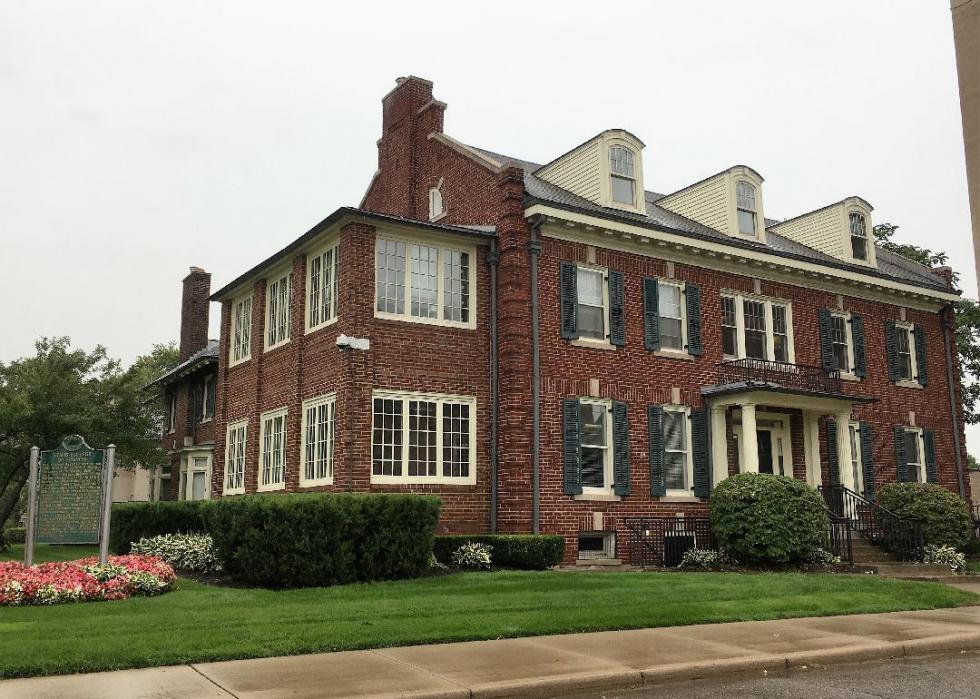 5 / 51
Marlene Ann Brill // Wikimedia Commons
#47. Michigan
- Total score: 1011
- Participation rate: 100%
- Top colleges that received students' scores: Michigan State University, Central Michigan University, University of Michigan
- Share of this grade who took the PSAT last year: 51%
- Highest level of parental education: 16% graduate degree, 28% bachelor's degree, 10% associate degree, 33% high school diploma, 6% no high school diploma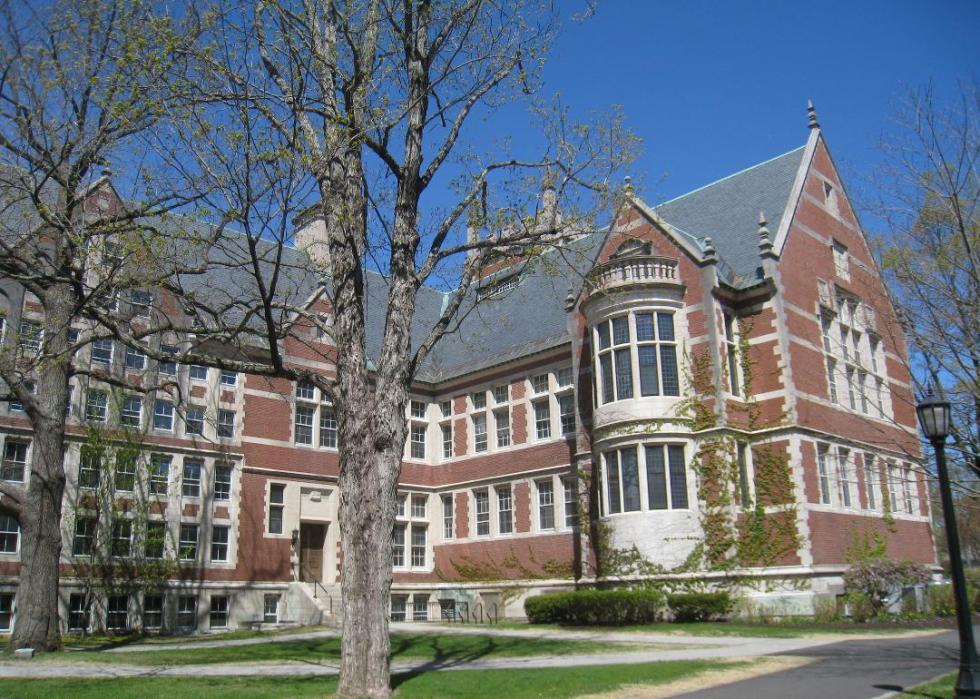 6 / 51
Daderot // Wikimedia Commons
#46. Maine
- Total score: 1013
- Participation rate: 99%
- Top colleges that received students' scores: University of Maine, University of Southern Maine, University of New Hampshire
- Share of this grade who took the PSAT last year: 62%
- Highest level of parental education: 22% graduate degree, 15% bachelor's degree, 8% associate degree, 27% high school diploma, 2% no high school diploma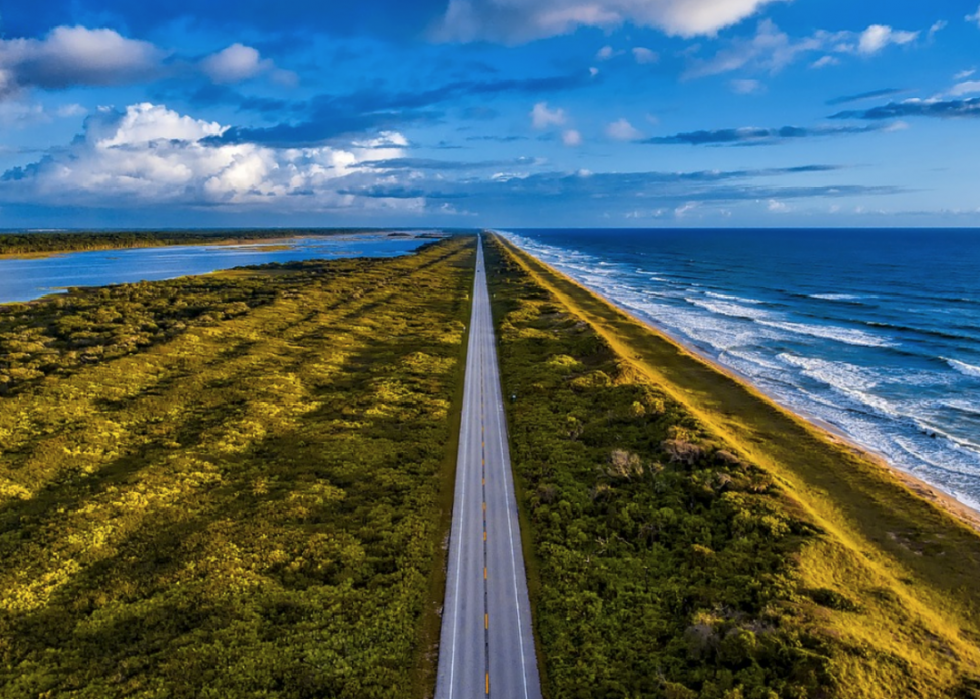 7 / 51
#45. Florida
- Total score: 1014
- Participation rate: 97%
- Top colleges that received students' scores: University of Central Florida, University of Florida, Florida State University
- Share of this grade who took the PSAT last year: 43%
- Highest level of parental education: 16% graduate degree, 25% bachelor's degree, 8% associate degree, 32% high school diploma, 8% no high school diploma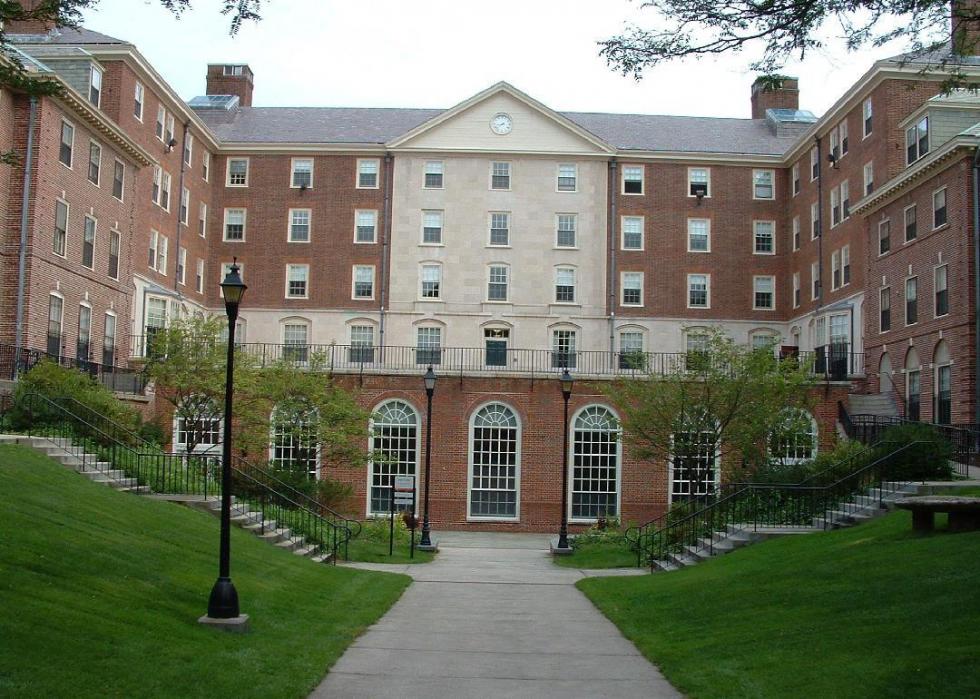 8 / 51
"Brown University" - Apavlo // Wikicommons
#44. Rhode Island
- Total score: 1018
- Participation rate: 97%
- Top colleges that received students' scores: University of Rhode Island, Rhode Island College, Northeastern University
- Share of this grade who took the PSAT last year: 60%
- Highest level of parental education: 18% graduate degree, 25% bachelor's degree, 7% associate degree, 27% high school diploma, 7% no high school diploma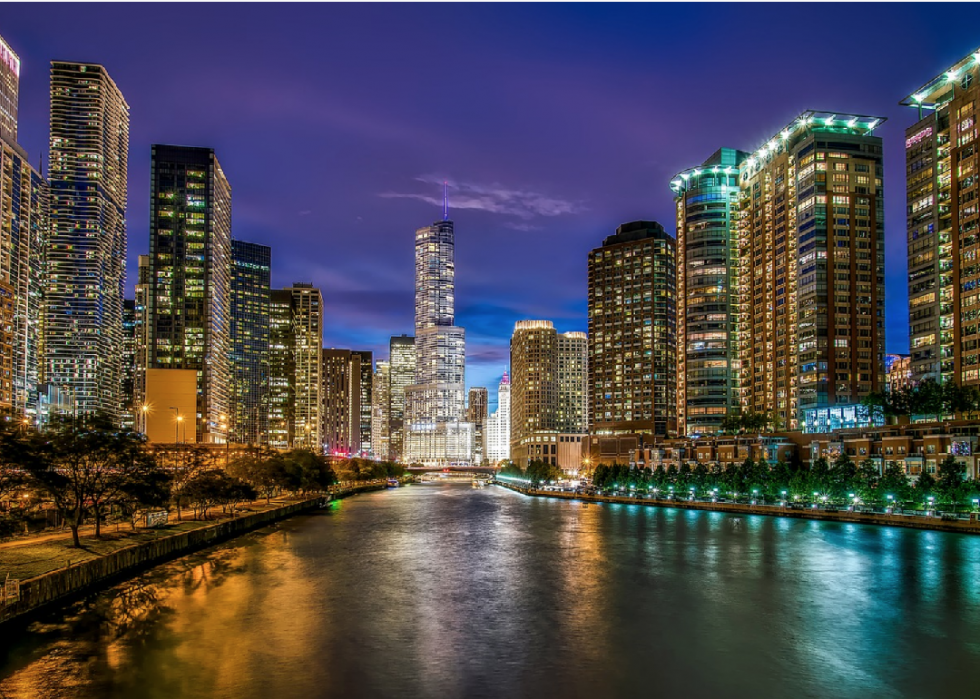 9 / 51
#43. Illinois
- Total score: 1019
- Participation rate: 99%
- Top colleges that received students' scores: University of Illinois at Urbana-Champaign, Illinois State University, University of Illinois at Chicago
- Share of this grade who took the PSAT last year: 59%
- Highest level of parental education: 14% graduate degree, 22% bachelor's degree, 7% associate degree, 25% high school diploma, 9% no high school diploma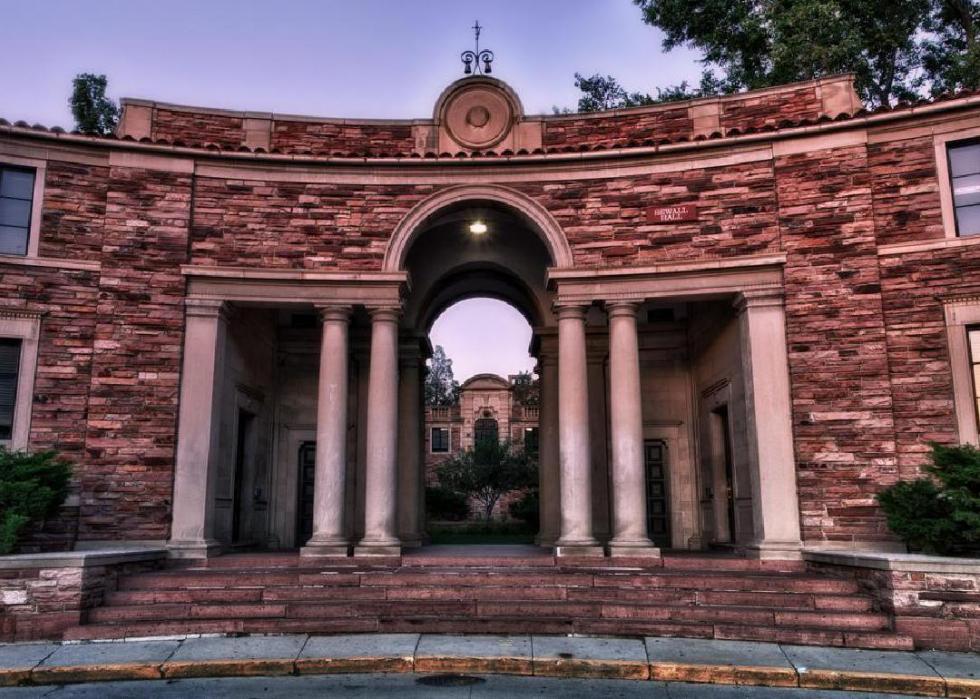 10 / 51
"Sewall Hall, University of Colorado" - Max and Dee Bernt // Flickr
#42. Colorado
- Total score: 1025
- Participation rate: 100%
- Top colleges that received students' scores: University of Colorado Boulder, Colorado State University, University of Northern Colorado
- Share of this grade who took the PSAT last year: 28%
- Highest level of parental education: 17% graduate degree, 25% bachelor's degree, 6% associate degree, 23% high school diploma, 9% no high school diploma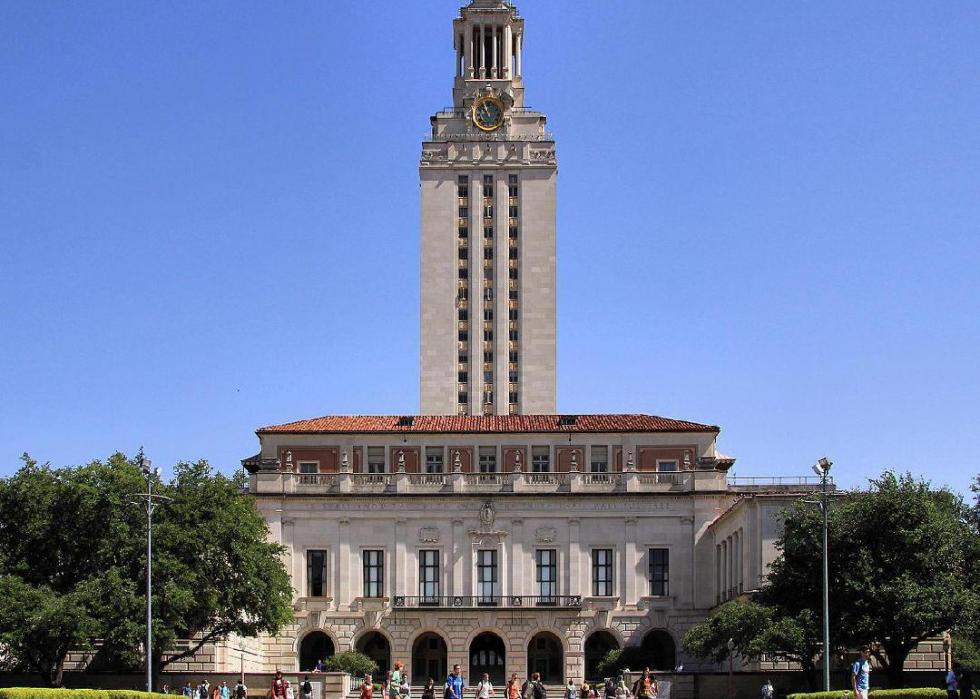 11 / 51
"University of Texas" - Larry D. Moore // Wikicommons
#41. Texas
- Total score: 1032
- Participation rate: 66%
- Top colleges that received students' scores: Texas A&M University, University of Texas at Austin, Texas State University
- Share of this grade who took the PSAT last year: 65%
- Highest level of parental education: 16% graduate degree, 26% bachelor's degree, 8% associate degree, 31% high school diploma, 13% no high school diploma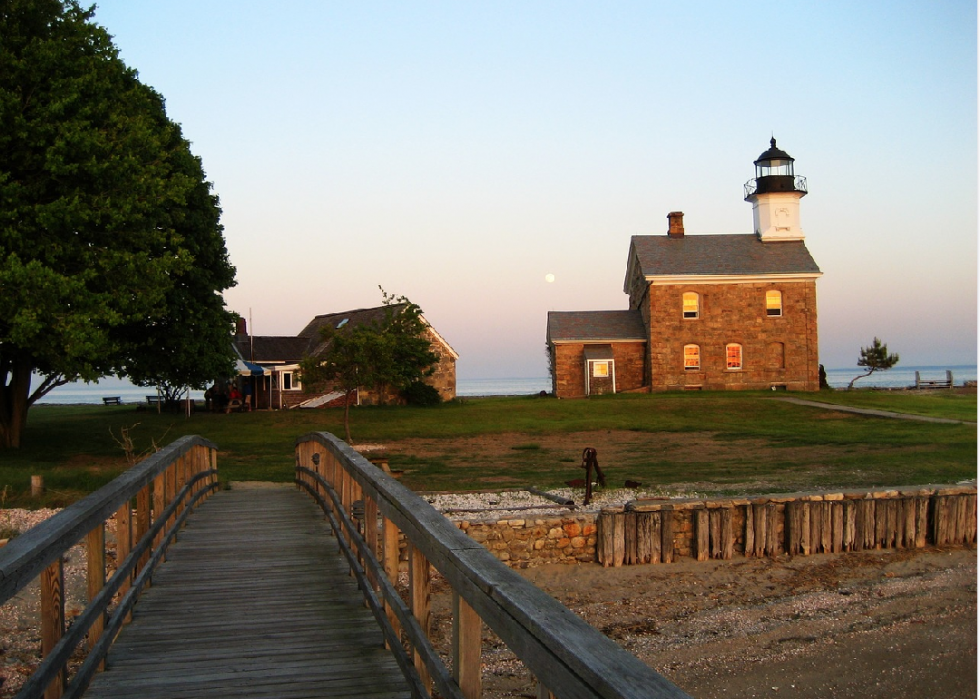 12 / 51
#40. Connecticut
- Total score: 1053
- Participation rate: 100%
- Top colleges that received students' scores: University of Connecticut, Central Connecticut State University, Southern Connecticut State University
- Share of this grade who took the PSAT last year: 88%
- Highest level of parental education: 12% graduate degree, 22% bachelor's degree, 6% associate degree, 27% high school diploma, 5% no high school diploma
13 / 51
#39. Oklahoma
- Total score: 1062
- Participation rate: 8%
- Top colleges that received students' scores: University of Oklahoma, Oklahoma State University, University of Tulsa
- Share of this grade who took the PSAT last year: 23%
- Highest level of parental education: 24% graduate degree, 26% bachelor's degree, 6% associate degree, 23% high school diploma, 9% no high school diploma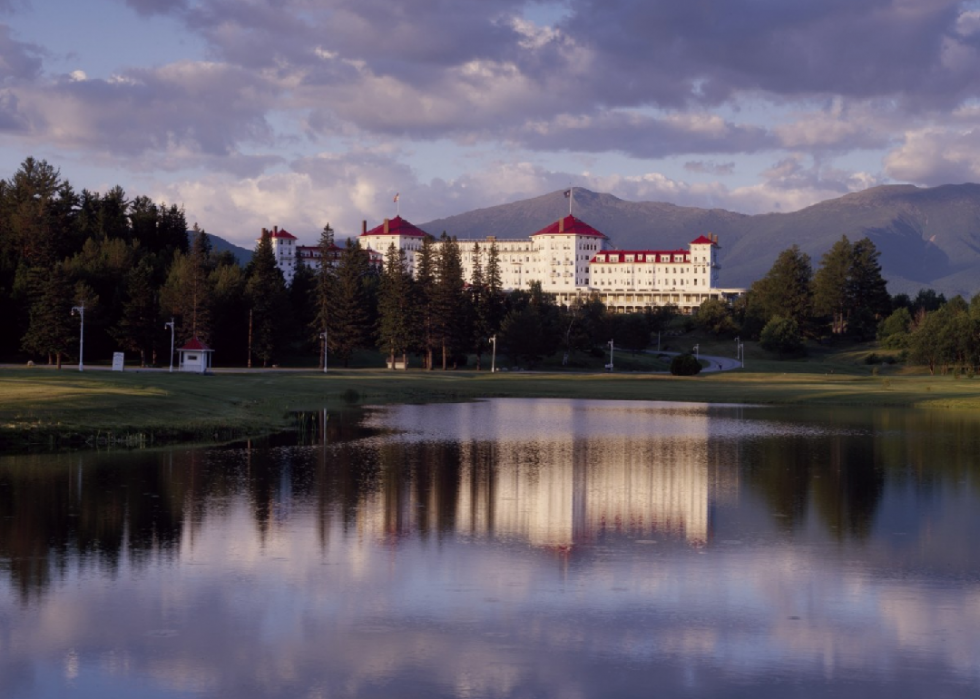 14 / 51
#38. New Hampshire
- Total score: 1063
- Participation rate: 96%
- Top colleges that received students' scores: University of New Hampshire, Keene State College, University of Vermont
- Share of this grade who took the PSAT last year: 59%
- Highest level of parental education: 20% graduate degree, 30% bachelor's degree, 7% associate degree, 21% high school diploma, 2% no high school diploma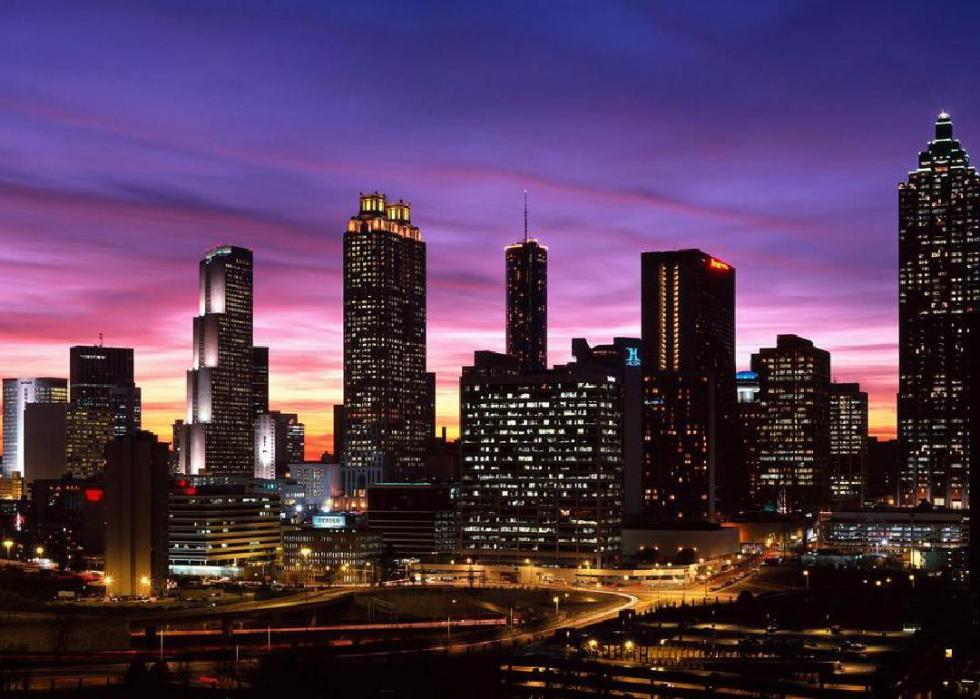 15 / 51
#37. Georgia
- Total score: 1064
- Participation rate: 70%
- Top colleges that received students' scores: University of Georgia, Kennesaw State University, Georgia State University
- Share of this grade who took the PSAT last year: 31%
- Highest level of parental education: 22% graduate degree, 31% bachelor's degree, 9% associate degree, 28% high school diploma, 6% no high school diploma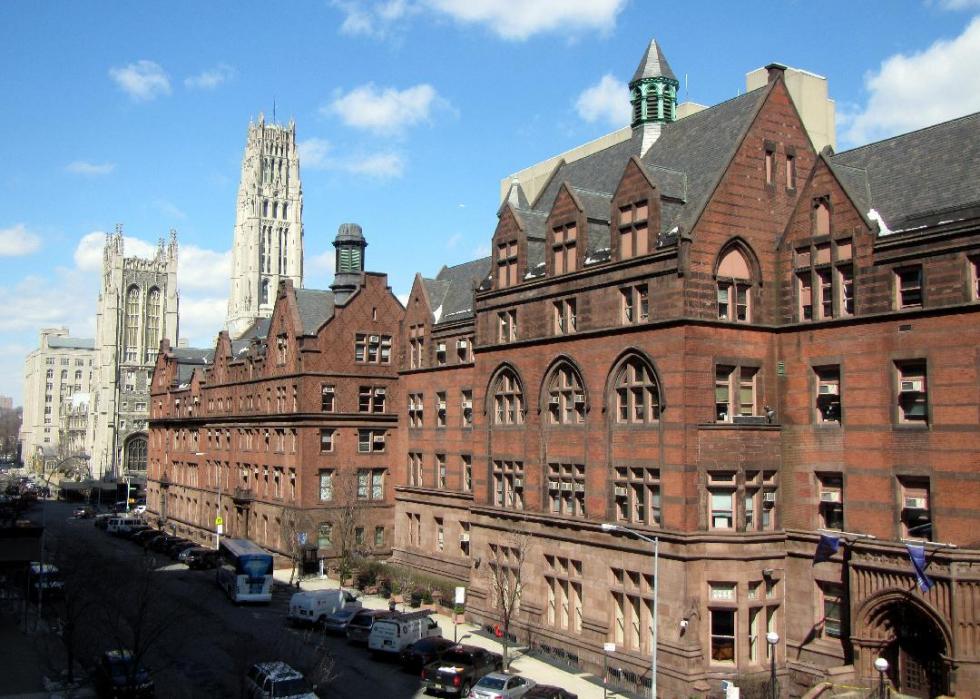 16 / 51
Bohao Zhao // Wikimedia Commons
#36. New York
- Total score: 1068
- Participation rate: 79%
- Top colleges that received students' scores: SUNY University at Stony Brook, SUNY University at Binghamton, City University of New York
- Share of this grade who took the PSAT last year: 50%
- Highest level of parental education: 20% graduate degree, 24% bachelor's degree, 9% associate degree, 27% high school diploma, 10% no high school diploma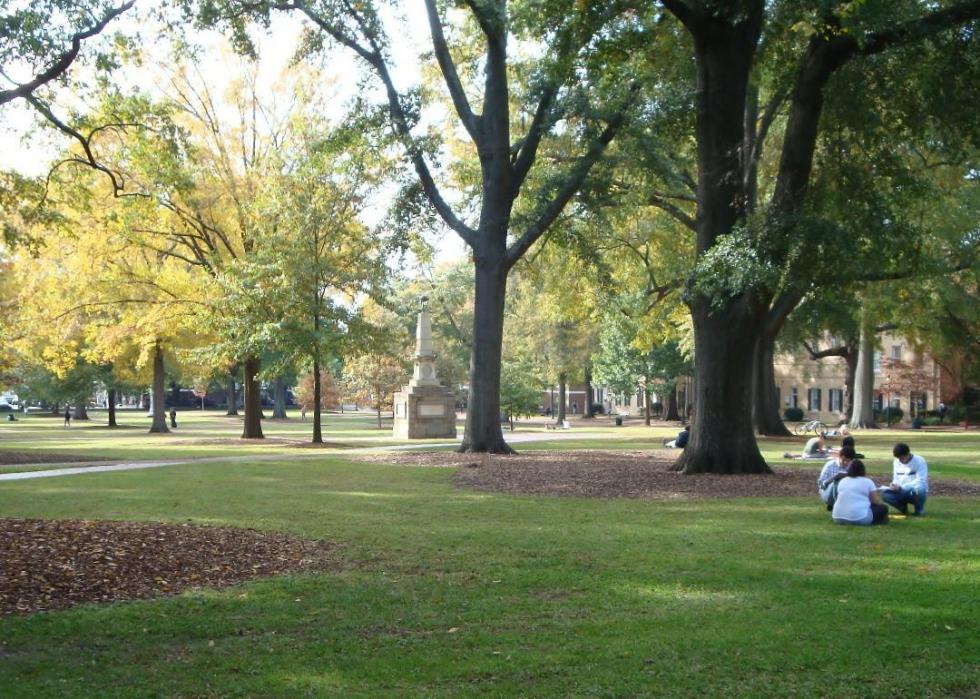 17 / 51
Dfscgt21 // Wikimedia Commons
#35. South Carolina
- Total score: 1070
- Participation rate: 55%
- Top colleges that received students' scores: University of South Carolina: Columbia, Clemson University, College of Charleston
- Share of this grade who took the PSAT last year: 29%
- Highest level of parental education: 23% graduate degree, 35% bachelor's degree, 12% associate degree, 25% high school diploma, 3% no high school diploma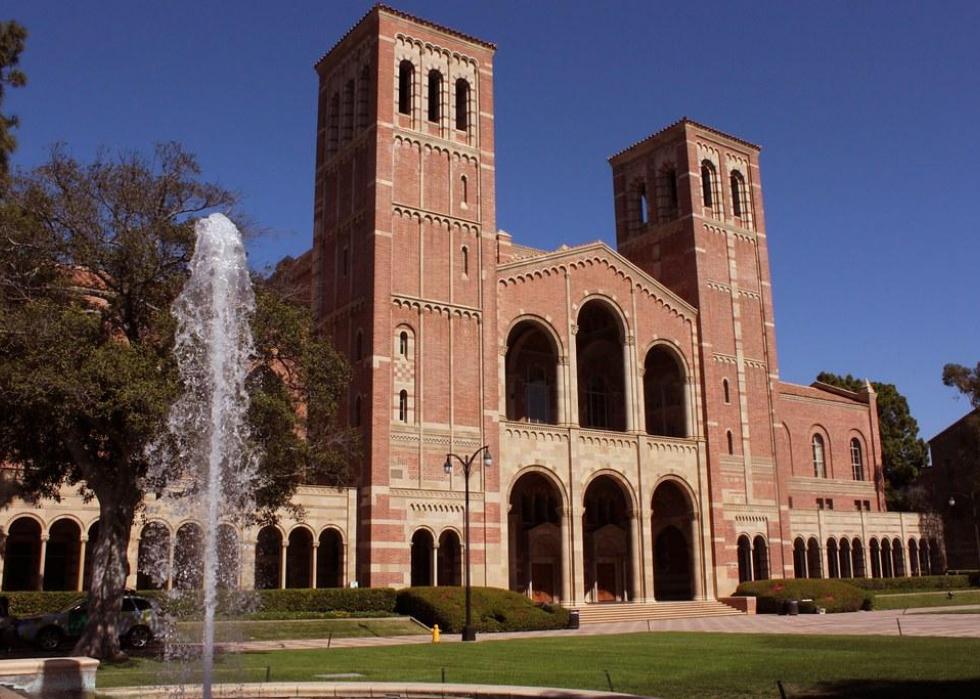 18 / 51
Prayitno / Thank you for (12 millions +) // Flickr
#34. California
- Total score: 1076
- Participation rate: 60%
- Top colleges that received students' scores: California State University, University of California: Los Angeles, University of California: Irvine
- Share of this grade who took the PSAT last year: 50%
- Highest level of parental education: 17% graduate degree, 24% bachelor's degree, 6% associate degree, 32% high school diploma, 17% no high school diploma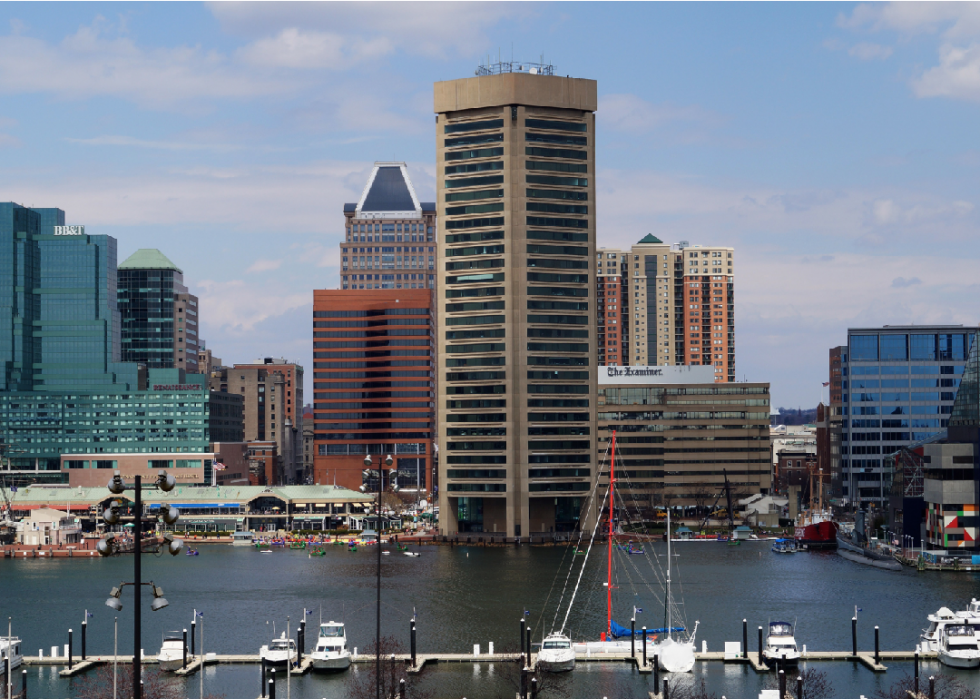 19 / 51
#33. Maryland
- Total score: 1080
- Participation rate: 76%
- Top colleges that received students' scores: University of Maryland: College Park, Towson University, University of Maryland: Baltimore County
- Share of this grade who took the PSAT last year: 58%
- Highest level of parental education: 28% graduate degree, 29% bachelor's degree, 6% associate degree, 27% high school diploma, 5% no high school diploma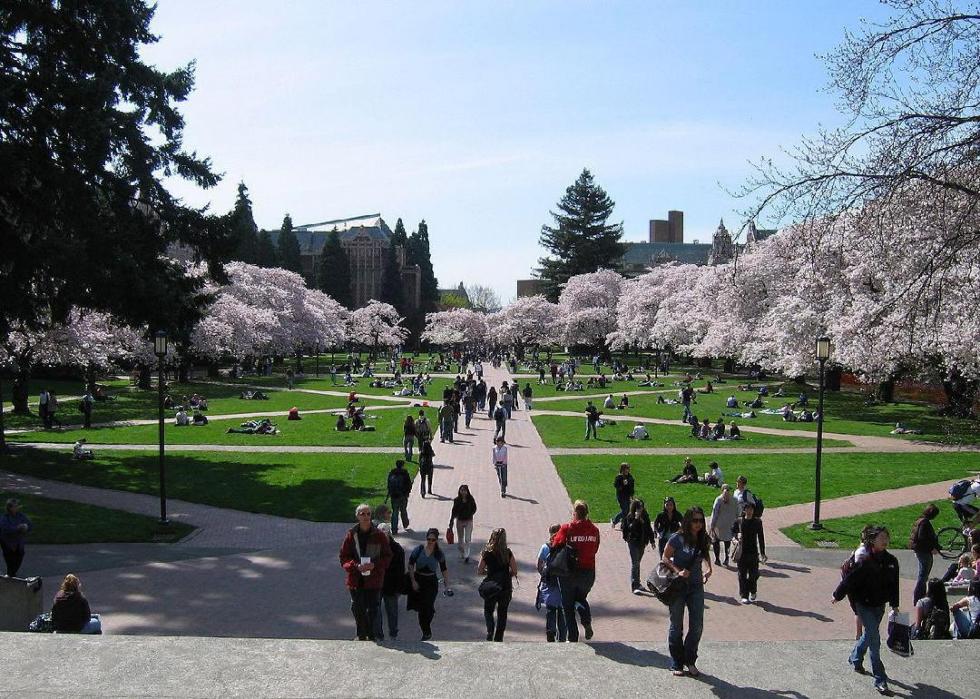 20 / 51
Punctured Bicycle // Wikicommons
#32. Washington
- Total score: 1082
- Participation rate: 69%
- Top colleges that received students' scores: Washington State University, University of Washington, Western Washington University
- Share of this grade who took the PSAT last year: 48%
- Highest level of parental education: 20% graduate degree, 29% bachelor's degree, 8% associate degree, 26% high school diploma, 7% no high school diploma
21 / 51
PadreNuestro // Wikimedia Commons
#31. Pennsylvania
- Total score: 1086
- Participation rate: 70%
- Top colleges that received students' scores: Penn State University Park, Temple University, University of Pittsburgh
- Share of this grade who took the PSAT last year: 56%
- Highest level of parental education: 23% graduate degree, 32% bachelor's degree, 9% associate degree, 28% high school diploma, 3% no high school diploma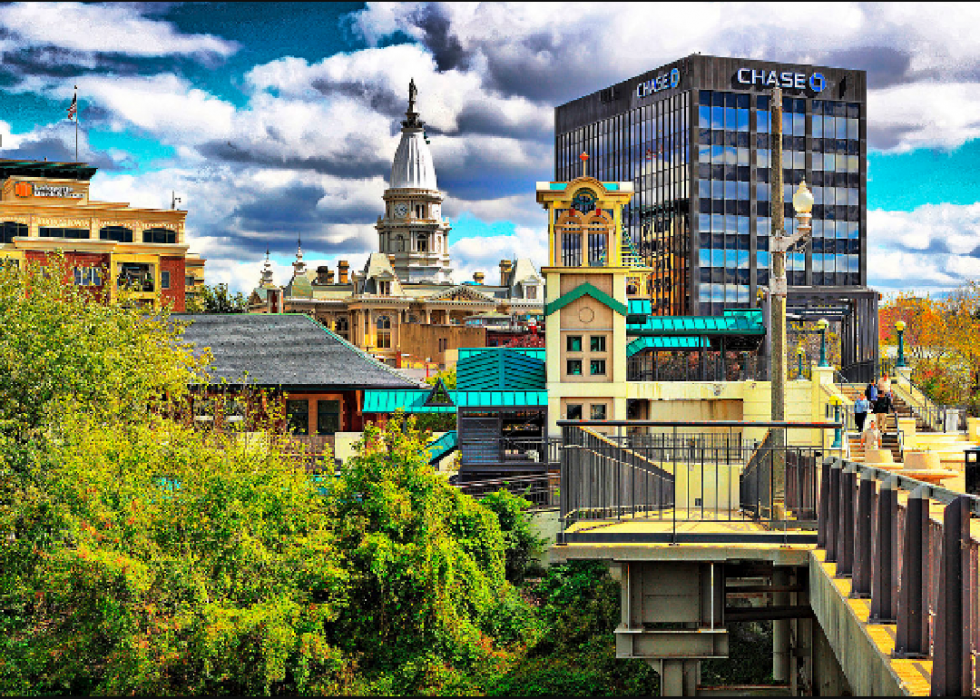 22 / 51
John Schanlaub // Wikicommons
#30. Indiana
- Total score: 1086
- Participation rate: 67%
- Top colleges that received students' scores: Indiana University–Bloomington, Ball State University, Purdue University
- Share of this grade who took the PSAT last year: 67%
- Highest level of parental education: 17% graduate degree, 35% bachelor's degree, 11% associate degree, 30% high school diploma, 4% no high school diploma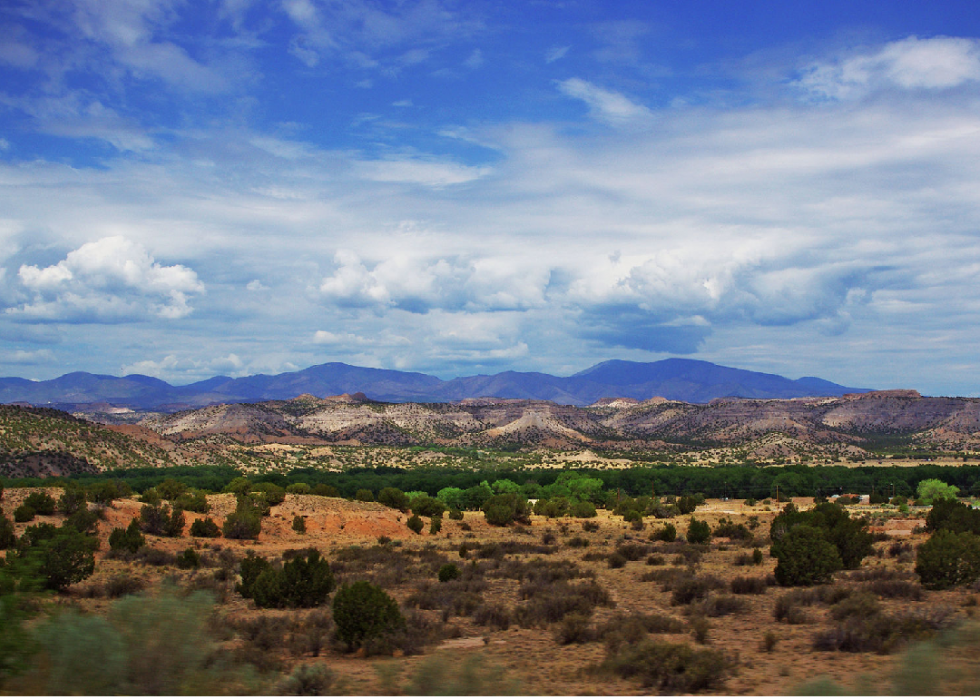 23 / 51
Thomas Shahan // Wikimedia Commons
#29. New Mexico
- Total score: 1093
- Participation rate: 16%
- Top colleges that received students' scores: University of New Mexico, New Mexico State University, Texas Tech University
- Share of this grade who took the PSAT last year: 29%
- Highest level of parental education: 30% graduate degree, 27% bachelor's degree, 8% associate degree, 24% high school diploma, 7% no high school diploma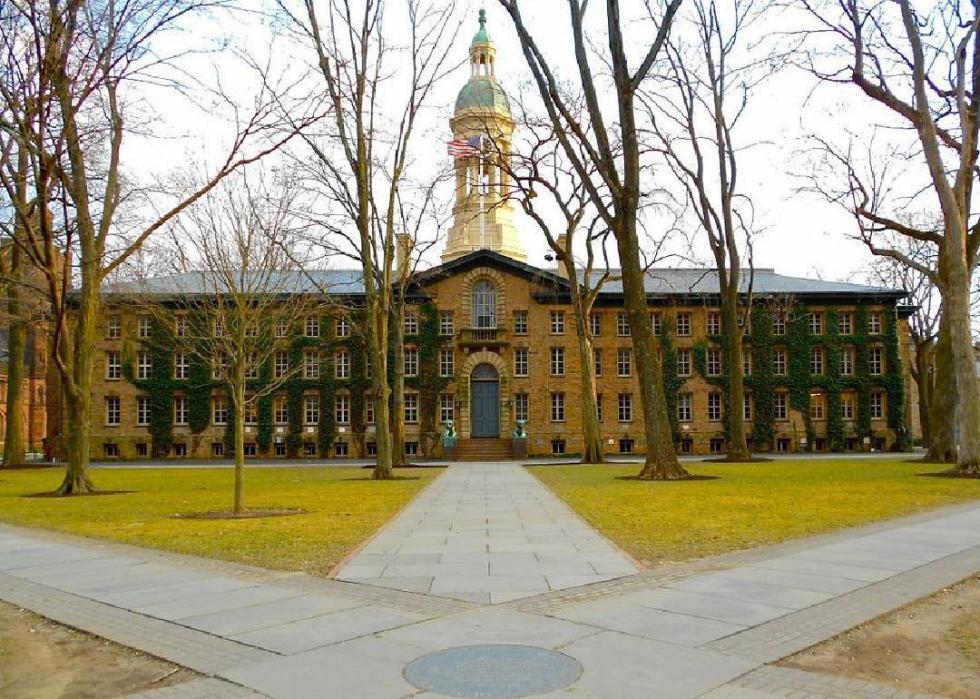 24 / 51
#28. New Jersey
- Total score: 1094
- Participation rate: 82%
- Top colleges that received students' scores: Rutgers University, Rowan University, The College of New Jersey
- Share of this grade who took the PSAT last year: 86%
- Highest level of parental education: 23% graduate degree, 31% bachelor's degree, 7% associate degree, 28% high school diploma, 6% no high school diploma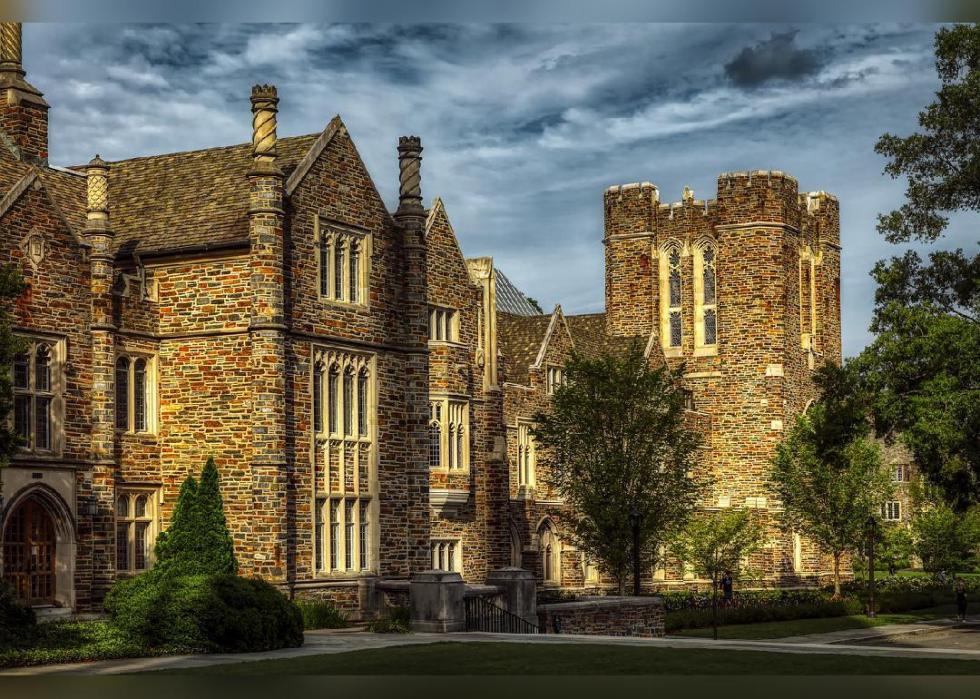 25 / 51
#27. North Carolina
- Total score: 1098
- Participation rate: 52%
- Top colleges that received students' scores: North Carolina State University, University of North Carolina at Charlotte, University of North Carolina at Chapel Hill
- Share of this grade who took the PSAT last year: 39%
- Highest level of parental education: 24% graduate degree, 36% bachelor's degree, 11% associate degree, 23% high school diploma, 4% no high school diploma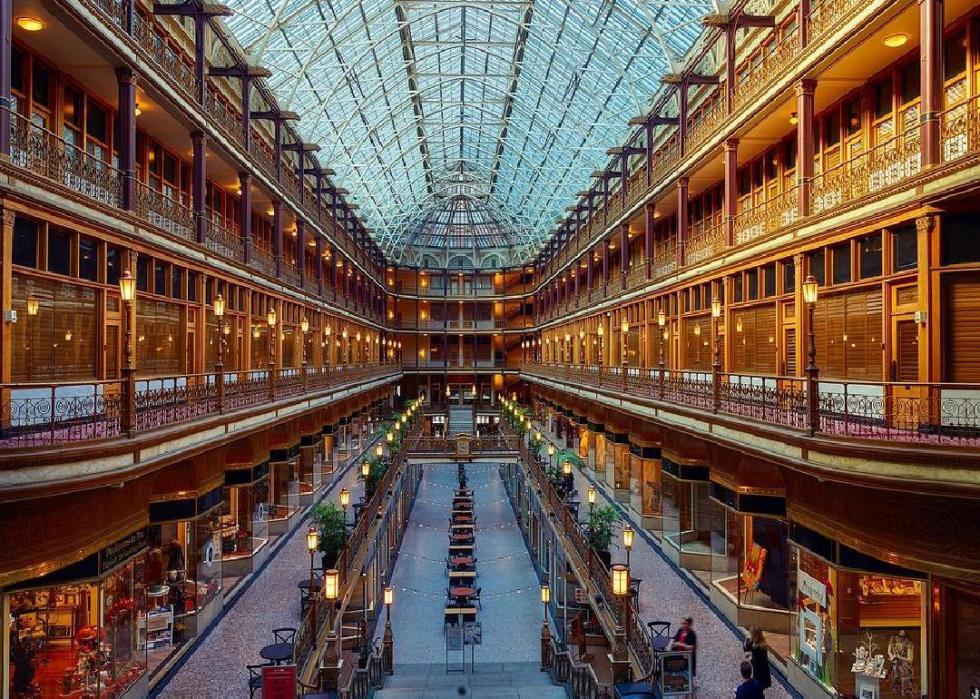 26 / 51
#26. Ohio
- Total score: 1099
- Participation rate: 18%
- Top colleges that received students' scores: Ohio State University: Columbus Campus, University of Cincinnati, Miami University: Oxford
- Share of this grade who took the PSAT last year: 35%
- Highest level of parental education: 26% graduate degree, 31% bachelor's degree, 6% associate degree, 21% high school diploma, 3% no high school diploma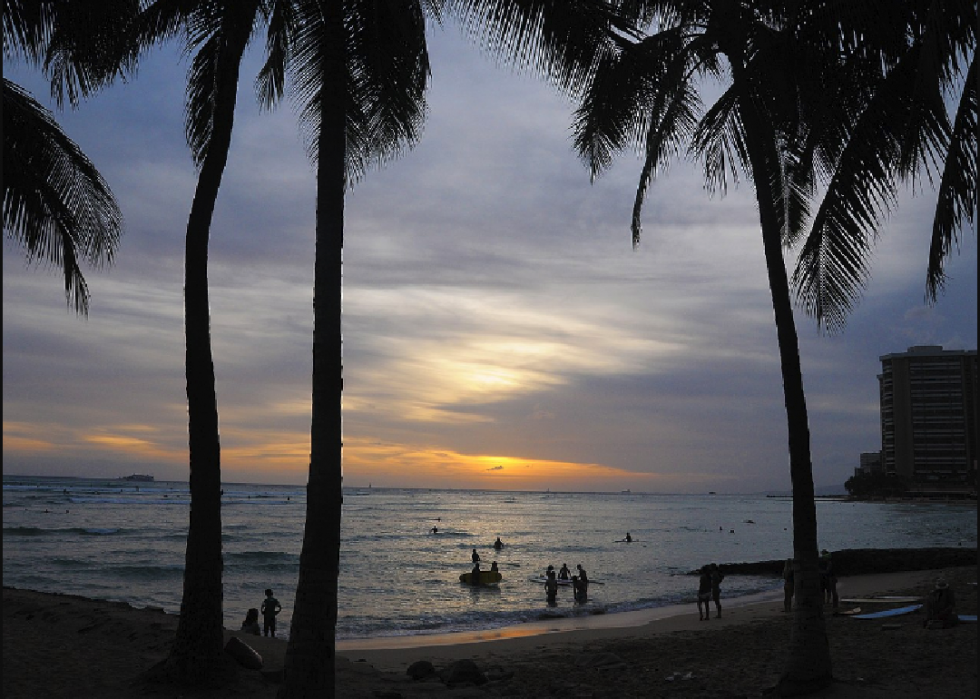 27 / 51
Janine Sprout // Wikicommons
#25. Hawaii
- Total score: 1099
- Participation rate: 56.%
- Top colleges that received students' scores: University of Hawaii at Manoa, University of Portland, University of Washington
- Share of this grade who took the PSAT last year: 40%
- Highest level of parental education: 18% graduate degree, 36% bachelor's degree, 11% associate degree, 30% high school diploma, 3% no high school diploma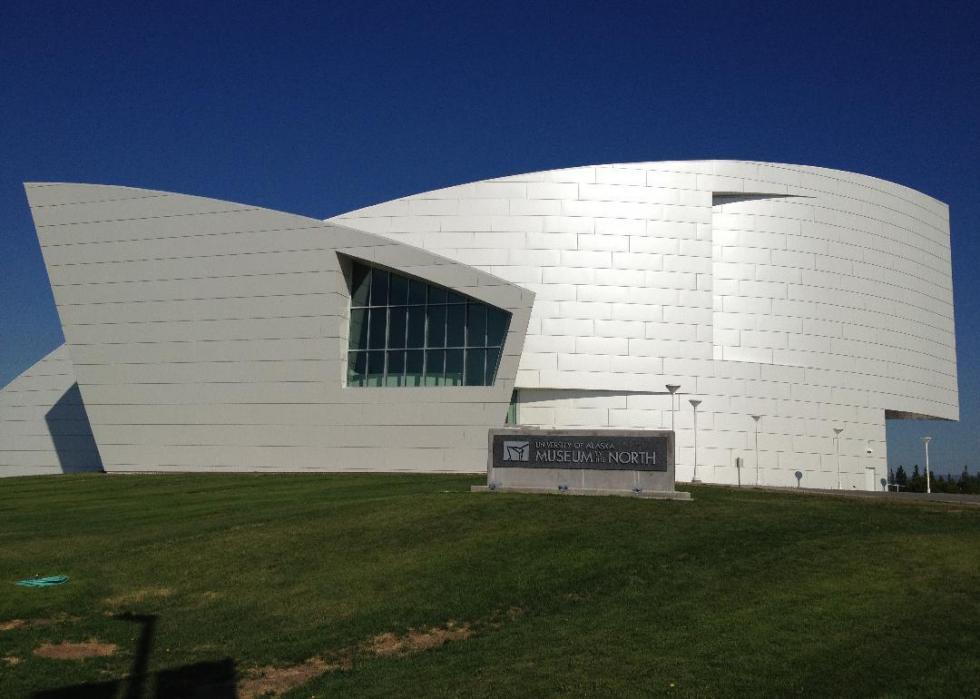 28 / 51
Maureen amerune // Wikimedia Commons
#24. Alaska
- Total score: 1106
- Participation rate: 43%
- Top colleges that received students' scores: University of Alaska Anchorage, University of Alaska Fairbanks, Montana State University
- Share of this grade who took the PSAT last year: 23%
- Highest level of parental education: 22% graduate degree, 33% bachelor's degree, 9% associate degree, 29% high school diploma, 2% no high school diploma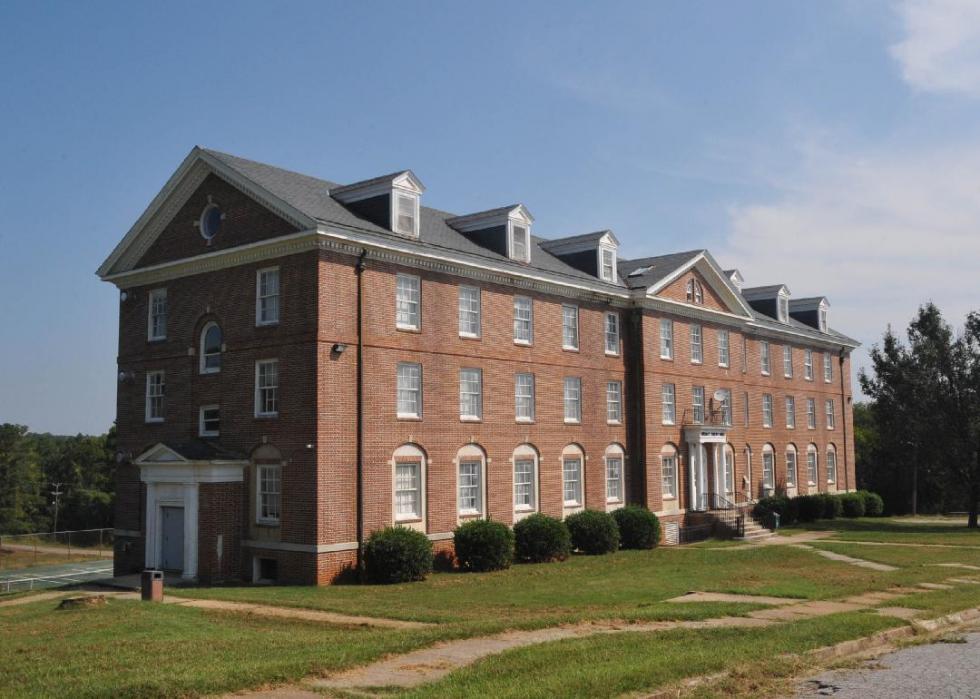 29 / 51
JERRYE AND ROY KLOTZ MD // Wikimedia Commons
#23. Virginia
- Total score: 1117
- Participation rate: 68%
- Top colleges that received students' scores: Virginia Tech, James Madison University, Virginia Commonwealth University
- Share of this grade who took the PSAT last year: 54%
- Highest level of parental education: 31% graduate degree, 33% bachelor's degree, 7% associate degree, 23% high school diploma, 3% no high school diploma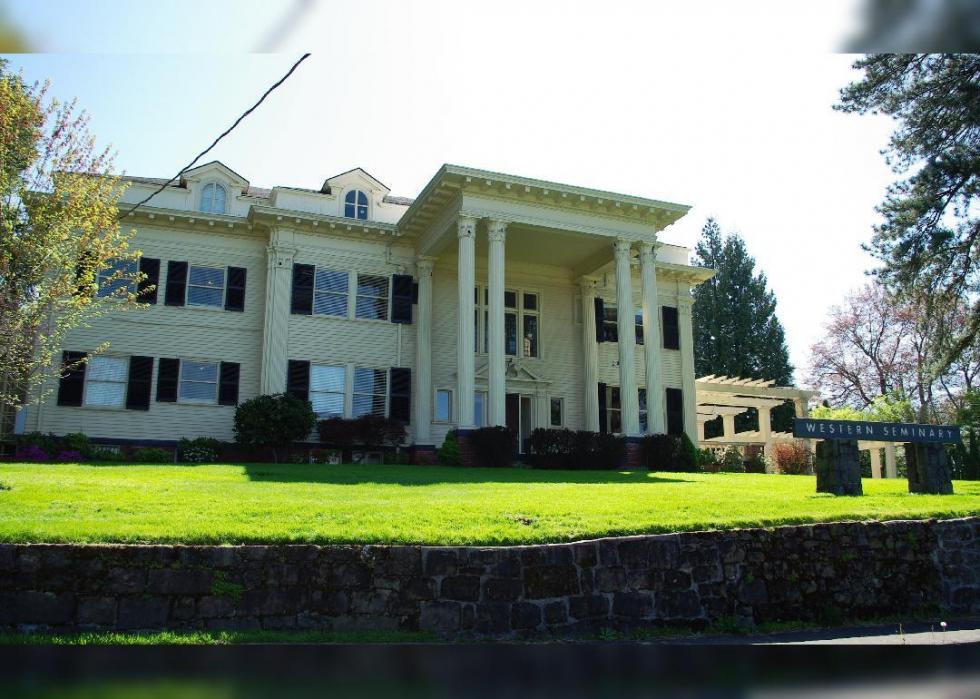 30 / 51
#22. Oregon
- Total score: 1117
- Participation rate: 48%
- Top colleges that received students' scores: Oregon State University, University of Oregon, Portland State University
- Share of this grade who took the PSAT last year: 35%
- Highest level of parental education: 24% graduate degree, 32% bachelor's degree, 8% associate degree, 25% high school diploma, 7% no high school diploma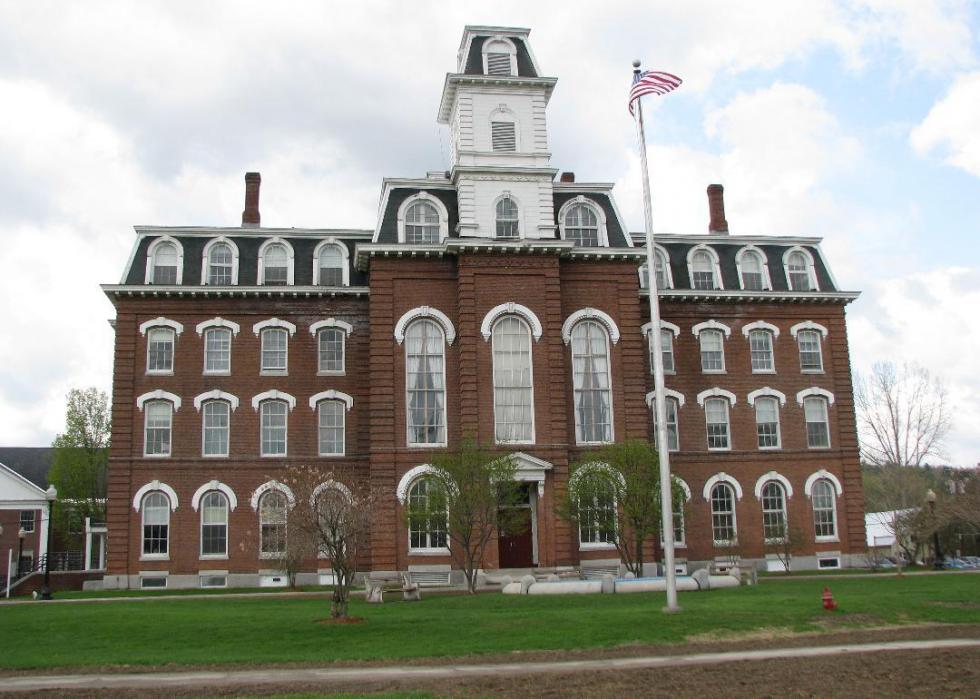 31 / 51
Sbjohnson // Wikimedia Commons
#21. Vermont
- Total score: 1120
- Participation rate: 64%
- Top colleges that received students' scores: University of Vermont, Castleton University, University of New Hampshire
- Share of this grade who took the PSAT last year: 59%
- Highest level of parental education: 29% graduate degree, 33% bachelor's degree, 9% associate degree, 23% high school diploma, 2% no high school diploma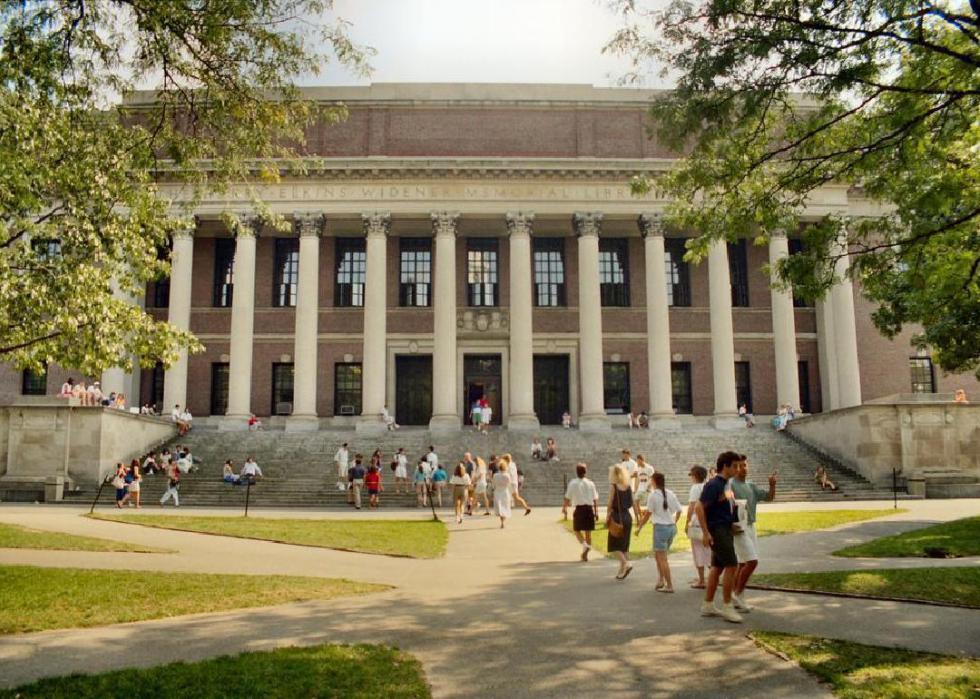 32 / 51
#20. Massachusetts
- Total score: 1125
- Participation rate: 80%
- Top colleges that received students' scores: University of Massachusetts Amherst, Northeastern University, University of Massachusetts Lowell
- Share of this grade who took the PSAT last year: 70%
- Highest level of parental education: 29% graduate degree, 32% bachelor's degree, 7% associate degree, 23% high school diploma, 5% no high school diploma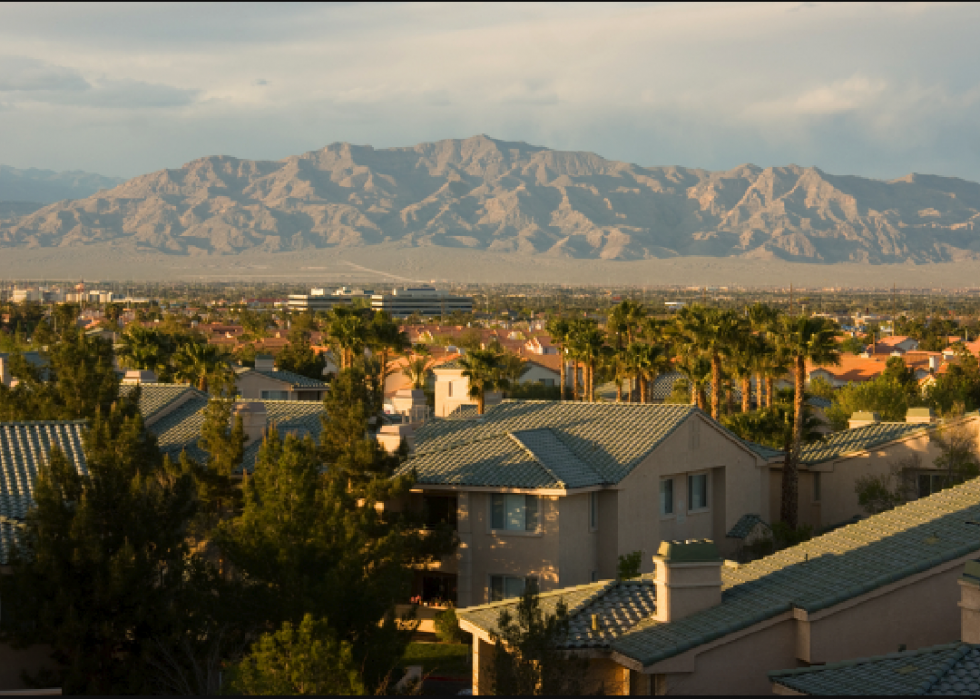 33 / 51
Christopher Boswell // Shutterstock
#19. Nevada
- Total score: 1140
- Participation rate: 23%
- Top colleges that received students' scores: University of Nevada–Reno, University of Nevada–Las Vegas, University of Southern California
- Share of this grade who took the PSAT last year: 23%
- Highest level of parental education: 22% graduate degree, 31% bachelor's degree, 7% associate degree, 30% high school diploma, 8% no high school diploma
34 / 51
Creative Commons // Wikipedia
#18. Arizona
- Total score: 1149
- Participation rate: 29.%
- Top colleges that received students' scores: Arizona State University, University of Arizona, Northern Arizona University
- Share of this grade who took the PSAT last year: 33%
- Highest level of parental education: 26% graduate degree, 34% bachelor's degree, 7% associate degree, 25% high school diploma, 5% no high school diploma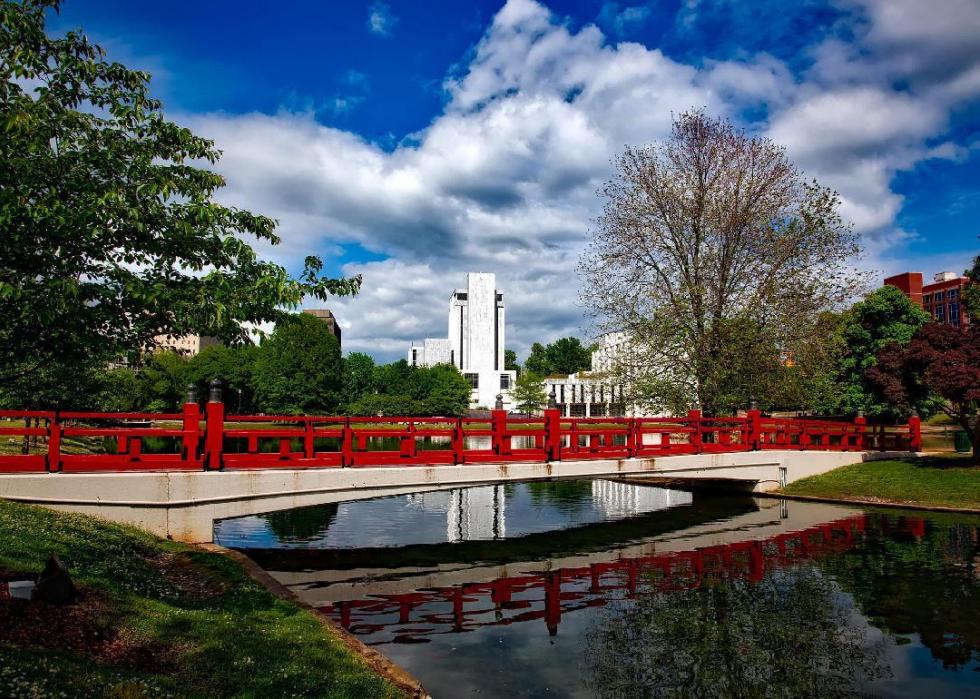 35 / 51
#17. Alabama
- Total score: 1166
- Participation rate: 6%
- Top colleges that received students' scores: Auburn University, University of Alabama, University of Alabama at Birmingham
- Share of this grade who took the PSAT last year: 22%
- Highest level of parental education: 36% graduate degree, 36% bachelor's degree, 8% associate degree, 16% high school diploma, 2% no high school diploma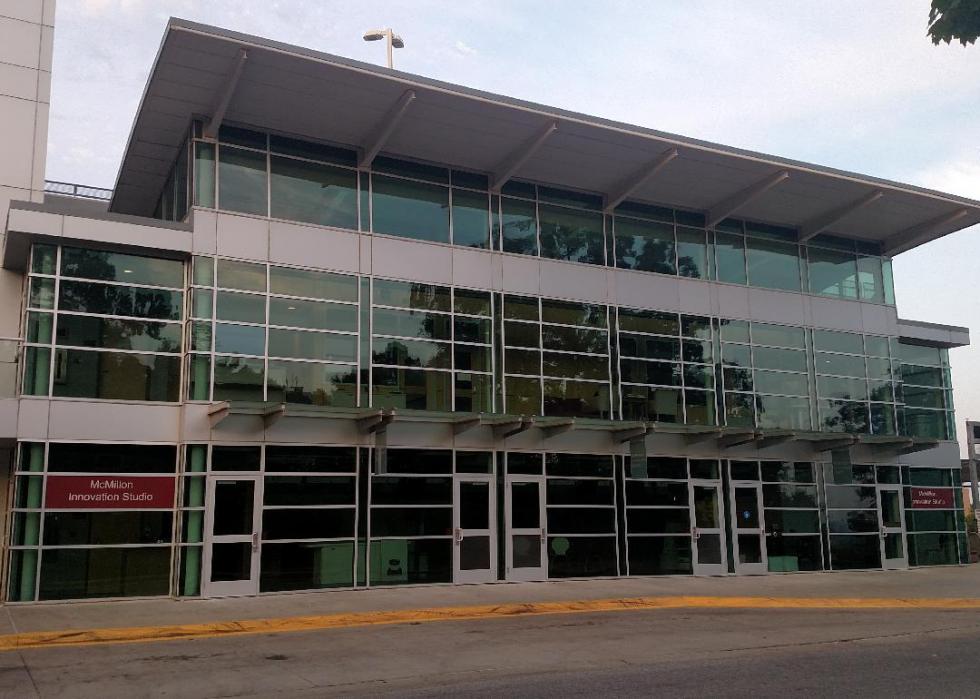 36 / 51
Brandonrush // Wikimedia Commons
#16. Arkansas
- Total score: 1169
- Participation rate: 5%
- Top colleges that received students' scores: University of Arkansas, University of Central Arkansas, Arkansas Tech University
- Share of this grade who took the PSAT last year: 17%
- Highest level of parental education: 34% graduate degree, 33% bachelor's degree, 6% associate degree, 20% high school diploma, 5% no high school diploma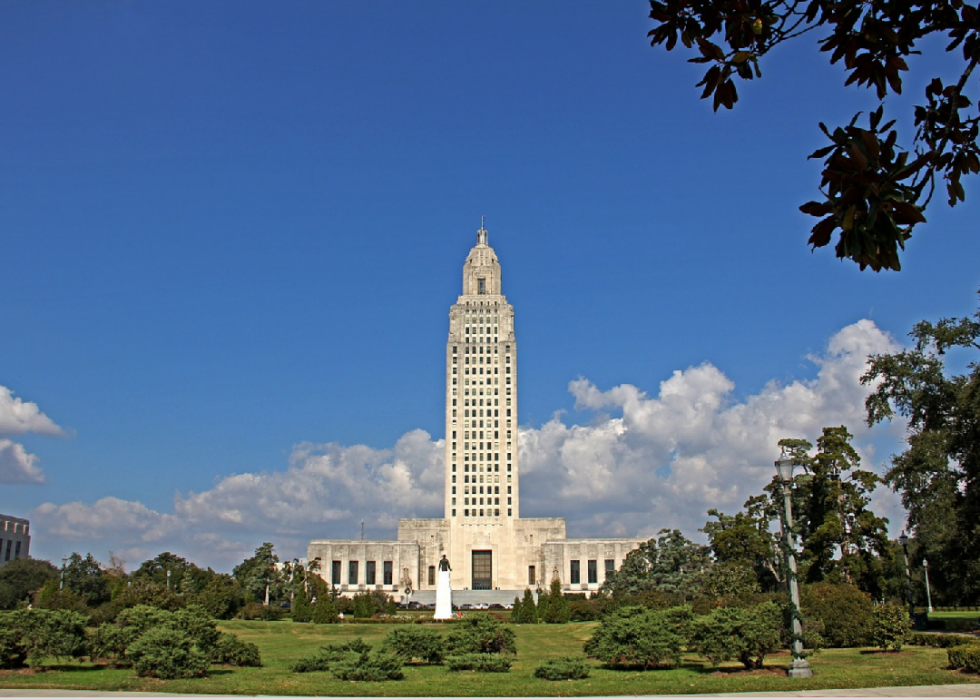 37 / 51
#15. Louisiana
- Total score: 1210
- Participation rate: 4%
- Top colleges that received students' scores: Louisiana SU/A&M College, Tulane University, University of Louisiana at Lafayette
- Share of this grade who took the PSAT last year: 21%
- Highest level of parental education: 40% graduate degree, 33% bachelor's degree, 5% associate degree, 18% high school diploma, 2% no high school diploma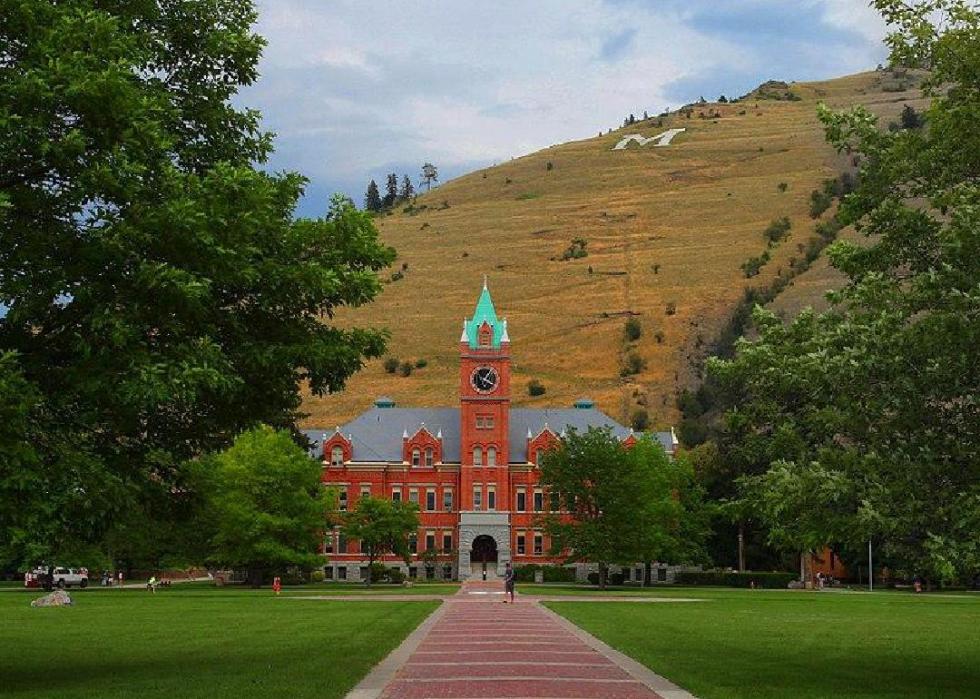 38 / 51
Jitze Couperus // Wikicommons
#14. Montana
- Total score: 1229
- Participation rate: 10%
- Top colleges that received students' scores: Montana State University, University of Montana, Carroll College
- Share of this grade who took the PSAT last year: 37%
- Highest level of parental education: 35% graduate degree, 39% bachelor's degree, 5% associate degree, 15% high school diploma, 1% no high school diploma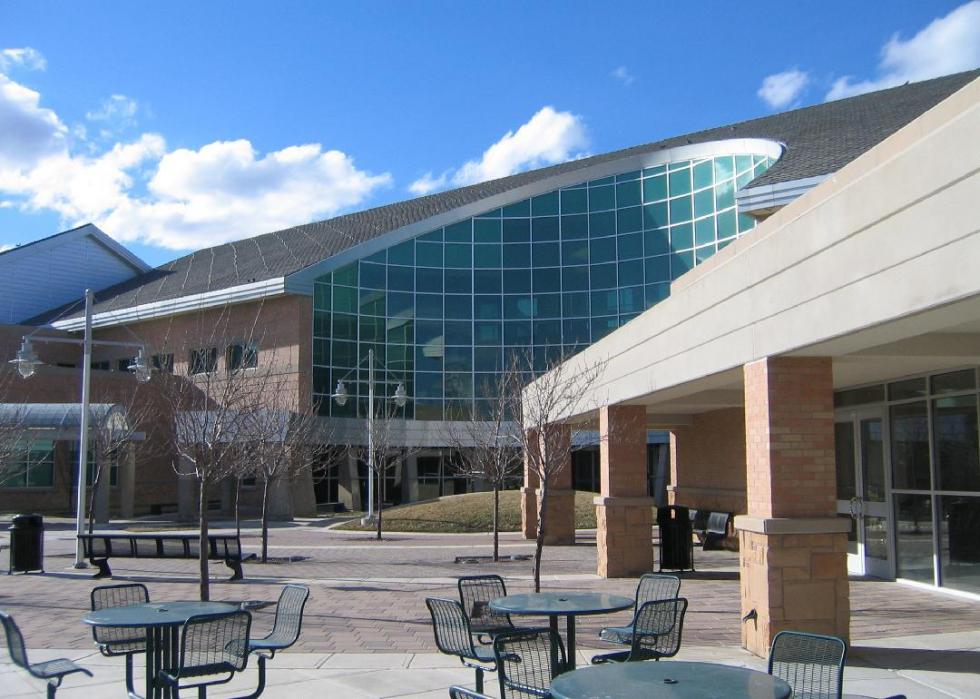 39 / 51
Apollomelos // Wikimedia Commons
#13. Utah
- Total score: 1230
- Participation rate: 4%
- Top colleges that received students' scores: University of Utah, Brigham Young University, Utah State University
- Share of this grade who took the PSAT last year: 12%
- Highest level of parental education: 42% graduate degree, 34% bachelor's degree, 4% associate degree, 12% high school diploma, 1% no high school diploma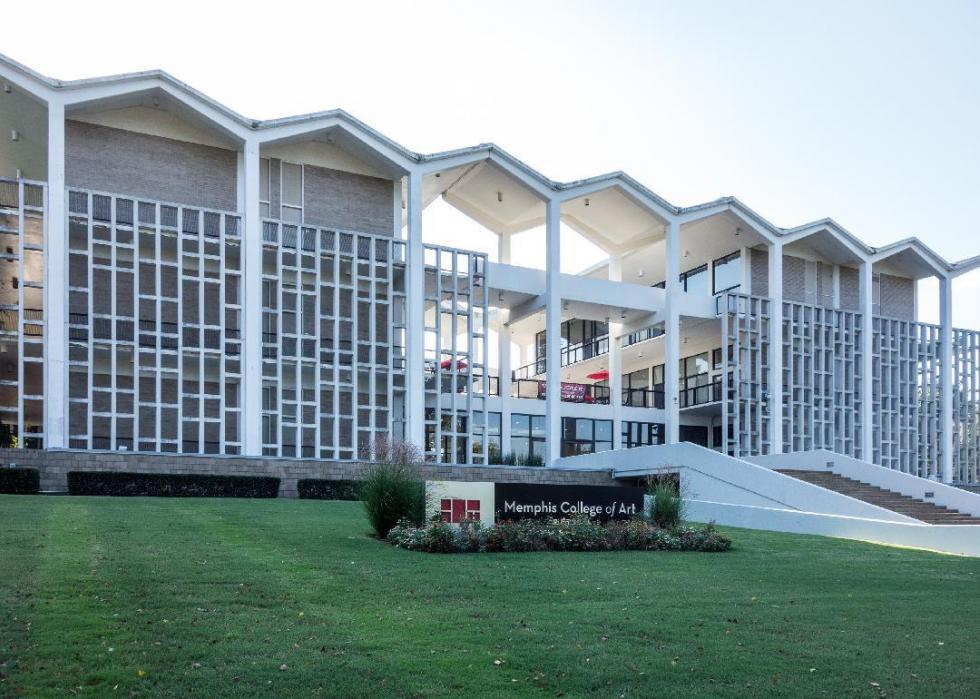 40 / 51
Kenneth C. Zirkel // Wikimedia Commons
#12. Tennessee
- Total score: 1231
- Participation rate: 6%
- Top colleges that received students' scores: University of Tennessee–Knoxville, Vanderbilt University, University of Tennessee: Chattanooga
- Share of this grade who took the PSAT last year: 19%
- Highest level of parental education: 44% graduate degree, 35% bachelor's degree, 4% associate degree, 12% high school diploma, 1% no high school diploma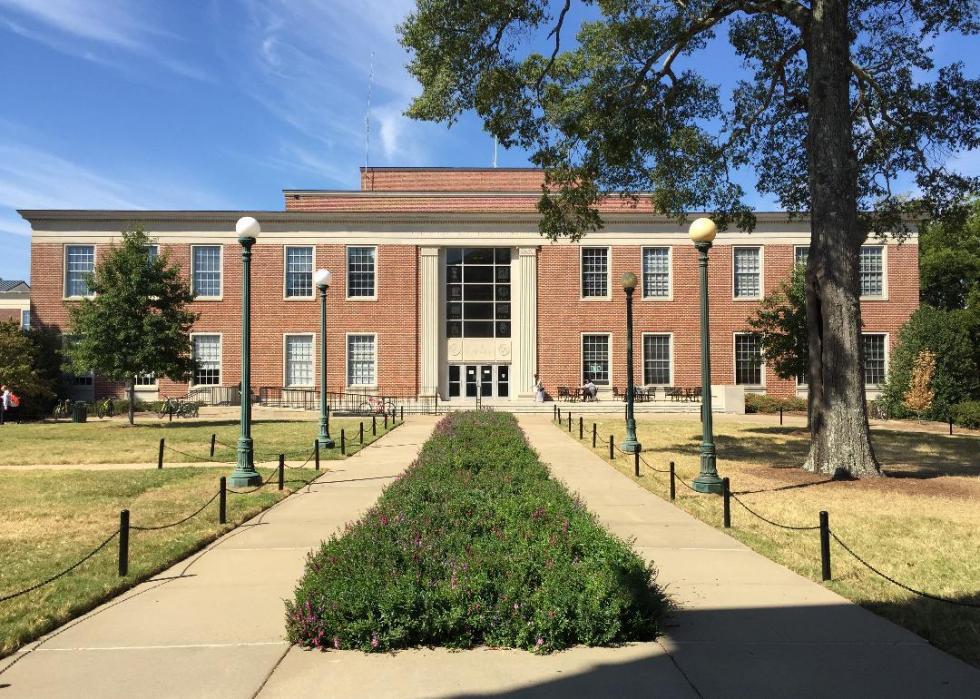 41 / 51
Mmblevin 1 // Wikimedia Commons
#11. Mississippi
- Total score: 1236
- Participation rate: 3%
- Top colleges that received students' scores: Mississippi State University, University of Mississippi, University of Southern Mississippi
- Share of this grade who took the PSAT last year: 18%
- Highest level of parental education: 44% graduate degree, 33% bachelor's degree, 7% associate degree, 12% high school diploma, 2% no high school diploma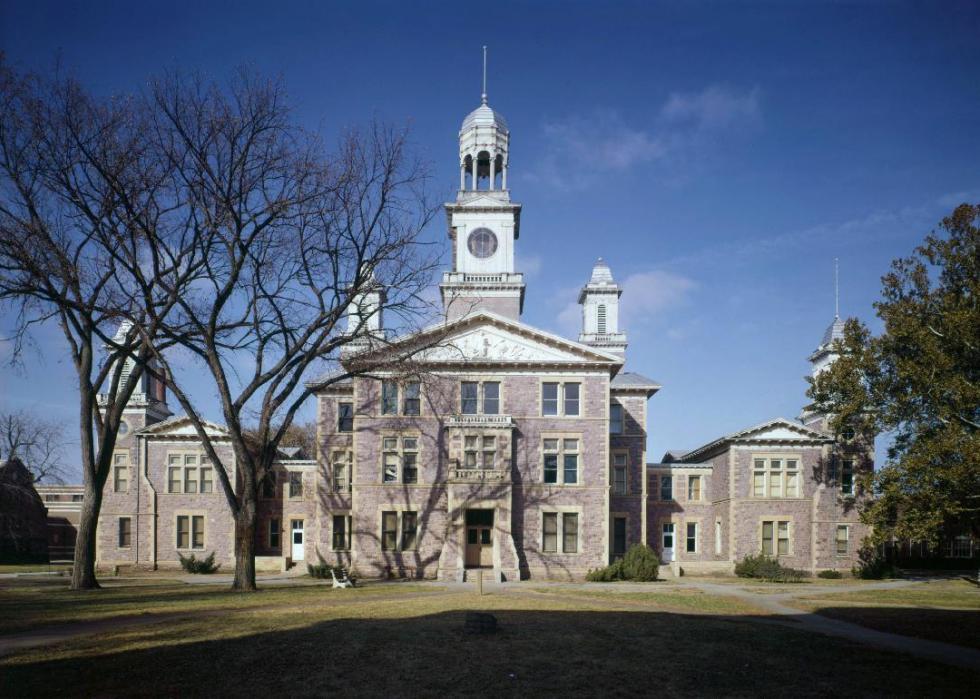 42 / 51
Jack Boucher // Wikimedia Commons
#10. South Dakota
- Total score: 1241
- Participation rate: 3%
- Top colleges that received students' scores: University of Minnesota–Twin Cities, South Dakota State University, Harvard College
- Share of this grade who took the PSAT last year: 19%
- Highest level of parental education: 33% graduate degree, 42% bachelor's degree, 4% associate degree, 16% high school diploma, 1% no high school diploma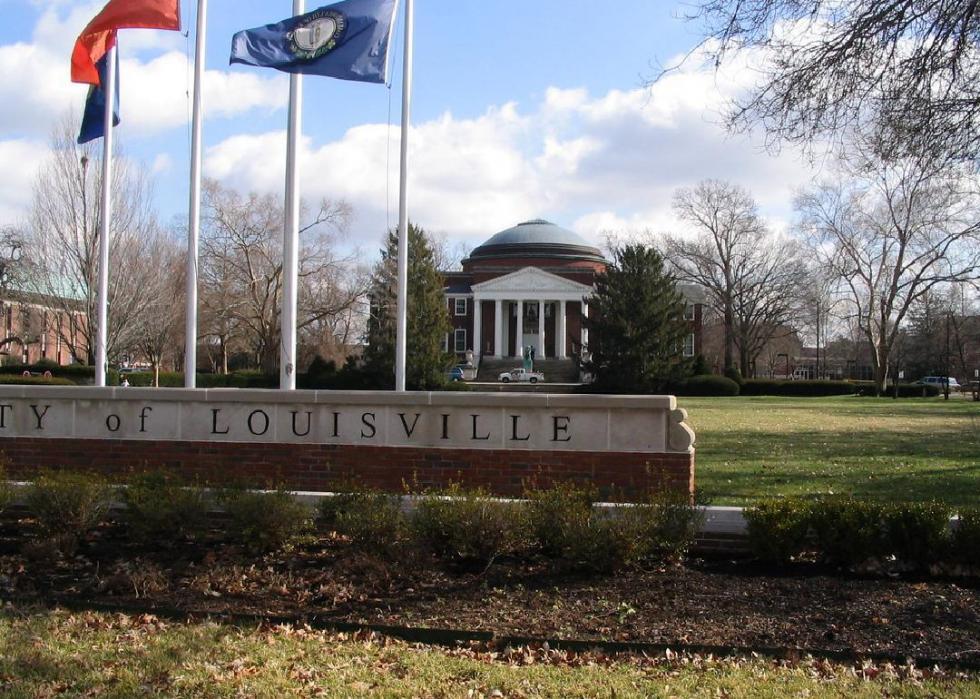 43 / 51
#9. Kentucky
- Total score: 1248
- Participation rate: 4%
- Top colleges that received students' scores: University of Kentucky, University of Louisville, Western Kentucky University
- Share of this grade who took the PSAT last year: 20%
- Highest level of parental education: 43% graduate degree, 34% bachelor's degree, 7% associate degree, 13% high school diploma, 1% no high school diploma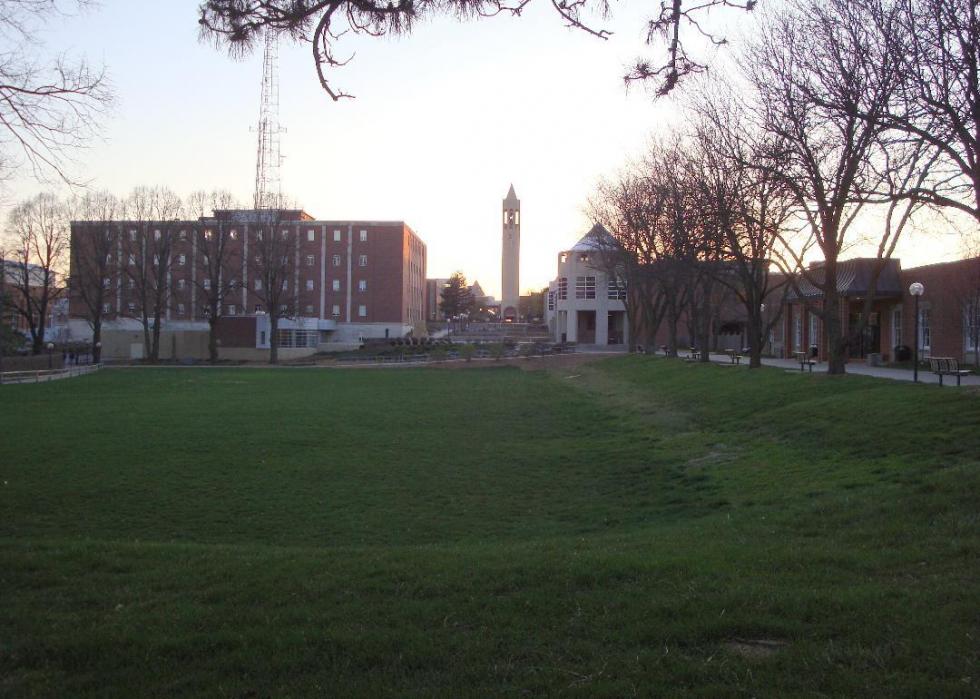 44 / 51
Beatmastermatt // Wikimedia Commons
#8. Nebraska
- Total score: 1252
- Participation rate: 3%
- Top colleges that received students' scores: University of Nebraska–Lincoln, University of Nebraska–Omaha, Creighton University
- Share of this grade who took the PSAT last year: 22%
- Highest level of parental education: 41% graduate degree, 36% bachelor's degree, 5% associate degree, 11% high school diploma, 3% no high school diploma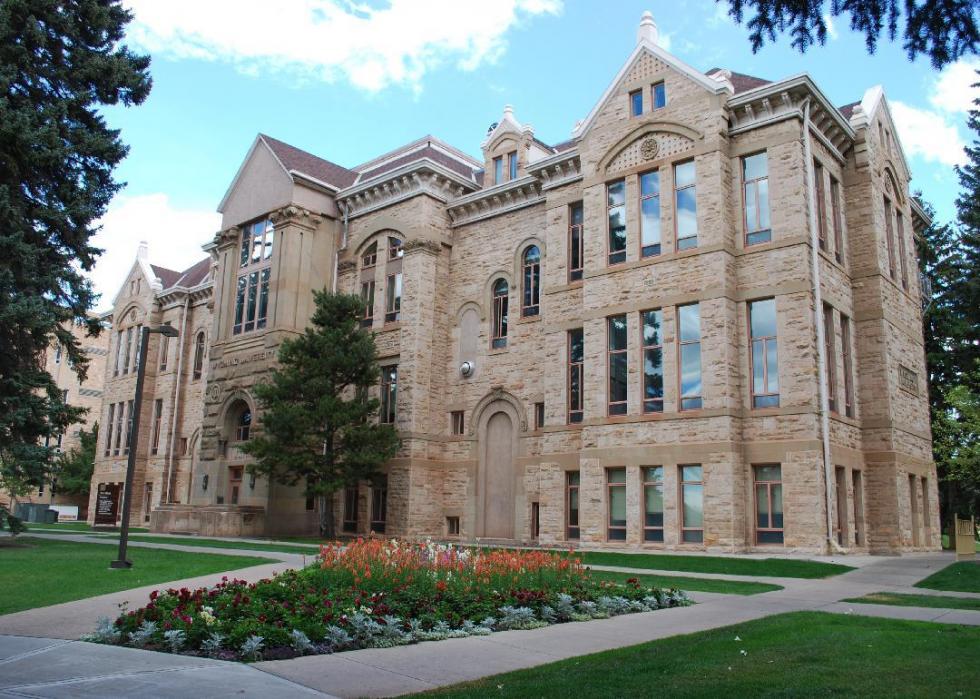 45 / 51
Thecoldmidwest // Wikimedia Commons
#7. Wyoming
- Total score: 1257
- Participation rate: 3%
- Top colleges that received students' scores: University of Wyoming, Harvard College, Montana State University
- Share of this grade who took the PSAT last year: 14%
- Highest level of parental education: 38% graduate degree, 38% bachelor's degree, 9% associate degree, 13% high school diploma, 1% no high school diploma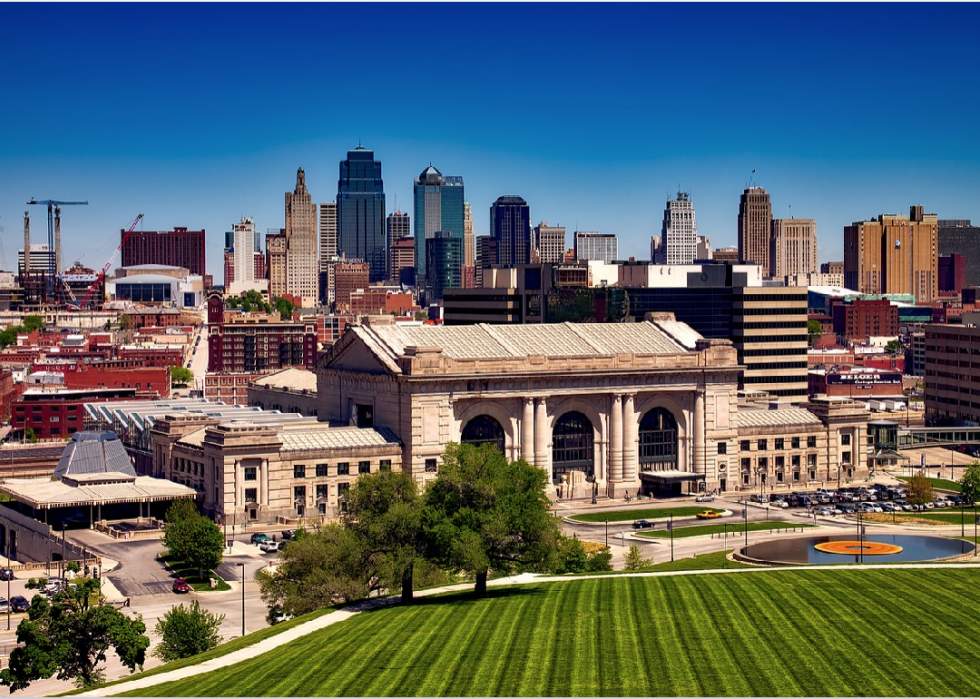 46 / 51
#6. Missouri
- Total score: 1262
- Participation rate: 4%
- Top colleges that received students' scores: University of Missouri: Columbia, Washington University in St. Louis, Northwestern University
- Share of this grade who took the PSAT last year: 17%
- Highest level of parental education: 49% graduate degree, 32% bachelor's degree, 4% associate degree, 12% high school diploma, 1% no high school diploma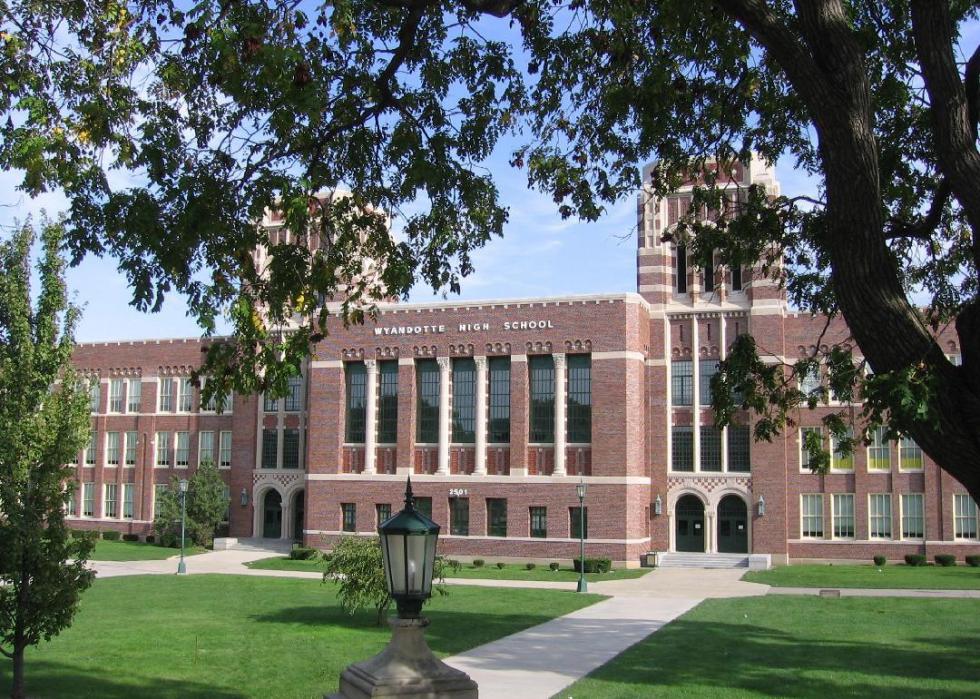 47 / 51
"Wyandotte High School in Kansas City, KS" - DeBarra Mayo Shaw // Wikicommons
#5. Kansas
- Total score: 1265
- Participation rate: 4%
- Top colleges that received students' scores: University of Kansas, Kansas State University, Cornell University
- Share of this grade who took the PSAT last year: 20%
- Highest level of parental education: 47% graduate degree, 34% bachelor's degree, 5% associate degree, 11% high school diploma, 2% no high school diploma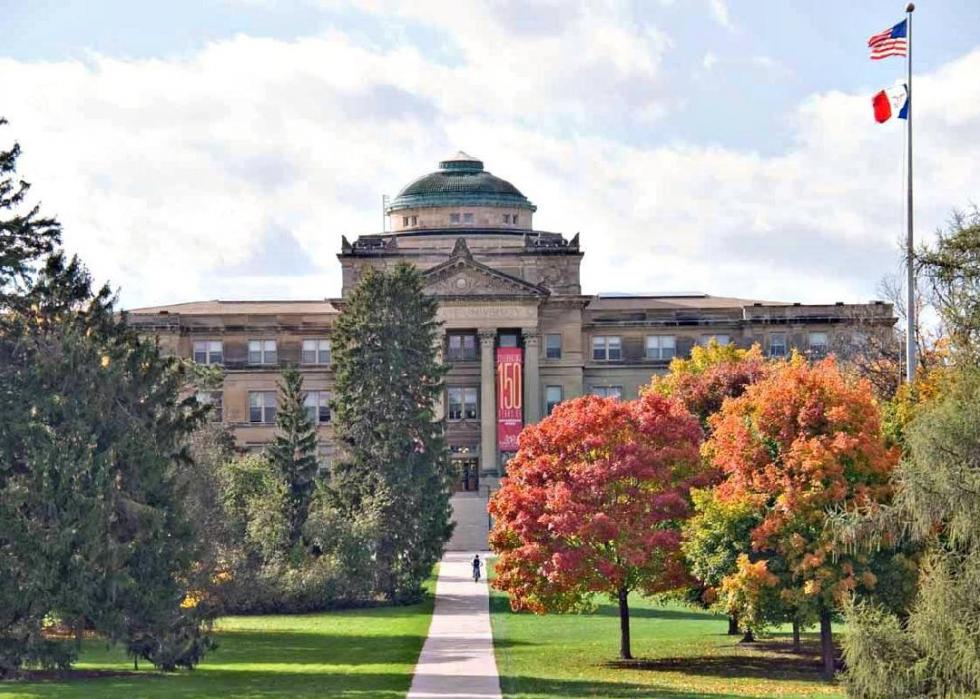 48 / 51
"Beardshear Hall, Iowa State University campus" - SD Dirk // Wikicommons
#4. Iowa
- Total score: 1265
- Participation rate: 3%
- Top colleges that received students' scores: University of Iowa, Iowa State University, Northwestern University
- Share of this grade who took the PSAT last year: 19%
- Highest level of parental education: 45% graduate degree, 36% bachelor's degree, 6% associate degree, 10% high school diploma, 2% no high school diploma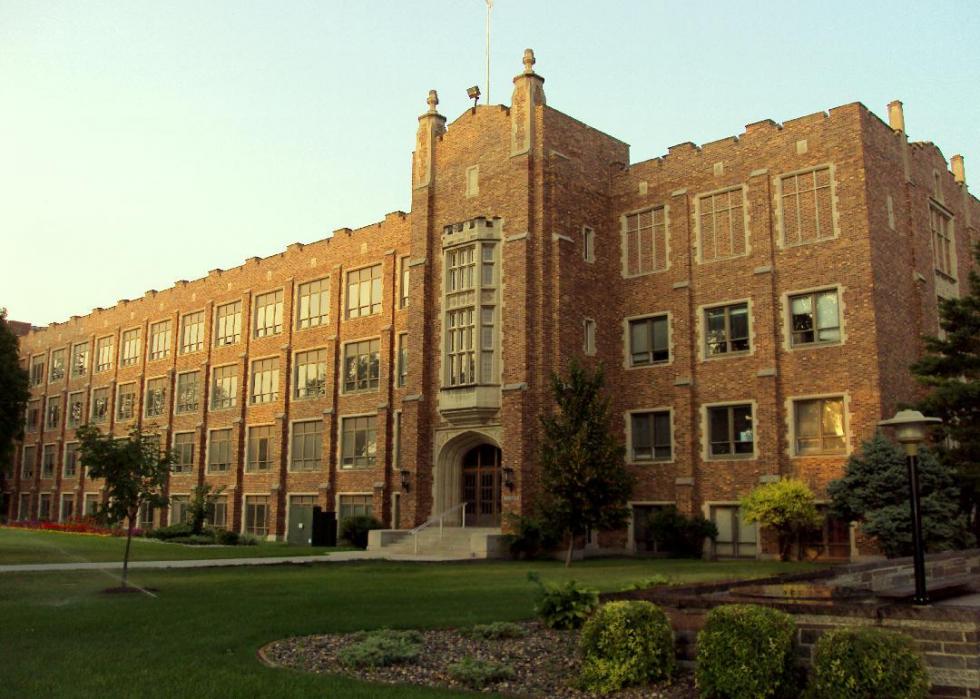 49 / 51
MatthewUND // Wikimedia Commons
#3. North Dakota
- Total score: 1283
- Participation rate: 2%
- Top colleges that received students' scores: University of Minnesota: Twin Cities, North Dakota State University, University of North Dakota
- Share of this grade who took the PSAT last year: 19%
- Highest level of parental education: 55% graduate degree, 28% bachelor's degree, 9% associate degree, 4% high school diploma, 1% no high school diploma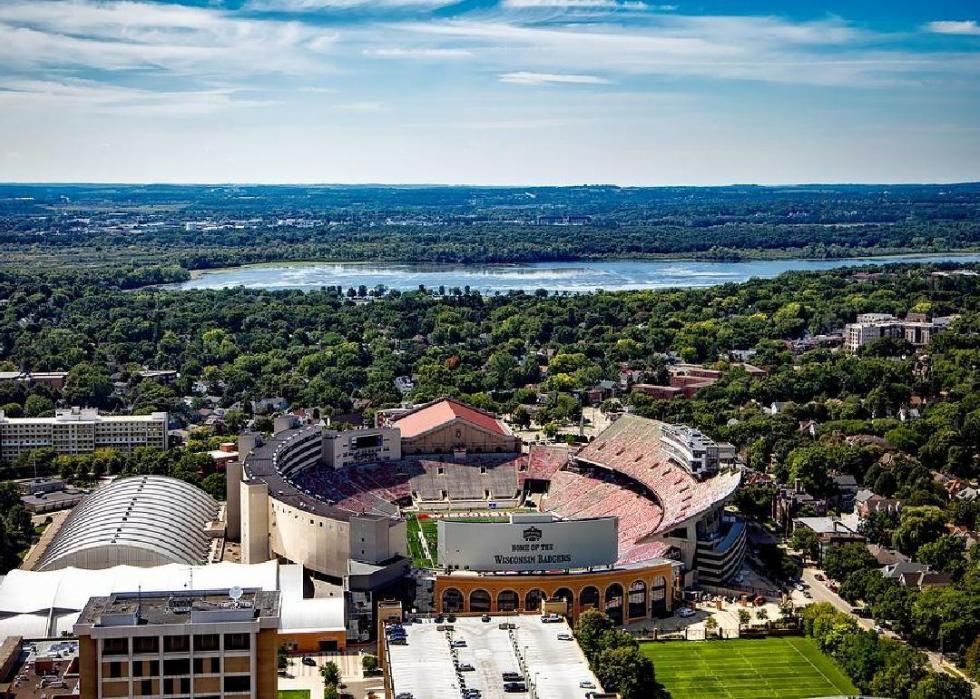 50 / 51
#2. Wisconsin
- Total score: 1294
- Participation rate: 3%
- Top colleges that received students' scores: University of Wisconsin–Madison, University of Minnesota–Twin Cities, Northwestern University
- Share of this grade who took the PSAT last year: 23%
- Highest level of parental education: 47% graduate degree, 36% bachelor's degree, 4% associate degree, 10% high school diploma, 2% no high school diploma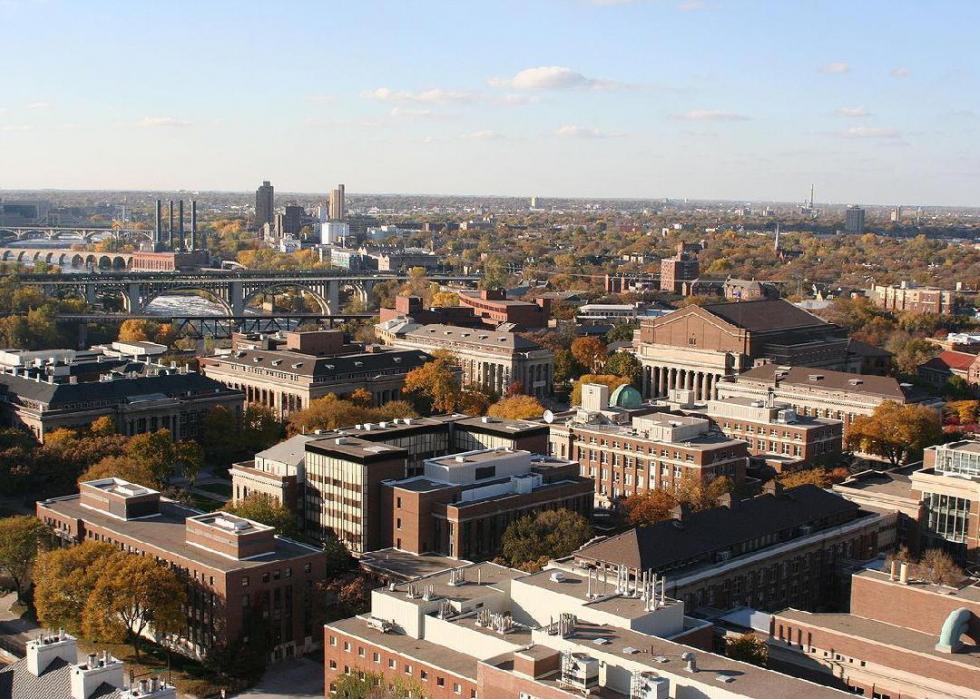 51 / 51
"Northrop Mall, University of Minnesota-Twin Cities" - Ben Franske // Wikicommons
#1. Minnesota
- Total score: 1298
- Participation rate: 4%
- Top colleges that received students' scores: University of Minnesota: Twin Cities, University of Wisconsin-Madison, Northwestern university
- Share of this grade who took the PSAT last year: 23%
- Highest level of parental education: 47% graduate degree, 36% bachelor's degree, 5% associate degree, 9% high school diploma, 2% no high school diploma