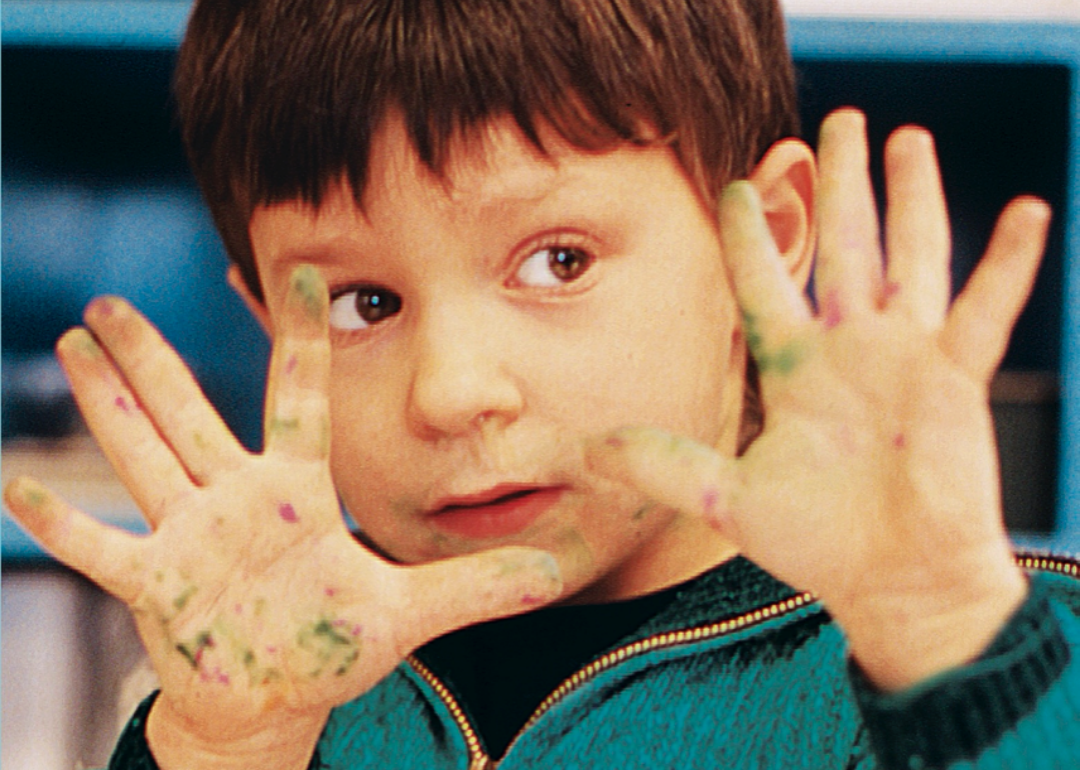 Stacker Studio
20 top documentaries about parenthood
20 top documentaries about parenthood
Parenting is a magical, mystifying, and fulfilling experience, but it is also hard, lonely, and expensive. People often feel immense comfort in seeing others go through similar experiences. Whether it is the exuberance of watching our children grow and learn or dealing with loss and obstacles, we are never alone. Examples of these poignant and difficult family moments are everywhere, but nowhere are they more relevant or more accessible than in film, particularly documentary films.
Lovevery compiled and ranked 20 documentaries about parenthood, using data from Metacritic and IMDb. Each documentary was ranked according to its Metascore. Ties were broken by IMDb user rating and further ties were broken by votes.
From the devastating to the divine, these stories tell tales of modern parenthood, sibling love and loss, and families ruined by addiction, abuse, and secrets. These stories, documented on film, are both relatable and unbelievable, offering glimpses of ourselves and our families.
Join Lovevery for 20 top documentaries about parenthood.
#20. Dads (2019)
- Director: Bryce Dallas Howard
- Metascore: 59
- IMDb user rating: 6.6
- Runtime: 87 minutes
In her directorial debut, Bryce Dallas Howard teamed up with her own famous father, actor-director Ron Howard, for this film that features a look at contemporary fatherhood. Howard weaves her father's story throughout the film and provides an expanded view of fathers as caregivers, a role that social and structural forces mostly assign to mothers. Will Smith, Judd Apatow, Patton Oswalt, and Andy Griffith, as well as nonfamous fathers from around the globe, share anecdotes and pearls of wisdom about what it means to be a dad.
#19. The Business of Being Born (2008)
- Director: Abby Epstein
- Metascore: 68
- IMDb user rating: 7.4
- Runtime: 87 minutes
"The Business of Being Born" explores what it means to give birth in the modern world by looking at the history of obstetrics and examining the ways in which birth is a big business. Featuring many couples who give birth outside of hospitals, "The Business of Being Born" is especially helpful for people to discover what options exist outside of giving birth in the de facto hospital setting.
#18. The Wolfpack (2015)
- Director: Crystal Moselle
- Metascore: 75
- IMDb user rating: 7.0
- Runtime: 90 minutes
Six brothers in the Angulo family are confined to a New York City apartment. Movies teach them everything about the world, and they learn to emulate what they see by making elaborate costumes and reenacting their favorite film scenes. "The Wolfpack" is a tale about abuse, brotherly love, resilience, and the ways that movies help us to escape, create, and imagine.
#17. 17 Blocks (2019)
- Director: Davy Rothbart
- Metascore: 81
- IMDb user rating: 7.2
- Runtime: 96 minutes
The story of the Sanford family and their struggles with addiction and gun violence unfolds through two decades of home videos. The film's title "17 Blocks" is a reference to the distance between the Sanford family home, in one of the most dangerous neighborhoods in Washington D.C., and the United States Capitol. While the story is hard to watch, it provides an accurate depiction of family life that more privileged viewers may not otherwise see, and highlights the reality of suffering the United States inflicts on its poor.
#16. Elena (2012)
- Director: Petra Costa
- Metascore: 81
- IMDb user rating: 7.6
- Runtime: 80 minutes
Petra leaves Brazil to look for her sister Elena in New York City where both have gone, during different decades, to pursue the dream of becoming an actress—the same dream their mother once had. When Petra eventually finds her sister, the reunion is not what she expected. "Elena" is a tale of sisterhood, motherhood, dreams, and loss that Stephen Holden, writing for The New York Times, says "unfolds like a cinematic dream whose central image is water, which symbolizes the washing away of grief. But more than that, it represents the stream of life, with beautiful images of women floating through time."
#15. Three Identical Strangers (2018)
- Director: Tim Wardle
- Metascore: 81
- IMDb user rating: 7.6
- Runtime: 96 minutes
Three young men meet up in 1980s New York, discover they are triplets separated at birth, and attempt to uncover the mysterious reason why in the stranger-than-fiction documentary "Three Identical Strangers." The "why" is like something from a science-fiction film and included a study on the effects of nature versus nurture. The film also documents the many similarities the brothers share in spite of having been raised by different families without knowledge of one another until they were adults, demonstrating the strength of genetic bonds.
#14. Motherland (2017)
- Director: Ramona S. Diaz
- Metascore: 84
- IMDb user rating: 7.1
- Runtime: 94 minutes
The viewer gains access to one of the busiest maternity hospitals in the Philippines in "Motherland." The film documents the experiences of mothers, their families, and the hospital staff with humor and heart. The eye-opening view into these women's lives and the poverty many of them face, which exposes them to a continuous cycle of pregnancy and childbirth, is explored with acuity and honesty.
#13. Our Time Machine (2019)
- Directors: S. Leo Chiang, Yang Sun
- Metascore: 84
- IMDb user rating: 7.9
- Runtime: 86 minutes
The influential artist who goes by Maleonn creates "Papa's Time Machine," a stage show about time travel, featuring mechanical puppets to try to help him come to terms with his father's dementia. Maleonn teams up with his father, Ma Ke, a well-known Peking Opera director, to create the autobiographical show, which confronts mortality and allows the two men to connect before Ma Ke's memories fade.
#12. Hale County This Morning, This Evening (2018)
- Director: RaMell Ross
- Metascore: 85
- IMDb user rating: 6.4
- Runtime: 76 minutes
Filmmaker RaMell Ross observed and filmed the people of Hale County, Alabama, over the course of five years and presents a searing narrative on race and class in a tight-knit, disenfranchised Black community. Nominated for an Academy Award, the film focuses primarily on two young men, both high school basketball players, one who goes on to college and one who has a child.
#11. One Child Nation (2019)
- Directors: Nanfu Wang, Jialing Zhang
- Metascore: 85
- IMDb user rating: 7.5
- Runtime: 83 minutes
Filmmaker and first-time mother Nanfu Wang documents China's one-child policy and its history. The film explores the fallout of this social experiment and its effect on generations of families. The horrors uncovered by Wang are a valid argument against governments restricting the reproductive rights of its citizens and reveal the disastrous impact such government intrusions can have.
#10. Sound and Fury (2000)
- Director: Josh Aronson
- Metascore: 85
- IMDb user rating: 7.9
- Runtime: 80 minutes
"Sound and Fury" is the story of both hearing and deaf members of a family and the decision they must make about a controversial surgery. The Academy Award-nominated film concerns three generations and examines the choices that families of deaf children face.
#9. Won't You Be My Neighbor? (2018)
- Director: Morgan Neville
- Metascore: 85
- IMDb user rating: 8.4
- Runtime: 95 minutes
This film is an exploration into the life of children's television pioneer Fred Rogers. Rogers provided a safe space for generations of children to learn valuable and sometimes difficult life lessons that remain relevant today. His series "Mister Rogers' Neighborhood" broached topics that many shows of the time wouldn't dare.
#8. Strong Island (2017)
- Director: Yance Ford
- Metascore: 86
- IMDb user rating: 6.4
- Runtime: 107 minutes
Filmmaker Yance Ford tells the story of his brother, who was murdered at 24 by a white man later set free. Ford's film is a portrait of a family that moved from the South to try to escape racism, worked hard to obtain the American dream, and was ultimately shattered by horrific and unimaginable loss. "Strong Island" was nominated for an Academy Award.
#7. Black Mother (2018)
- Director: Khalik Allah
- Metascore: 86
- IMDb user rating: 6.8
- Runtime: 77 minutes
This journey through Jamaica is both wondrous and tragic. The film is not only a tribute to Jamaica and its history, people, and culture but also to its women. "Black Mother" is broken into three parts, representing the trimesters of pregnancy, giving it the feel of a birth journey.
#6. To Be and to Have (2002)
- Director: Nicolas Philibert
- Metascore: 87
- IMDb user rating: 7.8
- Runtime: 104 minutes
In a one-room schoolhouse in rural France, teacher Georges Lopez teaches children of varying ages ranging from 4 to 11. "To Be and to Have" documents the dedication of one teacher and gives a view into childhood education and how wondrous it can be. Writing for The Dissolve, Noel Murray noted, "This movie is a portal, leading to a living museum of childhood at its most poignant."
#5. Rewind (2019)
- Director: Sasha Joseph Neulinger
- Metascore: 87
- IMDb user rating: 8.0
- Runtime: 86 minutes
Filmmaker Sasha Joseph Neulinger uncovers generations of sexual abuse after finding his father's home video collection. Neulinger explores the difficulty of prosecuting such cases, while also using the film as a way to work through his trauma and help others who have suffered abuse.
#4. Dick Johnson Is Dead (2020)
- Director: Kirsten Johnson
- Metascore: 89
- IMDb user rating: 7.5
- Runtime: 89 minutes
A darkly comedic look at death and the aging process, the film imagines all the ways director Kirsten Johnson's father Dick could die, while also presenting a poignant portrayal of a father/daughter relationship. Both hilarious and touching, Johnson stages inventive and bizarre death scenarios. Writing for The Hollywood Reporter, Todd McCarthy called the film "brilliantly original in every way" and "one of the craftiest and funniest love letters ever composed."
#3. For Sama (2019)
- Directors: Waad Al-Kateab, Edward Watts
- Metascore: 89
- IMDb user rating: 8.5
- Runtime: 100 minutes
This touching love letter from a mother to her daughter follows filmmaker Waad Al-Kateab through several milestones in her life including love, marriage, and the birth of her daughter, Sama. This Oscar-nominated documentary is a tragic tale of war detailing the uprising in Aleppo, and the heart-wrenching decision a mother must make to protect her daughter. 
#2. Minding the Gap (2018)
- Director: Bing Liu
- Metascore: 90
- IMDb user rating: 8.1
- Runtime: 93 minutes
"Minding the Gap" focuses on three young friends who use skateboarding to escape the harsh realities of their lives, including family dysfunction, in a declining Rust Belt town. The film is an important commentary on class, race, and politics with a narrative on skate culture. It was nominated for an Academy Award.
#1. Stories We Tell (2012)
- Director: Sarah Polley
- Metascore: 91
- IMDb user rating: 7.5
- Runtime: 108 minutes
Actress and filmmaker Sarah Polley explores her family history, uncovering truths and secrets, in "Stories We Tell." The stories her family members share are similar, but the details vary depending on which member is relaying the story. At the heart of Polley's film is her mother, who died in 1990 and who remains a mystery in many ways. 
This story originally appeared on and was produced and distributed in partnership with Stacker Studio.