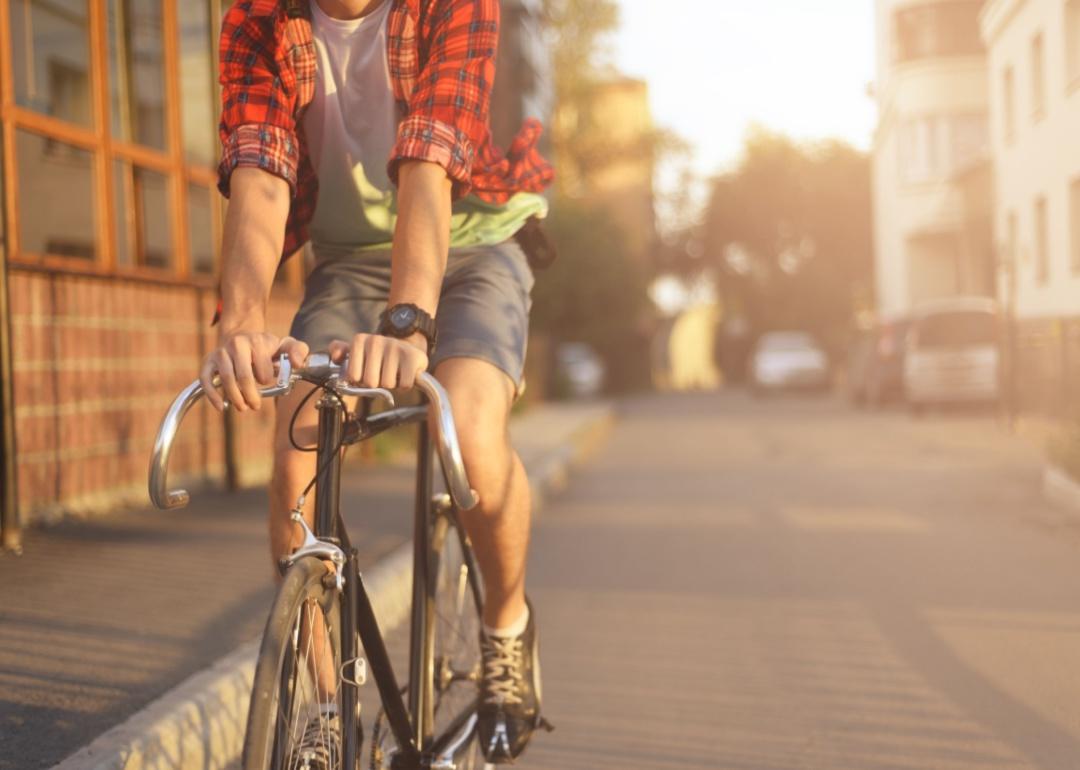 Stacker Studio
Bikeable neighborhoods in not-so-bike-friendly cities
Chetty Thomas // Shutterstock
Bikeable neighborhoods in not-so-bike-friendly cities
COVID-19 restrictions, which kept workers and students alike at home and severely hampered mobility for those dependent on public transit, prompted many Americans to dust off the bicycles in their garages or buy new ones as a way of getting out of their homes, exercising, and reducing stress levels while adhering to social distancing guidances. Others took up walking as a means of exercise and exploration. This resulted in people discovering—in ways they perhaps had never realized before—just how bikeable and walkable their neighborhoods really were.
Despite inner-city infrastructure development traditionally adopting a mixture of public transportation and vehicle-use roadways, many cities have begun to prioritize dedicated bicycle lanes and safety measures to offer better mobility options and quality of life. Cycling infrastructure investments to increase the safety and security of bike-lane networks in cities like Austin, Texas; New Orleans; and Portland, Oregon, have grown exponentially in recent years. The League of American Bicyclists found that, since 2005, there has been a 46% increase nationwide in bike commuters, and the cities where bike commuting has risen the most—Seattle, Washington D.C., and the aforementioned Portland and New Orleans being just a few examples—are also among those cities making the greatest investments in growing and securing their bike networks.
Of course, within any given city, some areas are more bike-friendly than others.
Velotric drew on data from WalkScore to rank U.S. neighborhoods that are far more bikeable than the cities they're part of might suggest. The analysis was limited to 10 U.S. cities and to avoid duplicates, only the highest-scoring neighborhood from a city was included. Walk and transit scores relative to these neighborhoods and their cities are also included. The Bike Score methodology accounted for several factors, among them the preponderance of bike lanes and road connectivity as well as the existence of hills and other topographic features.
Some patterns emerged: Most are old neighborhoods. Several are on the National Register of Historic Places. A few are very close to university campuses, where many students rely on bikes for transportation, and most are near—or simply are—downtown. In all cases, the following bike havens are rich in culture and rife with things to do and sights to see, all easily accessible on two wheels.
This story originally appeared on Velotric and was produced and distributed in partnership with Stacker Studio.