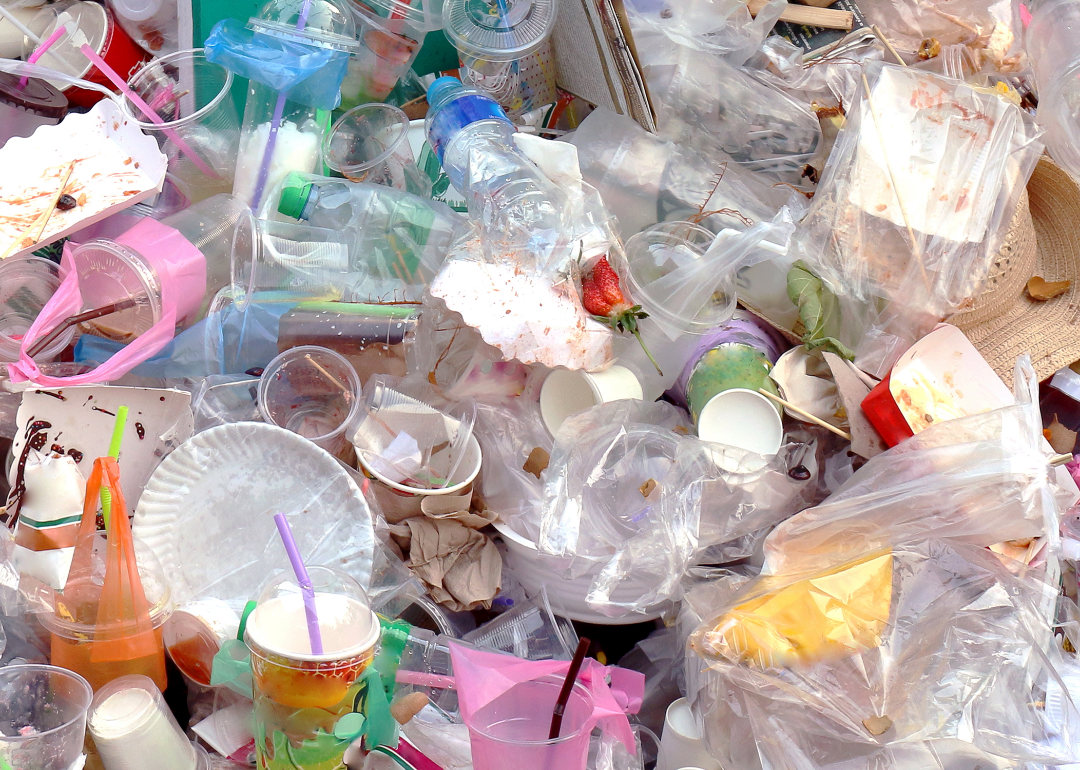 Stacker Studio
How much packaging we use (and what happens to it)
How much packaging we use (and what happens to it)
Over the course of only a few generations, Americans' relationship with things—and the packaging that comes with those things—has radically changed. Shifts regarding where goods are purchased, how they're produced, and what they're made of have altered the economy and the environment.
The EPA defines packaging waste as materials used to wrap, ship, and protect wares, including food, cosmetics, or medicine, thrown out within a year of being purchased. That adds up to a lot of material, and some lawmakers and companies have tried to combat the volume. Eight states and several cities across the U.S. have banned single-use plastic shopping bags, for example. Many companies now use post-consumer recycled materials for their packaging and the reusable water bottle industry, valued at $8.6 billion in 2021, is projected to grow to $12.6 billion by 2030.
However, despite these interventions, disposable packaging shows no signs of slowing down—the bottled water industry is estimated to be worth $510 billion by 2030. Packaging accounts for almost one-third of all municipal solid waste in the U.S., according to the EPA. In 2018, that came out to about 82.2 million tons. Although recycling of packaging waste in the U.S. has steadily increased since 1970, more waste is being generated and landfilled than ever before.
Turbulence in the recycling industry has also made the process of reclaiming material more difficult and expensive. Before 2018, China recycled nearly half of the world's waste, including a large proportion of U.S. recyclables. When China passed a law that banned the import of many plastics and other recyclables, the U.S. redirected its flow of waste to other countries, leading to environmental issues and overwhelmed systems across Asia and Africa. The resulting recycling crisis has meant that more and more American recyclables have ended up in landfills, and recycling has become more expensive, limiting infrastructure in certain parts of the country.
Another standard waste disposal method, combustion with energy recovery—or waste-to-energy—involves the controlled burning of waste, which lessens the amount of waste directed to landfills while also creating usable electricity. Early waste-to-energy plants were relatively unregulated and produced harmful emissions, but new standards in the 1990s significantly reduced these air pollutants. Combustion with energy recovery still accounts for a relatively small amount of packaging waste disposal in the U.S., primarily due to the relative ease and affordability of landfilling.
To gain more insight into what happens to different types of packaging after being thrown away, The Rounds examined historical data from the Environmental Protection Agency to see how material disposal has changed over time. The packaging materials examined used one of the three main methods of waste disposal: landfilling, recycling, or combustion with energy recovery.
This story originally appeared on The Rounds and was produced and distributed in partnership with Stacker Studio.