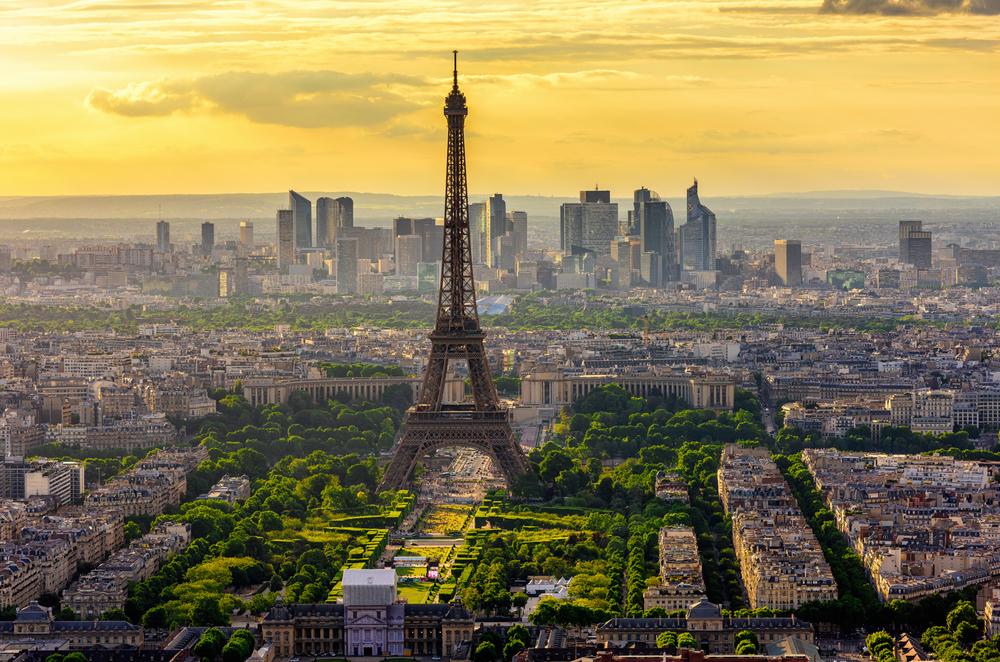 French-inspired baby names you'll want to steal
Ditty_about_summer // Shutterstock
French-inspired baby names you'll want to steal
The early history of the United States can be best understood through its relationship to France. The country's first ally also followed the States into liberal democratic uprising. A French general was the key to victory against the British. A French architect planned much of the layout of Washington. The French gave the United States the Statue of Liberty, the Central United States, and Serge Gainsbourg. They're responsible for New Orleans, the country's most interesting, odd, wonderful city.
Save for the strange, politically-fueled stretch in the early 2000s—when Americans were supposed to say Freedom Fries, Freedom Toast, Freedom Kisses, and Freedom Horns—Americans valorize the French for their style and good taste. So, if you're going to take their lead when it comes to manicures, fashion, dieting, and government for the people by the people, it seems only natural to follow their lead on wonderful baby names as well.
Using data from National Institute of Statistics and Economic Studies, The Stacker identified the 50 most popular boys and girls names in France in 2015.
#50. Augustin (boy)
Babies named Augustin born in 2015: 1,341
2015 rank: #50 for boys in France
#50. Capucine (girl)
Babies named Capucine born in 2015: 1,188
2015 rank: #50 for girls in France
#49. Tiago (boy)
Babies named Tiago born in 2015: 1,430
2015 rank: #49 for boys in France
#49. Giulia (girl)
Babies named Giulia born in 2015: 1,196
2015 rank: #49 for girls in France
#48. Samuel (boy)
Babies named Samuel born in 2015: 1,475
2015 rank: #48 for boys in France
#48. Elena (girl)
Babies named Elena born in 2015: 1,227
2015 rank: #48 for girls in France
#47. Alexis (boy)
Babies named Alexis born in 2015: 1,518
2015 rank: #47 for boys in France
#47. Margot (girl)
Babies named Margot born in 2015: 1,278
2015 rank: #47 for girls in France
#46. Simon (boy)
Babies named Simon born in 2015: 1,521
2015 rank: #46 for boys in France
#46. Alicia (girl)
Babies named Alicia born in 2015: 1,290
2015 rank: #46 for girls in France
#45. Lenny (boy)
Babies named Lenny born in 2015: 1,565
2015 rank: #45 for boys in France
#45. Adèle (girl)
Babies named Adèle born in 2015: 1,297
2015 rank: #45 for girls in France
#44. Eden (boy)
Babies named Eden born in 2015: 1,581
2015 rank: #44 for boys in France
#44. Mathilde (girl)
Babies named Mathilde born in 2015: 1,304
2015 rank: #44 for girls in France
#43. Marius (boy)
Babies named Marius born in 2015: 1,586
2015 rank: #43 for boys in France
#43. Olivia (girl)
Babies named Olivia born in 2015: 1,317
2015 rank: #43 for girls in France
#42. Mathéo (boy)
Babies named Mathéo born in 2015: 1,723
2015 rank: #42 for boys in France
#42. Sofia (girl)
Babies named Sofia born in 2015: 1,404
2015 rank: #42 for girls in France
#41. Alexandre (boy)
Babies named Alexandre born in 2015: 1,736
2015 rank: #41 for boys in France
#41. Anaïs (girl)
Babies named Anaïs born in 2015: 1,408
2015 rank: #41 for girls in France
#40. Evan (boy)
Babies named Evan born in 2015: 1,775
2015 rank: #40 for boys in France
#40. Clémence (girl)
Babies named Clémence born in 2015: 1,433
2015 rank: #40 for girls in France
#39. Maxence (boy)
Babies named Maxence born in 2015: 1,793
2015 rank: #39 for boys in France
#39. Lana (girl)
Babies named Lana born in 2015: 1,448
2015 rank: #39 for girls in France
#38. Robin (boy)
Babies named Robin born in 2015: 1,862
2015 rank: #38 for boys in France
#38. Elsa (girl)
Babies named Elsa born in 2015: 1,476
2015 rank: #38 for girls in France
#37. Noé (boy)
Babies named Noé born in 2015: 1,912
2015 rank: #37 for boys in France
#37. Mia (girl)
Babies named Mia born in 2015: 1,494
2015 rank: #37 for girls in France
#36. Valentin (boy)
Babies named Valentin born in 2015: 1,932
2015 rank: #36 for boys in France
#36. Léonie (girl)
Babies named Léonie born in 2015: 1,556
2015 rank: #36 for girls in France
#35. Thomas (boy)
Babies named Thomas born in 2015: 1,973
2015 rank: #35 for boys in France
#35. Agathe (girl)
Babies named Agathe born in 2015: 1,573
2015 rank: #35 for girls in France
#34. Rayan (boy)
Babies named Rayan born in 2015: 1,985
2015 rank: #34 for boys in France
#34. Maëlys (girl)
Babies named Maëlys born in 2015: 1,618
2015 rank: #34 for girls in France
#33. Yanis (boy)
Babies named Yanis born in 2015: 1,994
2015 rank: #33 for boys in France
#33. Charlotte (girl)
Babies named Charlotte born in 2015: 1,652
2015 rank: #33 for girls in France
#32. Victor (boy)
Babies named Victor born in 2015: 2,028
2015 rank: #32 for boys in France
#32. Margaux (girl)
Babies named Margaux born in 2015: 1,653
2015 rank: #32 for girls in France
#31. Antoine (boy)
Babies named Antoine born in 2015: 2,105
2015 rank: #31 for boys in France
#31. Inaya (girl)
Babies named Inaya born in 2015: 1,689
2015 rank: #31 for girls in France
#30. Martin (boy)
Babies named Martin born in 2015: 2,124
2015 rank: #30 for boys in France
#30. Lilou (girl)
Babies named Lilou born in 2015: 1,754
2015 rank: #30 for girls in France
#29. Aaron (boy)
Babies named Aaron born in 2015: 2,159
2015 rank: #29 for boys in France
#29. Lou (girl)
Babies named Lou born in 2015: 1,789
2015 rank: #29 for girls in France
#28. Clément (boy)
Babies named Clément born in 2015: 2,189
2015 rank: #28 for boys in France
#28. Louane (girl)
Babies named Louane born in 2015: 1,822
2015 rank: #28 for girls in France
#27. Baptiste (boy)
Babies named Baptiste born in 2015: 2,217
2015 rank: #27 for boys in France
#27. Nina (girl)
Babies named Nina born in 2015: 1,844
2015 rank: #27 for girls in France
#26. Maxime (boy)
Babies named Maxime born in 2015: 2,222
2015 rank: #26 for boys in France
#26. Clara (girl)
Babies named Clara born in 2015: 1,884
2015 rank: #26 for girls in France
#25. Axel (boy)
Babies named Axel born in 2015: 2,301
2015 rank: #25 for boys in France
#25. Jeanne (girl)
Babies named Jeanne born in 2015: 1,994
2015 rank: #25 for girls in France
#24. Mathis (boy)
Babies named Mathis born in 2015: 2,601
2015 rank: #24 for boys in France
#24. Eva (girl)
Babies named Eva born in 2015: 2,013
2015 rank: #24 for girls in France
#23. Mohamed (boy)
Babies named Mohamed born in 2015: 2,612
2015 rank: #23 for boys in France
#23. Romane (girl)
Babies named Romane born in 2015: 2,046
2015 rank: #23 for girls in France
#22. Gabin (boy)
Babies named Gabin born in 2015: 2,624
2015 rank: #22 for boys in France
#22. Louna (girl)
Babies named Louna born in 2015: 2,164
2015 rank: #22 for girls in France
#21. Maël (boy)
Babies named Maël born in 2015: 2,668
2015 rank: #21 for boys in France
#21. Ambre (girl)
Babies named Ambre born in 2015: 2,288
2015 rank: #21 for girls in France
#20. Noah (boy)
Babies named Noah born in 2015: 2,717
2015 rank: #20 for boys in France
#20. Rose (girl)
Babies named Rose born in 2015: 2,309
2015 rank: #20 for girls in France
#19. Théo (boy)
Babies named Théo born in 2015: 2,811
2015 rank: #19 for boys in France
#19. Léna (girl)
Babies named Léna born in 2015: 2,347
2015 rank: #19 for girls in France
#18. Timéo (boy)
Babies named Timéo born in 2015: 2,837
2015 rank: #18 for boys in France
#18. Julia (girl)
Babies named Julia born in 2015: 2,349
2015 rank: #18 for girls in France
#17. Tom (boy)
Babies named Tom born in 2015: 2,982
2015 rank: #17 for boys in France
#17. Juliette (girl)
Babies named Juliette born in 2015: 2,350
2015 rank: #17 for girls in France
#16. Sacha (boy)
Babies named Sacha born in 2015: 3,058
2015 rank: #16 for boys in France
#16. Mila (girl)
Babies named Mila born in 2015: 2,375
2015 rank: #16 for girls in France
#15. Enzo (boy)
Babies named Enzo born in 2015: 3,100
2015 rank: #15 for boys in France
#15. Lucie (girl)
Babies named Lucie born in 2015: 2,454
2015 rank: #15 for girls in France
#14. Liam (boy)
Babies named Liam born in 2015: 3,466
2015 rank: #14 for boys in France
#14. Zoé (girl)
Babies named Zoé born in 2015: 2,461
2015 rank: #14 for girls in France
#13. Nolan (boy)
Babies named Nolan born in 2015: 3,513
2015 rank: #13 for boys in France
#13. Anna (girl)
Babies named Anna born in 2015: 2,504
2015 rank: #13 for girls in France
#12. Paul (boy)
Babies named Paul born in 2015: 3,654
2015 rank: #12 for boys in France
#12. Sarah (girl)
Babies named Sarah born in 2015: 2,533
2015 rank: #12 for girls in France
#11. Arthur (boy)
Babies named Arthur born in 2015: 3,688
2015 rank: #11 for boys in France
#11. Inès (girl)
Babies named Inès born in 2015: 2,673
2015 rank: #11 for girls in France
#10. Nathan (boy)
Babies named Nathan born in 2015: 3,871
2015 rank: #10 for boys in France
#10. Camille (girl)
Babies named Camille born in 2015: 3,020
2015 rank: #10 for girls in France
#9. Ethan (boy)
Babies named Ethan born in 2015: 4,135
2015 rank: #9 for boys in France
#9. Lola (girl)
Babies named Lola born in 2015: 3,061
2015 rank: #9 for girls in France
#8. Raphaël (boy)
Babies named Raphaël born in 2015: 4,196
2015 rank: #8 for boys in France
#8. Léa (girl)
Babies named Léa born in 2015: 3,100
2015 rank: #8 for girls in France
#7. Léo (boy)
Babies named Léo born in 2015: 4,303
2015 rank: #7 for boys in France
#7. Lina (girl)
Babies named Lina born in 2015: 3,191
2015 rank: #7 for girls in France
#6. Hugo (boy)
Babies named Hugo born in 2015: 4,349
2015 rank: #6 for boys in France
#6. Alice (girl)
Babies named Alice born in 2015: 3,336
2015 rank: #6 for girls in France
#5. Adam (boy)
Babies named Adam born in 2015: 4,526
2015 rank: #5 for boys in France
#5. Manon (girl)
Babies named Manon born in 2015: 3,530
2015 rank: #5 for girls in France
#4. Louis (boy)
Babies named Louis born in 2015: 4,748
2015 rank: #4 for boys in France
#4. Chloé (girl)
Babies named Chloé born in 2015: 3,598
2015 rank: #4 for girls in France
#3. Lucas (boy)
Babies named Lucas born in 2015: 5,011
2015 rank: #3 for boys in France
#3. Jade (girl)
Babies named Jade born in 2015: 4,292
2015 rank: #3 for girls in France
#2. Jules (boy)
Babies named Jules born in 2015: 5,147
2015 rank: #2 for boys in France
#2. Emma (girl)
Babies named Emma born in 2015: 4,399
2015 rank: #2 for girls in France
#1. Gabriel (boy)
Babies named Gabriel born in 2015: 5,640
2015 rank: #1 for boys in France
#1. Louise (girl)
Babies named Louise born in 2015: 4,540
2015 rank: #1 for girls in France