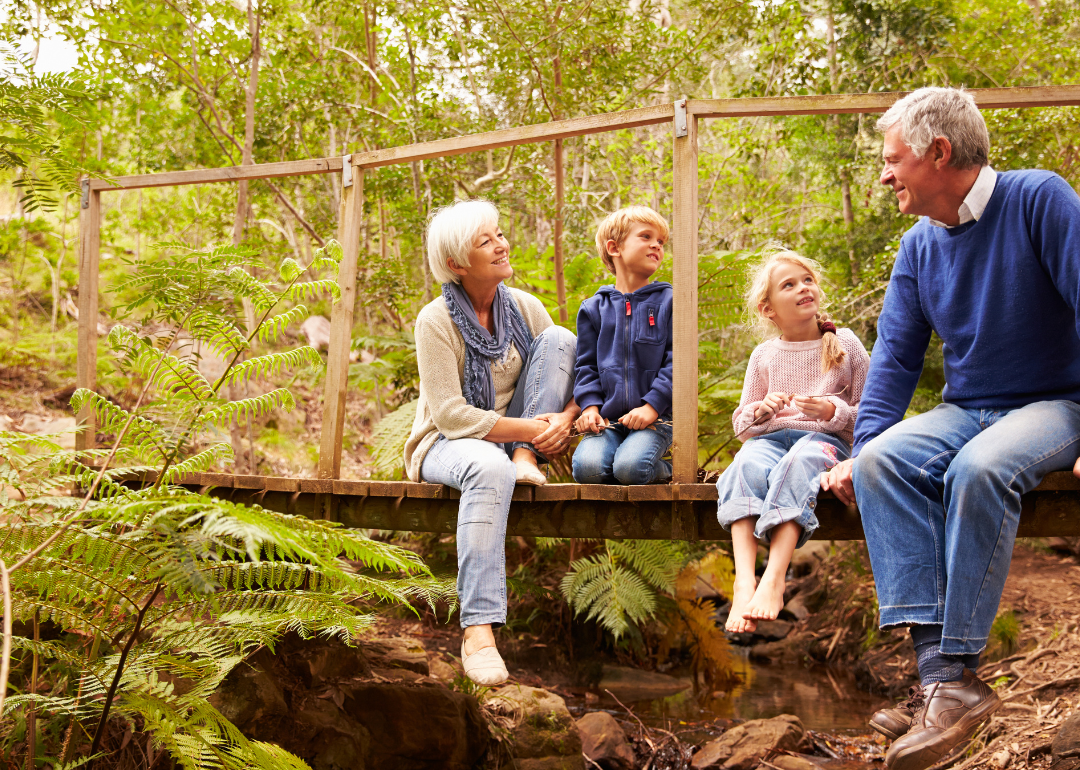 Stacker Connect
Grandparents' Day activities that bridge the generational gap
Grandparents' Day activities that bridge the generational gap
Bonding with your loved ones doesn't have to be expensive. It's all about showing them your genuine love in your unique way. Celebrating Grandparents' Day is a great way to show your appreciation, and Way.com has curated some activities you can do to make this special family day memorable for them. Are your grandparents outdoorsy? Or are they unapologetic homebodies? Whatever category they fit in, here are some of the activities you can do with them.
Share a poem
Writing a poem for your grandparents is a heartfelt gesture. You can also read out these poems together or to them. Alternatively, you can print them out to create a Grandparents Day card.
Make a card together
It's more fun to involve your grandparents while making something for them. You can decorate the card together, and when you are finished with it, gift it to them.
If you don't stay with your grandparents, ensure it reaches them. Instead of just sending a card, consider including a handwritten letter. Sending a card is a sentimental gesture, but sending a letter with your life updates is even more enjoyable. A letter written with love can make it even more adorable and meaningful.
Start a tradition together
Grandparents' Day is a great time to start a new family tradition that involves and focuses on the grandparents. From something simple like reading a book to something adventurous like going on a trip, there are a lot of ideas to inspire you. Search online or come up with something on your own.
Hold a grandparent-grandchild interview
Grandparents love sharing stories! This time let the grandchildren take the lead in asking questions while taking on the role of the interviewer. Either Grandma or Grandpa will answer the questions. You can write them down or record the answers to listen to them later.
Try to cover a lot of topics, starting with simple ones such as asking about their first car and progressing to more serious inquiries about how they manage stress. You can either select specific questions or ask all of them. Either way, it's wisdom getting shared!
Cook together
Spending time together cooking a snack, dessert, or even a meal is super special. It's a wonderful opportunity to learn about cooking. Or else have your grandparent choose a recipe from their childhood or culture and make it together. Learn how to make the recipe and listen to their stories of decades long ago while you feast together.
Hold a family photo shoot
Plan a surprise photoshoot for Grandma and Grandpa to make them happy. Ask them to wear their favorite clothes and meet you at a specific place. Get a photographer ready to capture some memorable images when they arrive. And make sure you involve other family members as well, because the more, the merrier.
Host a luncheon or dinner
Consider hosting a luncheon or dinner to celebrate and honor your grandparents. Invite any other family members who would like to spend time together.
Share family history
Spend some time with your grandparents and ask them to share stories about family history. Listen attentively and record them on tape or write them down.
Share a grandparent's hobby
You should ask your grandparents to share their knowledge about their favorite hobby with you. Whether they like bird watching, gardening, golfing, riding bikes, or playing poker, they will enjoy doing their favorite activity with you.
Build something together
Your grandparent might look old, but they can make amazing things with a hammer and some nails. Collaborate on creating something that will last for a long time. Create a birdhouse or a bench for your garden. Add a special quote or write something specific to make it more personalized.
Plant a tree
Spend quality time with your Grandma or Grandpa by planting a tree together. You will always remember their love whenever you sit under the shade of the tree. Imagine sitting beneath the branches of a tree, envisioning a future where you build a tree fort with your children. This tree, planted together, could become a special place dedicated to the memory of your Grandma or Grandpa.
Enjoy a picnic at the park
If grandparents prefer the outdoors, make it a family picnic day. It can be a peaceful and enjoyable experience for them. Find a public park near your home, or consider making a day trip of it by driving to a popular spot before you lose the daylight.
Stroll through a public garden
Get in your car with your grandparents and drive to see one of the (literally) hundreds of stunning public gardens the country has to offer.
Get to the zoo
Another enjoyable way to spend time with grandparents is by visiting a zoo. Families in America can visit amazing zoos that offer the chance to see a variety of animal species up close. 
Check out a cool museum
If your grandparent appreciates art or history, take them to the museums. There are interesting and dynamic exhibits in every state, so there is no shortage of opportunities, no matter where you live.
Reach out virtually
It's always best to spend time with them in person, but if you cannot visit them, make sure you reach them virtually. They would greatly appreciate it even if it's just hearing your voice but make more effort. Connect with them on Facetime or Zoom and catch up on what's happening in their lives. Show them that you care about them and they are important to you.
Bottom line
Whether you have a grand celebration or simply spend some peaceful moments together, it doesn't matter. No matter what you have planned for the day, your grandparents will still appreciate whatever you do. The most important thing to them is showing that you care by celebrating the day with them. So, make the most of the time you have together.
This story was produced by Way.com and reviewed and distributed by Stacker Media.