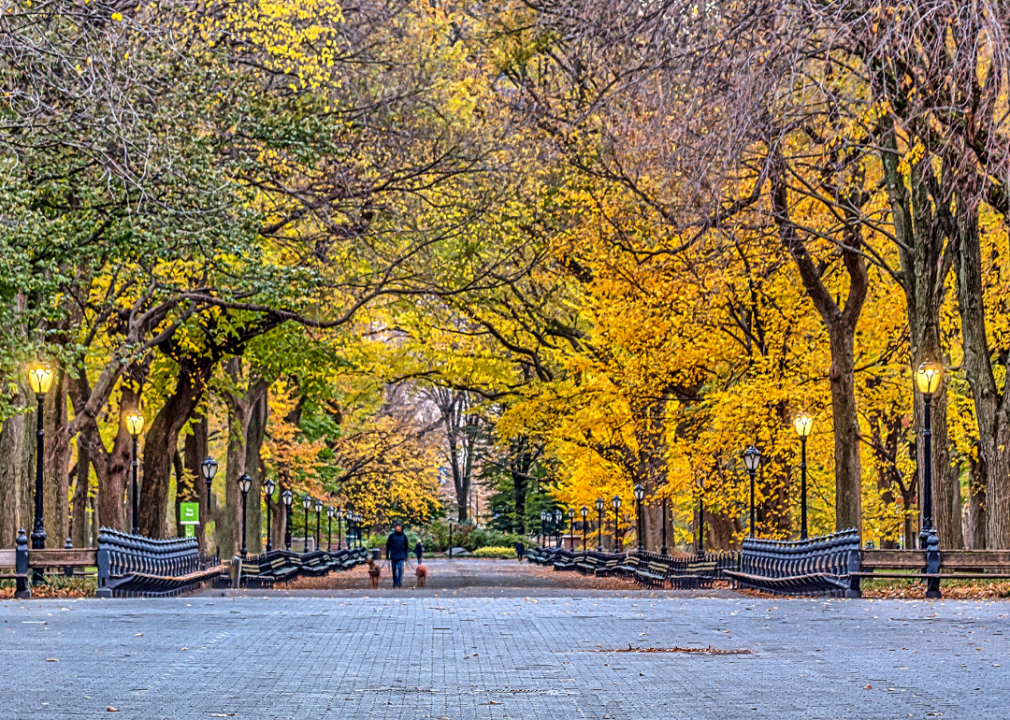 Florida has 4 of the 50 cities with the most green space per capita
Florida has 4 of the 50 cities with the most green space per capita
Green space is beneficial anywhere, but especially in concrete jungles like those found in many U.S. cities. The World Health Organization reports that green areas are essential to both the ecosystem and the mental health of citizens; though the color is fading quickly in urban areas that are cutting down trees and rapidly building on open space. There are, however, some cities across America that are fighting hard to keep green space within their borders.
Using data from the Organization for Economic Co-operation and Development, analyzed by the United Nations Office for the Coordination of Humanitarian Affairs, Stacker considered the 70 U.S. cities with the most green space per capita and then ranked the top 50 by the green space areas devoted to parks and urban regions.
Read on to see which cities in your state made the list, or see the national story here.
#49. Jacksonville
- Green space per capita: 2,341 sq. ft.
- Population: 1.5 million
More green space should be the core of downtown Jacksonville, according to landscape architect Buck Pittman, who has said the rhythm and spacing of trees throughout the 2.7 miles of city ignite citizens' senses. Plans to develop Jacksonville's Emerald Necklace, 19 miles of new trails, green space, and waterways, will further benefit Sunshine State residents. The proposed encircling of trees will act as a "public works infrastructure," as the greenery naturally purifies the air and manages stormwater.
#39. Tampa
- Green space per capita: 6,112 sq. ft.
- Population: 358,754
The Environmental Protection Agency reports there are 872 square meters of green space per resident in Tampa, with research proving "that physical and visual access to trees and other green space has positive physiological, cognitive, and emotional benefits," on Florida citizens. Green Tampa, a group of city employees, plans on keeping it that way through green spaces, green building, and green operations. The City of Tampa Urban Forest Management Plan continues to collaborate with area officials in a 20-year plan to oversee the preservation of the 178 city parks.
#31. Miami
- Green space per capita: 8,805 sq. ft.
- Population: 32,105
While shady sea grape trees and 36 acres of oceanfront are accessible in North Shore Open Park, 75-foot-tall oak trees and exotic wildlife fill Sherwood Forest in Miami. More secret green spots, like the empty zoo on the tropical enclave at Crandon Park Gardens or the 37 botanical acres at the Fruit & Spice Park, also make up Miami's green space. The Magic City's vision to alter red fields to green fields is one way the spot is sustaining green spaces in town.
#28. Orlando
- Green space per capita: 10,654 sq. ft.
- Population: 262,507
Lake Eola Park, with a 9-mile sidewalk circling the water, sits in downtown Orlando, offering residents green space fun from feeding live swans to renting swan-shaped paddle boats. Other popular Orlando parks include Barnett, with 159 acres, and Dr. Phillips Community, with 43 acres. Through the 2018 Green Works Community Action Plan, officials have set green space goals up to 2040 to assure open space remains protected.
Some cities have gotten creative in constructing green space within their boundaries. Houston, Nashville, and Des Moines, Iowa, are among the many cities putting large green spaces on public rooftops. Atlanta even has plans to cover some of its highways with parks.
The former commissioner of the New York City Department of Parks and Recreation Adrian Benepe promotes the 10-Minute Walk campaign, an initiative to have a park within a 10-minute walk in all U.S. cities by 2050. Now the senior vice president for the Trust for Public Land, Benepe points to how green space helps the ecosystem. "When I see a tree, I see the work of God because a tree is a remarkable machine," Benepe said. "It does extraordinary things in exchange for very little."
What's more, the health benefits of parks and green spaces in cities are numerous, according to The National Recreation and Park Association. Large parks promote active living, which can reduce the risk of diabetes and heart disease, while research shows even small parks can reduce stress and improve creativity and mental health.
To learn more about which cities made the top of the list, keep reading below.
Cities with the most green space per capita
#1. Minneapolis, MN: 105,843 sq. ft. per capita
#2. Kansas City, MO: 93,349 sq. ft. per capita
#3. Cincinnati, OH: 67,723 sq. ft. per capita
#4. Washington, DC: 63,138 sq. ft. per capita
#5. Nashville, TN: 57,699 sq. ft. per capita