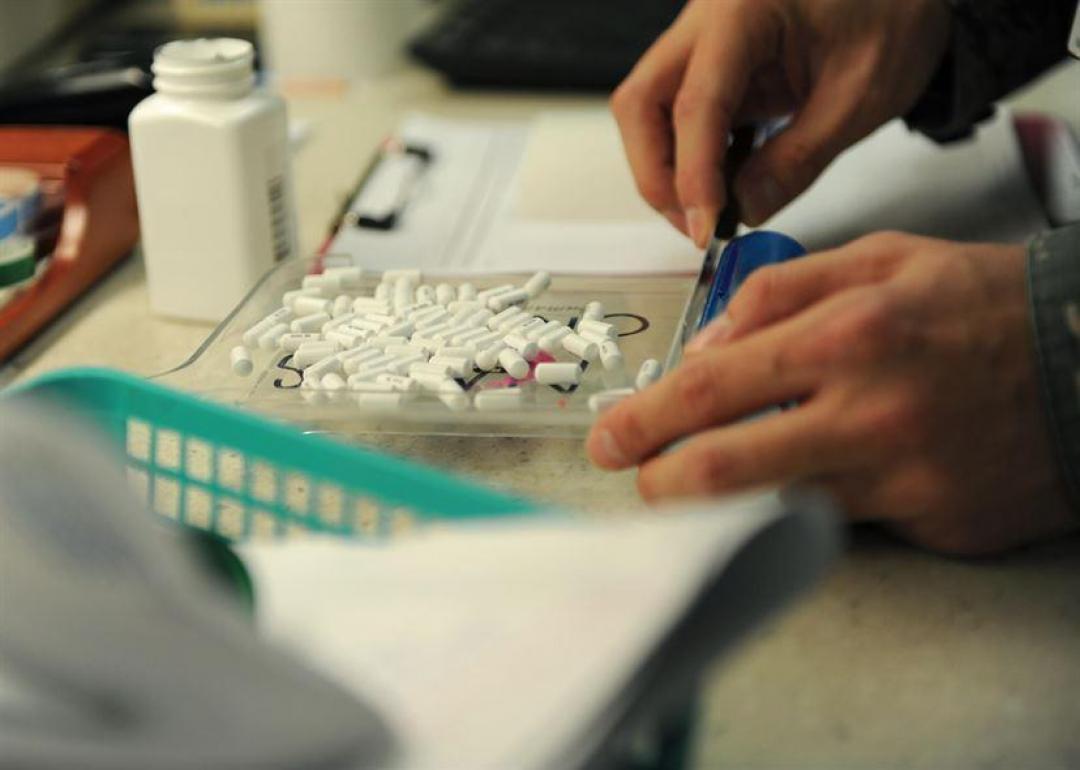 Highest and lowest paying health care jobs in Naples
Grace Nichols // U.S. Air Force
Highest and lowest paying health care jobs in Naples
Anybody who has taken a course in marketing, psychology or sociology is likely familiar with Maslow's Hierarchy of Needs. First detailed by psychologist Andrew Maslow in his 1943 work "A Theory of Human Motivation," the hierarchy breaks down the complex network of human thoughts into a categorical triage, placing self-development at the top and security and physical health at the bottom. In setting up this pyramid, Maslow framed self-recognition and creative development as ultimate goals, while also prioritizing personal safety and strong physical health.
As such, it has never been more important to recognize the health care professionals who work tirelessly to keep the population healthy. In 2019, the United States spent 17.7% of its GDP on health. While it's encouraging to know that the country is investing in those responsible for maintaining the nation's well-being, not all health care professionals receive equal compensation.
Stacker compiled a list of the highest and lowest paying health care jobs in Naples-Immokalee-Marco Island, FL using data from the Bureau of Labor Statistics. Jobs are ranked by 2019 annual mean wage. Keep reading to see which health care jobs make the most and least in your city.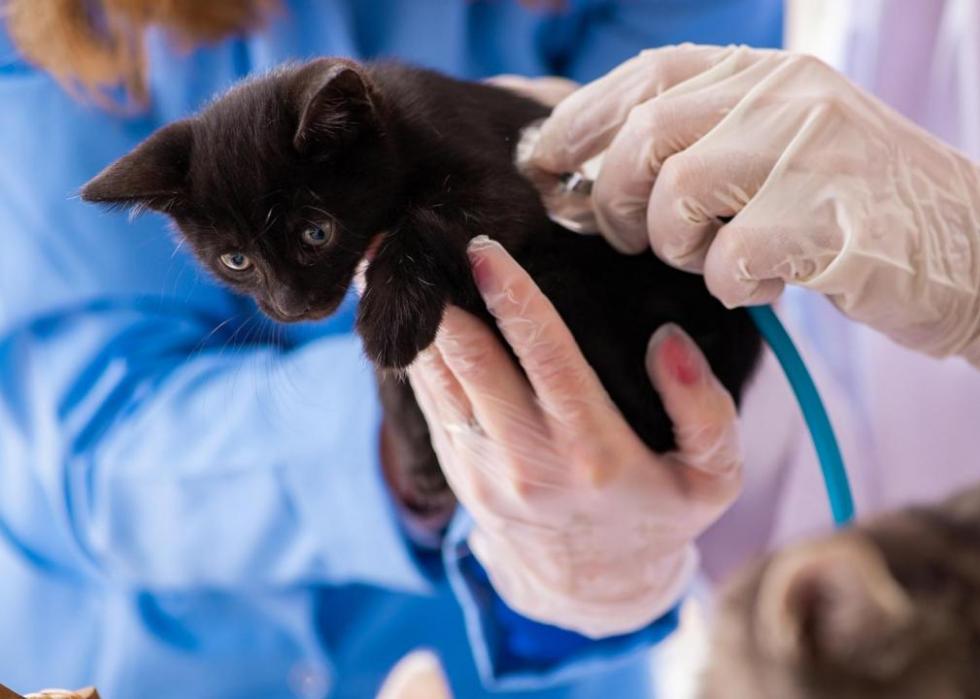 1 / 33
#33. Veterinary assistants and laboratory animal caretakers
Naples-Immokalee-Marco Island, FL
- Annual mean salary: $26,520
- #183 highest pay among all metros
- Employment: 40

National
- Annual mean salary: $29,690
- Employment: 97,030
- Metros with highest average pay:
--- New Haven, CT ($48,240)
--- San Jose-Sunnyvale-Santa Clara, CA ($43,890)
--- Port St. Lucie, FL ($43,200)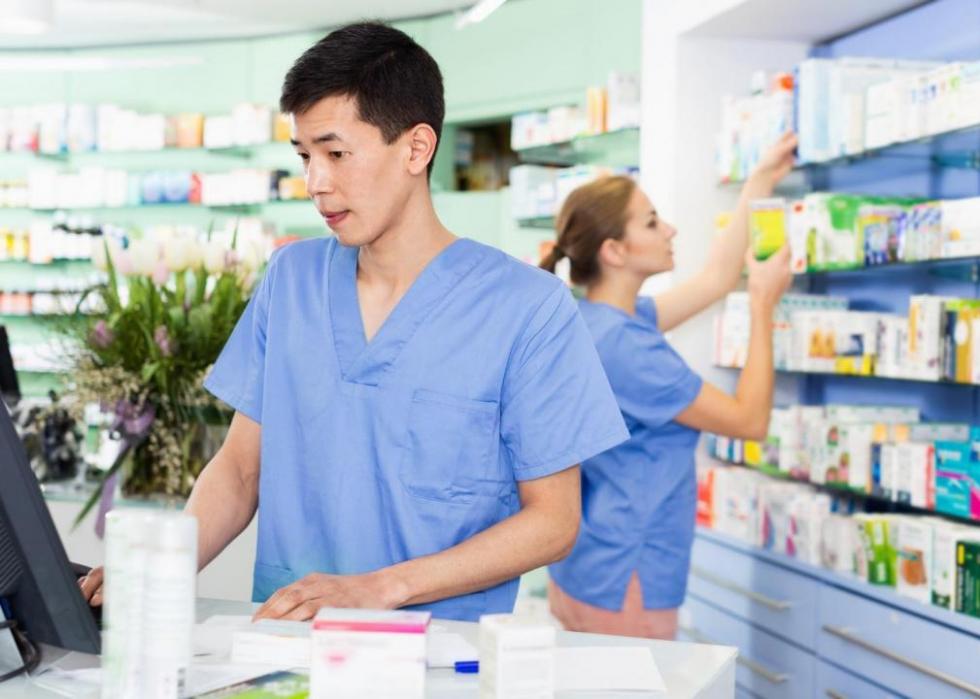 2 / 33
#32. Pharmacy aides
Naples-Immokalee-Marco Island, FL
- Annual mean salary: $27,600
- #88 highest pay among all metros
- Employment: data not available

National
- Annual mean salary: $30,490
- Employment: 37,280
- Metros with highest average pay:
--- Fresno, CA ($46,610)
--- San Francisco-Oakland-Hayward, CA ($46,430)
--- Santa Rosa, CA ($42,620)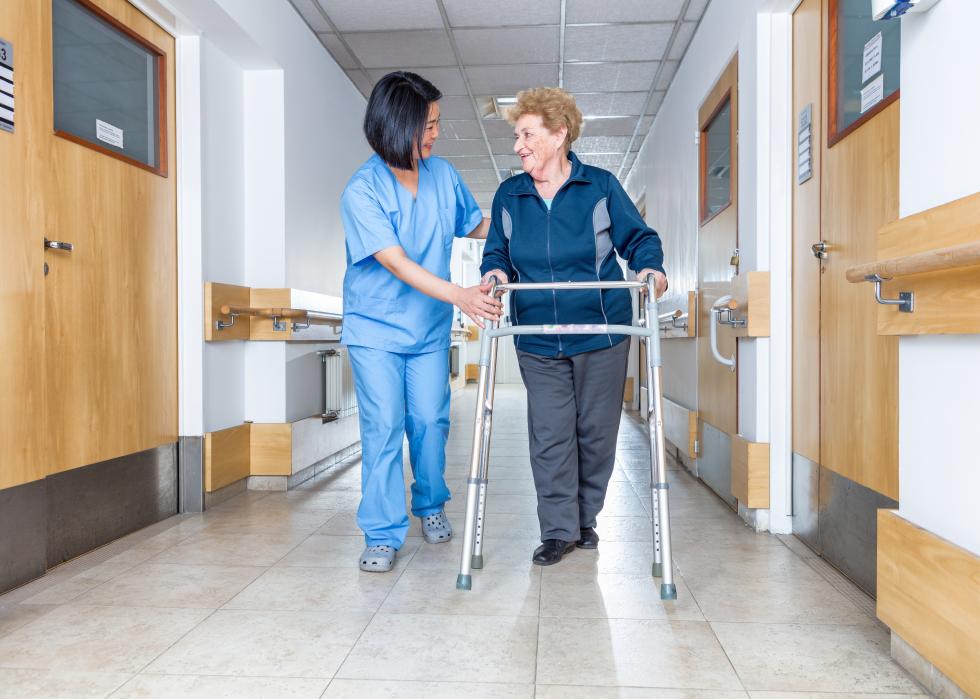 3 / 33
GagliardiPhotography // Shutterstock
#31. Nursing assistants
Naples-Immokalee-Marco Island, FL
- Annual mean salary: $30,420
- #153 highest pay among all metros
- Employment: 1,440

National
- Annual mean salary: $30,720
- Employment: 1,419,920
- Metros with highest average pay:
--- Salinas, CA ($46,170)
--- San Francisco-Oakland-Hayward, CA ($45,100)
--- Santa Cruz-Watsonville, CA ($44,710)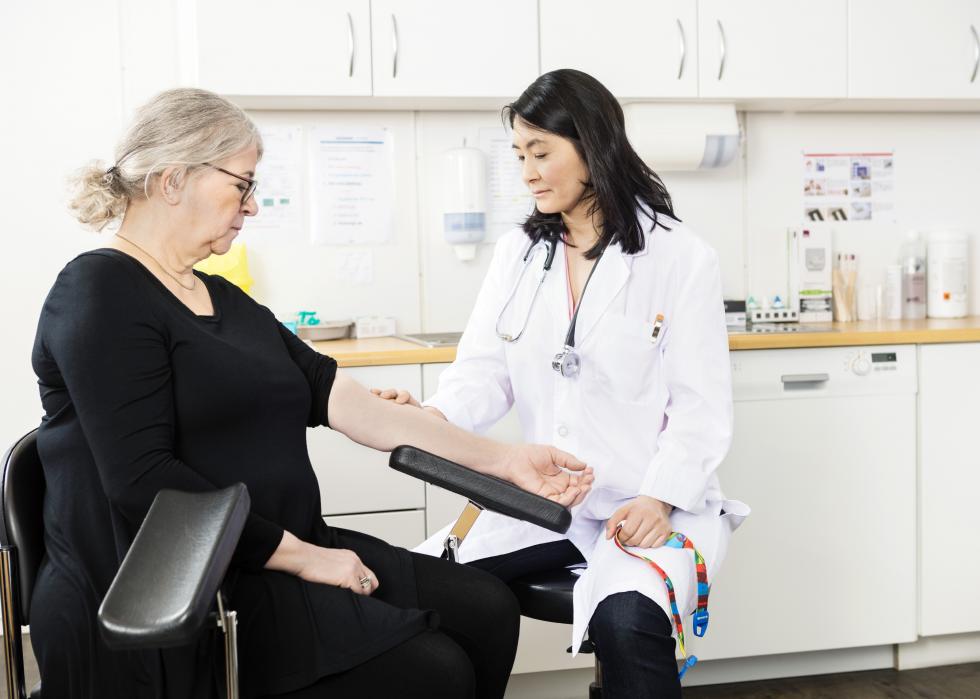 4 / 33
Tyler Olson // Shutterstock
#30. Phlebotomists
Naples-Immokalee-Marco Island, FL
- Annual mean salary: $31,910
- #228 highest pay among all metros
- Employment: 110

National
- Annual mean salary: $36,480
- Employment: 128,290
- Metros with highest average pay:
--- Salinas, CA ($58,610)
--- San Francisco-Oakland-Hayward, CA ($54,040)
--- Redding, CA ($52,310)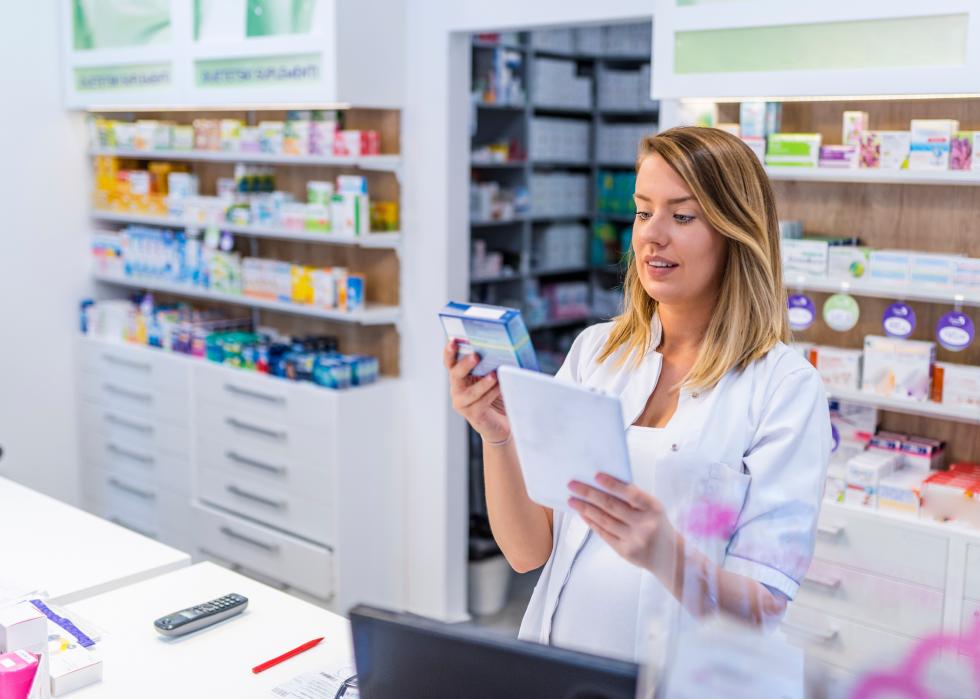 5 / 33
Dragana Gordic // Shutterstock
#29. Pharmacy technicians
Naples-Immokalee-Marco Island, FL
- Annual mean salary: $34,170
- #176 highest pay among all metros
- Employment: 650

National
- Annual mean salary: $35,250
- Employment: 417,780
- Metros with highest average pay:
--- San Francisco-Oakland-Hayward, CA ($51,090)
--- Santa Rosa, CA ($50,790)
--- Santa Maria-Santa Barbara, CA ($50,070)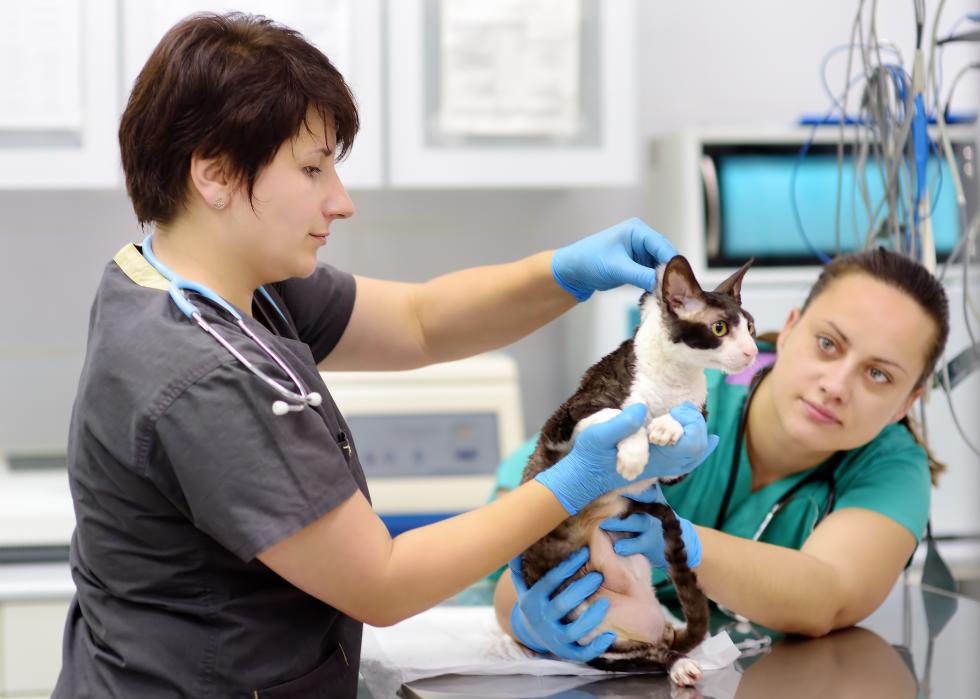 6 / 33
Maria Sbytova // Shutterstock
#28. Veterinary technologists and technicians
Naples-Immokalee-Marco Island, FL
- Annual mean salary: $35,770
- #123 highest pay among all metros
- Employment: 220

National
- Annual mean salary: $36,670
- Employment: 110,650
- Metros with highest average pay:
--- Norwich-New London-Westerly, CT-RI ($76,660)
--- Harrisburg-Carlisle, PA ($57,740)
--- Las Vegas-Henderson-Paradise, NV ($50,100)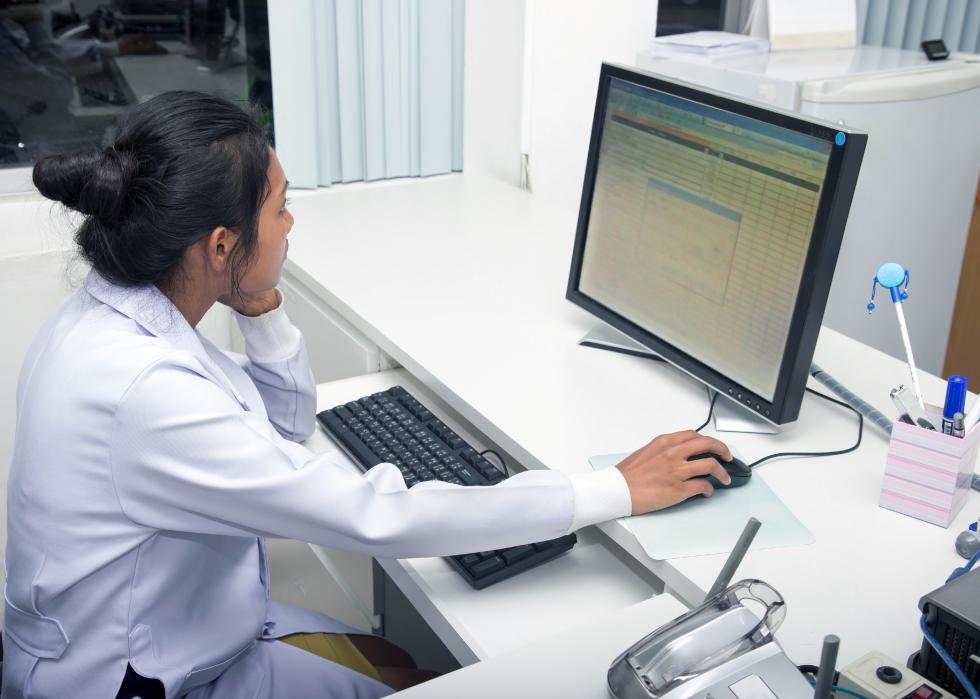 7 / 33
Milkovasa // Shutterstock
#27. Medical assistants
Naples-Immokalee-Marco Island, FL
- Annual mean salary: $39,810
- #33 highest pay among all metros
- Employment: 820

National
- Annual mean salary: $35,720
- Employment: 712,430
- Metros with highest average pay:
--- Vallejo-Fairfield, CA ($49,880)
--- San Francisco-Oakland-Hayward, CA ($48,920)
--- Seattle-Tacoma-Bellevue, WA ($47,140)
8 / 33
#26. Ophthalmic medical technicians
Naples-Immokalee-Marco Island, FL
- Annual mean salary: $41,800
- #43 highest pay among all metros
- Employment: 30

National
- Annual mean salary: $38,760
- Employment: 58,600
- Metros with highest average pay:
--- Duluth, MN-WI ($56,620)
--- Minneapolis-St. Paul-Bloomington, MN-WI ($53,770)
--- New Bedford, MA ($53,250)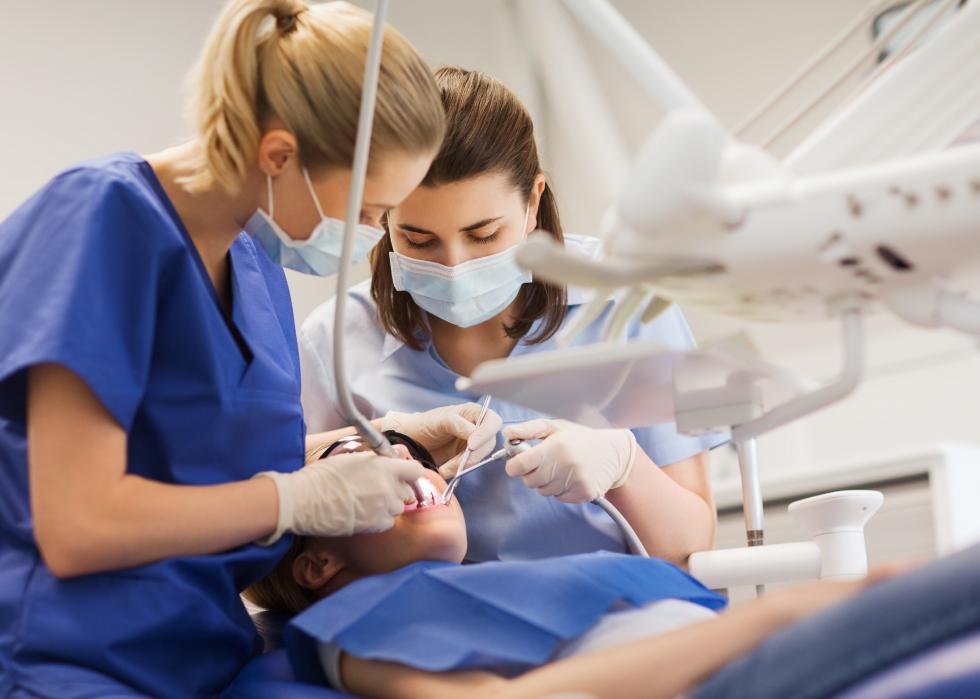 9 / 33
Syda Productions // Shutterstock
#24 (tie). Dental assistants
Naples-Immokalee-Marco Island, FL
- Annual mean salary: $43,080
- #88 highest pay among all metros
- Employment: 410

National
- Annual mean salary: $41,170
- Employment: 351,470
- Metros with highest average pay:
--- Santa Rosa, CA ($56,010)
--- Minneapolis-St. Paul-Bloomington, MN-WI ($54,510)
--- Rochester, MN ($53,010)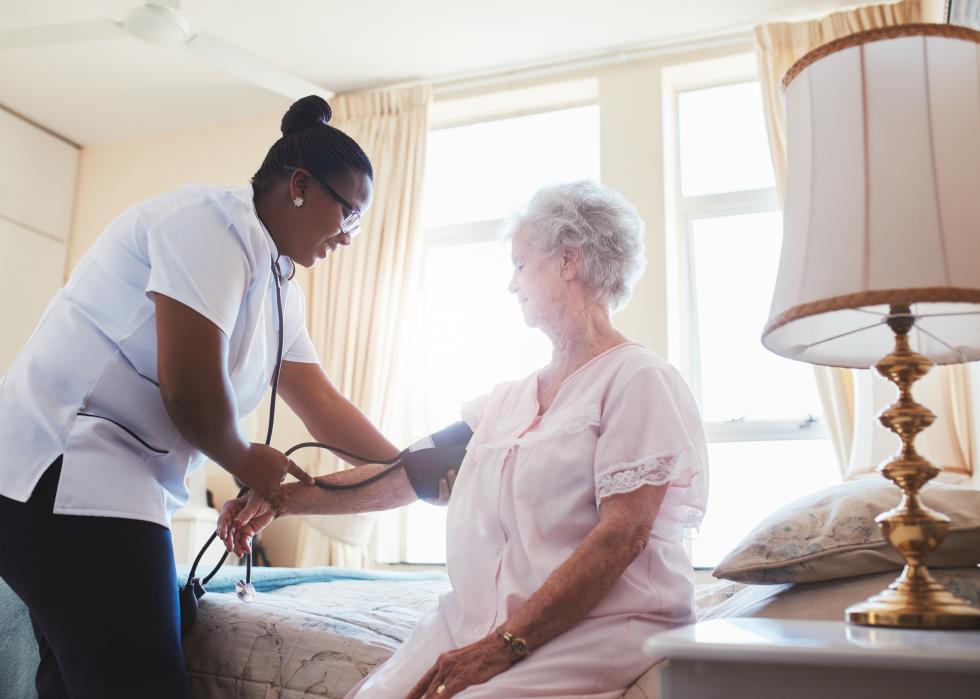 10 / 33
#24 (tie). Licensed practical and licensed vocational nurses
Naples-Immokalee-Marco Island, FL
- Annual mean salary: $43,080
- #289 highest pay among all metros
- Employment: 1,020

National
- Annual mean salary: $48,500
- Employment: 697,510
- Metros with highest average pay:
--- San Francisco-Oakland-Hayward, CA ($69,490)
--- San Jose-Sunnyvale-Santa Clara, CA ($68,160)
--- Vallejo-Fairfield, CA ($67,990)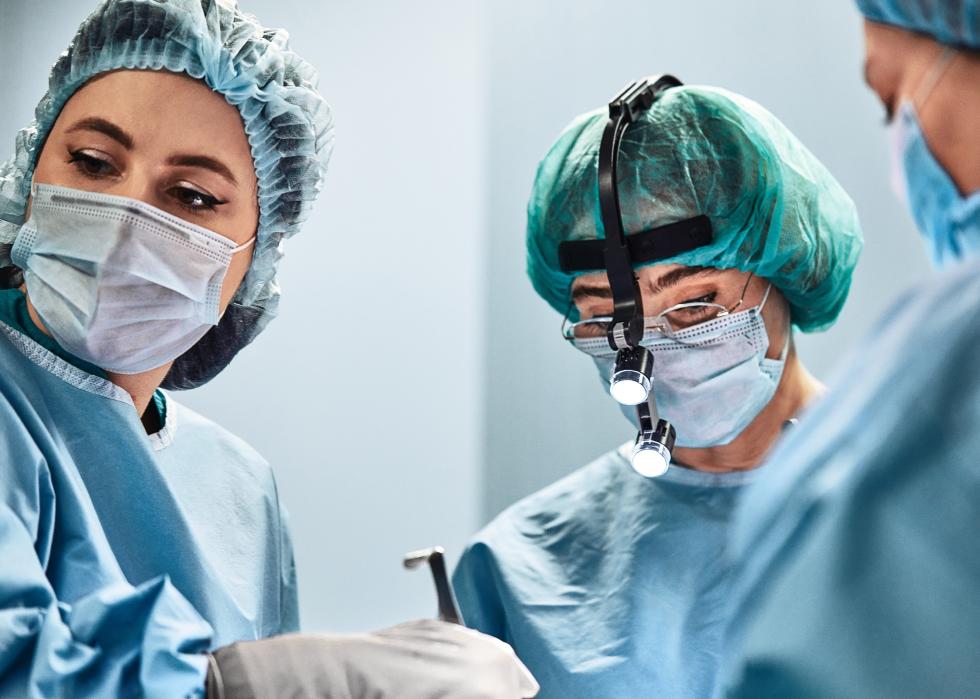 11 / 33
Gerain0812 // Shutterstock
#23. Surgical technologists
Naples-Immokalee-Marco Island, FL
- Annual mean salary: $46,370
- #142 highest pay among all metros
- Employment: 100

National
- Annual mean salary: $50,110
- Employment: 109,000
- Metros with highest average pay:
--- Salinas, CA ($74,280)
--- San Francisco-Oakland-Hayward, CA ($72,790)
--- San Jose-Sunnyvale-Santa Clara, CA ($69,750)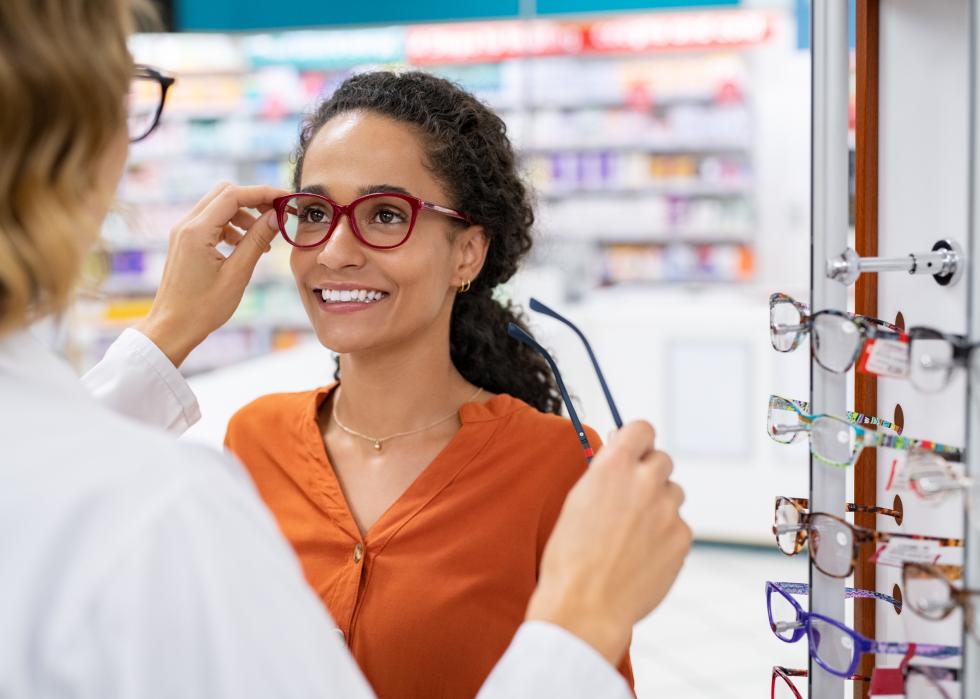 12 / 33
#22. Opticians, dispensing
Naples-Immokalee-Marco Island, FL
- Annual mean salary: $52,860
- #14 highest pay among all metros
- Employment: 160

National
- Annual mean salary: $40,730
- Employment: 72,330
- Metros with highest average pay:
--- Utica-Rome, NY ($70,730)
--- Bridgeport-Stamford-Norwalk, CT ($68,970)
--- New Haven, CT ($66,020)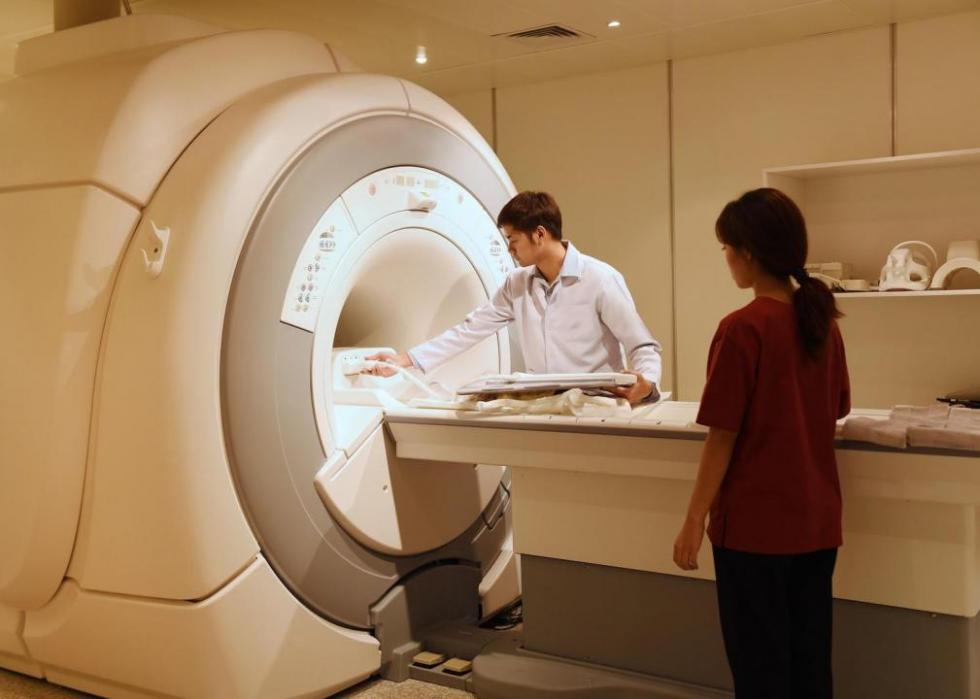 13 / 33
#21. Magnetic resonance imaging technologists
Naples-Immokalee-Marco Island, FL
- Annual mean salary: $54,550
- #154 highest pay among all metros
- Employment: 80

National
- Annual mean salary: $74,270
- Employment: 37,900
- Metros with highest average pay:
--- Vallejo-Fairfield, CA ($124,950)
--- San Francisco-Oakland-Hayward, CA ($104,870)
--- Seattle-Tacoma-Bellevue, WA ($99,920)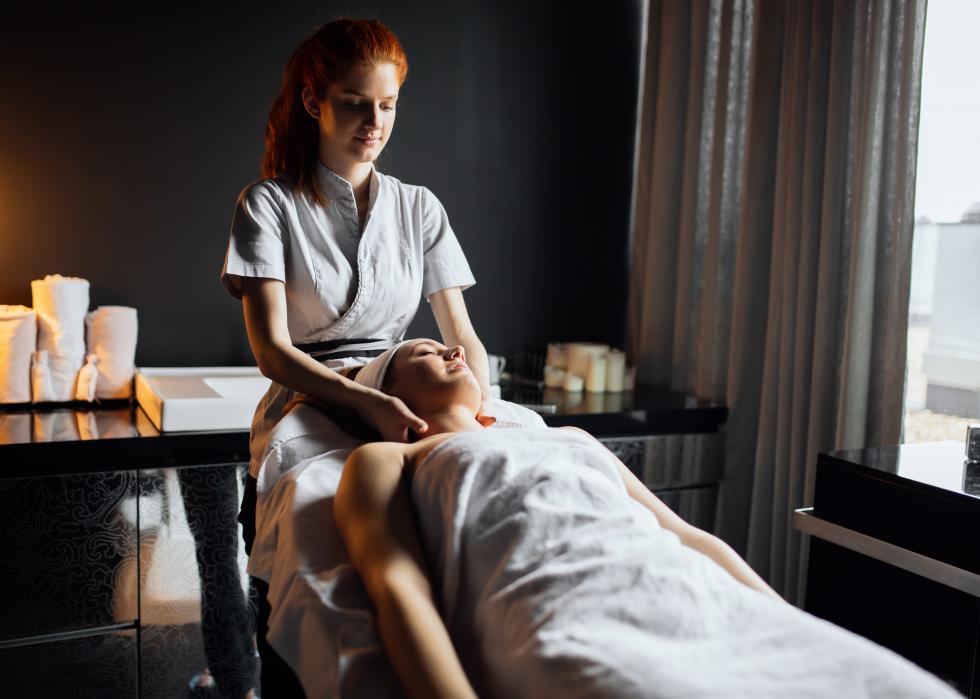 14 / 33
NDAB Creativity // Shutterstock
#20. Massage therapists
Naples-Immokalee-Marco Island, FL
- Annual mean salary: $59,200
- #20 highest pay among all metros
- Employment: 210

National
- Annual mean salary: $47,180
- Employment: 107,240
- Metros with highest average pay:
--- Anchorage, AK ($76,930)
--- Yakima, WA ($72,870)
--- College Station-Bryan, TX ($70,090)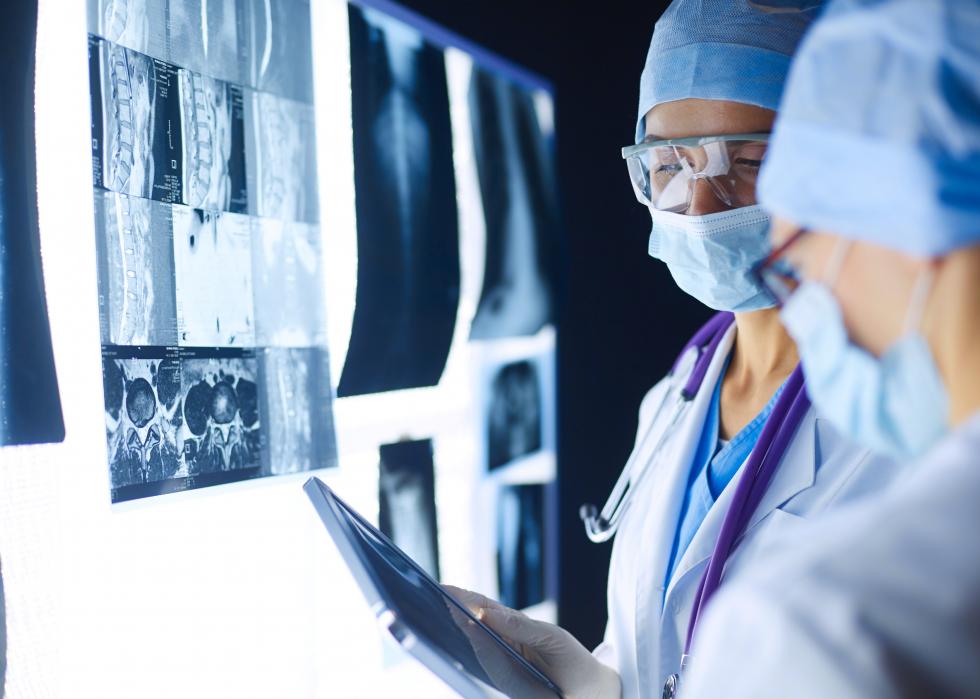 15 / 33
lenetstan // Shutterstock
#19. Radiologic technologists and technicians
Naples-Immokalee-Marco Island, FL
- Annual mean salary: $62,840
- #96 highest pay among all metros
- Employment: 230

National
- Annual mean salary: $63,120
- Employment: 207,360
- Metros with highest average pay:
--- Salinas, CA ($110,180)
--- Vallejo-Fairfield, CA ($109,680)
--- San Francisco-Oakland-Hayward, CA ($103,670)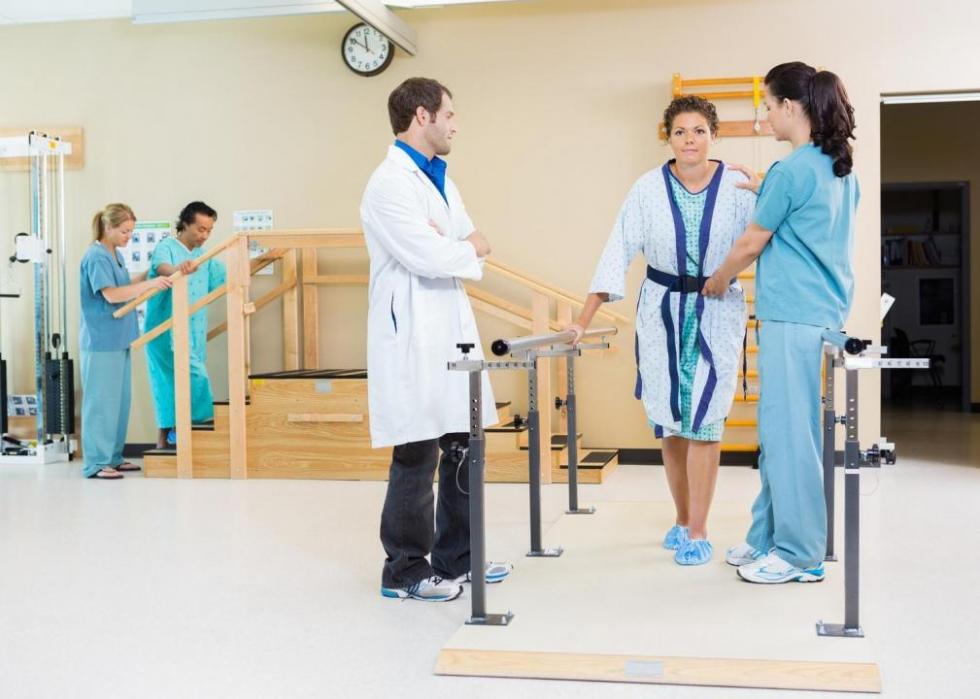 16 / 33
#18. Physical therapist assistants
Naples-Immokalee-Marco Island, FL
- Annual mean salary: $63,530
- #63 highest pay among all metros
- Employment: 120

National
- Annual mean salary: $58,520
- Employment: 96,840
- Metros with highest average pay:
--- Houston-The Woodlands-Sugar Land, TX ($78,530)
--- Victoria, TX ($78,070)
--- Sacramento--Roseville--Arden-Arcade, CA ($75,470)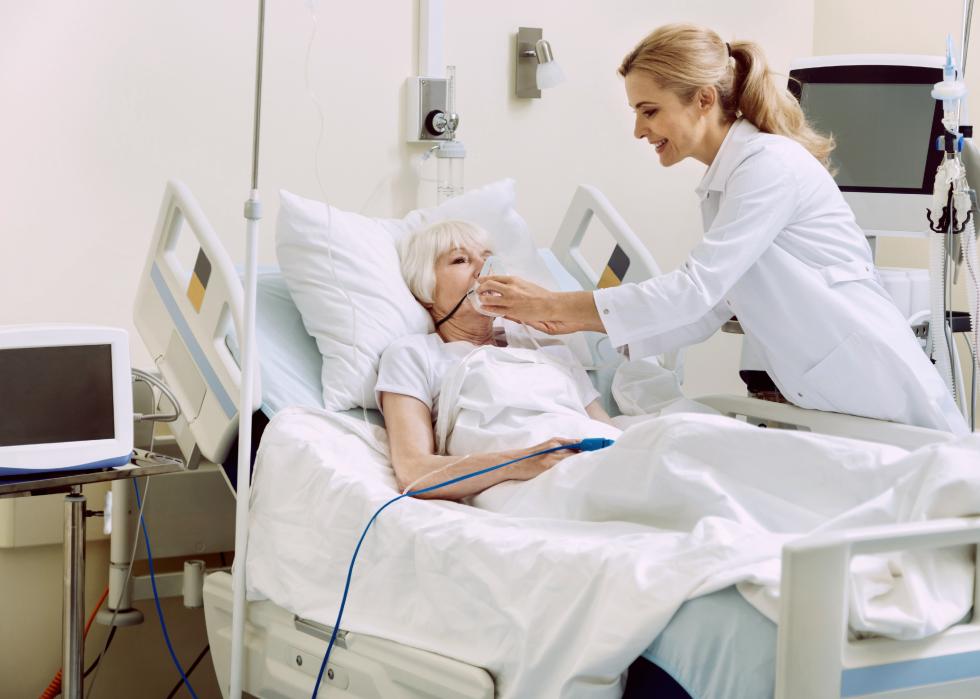 17 / 33
Dmytro Zinkevych // Shutterstock
#17. Respiratory therapists
Naples-Immokalee-Marco Island, FL
- Annual mean salary: $63,820
- #75 highest pay among all metros
- Employment: data not available

National
- Annual mean salary: $63,950
- Employment: 132,090
- Metros with highest average pay:
--- Salinas, CA ($101,520)
--- Sacramento--Roseville--Arden-Arcade, CA ($98,810)
--- San Francisco-Oakland-Hayward, CA ($97,950)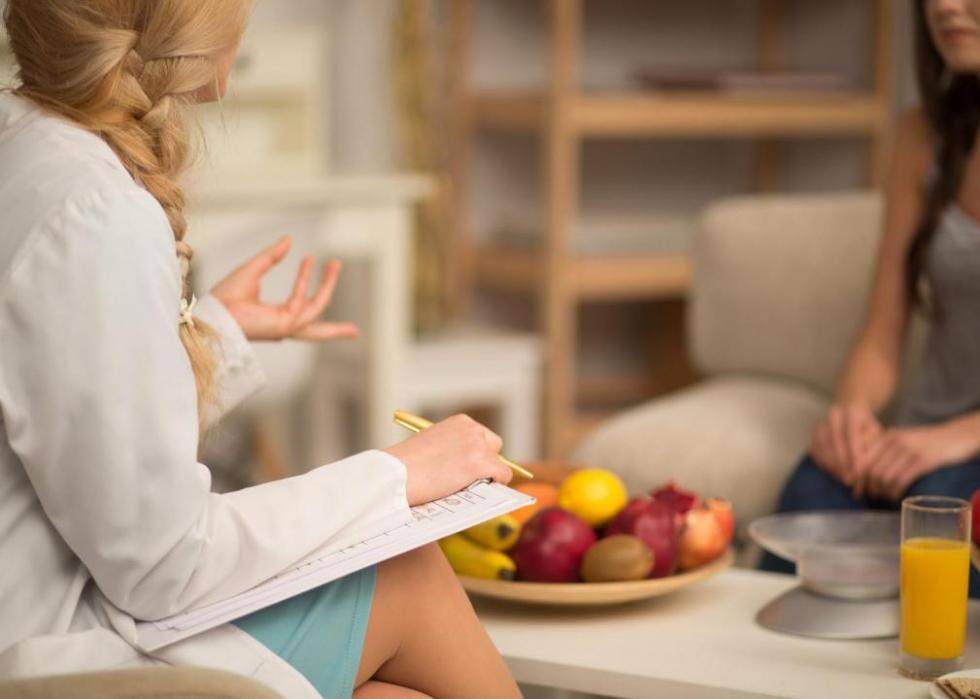 18 / 33
#16. Dietitians and nutritionists
Naples-Immokalee-Marco Island, FL
- Annual mean salary: $69,980
- #33 highest pay among all metros
- Employment: data not available

National
- Annual mean salary: $62,330
- Employment: 67,670
- Metros with highest average pay:
--- Vallejo-Fairfield, CA ($88,350)
--- Salinas, CA ($87,930)
--- San Francisco-Oakland-Hayward, CA ($87,890)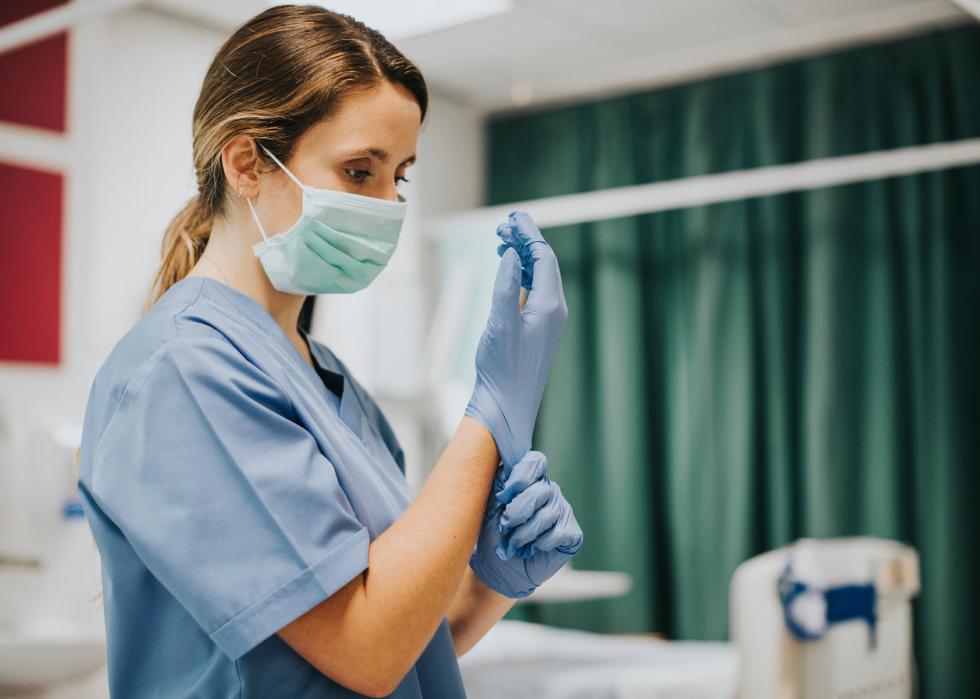 19 / 33
Rawpixel.com // Shutterstock
#15. Registered nurses
Naples-Immokalee-Marco Island, FL
- Annual mean salary: $76,040
- #82 highest pay among all metros
- Employment: 2,950

National
- Annual mean salary: $77,460
- Employment: 2,982,280
- Metros with highest average pay:
--- San Jose-Sunnyvale-Santa Clara, CA ($140,740)
--- San Francisco-Oakland-Hayward, CA ($138,000)
--- Santa Cruz-Watsonville, CA ($134,000)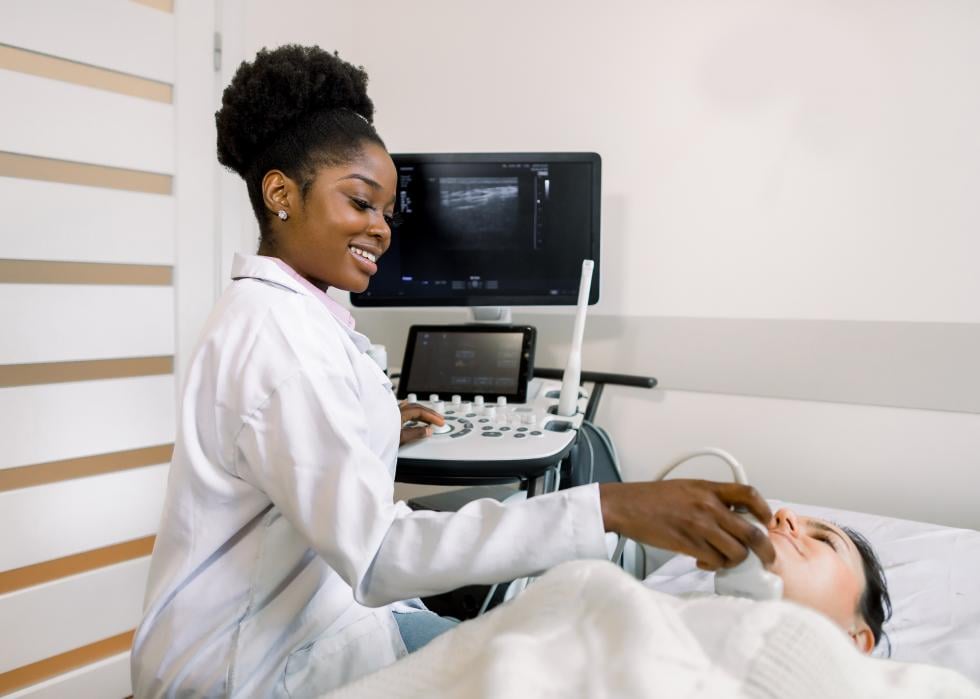 20 / 33
#14. Diagnostic medical sonographers
Naples-Immokalee-Marco Island, FL
- Annual mean salary: $76,050
- #86 highest pay among all metros
- Employment: 70

National
- Annual mean salary: $75,780
- Employment: 72,790
- Metros with highest average pay:
--- Salinas, CA ($126,850)
--- Sacramento--Roseville--Arden-Arcade, CA ($118,880)
--- San Francisco-Oakland-Hayward, CA ($115,280)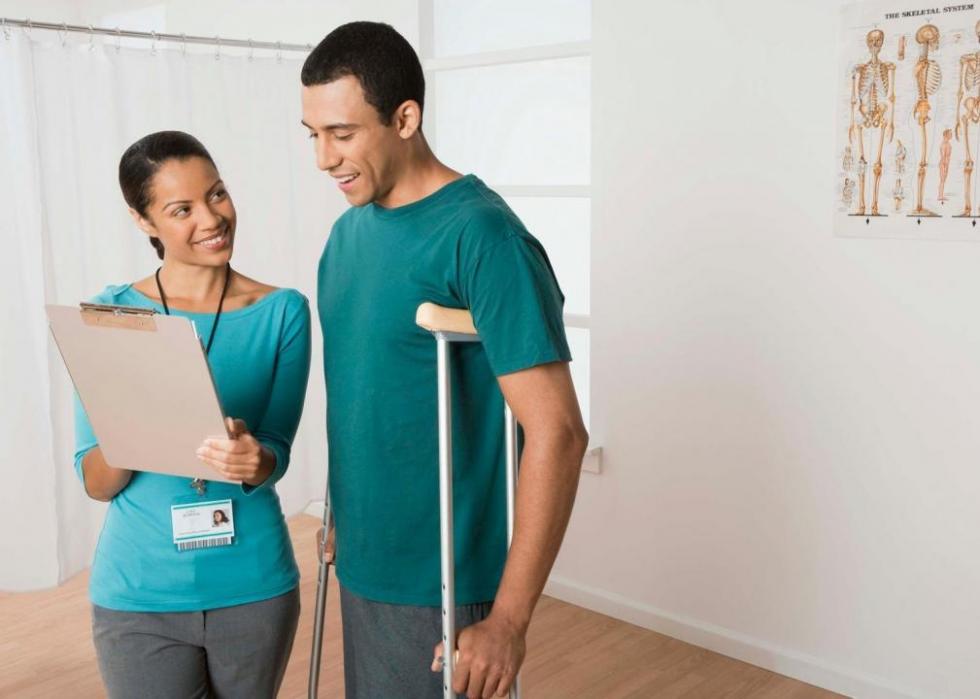 21 / 33
#13. Occupational therapy assistants
Naples-Immokalee-Marco Island, FL
- Annual mean salary: $78,120
- #5 highest pay among all metros
- Employment: 30

National
- Annual mean salary: $61,880
- Employment: 44,990
- Metros with highest average pay:
--- Sacramento--Roseville--Arden-Arcade, CA ($92,580)
--- Visalia-Porterville, CA ($83,690)
--- Reno, NV ($81,800)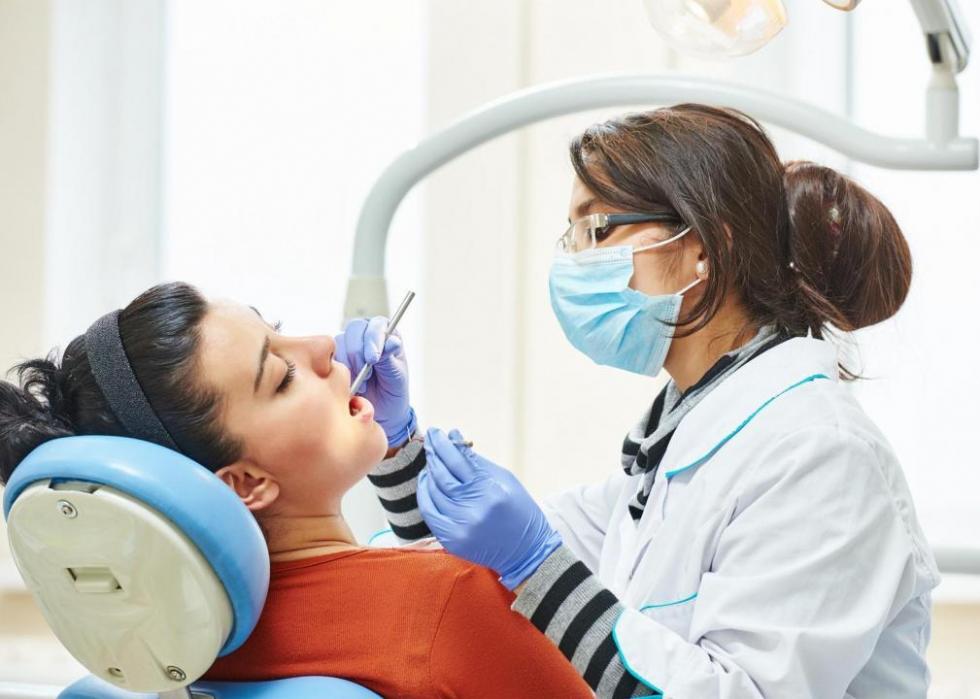 22 / 33
#12. Dental hygienists
Naples-Immokalee-Marco Island, FL
- Annual mean salary: $81,830
- #73 highest pay among all metros
- Employment: 210

National
- Annual mean salary: $77,230
- Employment: 221,560
- Metros with highest average pay:
--- Santa Maria-Santa Barbara, CA ($140,150)
--- San Jose-Sunnyvale-Santa Clara, CA ($120,420)
--- San Francisco-Oakland-Hayward, CA ($113,940)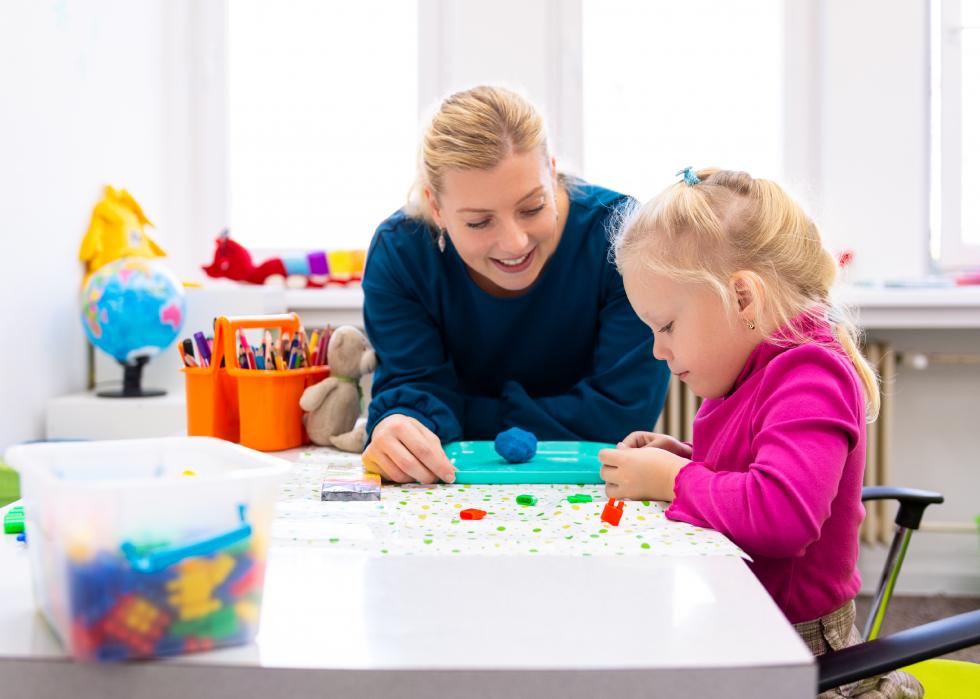 23 / 33
ABO PHOTOGRAPHY // Shutterstock
#11. Occupational therapists
Naples-Immokalee-Marco Island, FL
- Annual mean salary: $88,490
- #103 highest pay among all metros
- Employment: 80

National
- Annual mean salary: $86,210
- Employment: 133,570
- Metros with highest average pay:
--- The Villages, FL ($115,090)
--- Las Vegas-Henderson-Paradise, NV ($108,870)
--- Vallejo-Fairfield, CA ($107,450)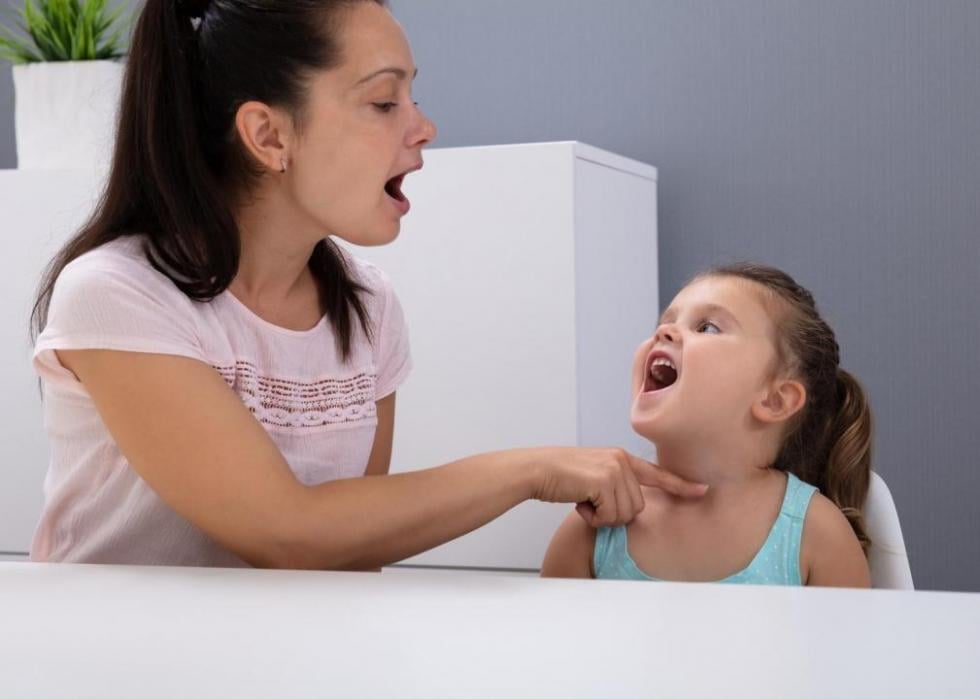 24 / 33
#10. Speech-language pathologists
Naples-Immokalee-Marco Island, FL
- Annual mean salary: $90,620
- #49 highest pay among all metros
- Employment: 30

National
- Annual mean salary: $82,000
- Employment: 154,360
- Metros with highest average pay:
--- Bridgeport-Stamford-Norwalk, CT ($117,710)
--- Corvallis, OR ($105,380)
--- Chico, CA ($104,640)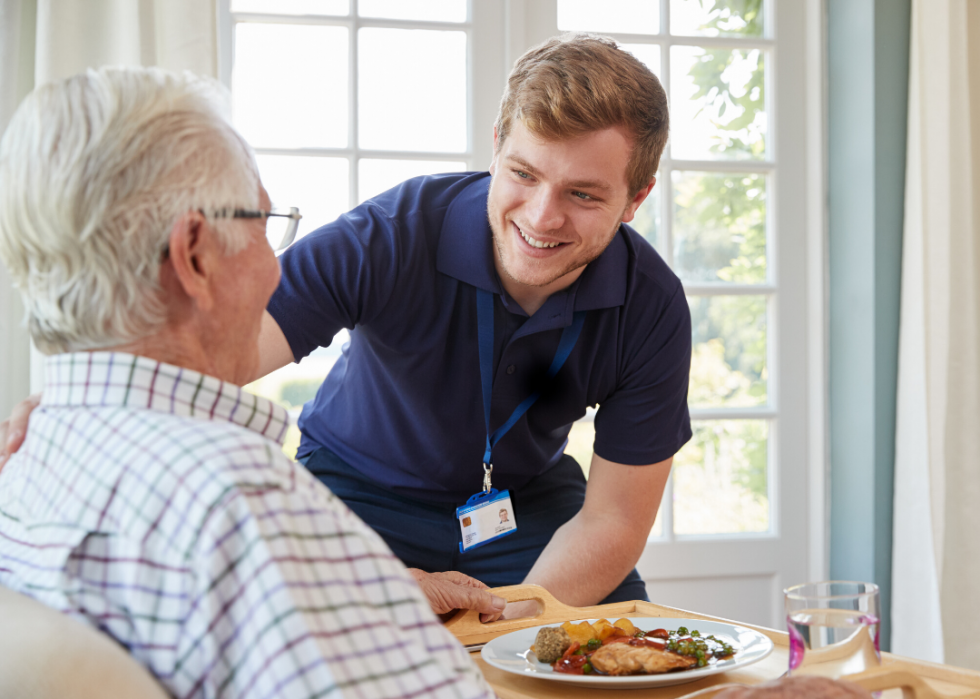 25 / 33
Monkey Business Images // Shutterstock
#9. Nurse practitioners
Naples-Immokalee-Marco Island, FL
- Annual mean salary: $91,800
- #347 highest pay among all metros
- Employment: 130

National
- Annual mean salary: $111,840
- Employment: 200,600
- Metros with highest average pay:
--- Vallejo-Fairfield, CA ($175,060)
--- Spokane-Spokane Valley, WA ($160,110)
--- San Francisco-Oakland-Hayward, CA ($157,150)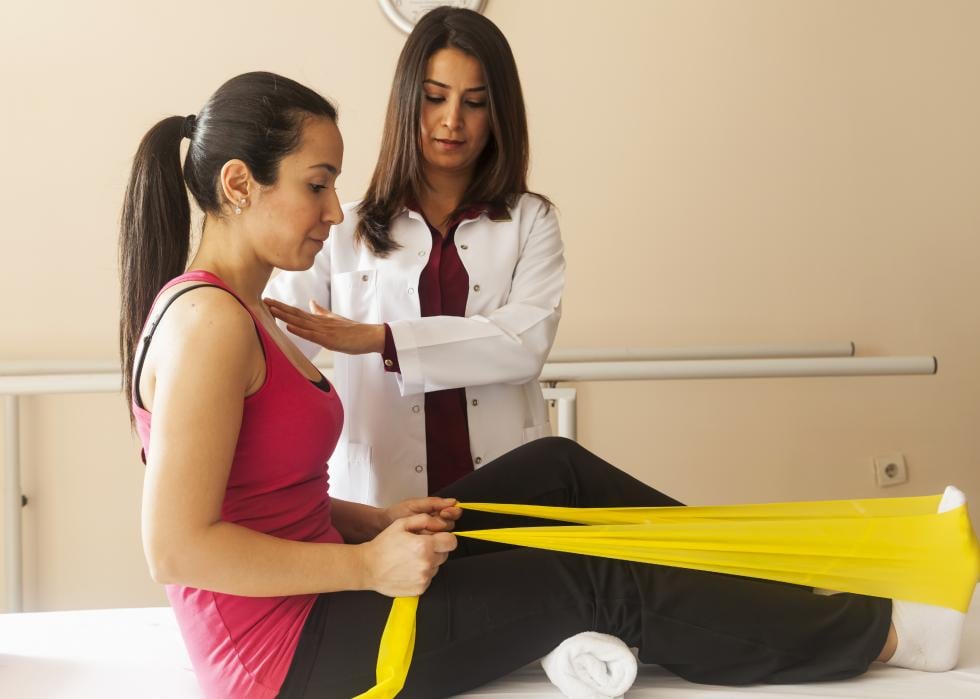 26 / 33
Aykut Erdogdu // Shutterstock
#8. Physical therapists
Naples-Immokalee-Marco Island, FL
- Annual mean salary: $92,590
- #107 highest pay among all metros
- Employment: 330

National
- Annual mean salary: $90,170
- Employment: 233,350
- Metros with highest average pay:
--- Yuba City, CA ($116,360)
--- Bakersfield, CA ($116,120)
--- Las Vegas-Henderson-Paradise, NV ($113,950)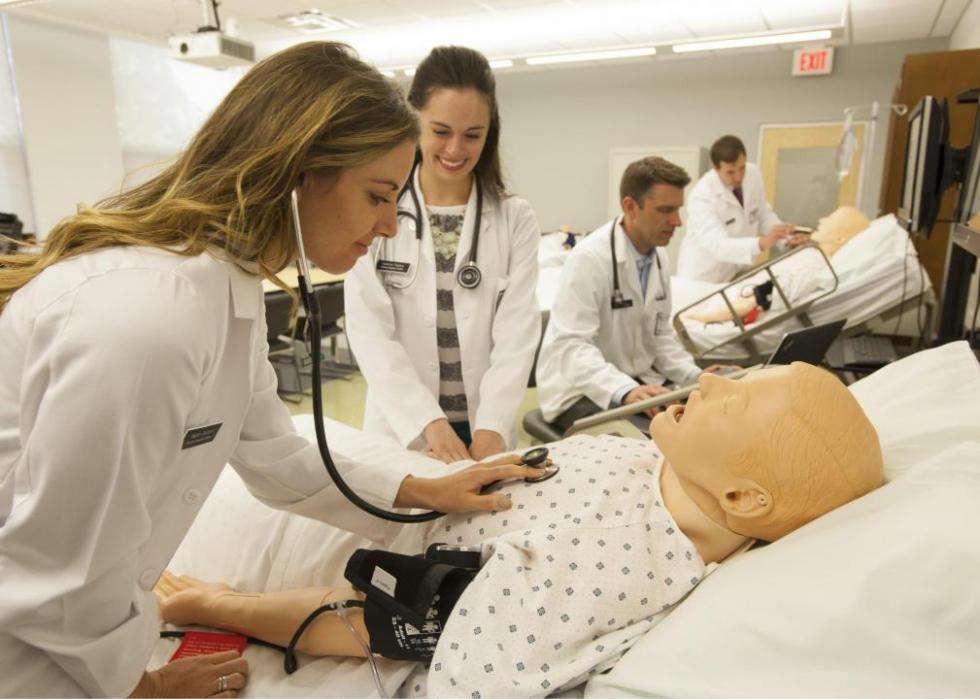 27 / 33
Ohiodominican // Wikimedia Commons
#7. Physician assistants
Naples-Immokalee-Marco Island, FL
- Annual mean salary: $108,220
- #172 highest pay among all metros
- Employment: 140

National
- Annual mean salary: $112,410
- Employment: 120,090
- Metros with highest average pay:
--- Salinas, CA ($161,370)
--- Leominster-Gardner, MA ($156,250)
--- Waterbury, CT ($154,550)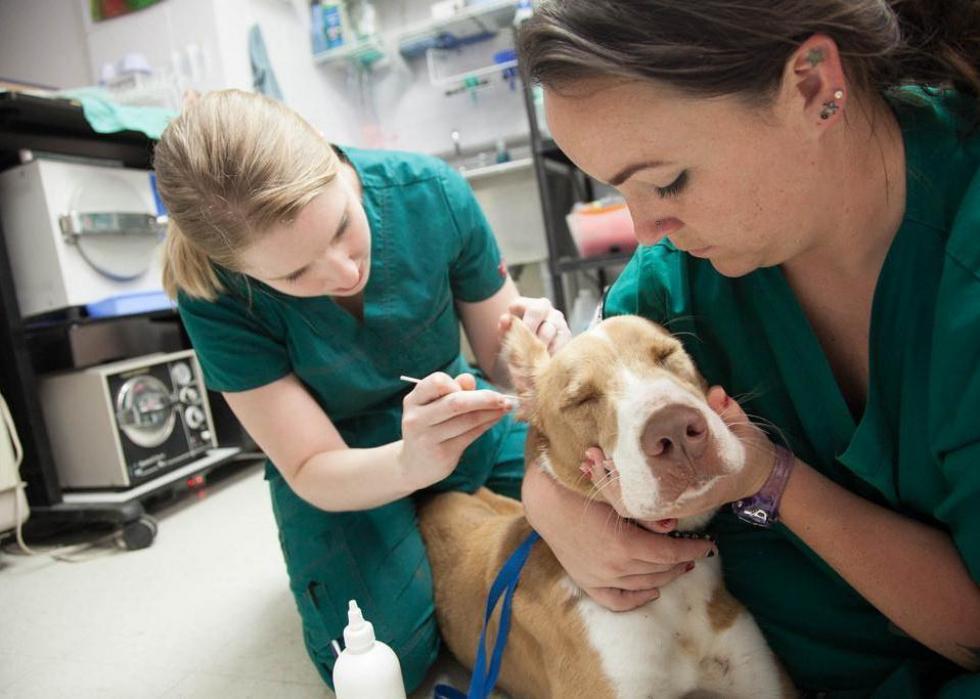 28 / 33
Austin Community College // Flickr
#6. Veterinarians
Naples-Immokalee-Marco Island, FL
- Annual mean salary: $133,560
- #16 highest pay among all metros
- Employment: 90

National
- Annual mean salary: $104,820
- Employment: 74,540
- Metros with highest average pay:
--- Sherman-Denison, TX ($210,960)
--- Lubbock, TX ($176,730)
--- Santa Maria-Santa Barbara, CA ($161,230)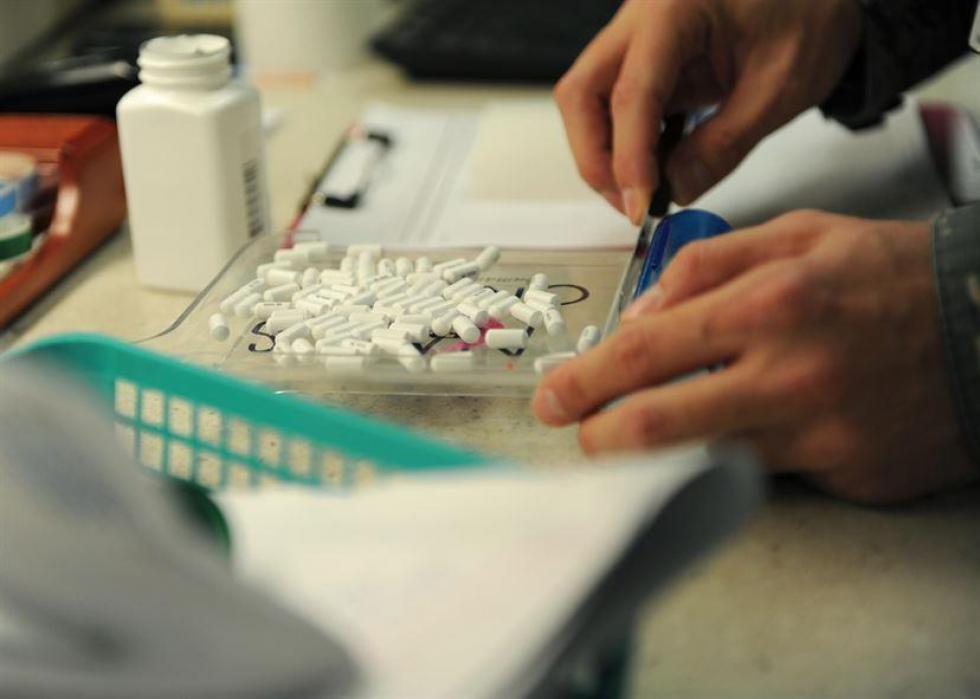 29 / 33
Grace Nichols // U.S. Air Force
#5. Pharmacists
Naples-Immokalee-Marco Island, FL
- Annual mean salary: $134,540
- #75 highest pay among all metros
- Employment: 300

National
- Annual mean salary: $125,510
- Employment: 311,200
- Metros with highest average pay:
--- Tyler, TX ($161,790)
--- Vallejo-Fairfield, CA ($158,250)
--- Santa Maria-Santa Barbara, CA ($157,850)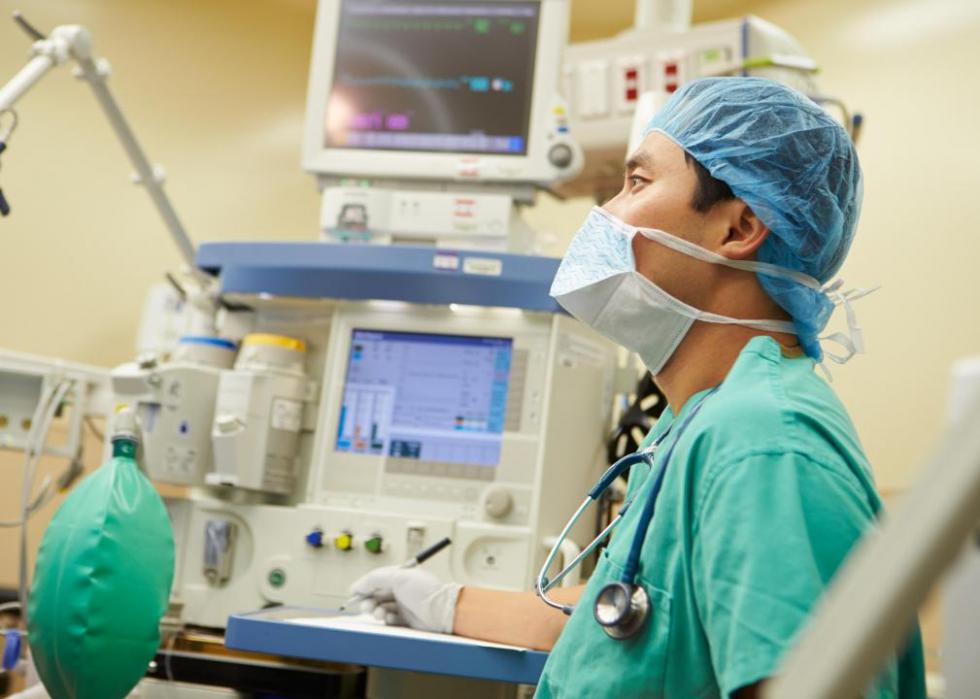 30 / 33
#4. Nurse anesthetists
Naples-Immokalee-Marco Island, FL
- Annual mean salary: $138,750
- #103 highest pay among all metros
- Employment: data not available

National
- Annual mean salary: $181,040
- Employment: 43,570
- Metros with highest average pay:
--- Toledo, OH ($266,260)
--- San Francisco-Oakland-Hayward, CA ($254,860)
--- Columbus, GA-AL ($247,540)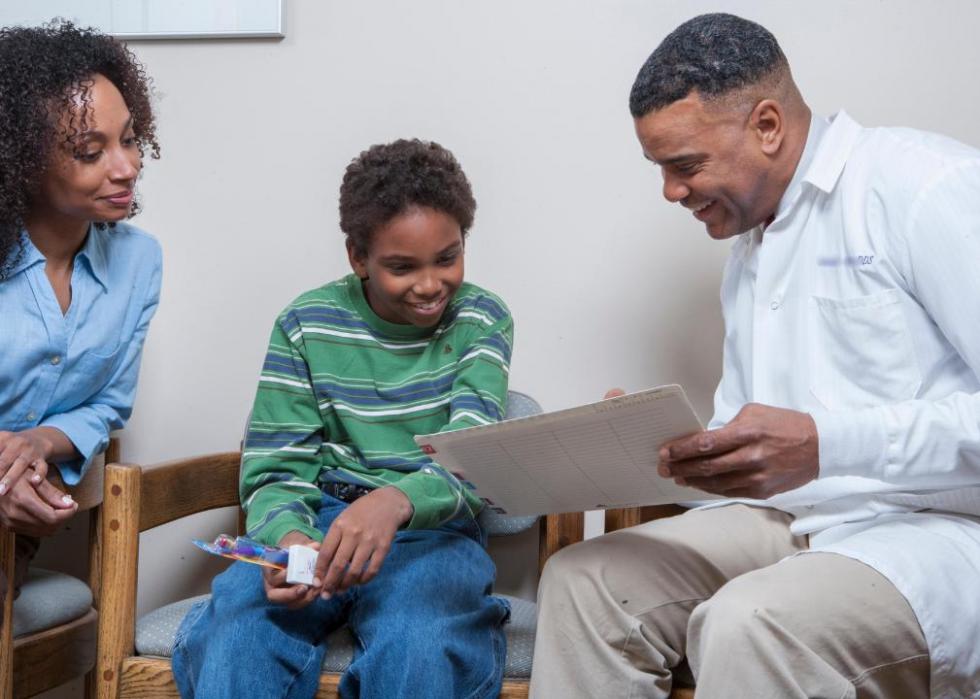 31 / 33
#3. Dentists, general
Naples-Immokalee-Marco Island, FL
- Annual mean salary: $157,980
- #225 highest pay among all metros
- Employment: 190

National
- Annual mean salary: $178,260
- Employment: 110,730
- Metros with highest average pay:
--- Burlington, NC ($278,360)
--- Burlington-South Burlington, VT ($275,430)
--- Longview, TX ($272,440)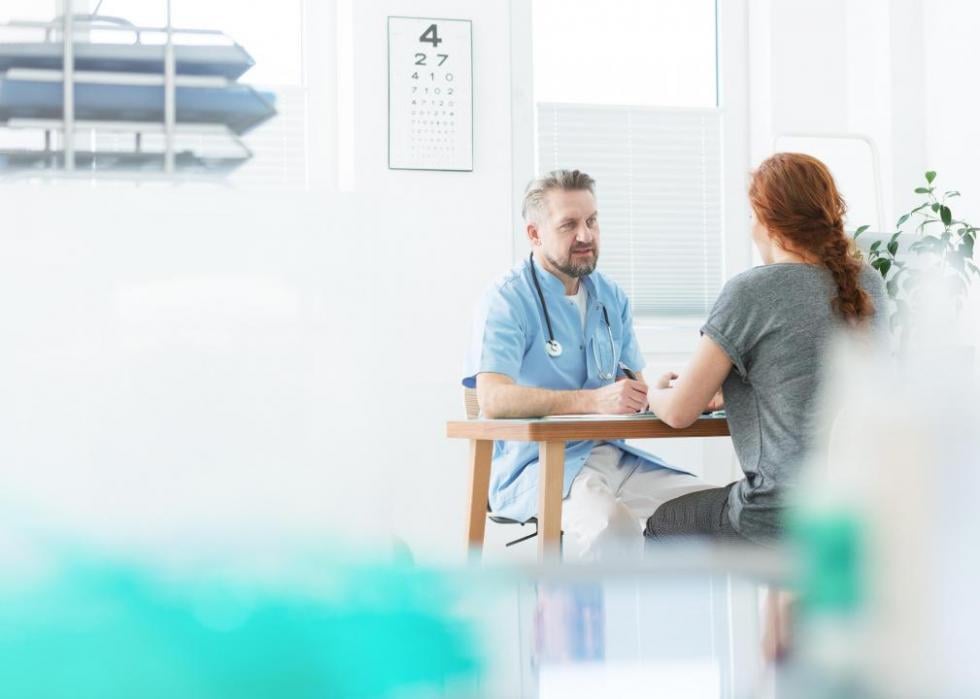 32 / 33
#2. General internal medicine physicians
Naples-Immokalee-Marco Island, FL
- Annual mean salary: $164,990
- #94 highest pay among all metros
- Employment: data not available

National
- Annual mean salary: $201,440
- Employment: 44,610
- Metros with highest average pay:
--- Sioux Falls, SD ($282,610)
--- Rapid City, SD ($280,990)
--- Barnstable Town, MA ($280,500)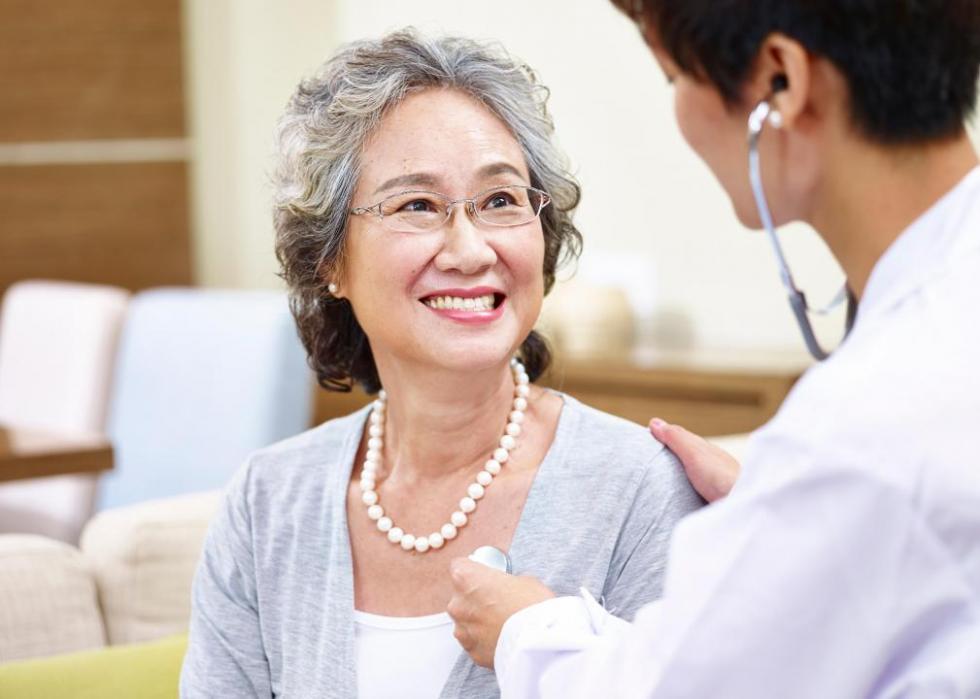 33 / 33
#1. Family medicine physicians
Naples-Immokalee-Marco Island, FL
- Annual mean salary: $268,440
- #11 highest pay among all metros
- Employment: 210

National
- Annual mean salary: $213,270
- Employment: 109,370
- Metros with highest average pay:
--- Racine, WI ($286,030)
--- Jacksonville, NC ($282,580)
--- Gadsden, AL ($281,430)