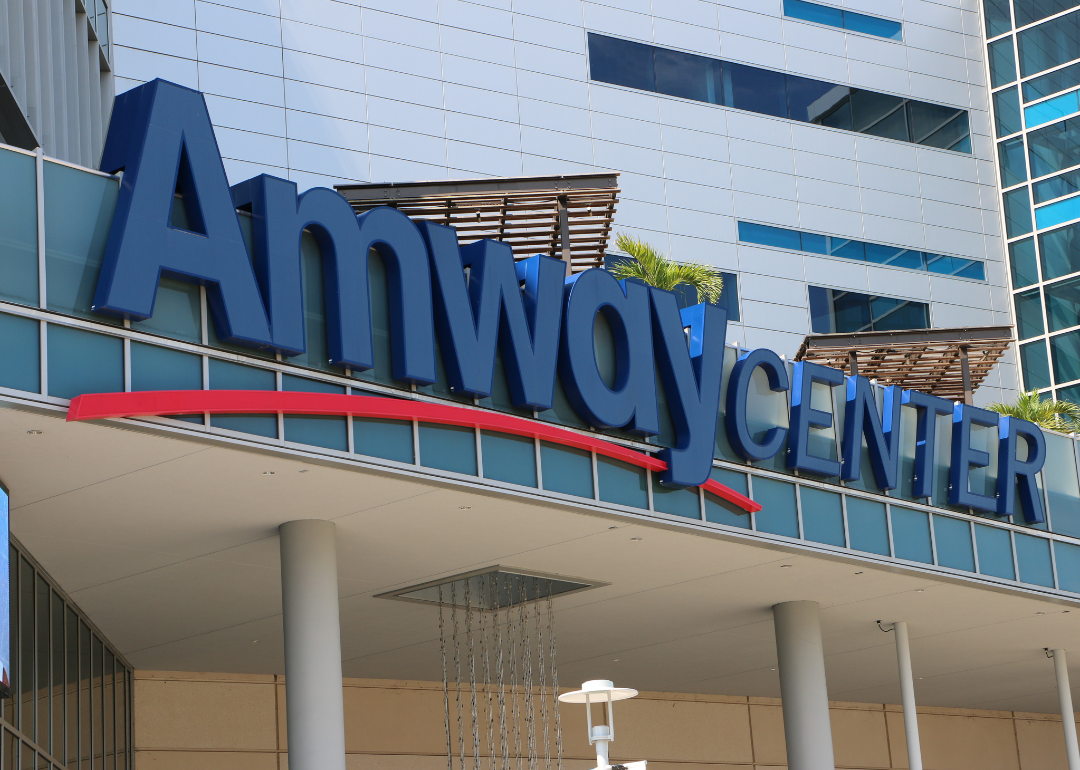 Best draft picks in Orlando Magic history
Matthew Kaiser 7 // Shutterstock
Best draft picks in Orlando Magic history
The draft is a seminal moment for many incoming players. Putting aside competitive stakes, each young athlete's life is irreversibly altered by the fame and fortune that comes with being an NBA player. The exorbitant contract values ensures these players almost never have to worry about personal finances. Plus, these young guns get to play alongside some of their basketball idols for a living. With these high stakes, it's easy to see why the draft is so revered.
Likewise, the fortunes of a city and franchise can be completely transformed by a draft pick. LeBron James, for instance, brought Cleveland its first sports championship in 52 years and was also reportedly worth hundreds of millions to the city's downtown economy. It almost goes without saying that Michael Jordan built the Chicago Bulls from the ground up into a championship team whose dynamic would reverberate through the decades.
With that in mind, Stacker compiled a list of the best draft picks in Orlando Magic history using data from Basketball-Reference.com. Players were ranked according to a formula that approximates their career achievements, career value, and play quality. The formula encompasses Basketball-Reference.com's Hall of Fame probability, career win shares, and value over replacement player, aka VORP. For players drafted before data is available for VORP, half of the player's win shares were used in its place to calculate their Stacker score.
Basketball Hall of Fame inductees were given a minimum of 60% for their Hall of Fame probability, indicating a worthy résumé for their time but not up to par with some modern players. Scores were normalized to 100 based on the scoring leader. Keep reading to see where your favorite players fall on the list.
#28. Michael Ansley
- Stacker score: 1.0
- 37th overall pick in 1989
- Played two seasons with Orlando Magic
- Career averages: 6.9 PTS, 4.2 REB, 0.4 AST
- Advanced statistics: 6.4 win shares, -1.0 box plus/minus, 0.6 VORP
#27. Travis Diener
- Stacker score: 1.1
- 38th overall pick in 2005
- Played two seasons with Orlando Magic
- Career averages: 4.8 PTS, 1.4 REB, 2.4 AST
- Advanced statistics: 5.6 win shares, -0.4 box plus/minus, 1.1 VORP
#26. Cole Anthony
- Stacker score: 1.1
- 15th overall pick in 2020
- Played three seasons with Orlando Magic
- Career averages: 14.2 PTS, 5.0 REB, 4.6 AST
- Advanced statistics: 5.3 win shares, -1.0 box plus/minus, 1.3 VORP
#25. Steven Hunter
- Stacker score: 1.2
- 15th overall pick in 2001
- Played three seasons with Orlando Magic
- Career averages: 4.5 PTS, 3.2 REB, 0.2 AST
- Advanced statistics: 10.6 win shares, -2.3 box plus/minus, -0.5 VORP
#24. Jonathan Isaac
- Stacker score: 1.6
- Sixth overall pick in 2017
- Played four seasons with Orlando Magic
- Career averages: 9.0 PTS, 5.3 REB, 1.0 AST
- Advanced statistics: 7.0 win shares, 0.3 box plus/minus, 2.1 VORP
#23. Franz Wagner
- Stacker score: 1.9
- Eighth overall pick in 2021
- Played two seasons with Orlando Magic
- Career averages: 16.9 PTS, 4.3 REB, 3.2 AST
- Advanced statistics: 9.4 win shares, -0.4 box plus/minus, 2.0 VORP
#22. Mohamed Bamba
- Stacker score: 2.6
- Sixth overall pick in 2018
- Played five seasons with Orlando Magic
- Career averages: 7.5 PTS, 5.8 REB, 0.9 AST
- Advanced statistics: 12.6 win shares, 0.2 box plus/minus, 2.8 VORP
#21. Keon Clark
- Stacker score: 3.2
- 13th overall pick in 1998
- Career averages: 8.2 PTS, 5.9 REB, 0.9 AST
- Advanced statistics: 18.2 win shares, -0.7 box plus/minus, 2.6 VORP
#20. Keith Bogans
- Stacker score: 3.3
- 43rd overall pick in 2003
- Played four seasons with Orlando Magic
- Career averages: 6.3 PTS, 2.7 REB, 1.3 AST
- Advanced statistics: 20.4 win shares, -1.5 box plus/minus, 1.9 VORP
#19. Elfrid Payton
- Stacker score: 3.3
- 10th overall pick in 2014
- Played four seasons with Orlando Magic
- Career averages: 10.1 PTS, 4.0 REB, 5.7 AST
- Advanced statistics: 15.8 win shares, -0.9 box plus/minus, 3.7 VORP
#18. Kyle O'Quinn
- Stacker score: 4.0
- 49th overall pick in 2012
- Played three seasons with Orlando Magic
- Career averages: 5.4 PTS, 4.6 REB, 1.4 AST
- Advanced statistics: 17.8 win shares, 0.9 box plus/minus, 5.0 VORP
#17. Bison Dele
- Stacker score: 4.1
- 10th overall pick in 1991
- Played two seasons with Orlando Magic
- Career averages: 11.0 PTS, 6.2 REB, 1.1 AST
- Advanced statistics: 22.8 win shares, -0.6 box plus/minus, 3.4 VORP
- Accolades
--- 1997 NBA Champ

#16. Maurice Harkless
- Stacker score: 4.4
- 15th overall pick in 2012
- Played three seasons with Orlando Magic
- Career averages: 6.9 PTS, 3.5 REB, 0.9 AST
- Advanced statistics: 23.0 win shares, -0.8 box plus/minus, 4.1 VORP
#15. Victor Oladipo
- Stacker score: 7.2
- Second overall pick in 2013
- Played three seasons with Orlando Magic
- Career averages: 16.9 PTS, 4.5 REB, 3.9 AST
- Advanced statistics: 25.6 win shares, 0.7 box plus/minus, 11.0 VORP
- Hall of Fame probability: 0.5%
- Accolades
--- 2017-18 STL Champ
--- 2017-18 All-NBA
--- 2017-18 All-Defensive
--- 2x All Star
#14. Matt Harpring
- Stacker score: 7.5
- 15th overall pick in 1998
- Played two seasons with Orlando Magic
- Career averages: 11.5 PTS, 5.1 REB, 1.4 AST
- Advanced statistics: 41.9 win shares, -0.6 box plus/minus, 6.2 VORP
#13. Dennis Scott
- Stacker score: 7.7
- Fourth overall pick in 1990
- Played seven seasons with Orlando Magic
- Career averages: 12.9 PTS, 2.8 REB, 2.1 AST
- Advanced statistics: 33.4 win shares, 0.2 box plus/minus, 9.9 VORP
#12. Zaza Pachulia
- Stacker score: 7.8
- 42nd overall pick in 2003
- Played one season with Orlando Magic
- Career averages: 6.8 PTS, 5.8 REB, 1.3 AST
- Advanced statistics: 52.7 win shares, -1.5 box plus/minus, 2.9 VORP
- Accolades
--- 2x NBA Champ

#11. Courtney Lee
- Stacker score: 7.8
- 22nd overall pick in 2008
- Played one season with Orlando Magic
- Career averages: 9.6 PTS, 2.6 REB, 1.7 AST
- Advanced statistics: 39.3 win shares, -0.6 box plus/minus, 7.9 VORP
#10. Aaron Gordon
- Stacker score: 7.8
- Fourth overall pick in 2014
- Played seven seasons with Orlando Magic
- Career averages: 13.4 PTS, 6.3 REB, 2.5 AST
- Advanced statistics: 35.6 win shares, 0.2 box plus/minus, 9.4 VORP
- Hall of Fame probability: 0.0%
- Accolades
--- 2023 NBA Champ

#9. Jameer Nelson
- Stacker score: 10.2
- 20th overall pick in 2004
- Played 10 seasons with Orlando Magic
- Career averages: 11.3 PTS, 3.0 REB, 5.1 AST
- Advanced statistics: 48.3 win shares, -0.1 box plus/minus, 11.6 VORP
- Accolades
--- 1x All Star

#8. Marcin Gortat
- Stacker score: 12.2
- 57th overall pick in 2005
- Played four seasons with Orlando Magic
- Career averages: 9.9 PTS, 7.9 REB, 1.1 AST
- Advanced statistics: 61.3 win shares, 0.4 box plus/minus, 12.7 VORP
#7. Corey Maggette
- Stacker score: 12.6
- 13th overall pick in 1999
- Played one season with Orlando Magic
- Career averages: 16.0 PTS, 4.9 REB, 2.1 AST
- Advanced statistics: 62.2 win shares, 0.3 box plus/minus, 13.3 VORP
#6. J.J. Redick
- Stacker score: 13.7
- 11th overall pick in 2006
- Played seven seasons with Orlando Magic
- Career averages: 12.8 PTS, 2.0 REB, 2.0 AST
- Advanced statistics: 63.7 win shares, 0.6 box plus/minus, 16.0 VORP
#5. Mike Miller
- Stacker score: 14.6
- Fifth overall pick in 2000
- Played three seasons with Orlando Magic
- Career averages: 10.6 PTS, 4.2 REB, 2.6 AST
- Advanced statistics: 60.7 win shares, 0.8 box plus/minus, 19.8 VORP
- Accolades
--- 2x NBA Champ
--- 2000-01 ROY

#4. Nick Anderson
- Stacker score: 15.6
- 11th overall pick in 1989
- Played 10 seasons with Orlando Magic
- Career averages: 14.4 PTS, 5.1 REB, 2.6 AST
- Advanced statistics: 55.3 win shares, 1.9 box plus/minus, 24.7 VORP
#3. Anfernee Hardaway
- Stacker score: 22.0
- Third overall pick in 1993
- Played six seasons with Orlando Magic
- Career averages: 15.2 PTS, 4.5 REB, 5.0 AST
- Advanced statistics: 61.9 win shares, 2.5 box plus/minus, 26.9 VORP
- Hall of Fame probability: 28.7%
- Accolades
--- 3x All-NBA
--- 4x All Star

#2. Dwight Howard
- Stacker score: 48.2
- First overall pick in 2004
- Played eight seasons with Orlando Magic
- Career averages: 15.7 PTS, 11.8 REB, 1.3 AST
- Advanced statistics: 141.7 win shares, 1.9 box plus/minus, 39.0 VORP
- Hall of Fame probability: 99.7%
- Accolades
--- 2020 NBA Champ
--- 3x Def. POY
--- 5x TRB Champ
--- 8x All-NBA
#1. Shaquille O'Neal
- Stacker score: 66.0
- First overall pick in 1992
- Played four seasons with Orlando Magic
- Career averages: 23.7 PTS, 10.9 REB, 2.5 AST
- Advanced statistics: 181.7 win shares, 5.1 box plus/minus, 75.5 VORP
- Accolades
--- 4x NBA Champ
--- 1999-00 MVP
--- 3x Finals MVP
--- Basketball Hall of Fame inductee