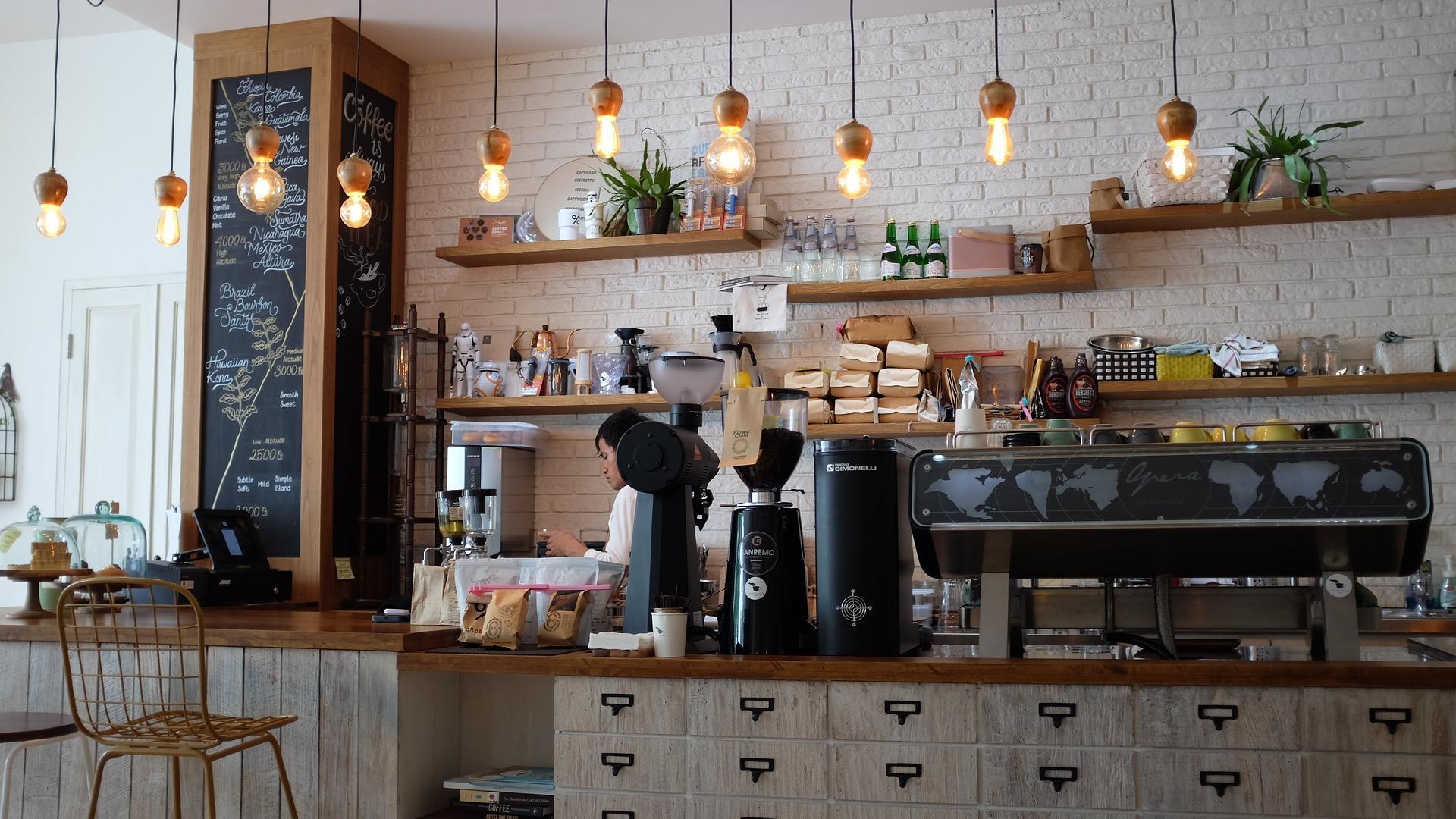 Best coffee shop in every state
Best coffee shop in every state
Whether traveling, or exploring local area, finding a great cup of joe (and perhaps a donut) is essential for coffee lovers. To break down the hunt for reaching that much needed caffeine fix, Stacker tapped into Foursquare Search to find the top coffee shop in each state. Foursquare's algorithm predicts the "best" establishment according to those that have visited recently by incorporating check-ins, rating signals, category matches, tips, and photo trends to determine the top-ranked destination for every state.
This list is not filled with Starbucks and Dunkin' Donuts. They are coffee shops and cafes with different specialties or food options, that some locals may not even know about yet. Still, their popularity shines through reviews and mouth-watering pictures. Every recommendation is based on real reviews on Foursquare. Read on to find out what's brewing in each state—including oddities like potato donuts, and quirky beverage names like The Annihilator and Trip to Paris.
ALSO: See the Best Thai restaurants in every state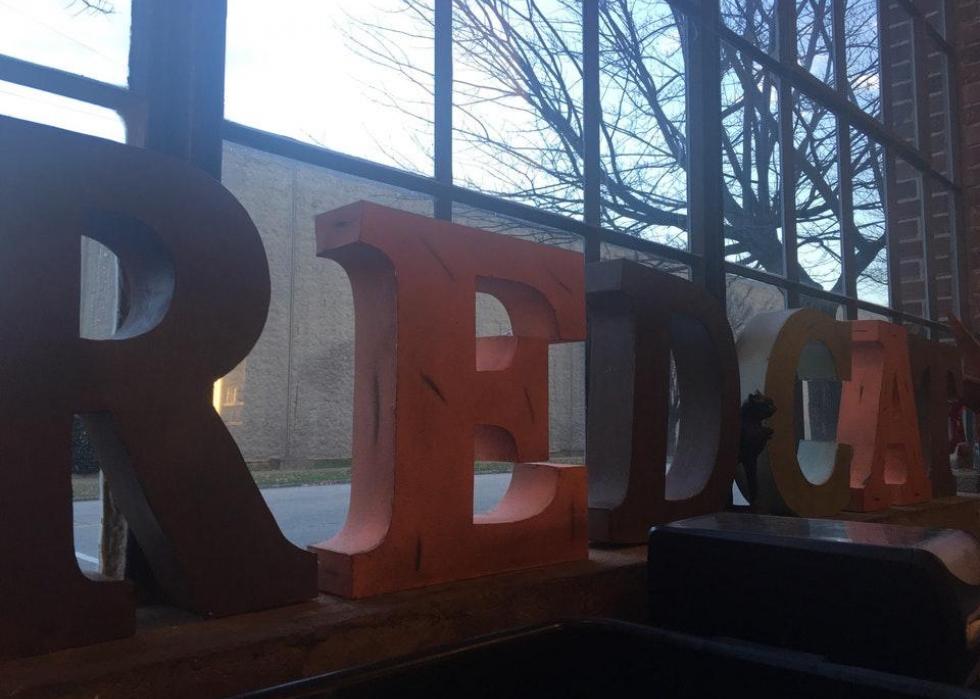 1 / 50
Jennifer H. // Foursquare
Alabama: The Red Cat
Address: 2901 2nd Ave. S. (Ste 120), Birmingham, AL 35233
Foursquare Rating: 9.4
Stuck in Southside Birmingham and in need of a caffeine fix? Customers rate The Red Cat as one of the best coffee shops in town, and their speciality lattes are no joke. Try the Abyssinian latte with coconut milk, or the Bengal if feeling adventurous.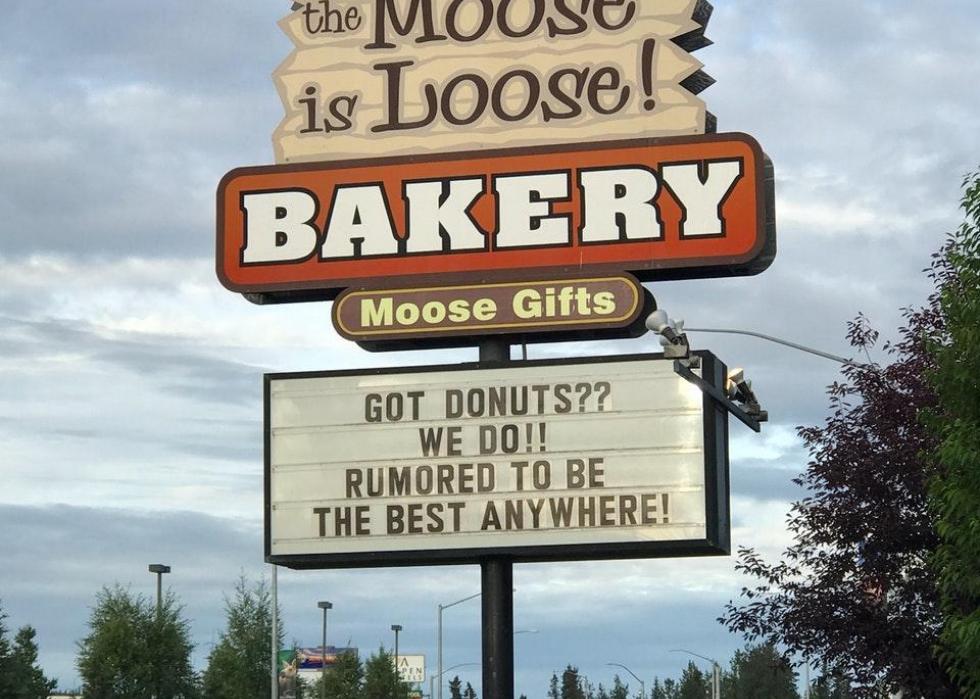 2 / 50
Alaska: The Moose is Loose
Address: 44278 Sterling Highway, Soldotna, AK 99669
Foursquare Rating: 8.9
The Moose is Loose is a fun coffee house located in Soldotna that encourages its patrons to not only stop and smell the coffee, but also send in pictures of their namesake on the move. When visiting, be sure to sample the apple fritters, "road kill" cinnamon bun, and donuts along with a beverage.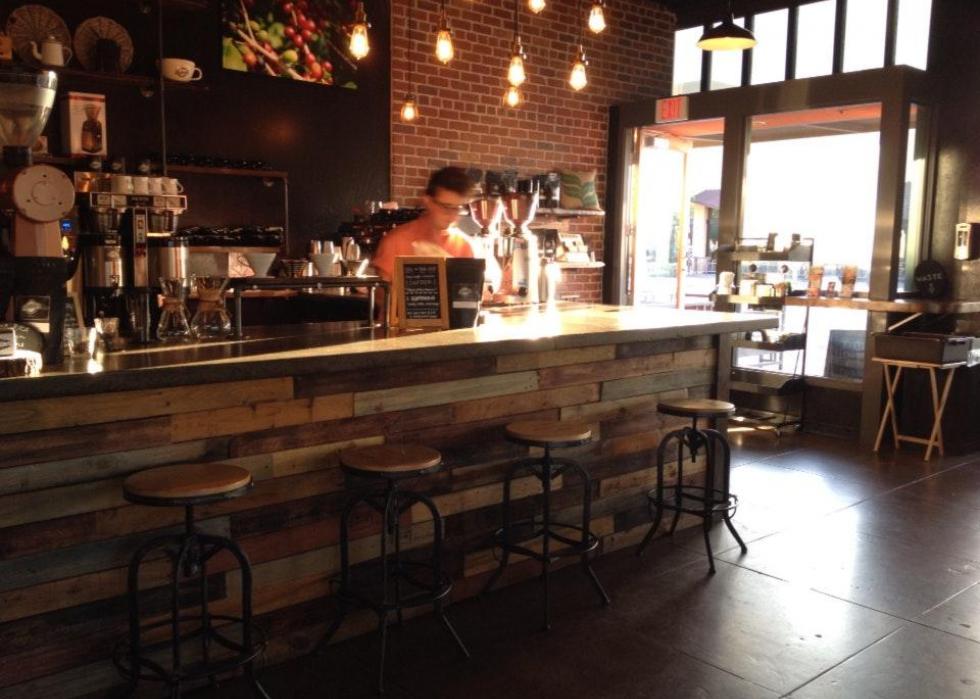 3 / 50
Arizona: Peixoto Coffee Roasters
Address: 11 West Boston At. (Arizona Ave.), Chandler, AZ 85225
Foursquare Rating: 9.4
Owned and operated by a member of the supplying coffee farm in Brazil, Peixoto Coffee Roasters delivers a serious kick in a warm, welcoming atmosphere. The high quality is evident in their roasts, and the multiple types of cold brew are reportedly to die for.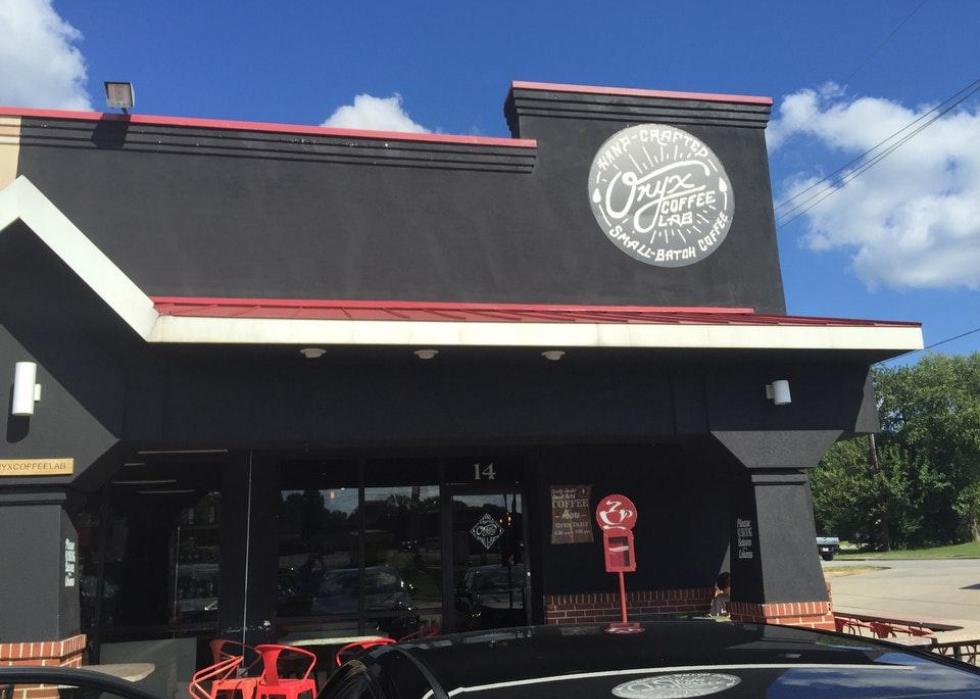 4 / 50
Arkansas: Onyx Coffee Lab
Address: 2418 N. Gregg, Fayetteville, AR 72703
Foursquare Rating: 9.3
Great customer service combined with knockout individual brews defines Onyx Coffee Lab—as well as a charming patio space and overall ambiance. Their Columbian coffee latte is considered one of the best, and their pour-overs contain delicate and beautiful notes.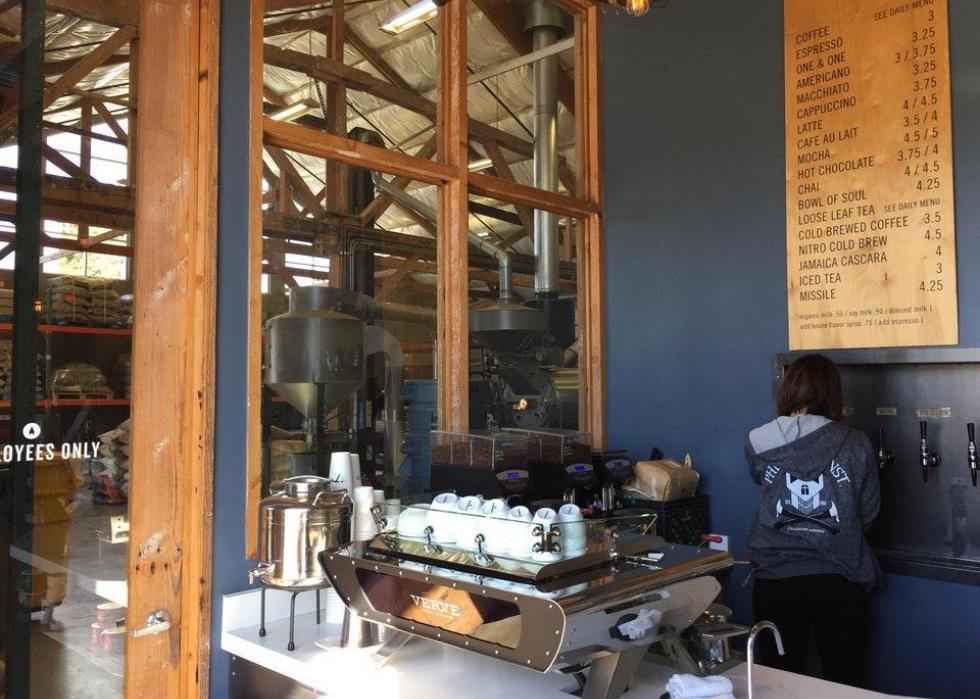 5 / 50
California: Verve Coffee Roasters
Address: 104 Bronson St. #19 (Hall), Santa Cruz, CA 95062
Foursquare Rating: 9.5
Verve sources beans from all around the world and then prepares them on site in a 1965 German-made Probat roaster to coax out the complicated and subtle nuances of each bean. Visit where the magic happens and then have a taste—the pour overs, lattes, and cold brews are particularly popular here.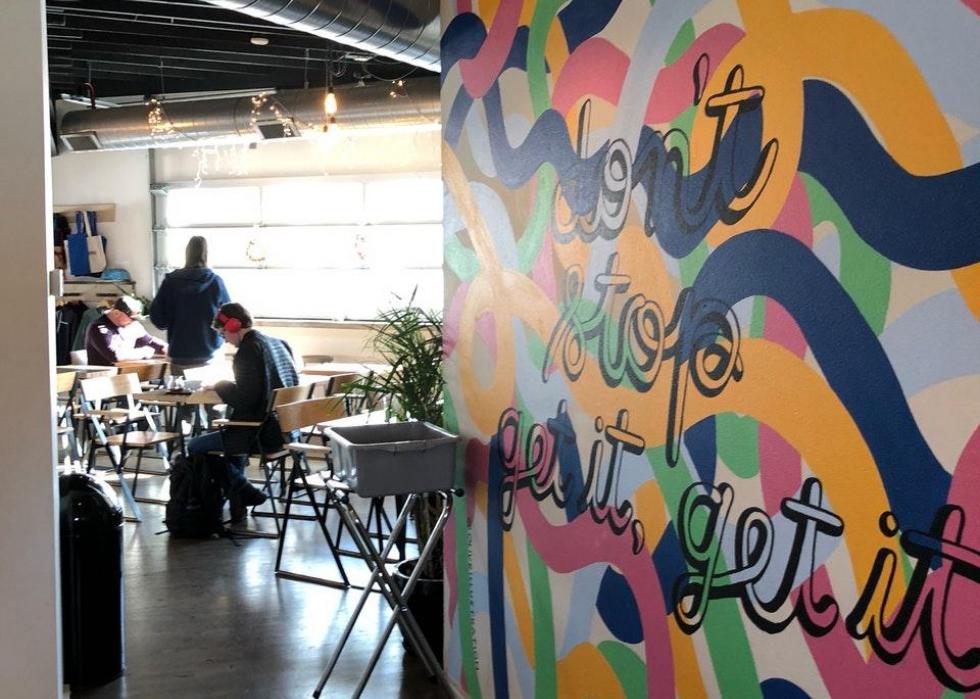 6 / 50
Colorado: Huckleberry Roasters
Address: 4301 Pecos St., Denver, CO 80211
Foursquare Rating: 9.4
Excellent customer service and reasonable prices combine with stellar coffee to make the Denver gem Huckleberry Roasters so popular. Try to visit when the weather is nice—an entire wall of the coffee shop is a roll-up garage door; customers can enjoy inside ambiance with an outside feel when the door is opened.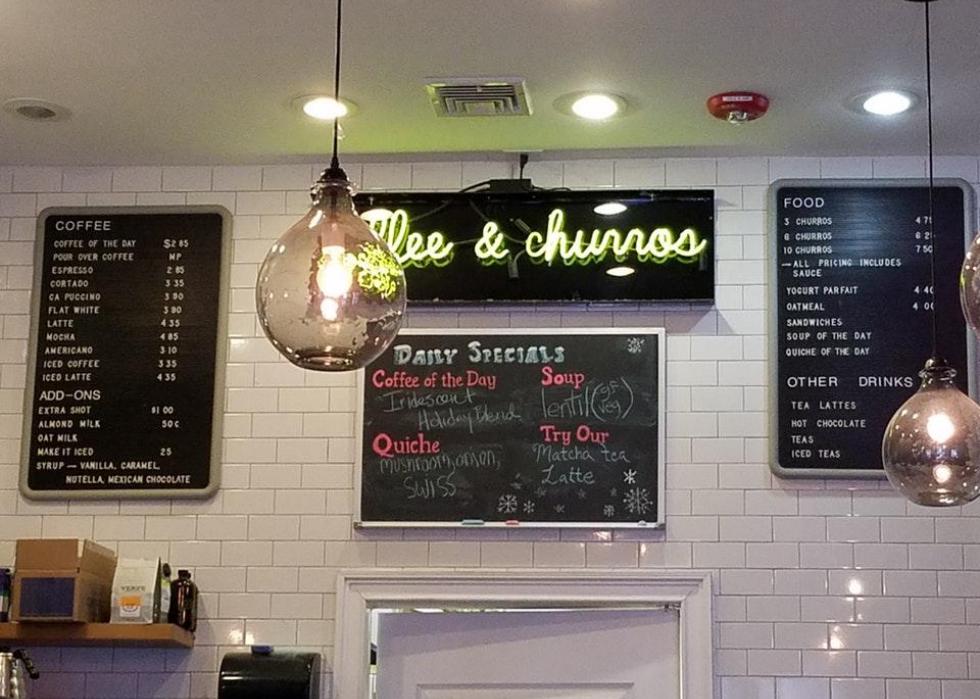 7 / 50
Connecticut: Lorca
Address: 125 Bedford St., Stamford, CT 06901
Foursquare Rating: 9.5
The coffee isn't the only superstar at Lorca. The Connecticut coffee shop delivers a full lunch menu, complete with churros with dark chocolate dipping sauce. Heading over only for a cup? Their cold brew with horchata has received amazing reviews.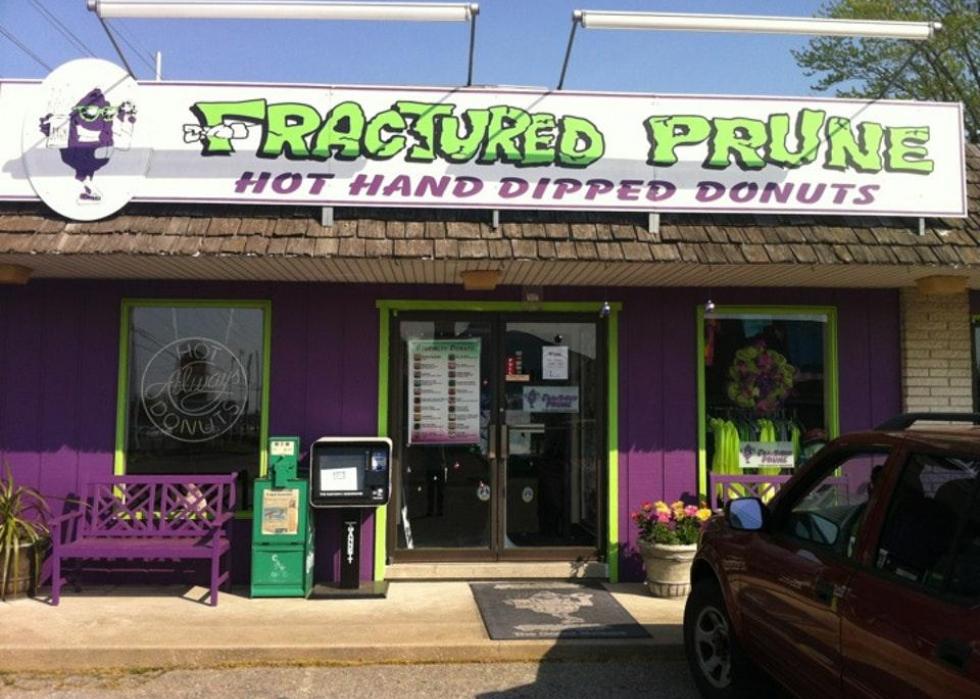 8 / 50
Delaware: Fractured Prune
Address: 20214 Coastal Highway (at Rehoboth Ave.), Rehoboth Beach, DE 19971
Foursquare Rating: 9.4
What would coffee be without the donuts? Fractured Prune has elevated what it means to have a donut as they hand dip and specialize every order. With so many flavors like pineapple cake, French toast, and s'mores, it might be hard to pick just one.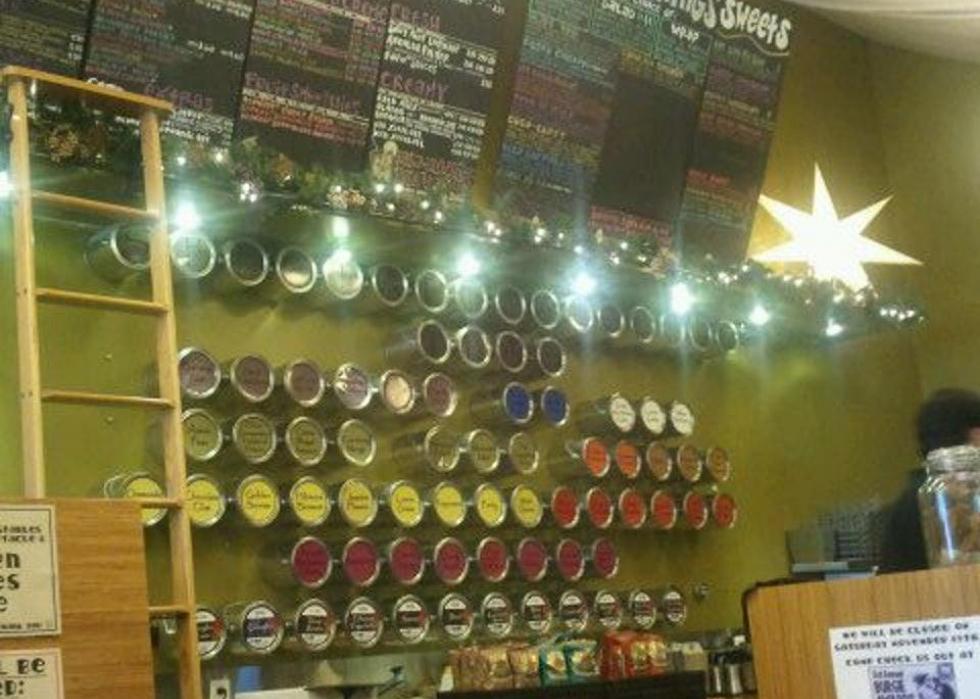 9 / 50
Florida: specialTEA Lounge & Cafe
Address: 10766 SW 24th St. (108th Ave. and Coral Way), Miami, FL 33165
Foursquare Rating: 9.5
Coffee is joined by a plethora of tea choices and delicious baked goods at specialTEA Lounge & Cafe. Though the focus may seem to lie on the tea, as it's served in Miami's only teahouse, the coffee is also known for being superb. Try their French press, brewed on order.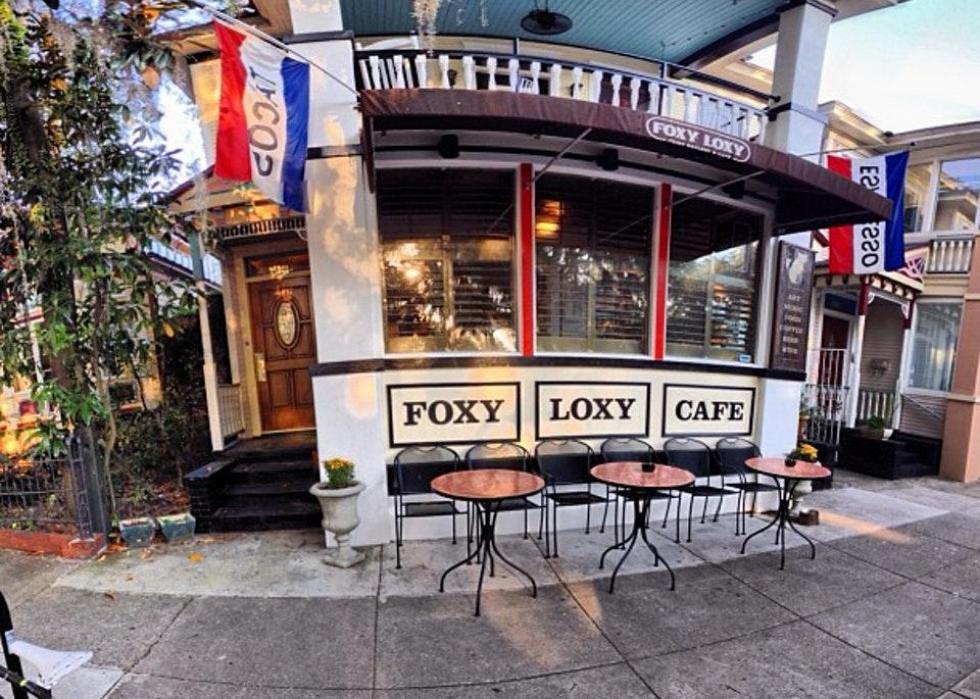 10 / 50
Georgia: Foxy Loxy Café
Address: 1919 Bull St., Savannah, GA 31401
Foursquare Rating: 9.4
Foxy Loxy Café serves up unforgettable ambiance with their stellar coffee, tea, wine, and beer. Need something to pair with their well-priced drinks? Try their tacos, desserts, cheeses, or gluten-free options.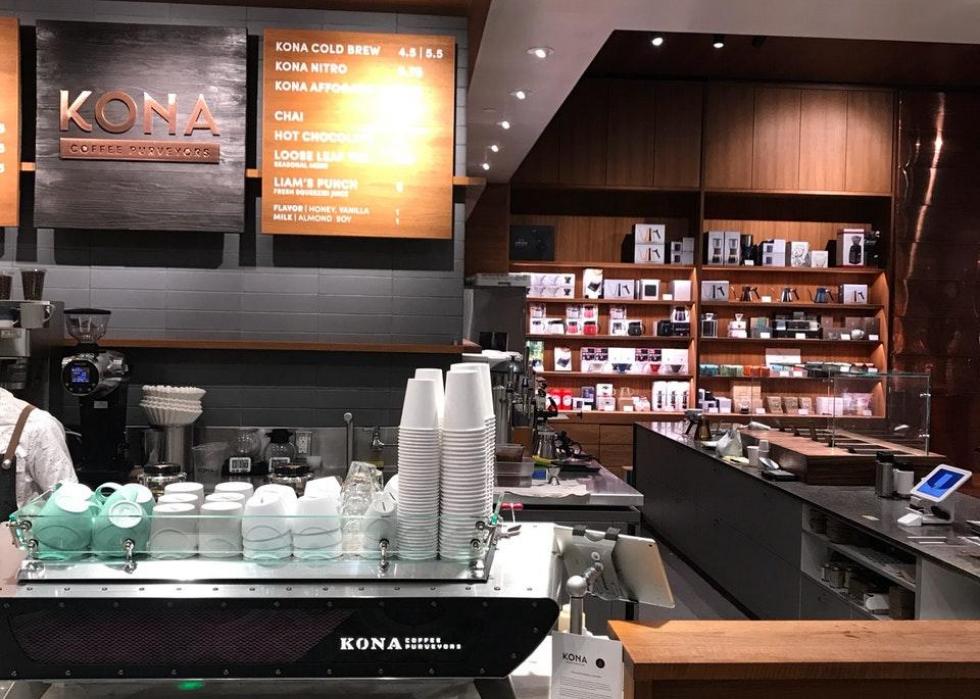 11 / 50
Hawaii: Kona Coffee Purveyors
Address: 2330 Kalakaua Ave. (facing Kuhio Ave. and Nahua St.), Honolulu, HI 96815
Rating: 9.3
If interested in rare flavors of coffee not found in the U.S., try Kona Coffee Purveyors when visiting Hawaii. Their cortadas are highly spoken of—with a Kona-style flavor from which the shop takes its namesake—and the pastries are also reportedly popular as well.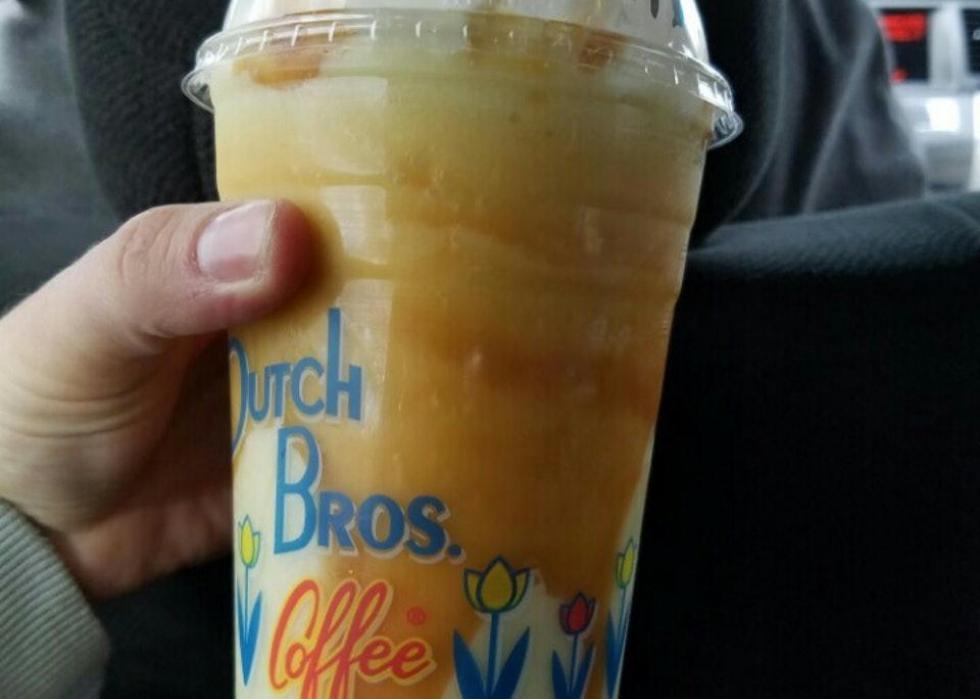 12 / 50
Idaho: Dutch Bros. Coffee
Address: 1351 E. Fairview Ave., Meridian, ID 83642
Rating: 9.1
This quaint spot stays open until 11 p.m., offering its patrons the chance to try their unique coffees, shakes, and teas until late. Even the kids can get in on the fun—their child-sized fruit smoothies are a big hit.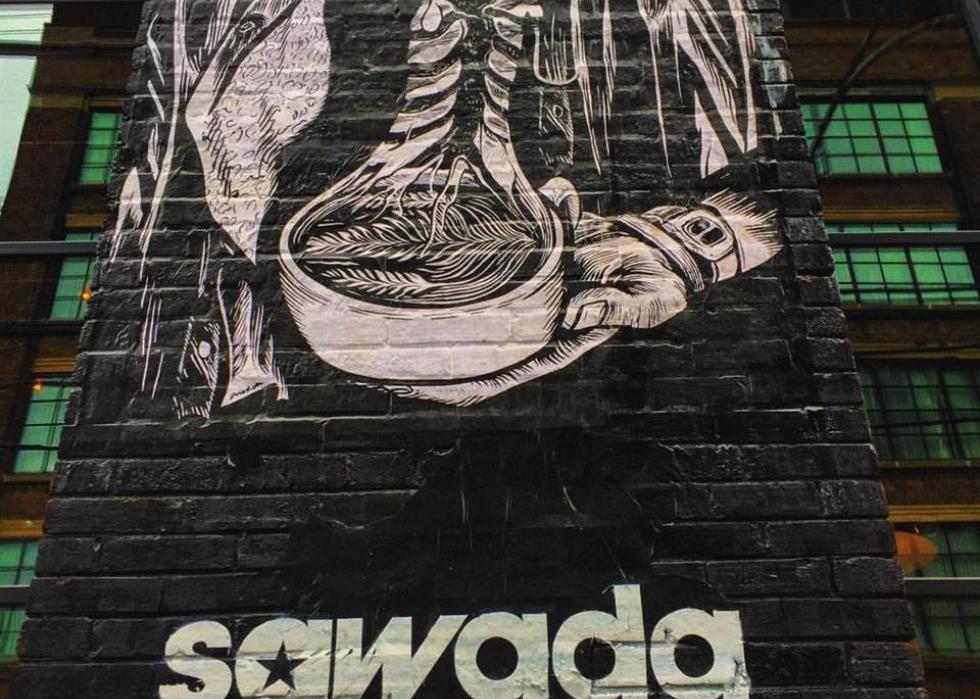 13 / 50
Illinois: Sawada Coffee
Address: 112 N. Green St., Chicago, IL 60607
Rating: 9.4
Sawada Coffee hosts more than just excellent java: The shop comes with its very own functional pinball machine, so patrons can brush up on their skills on as they sip on artful lattes. The coffee shop is known for their amazing Military Latte, a unique combination of matcha tea, espresso, and cocoa that resembles the fatigues of soldiers.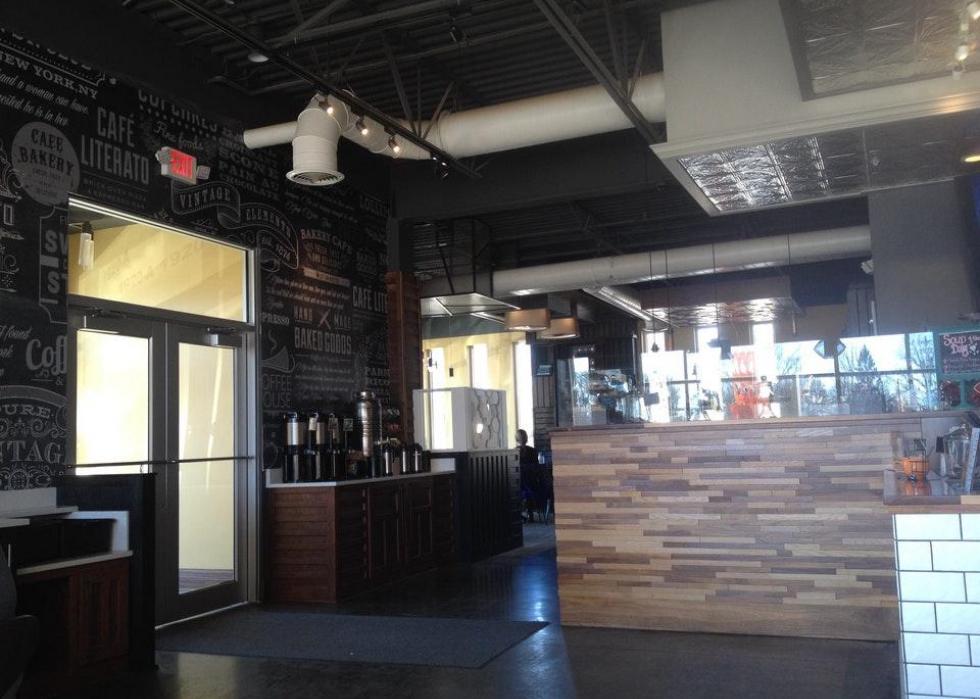 14 / 50
Indiana: Cafe Literato
Address: 1920 Northwesten Ave., West Lafayette, IN 47906
Rating: 9.1
In addition to top-notch service and quality coffee at Cafe Literato, the spot has outstanding food and drink menus—their BBQ pulled-pork brick oven pizza and soup both come highly rated.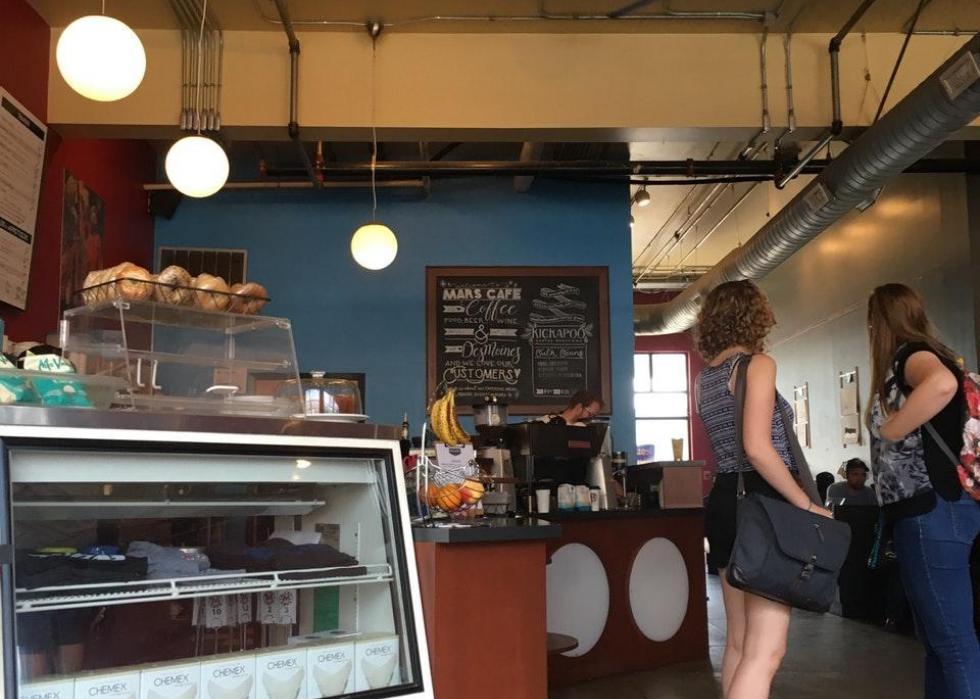 15 / 50
Iowa: Mars Cafe
Address: 2318 University Ave. (between 23rd and 24th St.), Des Moines, IA 50311
Rating: 9.0
Live music, a quirky atmosphere, and friendly and consistent baristas are only some of the aspects of Mars Cafe that have made it such a well-visited and successful coffee shop. Their coffee delivers every time; their Sputnik and iced coconut almond mocha are also incredibly popular.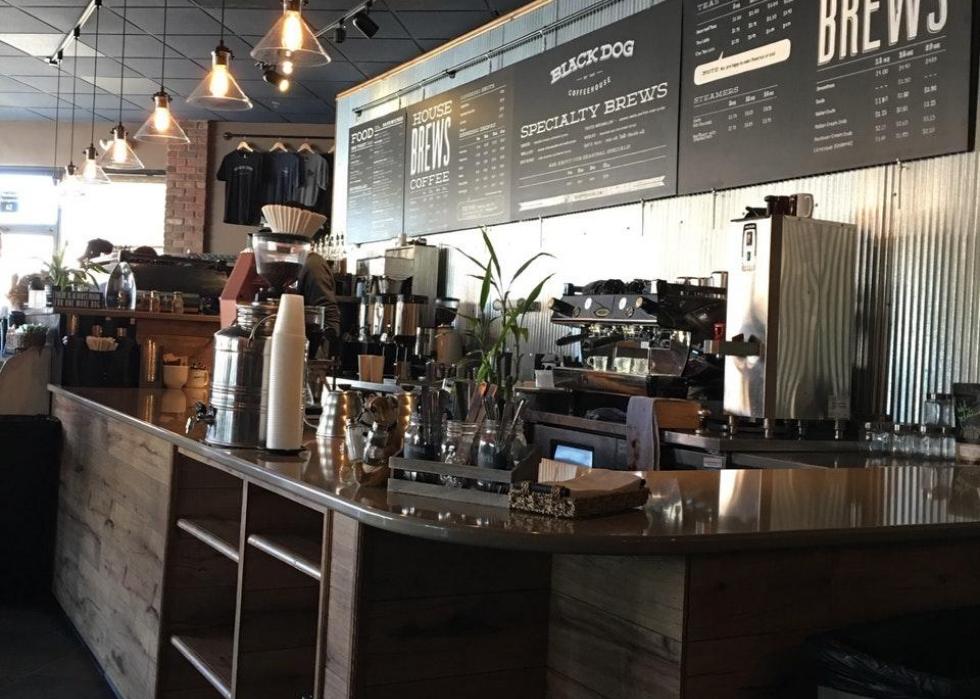 16 / 50
Kansas: Black Dog Coffeehouse
Address: 12815 W. 87th St. Pkwy. (at Rosehill Rd.), Lenexa, KS 66215
Rating: 9.4
The Black Dog Coffeehouse has become a go-to for locals for its jazz nights on Saturdays, tasty coffee, and friendly, cozy atmosphere. The fresh baked bread is a favorite; patrons recommend pairing it with the toasted marshmallow latte to finish.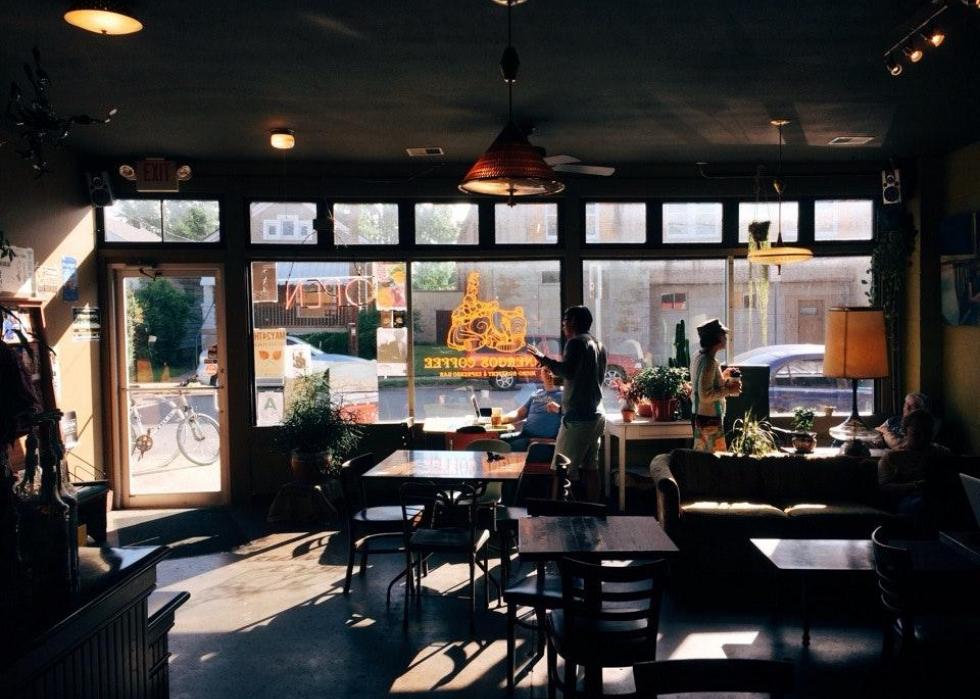 17 / 50
Kentucky: Sunergos Coffee
Address: 2122 S. Preston St. (at Atwood), Louisville, KY 40217
Rating: 9.2
This establishment roasts their own beans on site, and is quoted by their patrons to offer some of the best coffee they've ever had. The iced lattes require no sweetener due to the lack of bitterness from the excellent roasting process, and the drip coffee is said to have the same qualities—making this shop's expertise in roasting coffee beans truly special.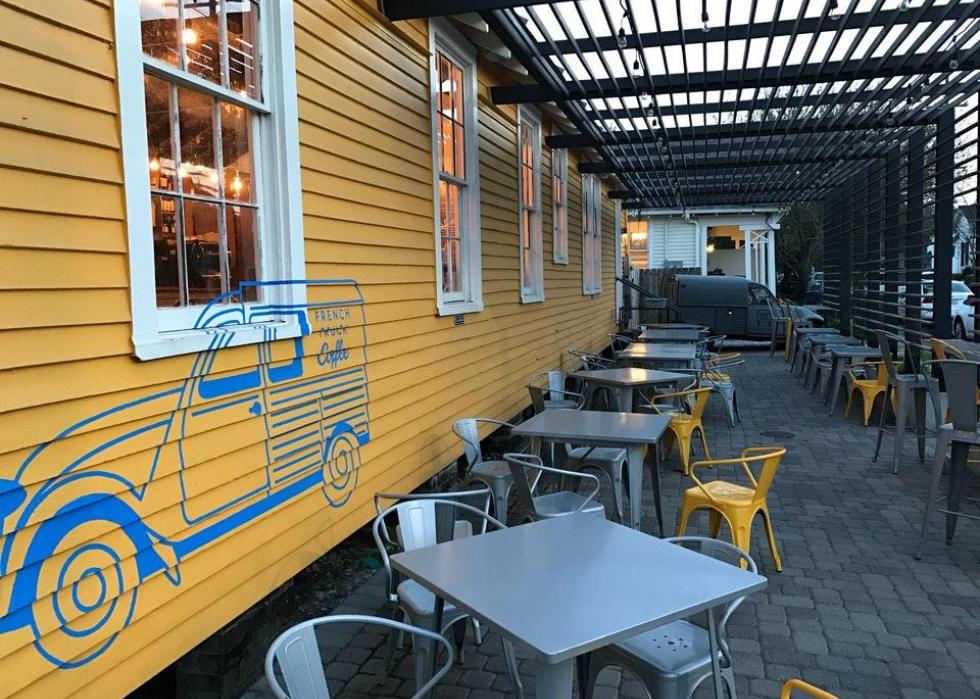 18 / 50
Louisiana: French Truck Cafe
Address: 4536 Dryades St. (Cadiz St.), New Orleans, LA 70115
Rating: 9.5
Though it's neither a truck, nor exclusively French, French Truck Cafe has charmed visitors with its homey interior and welcoming large porch and patio. The "dressed up" iced coffee, and grilled cheese with gruyere and pear might seem like an odd combo, but are some of the favorite items on the menu.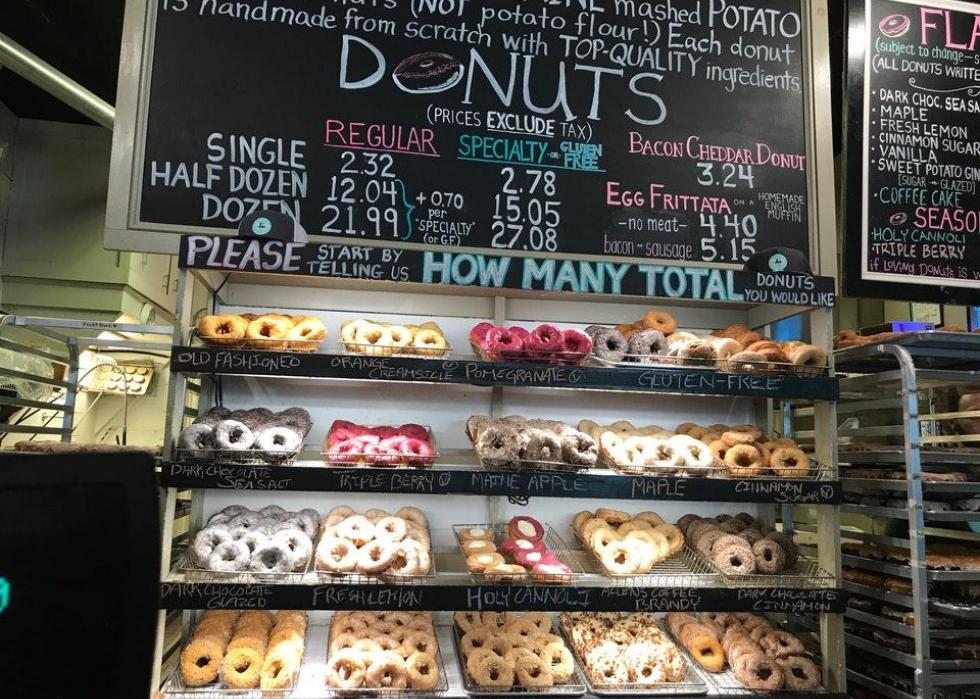 19 / 50
Maine: The Holy Donut
Address: 7 Exchange St., Portland, ME 04101
Rating: 9.4
This gem located in Portland specializes in hand-peeled, roasted sweet potato donuts and has only received rave reviews for their speciality product. Their out-of-this-world flavors add to the shop's spunk, including dark chocolate sea salt, cinnamon sugar, and lemon. Their highly rated iced coffee comes with coffee ice cubes, useful on a summer's day.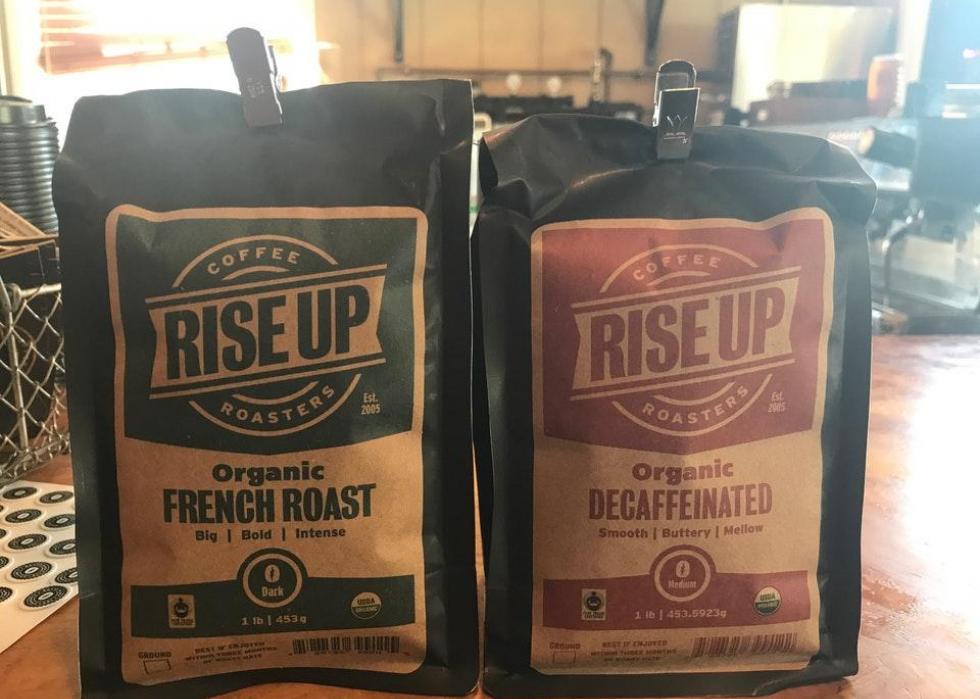 20 / 50
Maryland: Rise Up Coffee Roasters
Address: 618 Dover Rd., Easton, MD 21601
Rating: 9.1
Fans of this independent small-batch coffee roaster and retailer say it's the go-to place in Easton for coffee, with one patron noting that the tasty coffee smoothies—which come in original, mocha, caramel, and white mocha flavors—are "much better than any frap from Starbucks." If the timing is right, visitors can sit in the dining area to watch the roasting process.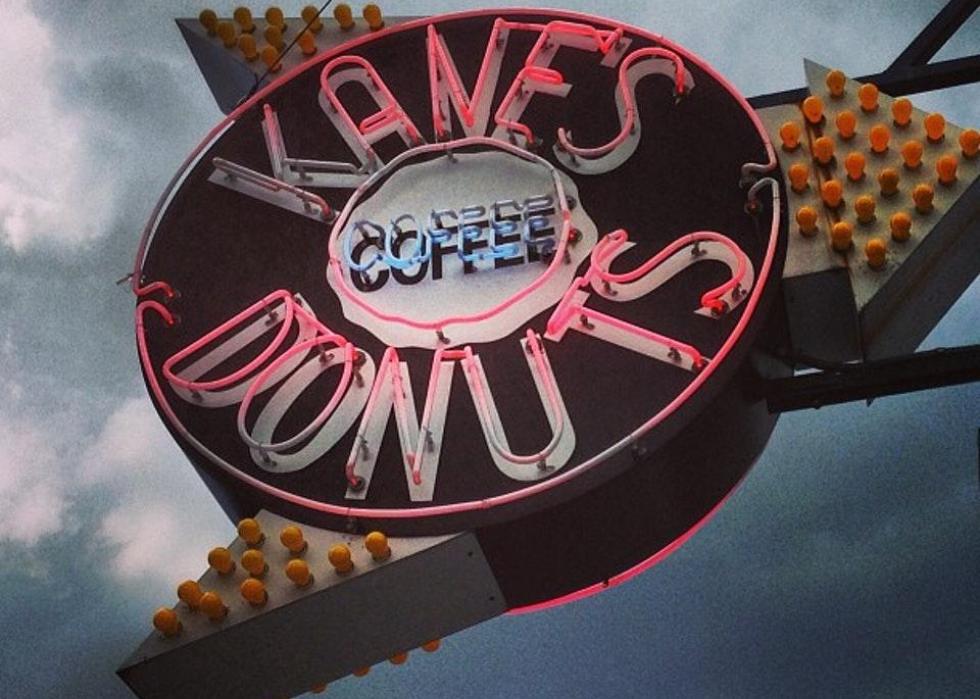 21 / 50
Massachusetts: Kane's Donuts
Address: 120 Lincoln Ave. (at Dudley St.), Saugus, MA 01906
Rating: 9.3
Kane's Donuts was opened in the 1950s, and they've been serving up coffee and donuts since then. Their coffee joins a usual dozen of freshly baked donuts, with flavors including cream brûlée crunch, to caramel with vanilla cream filling, and Oreo.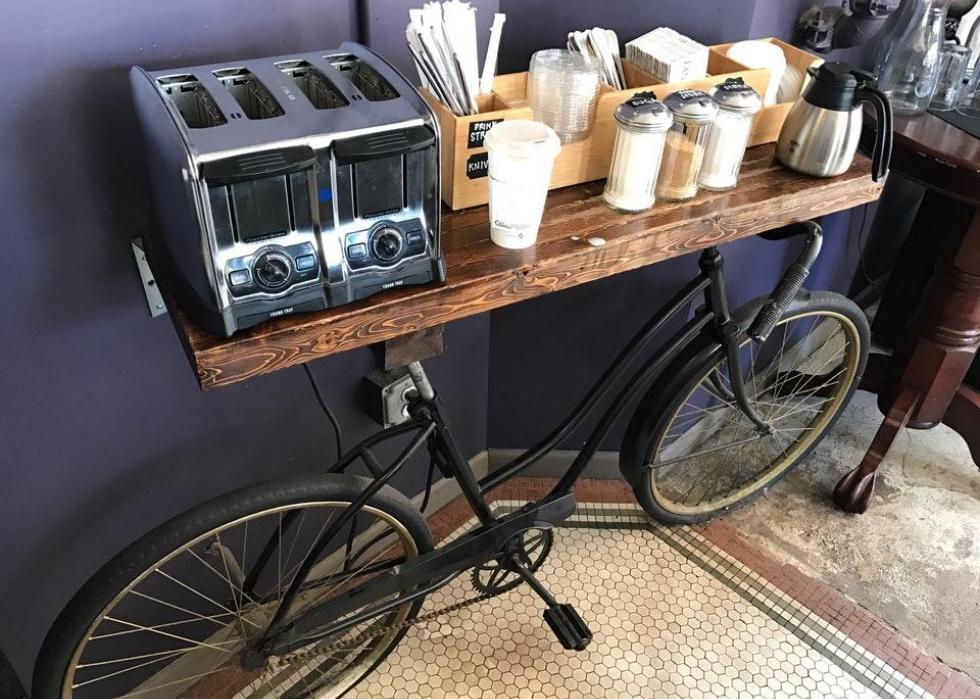 22 / 50
Michigan: Lantern Coffee Bar and Lounge
Address: 100 Commerce Ave SW (Oakes), Grand Rapids, MI 49503
Rating: 9.3
The Lantern Coffee Bar and Lounge is based in a building that originally housed a brewery; it now serves eco-friendly coffee in a welcoming, mellow space. Ever popular are their pour-over coffees and blueberry scones.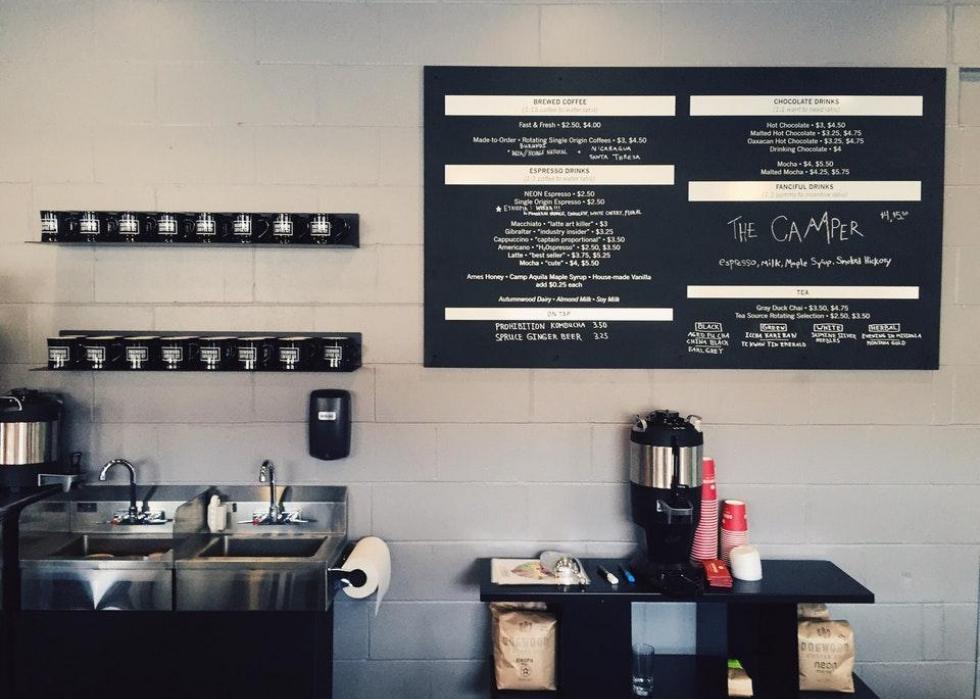 23 / 50
Minnesota: Dogwood Coffee
Address: 825 Carleton St., Saint Paul, MN 55114
Rating: 9.3
Need an intimate spot for studying or catching up with friends? Dogwood Coffee has a cozy location with spectacular service and menu items, according to past customers.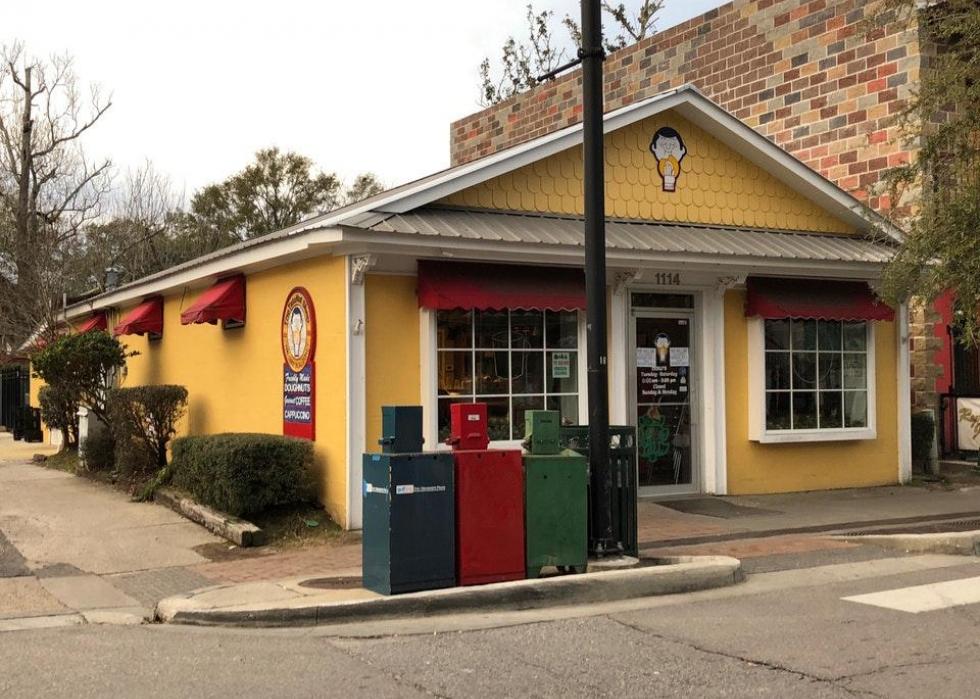 24 / 50
Mississippi: The TatoNut Shop
Address: 1114 Government St., Ocean Springs, MS 39564
Rating: 9.3
Another notable addition to the potato donut concept, the TatoNut Shop is known for having lines up and down the block, rain or shine. Their Persian, glazed, and praline donuts are some of the most popular among patrons.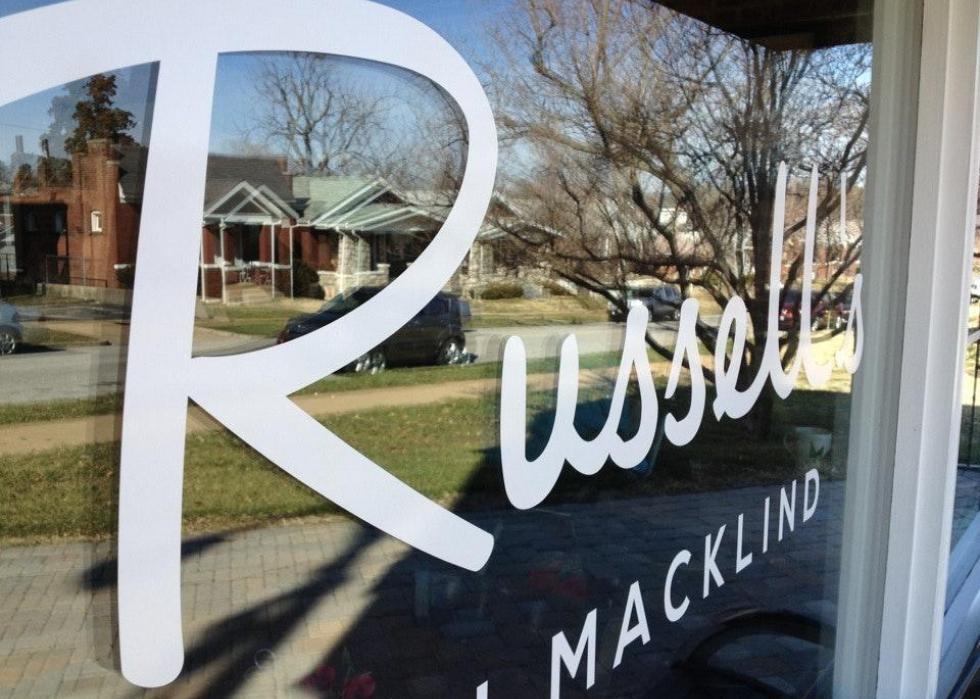 25 / 50
Missouri: Russell's on Macklind
Address: 5400 Murdoch Ave. (Macklind Ave.), St Louis, MO 63109
Rating: 9.3
Coffee is joined by highly reviewed bistro fare, and the brunch at Russell's on Macklind is not to be missed. Everything is made by a professional chef, including dessert.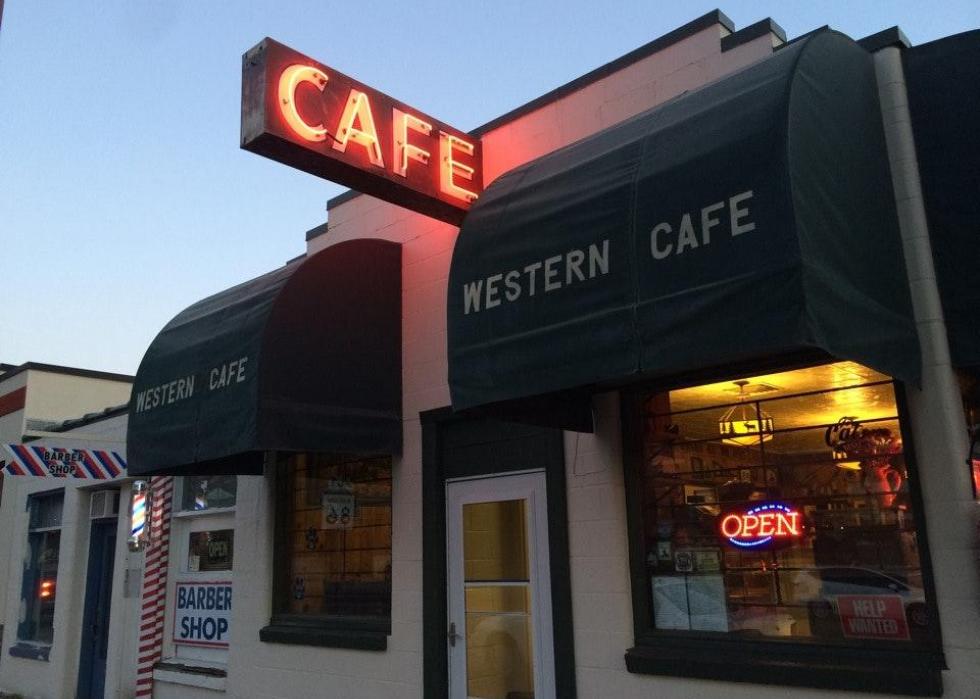 26 / 50
Montana: The Western Cafe
Address: 443 E. Main St. (between N. Church Ave. and N. Rouse Ave.), Bozeman, MT 59715
Rating: 9.2
The Western Cafe is lovingly referred to by its customers as the "last best cafe," and they may be right. Combined with its memorable coffee, the cafe has large, American-style breakfasts, huge sticky buns, and small-town nostalgia.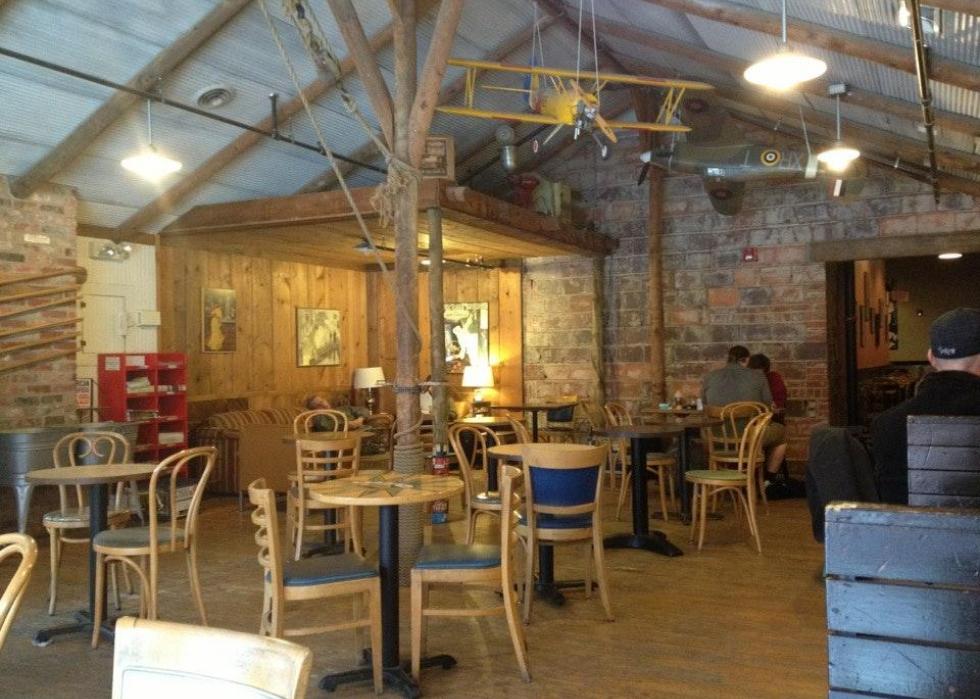 27 / 50
Nebraska: The Mill Coffee & Tea
Address: 800 P St. (between 8th & P St), Lincoln, NE 68508
Rating: 9.1
The Mill Coffee & Tea has a special place in its patrons' heart with its live music, great coffee, and outdoor patio. For those who get the chance to visit, try their chai latte, amaretto flavored coffee, and iced toddy—cold-brew coffee with milk or cream.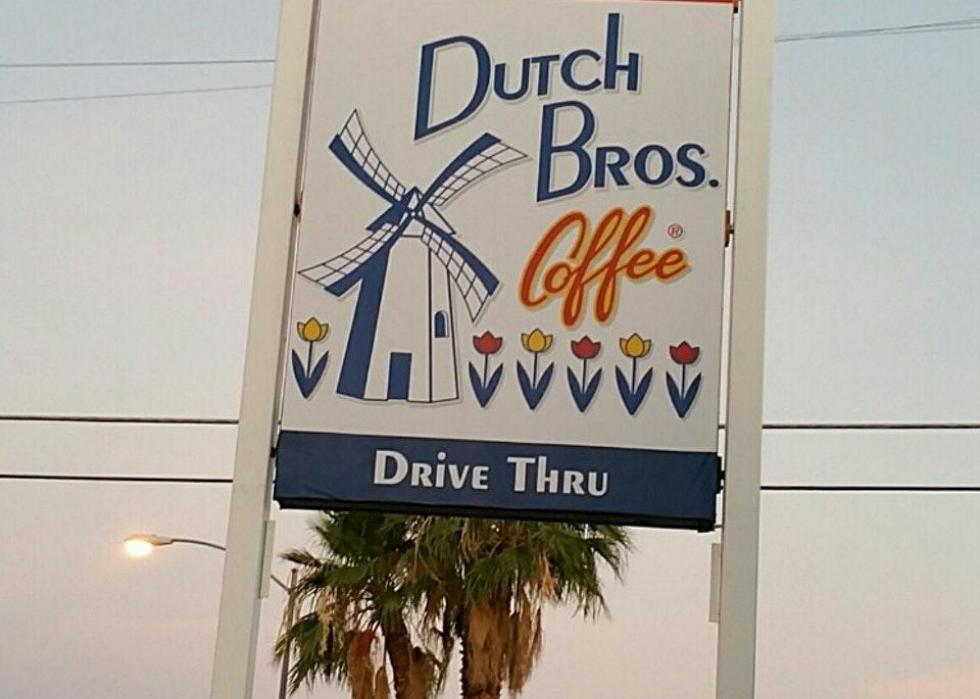 28 / 50
Nevada: Dutch Bros. Coffee
Address: 2840 E. Tropicana Ave., Las Vegas, NV 89121
Rating: 9.3
With completely customizable drinks made with high-quality beans, Dutch Bros. Coffee satisfies their customers at every turn. Their service is renowned, and items like the Golden Eagle Latte, Annihilator, and The Toaster are fan favorites.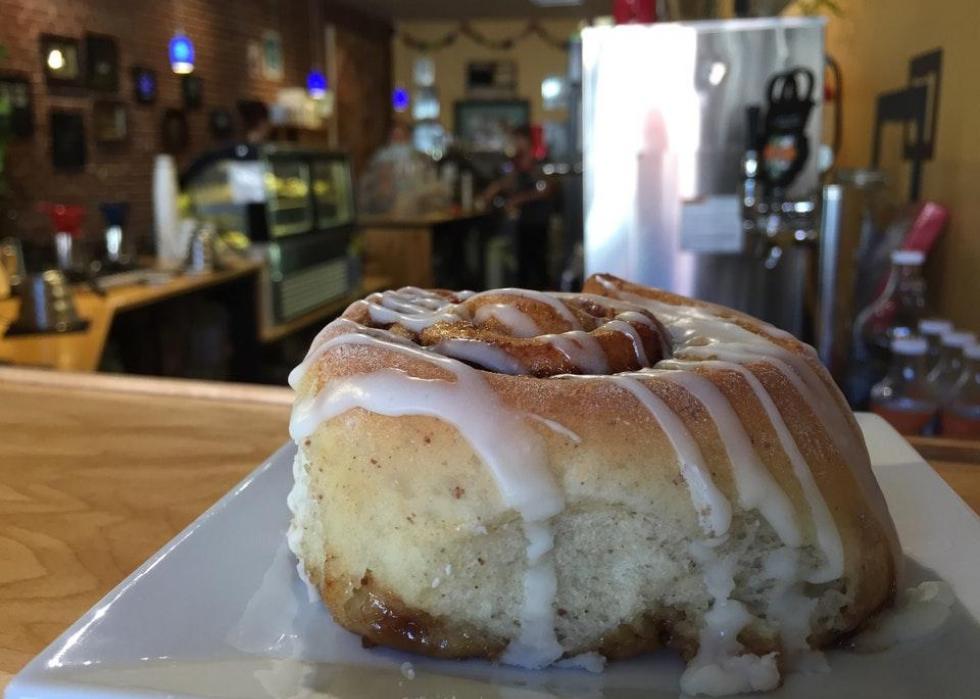 29 / 50
New Hampshire: D Squared Java
Address: 155 Water St., Exeter, NH 03833
Rating: 9.1
D Squared Java excels in everything coffee-related, and rarely disappoints. Their latte art is outstanding, their pour-overs are highly reviewed, and their cold brew is available on tap.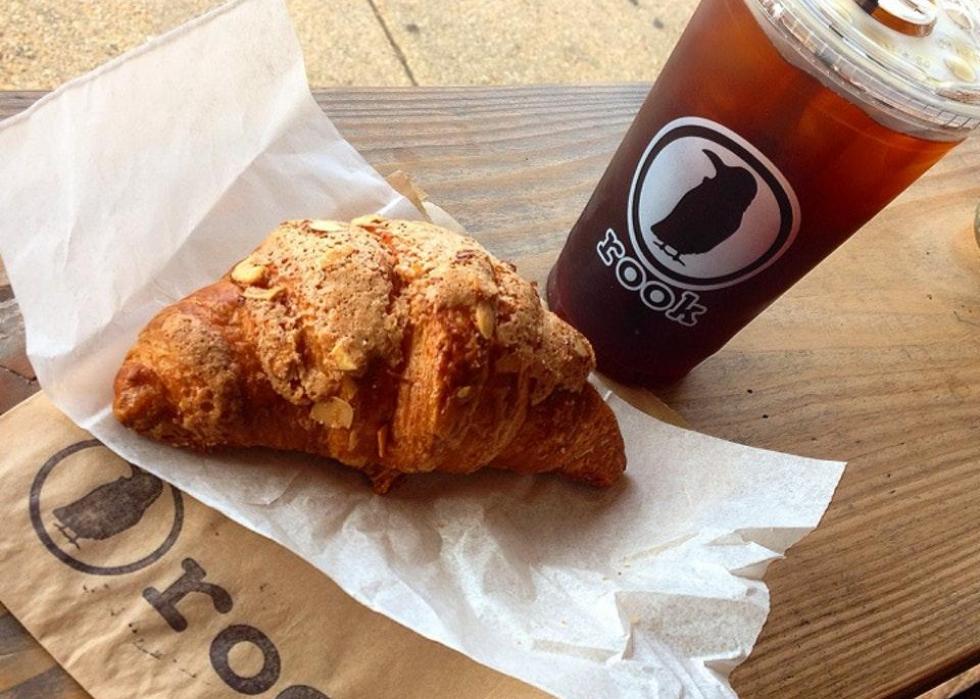 30 / 50
New Jersey: Rook Coffee
Address: 2005 State Route 35 (West Park Ave.), Oakhurst, NJ 07755
Rating: 9.4
Needing a coffee while visiting the Garden State? Rook Coffee is described as genuine, solid, and authentic by its customers, and their baristas are loved as much as the brew. Try their New Orleans iced coffee, as it's often considered one of their best offerings.
31 / 50
New Mexico: Spirit Winds Coffee Bar
Address: 2260 S. Locust St., Las Cruces, NM 88001
Rating: 9.3
This New Mexico coffee shop is a great place to hang out, sample amazing brews, or complete some work while surrounded by delicious aromas. The shop serves up Earl Grey lattes, has free wifi, and even their own gift shop.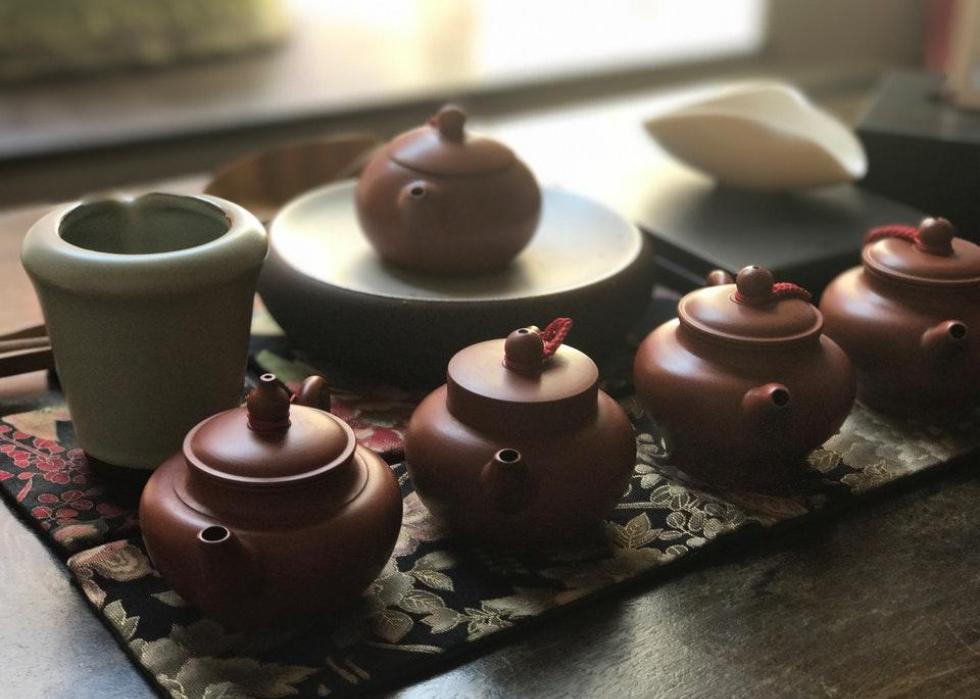 32 / 50
New York: Té Company
Address: 163 W. 10th St. (between 7th Ave. S. & Waverly Pl.), New York, NY 10014
Rating: 9.5
Té Company is a speciality shop that sources all of its tea from Taiwan while offering its patrons a cozy, intimate place to catch up or read a book. Their menu is ever changing, and their pastries and playlists have fans of their own.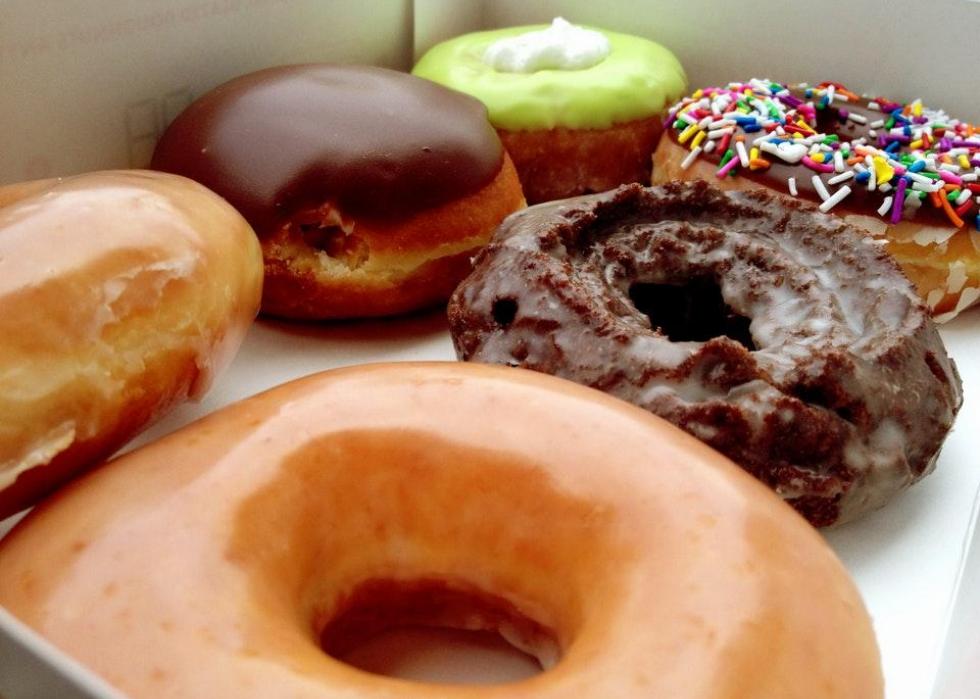 33 / 50
North Carolina: Krispy Kreme Doughnuts
Address: 259 S. Stratford Rd., Winston-Salem, NC 27103
Rating: 9.3
Krispy Kreme Doughnuts has become a household name, so it's no surprise that they rank as one of the most popular coffee shops in North Carolina. This location in particular is one of their oldest-standing locations, and they continue to serve up the good stuff: fresh donuts, coffee, and frozen hot chocolate.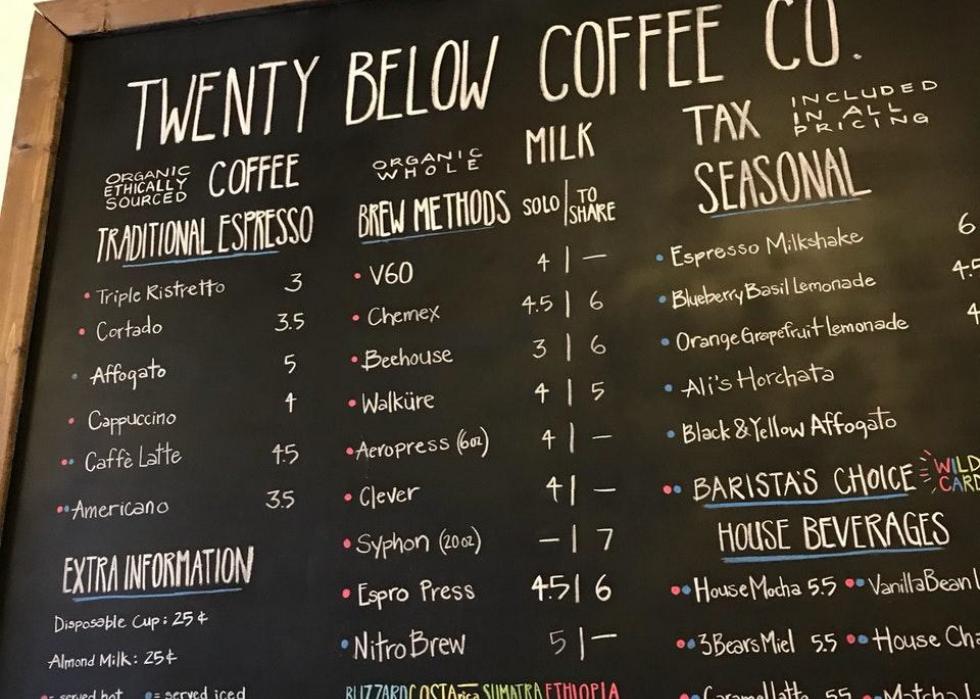 34 / 50
North Dakota: 20BelowCoffee
Address: Roberts St., Fargo, ND 58102
Rating: 8.8
In North Dakota's 20BelowCoffee, visitors can find friendly service, both outdoor and indoor seating, and a daily lunch hour in which people can bring in their own food. They are known for their excellent coffee that comes in several forms; menu favorites include the non-dairy espresso milkshake, the London Smog, iced mocha, and cold press coffee.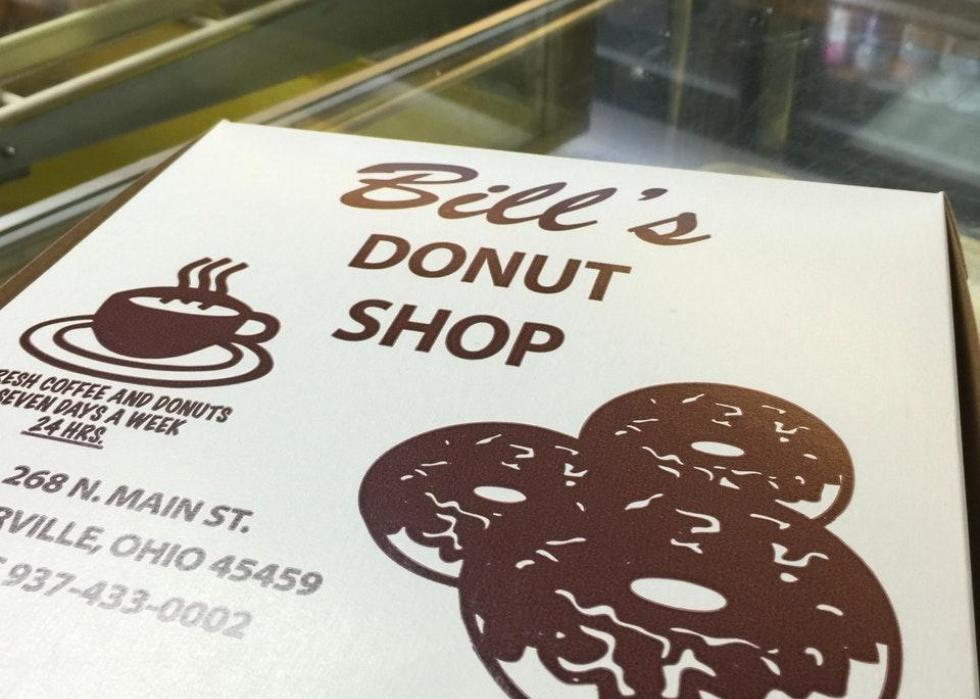 35 / 50
Ohio: Bill's Donut Shop
Address: 268 N. Main St., Centerville, OH 45459
Rating: 9.2
Open since 1963, Bill's Donut Shop's unassuming storefront doesn't stop its patrons from lining up out front to get their hands on a coffee and a dozen—the old-fashioned sour-cream filled donut is a customer favorite.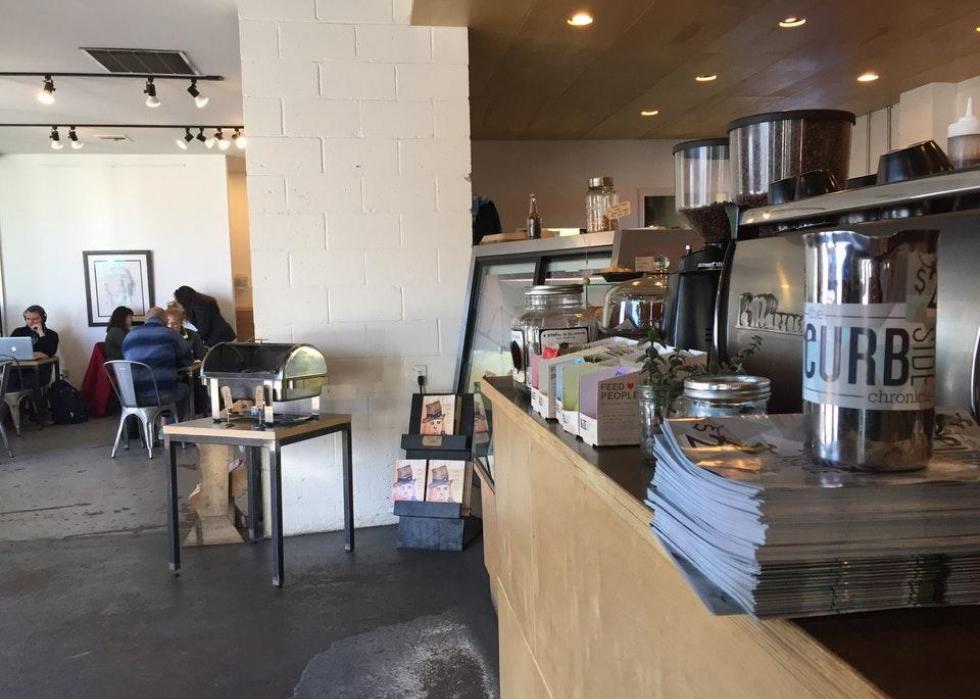 36 / 50
Adrianne C. // Foursquare
Oklahoma: Elemental Coffee Roasters
Address: 815 N. Hudson Ave. (at 8th), Oklahoma City, OK 73102
Rating: 9.2
Elemental Coffee Roasters roasts its beans daily to ensure that every cup and espresso shot brewed is consistent with the coffee shop and roastery's high standards. Local pastries join the brews every morning, and customers can dine and sip in what some describe as a cool, hip, and trendy atmosphere.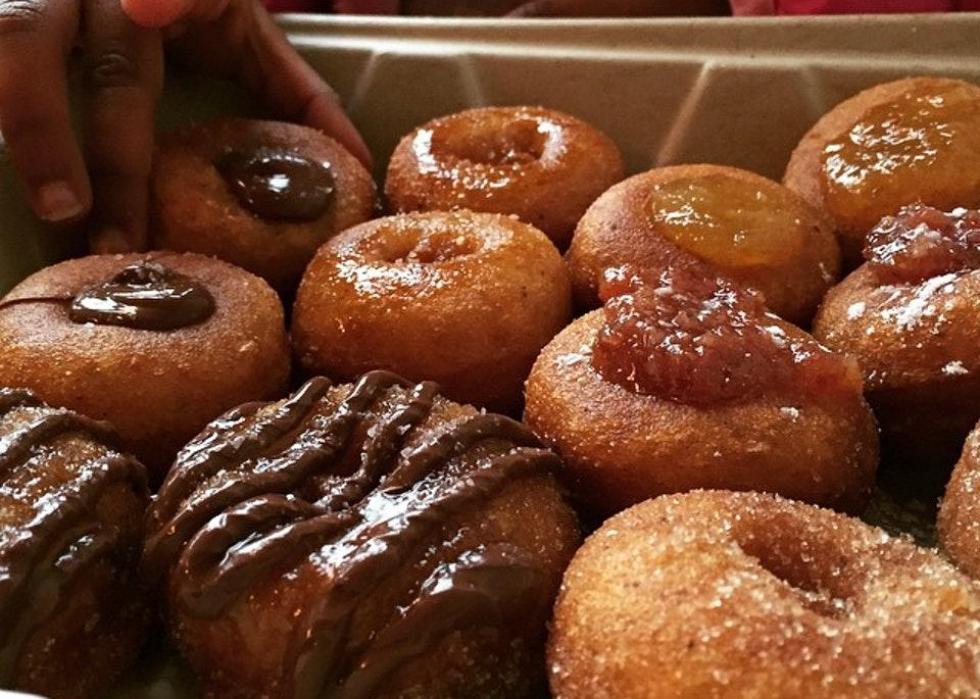 37 / 50
Oregon: Pip's Original
Address: 4759 NE Fremont St. (at NE 48th Ave.), Portland, OR 97213
Rating: 9.4
The smaller size of Portland's most popular donut shop's treats ensures that customers can have multiple treats at once. The unique size of the donuts is a hit with people, as are all of the different flavors. Try their chai, cinnamon and sugar, and Nutella varieties.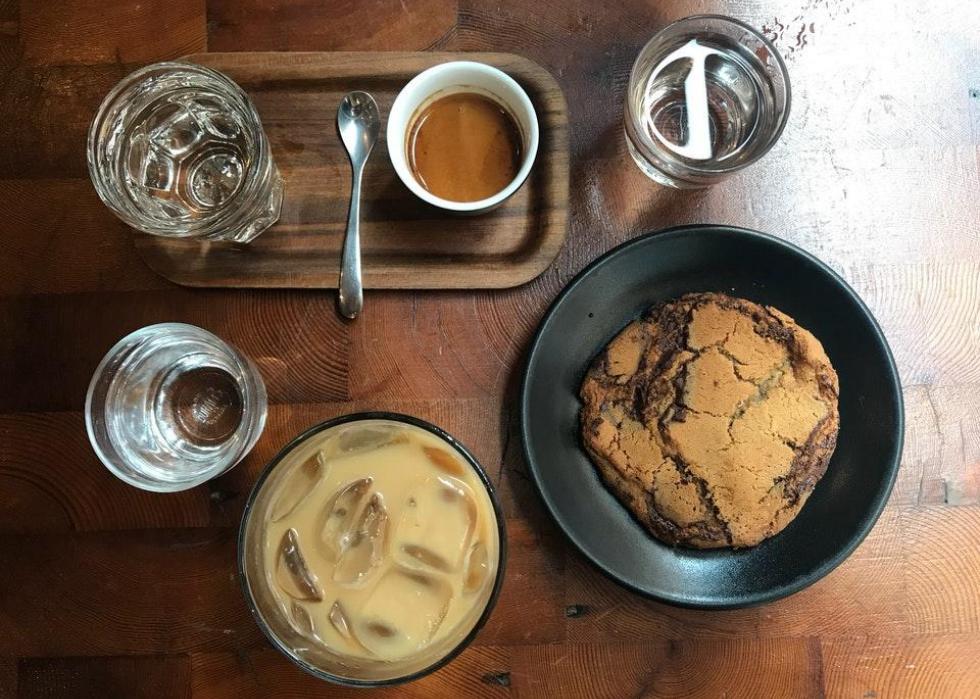 38 / 50
Marie Gooddayphoto W. // Foursquare
Pennsylvania: Elixr Coffee Roasters
Address: 207 S. Sydenham St. (between Walnut and Locust), Philadelphia, PA 19102
Rating: 9.4
For those looking for something special in the Philadelphia area, try out Elixr Coffee Roaster's Chemex pour-overs, Kyoto drip and chai lattes, and fresh and fruity espresso. The shop comes complete with its own roastery, and a cool and hip interior.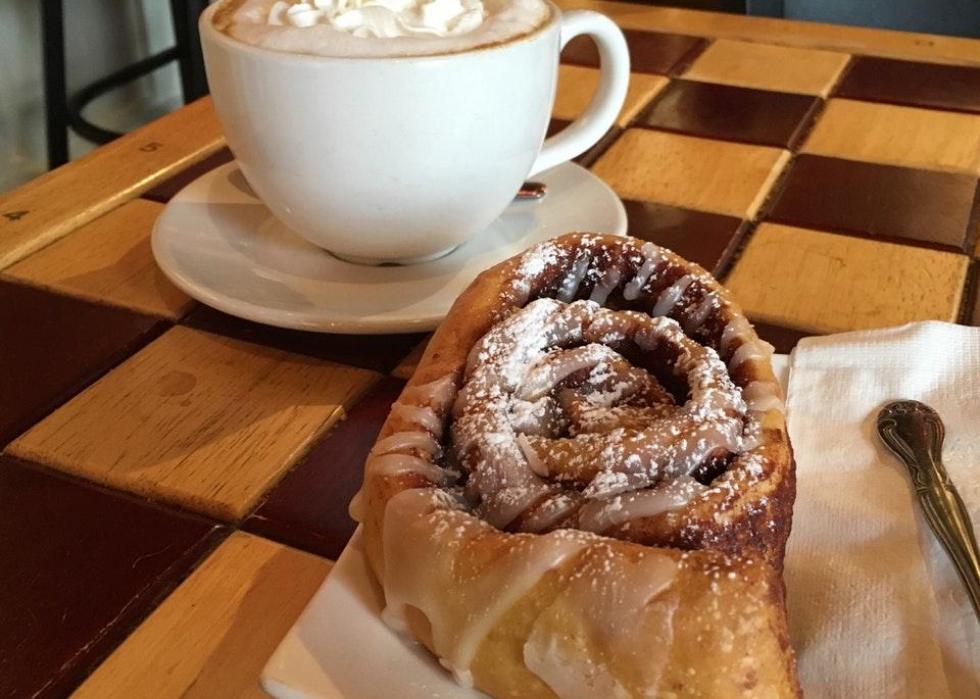 39 / 50
Rhode Island: Junque N' Java
Address: 49 Beach St., Westerly, RI 02891
Rating: 9.3
The limits for new and untried yummy drinks at Junque N' Java are endless. Feeling adventurous? Try their mushroom soothing tea or grapefruit gelato milkshake. In need of coffee? The Snickers Iced Latte and Trip to Paris with vanilla and steamed milk are both raved about by reviewers.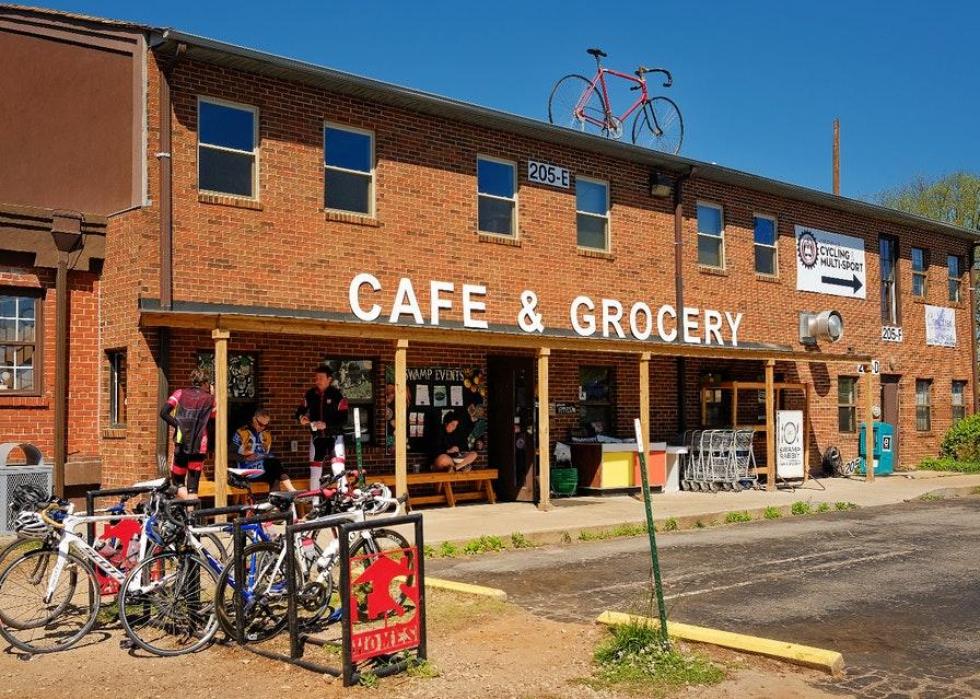 40 / 50
South Carolina: Swamp Rabbit Cafe & Grocery
Address: 205 Cedar Lane Rd., Greenville, SC 29611
Rating: 9.3
South Carolina's best coffee cafe can be found inside a grocery store, which carries high-end speciality items next to fresh baked bread and pastries. A local cycling path runs right by the shop; bikers stop by daily to grab a quick bite to eat and something to drink on their regular ride.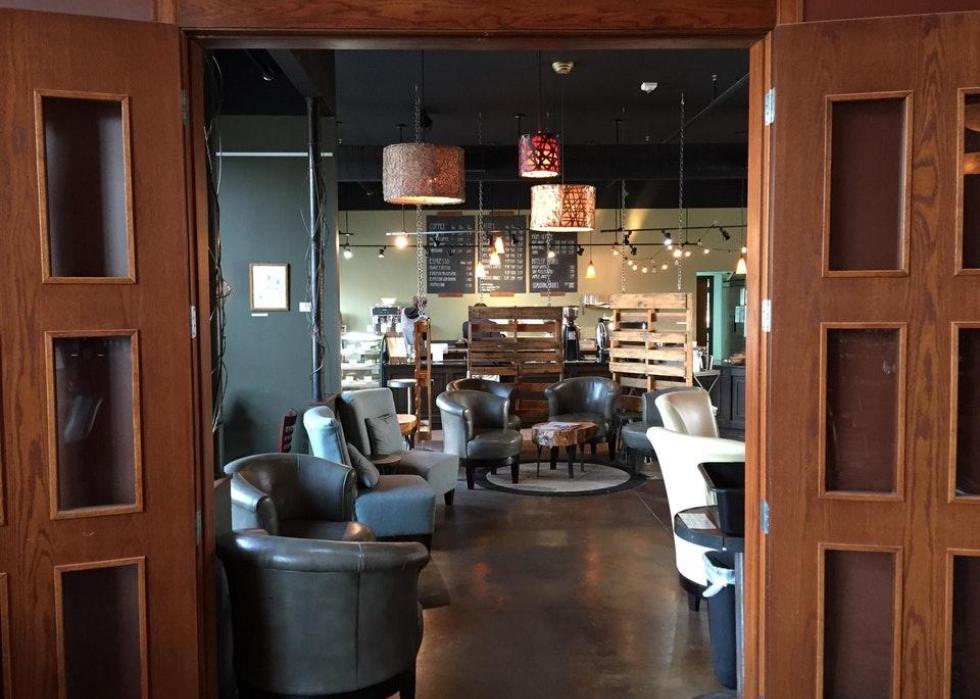 41 / 50
South Dakota: Coffea Roasterie
Address: 2318 S. Louise Ave., Sioux Falls, SD 57106
Rating: 8.8
Coffea Roasterie's baristas will roast beans in front of patrons before preparing their drink, carrying on a genuine conversation while completing the order. Their caramel lattes, pour-overs, and milk chocolate mochas are customer favorites, and the welcoming vibes only add to the shop's appeal.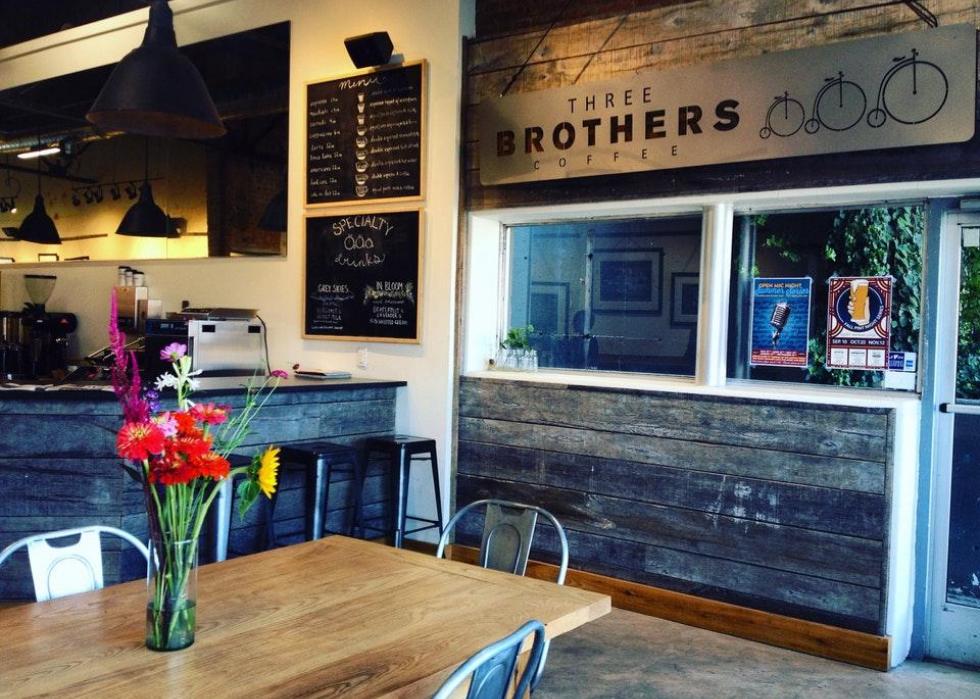 42 / 50
Tennessee: Three Brothers Coffee
Address:2813 West End Ave., Nashville, TN 37203
Rating: 9.3
Three Brothers Coffee providers their patrons with plenty of seating and reliable wifi, in addition to premium roasted beans and excellent brews. The chai lattes, Revelator aeropress coffee, and Bongo Java on drip are only some of the offerings on their menu.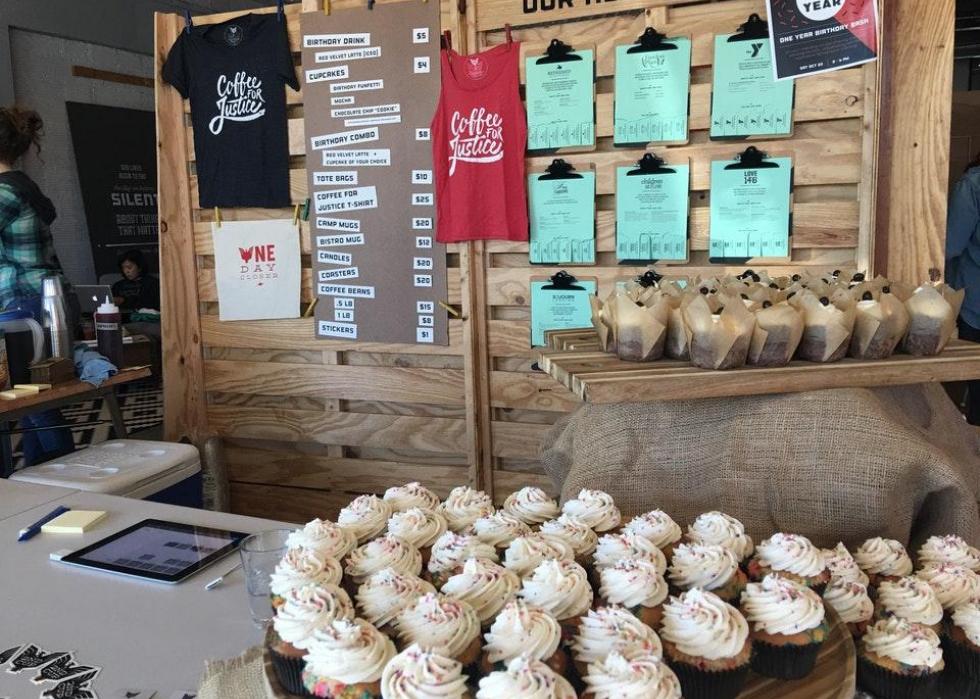 43 / 50
Texas: A 2nd Cup
Address: 1035 E. 11th St., Houston, TX 77009
Rating: 9.4
A 2nd Cup operates as a nonprofit that uses its proceeds to fight human trafficking in Houston, and gives its customers plenty of drink options in the process. Filled with distinct choices, A 2nd Cup pleases with its Mochanut: a combination of coconut, chocolate, and their superbly brewed espresso.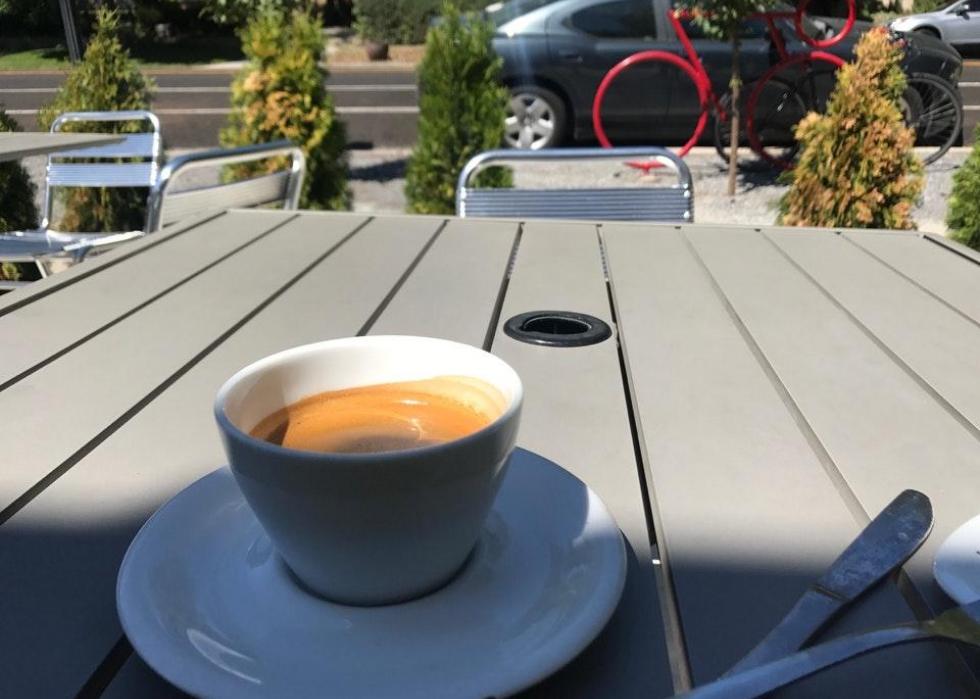 44 / 50
Utah: Publik Coffee Roasters
Address: 502 E. 3rd Ave. (at N. G St.), Salt Lake City, UT 84103
Rating: 9.2
Publik Coffee Roasters brews fresh, strong coffee with clear notes in a welcoming, neighborhood-shop-on-the-corner ambiance. Avocado toast is another speciality of the shop and a patron pick.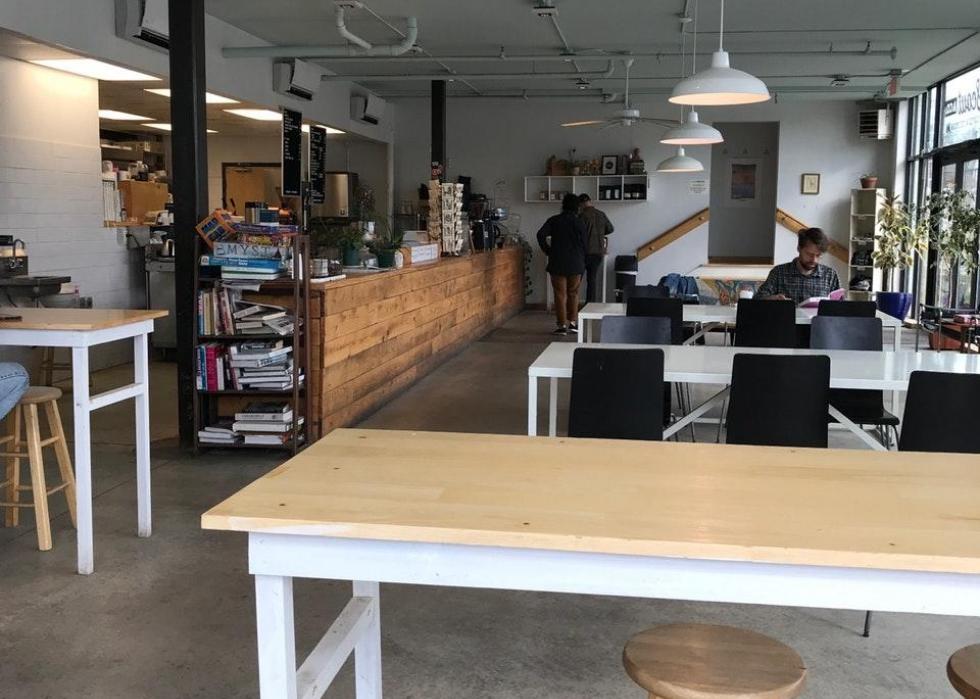 45 / 50
Vermont: Scout & Company
Address: 237 North Ave. (Berry St.), Burlington, VT 05401
Rating: 9.1
Complete with ice cream and donuts, this coffee shop serves complex-yet-smooth coffee via experienced and upbeat baristas. If coffee isn't one's drink of choice, try their Stone Leaf tea.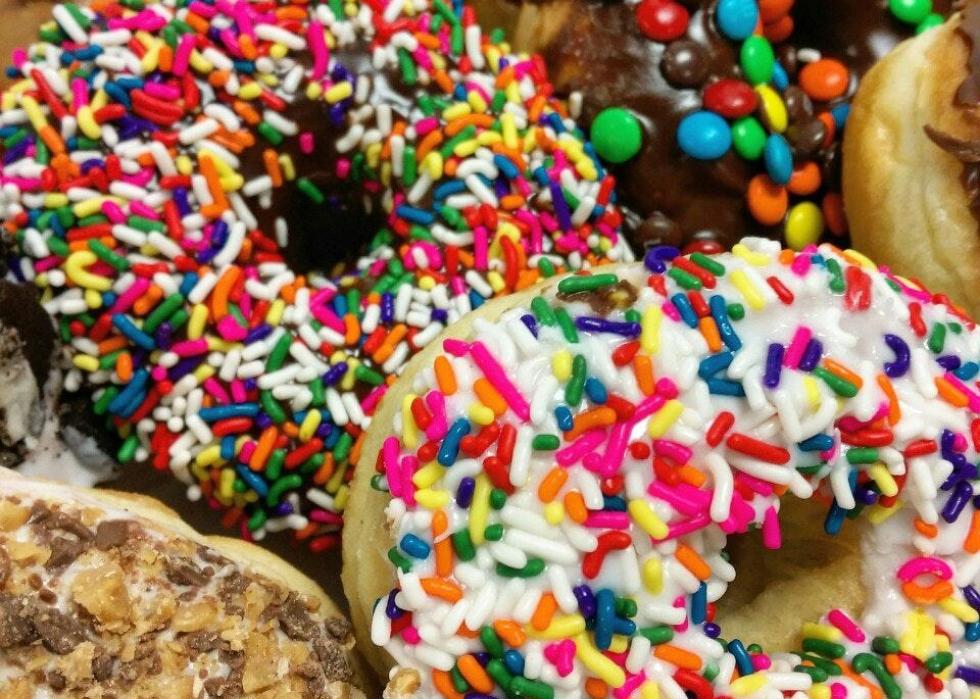 46 / 50
Virginia: Sugar Shack Donuts
Address: 1931 Huguenot Rd., North Chesterfield, VA 23235
Rating: 9.4
For those in need of something outside the box, be sure to check out Sugar Shack Donuts' chicken donut, which is glazed with maple and topped with chicken. The chai tea lattes are also a big hit, as is the half-price brewed coffee.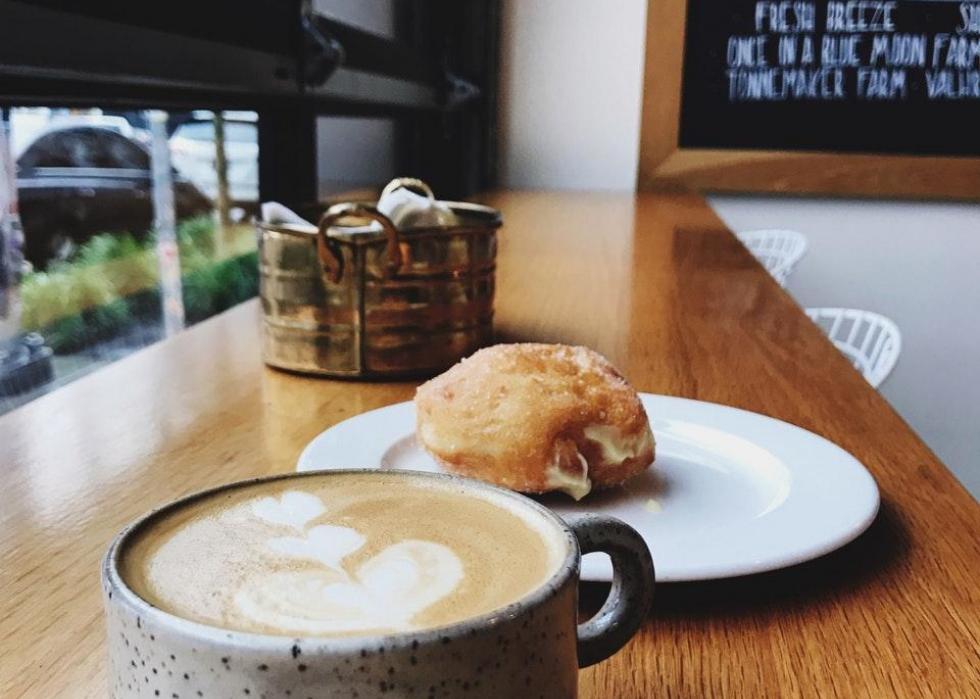 47 / 50
Washington: General Porpoise Coffee & Doughnuts
Address: 1060 E. Union St. (11th Ave.), Seattle, WA 98122
Rating: 9.4
The custard, jams, and jellies that fill General Porpoise Coffee & Doughnuts' pastries change on a daily basis, so be sure to stop in often to peruse the selection at this popular joint. Customers love the brown sugar latte, and swear the donuts are the best they've ever had.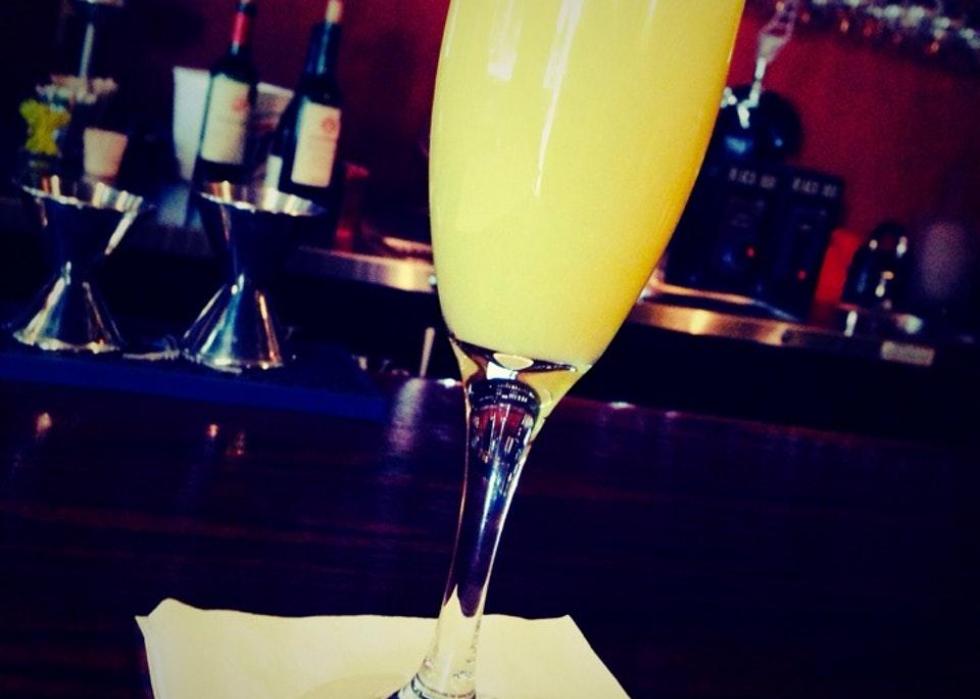 48 / 50
West Virginia: The Dish Cafe
Address: 1466 Ritter Dr., Daniels, WV 25832
Rating: 8.9
The Dish Cafe is a hit with the locals—many allege that the establishment is the best in southern West Virginia. The mood, service, and food are definitely worth a stop.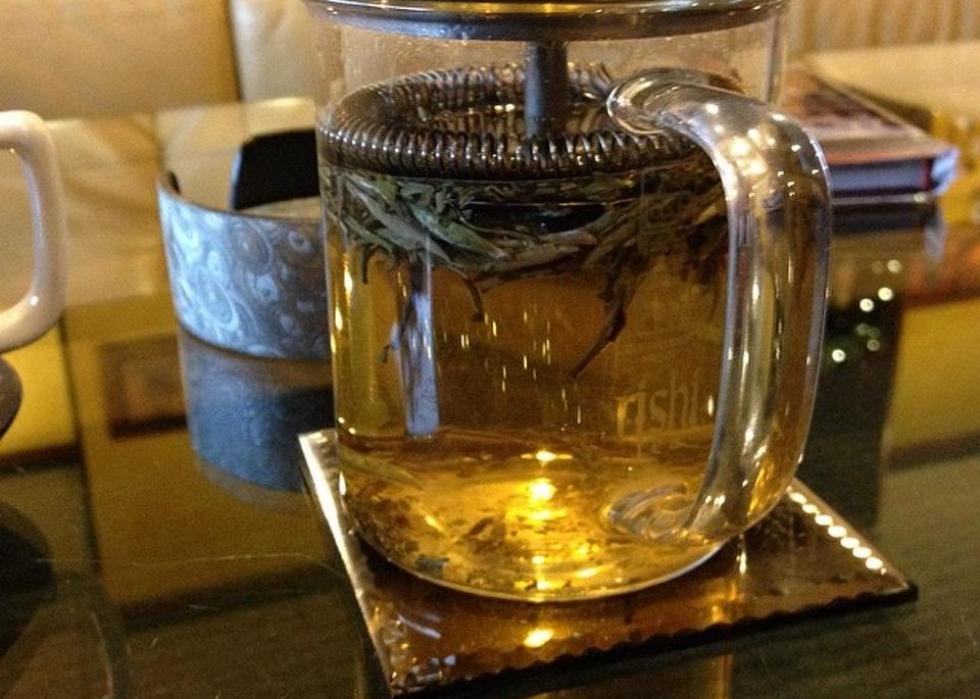 49 / 50
Wisconsin: Caffé Tlazo
Address: 607 4th St., Algoma, WI 54201
Rating: 9.4
This is a popular stop in Algoma for both visitors and locals alike. With a full lunch and dinner menu as well as a comprehensive drink menu, Caffe Tlazo brings much to the table. Their Tlazo Tonic smoothie, Almond Delight Mocha, and Grasshopper Frappe are favorites.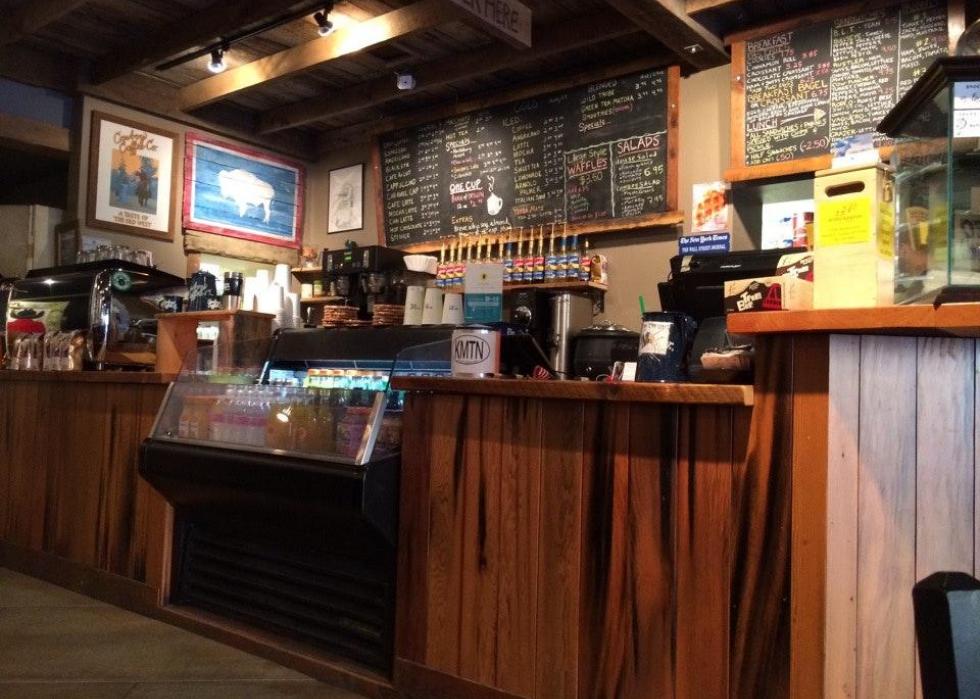 50 / 50
Wyoming: Cowboy Coffee Co.
Address: 125 N. Cache St. (W. Deloney), Jackson, WY 83001
Rating: 8.7
Coffee shares the spotlight with breakfast sandwiches and bagels in this shop, and the locals rave about the fresh clarity that's found in every cup of brew. The chai latte and tea, as well as the espresso, are also counted among the shop's best offerings.