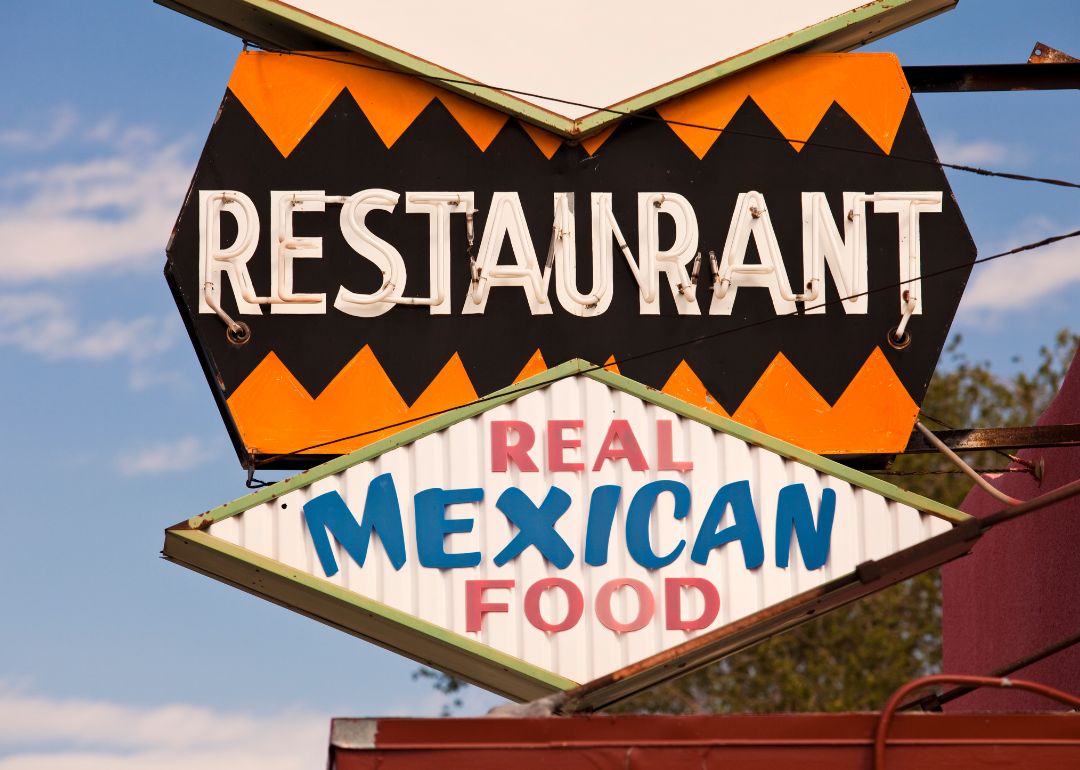 Best Mexican restaurant in every state
Best Mexican restaurant in every state
From classic carnitas tacos to the distinct "mission-style" burritos of San Francisco, the U.S. is packed with Mexican-influenced restaurants that cater to traditional, modern and every taste in between. With such a strong history of cultural fusion with our southern neighbors, it's no surprise that Mexican food is so popular in the U.S. In fact, studies show that over 10% of all restaurants in America serve Mexican food, making it the second most popular type of eatery in the country.
With so many options ranging from national franchises to hole-in-the-wall taco joints, it can be difficult to explore all that this diverse food category has to offer. At Stacker, we did the work so you don't have to, analyzing local restaurant rankings from Foursquare and incorporating check-ins, ratings, tips, and other user trends to determine the most popular Mexican restaurants in every state. For each spot, we've researched the history, dishes, and ambiance to help paint a picture of what truly makes these restaurants stand out - did your local favorite make the list? Though the debate will surely rage on, here are the most popular Mexican restaurants in every state, ordered by population (smallest to largest).
#50. Wyoming: La Cocina
Address:
321 East E Street
Casper, WY 82601
Foursquare rating: 8.5
Owned and operated by a husband and wife team, the restaurant has been a staple of the community since opening in 1996, and prides itself on the fresh quality of its dishes. La Cocina offers "all day everyday happy hour," along with daily specials that include La Cocina Flat Breads, Mahi Mahi Tacos, and a special "Chef" inspired Cubano Sandwich.
#49. Vermont: Cilantro
Address:
5036 Main St
Manchester, VT 05255
Foursquare rating: 8.5
Cilantro's chef, Cassidy, says they are committed to providing Manchester residents with locally sourced ingredients in order to provide the best dining experience to customers while giving back to the community. Cilantro provides guests with a taco and burrito bar that lets you customize your order with a variety of meats, beans, and salsas.
#48. Alaska: Bear Tooth Grill
Address:
1230 W 27th Ave
Anchorage, AK 99503
Foursquare rating: 9.3
With a variety of Southwestern-inspired dishes and over 90 choices of Tequila, there's a lot to love about Bear Tooth Grill. Most notably, the extensive brunch and lunch specials like the cotija breakfast tacos, Carne burrito, churros, and rancho burrito.
#47. North Dakota: Mango's Mexican and American Grill
Address:
2901 Main Ave
Fargo, ND 58103
Foursquare rating: 8.6
This family owned and operated restaurant prides itself on its signature Chimichanga, Chile, and vegetarian options. Mango's provides an affordable mix of Mexican and American classics that will appease those on a budget, while also providing exceptional and authentic dishes.
#46. South Dakota: Qdoba Mexican Grill
Address:
4901 S Louise Ave
Sioux Falls, SD 57106
Foursquare rating: 8.8
This fast-casual Mexican franchise with over 600 locations across the country topped the list as the number one Mexican restaurant in South Dakota. Enjoy a number of breakfast options such as the new beef brisket burrito, and taco salads, all with signature queso.
#45. Delaware: Border Cafe
Address:
483 Stanton Christiana Rd
Newark, DE 19713
Foursquare rating: 9.0
While this restaurant started out with traditional Tex-Mex classics, it soon blended recipes with a Cajun flair. Since opening in 1987, the Border Cafe team has adopted the philosophy of preparing every dish from scratch with the freshest ingredients without sacrificing value.
#44. Montana: Casa Mexico
Address:
1600 US Highway 93 S
Kalispell, MT 59901
Foursquare rating: 8.9
In business for over a decade, Casa Mexico staff hold the philosophy that all guests are family, and are treated as such. With an understanding of traditional Mexican cuisine, Casa Mexico embraces the influence of Aztec, Caribbean, and West African dishes, to guarantee the most authentic experience in Montana.
#43. Rhode Island: Perro Salado
Address:
19 Charles St
Newport, RI 02840
Foursquare rating: 9.3
Brothers Dan and Russ fell in love with Mexican cuisine and wanted to bring their passion to the residents of Rhode Island. The brothers, along with general manager, Andi, transformed a historic Naval officer's home into a lively gathering space with artistic decor where guests can enjoy classic Mexican dishes.
#42. New Hampshire: La Carreta Restaurante Mexicano
Address:
139 Daniel Webster Hwy
Nashua, NH 03060
Foursquare rating: 9.1
This spot is carefully decorated with earth tones and catci to pay homage to Mexican aesthetics and decor, ensuring guests have an authentic Mexican experience from atmosphere alone. If that isn't enough to convince you, be sure to try their made-from-scratch salsas, made fresh daily.
#41. Maine: Loco Coco's Tacos
Address:
36 Walker St (Route 1)
Kittery, ME 03904
Foursquare rating: 8.5
Original owner Luis Valdez, brought the flavor of San Diego when he first moved to Maine and opened Loco Coco's Tacos in 2004. What started out as a walk-up counter, has turned into a full-service cantina and dining room that provides Maine residents with exemplary cuisine.
#40. Hawaii: Verde Restaurant
Address:
4-1101 Kuhio Hwy
Kapa'a, HI 96746
Foursquare rating: 8.6
Verde has continually shown its dedication to the community by listing where its locally sourced ingredients and grass fed beef come from. It's no surprise that the restaurant has been featured in a number of Hawaiian magazines for best local eats.
#39. Idaho: Cafe Rio Mexican Grill
Address:
8233 W Franklin Rd
Boise, ID 83709
Foursquare rating: 8.5
The Salt Lake City-based chain first opened in 1997, and has since grown to over 100 locations around the country. Cafe Rio has won over 100 awards for its food, and says they are dedicated to staying true to their culture, and sharing with the world.
#38. West Virginia: Black Bear Burritos
Address:
132 Pleasant St
Morgantown, WV 26505
Foursquare rating: 9.3
Black Bear Burritos is not only the provider of great dips and burritos, but a venue that emits an Appalachian atmosphere that embraces the arts and music of West Virginia. The local eatery also offers vegetarian and vegan options that are prepared separately from other dishes. 
#37. Nebraska: Lina's Mexican Restaurant
Address:
5832 S 144th St (at Stony Brook Blvd.)
Omaha, NE 68137
Foursquare rating: 8.6
All day breakfast, a drive-thru, and 24/7 business hours for those late night munchies, Lina's has something for everyone at any time of day. Along with convenient access, guests have their choice between staple dishes like fish tacos, chicken fajitas, and quesadillas.
#36. New Mexico: Frontier Restaurant
Address:
2400 Central Ave SE (at Cornell)
Albuquerque, NM 87106
Foursquare rating: 9.0
Frontier carries on Albuquerque tradition with its recipes for roasted green chile and homemade flour tortillas. The restaurant is conveniently located across from the University of New Mexico -- be sure to try their signature sweet roll, available everyday from 5 a.m. to 1 a.m.
#35. Nevada: Original Lindo Michoacan
Address:
2655 E Desert Inn Rd (Eastern)
Las Vegas, NV 89121
Foursquare rating: 9.3
Since its establishment 1990, the Original Lindo Michoacan has been providing the Las Vegas area with live entertainment and the most authentic Mexican food in Nevada. With three locations throughout the state, the festivities never end at the Original Lindo Michoacan. Try any of their specialties like beef tongue and New York inspired steak. 
#34. Kansas: Bonito Michoacan
Address:
1150 Minnesota Ave
Kansas City, KS 66102
Foursquare rating: 9.0
This locally owned grocery store is home to the best Mexican cuisine Kansas has to offer. Not only can you enjoy dishes such as Chili Relleno and Carne Asada, but visitors can also pick up food and products imported straight from Mexico.
#33. Utah: Red Iguana
Address:
736 W North Temple
Salt Lake City, UT 84116
Foursquare rating: 9.3
This massively popular local Mexican eatery was featured in the New York Times and Food Network's "Diners, Drive-ins and Dives." Red Iguana faced adversity when the city announced plans to build a light rail that would disrupt business in 2010. With major support from the community, they opened a second location in response. They now serve their award-winning Mexican classics with original twists on recipes in two locations
#32. Mississippi: Taco Sombrero
Address:
12275 Highway 49
Gulfport, MS 39503
Foursquare rating: 9.0
Taco Sombrero had one goal when it came to Mississippi in 1979 -- provide Gulfport with authentic fast-food Mexican meals. Unlike other fast-food, however, Taco Sombrero prepares their food fresh, never using pre-cooked or pre-packaged food. This includes preparing their chips and shells from scratch, as well as ripening their own tomatoes.
#31. Arkansas: Baja Grill
Address:
5923 Kavanaugh Blvd
Little Rock, AR 72207
Foursquare rating: 9.2
Baja was the recipient of the "Arkansas Times Reader's Choice Award 2014" for best food truck in the state, best Mexican food in the state, and best restaurant in the Benton/Bryant area. With unique dishes like Baja crab cakes, pig sooie tacos, and honey chipotle tacos, the recognition is well deserved.
#30. Iowa: La Regia Taqueria
Address:
436 Highway 1 W
Iowa City, IA 52246
Foursquare rating: 9.2
La Regia Taqueria provides groceries, spices, imported products, and some of the best Mexican food in Iowa. You can't go wrong with any of their classic dishes of seafood, burritos, tacos, quesadillas, and tortas.
#29. Connecticut: bartaco
Address:
222 Summer St (at Broad St)
Stamford, CT 06901
Foursquare rating: 9.1
With Brazilian and Southern California flairs, bartaco has nine locations and has earned its reputation of offering some of the best tacos around. As critics from Forbes, Jezebel Magazine, Nashville Lifestyles, and Buzzfeed agree -- there's something special about bartaco.
#28. Oklahoma: Fuzzy's Taco Shop
Address:
208 Johnny Bench Dr (at S. Mickey Mantle Dr.)
Oklahoma City, OK 73104
Foursquare rating: 8.8
Fuzzy's taco offers a wide variety of handmade enchiladas, jumbo burritos, and nachos. Their popular original recipe Baja taco features garlic sauce and feta cheese. Fuzzy's also features a full bar, where guests can grab specialty cocktails, beer, and margaritas.
#27. Oregon: ¿Por Qué No?
Address:
3524 N Mississippi Ave (at N Fremont St)
Portland, OR 97227
Foursquare rating: 9.3
¿Por Qué No? sets to capture the essence of Mexican flavor with its ingredients from locally caught fish, raised cattle, and produce.
#26. Kentucky: El Taco Luchador
Address:
938 Baxter Ave
Louisville, KY 40204
Foursquare rating: 9.5
Jump in the ring with El Taco Luchador and try their salmon tacos, Desayuno Torta, mole fries, or luchador nachos. El Taco Luchador describes themselves as a fun, fresh, and local business that makes catering easy, so make it a party!
#25. Louisiana: Juan's Flying Burrito
Address:
2018 Magazine St (at Saint Andrew)
New Orleans, LA 70130
Foursquare rating: 9.0
Juan's emits a true New Orleans atmosphere and decor while embracing influences from 1980's San Francisco style burrito joints. When the restaurant first opened in in 1997, the owners wanted to differentiate themselves from other Tex-Mex scoop and serve competitors, striving to only serve made to order food prepared fresh from the grill and onto your plate.
#24. South Carolina: Minero
Address:
155 E Bay St
Charleston, SC 29401
Foursquare rating: 8.9
Minero gives off casual small-town vibes, and provides the historic district of Charleston, South Carolina with the culture and flavors inspired by original Mexican recipes. Try any number of tacos from catfish, pork, and charcoal grilled chicken.
#23. Alabama: El Barrio
Address:
2201-2215 2nd Ave N
Birmingham, AL 35203
Foursquare rating: 9.4
With an urban design set in the emerging downtown along 2nd Avenue North, El Barrio sets itself apart with vibrant Mexican style murals and rustic decor. Try a number of dishes from their brunch or dinner menu, like the bacon quesadilla or spicy tostada.
#22. Minnesota: El Taco Riendo
Address:
2412 Central Ave NE
Minneapolis, MN 55418
Foursquare rating: 9.2
With a name that translates to "the laughing taco," the atmosphere is surely friendly and relaxed. For those with a big appetite, El Taco Riendo recommends their Big Burrito -- measuring a foot long -- or the Big Torta, along with your choice of beer.
#21. Colorado: Illegal Pete's
Address:
1530 16th St (at Wazee St)
Denver, CO 80202
Foursquare rating: 9.2
When founder, Pete, first opened the restaurant in 1995, he wanted to foster a fun and energetic atmosphere while also providing workers with a livable wage and benefits. While the name may raise an eyebrow, the flavors this eatery offers will make your taste buds sing with a signature queso sauce available to top any burrito, taco, bowl, or salad.
#20. Wisconsin: BelAir Cantina
Address:
1935 N Water St (N Humboldt Ave)
Milwaukee, WI 53202
Foursquare rating: 9.0
BelAir Cantina offers weekly specials like $2 taco Tuesdays, enchilada Wednesdays, and happy hour Monday through Friday with $3 tap beers. Stop by and try a number of unique flavors like the hot dog taquitos and Korean beef burritos.
#19. Maryland: Taco Bar
Address:
10003 Fields Rd (at Sam Eigh Hwy.)
Gaithersburg, MD 20878
Foursquare rating: 9.2
Taco Bar provides the state of Maryland with attentive service and flavors that are deeply a part of Mexican culture. Take advantage of their two locations in Frederick and Gaithersburg, offering steak and cheese tortas, pork quesadilla, and more.
#18. Missouri: Mission Taco Joint
Address:
908 Lafayette Ave (at 9th St)
St Louis, MO 63104
Foursquare rating: 9.2
Mission Taco Joint is a family owned restaurant with five locations around Missouri that sets out to create a warm and friendly environment to enjoy great dishes. With unique flavors like BBQ duck tacos and shrimp tacos marinated in mango and IPA -- this is one stop you won't want to miss.
#17. Indiana: Bakersfield Mass Ave
Address:
334 Massachusetts Ave
Indianapolis, IN 46204
Foursquare rating: 9.3
Bakersfield is dedicated to doing one thing -- providing its seven (soon to be eight) locations with simple, yet delicious Mexican style street fare. Don't just take our word for it -- Bakersfield has been featured on Yahoo and "Diners, Drive-Ins and Dives" as one of the best Mexican restaurants in the country.
#16. Tennessee: Taco Mamacita
Address:
109 N Market St (Frazier Avenue)
Chattanooga, TN 37405
Foursquare rating: 9.2
Whether you're visiting for the first time or a regular, Taco Mamacita wants you to have the best experience it can provide with its laidback setting and friendly staff. Try a number of their exclusive takes on classics, like the Sloppy Jose taco, California club, or Caribbean jerk taco.
#15. Massachusetts: El Pelon Taqueria
Address:
92 Peterborough St (at Kilmarnock St.)
Boston, MA 02215
Foursquare rating: 9.3
This local Boston favorite that has been in business for over 16 years and is known for its fish tacos, prepared fresh with locally caught fish, limed onions house-made spicy mayo, pickled cabbage, and cucumbers. Bring the flavor home with customizable catering and take-out options, like the El Guapo burrito -- featuring carne asada, rice, black beans, jack cheese, fried plantains, lettuce, homemade crema, and roasted salsa.
#14. Arizona: The Mission
Address:
3815 N Brown Ave (at 1st St)
Scottsdale, AZ 85251
Foursquare rating: 9.2
The Mission describes itself as a sophisticated yet casual environment for guests to enjoy a blend of old world and modern Mexican flavors. With a lively community of staff and regulars, The Mission is the place in Arizona to get your Mexican food fill.
#13. Washington: La Carta De Oaxaca
Address: 
5431 Ballard Ave NW
Seattle, WA 98107
Foursquare rating: 9.1
La Carta De Oaxaca was the recipient of Seattle "Weekly Reader's Choice Award" for Best Mexican Restaurant 2012 and offers a variety of hearty cuisine. Recommended dishes are taco Fritos -- made with fried cheese quesadillas, guacamole, beans, salsa, dried chile sauce, and crema Mexicana.  
#12. Virginia: District Taco
Address:
701 S Washington St
Alexandria, VA 22314
Foursquare rating: 8.9
The DMV chain that started out as two neighbors in a food truck in 2009 has blossomed into the top Mexican restaurant in the state of Virginia. The environmentally-conscious business strives to supply the DMV with authentic, healthy, and always fresh Yucatan-style Mexican food.
#11. New Jersey: Orale! Mexican Kitchen
Address:
341 Grove St (btwn Morgan & Bay)
Jersey City, NJ 07302
Foursquare rating: 9.0
Located in the heart of Downtown Jersey City, this local eatery provides guests with an intimate mid-century modern setting and traditional dishes with what it describes as a unique American twist. Try favorites like the Beef Tinga taco topped with Roasted Scallions, or the Roasted Bone Marrow taco topped with crispy pork belly.
#10. Michigan: La Perla Produce
Address:
1231 Pipestone Rd
Benton Harbor, MI 49022
Foursquare rating: 8.8
This grocery store houses the top Mexican restaurant in Michigan, priding itself on the fresh and authentic preparation of their menu items. La Perla uses the best ingredients straight from their store shelves, serving Mexican staples like Chicken Enchiladas and steak tacos.
#9. North Carolina: Paco's Tacos & Tequila
Address:
6401 Morrison Blvd Ste 8A
Charlotte, NC 28211
Foursquare rating: 9.5
Between the Texas-influenced Mexican dishes, and fresh flour tortillas made daily, Paco's has a lot to love. With a convenient location in Charlotte's SouthPark and fair prices, guests can feel confident knowing they are getting the most authentic food in Charlotte.
#8. Georgia (U.S. state): Nuevo Laredo Cantina
Address:
1495 Chattahoochee Ave NW
Atlanta, GA 30318
Foursquare rating: 9.1
Continually voted "best Mexican food in Atlanta" by Atlanta Magazine since 1992, Nuevo offers a warm family environment where the owner, Chance Evans, recommends specialties, brisket barbacoa, chicken mole, and over-stuffed poblano Chili Rellenos. Some consider it the most successful restaurant in Atlanta, but Nuevo Laredo Cantina doesn't franchise in order to continually provide the community with the most authentic Mexican experience possible.
#7. Ohio: Nada
Address:
600 Walnut St (at 6th St)
Cincinnati, OH 45202
Foursquare rating: 9.1
Nada is an atmosphere that blends the best of old world and modern decor. Along with staples like jalapeño mac n' cheese, Nada welcomes anyone who is looking for great Mexican flavors in the center of Downtown Cincinnati. Stop in for brunch, lunch, or dinner, and try fried avocado and salmon tacos.
#6. Pennsylvania: El Vez
Address:
121 S 13th St (at Sansom St)
Philadelphia, PA 19107
Foursquare rating: 9.3
With a fun vintage vibe, El Vez embraces what it calls the Mex-Eclectic spirit and a blend of Las Vegas and Mexican atmosphere. Come enjoy the friendly staff and generous portions that only a place like Philly can offer.
#5. Illinois: Mercadito
Address:
108 W Kinzie St (btwn Clark St & LaSalle Blvd)
Chicago, IL 60654
Foursquare rating: 8.9
Renowned for its tacos and guacamole, Mercadito is known throughout the city as the best Mexican restaurant in town, with four locations spread out over the city of Chicago. The restaurant also hosts mixology classes, as well as cooking lessons by celebrated chef, Patricio Sandoval.
#4. New York: La Esquina
Address:
114 Kenmare St (at Lafayette St)
New York, NY 10012
Foursquare rating: 9.3
Located along the edge of New York City, on the Corner of Lafayette and Kenmare, La Esquina offers authentic Mexican cuisine while providing a rustic environment for guests. Step into the speakeasy-like aesthetic and enjoy signature dishes such as the sliced Angus rib eye tacos, octopus tostada, and grilled corn.
#3. Florida: Rocco's Tacos and Tequila Bar
Address:
1313 E Las Olas Blvd (SE 15 AVE)
Fort Lauderdale, FL 33301
Foursquare rating: 9.0
Rocco's describes its preparation as the same as it is in Mexico -- handmade, cooked fresh, and a taste that you won't find anywhere other than south of the border. Guests are invited to try over 400 varieties of Tequila, and a menu that has been hailed by the likes of The Wall Street Journal, Miami New Times, and The Miami Herald.
#2. Texas: The Original Ninfa's on Navigation
Address:
2704 Navigation Blvd (at N Delano St)
Houston, TX 77003
Foursquare rating: 9.1
Ninfa's says it's original owner, "Mama" Ninfa, helped popularize the steak fajita by filling her family made tortillas with grilled fresh skirt steak pieces. The eatery continues to cook great food over 50 years later, with its kitchen currently being helmed by the experienced chef, Alex Padilla, who has traveled all over Europe and Mexico to perfect his technique and menu offerings. 
#1. California: Taqueria El Farolito
Address:
2779 Mission St (at 24th St)
San Francisco, CA 94110
Foursquare rating: 9.3
Founded in 1982, Taqueria El Farolito continues to emit an atmosphere of a classic diner-like environment, where guests can watch kitchen staff prepare their meals right from their seats. They welcome guests to try their meaty nachos, big burritos, and plentiful tacos. The ever-present crowds are evidence that this place knows Mexican food.