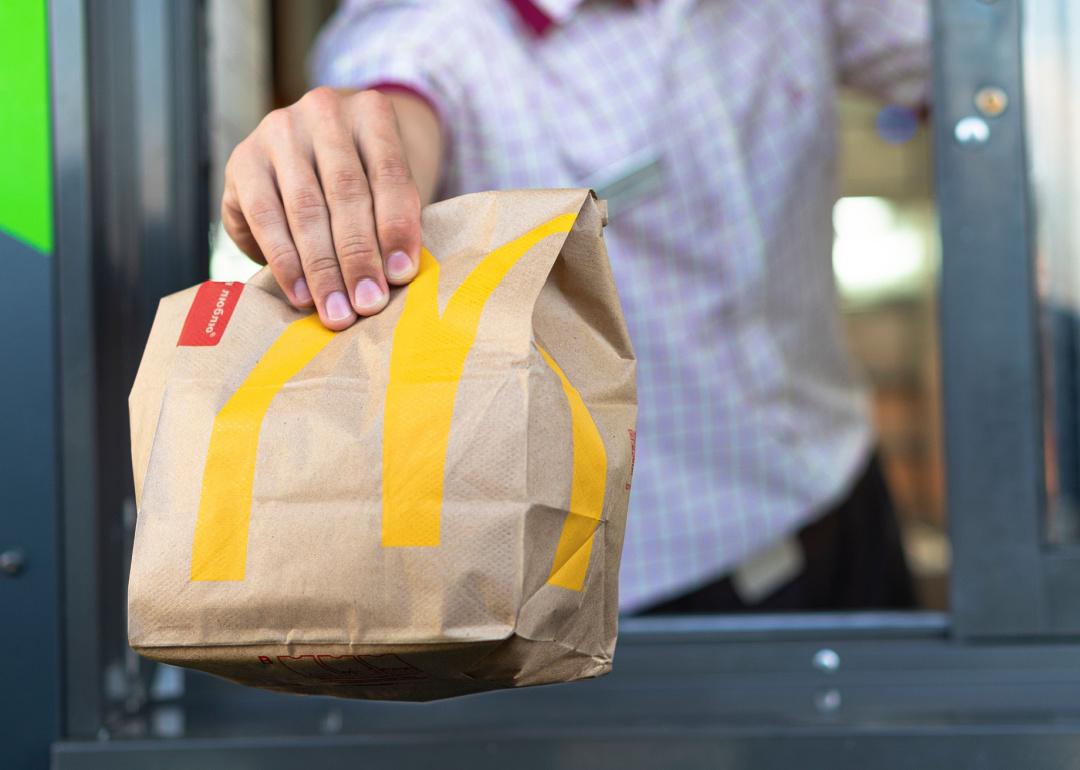 Most fast food friendly states in America
Gargantiopa // Shutterstock
Most fast food friendly states in America
When it comes to grabbing a quick bite, diners now have more options than ever before. Fast-casual concepts like Chipotle and Dig Inn offer speedy but sustainably sourced options while classic fast food powerhouses like McDonald's and Starbucks continue to transform their menus to cater to every meal of the day.
To find the state with the best dining scenes for speedy eaters, Stacker ranked all 50 states by the number of limited-service restaurants per capita based on January 2020 data from the Bureau of Labor Statistics. Limited-service restaurants are restaurants where you typically order at a counter and can expect to receive your meal quickly. Including traditional fast food, fast-casual concepts, and some establishments in the café and pizza space, limited-service restaurants can encompass a wide variety of dining experiences but all share the theme of convenience and affordability
We've picked out famous food spots that originated in each state to help guide you on your culinary tour of America's speed-dining spots. Read on to discover where your state ranks for fast-food-friendliness.
#50. Alaska
- Limited-service restaurants per 10k people: 5.6
- Total number of limited-service restaurants: 411
- Population: 730,000
- Famous food establishments with origins in Alaska: Slim Chickens
#49. Arizona
- Limited-service restaurants per 10k people: 5.9
- Total number of limited-service restaurants: 4,388
- Population: 7.42 million
- Famous food establishments with origins in Arizona: Cold Stone Creamery, Federico's Mexican Food
#48. Vermont
- Limited-service restaurants per 10k people: 6.1
- Total number of limited-service restaurants: 380
- Population: 620,000
- Famous food establishments with origins in Vermont: Ben & Jerry's
#47. Michigan
- Limited-service restaurants per 10k people: 6.2
- Total number of limited-service restaurants: 6,228
- Population: 9.97 million
- Famous food establishments with origins in Michigan: Domino's, Little Caesars
#46. Wisconsin
- Limited-service restaurants per 10k people: 6.3
- Total number of limited-service restaurants: 3,650
- Population: 5.83 million
- Famous food establishments with origins in Wisconsin: Culver's, Cousins Subs, Erbert & Gerbert's
#45. Washington
- Limited-service restaurants per 10k people: 6.3
- Total number of limited-service restaurants: 4,844
- Population: 7.69 million
- Famous food establishments with origins in Washington: Starbucks
#44. Wyoming
- Limited-service restaurants per 10k people: 6.3
- Total number of limited-service restaurants: 368
- Population: 580,000
- Famous food establishments with origins in Wyoming: Taco John's
#43. North Dakota
- Limited-service restaurants per 10k people: 6.5
- Total number of limited-service restaurants: 497
- Population: 770,000
- Famous food establishments with origins in North Dakota: Burger Time
#42. Idaho
- Limited-service restaurants per 10k people: 6.8
- Total number of limited-service restaurants: 1,244
- Population: 1.83 million
- Famous food establishments with origins in Idaho: Fanci Freez
#41. New Mexico
- Limited-service restaurants per 10k people: 6.8
- Total number of limited-service restaurants: 1,445
- Population: 2.11 million
- Famous food establishments with origins in New Mexico: Blake's Lotaburger
#40. Texas
- Limited-service restaurants per 10k people: 6.9
- Total number of limited-service restaurants: 20,219
- Population: 29.36 million
- Famous food establishments with origins in Texas: Whataburger, Taco Bueno, Church's Chicken, Cicis
#39. South Dakota
- Limited-service restaurants per 10k people: 6.9
- Total number of limited-service restaurants: 614
- Population: 890,000
- Famous food establishments with origins in South Dakota: Cluckin' Good Chicken (formerly Bob's Carryout and Delivery)
#38. Iowa
- Limited-service restaurants per 10k people: 6.9
- Total number of limited-service restaurants: 2,189
- Population: 3.16 million
- Famous food establishments with origins in Iowa: Maid-Rite, Pizza Ranch
#37. Florida
- Limited-service restaurants per 10k people: 6.9
- Total number of limited-service restaurants: 15,073
- Population: 21.73 million
- Famous food establishments with origins in Florida: Burger King
#36. Minnesota
- Limited-service restaurants per 10k people: 7.0
- Total number of limited-service restaurants: 3,937
- Population: 5.66 million
- Famous food establishments with origins in Minnesota: Dino's Mediterranean Fresh
#35. Maine
- Limited-service restaurants per 10k people: 7.0
- Total number of limited-service restaurants: 948
- Population: 1.35 million
- Famous food establishments with origins in Maine: Gifford's Famous Ice Cream
#34. Oklahoma
- Limited-service restaurants per 10k people: 7.0
- Total number of limited-service restaurants: 2,802
- Population: 3.98 million
- Famous food establishments with origins in Oklahoma: Sonic
#33. Montana
- Limited-service restaurants per 10k people: 7.2
- Total number of limited-service restaurants: 775
- Population: 1.08 million
- Famous food establishments with origins in Montana: Ford's Drive In
#32. Kansas
- Limited-service restaurants per 10k people: 7.2
- Total number of limited-service restaurants: 2,107
- Population: 2.91 million
- Famous food establishments with origins in Kansas: Pizza Hut, White Castle
#31. South Carolina
- Limited-service restaurants per 10k people: 7.3
- Total number of limited-service restaurants: 3,800
- Population: 5.22 million
- Famous food establishments with origins in South Carolina: Rush's, Zesto of West Columbia
#30. Missouri
- Limited-service restaurants per 10k people: 7.3
- Total number of limited-service restaurants: 4,497
- Population: 6.15 million
- Famous food establishments with origins in Missouri: Panera Bread, Lion's Choice
#29. Connecticut
- Limited-service restaurants per 10k people: 7.3
- Total number of limited-service restaurants: 2,616
- Population: 3.56 million
- Famous food establishments with origins in Connecticut: Subway
#28. North Carolina
- Limited-service restaurants per 10k people: 7.4
- Total number of limited-service restaurants: 7,824
- Population: 10.60 million
- Famous food establishments with origins in North Carolina: Bojangles, Cook Out, Hardee's
#27. Indiana
- Limited-service restaurants per 10k people: 7.4
- Total number of limited-service restaurants: 5,010
- Population: 6.75 million
- Famous food establishments with origins in Indiana: Papa John's
#26. Oregon
- Limited-service restaurants per 10k people: 7.5
- Total number of limited-service restaurants: 3,185
- Population: 4.24 million
- Famous food establishments with origins in Oregon: Papa Murphy's
#25. Colorado
- Limited-service restaurants per 10k people: 7.5
- Total number of limited-service restaurants: 4,371
- Population: 5.81 million
- Famous food establishments with origins in Colorado: Chipotle Mexican Grill, Qdoba, Quiznos
#24. Nebraska
- Limited-service restaurants per 10k people: 7.5
- Total number of limited-service restaurants: 1,464
- Population: 1.94 million
- Famous food establishments with origins in Nebraska: Runza
#23. Illinois
- Limited-service restaurants per 10k people: 7.6
- Total number of limited-service restaurants: 9,515
- Population: 12.59 million
- Famous food establishments with origins in Illinois: McDonald's, Dairy Queen, Jimmy John's, Steak 'n Shake
#22. Massachusetts
- Limited-service restaurants per 10k people: 7.6
- Total number of limited-service restaurants: 5,222
- Population: 6.89 million
- Famous food establishments with origins in Massachusetts: Dunkin' Donuts, Einstein Bros. Bagels, Boston Market
#21. New Jersey
- Limited-service restaurants per 10k people: 7.6
- Total number of limited-service restaurants: 6,755
- Population: 8.88 million
- Famous food establishments with origins in New Jersey: Blimpie
#20. Pennsylvania
- Limited-service restaurants per 10k people: 7.6
- Total number of limited-service restaurants: 9,772
- Population: 12.78 million
- Famous food establishments with origins in Pennsylvania: Auntie Anne's
#19. Kentucky
- Limited-service restaurants per 10k people: 7.7
- Total number of limited-service restaurants: 3,437
- Population: 4.48 million
- Famous food establishments with origins in Kentucky: KFC, Long John Silver's, Rally's (of Checkers and Rally's)
#18. Tennessee
- Limited-service restaurants per 10k people: 7.7
- Total number of limited-service restaurants: 5,329
- Population: 6.89 million
- Famous food establishments with origins in Tennessee: Krispy Kreme, Krystal, Captain D's
#17. Utah
- Limited-service restaurants per 10k people: 7.8
- Total number of limited-service restaurants: 2,534
- Population: 3.25 million
- Famous food establishments with origins in Utah: Iceburger Drive Inn
#16. Arkansas
- Limited-service restaurants per 10k people: 7.8
- Total number of limited-service restaurants: 2,364
- Population: 3.03 million
- Famous food establishments with origins in Arkansas: David's Burgers
#15. Virginia
- Limited-service restaurants per 10k people: 7.9
- Total number of limited-service restaurants: 6,757
- Population: 8.59 million
- Famous food establishments with origins in Virginia: Five Guys
#14. New Hampshire
- Limited-service restaurants per 10k people: 7.9
- Total number of limited-service restaurants: 1,083
- Population: 1.37 million
- Famous food establishments with origins in New Hampshire: Moe's Italian Sandwiches
#13. West Virginia
- Limited-service restaurants per 10k people: 7.9
- Total number of limited-service restaurants: 1,408
- Population: 1.78 million
- Famous food establishments with origins in West Virginia: Tudor's Biscuit World
#12. Delaware
- Limited-service restaurants per 10k people: 7.9
- Total number of limited-service restaurants: 785
- Population: 990,000
- Famous food establishments with origins in Delaware: Wings To Go
#11. California
- Limited-service restaurants per 10k people: 8.0
- Total number of limited-service restaurants: 31,473
- Population: 39.37 million
- Famous food establishments with origins in California: In-N-Out, Taco Bell, Jack in the Box, Panda Express, Carl's Jr., Del Taco
#10. Georgia
- Limited-service restaurants per 10k people: 8.2
- Total number of limited-service restaurants: 8,749
- Population: 10.71 million
- Famous food establishments with origins in Georgia: Chic-fil-A, Waffle House, Zaxby's
#9. Mississippi
- Limited-service restaurants per 10k people: 8.2
- Total number of limited-service restaurants: 2,446
- Population: 2.97 million
- Famous food establishments with origins in Mississippi: Bumpers Drive-In of America
#8. Ohio
- Limited-service restaurants per 10k people: 8.4
- Total number of limited-service restaurants: 9,807
- Population: 11.69 million
- Famous food establishments with origins in Ohio: Wendy's, Arby's
#7. Nevada
- Limited-service restaurants per 10k people: 8.4
- Total number of limited-service restaurants: 2,645
- Population: 3.14 million
- Famous food establishments with origins in Nevada: Don Tortaco
#6. Louisiana
- Limited-service restaurants per 10k people: 8.4
- Total number of limited-service restaurants: 3,922
- Population: 4.65 million
- Famous food establishments with origins in Louisiana: Raising Cane's, Popeyes Louisiana Kitchen
#5. Rhode Island
- Limited-service restaurants per 10k people: 8.5
- Total number of limited-service restaurants: 906
- Population: 1.06 million
- Famous food establishments with origins in Rhode Island: Del's Frozen Lemonade, Walt's Roast Beef, Olneyville New York System
#4. Maryland
- Limited-service restaurants per 10k people: 8.9
- Total number of limited-service restaurants: 5,382
- Population: 6.06 million
- Famous food establishments with origins in Maryland: Jerry's Subs and Pizza
#3. New York
- Limited-service restaurants per 10k people: 8.9
- Total number of limited-service restaurants: 17,178
- Population: 19.34 million
- Famous food establishments with origins in New York: Shake Shack, Sbarro
#2. Alabama
- Limited-service restaurants per 10k people: 9.0
- Total number of limited-service restaurants: 4,442
- Population: 4.92 million
- Famous food establishments with origins in Alabama: Milo's Hamburgers, Checkers (of Checkers and Rally's), Jack's
#1. Hawaii
- Limited-service restaurants per 10k people: 10.2
- Total number of limited-service restaurants: 1,444
- Population: 1.41 million
- Famous food establishments with origins in Hawaii: Zippy's