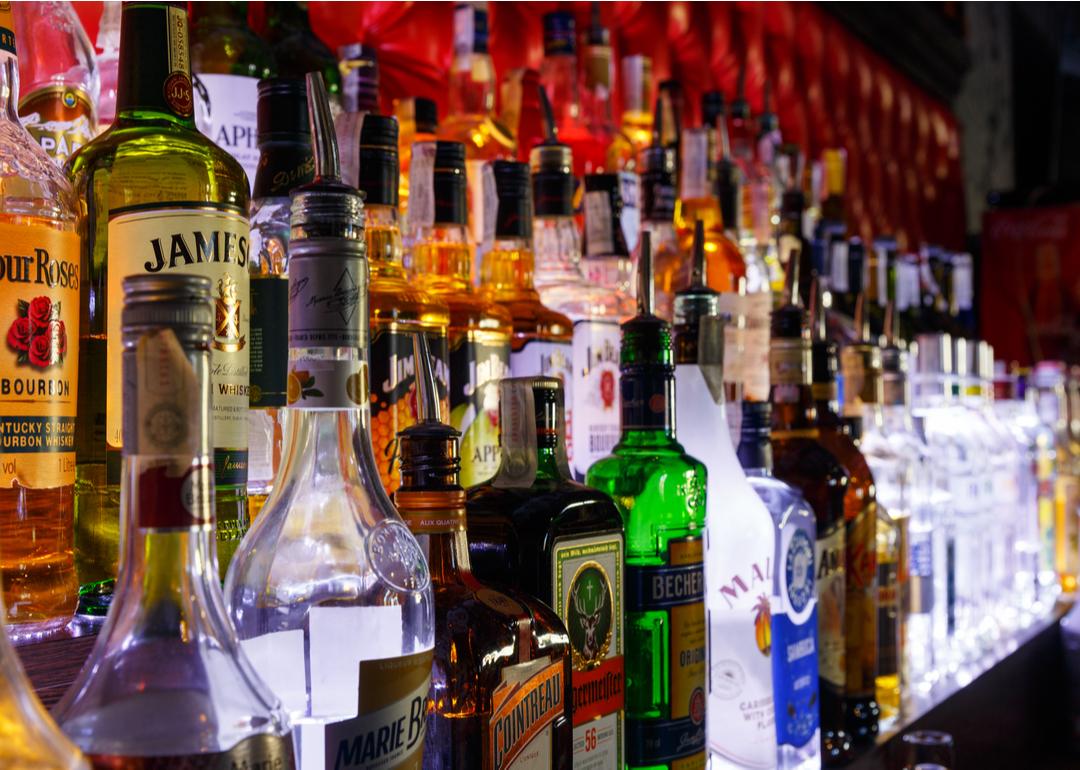 Most popular spirits in the US in 2021
Most popular spirits in the US in 2021
"I need a drink!" Whether expressed ruefully or with exuberance, this familiar refrain has become part of the American lexicon—both for good and for ill. People drink for all sorts of reasons—to get a little creative kick or to assuage social anxiety, to celebrate meaningful events, or to mourn the passing of friends and family.
America's relationship with alcohol dates back to the 1700s, when it was not uncommon for someone to start the day with a drink or to have rum or hard cider with every meal. Despite brief periods of prohibition, alcohol consumption has remained a component part of American life. A 2019 study estimated that 69.5% of Americans had taken a drink in the prior year, and nearly 55% had done so in the prior month.
Despite the growing popularity of Dry January, an initiative begun in 2012 by Alcohol Change UK as a testing ground for people striving toward sobriety, the alcohol market continues to expand. According to IBISWorld, the U.S. market for alcoholic beverages of all kinds is presently estimated at $72.5 billion, having shown 4.5% growth since 2017. Spirits sales alone were up 4.6% in 2020, the biggest single-year increase since 1990, and the industry overall is expected to grow by a further 1.3% in 2022 with no sign of slowing down.
Supply chain issues and pandemic-related demand have conflated to drive prices up amid stock availability concerns. IRI Worldwide's latest data report shows that alcoholic beverages were running 16% out of stock at U.S. stores as of Jan. 16, 2022. This was an increase of 5% just since Jan. 2. These figures can, in significant part, be attributed to consumers making fewer trips to stores due to fear of exposure to COVID-19, and instead stockpiling their favorite spirits during the outings they do make.
Consumers have thousands of brands to choose from when it comes to libations—but some are simply more popular and preferred than others. Stacker used YouGov Ratings data to find the most popular spirits in the United States at the end of 2021. Percentages are from a nationally representative survey panel, where the score is calculated by taking the proportion of people who view something positively and showing it as a percentage of all of the people who have given any opinion about that category, including "have heard of."
So, cheers, "sláinte," "na zdrowie," and here's how … these are the most popular spirits in the nation as of 2021.
You may also like: The cost of a beer the year you turned 21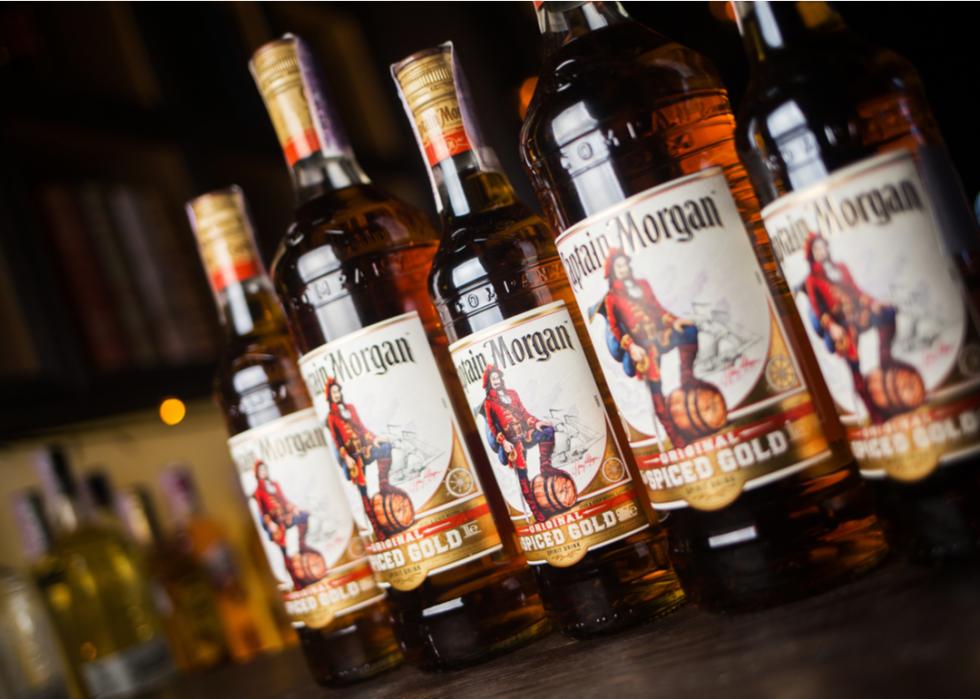 1 / 10
#10. Captain Morgan
- 44% of people in U.S. have favorable opinions of this spirit
- 86% have heard of this spirit
Though it has more than a dozen products on store shelves, Captain Morgan is most well known for its Original Spiced Rum. The company has made a success of its marketing campaign that asks, with a saucy flourish, "Got a little Captain in you?" The brand name derives from real-life 17th-century buccaneer Henry Morgan, a Welsh seagoer who made a name for himself defending British interests in the West Indies. Today, the label is among the most successful in the United States, with 2020 sales totalling more than 5.5 million 9-liter cases. In 2021, Captain Morgan's parent company Diageo was named the first official spirits sponsor of the National Football League.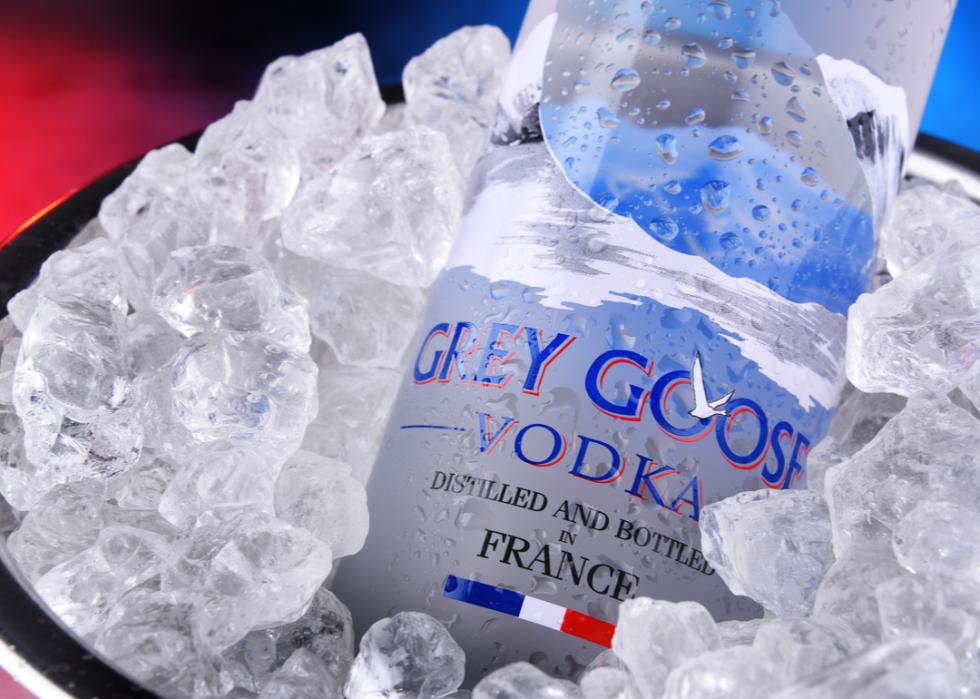 2 / 10
monticello // Shutterstock
#9. Grey Goose
- 46% of people in U.S. have favorable opinions of this spirit
- 82% have heard of this spirit
New to the spirits marketplace relative to other vodkas on this list, Grey Goose has nonetheless rocketed to prominence since its debut in 1997. French cognac maker François Thibault is primarily responsible for Grey Goose's development, after partnering with liquor importer Sidney E. Frank to create a luxury vodka for the U.S. market. The brand has successfully positioned itself as a "clean label" vodka with claims that include its being gluten-free, made with fully sourceable ingredients from the French regions of Picardy and Gensac-La-Pallue, and subject to only a single distillation process before bottling.
While its traditional vodka remains king of its brand identity, Grey Goose continues to innovate with new releases, including a line of what it calls Essences, which are infused with fruit and various botanical extracts.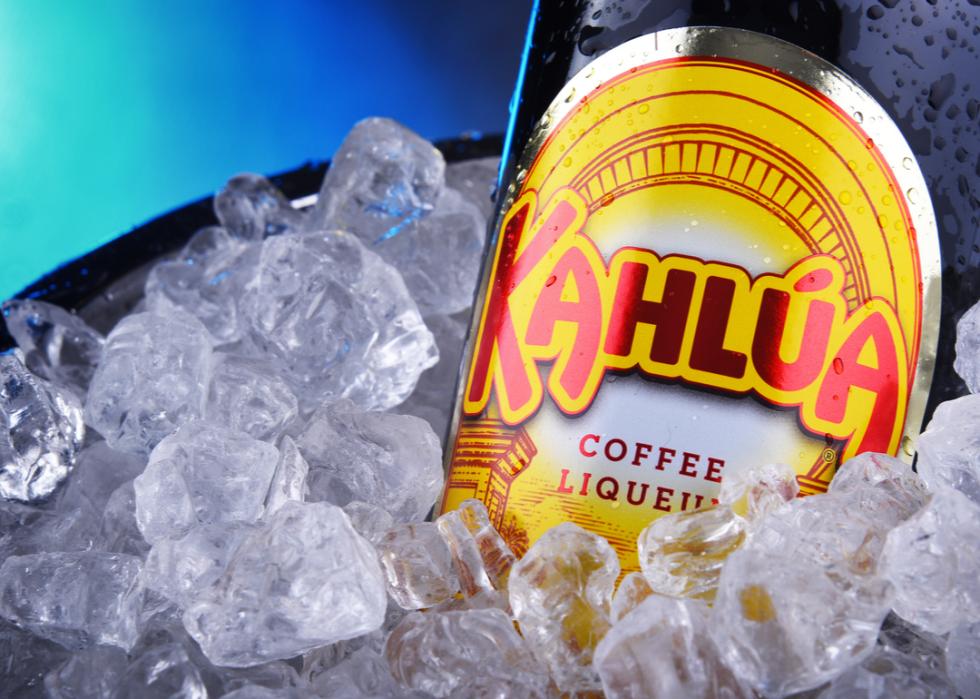 3 / 10
monticello // Shutterstock
#8. Kahlúa
- 47% of people in U.S. have favorable opinions of this spirit
- 78% have heard of this spirit
This coffee liqueur has been around since 1936—though now it's not entirely what it once was. Kahlúa was a 53 proof product until 2004, when it was reformulated and its alcohol content was reduced to 20%, or 40 proof. The liqueur is composed of 100% arabica coffee beans and sugar cane-based rum, and producer Pernod Ricard claims it takes up to seven years to produce each bottle, from farm to final product. In 2019, the company announced a goal to use 100% sustainable coffee beans by 2022.
Among the signature cocktails that include Kahlúa is the White Russian, first concocted in 1955, and subsequently featured in innumerable advertising campaigns, as well as TV shows and feature films—of note in recent years is the affection Jeffrey "The Dude" Lebowski has for what he calls a "causasian," in the award-winning cult classic "The Big Lebowski."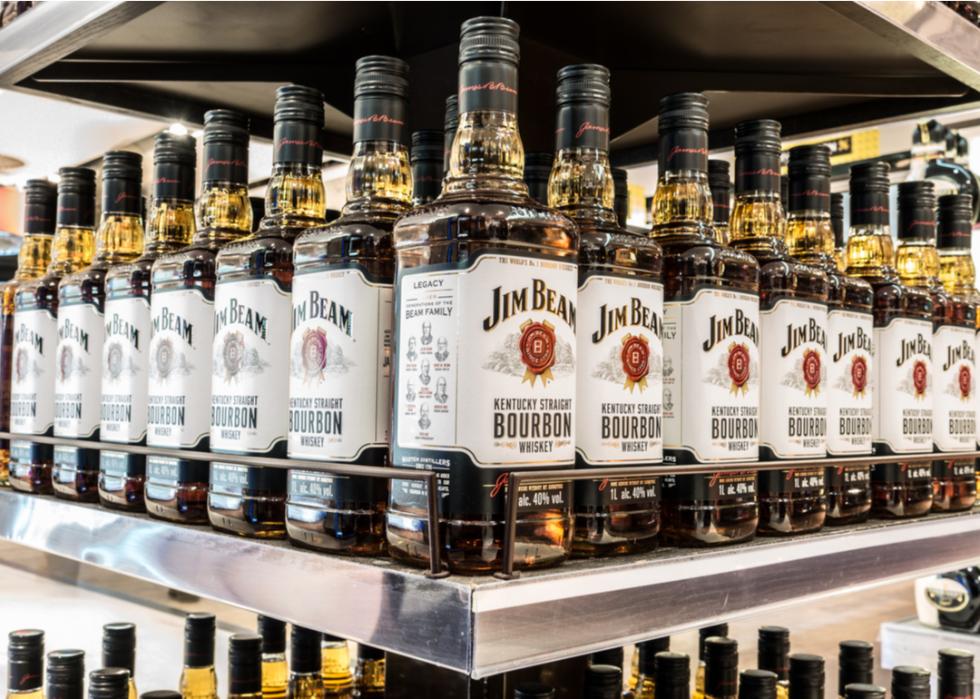 4 / 10
Grzegorz Czapski // Shutterstock
#7. Jim Beam
- 47% of people in U.S. have favorable opinions of this spirit
- 91% have heard of this spirit
The James B. Beam Distilling Co. has been producing certified Kentucky straight bourbon in Clermont, Kentucky, since 1795—that's eight generations of Beams and counting. First introduced to the world as Old Jake Beam Sour Mash, Jim Beam has retained its cache in the world of spirits. The company's lineup of bourbons has grown significantly over the years and now includes familiar names like Knob Creek and Old Crow, as well as premium labels such as Basil Hayden's, but the original is still the most preferred among them. In 2012, the Jim Beam American Stillhouse, a faithful replication of a 1940s-era stillhouse, was opened in Clermont, offering tours and whiskey sampling year-round.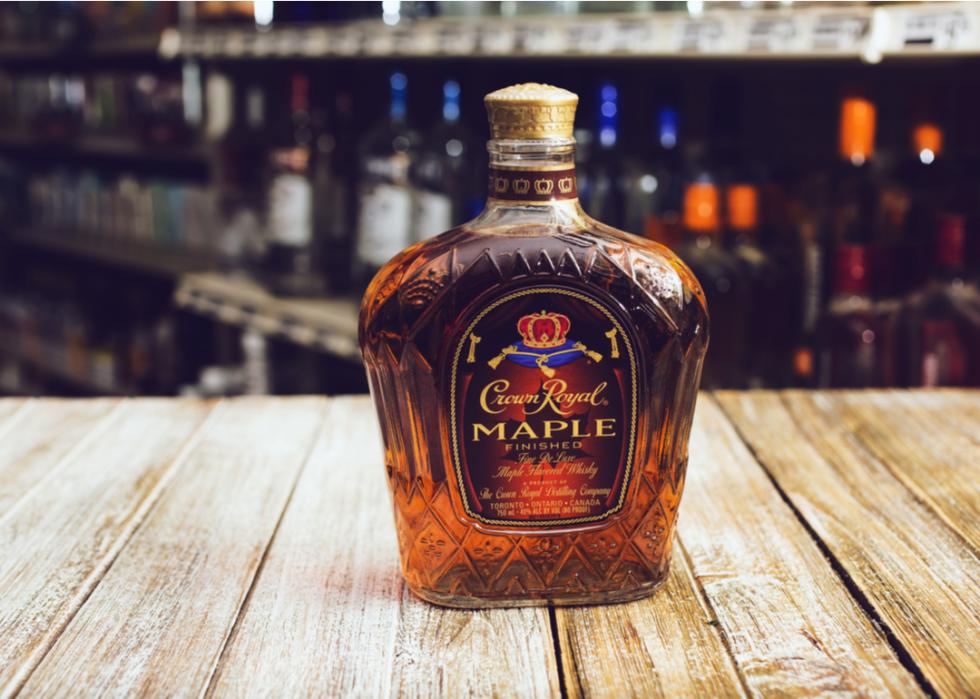 5 / 10
TonelsonProductions // Shutterstock
#6. Crown Royal
- 48% of people in U.S. have favorable opinions of this spirit
- 88% have heard of this spirit
This blended Canadian whiskey did not hit the U.S. market until 1964, but swiftly took the American palette by storm and today is the country's top-selling Canadian whiskey. The label's origin is truly "royal." Employing a blend of some 50 whiskeys, distiller Seagram crafted Crown Royal in 1939, in honor of King George VI and Queen Elizabeth's tour of Canada, the first by a sitting head of the British monarchy.
Today, Crown Royal is available in Signature, Master, and Flavor series, and each variation comes in its own trademark colored bag—the most famous of which is the royal purple and gold of the Crown Royal Deluxe, the very same blend first presented to the king and queen. At the 2022 Canadian Whiskey Awards, Crown Royal Noble Collection Winter Wheat was named best Canadian whiskey and whiskey of the year.
You may also like: 50 delicious slow cooker recipes that will warm you up this winter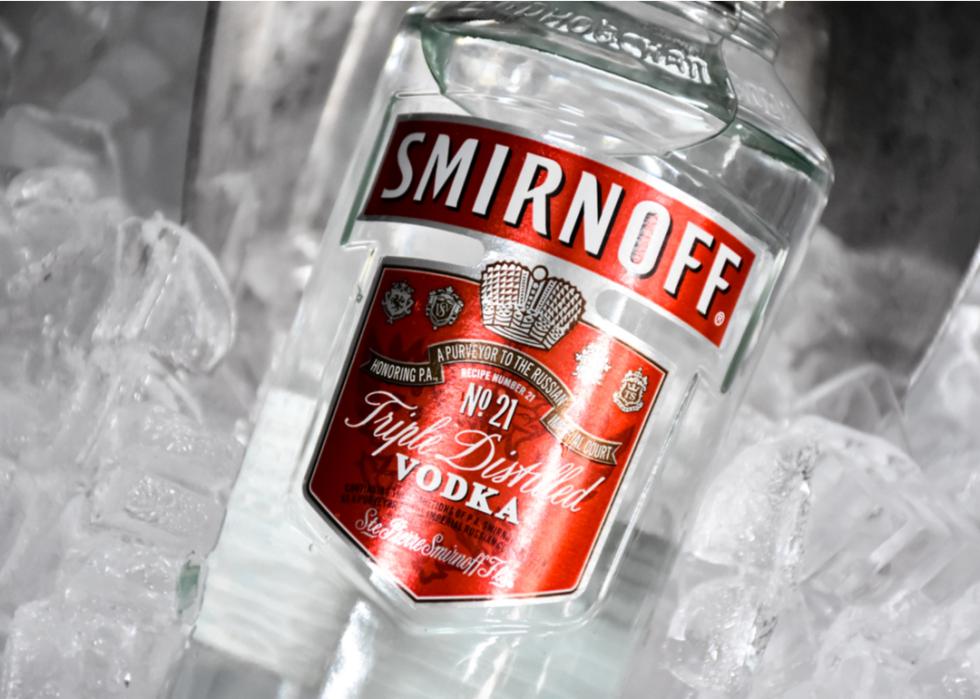 6 / 10
Patcharaporn Puttipon2465 // Shutterstock
#5. Smirnoff
- 48% of people in U.S. have favorable opinions of this spirit
- 94% have heard of this spirit
Smirnoff is the most widely recognized vodka brand in the world, sold in more than 130 countries. According to the company, Smirnoff's origins can be traced to distiller P.A. Smirnov, who in 1864 first distilled the brand's traditional Recipe 21 red label vodka by passing it through a series of charcoal columns in a process that came to be known as the St. Petersburg model. Today, Smirnoff is available in a wide array of flavors and infusions, and has even boarded the zero sugar bandwagon with its line of zero sugar infusions and flavored seltzers. But the brand's most sustained mass success began in 1999 with the introduction of Smirnoff Ice, a malt beverage that blends Smirnoff vodka with natural fruit flavors—and has also generated an ironic reputation as being famously bad to drink.
Among the popular drinks featuring Smirnoff is the Moscow mule, which was first concocted in 1941 and successfully marketed throughout the 1950s and 1960s, and today remains one of the most ordered cocktails.
7 / 10
monticello // Shutterstock
#4. Seagram's
- 49% of people in U.S. have favorable opinions of this spirit
- 87% have heard of this spirit
Seagram's Distilling Company was once one of the largest multinationals in the entire world. At one point, the company was so big it branched out of the beverage business and took ownership of Universal Studios and its theme parks. In 2000, the company went defunct and sold off its core business, and now its vast lineup of liquors and pre-mixed cocktail drinks are produced by multiple companies including Pernod Ricard, Diageo, and the Coca-Cola Co.
Still one of the most recognized brands among tipplers, Seagram's is most well known for its Extra Dry Gin, Seven Crown blended American whiskey—the core component of the popular 7 and 7 cocktail—and Escapes, a line of low-alcohol premix malt beverages that come in 20 flavor varieties. Fun fact: The landmarked Seagram Building in New York was designed by famed architect Ludwig Mies van der Rohe.
8 / 10
monticello // Shutterstock
#3. Baileys
- 51% of people in U.S. have favorable opinions of this spirit
- 85% have heard of this spirit
It would seem that there is no cocktail or sweet treat you couldn't make with Baileys. From traditional Irish coffee to cheesecake to ice cream sundaes and even martinis, Baileys is the go-to cream liquor for all manner of decadent mixology. Made in Ireland since 1974, Baileys employs more than 200 million liters of Irish milk each year to produce enough product to meet global demand. Baileys Original Irish Cream remains the top seller, but the company has expanded its product line to include a range of creamy flavors including salted caramel, strawberries and cream, apple pie, and even a dairy-free almond option.
A recent ad campaign leaned into the liquor's naughty drinkability by having a trio of witches—played by drag queens Tia Kofi, Veronica Green, and Asia Thorne—brew a devilish potion.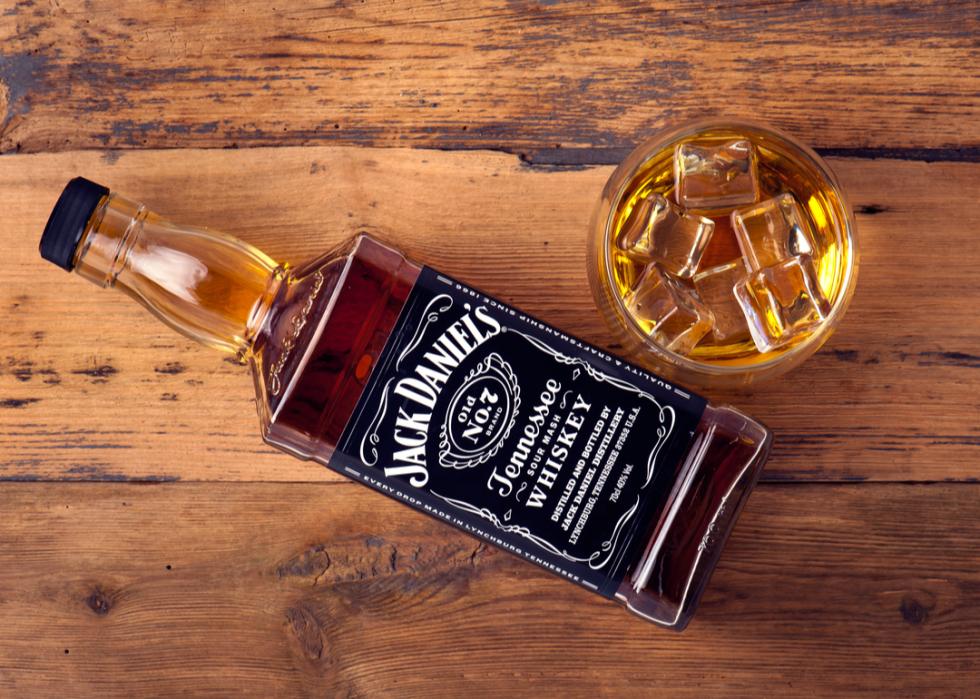 9 / 10
Jozef Sowa // Shutterstock
#2. Jack Daniel's
- 51% of people in U.S. have favorable opinions of this spirit
- 94% have heard of this spirit
As the most popular whiskey in the United States, Jack Daniel's is often mistakenly referred to as a bourbon, when in fact it is a Tennessee whiskey, the creation process for which is different than that for a Kentucky bourbon. Jack Daniel's is slow-filtered—literally drop by drop—through 10 feet of firmly packed charcoal made from hard sugar maple in a process that lasts up to five days. The original Jack Daniel Distillery was established in 1866, making it one of the oldest whiskey producers in the United States.
Its Old No. 7 remains the favorite, but Jack Daniel's has found further success with double-mellowed Gentleman Jack, a range of flavored whiskeys, and a limited line of canned premixes, among them the ever-popular Jack and Cola. This particular pairing inspired the country song "Jack and Coke" by Lynda Kay. The highball mixture was so popular with the late Lemmy Kilmister, the heavy metal rocker and notorious raconteur, that more than 40,000 rock fans petitioned and secured the support of Food & Beverage magazine to rename the drink a "Lemmy."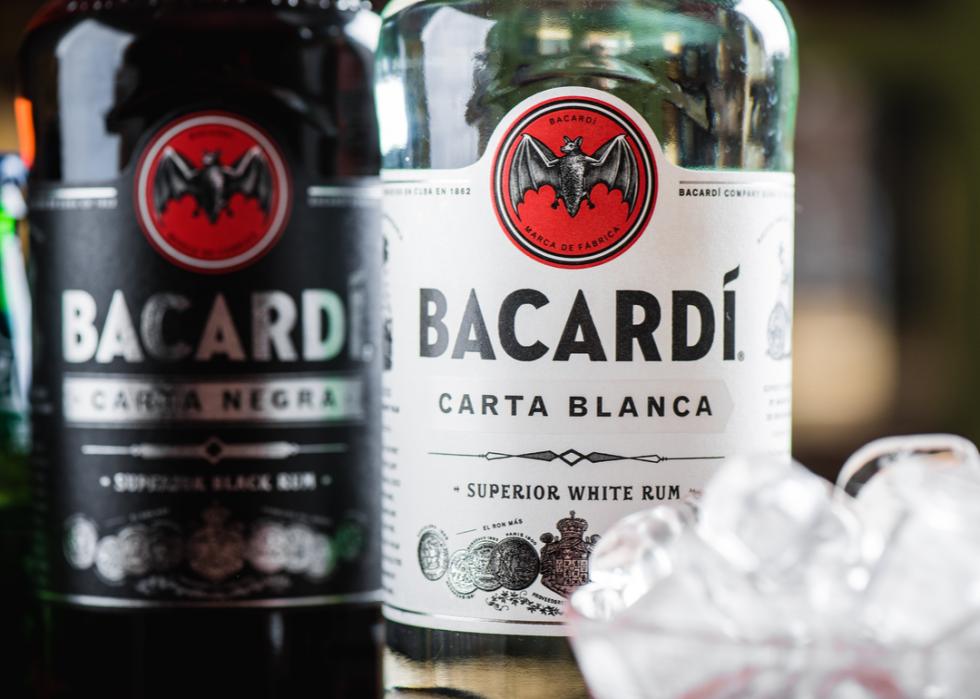 10 / 10
Leron Ligred // Shutterstock
#1. Bacardi
- 54% of people in U.S. have favorable opinions of this spirit
- 93% have heard of this spirit
With ad campaigns that seek to inspire people to "Do What Moves You," Bacardi has a long history of successful advertising—so much so that for many people who like a good cocktail, Bacardi rum and summer go hand-in-hand—even in the winter. Bacardi's line of rums are made from just three ingredients—molasses from sugar cane, yeast and water—a short list that has not changed since founder Don Facundo Bacardí Massó made the very first batch in Santiago de Cuba in 1862.
The company's deft ability to market itself was even able to make hay of supply chain shortages of hand sanitizer during the pandemic, as the company's Puerto Rico distillery provided ethanol to Olein Refinery for the mass production of sanitizer to be distributed to postal service workers, firefighters, and police officers. Even more recently, Bacardi partnered with star Michael B. Jordan for a short film, "The Angel's Share," that ties Jordan's family history with the production of rum and its role in contemporary culture.
You may also like: Biggest pizza chains in America