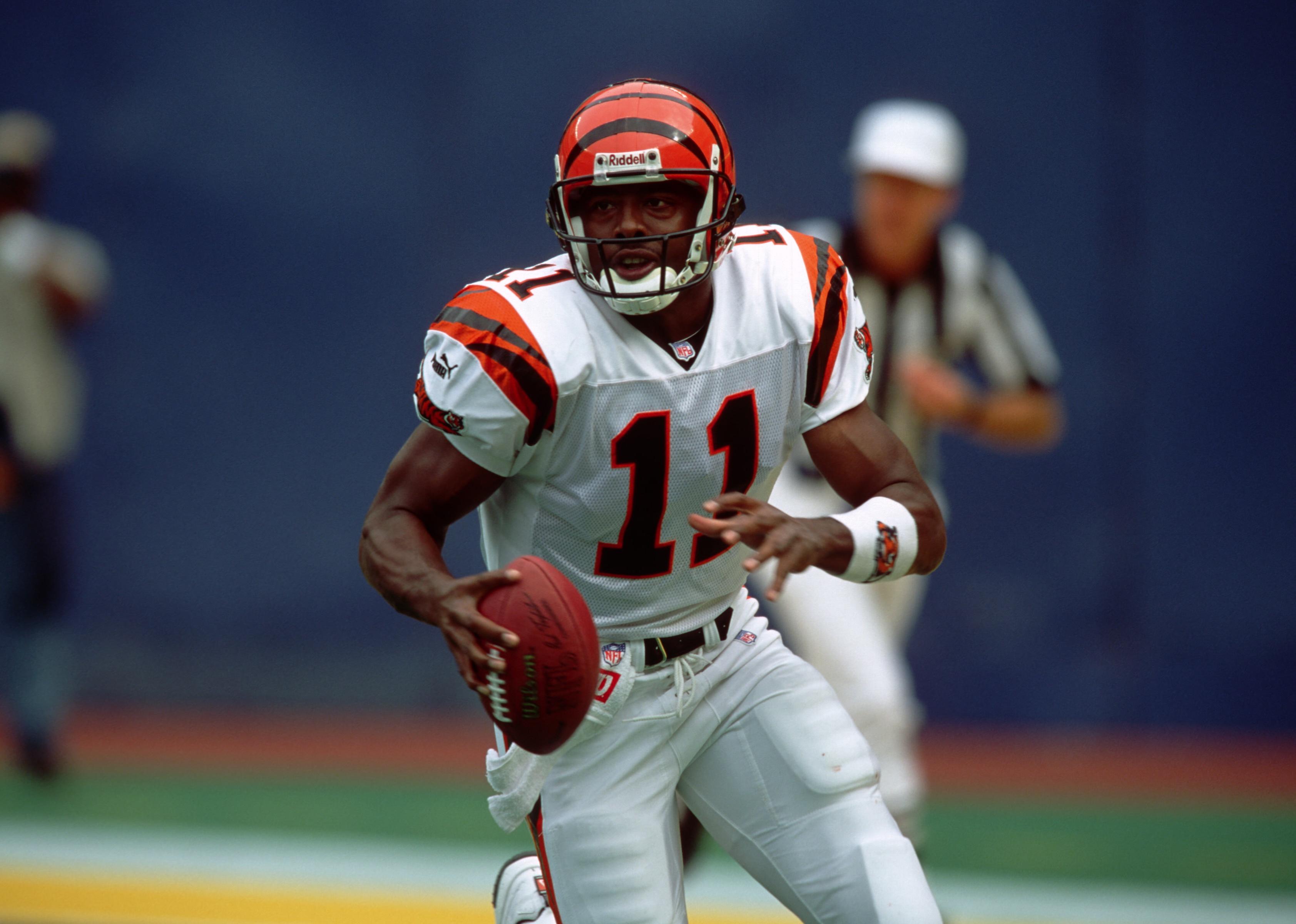 10 worst NFL draft busts in history
George Gojkovich // Getty Images
10 worst NFL draft busts in history
Every child who wears a helmet and shoulder pads dreams of playing in the NFL. Each year, more than 250 college football players hope to hear their names called during the annual NFL draft. For blue-chip prospects, there are expectations to be great especially if they were top picks. A slew of those players, however, fail to meet those expectations, causing them to be considered draft busts.
To see how well players lived up to their potential and how keen drafters really were, Stacker ranked the 10 worst draft busts in NFL history using data from Pro-Football-Reference.com. Players were ranked by taking their career approximate value—a holistic metric that rates players on a variety of statistics—and subtracting it from the expected career AV for the position they were drafted at.
For instance, a player drafted #1 overall would have an expected career AV of 63.4. If a #1 draft pick only had a career AV of 10, they would be rated at -53.4 for the purposes of this ranking. Only players drafted after the NFL-AFL merger in 1970 were ranked. Players drafted in 2017 or later were also excluded as they have yet to play a meaningful number of seasons.
Beyond ranking individual players, this data set can be used to compare teams leaguewide. On a team level, the Pittsburgh Steelers have proven to be one of the best drafters in the NFL—the franchise's draft picks have earned a cumulative career AV of 1524 over what you'd expect since 1970. That's more than double the next-best team (players drafted by the Miami Dolphins have a cumulative career AV 695 above their draft pick expectation). On the other hand, the Steelers' rivals, the Cleveland Browns, rank the worst by far in the league with their draft picks earning a career AV of 1300 under expected.
This data can also be used to track college success versus draft position. Players drafted out of the University of Miami have earned a cumulative AV 651 over what's expected for their draft positions, beating out the likes of the Pitt Panthers (595 over expected) and the California Golden Bears (562 over expected).
The University of Oklahoma alumni do the worst—former Sooners have a cumulative AV 1036 under expected—while the Nebraska Cornhuskers (650 under expected) and the Alabama Crimson Tide (587 under expected) draftees also struggle to match their draft expectations.
Without further ado, here's the list of the 10 worst draft busts in NFL history.