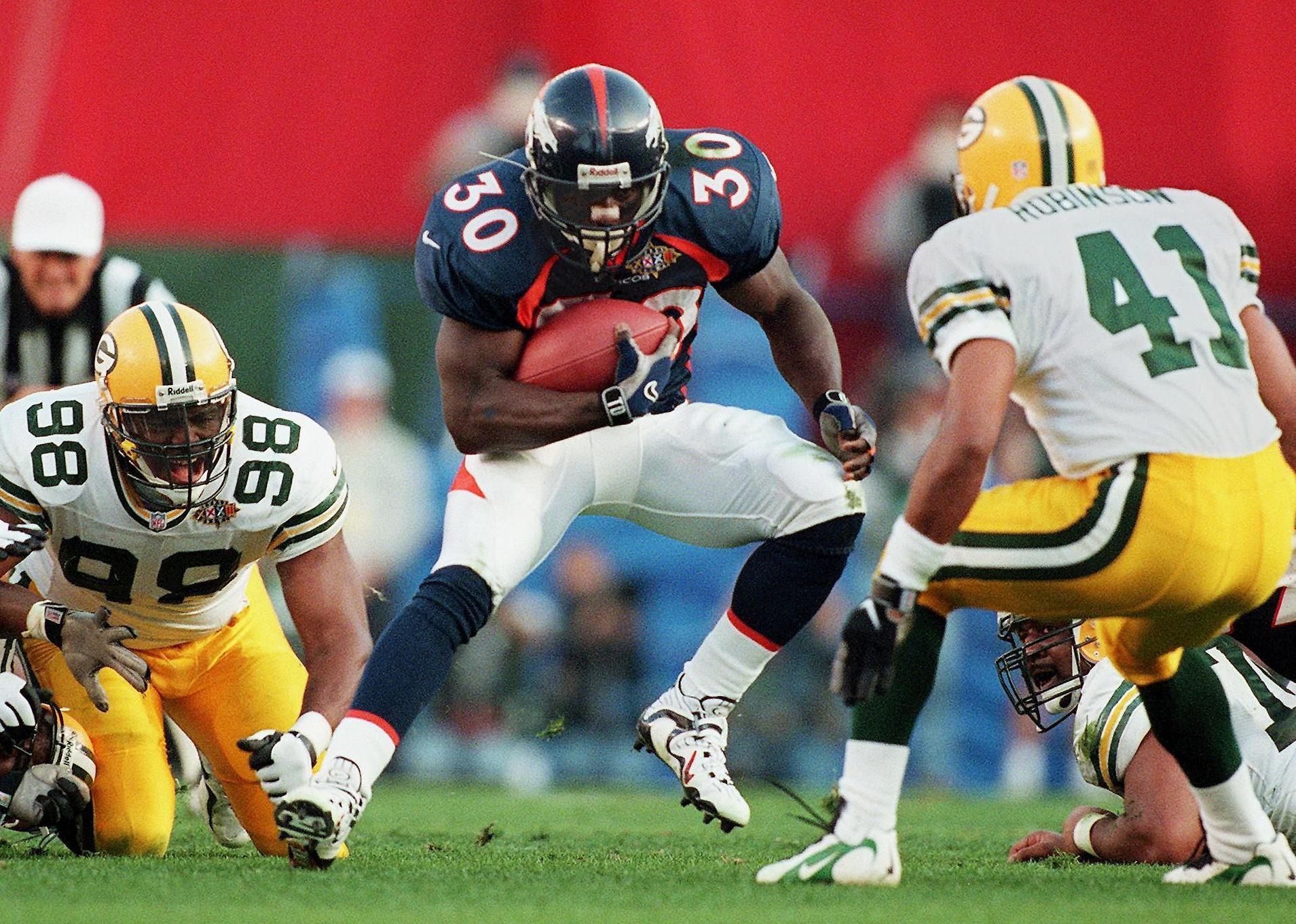 Biggest upsets in Super Bowl history
DON EMMERT // Getty Images
Biggest upsets in Super Bowl history
Everyone loves a good underdog story and a National Football League upset, especially in the Super Bowl. Whether your childhood team can win outright over a seemingly predetermined champion, you placed a wager on the underdog, or you seek a form of rooting interest for your private apathy toward the Big Game, there's a certain pleasure in watching the favorite go down. And throughout Super Bowl history, the underdog has taken home the title 17 times.
How do we quantify the biggest upsets in the Super Bowl? Emotion plays an indelible role in the leadup to Super Bowl Sunday—as you'll see with a 25-year-old Joe Namath—and passion undeniably pulses through halftime locker rooms as teams look to mount comebacks or pull trick plays to swing momentum. But for this list we'll check our clichés at the door and consider the odds alone using data from Vegas Insider to rank them from lowest to highest point spread.
For instance, recency bias and the improbability of a backup quarterback beating Tom Brady has many recalling the Eagles' surprise 2018 victory over the Patriots. But gamblers will tell you that oddsmakers set Philadelphia as just four-point underdogs, so the result was hardly shocking. If you go back to 2002, however, you'll find a title game when a younger Brady and New England—both without a Super Bowl win at that point—sprung a huge upset as massive 14-point underdogs against the high-flying Rams.
For several other examples, check out this list covering NFL upsets and highlight-reel moments from the 1960s through the 2010s. From immaculate MVP performances to painfully infamous missed field goals and defensive plays that changed the outcome of both games and franchise histories, there is plenty below to reminisce about or learn for the first time.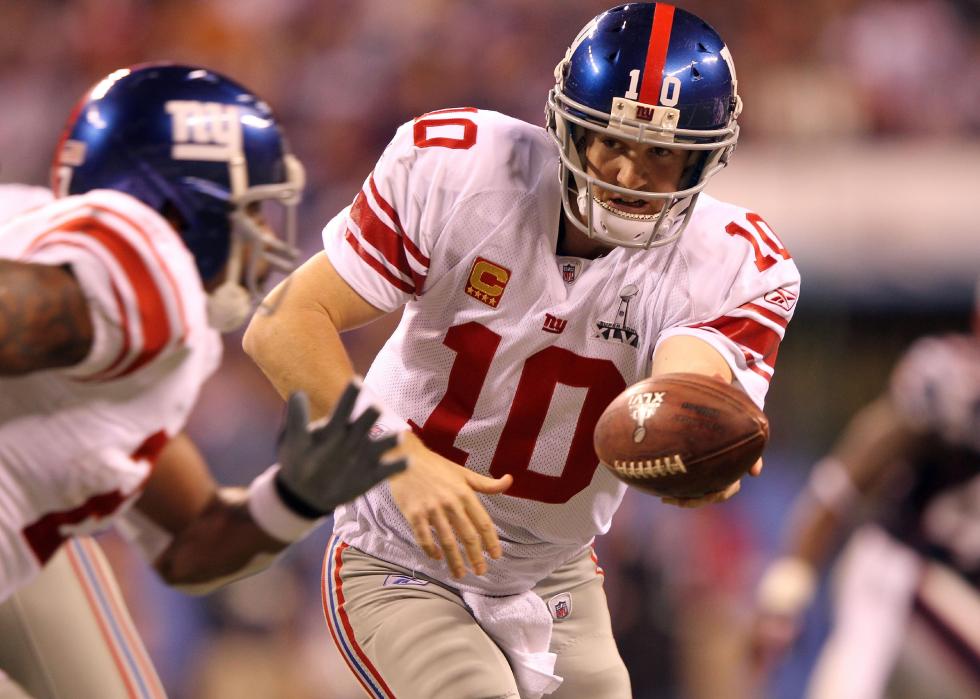 1 / 17
Jamie Squire // Getty Images
#16. 2012: New York Giants vs. New England Patriots (tie)
- Underdog: N.Y. Giants
- Spread: +2.5
- Score: N.Y. Giants 21 New England Patriots 17
For the second time in five years, the New York Giants and Eli Manning upset Tom Brady and the New England Patriots—though this iteration was objectively less shocking as the G-Men were less than field-goal underdogs. Nevertheless, the Giants overcame a 17-9 second-half deficit behind Manning's repeat MVP performance.
2 / 17
#16. 2014: Seattle Seahawks vs. Denver Broncos (tie)
- Underdog: Seattle Seahawks
- Spread: +2.5
- Score: Seattle Seahawks 43 Denver Broncos 8
Two years later, the Giants' home stadium played host to a cold-weather Super Bowl, when the 2.5-point Seahawks obliterated the Broncos by 35 points. Interestingly, despite the offensive outburst, it was linebacker Malcolm Smith (two interceptions, one for a touchdown) who was awarded MVP for his role in limiting Denver to just eight points.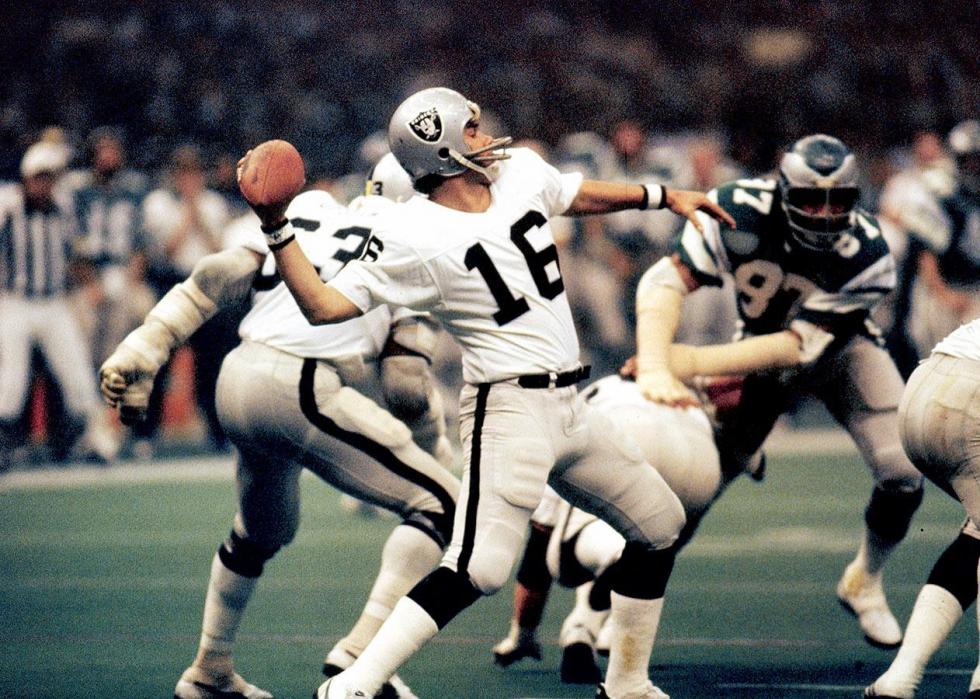 3 / 17
Sylvia Allen // Getty Images
#12. 1981: Oakland Raiders vs. Philadelphia Eagles (tie)
- Underdog: Oakland Raiders
- Spread: +3
- Score: Oakland Raiders 27 Philadelphia Eagles 10
Vegas made the Eagles a field-goal favorite for Super Bowl XV in New Orleans, but Philadelphia fell victim to a 14-0 opening quarter and never closed the gap, eventually trailing by as many as 21 and losing by 17. MVP Jim Plunkett propelled Oakland to the upset title—the first wild-card team to win the Super Bowl—with his 261 yards and three touchdowns.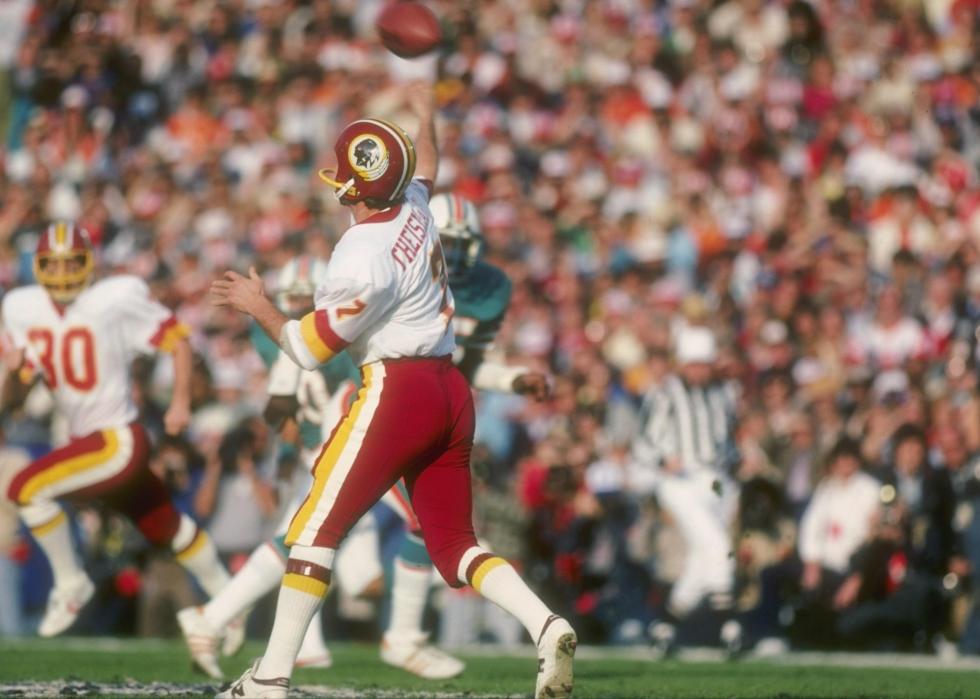 4 / 17
#12. 1983: Washington Redskins vs. Miami Dolphins (tie)
- Underdog: Washington Redskins
- Spread: +3
- Score: Washington Redskins 27 Miami Dolphins 17
John Riggns rushed for 166 yards and one score en route to Super Bowl XVII MVP, and his Washington side pulled a minor upset as three-point underdogs against the Dolphins. The Redskins shut out Miami in the second half, 17-0, after facing a seven-point halftime deficit.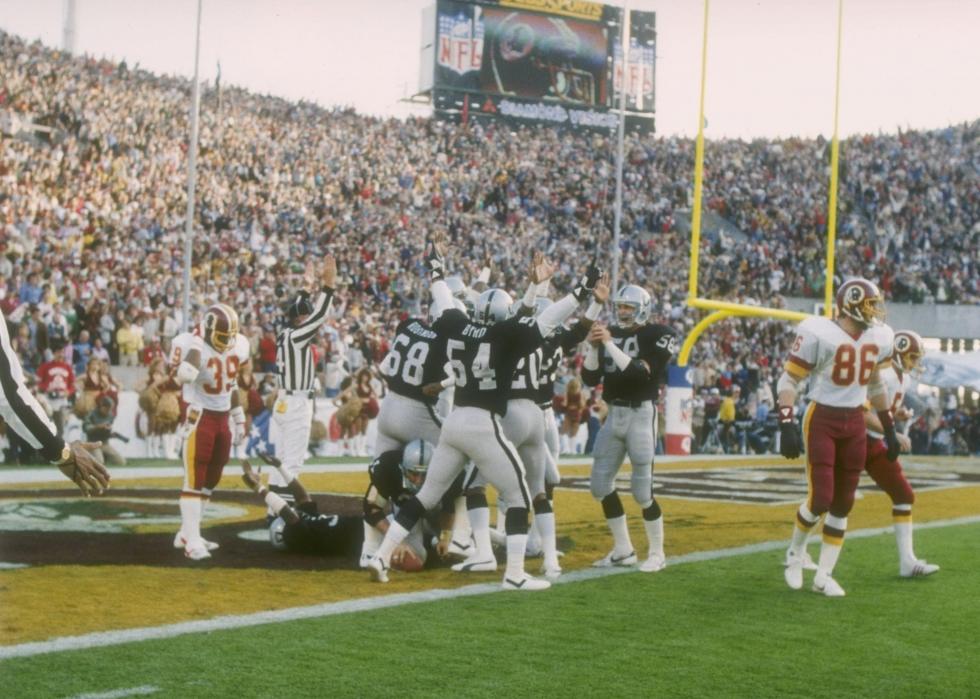 5 / 17
#12. 1984: Los Angeles Raiders vs. Washington Redskins (tie)
- Underdog: L.A. Raiders
- Spread: +3
- Score: L.A. Raiders 38 Washington Redskins 9
The Raiders walloped the Redskins by 29 points despite oddsmakers setting Washington as a field-goal favorite. L.A. led Super Bowl XVIII 21-3 at halftime and never looked back. MVP Marcus Allen ran the ball for 191 yards and two touchdowns.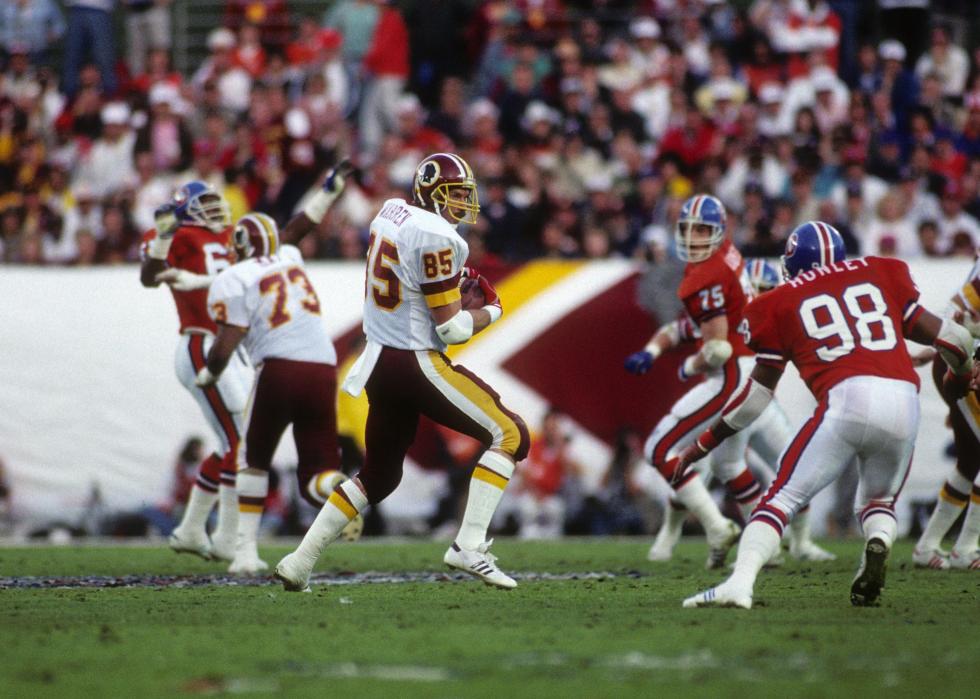 6 / 17
George Rose // Getty Images
#12. 1988: Washington Redskins vs. Denver Broncos (tie)
- Underdog: Washington Redskins
- Spread: +3
- Score: Washington Redskins 42 Denver Broncos 10
John Elway's Denver Broncos were three-point favorites at Super Bowl XXII in San Diego and looked well on their way after a 10-0 opening quarter. But Washington stormed back for six straight touchdowns to close out the game, including four from MVP quarterback Doug Williams—in the second quarter alone.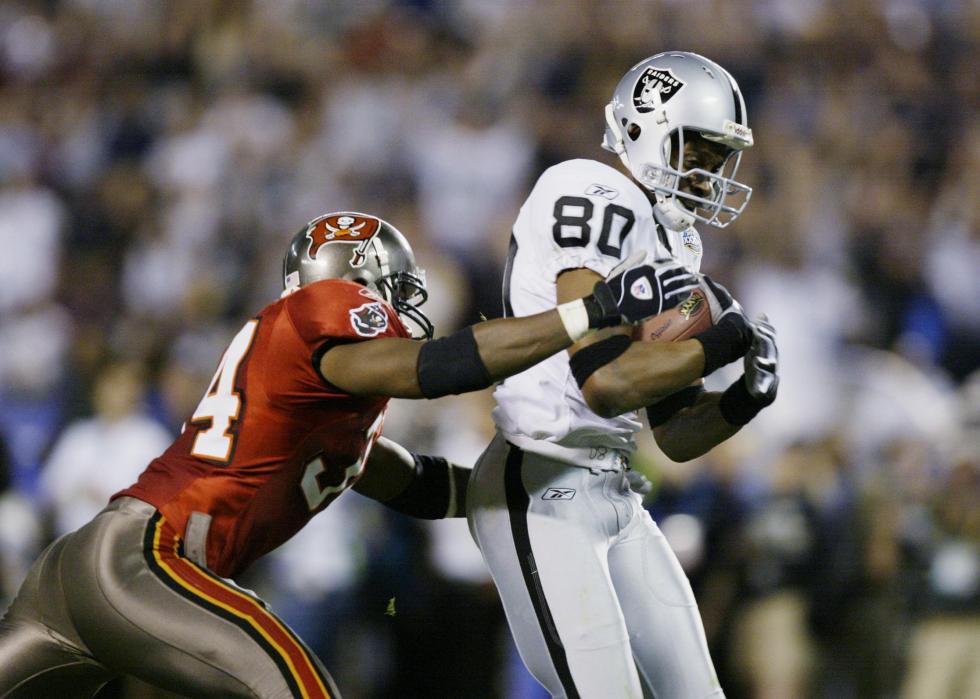 7 / 17
Donald Miralle // Getty Images
#10. 2003: Tampa Bay Buccaneers vs. Oakland Raiders (tie)
- Underdog: Tampa Bay Buccaneers
- Spread: +4
- Score: Tampa Bay Buccaneers 48 Oakland Raiders 21
Head coach Jon Gruden and his Tampa Bay Buccaneers sprung the four-point upset in Super Bowl XXXVII, and it felt sweeter coming against his former team. MVP safety Dexter Jackson recorded two interceptions, and Tampa pounded Oakland for 48 points.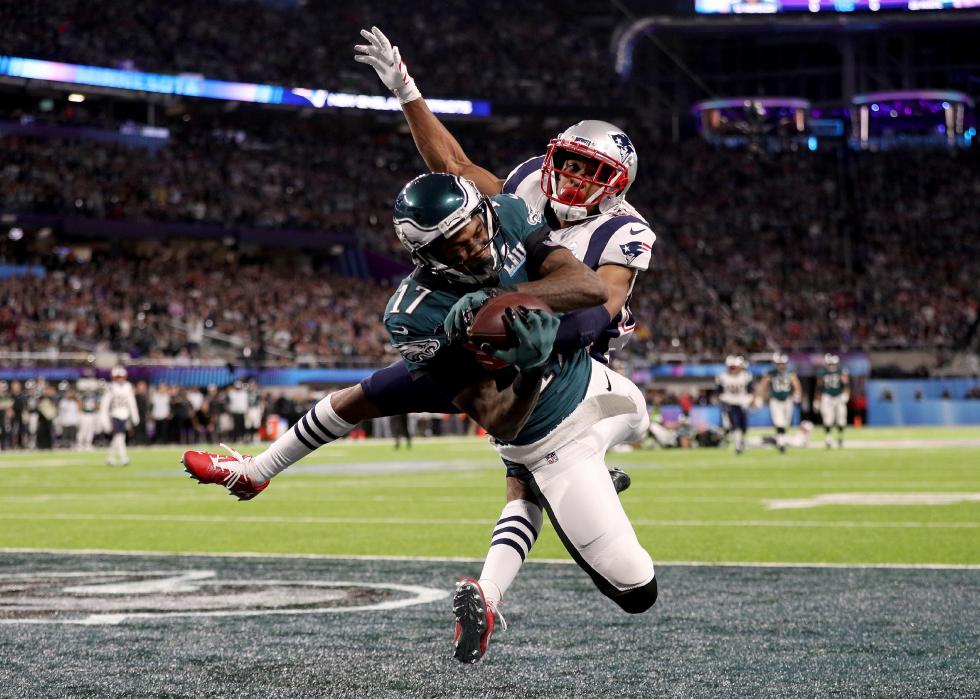 8 / 17
Patrick Smith // Getty Images
#10. 2018: Philadelphia Eagles vs. New England Patriots (tie)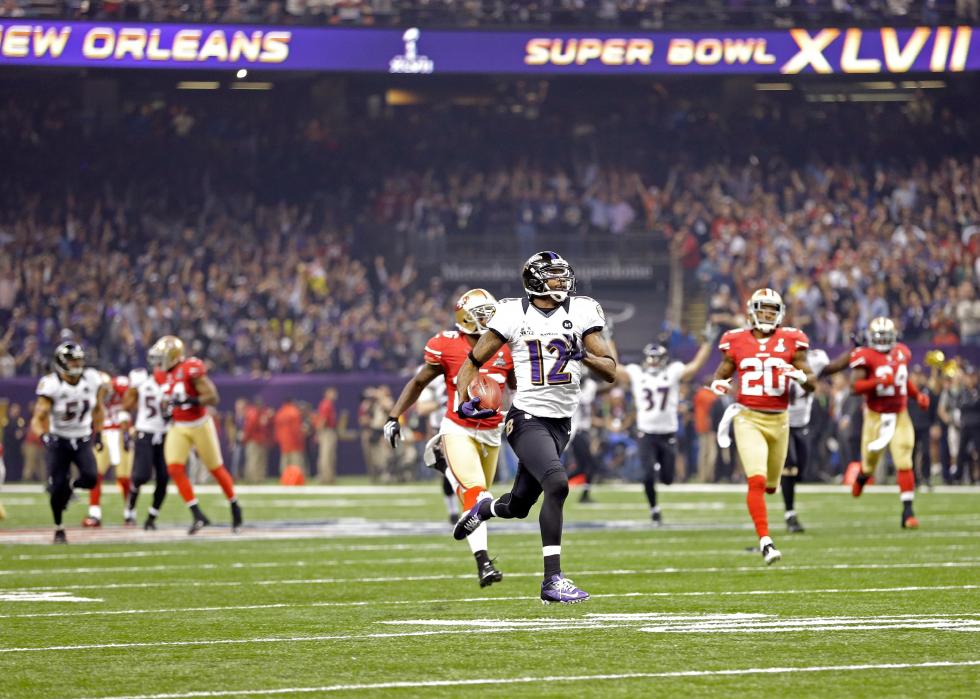 9 / 17
Ezra Shaw // Getty Images
#9. 2013: San Francisco 49ers vs. Baltimore Ravens
- Underdog: Baltimore Ravens
- Spread: +4.5
- Score: Baltimore Ravens 34 San Francisco 49ers 31
Super Bowl XLVII is remembered just as much for the 34-minute third-quarter blackout as it is for the Baltimore Ravens' victory as four-point underdogs. Behind MVP Joe Flacco's three first-half touchdown passes, Baltimore led 21-6 at the break, and 28-6 when the lights went out at the Mercedes-Benz Superdome. Colin Kaepernick and San Francisco scored 17 unanswered points but Baltimore hung on for a three-point win.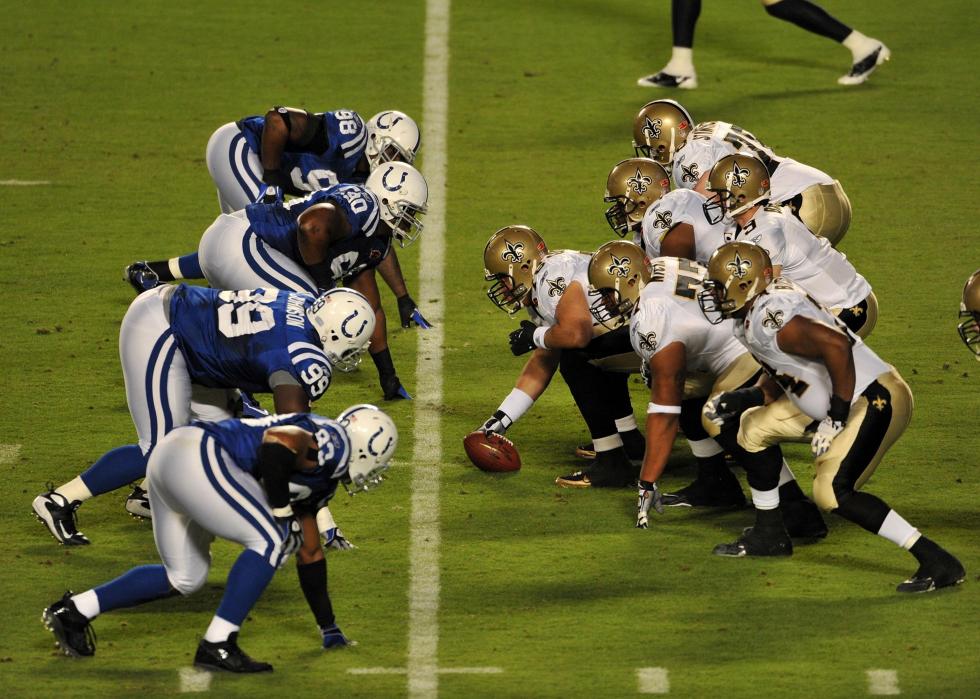 10 / 17
Larry French // Getty Images
#7. 2010: New Orleans Saints vs. Indianapolis Colts (tie)
- Underdog: New Orleans Saints
- Spread: +5
- Score: New Orleans Saints 31 Indianapolis Colts 17
Eventual MVP Drew Brees and the Saints were installed as five-point underdogs in Super Bowl XLIV, and in fairness they were up against Peyton Manning's Colts, trailing 10-6 at the break, and kicking the ball back to Indianapolis to start the second half. But head coach Sean Payton called for a surprise onside kick that New Orleans successfully recovered and drove for a touchdown from Brees. The Colts scored just seven points the rest of the contest, and Tracy Porter's 74-yard interception return sealed the 31-17 win.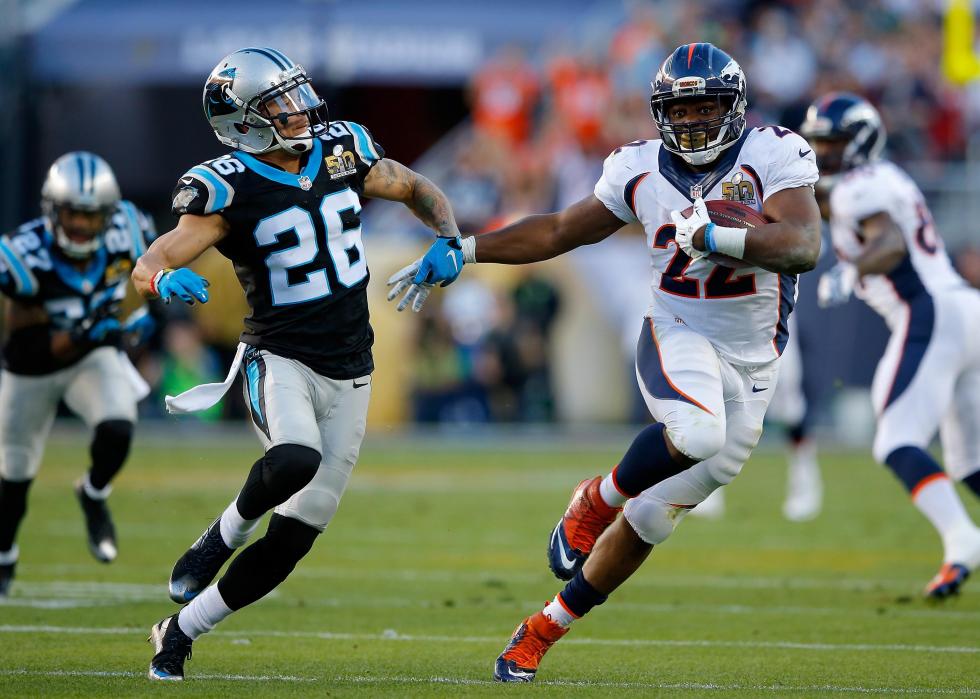 11 / 17
Kevin C. Cox // Getty Images
#7. 2016: Carolina Panthers vs. Denver Broncos (tie)
- Underdog: Denver Broncos
- Spread: +5
- Score: Denver Broncos 24 Carolina Panthers 10
The Denver Broncos never trailed in a 24-10 win over 5.5-point favorite Carolina. Linebacker Von Miller was key in holding Cam Newton's Panthers to just 10 points and took home MVP honors after six combined tackles, two quarterback hits, 2.5 sacks, and two forced fumbles—one of which was recovered by Malik Jackson for a Denver defensive touchdown.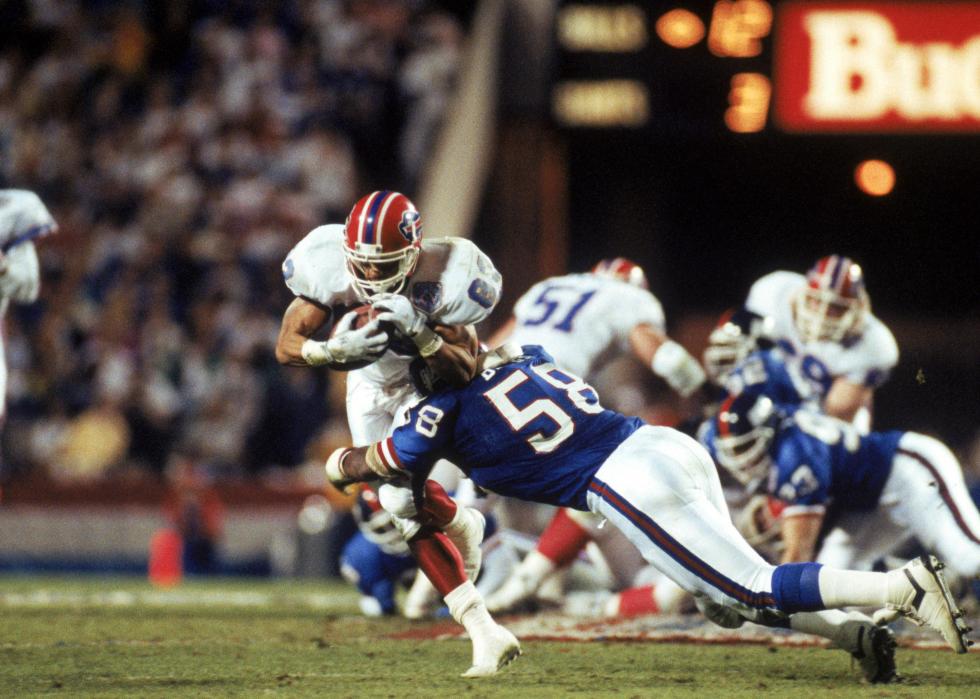 12 / 17
George Rose // Getty Images
#6. 1991: New York Giants vs. Buffalo Bills
- Underdog: N.Y. Giants
- Spread: +7
- Score: N.Y. Giants 20 Buffalo Bills 19
Bills kicker Scott Norwood lives in infamy for his "Wide Right" missed field goal that, rather than win Super Bowl XXV, put into motion Buffalo's ill-fated string of four straight title game losses. The Giants won their second Super Bowl, and MVP Ottis Anderson ran for 102 yards and a score as the Giants defense stifled the electric Bills.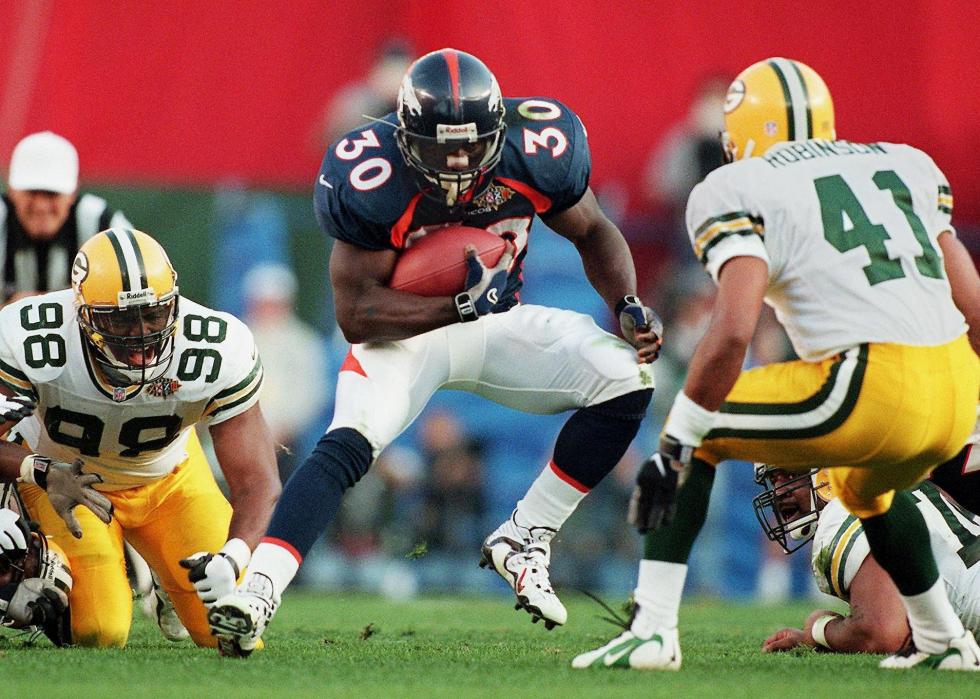 13 / 17
DON EMMERT // Getty Images
#5. 1998: Denver Broncos vs. Green Bay Packers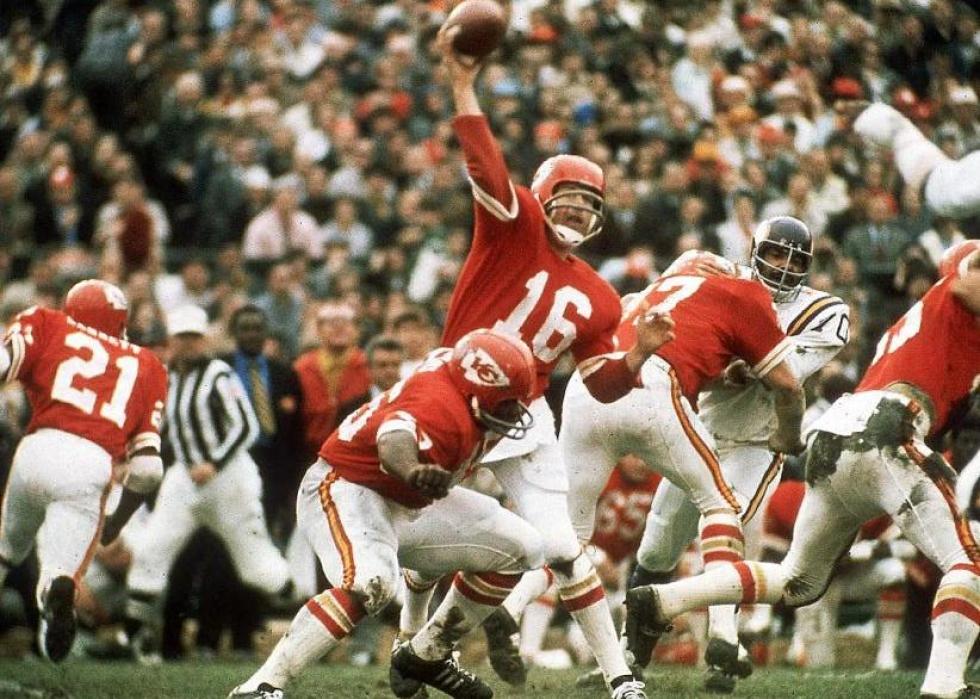 14 / 17
Neil Leifer // Getty Images
#3. 1970: Kansas City Chiefs vs. Minnesota Vikings (tie)
- Underdog: Kansas City Chiefs
- Spread: +12
- Score: Kansas City Chiefs 23 Minnesota Vikings 7
It's difficult to cover a 12-point spread when you only put up seven points. The underdog Vikings limited the two-loss Chiefs to just one third-quarter touchdown, as Minnesota's balanced game plan included one passing touchdown from MVP Len Dawson and one rushing from Mike Garrett.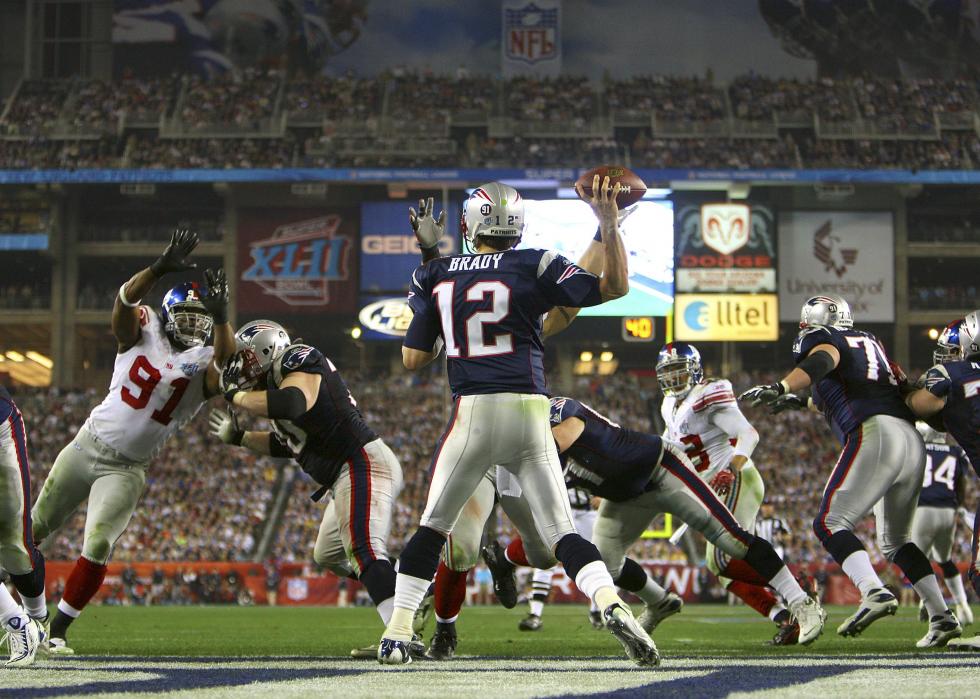 15 / 17
Donald Miralle // Getty Images
#3. 2008: New York Giants vs. New England Patriots (tie)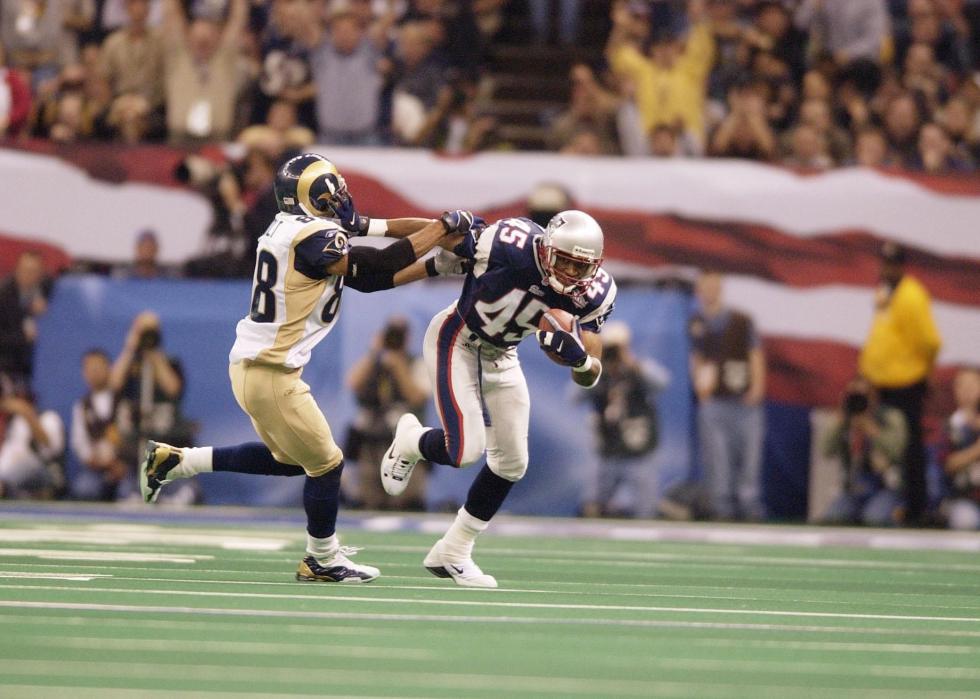 16 / 17
Ezra Shaw // Getty Images
#2. 2002: New England Patriots vs. St. Louis Rams
- Underdog: New England Patriots
- Spread: +14
- Score: New England Patriots 20 St. Louis Rams 17
Tom Brady took home his first of four Super Bowl MVPs and first of six titles when his Patriots upended the Rams as two-touchdown underdogs. In a trademark Belichick statement, the New England defense held Kurt Warner and St. Louis' "Greatest Show on Turf" to just three first-half points and 17 total. At 17-17, Adam Vinatieri converted a 48-yard game-winning field goal as time expired to give the Pats their first championship in franchise history.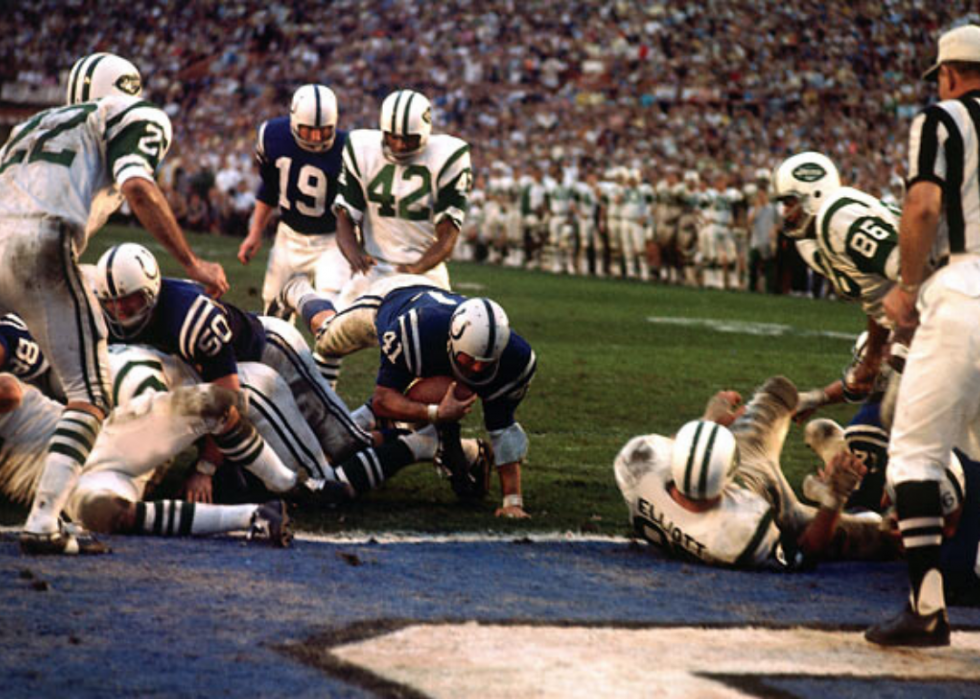 17 / 17
Herb Scharfman // Sports Imagery via Getty Images
#1. 1969: New York Jets vs. Baltimore Colts