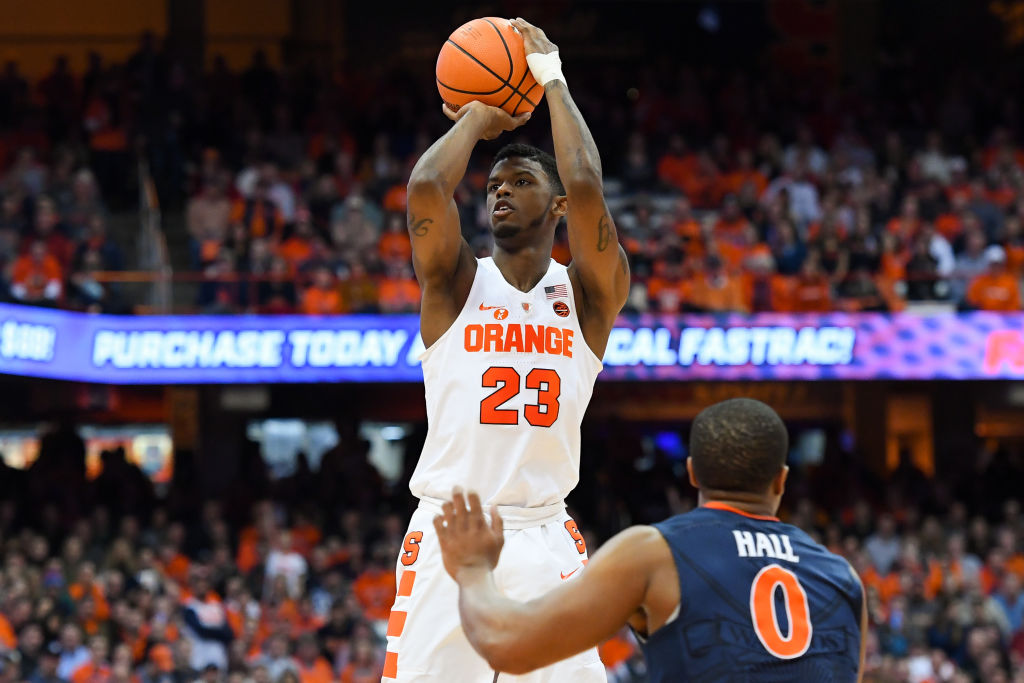 Bing Predicts: First four games of March Madness 2018
Bing Predicts: First four games of March Madness 2018
When the fiery embers of TBS' abysmal Selection Sunday finally settled — in front of an out-of-place live studio audience — fans were at last presented with this year's field of 68 teams. From No. 1 seed Virginia to No. 68 Texas Southern, the path to a national championship is just a handful of wins away.
As millions of fans rush to fill out their brackets, just remember this: Nobody knows what they're doing. Not your friends, or the person who won last year's office pool, and certainly not you. Pouring over research is fun and can be insightful, but, unfortunately, chasing that perfect bracket will prove to be a fruitless effort yet again.
There is, however, honor in the pursuit of a dream. To that end, the folks at Bing Predicts have put their information to use. With the help of web activity data and social sentiment — as well as historical player, team and game stats — Bing has predicted the outcome of each NCAA tournament game. The data experts have assigned a percentage value to indicate the level of confidence in each pick, beginning with Tuesday's First Four action.
Stacker will lean on this data to give all you bracketologists a leg up on the competition, complete with a breakdown of each showdown. We'll start with the game Bing sees as being the closest, followed by the biggest perceived mismatch.
Note: Also included with game predictions is the opening line to each game, courtesy of Vegas Insider.
No. 11 Syracuse Orange vs. No. 11 Arizona State Sun Devils
Bing Predicts Winner: Arizona State (53 percent)
Region: Midwest
Location: Dayton, Ohio
Opening line: PK
Tipoff time: 9:10 p.m. ET (Wednesday)
Syracuse has lived on the bubble for the past three seasons, barely squeaking the field in 2016 and getting left out in 2017. The Orange were the last team to receive an at-large this year, much to the chagrin of teams like USC, Saint Mary's, and Baylor.
Arizona State, meanwhile, was ranked as high as No. 3 in the AP poll before falling off a cliff once conference play began. The Sun Devils went 8-11 against Pac-12 foes and lost five of their last six games. Non-conference wins against No. 1 seeds Kansas and Xavier, though, proved enough to save ASU's tournament hopes in the end.
This looks like a matchup of strength versus strength, as Arizona State ranks 21st nationally in offensive rating (114.1) compared to Syracuse ranking 58th in defensive rating (98.4). The Sun Devils, though, have struggled against the zone, which could present an issue in half-court sets against Syracuse.
Arizona State isn't strong defensively, but Syracuse is no offensive juggernaut, ranking 222nd in offensive rating (103). ASU's four top guards — seniors Tra Holder, Shannon Evans and Kodi Justice, and freshman Remy Martin — all shoot over 37 percent on 3-point shots. If they can find open looks early, the Sun Devils can advance to the round of 64. Bing picks the Sun Devils to move on and play No. 6 seed TCU.
No. 16 LIU Brooklyn Blackbirds vs. No. 16 Radford Highlanders
Bing Predicts Winner: LIU Brooklyn (57 percent)
Region: East
Location: Dayton, Ohio
Opening line: RAD -4
Tipoff time: 6:40 p.m. ET (Tuesday)
Radford is making its third NCAA tournament appearance in program history. It's been a No. 16 seed in each of its previous appearances, though this is the first time the Highlanders have played in the First Four. LIU Brooklyn has made the tournament six times previously but is also winless.
Radford won the Big South tournament on a buzzer-beating 3-pointer by freshman guard Carlik Jones, who made just 31.9 percent of his 3-point attempts on the season. The Blackbirds, meanwhile, knocked off top-seeded Wagner in the Northeast tournament in head coach Derek Kellogg's first season at the school.
Bing expects a competitive game, and a key factor for LIU Brooklyn will be keeping Radford off the offensive glass. The Highlanders rank 35th in offensive rebounding percentage (35 percent), so it will be crucial for the Blackbirds' top two rebounders, junior guard Raiquan Clark and senior forward Zach Coleman — listed at 6-foot-6 and 6-foot-7, respectively — to commit to boxing out.
Radford doesn't have the biggest frontcourt either, so Bing gives the slight edge to LIU Brooklyn to move on and face Villanova.
No. 16 Texas Southern Tigers vs. No. 16 North Carolina Central Eagles
Bing Predicts Winner: North Carolina Central (65 percent)
Region: West
Location: Dayton, Ohio
Opening line: TX SO -4
Tipoff time: 6:40 p.m. ET (Wednesday)
The selection committee ranked Texas Southern as the worst team in the field, and, considering the Tigers' sub-.500 record, that's not a shock. Texas Southern went 0-13 during the non-conference portion of its schedule, losing to the likes of Gonzaga, Ohio State, Syracuse, Kansas, Clemson, Oregon, Baylor, and TCU — all on the road.
All of this is to say that the Tigers are battle-hardened and, with four Big Dance appearances in the last five years, tourney-tested as well. Texas Southern's main attraction is 5-foot-7 sophomore guard and leading scorer Demontrae Jefferson, who averages 23.4 points per game and shoots 39.4 percent on 3-pointers, averaging 8.1 attempts per contest.
Jefferson will face a difficult challenge in the Eagles' defense, which ranks 59th nationally in opponents' true shooting percentage (51.8 percent) and 84th in 3-point percentage allowed (33.2 percent). Bing foresees North Carolina Central clamping down with its perimeter defense and advancing to face Xavier.
No. 11 St. Bonaventure Bonnies vs. No. 11 UCLA Bruins
Bing Predicts Winner: St. Bonaventure (71 percent)
Region: East
Location: Dayton, Ohio
Opening line: UCLA -3
Tipoff time: 9:10 p.m. ET (Tuesday)
The Bruins have leaned on junior guard Aaron Holiday to create on offense all season long, and he's mostly delivered in what's been a fine season. Holiday led the Pac-12 in scoring at 20.3 points per game, making 43.3 percent of his 3-point attempts. With the exception of senior center Thomas Welsh, the rest of the lineup has been up-and-down, Holiday has been far and away the most consistent performer for UCLA.
Against St. Bonaventure, though, he'll be up against an experienced backcourt, led by senior guards Jaylen Adams and Matt Mobley. The duo has scored over 3,800 points combined during their college careers, and they've shot a combined 177-for-430 (41.2 percent) on 3-point attempts this season.
That spells trouble for the Bruins, as they've allowed opponents to shoot 34.9 percent from long range on the year and rank 221st in defensive rating (104.3). UCLA has the offensive firepower to compensate for its defensive shortcomings, but the Bonnies defend the 3-point line well, allowing opponents to post just a 32.1 percent clip on the season. Expect St. Bonaventure to move past UCLA and into the next round, where the Bonnies will face No. 6 seed Florida.