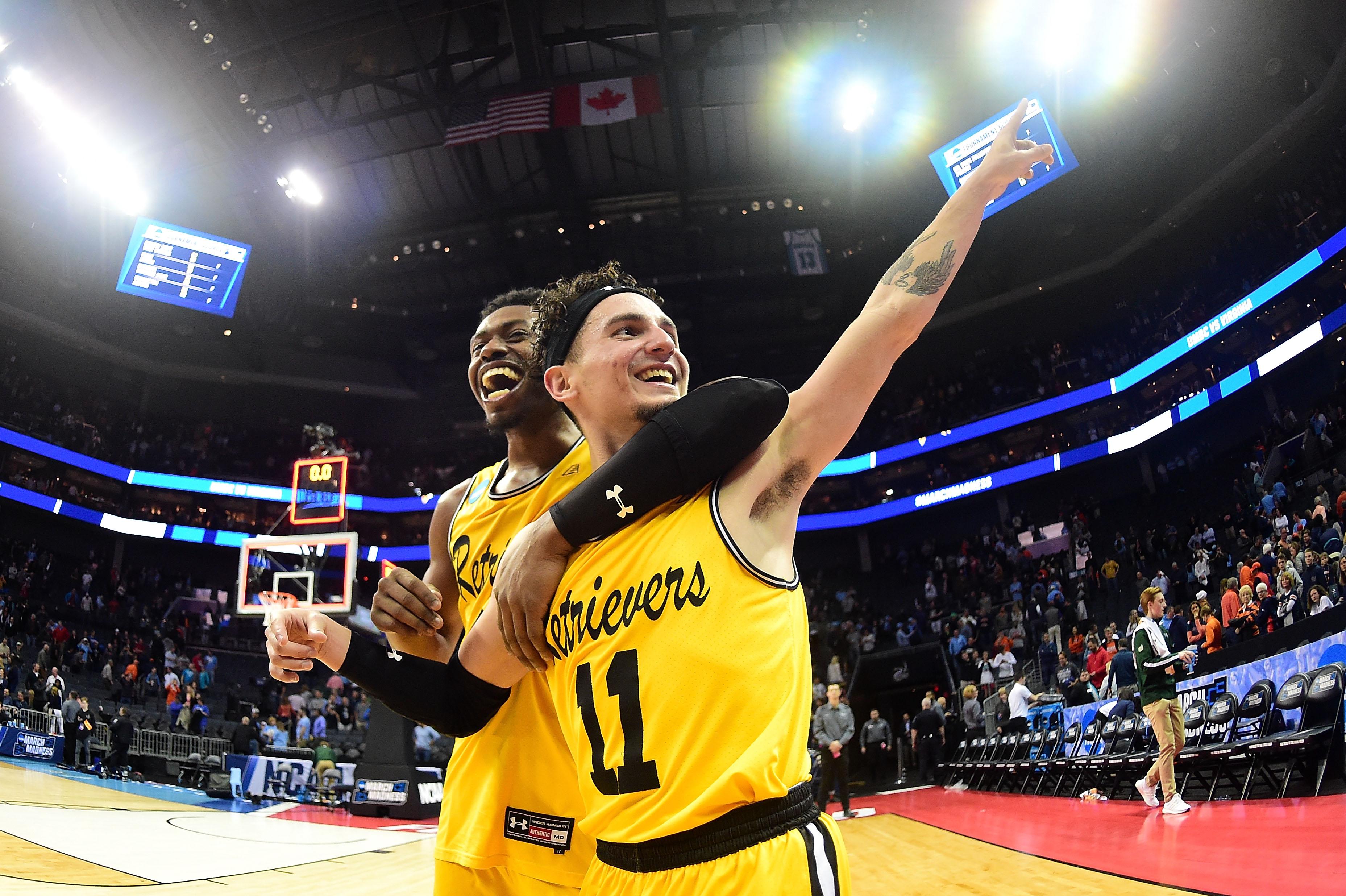 Bing Predicts: Sweet Sixteen
Bing Predicts: Sweet Sixteen
With just under four minutes remaining in a first-round game that had become a blowout, Virginia guard Kyle Guy threw a pass that was stolen by UMBC guard K.J. Maura. At the time, the No. 16 seed Retrievers were ahead, 58-44, against the Cavaliers, the No. 1 overall seed in the tournament. At that moment, play-by-play announcer Jim Nantz asked the question that the entire college basketball world was thinking: "What has happened to Virginia?"
It's unclear what, exactly, led to team's sudden, unprecedented collapse. But, to answer Nantz's question in a literal sense, what happened to the Cavaliers in the first round was this: they got absolutely destroyed by UMBC, forever etching their names in tournament infamy.
With that monumental upset as the headliner, the first weekend of the 2018 NCAA tournament was anything but boring. No. 11 seed Loyola Chicago gave us not one, but two last-second daggers, making a national — excuse us, international — star out of Sister Jean. In the second round, Nevada erased a 22-point second-half deficit to knock off Cincinnati, Michigan topped Houston on a buzzer-beating 3-pointer, and title contenders North Carolina, Xavier and Michigan State were all sent packing.
After all that, the field has been trimmed down to just 16 teams. To sort through the eight games this round, Stacker turned to the data experts at Bing Predicts. With the help of web activity data and social sentiment — as well as historical player, team and game stats — Bing has predicted the outcome of each NCAA tournament game. Bing has assigned a percentage value to indicate the level of confidence in each pick, giving you a good idea as to who will move on to the Elite Eight.
The South and West regions will get after it on Thursday, followed by the Midwest and East regions on Friday. Stacker will break down every matchup, beginning with the South, followed by the West, Midwest, and East.
Note: Also included with game predictions is the opening line to each game, courtesy of Vegas Insider.
No. 11 Loyola (Chicago) Ramblers vs. No. 7 Nevada Wolf Pack
Bing Predicts winner: Loyola (Chicago) (52 percent)
Region: South
Location: Atlanta, Georgia
Opening line: Nevada -2.5
Tipoff time: 7:07 p.m. ET (Thursday)
Loyola might have Sister Jean on its side, but the Nevada players and coaches must be doing something right themselves, because it's a miracle these teams have made it this far. The Ramblers won twice on last-second shots, while Nevada needed overtime to beat Texas in the first round and trailed by 22 in the second round against Cincinnati. While each team could have been knocked out had one break not got its way, both are now one win away from the Elite Eight.
Through its first two games, Loyola held Miami and Tennessee to 62 points apiece — right at its season average. The Ramblers allowed the fifth-fewest points per game (62.2) in the nation, though Miami and Tennessee combined to make 38.2 percent of their 3-point attempts and 48.1 percent of overall shots.
They'll need to be more efficient against Nevada, as the Wolf Pack rank 16th nationally in scoring (83 points per game) and shot 50 percent combined against Texas and Cincinnati. Forward Cody Martin in particular has been effective, scoring 40 points with 10 rebounds, 13 assists and four blocks during the tournament. He and twin brother Caleb Martin have carried the Wolf Pack offense to this point.
They'll need to continue to shoulder the load to top Loyola, as the Ramblers are a patient bunch on offense. Loyola has shot a combined 16-for-41 (39 percent) on 3-point attempts this tournament. If the offense can continue to hit open shots, expect Loyola's Cinderella run to continue.
No. 9 Kansas State Wildcats vs. No. 5 Kentucky Wildcats
Bing Predicts winner: Kentucky (72 percent)
Region: South
Location: Atlanta, Georgia
Opening line: Kentucky -5.5
Tipoff time: 9:37 p.m. ET (Thursday)
No team has seen its path to San Antonio open up any wider than Kentucky. At the tournament's outset, the prospect of going through Arizona, Virginia and North Carolina to reach the Final Four seemed inevitable. With all three teams getting bounced, the highest seeded team Kentucky would have to go through to reach the Final Four would be No. 7 Nevada in the Elite Eight.
To get there, though, Kentucky will have to get past Kansas State. Bruce Weber's team didn't exactly look sharp in its 50-43 win over No. 16 seed UMBC, but did enough to advance. It'll need to be much more efficient offensively to hang with Kentucky, which held Davidson and Buffalo to a combined 39.1 percent field goal percentage.
Offensively, Kentucky has become much more explosive. The surge has been led by Shai Gilgeous-Alexander, who's shot 18-for-28 (64.3 percent) for the tournament and has averaged 23 points per game. Kansas State will need to continue its stout defense for any chance at winning, and it could receive a huge boost if forward Dean Wade is healthy enough to play. Wade, the team's leading scorer, has missed the last three games with a foot injury, but is hopeful to play on Thursday. Given his uncertainty, Bing expects Kentucky to move on to the next round.
No. 7 Texas A&M Aggies vs. No. 3 Michigan Wolverines
Bing Predicts winner: Michigan (82 percent)
Region: West
Location: Los Angeles, California
Opening line: Michigan -3.5
Tipoff time: 7:37 p.m. ET (Thursday)
Texas A&M's overwhelmed North Carolina in the second round, led by forwards Tyler Davis and Robert Williams. The two combined 26 points, 22 rebounds and five blocks against the Tar Heels — this after teaming up for 27 points, 29 rebounds and four blocks against Providence. The Aggies have been monsters on the boards through two games, out-rebounding opponents 94-62 — which is even more amazing considering that North Carolina ranked third nationally in rebounding margin this season.
Michigan ranked 175th in that category on the season, so it'll be paramount for forward Moritz Wagner to stay out of foul trouble. Wagner has fouled out three times this season and has notched four fouls in each game this tournament. If he has to sit for extended stretches, Davis and Williams will be able to feast on the glass.
Bing likes Michigan in this matchup, though, in large part because the Wolverines have played such stout defense in the first two games. They held Houston to just­ 63 points and kept Montana under 50. The offense hasn't been as sharp as it's capable of being, but Wagner and guard Muhammad-Ali Abdur-Rahkman are due for breakout games.
No. 9 Florida State Seminoles vs. No. 4 Gonzaga Bulldogs
Bing Predicts winner: Gonzaga (77 percent)
Region: West
Location: Los Angeles, California
Opening line: Gonzaga -6.5
Tipoff time: 10:07 p.m. ET (Thursday)
With all the headline-grabbing games from the first two rounds, Gonzaga's run to its fourth consecutive Sweet 16 has somewhat flown under the radar. After a lackluster first-round game against UNC Greensboro, the offense now appears to be clicking. The Bulldogs scored 90 points against Ohio State while shooting 53.4 percent from the field. If forward Killian Tillie can break out of his slump — he's shooting 3-for-12 with nine points for the tournament — then the Zags can be even more dangerous.
Florida State's comeback win against Xavier was extremely impressive, especially considering the Seminoles had lost six of their last 10 games heading into the tournament. The team has been balanced offensively in the past two games, with five players averaging between 9.5 and 12 points per game. That balance will have to persist against an equally balance, higher-octane Gonzaga offense. Expect the Bulldogs to end Florida State's surprise run and move on to the Elite Eight.
No. 5 Clemson Tigers vs. No. 1 Kansas Jayhawks
Bing Predicts winner: Kansas (81 percent)
Region: Midwest
Location: Omaha, Nebraska
Opening line: Kansas -4
Tipoff time: 7:07 p.m. ET (Friday)
Kansas' offense was clicking against Seton Hall in the second round. The Jayhawks shot 50 percent from the field and 42.9 percent (9-for-21) on 3-point attempts. Of the team's 28 made field goals, 18 of them (64.3 percent) were assisted, and the Jayhawks had only 11 turnovers — all this despite guard Devonte' Graham's woeful 1-for-7 shooting night.
If Graham starts knocking down shots and Kansas continues to share the ball, expect Clemson to have a tough time on Friday night. The Tigers obliterated Auburn in the second round, and Clemson has shot 51.6 percent through two games. Both games were blowouts, and this one is expected to be much more competitive. With a heavy pro-Kansas crowd expected in Omaha, the Jayhawks should be able to move on to the next round.
No. 11 Syracuse Orange vs. No. 2 Duke Blue Devils
Bing Predicts winner: Duke (89 percent)
Region: Midwest
Location: Omaha, Nebraska
Opening line: Duke -11.5
Tipoff time: 9:37 p.m. ET (Friday)
Syracuse's win over Michigan State might have been the most surprising result of the second round. The Orange were very good, but not quite great, defensively this season, ranking 41st in defensive rating (97.5). But Jim Boeheim's zone defense completely befuddled the Spartans, as Syracuse won its third game in five days without topping 60 points.
The Orange's only chance to move on to the Elite Eight will be to turn this game into another rock fight. Duke also runs a 2-3 zone defense, and while Syracuse is the stronger defensive team, the Blue Devils are light years better offensively. Syracuse has shot 37.8 percent from the field and 26.2 percent on 3-point attempts this tournament, and will need to do much better in order to keep up with Duke. These two teams faced off once before this season, with Duke winning at home, 60-44, on Feb. 24. Given the team's offensive firepower — and advantage on the glass — the Blue Devils are the pick here.
No. 5 West Virginia Mountaineers vs. No. 1 Villanova
Bing Predicts winner: Villanova (77 percent)
Region: East
Location: Boston, Massachusetts
Opening line: Villanova -5
Tipoff time: 7:27 p.m. ET (Friday)
Villanova practically set the nets on fire in the second round against Alabama, shooting 17-for-41 (41.5 percent) on 3-point shots, this after going 14-for-27 (51.9 percent) on threes in the first round against Radford. Simply put, if the Wildcats keep up that clip, there's no team that can stop them.
West Virginia does not appear to be the team with the defensive chops to slow Villanova down. The Mountaineers have not guarded the 3-point line well this season, allowing opponents to shoot 37.5 percent. They have not improved on that mark in the tournament, despite having two comfortable wins — Murray State and Marshall combined to shoot 38.8 percent from deep.
West Virginia thrives at creating turnovers, with an 11.4 percent steal rate (14th nationally) on the season. Villanova, though, has the 10th-lowest turnover rate (13 percent) in the country, and had just 10 turnovers in the second round. Unless the Wildcats suddenly get sloppy, Villanova should head to the Elite Eight for the second time in three years.
No. 3 Texas Tech Red Raiders vs. No. 2 Purdue Boilermakers
Bing Predicts winner: Purdue (67 percent)
Region: East
Location: Boston, Massachusetts
Opening line: Purdue -1.5
Tipoff time: 9:57 p.m. ET (Friday)
Purdue surprised many by advancing past Butler in the second round without center Isaac Haas, who is unlikely to return for the remainder of the tournament with a fractured elbow. The Boilermakers have plenty of weapons to make up for Haas' absence, particularly with the trio of Vincent Edwards, Carsen Edwards and Dakota Mathias. Senior guard P.J. Thompson has also stepped up in the past two games, shooting a combined 9-for-14 from the field.
The Boilermakers were firing on all cylinders against Butler, but they'll face a tougher test against Texas Tech. The Red Raiders rank 10th in the country in defensive rating (93.9) and held Stephen F. Austin and Florida each under 40 percent shooting.
Purdue will have a clear size advantage, as no Texas Tech regular is listed taller than 6-foot-8. If Haas' replacement — the 7-foot-3 Matt Haarms — can hold his own against the Red Raiders like he did against Butler, then the Boilermakers should be able to advance to their first Elite Eight since 2000.