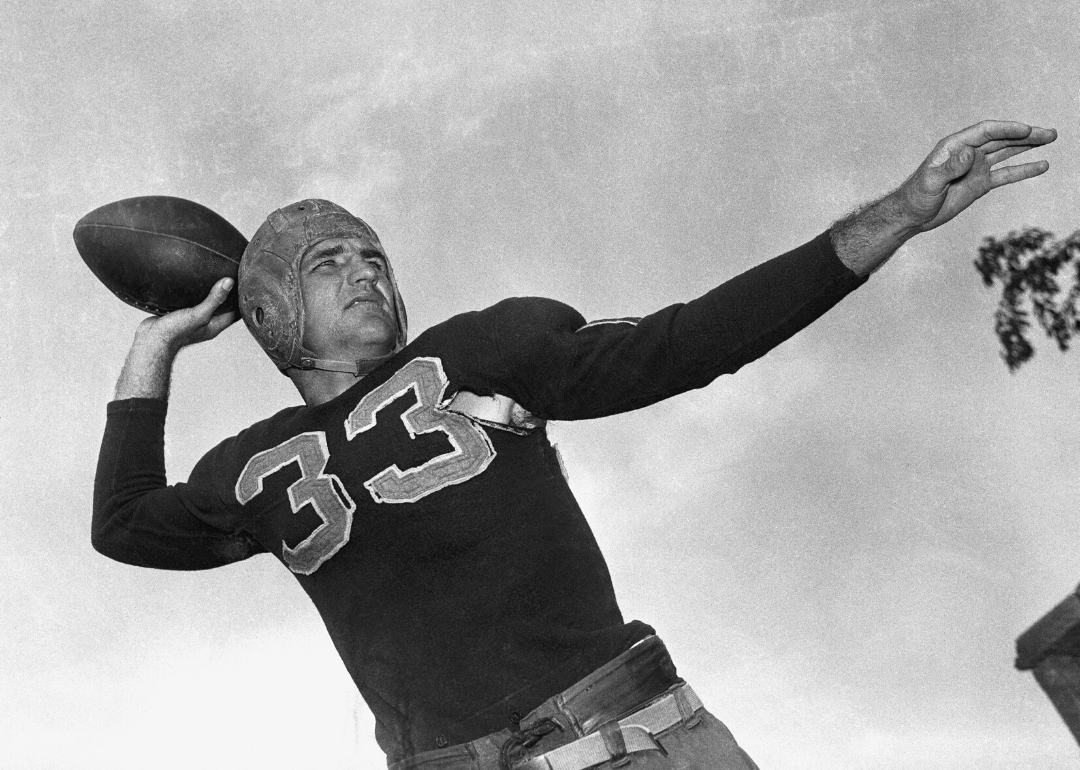 Iconic jerseys of the NFL then and now
Iconic jerseys of the NFL then and now
NFL jerseys are badges of honor among fans, who proudly rock their teams' colors every Sunday (or Monday and Thursday). Topping the NFL's jersey sales list is akin to climbing atop the Billboard charts with a hit single, a signifier of popularity for the game's top players. These charts also indicate when fan bases are hungry for a rebirth, as team's usually see an uptick in sales after a jersey redesign or drafting of a highly touted college player. While it used to be a scavenger hunt to find jerseys on sale, you can now purchase one for almost any player on a team in a variety of colors—and even personalize it with your own name.
To celebrate the NFL's rich history of style, Stacker compiled a collection of iconic jerseys past and present for each NFL team, using photos from Getty Images. We used a variety of primary news sources, team websites, the Pro Football Hall of Fame, and databases that specifically track jersey history to come up with 64 slides that include all the colors of the rainbow and then some. The photos in the slideshow not only provide a trip down memory lane, but also the evolution of teams and vital chapters in their histories.
For example, the Tampa Bay Buccaneers definitely stood out in their orange-creamsicle jerseys, but for fans of the Bucs, the threads also signify losing—and a lot of it. The Bucs lost their first 26 games in the NFL. Often, a new team jersey means a new stage, whether that be of a legendary player moving on, a franchise-saving quarterback arriving, or just a wish to relive past glory days. The Atlanta Falcons, Cleveland Browns, Los Angeles Chargers, Los Angeles Rams, New England Patriots, and Buccaneers all introduced new jerseys this offseason, showing that there's much more history to be written. Find out how your team has changed (or hasn't) over their NFL tenures.
You may also like: 25 ways the NBA has changed in the last 50 years