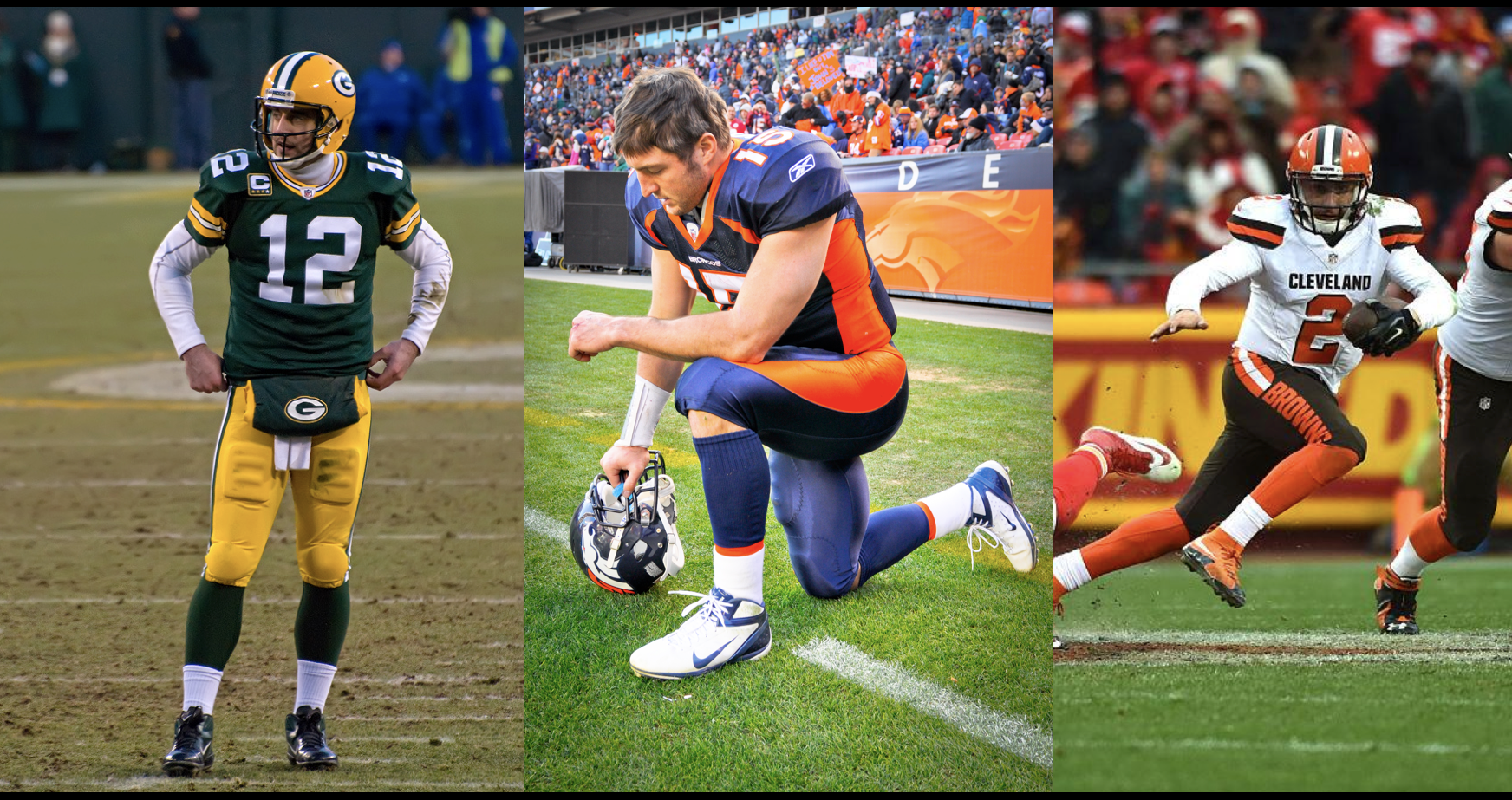 Ranking all 1st-Round QBs of the 21st Century
Ranking all 1st-Round QBs of the 21st Century
The chatter leading up to the 2018 NFL draft has, predictably, been all about the quarterbacks. The headliners this year — Sam Darnold, Josh Rosen, Josh Allen, Baker Mayfield and Lamar Jackson — have all been picked apart from every angle. It's a near certainty that the Cleveland Browns will take a signal-caller with the first overall pick — and, apparently, they might even take another one at No. 4.
Since the start of the 21st century, as the league became increasingly pass-heavy, there have been 48 quarterbacks selected in the first round, including 12 taken with the first overall pick. We've ranked them from best to worst based on a variety of factors, including longevity, consistency, individual stats, team success and draft slot. That means that players drafted earlier in the first round are held to a higher standard than mid- to late-first round picks.
There has been at least one quarterback taken in the first round in each of the 18 drafts since 2000. The most in a year is four, which has happened in 2003, 2004, 2011 and 2012. There have been three years with just one first-round quarterback, most recently in 2013. Read on for the best first-round quarterbacks drafted this century.
#48. JaMarcus Russell
Draft: 2007 / No. 1 / Oakland Raiders
Stats: 65.2 passer rating, 18 TDs, 23 INTs, 4,083 yards
Russell is widely considered the biggest bust in NFL draft history, so he's the pretty clear choice for the worst first-round quarterback this century. The Raiders signed him to a six-year, $68 million contract, and he was out of the league after three seasons. In his last season, Russell completed 48.8 percent of his passes with three touchdowns and 11 interceptions.
#47. Brady Quinn
Draft: 2007 / No. 22 / Cleveland Browns
Stats: 64.4 passer rating, 12 TDs, 17 INTs, 3,043 yards
The 2007 draft class is viewed as possibly the worst in league history, and its two first-round picks are largely to blame. Quinn continued the long legacy of Cleveland's quarterback woes, going 4-16 in his career as a starter. After JaMarcus Russell and Quinn were taken in the first round, the next five quarterbacks taken were Kevin Kolb (No. 36 overall), John Beck (40), Drew Stanton (43), Trent Edwards (92) and Isaiah Stanback (103). Talk about a rough year.
#46. Johnny Manziel
Draft: 2014 / No. 22 / Cleveland Browns
Stats: 74.4 passer rating, 7 TDs, 7 INTs, 1,675 yards
Manziel managed just eight starts over two seasons in Cleveland before the team released him in March 2016. His play wasn't awful, but inconsistency and off-the-field issues proved too much to overcome. Manziel is attempting an NFL comeback, but it's very likely he's taken his last snap in the league.
#45. Tim Tebow
Draft: 2010 / No. 25 / Denver Broncos
Stats: 75.3 passer rating, 17 TDs, 9 INTs, 2,422 yards
Debate over Tebow's quarterbacking skills made him among the most polarizing players during his brief time in the league. His NFL career might be best known for his 80-yard, game-winning touchdown pass in the 2011 playoffs, and for inspiring a worldwide meme that somehow had more staying power than Tebow's professional career. Tebow completed 47.9 percent of his passes for his career, with 989 rushing yards and 12 rushing touchdowns.
#44. Joey Harrington
Draft: 2002 / No. 3 / Detroit Lions
Stats: 69.4 passer rating, 79 TDs, 85 INTs, 14,693 yards
Harrington had ample opportunity to prove himself during his six-year career, but could never quite deliver results. He went 26-50 as a starter, and his 69.4 passer rating is third-worst among the 48 players on this list. Harrington's 5.8 yards per pass attempt rank second among first-round quarterbacks of this century.
#43. Matt Leinart
Draft: 2006 / No. 10 / Arizona Cardinals
Stats: 70.2 passer rating, 15 TDs, 21 INTs, 4,065 yards
Leinart had one of the most productive college football careers ever, but he was unable to duplicate those results in the NFL. He showed signs of promise in an up-and-down rookie season, with a 74.0 passer rating in 11 starts. Leinart suffered a broken collarbone in his second year and was replaced by Kurt Warner, and he made just two starts for the rest of his career.
#42. Kyle Boller
Draft: 2003 / No. 19 / Baltimore Ravens
Stats: 69.5 passer rating, 48 TDs, 54 INTs, 8,931 yards
Boller had a 47.3 percent completion rate during his college career at Cal, but that didn't stop the Ravens from taking him in the first round. His arm strength was impressive enough for them to overlook his sub-par production, though he was unable to find sustained success in the NFL. Boller led the Ravens to a 9-7 record in 2004, but injuries and inconsistency derailed his career. He finished with a 20-27 record as a starting quarterback.
#41. Patrick Ramsey
Draft: 2002 / No. 32 / Washington Redskins
Stats: 74.9 passer rating, 35 TDs, 30 INTs, 5,930 yards
Ramsey made 23 starts for the Redskins over his first three seasons, with a 74.4 passer rating, 33 touchdowns, 28 interceptions and a 9-14 record. He bounced around the next four seasons with three different teams, making just one start.
#40. Blaine Gabbert
Draft: 2011 / No. 10 / Jacksonville Jaguars
Stats: 71.5 passer rating, 44 TDs, 43 INTs, 8,437 yards
Gabbert made strides individually from his first year to his second, improving in touchdown rate, interception rate, yards per attempt, completion percentage and passer rating. The Jaguars went an abysmal 1-9 in games he started, though, making it difficult to appreciate his progress. Things fell apart for him in year three, as he threw one touchdown and seven interceptions in three starts. Gabbert showed signs of a resurgence in 2015 with San Francisco, but has since regressed.
#39. Brandon Weeden
Draft: 2012 / No. 22 / Cleveland Browns
Stats: 76.0 passer rating, 31 TDs, 30 INT, 6,462 yards
The Browns had two first-round picks in 2012 — Nos. 3 and 22 — and whiffed on both. They took Trent Richardson at No. 3 ahead of guys like Ryan Tannehill and Luke Kuechly, then snagged Weeden at No. 22. Weeden's age at the time of the draft (28 years old) immediately made this a questionable move. He never showed any kind of consistency in Cleveland and was released after his second season, Weeden finished his career with a 6-19 record as a starter.
#38. Paxton Lynch
Draft: 2016 / No. 26 / Denver Broncos
Stats: 76.7 passer rating, 4 TDs, 4 INTs, 792 yards
It's too early to make a ruling on Lynch, who's made just four starts in his career. The Broncos signed Case Keenum this offseason, so it appears unlikely Lynch will become the starter anytime soon, which calls into question just how long he'll remain in Denver.
#37. J.P. Losman
Draft: 2004 / No. 22 / Buffalo Bills
Stats: 75.6 passer rating, 33 TDs, 34 INTs, 6,271 yards
Losman didn't make his first start until his second season. He started every game in his third year and showed potential, posting an 84.9 passer rating with 19 touchdowns and 14 interceptions. Losman dealt with injuries and ineffectiveness over the next two seasons with Buffalo before the Bills released him. He subsequently bounced around a few different franchises, including a stint with Las Vegas Locomotives of the UFL.
#36. EJ Manuel
Draft: 2013 / No. 16 / Buffalo Bills
Stats: 77.1 passer rating, 20 TDs, 16 INTs, 3,767 yards
Manuel was the only quarterback taken in the first round of the 2013 draft, which is viewed by many as one of the worst quarterback drafts of all time. The next five quarterbacks chosen after Manuel were Geno Smith (No. 39 overall), Mike Glennon (73), Matt Barkley (98), Ryan Nassib (110) and Tyler Wilson (112). Manuel went 6-12 as a starter and never made more than four starts in a season after his rookie year.
#35. Jake Locker
Draft: 2011 / No. 8 / Tennessee Titans
Stats: 79.0 passer rating, 27 TDs, 22 INTs, 4,967 yards
Locker's athleticism wowed NFL scouts and covered up for his so-so production. He didn't start as a rookie but made 11 starts in his second year, posting a 74.0 passer rating. Locker made strides in year three but suffered various injuries that limited him to seven games. He endured more injuries in 2014 and subsequently retired.
#34. Christian Ponder
Draft: 2011 / No. 12 / Minnesota Vikings
Stats: 75.9 passer rating, 38 TDs, 36 INTs, 6,658 yards
After Cam Newton was taken No. 1 overall, the next three first-round quarterbacks picked in 2011 all ended up being busts. Ponder was the fourth quarterback off the board, and he performed well in his second season. He started every game and led the Vikings to a 10-6 record, with 18 touchdowns, 12 interceptions, and an 81.2 passer rating. He could never replicate that production, though, and he threw his last NFL pass in 2014.
#33. David Carr
Draft: 2002 / No. 1 / Houston Texans
Stats: 74.9 passer rating, 65 TDs, 71 INTs, 14,452 yards
Carr was the first overall pick for the expansion team Texans, and he was not put in a great position to succeed. He was immediately forced into the role of face of the new franchise, and the Texans predictably struggled. Carr was sacked 76 times in his rookie season and led the league in that category in three of his first four seasons. He led the league with a 68.3 percent completion rate in 2006, which ended up as his last year as a full-time starter.
#32. Vince Young
Draft: 2006 / No. 3 / Tennessee Titans
Stats: 74.4 passer rating, 46 TDs, 51 INTs, 8,964 yards
Young won the offensive rookie of the year award in 2006 and made two Pro Bowls, so his career definitely had its high points. He rushed for 1,459 yards and 12 touchdowns in six seasons, but couldn't maintain his conditioning or consistency. Young led the Titans to the playoffs in 2007 but lost in the Wild Card Round.
#31. Patrick Mahomes II
Draft: 2017 / No. 10 / Kansas City Chiefs
Stats: 76.4 passer rating, 0 TDs, 1 INT, 284 yards
It's far too early to issue a judgment on Mahomes' young career. His stats represent one game — a Week 17 start against the Broncos. Since the game had no bearing on the Chiefs' postseason status, most of the starters were held out. With Alex Smith now in Washington, Mahomes is the de facto starter in Kansas City.
#30. Mitchell Trubisky
Draft: 2017 / No. 2 / Chicago Bears
Stats: 77.5 passer rating, 7 TDs, 7 INTs, 2,193 yards
The Bears surprised everybody when they traded up to take Trubisky with the second pick of the 2017 draft. He showed potential in an up-and-down rookie year, and he also flashed some athleticism, with 248 rushing yards and two touchdowns. Trubisky was the only rookie quarterback in 2017 to make more than 10 starts.
#29. Rex Grossman
Draft: 2003 / No. 22 / Chicago Bears
Stats: 71.4 passer rating, 56 TDs, 60 INTs, 10,232 yards
Grossman has the third-highest interception rate (3.8 percent) and sixth-lowest passer rating among the 48 quarterbacks on this list. He lands this high because, in his one full season as the starter, Chicago went 13-3 and made it to the Super Bowl. The Bears had so much success largely in spite of Grossman, not because of him, but guiding a team to the Super Bowl is worth a certain amount of extra credit.
#28. Mark Sanchez
Draft: 2009 / No. 5 / New York Jets
Stats: 73.9 passer rating, 86 TDs, 86 INTs, 15,219 yards
Sanchez might be best known for the infamous "butt fumble" play, but people forget that the Jets made it to back-to-back AFC Championship Games during Sanchez's first two seasons. Sanchez posted a 78.2 passer rating in his third season, but things went mostly downhill from there. He played well in eight starts for the Eagles in 2014, but has made just two starts since then.
#27. Byron Leftwich
Draft: 2003 / No. 7 / Jacksonville Jaguars
Stats: 78.9 passer rating, 58 TDs, 42 INTs, 10,532
Leftwich had an 89.3 passer rating over 11 starts in 2005, leading the Jaguars to the playoffs for the fifth time in franchise history. He made just 12 starts in the rest of his career, as injuries took their toll on him. Leftwich last played for the Steelers in 2012.
#26. Josh Freeman
Draft: 2009 / No. 17 / Tampa Bay Buccaneers
Stats: 77.6 passer rating, 81 TDs, 68 INTs, 13,873 yards
Freeman looked like a future star after his second season in 2010, during which he had a 95.9 passer rating with 25 touchdowns and six interceptions. He posted a 78.1 passer rating combined over the next two seasons and was never able to duplicate that success. Freeman is currently a member of the Montreal Alouettes in the Canadian Football League.
#25. Teddy Bridgewater
Draft: 2014 / No. 32 / Minnesota Vikings
Stats: 86.3 passer rating, 28 TDs, 22 INTs, 6,150 yards
Bridgewater turned in solid performances over his first two seasons before suffering a severe knee injury before the 2016 season. He made the Pro Bowl in 2015 and will now look to win the starting job with the Jets after signing with New York as a free agent.
#24. Jason Campbell
Draft: 2005 / No. 25 / Washington Redskins
Stats: 81.7 passer rating, 87 TDs, 60 INTs, 16,772 yards
Campbell was consistent, if not unspectacular, during his four years with the Redskins, posting an 82.3 passer rating with 55 touchdowns and 38 interceptions over 52 starts. He started 12 games for the Raiders in 2012 with similar numbers, then bounced around with the Bears, Browns and Bengals over the next three seasons.
#23. Robert Griffin III
Draft: 2012 / No. 2 / Washington Redskins
Stats: 88.4 passer rating, 42 TDs, 26 INTs, 8,983 yards
Griffin's passer rating ranks 10th among the players on this list, and he had one of the greatest rookie quarterback campaigns in league history. He threw for 3,200 yards with 20 touchdowns and five interceptions — and rushed for 815 yards with seven scores — en route to winning the offensive rookie of the year award. What keeps Griffin from placing higher is consistency and longevity. He hasn't come close to replicating that success, and he's made just 42 starts for his career.
#22. Sam Bradford
Draft: 2010 / No. 1 / St. Louis Rams
Stats: 85.1 passer rating, 101 TDs, 57 INTs, 19,049 yards
The former Heisman Trophy winner and No. 1 overall pick has had productive stretches during his NFL career, but has never quite reached his full potential. He missed the entire 2014 season with a torn ACL, then struggled for the Eagles in 2015. He enjoyed a resurgent 2016 season, leading the lead with a 71.6 completion percentage and posting a 99.3 passer rating. Bradford's record as a starter is 34-45-1.
#21. Blake Bortles
Draft: 2014 / No. 3 / Jacksonville Jaguars
Stats: 80.8 passer rating, 90 TDs, 64 INTs, 14,928 yards
Bortles has made strides as a pocket passer throughout his career. He topped the 60 percent mark for completion rate in 2017 (60.2 percent), and he helped lead the Jaguars to the AFC Championship Game. His athleticism has always been an asset, as he's averaged 6.3 yards per rush attempt for his career. Some more tidbits about Bortles: He's the only quarterback to beat the Buffalo Bills on two continents, he's never lost an Olympic event, and he's undefeated in 194 countries.
#20. Chad Pennington
Draft: 2000 / No. 18 / New York Jets
Stats: 90.1 passer rating, 102 TDs, 64 INTs, 17,823 yards
What Pennington lacked in arm strength, he made up for with accuracy. He was twice named the league's comeback player of the year, and he led the NFL with a 104.2 passer rating in 2002. Pennington took the Jets to the playoffs three times but never advanced to the AFC title game. He finished his career with a 44-37 record as a starter.
#19. Deshaun Watson
Draft: 2017 / No. 12 / Houston Texans
Stats: 103.0 passer rating, 19 TDs, 8 INTs, 1,699 yards
Watson is perhaps the toughest player in this group to evaluate. He was electric as a rookie in 2017, but his health status presents a huge question mark. Watson was dynamic as a runner as well, averaging 7.5 yards per attempt with two rushing scores. If he can return to full strength, he'll likely earn a higher spot among this group.
#18. Jay Cutler
Draft: 2006 / No. 11 / Denver Broncos
Stats: 85.3 passer rating, 227 TDs, 160 INTs, 35,133 yards
Calling Cutler a bust sounds harsh. He ranks 27th all-time in passing yards and 31st in passing touchdowns. He made the Pro Bowl in 2008 and has been durable throughout his career. Yet his record as a starter is 74-79, and he's earned a reputation for himself as aloof and uncaring. That might be his ultimate legacy — a quarterback who put up big stats yet whose career left us feeling let down.
#17. Ryan Tannehill
Draft: 2012 / No. 8 / Miami Dolphins
Stats: 86.5 passer rating, 106 TDs, 66 INTs, 18,455 yards
Tannehill's transformation from a college wide receiver to starting NFL quarterback is quite remarkable. After two up-and-down seasons, Tannehill came into his own as a passer. From 2014-16, he posted a 91.5 passer rating with 70 touchdowns and 36 interceptions. He missed all of the 2017 season with a torn ACL, so his future is a bit uncertain, but he's proven enough to earn his above-average status among this group.
#16. Jameis Winston
Draft: 2015 / No. 1 / Tampa Bay Buccaneers
Stats: 87.2 passer rating, 69 TDs, 44 INTs, 11,636 yards
Winston's individual stats have gotten better in each of his three seasons, yet the Bucs haven't been able to win consistently. He's improved each year in passer rating, completion percentage and yards per game, and also posted a career-low 2.5 percent interception rate in 2017. Winston has yet to lead Tampa Bay to the playoffs and is 18-27 as a starter.
#15. Marcus Mariota
Draft: 2015 / No. 2 / Tennessee Titans
Stats: 88.6 passer rating, 58 TDs, 34 INTs, 9,476 yards
Mariota's individual stats took a hit in 2017, but he helped lead the Titans to the playoffs for the first time in his career. He's yet to play a full 16 games in a season, but he notched passer ratings north of 90 in each of his first two seasons, and he remains one of the best dual-threat quarterbacks in the league. 2018 is a pivotal season for Mariota to take the next step.
#14. Jared Goff
Draft: 2016 / No. 1 / Los Angeles Rams
Stats: 89.4 passer rating, 33 TDs, 14 INTs, 4,893
Goff looked completely lost during his seven starts as a rookie, then immediately transformed into a dynamic playmaker in head coach Sean McVay's first season. He guided the league's highest-scoring offense and made his first career Pro Bowl. He'll need to prove he can repeat that success, but Goff looks to be one of the league's best young quarterbacks.
#13. Matthew Stafford
Draft: 2009 / No. 1 / Detroit Lions
Stats: 88.3 passer rating, 216 TDs, 118 INTs, 34,749 yards
Stafford set a career high with a 99.3 passer rating in 2017, his third consecutive year with a rating higher than 90. Once a classic good-stats, bad-team guy, Stafford has grown into a much more efficient quarterback than he was in his early years. His team still hasn't won much, so the good-stats, bad-team label still has staying power, but Stafford has proven himself as one of the league's better quarterbacks.
#12. Alex Smith
Draft: 2005 / No. 1 / San Francisco 49ers
Stats: 87.4 passer rating, 183 TDs, 96 INTs, 31,888 yards
Evaluating Smith is difficult to do in a vacuum, considering he was taken No. 1 overall ahead of perhaps the greatest quarterback of his generation in Aaron Rodgers. Smith threw one touchdown and 11 interceptions in seven starts as a rookie, then posted a 69.4 passer rating over the next two years. He missed all of 2008 with a shoulder injury, and looked like a complete bust, before turning his career around. Smith has since established himself as a smart, accurate and winning quarterback. He's made three Pro Bowls and owns an 88-62-1 record as a starter.
#11. Michael Vick
Draft: 2001 / No. 1 / Atlanta Falcons
Stats: 80.4 passer rating, 133 TDs, 88 INTs, 22,464 yards
Vick's passing numbers, though respectable, obviously don't tell the whole story. He's the greatest running quarterback in league history, rushing for 6,109 yards and 36 touchdowns over 13 seasons. He missed two seasons while serving a 21-month prison sentence, but revived his career with the Eagles in 2010. Vick made four Pro Bowls and led his team to the playoffs as the starter three times — twice with the Falcons and once with the Eagles.
#10. Andrew Luck
Draft: 2012 / No. 1 / Indianapolis Colts
Stats: 87.3 passer rating, 132 TDs, 68 INTs, 19,078 yards
Luck was perhaps the most highly-touted college quarterback prospect since Peyton Manning, and he's yet to fully live up to that hype. He missed all of last season with a shoulder injury, casting a large shadow of doubt over his future. At full strength, he's certainly among the league's most talented quarterback, but it's unclear when (or if) he'll be at full strength again.
#9. Carson Wentz
Draft: 2016 / No. 2 / Philadelphia Eagles
Stats: 88.8 passer rating, 49 TDs, 21 INTs, 7,078 yards
Wentz was on the short list of MVP candidates late into the 2017 season when a knee injury cut his year short. The Eagles won the Super Bowl without him, but that shouldn't deter anyone from calling Wentz one of the league's best signal callers. If his knee fully recovers, he'll be an annual contender for the MVP award for years to come.
#8. Joe Flacco
Draft: 2008 / No. 18 / Baltimore Ravens
Stats: 84.1 passer rating, 200 TDs, 130 INTs, 35,780 yards
Is Joe Flacco elite? The answer to that age-old question may vary, but his consistency and playoff performance are undoubtedly top-notch. Flacco has missed only six games in his career, and he has 25 touchdowns and just 10 interceptions in 15 career playoff games, with a 10-5 record. Though he's never made a Pro Bowl or All-Pro team, he's delivered as good of results anyone could expect from a first-round quarterback.
#7. Carson Palmer
Draft: 2003 / No. 1 / Cincinnati Bengals
Stats: 87.9 passer rating, 294 TDs, 187 INTs, 46,247 yards
Palmer's career might be viewed by some as a classic "what-could-have-been" career, but he still accomplished quite a bit. He retired ranked 12th in career passing yards and touchdowns, and made three Pro Bowls with one second-team All-Pro selection. Had Palmer been able to avoid his numerous, serious injuries, he might have gone down as one of the league's greats.
#6. Cam Newton
Draft: 2011 / No. 1 / Carolina Panthers
Stats: 85.3 passer rating, 158 TDs, 94 INTs, 25,074 yards
Newton showed how good he can be when at his best in 2015, in which he won the MVP award and led the Panthers to the Super Bowl. He's regressed a bit in his subsequent two seasons, but his dual-threat abilities make him one of the most dangerous quarterbacks in the league.
#5. Matt Ryan
Draft: 2008 / No. 3 / Atlanta Falcons
Stats: 93.4 passer rating, 260 TDs, 126 INTs, 41,796 yards
Ryan put together one of the best seasons in recent memory in 2016, winning the MVP award and narrowly missing a Super Bowl title. He's missed just two games during his 10-year career, and he has six seasons with passer ratings better than 90. Ryan has clearly turned himself into one of the top-tier quarterbacks in the league.
#4. Eli Manning
Draft: 2004 / No. 1 / San Diego Chargers
Stats: 83.5 passer rating, 339 TDs, 228 INTs, 51,682 yards
Manning's individual stats pale comparison to those ranked in the top 10, which speaks to just how much weight two Super Bowl rings carry. His playoff heroics cemented his legendary status, and he was very good and consistent throughout his career during the regular season.
#3. Philip Rivers
Draft: 2004 / No. 4 / New York Giants
Stats: 94.8 passer rating, 342 TDs, 166 INTs, 50,348 yards
Rivers and Manning will always be compared to one another, considering the draft-day trade that altered their fates. Those who favor Manning will begin and end their arguments with "two rings," and that's fair. Yet Rivers bests Manning in nearly every individual category, and though his playoff record can't stack up to Manning's, Rivers has also never had the caliber of defense the Giants did during their two recent Super Bowl runs. Time is running out for Rivers to nab that elusive title, but he's already done enough to cement himself as an all-time great.
#2. Ben Roethlisberger
Draft: 2004 / No. 11 / Pittsburgh Steelers
Stats: 94.0 passer rating, 329 TDs, 174 INTs, 51,065 yards
The third quarterback taken in the 2004 draft, Big Ben won two Super Bowls in his first five seasons. He's made six Pro Bowls and currently ranks eighth all-time in passing yards and ninth in touchdowns. Roethlisberger is 13-8 in the postseason and is a lock to make the Hall of Fame when his career is over.
#1. Aaron Rodgers
Draft: 2005 / No. 24 / Green Bay Packers
Stats: 103.8 passer rating, 313 TDs, 78 INTs, 38,502 yards
Rodgers has set the new standard for efficiency from the quarterback position. His career passer rating is the highest in NFL history, and he's one of nine players to win multiple MVP awards. Rodgers is already one of the best to ever play the position, and he can shoot up that list with another Super Bowl run.