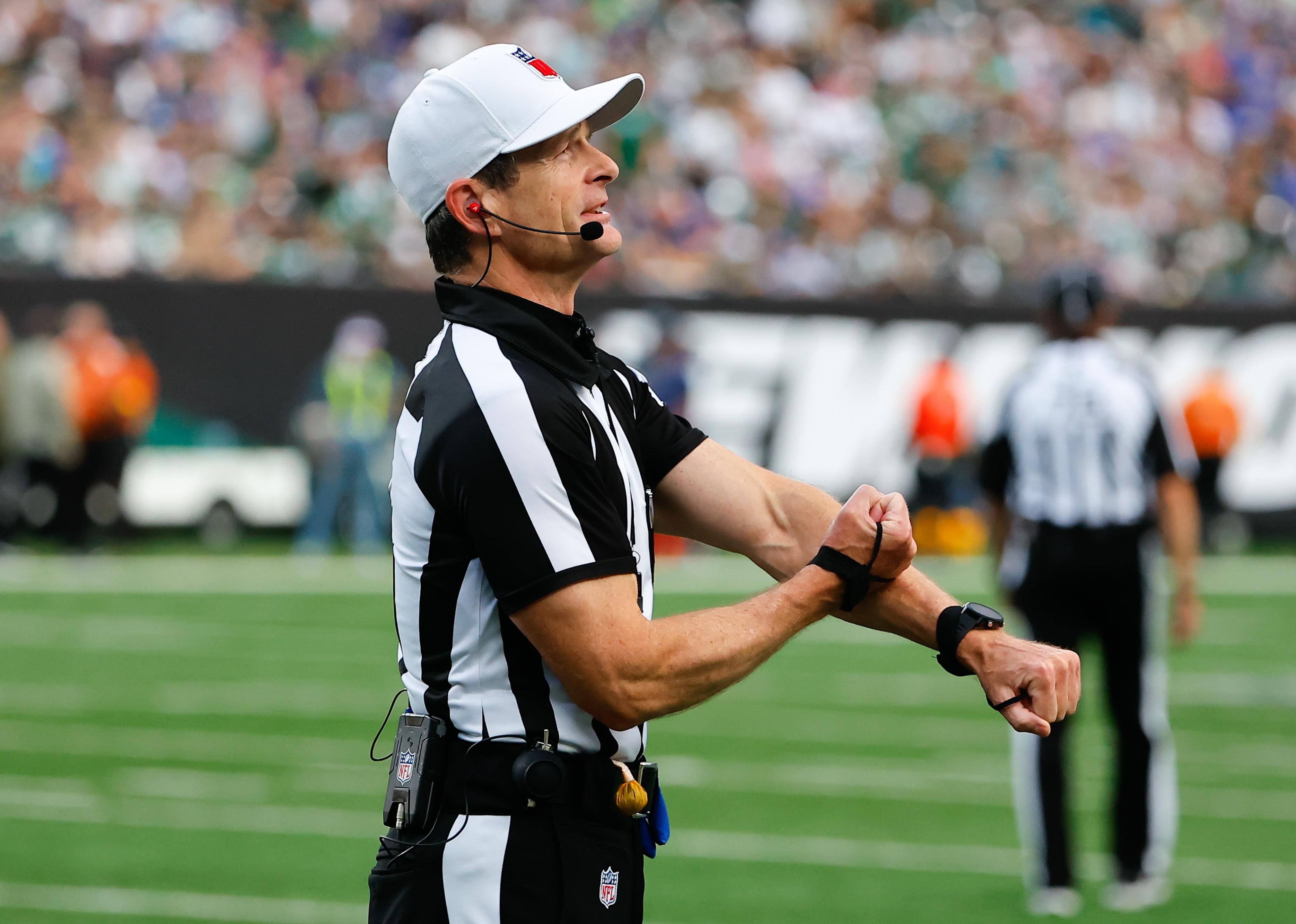 Stacker Studio
Seeing yellow: The data behind penalties in the NFL
Icon Sportswire // Getty Images
Seeing yellow: The data behind penalties in the NFL
NFL fans never like it when a flag is thrown on their team, especially when an instant replay shows that the ref got it wrong.
Many fans also resent the frequency of penalty calls because they're seen as "coddling" players and slowing down the game. "Just let them play!" is their mantra, although you'll never hear a football fan say that when a call favors their team.
OLBG dug into recent NFL penalty data using statistics from Pro Football Reference. Data covers the 2017-2021 seasons; 2022 was not included as the season is still in progress.
NFL penalties are on the rise. They averaged 11.8 per game during the 2021 regular season, up 4% over 2020. A crucial roughing-the-passer call in an October 2022 game between the Tampa Bay Buccaneers and the Atlanta Falcons is one of the most recent controversial calls to draw attention, with some fans calling it the worst NFL penalty call ever—though fans of the sacked QB, Tom Brady, would dispute that.
What are the most common penalties? The most penalized teams? And who are the refs who throw their yellow flags so often that it turns fans' faces red in anger? Let's take a deep dive (without laying a finger on the quarterback).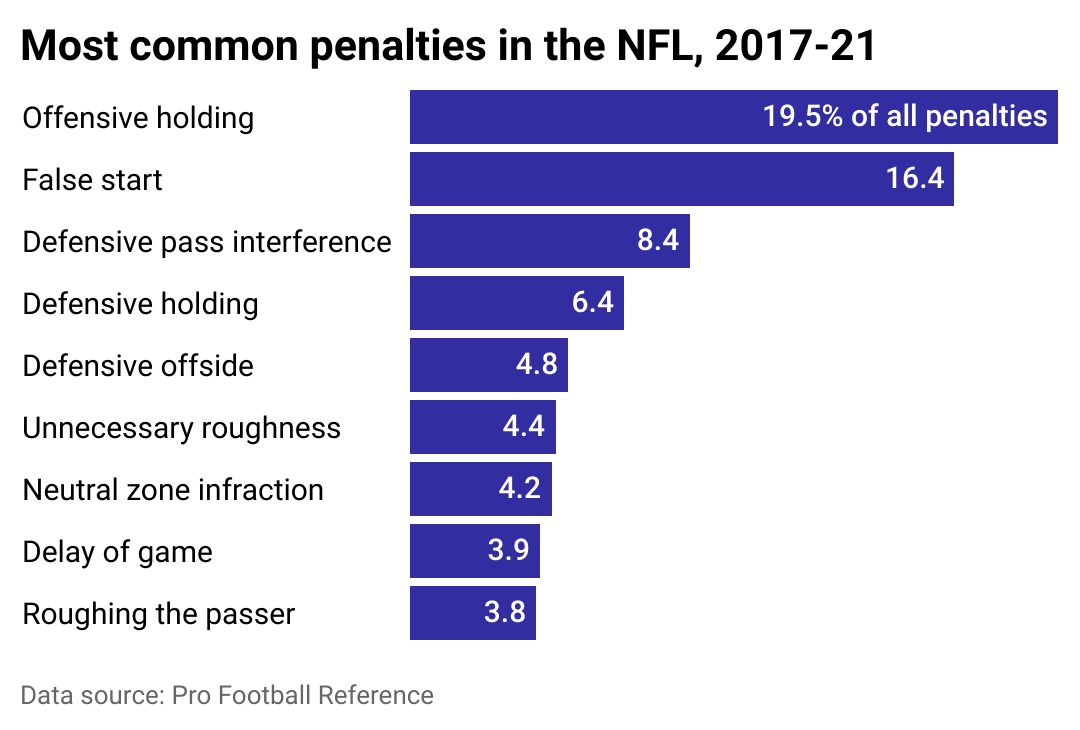 1 / 3
Holding, false starts make up more than one-third of all penalties
NFL fans won't be surprised to hear that nearly one in five penalties are offensive holding calls (averaging 2.5 per game in 2017-2021). That makes sense because when push literally comes to shove—at that moment when an offensive lineman has only one way to stop a defensive player from tackling the quarterback or a running back—it's so tempting to grab hold.
The other penalty call that fans are most likely to hear, accounting for nearly one in six penalties, is an offensive false start (2.1 times per game). All sorts of gamesmanship take place between opposing linemen as they try to draw each other off the line early—and home-crowd fan noise often comes into play as well.
Ranking third among all penalties is the one that causes fans and players the most heartache (or joy) because it can be drive-extending and momentum-changing: defensive pass interference (1.1 times per game). The next four most common penalties are also called exclusively or most frequently on defensive players.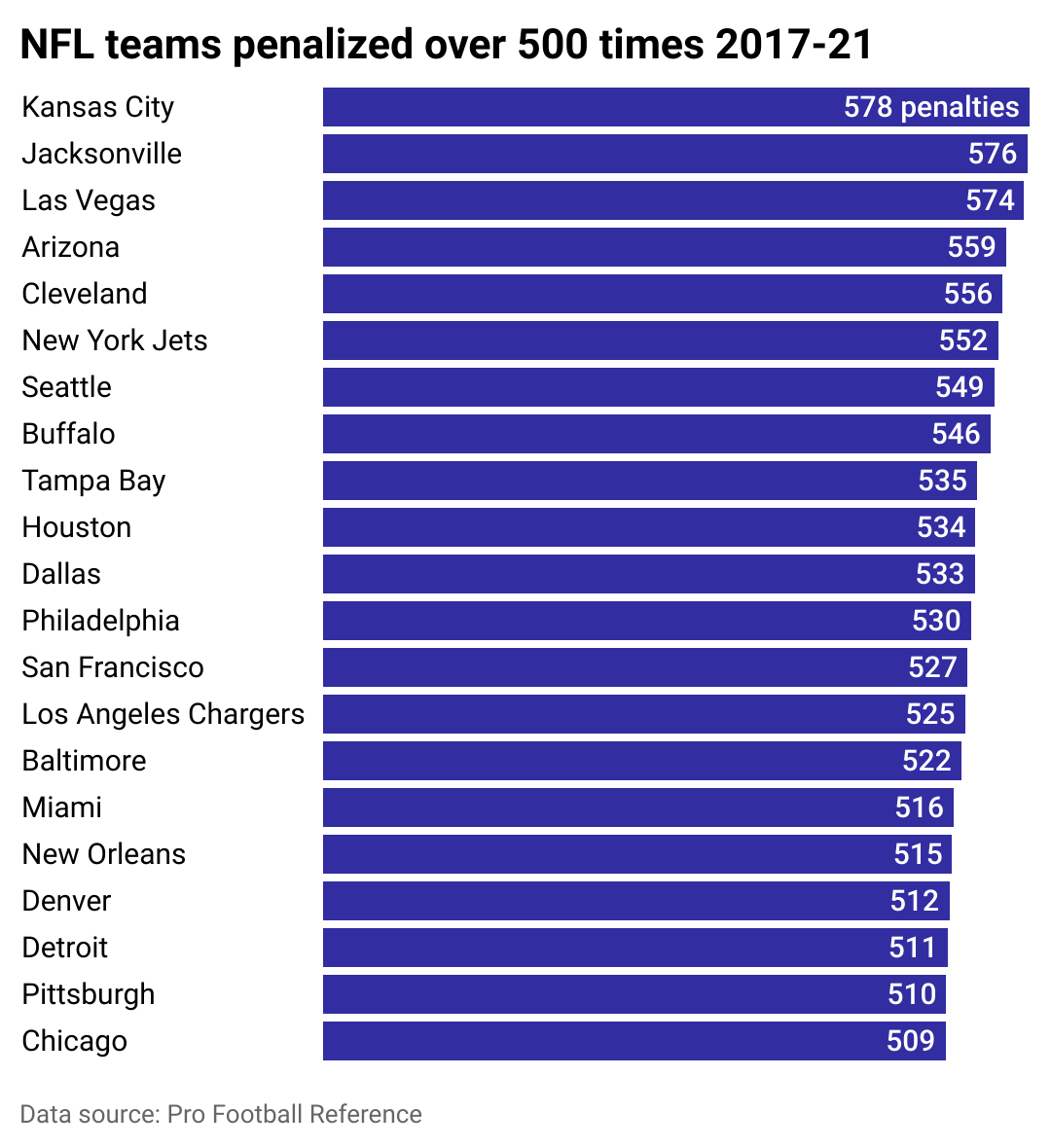 2 / 3
Officials penalize Kansas City and Jacksonville the most
The NFL corollary to the old saying that crime doesn't pay is that penalties don't pay. Five of the six most penalized teams between 2017 and 2021 posted losing records in most of those years. But then there's the "Mahomes Exception": Patrick Mahomes' brilliant playing since his 2017 rookie year for the Kansas City Chiefs allowed them to win most of their games (including the 2019 season's Super Bowl, where he was MVP) despite a penchant for penalties.
The Chiefs were oddly both the most penalized team and the winningest team (60-21 record) from 2017-2021. KC players have changed their ways, though, as they were the third least-penalized team over the first 13 games of the 2022 season and won 10 of those 13 games.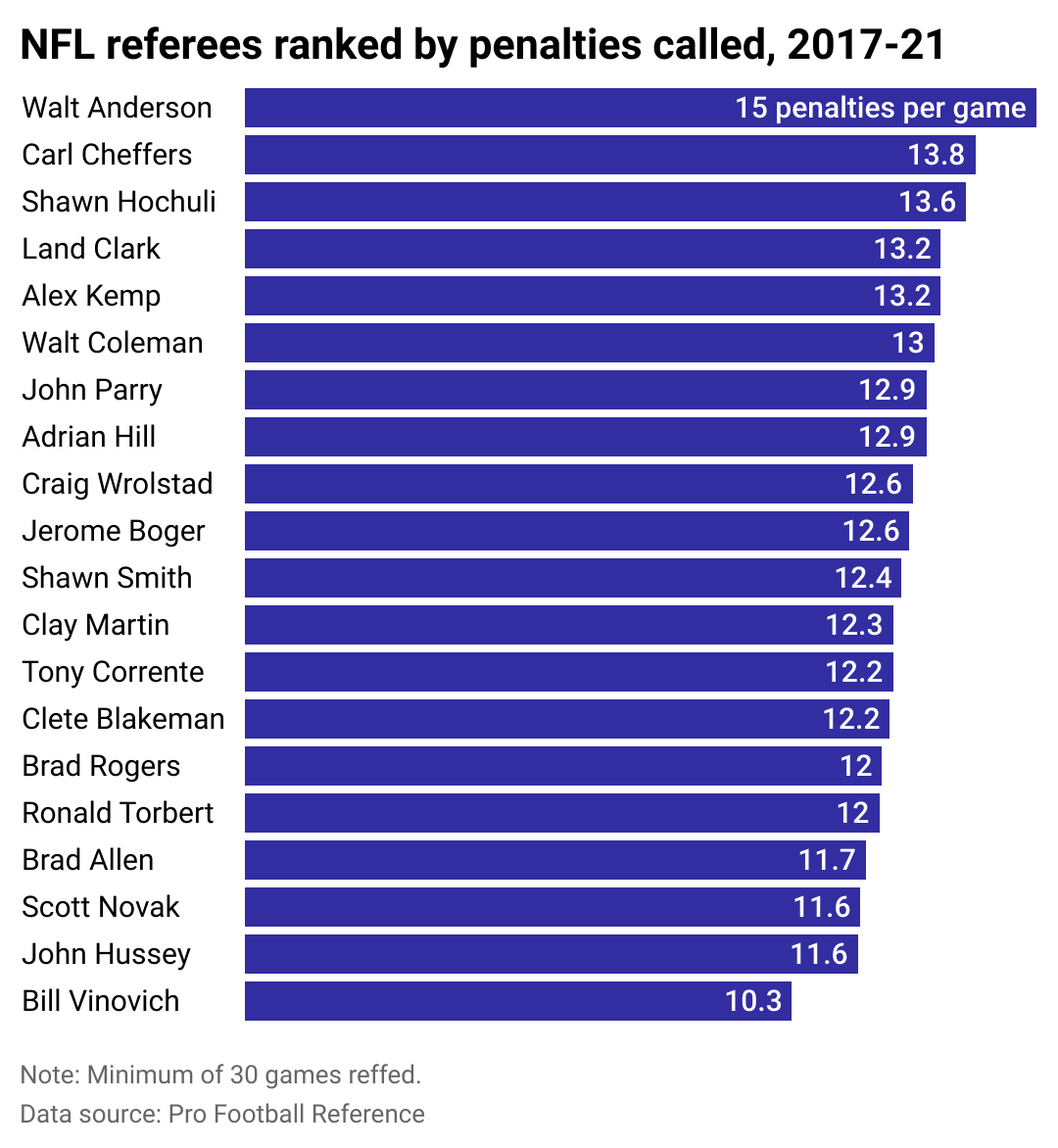 3 / 3
Penalty rates vary by official
Booing refs is a long-standing tradition in the NFL (and most team sports), and fans reserve their most passionate boos for refs who throw frequent flags on their team. But refs are largely anonymous—only numbers, not names, appear on their uniforms—so you aren't likely to hear a fan yell, "Hey, Walt Anderson, you forgot to wear your glasses again!" Anderson, who called the most penalties per game in 2017-2021, retired at age 67 at the end of the 2019 NFL season.
The silver medal for most penalty calls during that period goes to another AARP-eligible ref, Carl Cheffers, who is now 62 and still working NFL games. Cheffers was widely criticized for the record number of penalties he called during the 2021 Super Bowl—eight of them against the Chiefs in the first half alone that cost them six first downs and any chance at beating Tom Brady and the Buccaneers.
This story originally appeared on OLBG and was produced and distributed in partnership with Stacker Studio.