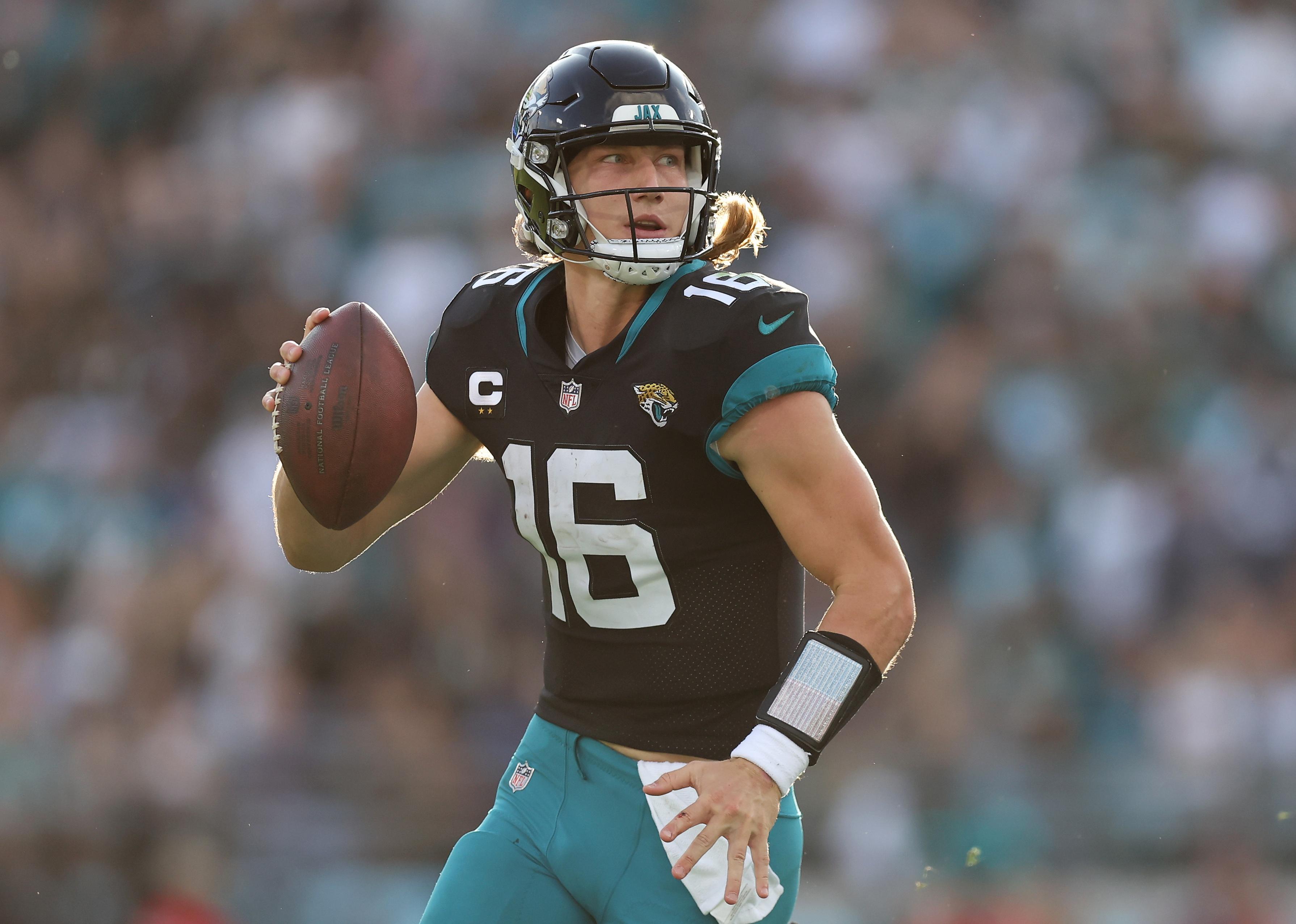 Year of the quarterback carousel: A look back at the NFL's record number of starting quarterbacks in 2022
Mike Carlson // Getty Images
Year of the quarterback carousel: A look back at the NFL's record number of starting quarterbacks in 2022
Quarterback drama reached a fever pitch this NFL season.
First, there was Tom Brady skipping out on Tampa Bay's training camp. (Was he taping "The Masked Singer"? No. He was allegedly in the Bahamas in a last-ditch effort to save his now-dead marriage.) Then there was Russell Wilson's woeful play in the Mile High City (after he promised, "Broncos country, let's ride"). Next up was Tua Tagovailoa's scary concussion that came on the heels of an apparent head injury the game prior (and his season for the Miami Dolphins was cut short later by a second diagnosed concussion). Finally, Zach Wilson showed indifference toward his poor performance in a game where he led the New York Jets offense to just three points (he was later benched twice).
That's hardly a comprehensive retelling of all the twists and turns the latest NFL novel took (let's not forget about Deshaun Watson's controversial return to the league or Geno Smith's compelling rebirth).
Amid all that spectacle, something had to give. And something did—teams rotated through an awful lot of field generals during the latest campaign. NFL teams started 69 different quarterbacks throughout the 2022 regular season, a figure that went up 11% from 2021. On a team-by-team level, 68.8% of the league started at least two quarterbacks, with some sending out as many as four.
That 69 number is a non-strike year record. Previously, 2007 held the high watermark with 64 different starting signal callers (the 1987 strike season, where owners hired replacement players, still holds the all-time high of 87). The NFL eclipsed the 60-starter threshold five other times: 1998, 1999, 2010, and 2021 all had 62 different quarterbacks start at least one game; 2007 had 64 different quarterbacks starting.
Stacker pulled statistics from Pro-Football-Reference.com to analyze the data behind the high number of different quarterbacks who started games during the 2022 NFL regular season. Read on to uncover our findings.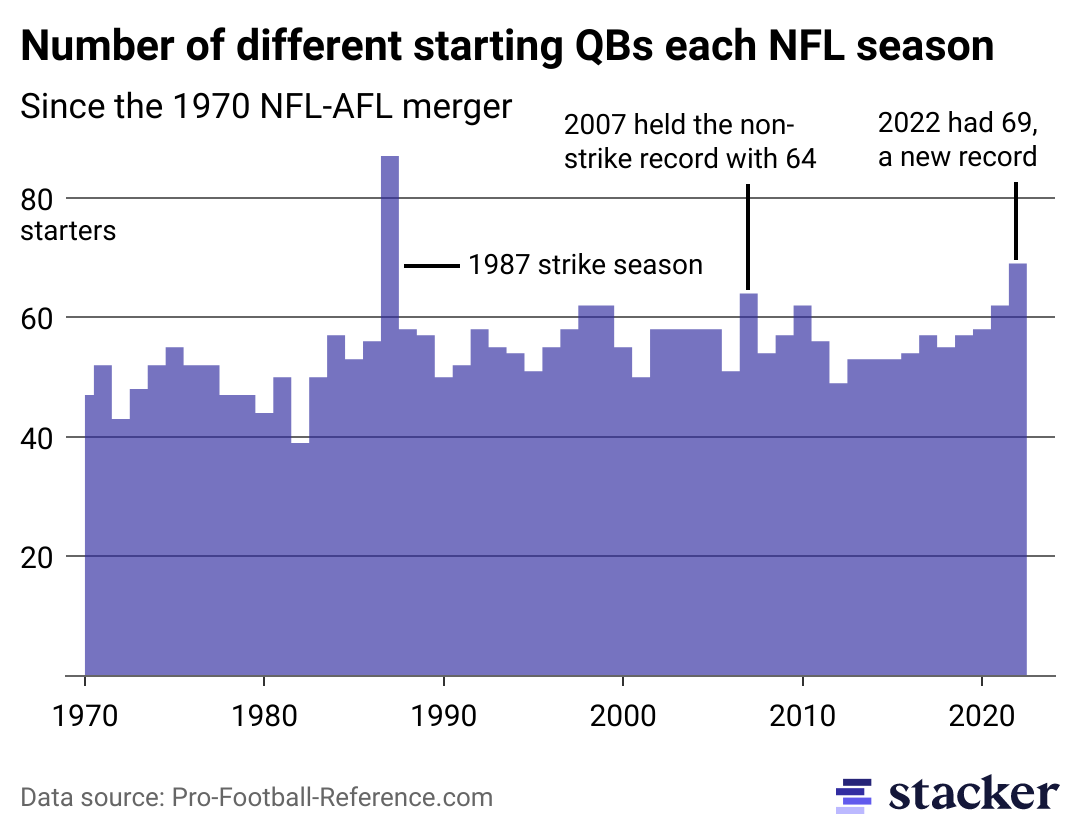 1 / 3
The record-setting 2022 season is part of a recent trend
While 2022 was record-setting, it may be part of an emerging trend. The early 2010s saw fewer starting quarterbacks as a whole—2012 had just 49, the lowest since the strike-shortened 1982 season. Since 2015 and its 53 different players who started games under center, the number has generally risen. 2021 and 2022 both had 60-plus starting quarterbacks, marking only the second time in league history that back-to-back seasons registered 60 or more different starting quarterbacks.
There's an obvious culprit: The NFL grew from 16 regular season games per year to 17 in 2021. An extra game could lead to more skipped time due to injuries—although official league data to confirm or refute this theory is scant—as well as a greater emphasis on resting players. There have also been cries of low-quality play league-wide, potentially leading more teams to bench poorly performing players.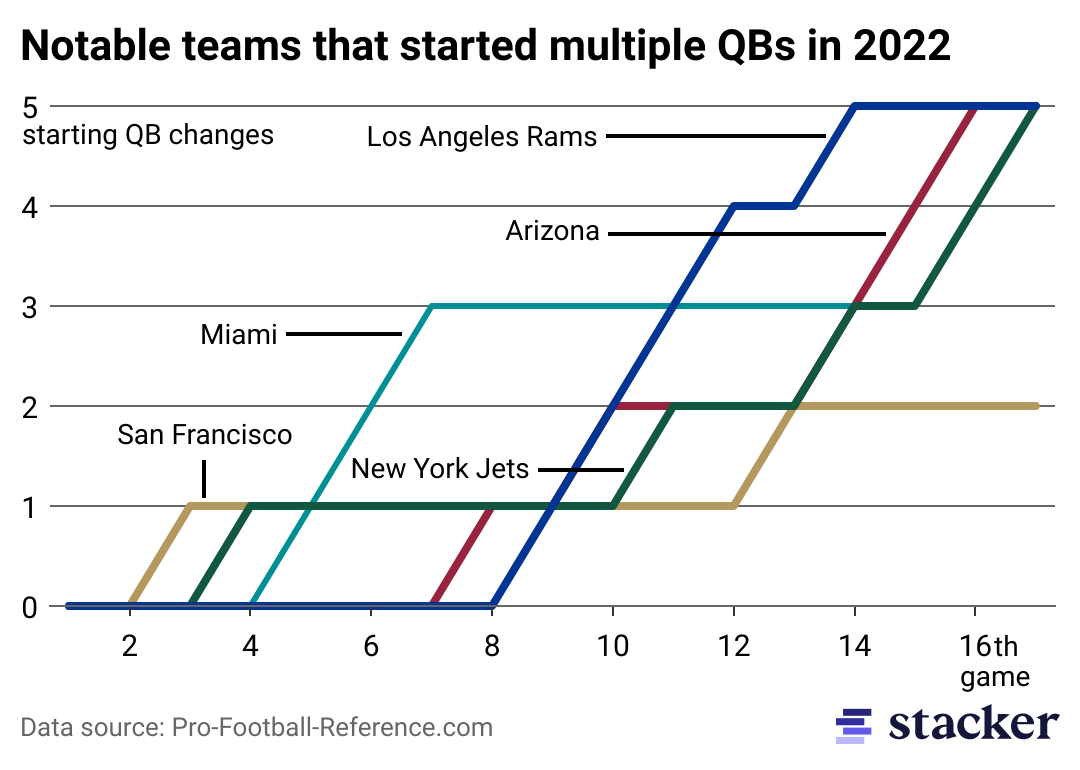 2 / 3
12 teams started three or more QBs in 2022
With 69 different starting quarterbacks across the NFL, a large swath of the league's teams had a high number of starters. In total, 12 teams started three or more different players under center in 2022. Two—the Arizona Cardinals and the New York Jets—started four different ones.
Out of the 12, four teams changed their starting quarterback five times. The defending Super Bowl champion Los Angeles Rams waffled between John Wolford and Bryce Perkins after shutting down Matthew Stafford for the season and before Cleveland and Carolina outcast Baker Mayfield settled in for the last four games. Arizona struggled with injuries to Kyler Murray and Colt McCoy, eventually leading to Trace McSorley and David Blough starting games. The Jets, meanwhile, featured Joe Flacco and Zach Wilson in the starting role before Mike White and Chris Streveler led the offense later in the season. And the Miami Dolphins rotated between Tua Tagovailoa, Teddy Bridgewater, and Skylar Thompson after concussion woes plagued South Florida.
Generally, teams with inconsistent starters posted poor win-loss records. There were three exceptions among the group of 12; however, the aforementioned Dolphins, plus the Baltimore Ravens and the San Francisco 49ers, all qualified for the playoffs.
The 49ers are particularly interesting. They moved through signal callers Trey Lance, Jimmy Garoppolo, and Brock Purdy en route to a 13-4 record and the NFC's second seed. However, the Bay Area's last remaining grid team did something most of the other 12 teams failed to do: San Francisco had a consistent quarterback for long stretches and only changed its starter twice—10 of the other 11 teams swapped starters at least three times.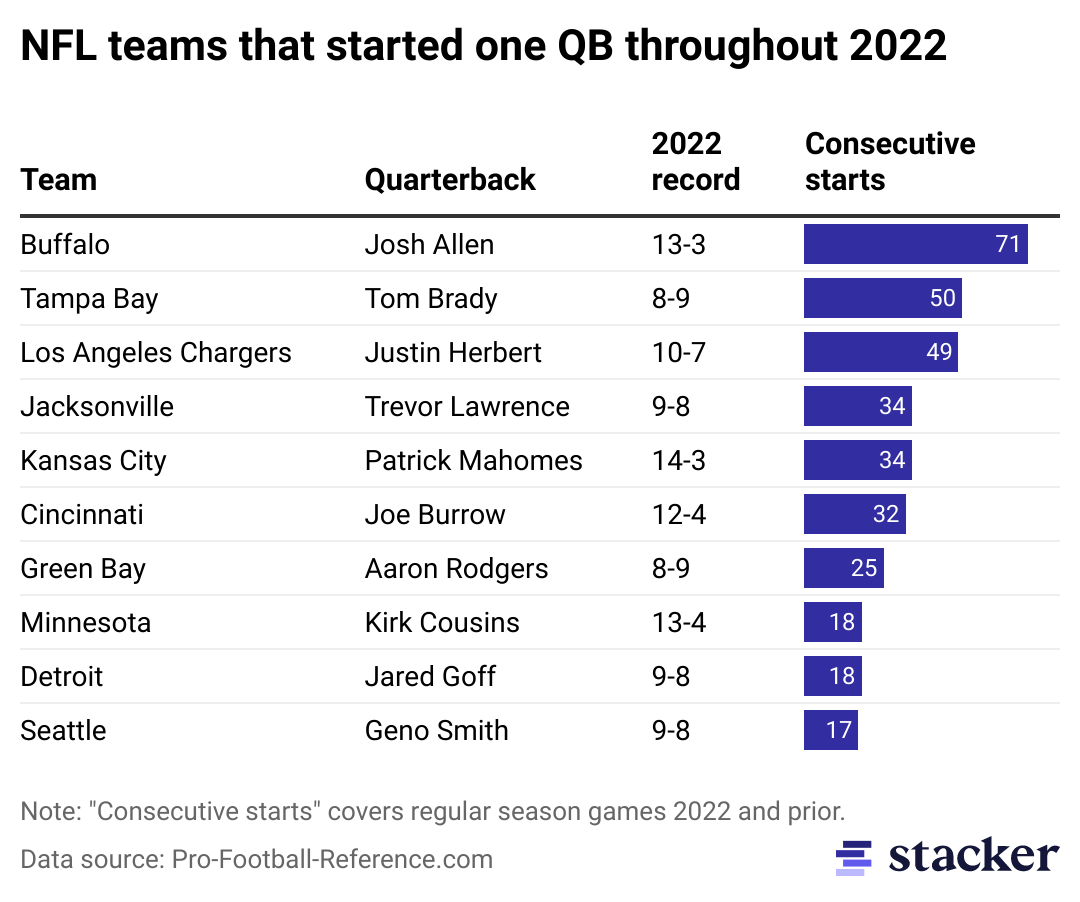 3 / 3
Elite 8: Just 8 teams started 1 QB in all 17 games
On the flip side are the teams that managed to get through 2022 with only one starter at quarterback. Unsurprisingly, these teams posted competitive records, and eight of the 10 with a single quarterback starter made the playoffs (the other two, Green Bay and Detroit, narrowly missed out on a Wild Card spot).
The list is also dotted with some of the league's best field generals. Tom Brady, whose future lingers in doubt, started every Tampa Bay Buccaneers game for the third straight season, giving him a perfect 50-for-50 attendance mark with the franchise. Including the end of his tenure in New England, Brady has started 110 consecutive regular season games. If he returns as a 46-year-old next season and starts the first three games, he'll have his longest starting streak ever.
Other stalwarts who started their team's entire slate this season include Patrick Mahomes, who guided the Kansas Chiefs to the top AFC seed, and Green Bay's Aaron Rodgers, another aged pro with an unclear future. Cincinnati's Joe Burrow and Buffalo's Josh Allen also started all possible games, although both only completed a 16-outing slate due to Buffalo Bills' safety Damar Hamlin's cardiac arrest, which led to a canceled game. Meanwhile, 2021's top draft pick, Trevor Lawrence, has started all 34 games since joining Jacksonville as a rookie, and this season was decidedly better than last year's rollercoaster ride.