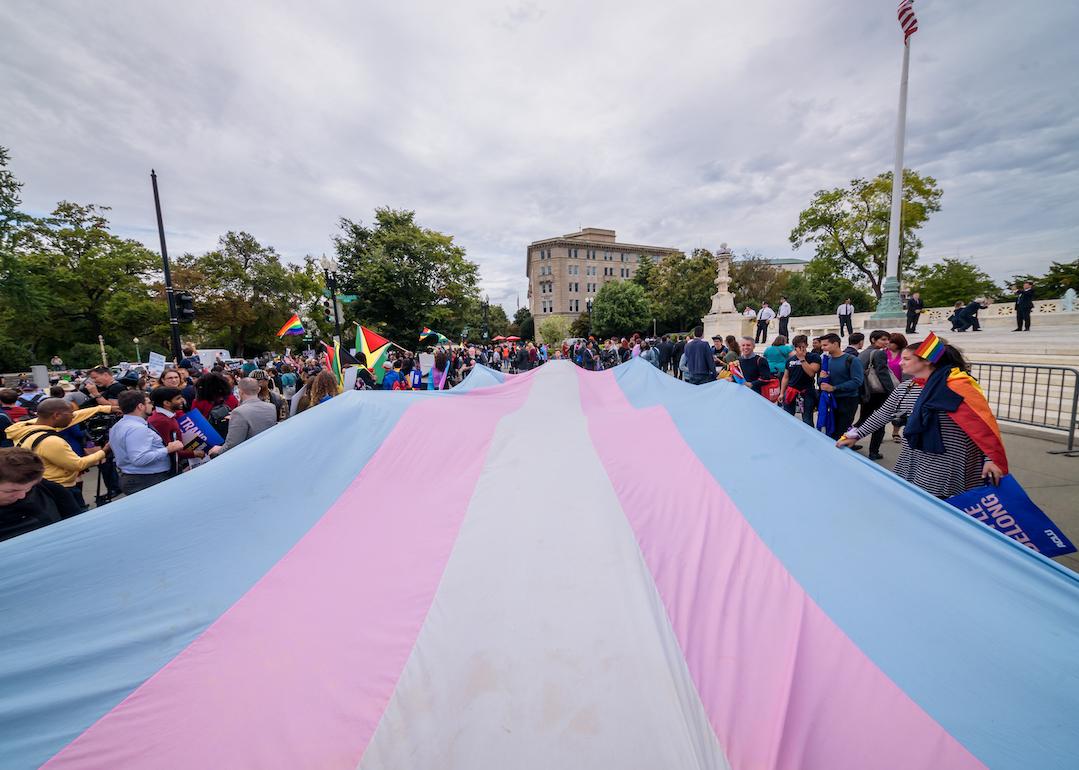 How transgender protection laws differ by state
Erik McGregor // LightRocket via Getty Images
How transgender protection laws differ by state
The American consciousness is evolving. Slowly, laws are following suit, providing more inclusive and protective policies as previously assumed gender norms are uncovered as restrictive and incorrect. Recent Gallup polls show that a large majority of Americans support LGBTQ rights, and that support is growing. A similarly sized majority of Americans who support basic protections for LGBTQ rights supports transgender people who want to serve in the military. However, there are still prevalent divides on the rights of transgender individuals to do something as simple and necessary as use a bathroom.
Gender identity protections are often lumped in with sexual orientation, yet transgender individuals align with a gender other than what was assigned at birth, which has nothing to do with sexual orientation. Transgender individuals can be gay, bisexual, lesbian, queer, heterosexual, or something else.
Much in the same way homosexuality was once considered a psychological disorder, transgender individuals have faced a similar stigma. It wasn't until 2019 that the World Health Organization stopped considering gender identity disorder a mental health diagnosis. At the federal level, laws protecting an individual's gender identity in the workplace make employment discrimination illegal. Before the Supreme Court ruled on marriage equality among same-sex individuals, there were few national protections for the LGBTQ community. Yet within this same-sex marriage law there is little for transgender individuals in particular, and there are many other areas, including housing, the right to adoption, and medical care, where states have failed to add provisions to protect the welfare of transgender individuals.
State laws vary widely, and a number of states have few or no protections in place. Many have not passed laws that actively discriminate against LGBTQ individuals, but they lack laws specifically designed to protect the rights of transgender people. Some states even have laws that further facilitate discrimination, including 39 states that allow for the use of a "gay/trans panic defense" in court. The "panic defense" is a set of legal strategies that, according to the American Bar Association, "seek to partially or completely excuse crimes such as murder and assault on the grounds that the victim's sexual orientation or gender identity is to blame for the defendant's violent reaction." So-called "conversion therapy," a scientifically discredited and controversial practice with noted negative health consequences that seeks to "convert" LGBTQ people to heterosexuality or traditional gender expectations, is still legal in 30 states.
Stacker compiled a list of transgender protection laws in each state, primarily using data from Movement Advancement Project (MAP), a nonprofit research program that gathers various resources to further expand equitable treatment for all people.
You may also like: A timeline of WWII, the most devastating conflict in history