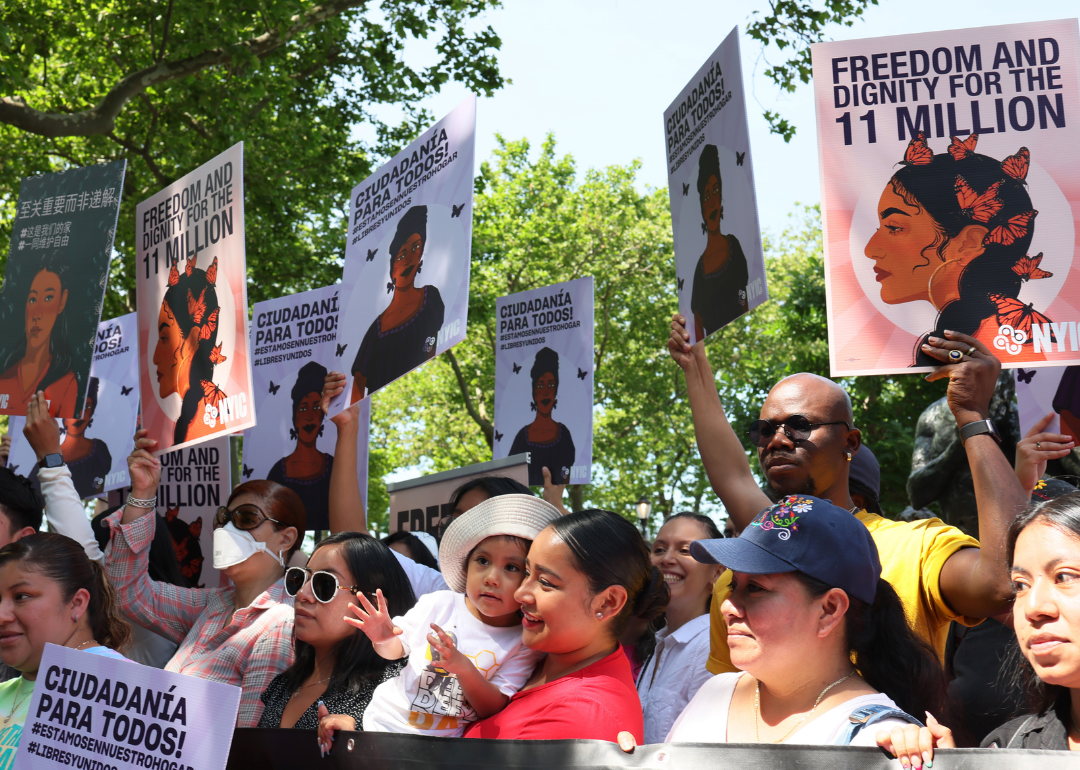 The numbers behind the DACA program: how many people would its end affect?
Michael M. Santiago // Getty Images
The numbers behind the DACA program: how many people would its end affect?
2022 is the 10th anniversary of the Deferred Action for Childhood Arrivals program, also known as DACA. It has recently been thrust into the spotlight as politicians—and courts—once again debate its legitimacy.
Earlier this year, the Department of Homeland Security ruled to preserve DACA for noncitizens who met specific criteria. However, in October, the Fifth Circuit Court of Appeals threw its status in limbo again as it ruled in favor of a lower court's earlier ruling that DACA was illegal. For now, DACA recipients can renew their status, but the fate of new applicants is uncertain. The DHS continues to accept but not process new initial requests for DACA status.
To become a DACA recipient, a person must meet a number of different criteria. They must have arrived in the U.S. when they were under 16 years of age, and as of June 15, 2012, resided in the country for five contiguous years and be under 30 years of age. They must have been physically within U.S. borders on the day that the government announced the DACA program, as well as the moment they requested deferred action. They cannot have been convicted of serious crimes or considered a threat to national security. They must also have finished high school, earned a GED, or served in the Armed Forces and, if discharged, been discharged honorably.
The program does have some caveats. The main one is that although DACA can help to postpone deportation, it neither automatically nor subsequently ensures legalization or citizenship, and it doesn't grant amnesty. Recipients cannot vote in U.S. elections or get government benefits such as Social Security, financial aid for college, or food stamps. Also, DACA recipients cannot leave the country without travel authorization, which the government will only grant for issues such as medical treatment, care of a family member, or for law enforcement or national security reasons.
As of June 2022, there are 594,120 people with active DACA status—all of whom would be displaced should the program end. Stacker looked into the numbers behind the current recipients of DACA status to find out just how many lives would be affected by its end, citing data from the U.S. Citizenship and Immigration Services, the Department of Homeland Security, and the National Immigration Law Center.
You may also like: Former jobs of every Supreme Court justice