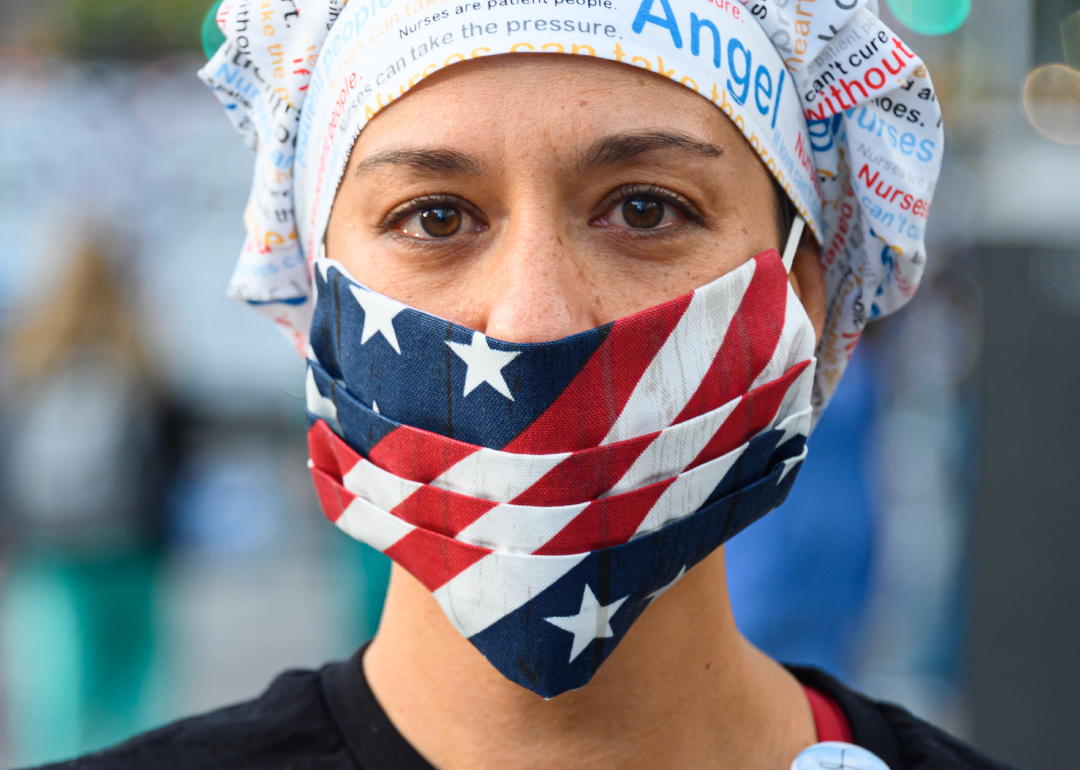 50 photos of the health care system during COVID-19
Noam Galai // Getty Images
50 photos of the health care system during COVID-19
Since the first COVID-19 patient in the United States tested positive on Jan. 20, 2020, The Covid Tracking Project reports that there have been 11.37 million known coronavirus cases in the country (as of Nov. 19, 2020). New cases in the U.S. have officially topped 150,000 a day (a record number), and experts warn that things could only get worse as we move into the colder months. Whether we like it or not, it seems the pandemic will continue to dominate headlines and affect our daily lives for months to come.
While many of us feel the burden the global pandemic has had on our day-to-day lives, those challenges often pale in comparison to the toll the coronavirus has taken on the country's health care system. Hundreds of thousands of patients have been hospitalized with COVID-19. Health care workers have administered 171.9 million coronavirus tests (as of Nov. 19, 2020). These numbers don't include the countless number of hours doctors and nurses have poured into the rehabilitation and recovery of COVID-19 patients who face long-lasting symptoms like heart and respiratory issues or joint pain.
On Nov. 18, the U.S. hit the tragic milestone of 250,000 deaths from the virus. "Lost on the Frontline," a partnership between The Guardian and Kaiser, tracks the number of health care worker deaths in the U.S. As of Nov. 19 that number reached 1,396.
To demonstrate just how difficult the past 300 days have been for health care workers in this country, Stacker compiled a collection of 50 incredible images showcasing the United States' health care system during the COVID-19 pandemic. From the early days of the virus' spread to photos taken during the second wave, these pictures illustrate just how tirelessly frontline medical personnel have worked to curb this virus, care for the sick, and overcome seemingly insurmountable challenges. Clicking through these images, it's clear that we owe these professionals a debt of gratitude for the incredible work they've done—and a reckoning for the lack of hazard pay and structural support, and for the amount trauma so many continue to endure. 
You may also like: What you need to know about how COVID-19 spreads through air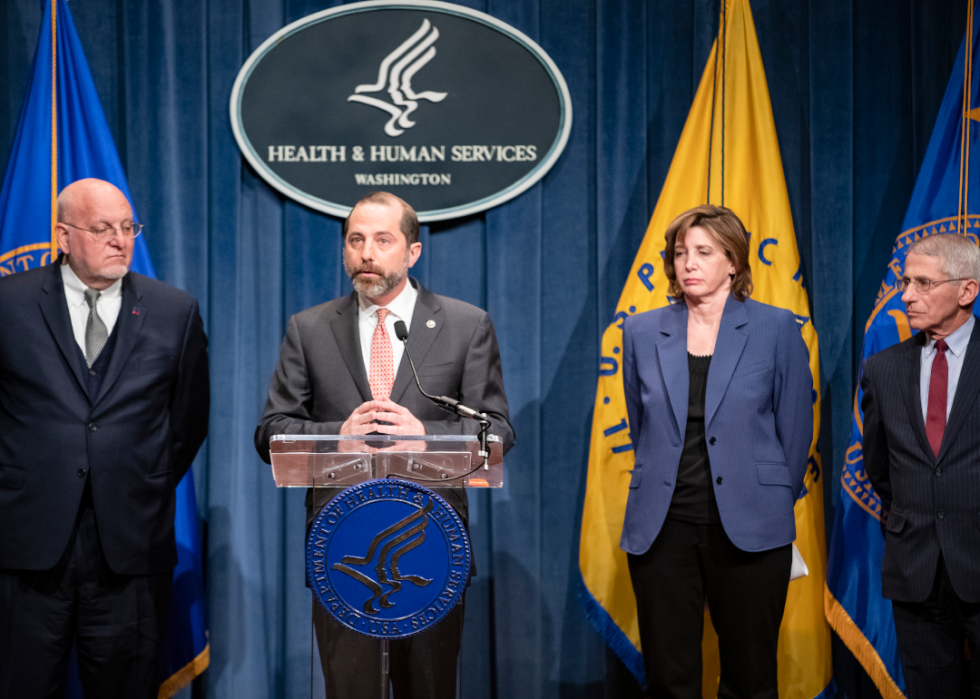 1 / 50
Samuel Corum // Getty Images
Health And Human Services briefs the media on the department's response to the coronavirus in January
Health and Human Services Secretary Alex Azar is joined by (from left to right) Centers for Disease Control and Prevention Director Robert Redfield, National Center for Immunization and Respiratory Diseases Director Nancy Messonnier, and National Institute of Allergy and Infectious Diseases Director Anthony Fauci, for a press conference on the coordinated public health response to the COVID-19 pandemic. At this time, only a handful of cases had been reported in the United States.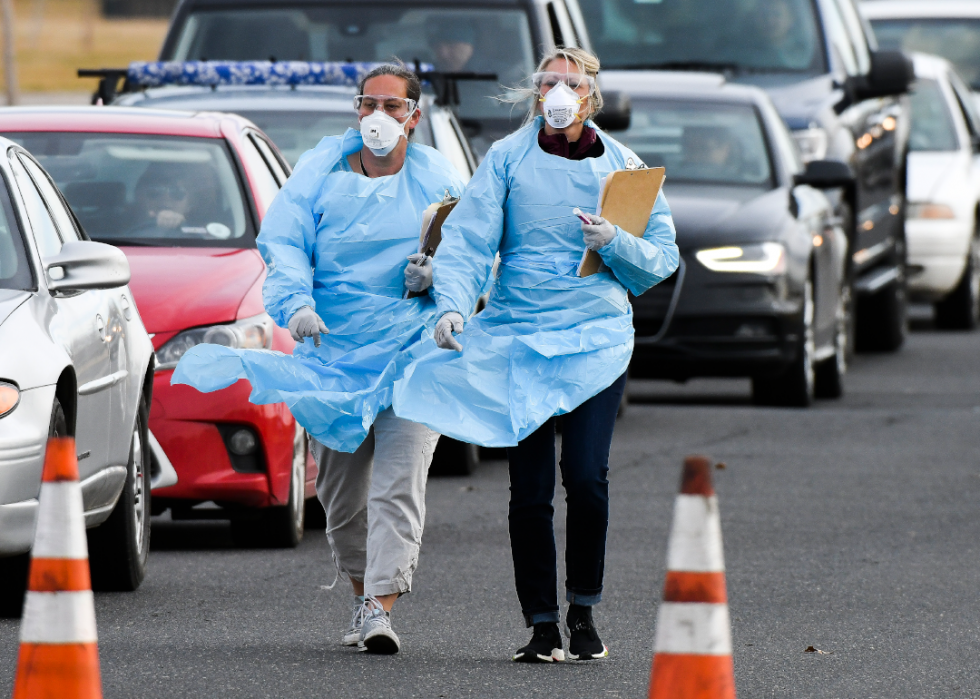 2 / 50
Michael Ciaglo // Getty Images
Drive-through coronavirus testing centers open
In March, health care workers from the Colorado Department of Public Health and Environment checked in with people waiting to be tested for COVID-19 at the state's first drive-up testing center in Denver. As of November 2020, all 50 states have drive-up testing centers, many of which provide free or low-cost tests for anyone who wants one.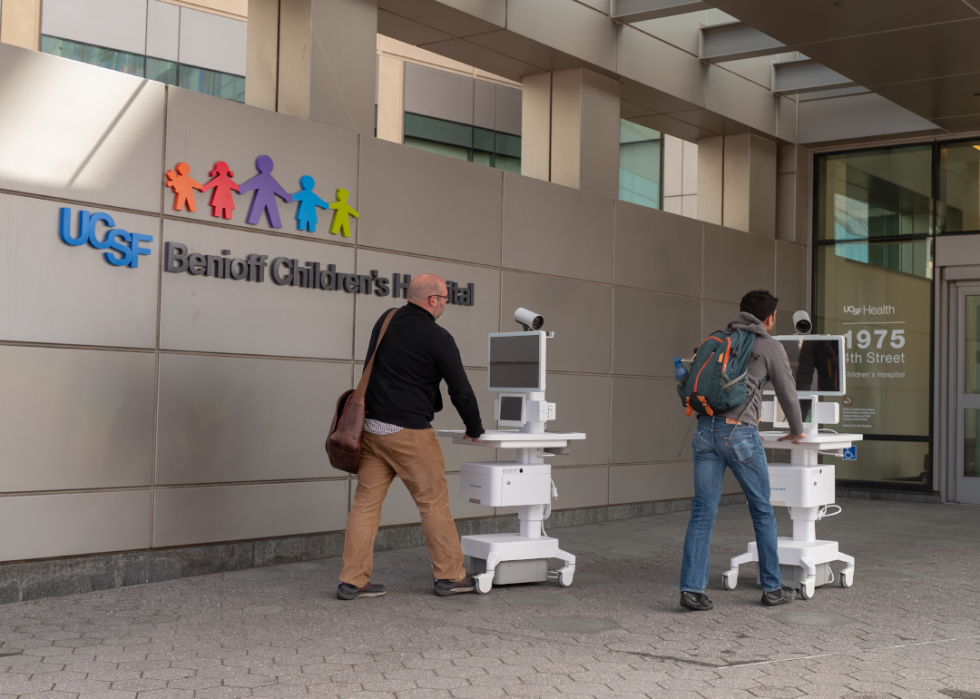 3 / 50
Smith Collection/Gado // Getty Images
Doctors transition to telemedicine appointments
Two staff members wheel Amwell telemedicine carts into the entrance of the University of California San Francisco (UCSF) Benioff Children's Hospital in Mission Bay, San Francisco, California. As a result of the outbreak, patients were increasingly asked to conduct telemedicine appointments in an effort to avoid infecting health care workers.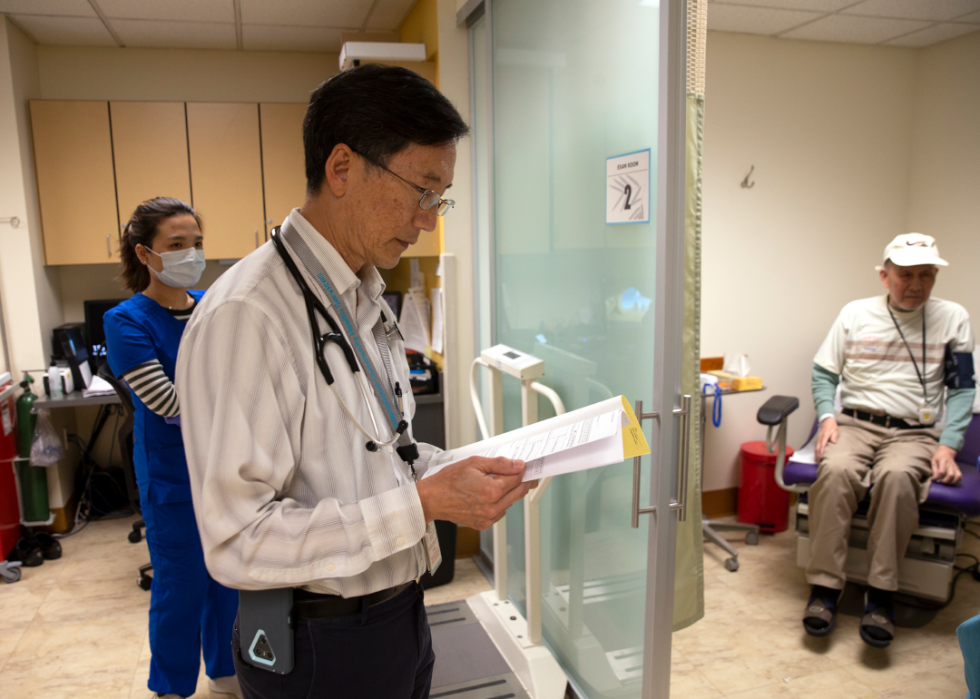 4 / 50
Karen Ducey // Getty Images
Non-profit community health centers treat patients during COVID-19 pandemic
In Seattle, Washington, Dr. Alan Chun checks on a patient who suffered a fall at the International Community Health Services' assisted living facility, the Legacy House. The ICHS nonprofit clinic cares for uninsured patients, low income people, and immigrants. ICHS and other nonprofit medical centers all across the country faced the expiration of federal funding in May as the coronavirus continued to spread.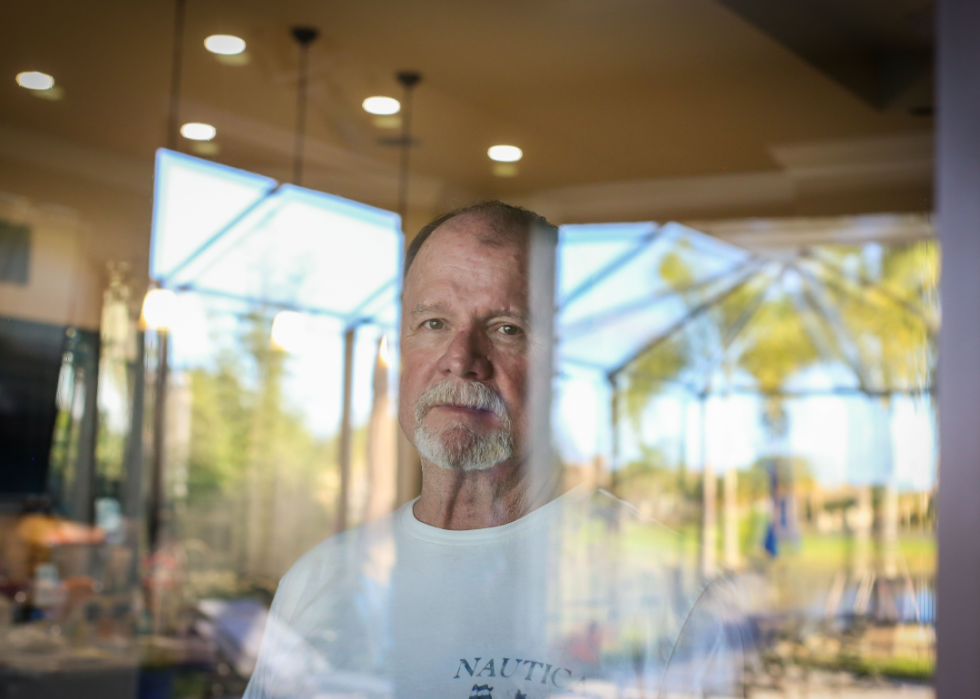 5 / 50
ZAK BENNETT/AFP via Getty Images
A coronavirus patient in recovery
Michael Barker, 69, a retired assistant chief of The Boca Raton Fire Rescue Services Department, poses in his living room while suffering from COVID-19. Barker, who believes he contracted the virus while on vacation, told reporters, "This is a strange illness. When you breathe it hurts, makes you confused and light headed. It killed my appetite and I've lost 14 pounds."
You may also like: How the most common jobs in America are impacted by COVID-19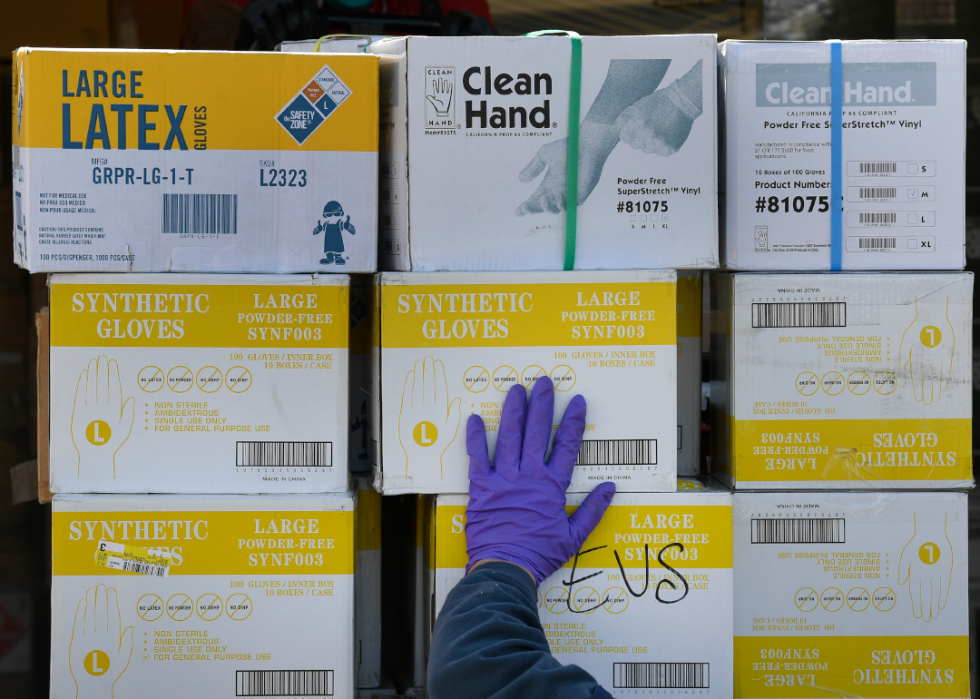 6 / 50
Helen H. Richardson/MediaNews Group/The Denver Post via Getty Images
Drive for donations to collect personal protective equipment for hospitals and health care providers
Dave Maddux, special projects manager for Project Cure, steadies a pallet of donated goods onto a truck during a drive to collect personal protective equipment (PPE) and other medical supplies for health care workers in Colorado. The drive's organizers, which included the Denver Broncos and several nonprofit organizations, say PPE supplies are in a "critical shortage" amid the coronavirus outbreak.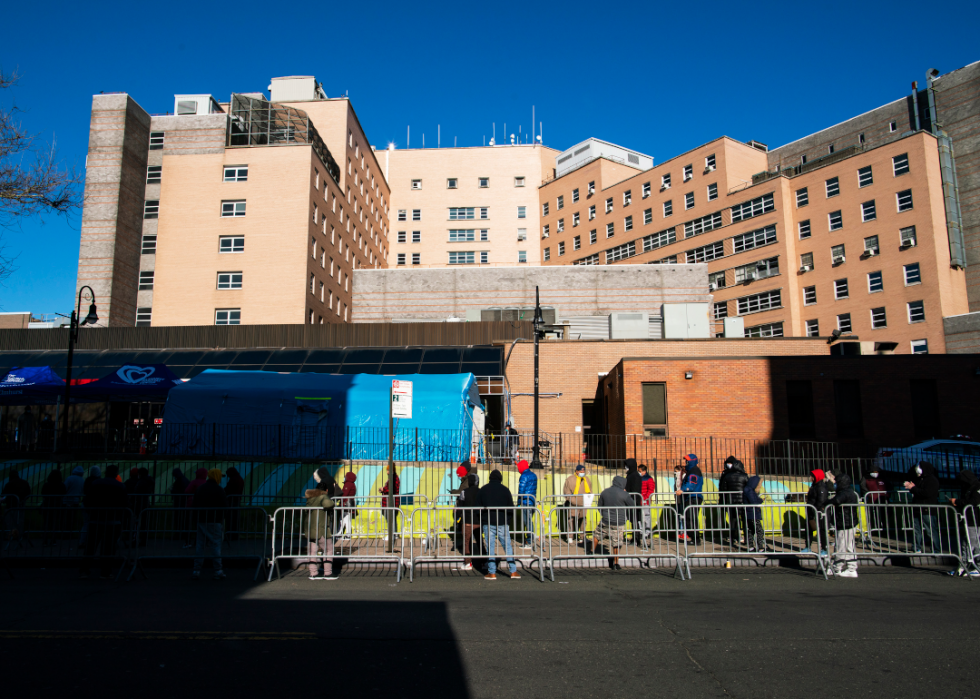 7 / 50
Eduardo Munoz Alvarez // Getty Images
New York City becomes the center of the coronavirus outbreak in the US
People line up outside Elmhurst Hospital in Queens, New York City to get tested for the coronavirus on March 24, 2020. At this time, New York had about a third of the nation's confirmed coronavirus cases, making it the center of the outbreak in the United States.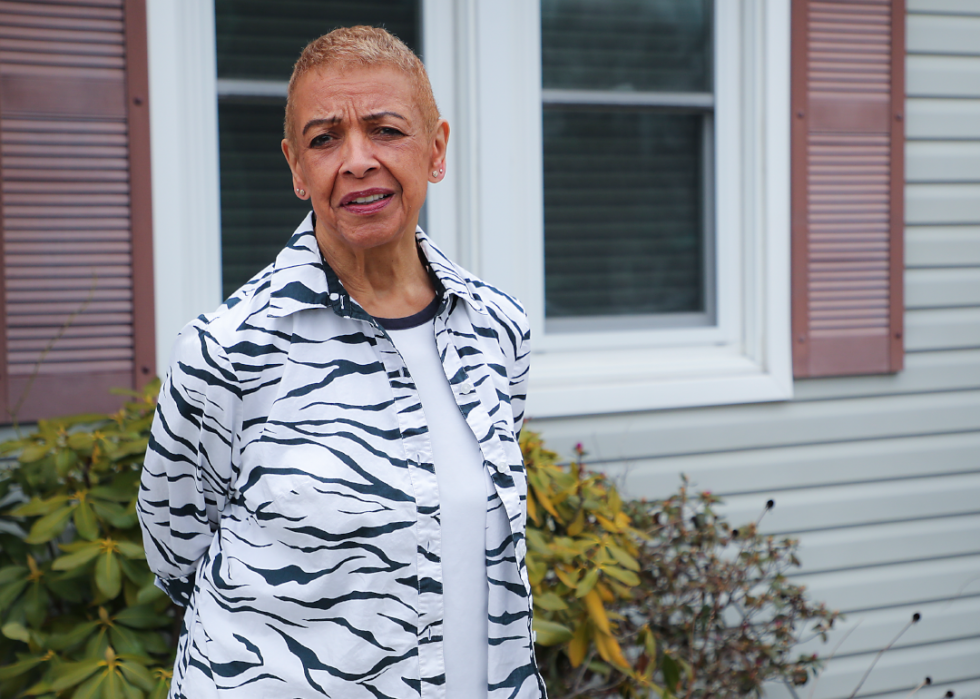 8 / 50
Matthew J. Lee/The Boston Globe via Getty Images
Hospitals cancel hundreds of doctor visits
Boston resident Marion Jones, 79, was among the many patients who found their non-urgent appointments canceled by overwhelmed hospitals and clinics. Some large facilities, like Massachusetts' Tufts Medical Center, saw routine procedures plummet by 30-50%.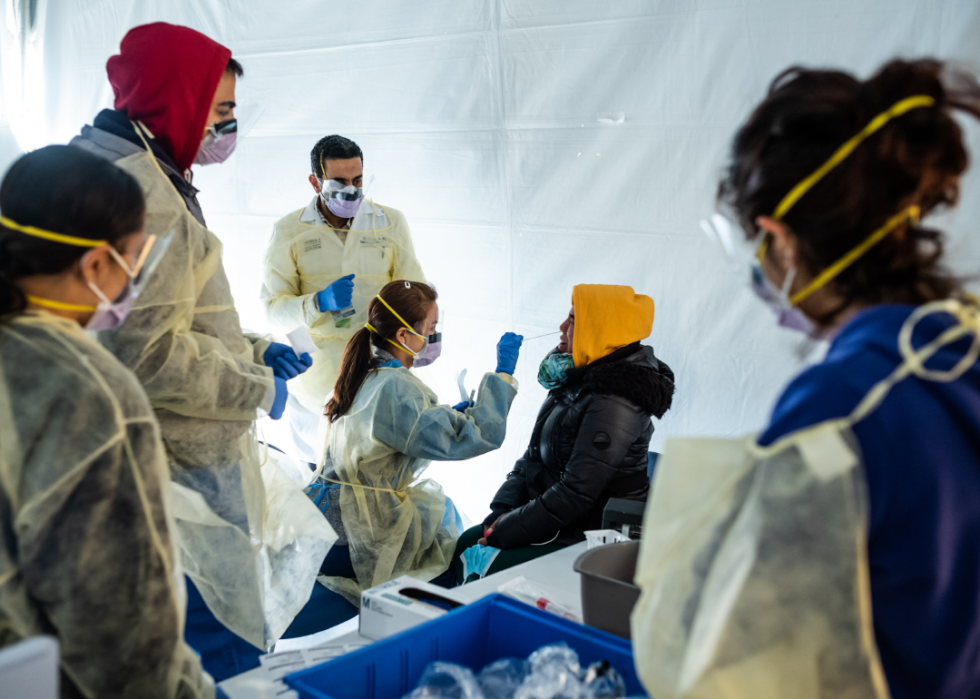 9 / 50
Misha Friedman // Getty Images
New York City hospital adds new protocols and triage tents to address coronavirus
Before entering the main emergency department area at St. Barnabas hospital in the Bronx, New York City, doctors test hospital staff with flu-like symptoms for COVID-19. Triage tents like these were set up in front of hospitals all over the hard-hit city.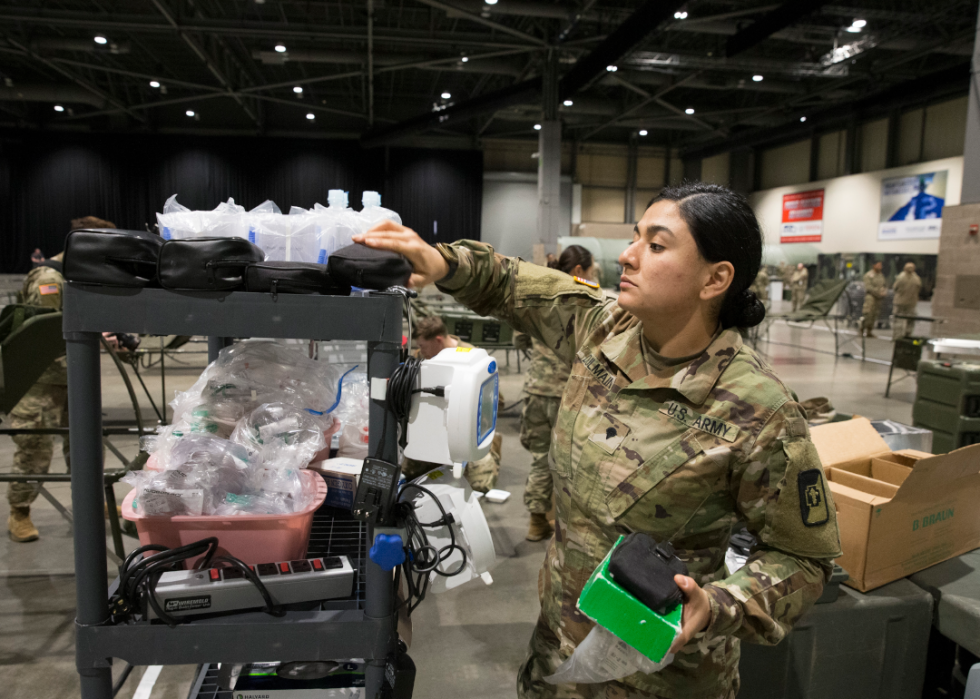 10 / 50
Karen Ducey // Getty Images
Temporary field hospitals are set up around the country
As COVID-19 cases continued to rise around the country, many hospitals found themselves overwhelmed. Military personnel helped establish field hospitals, like this one at the CenturyLink Event Center in Seattle, Washington, to provide life-saving care for non-COVID-19 patients. When completed, the center had the capabilities of a normal hospital, including an operating room, intensive care units, X-rays, and more.
You may also like: States with the populations most vulnerable to COVID-19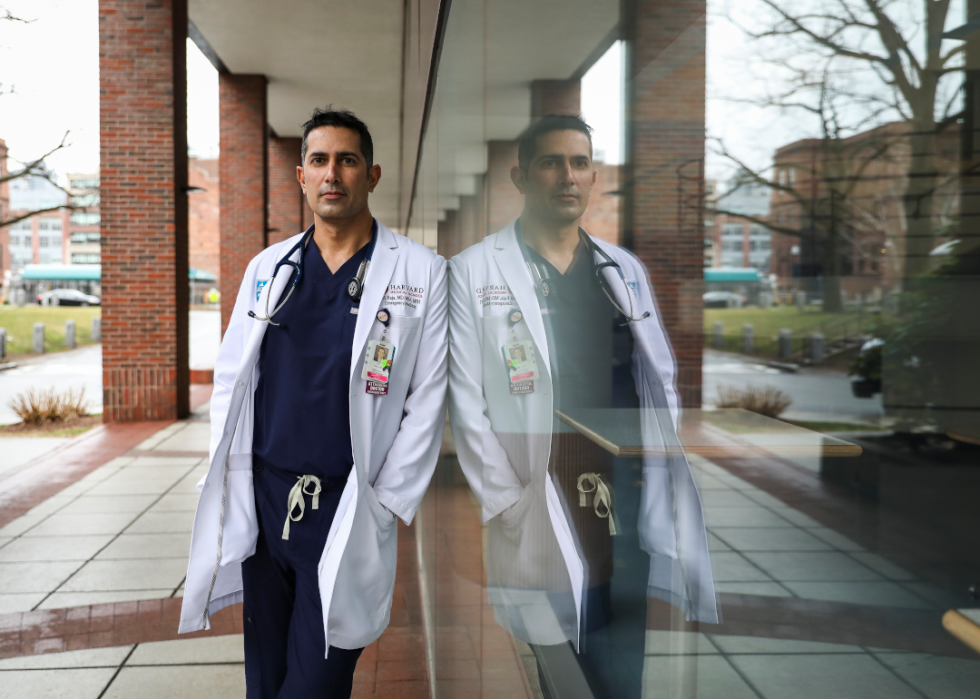 11 / 50
Erin Clark/The Boston Globe via Getty Images
Emotional limbo on the front lines of caring for the very sick with COVID-19
Emergency medicine doctor Ali Raja poses outside the world-renowned Massachusetts General Hospital in Boston in April 2020. At the time, the expanded intensive care center at the state's largest hospital was packed with COVID-19 patients, while other floors and departments were almost deserted.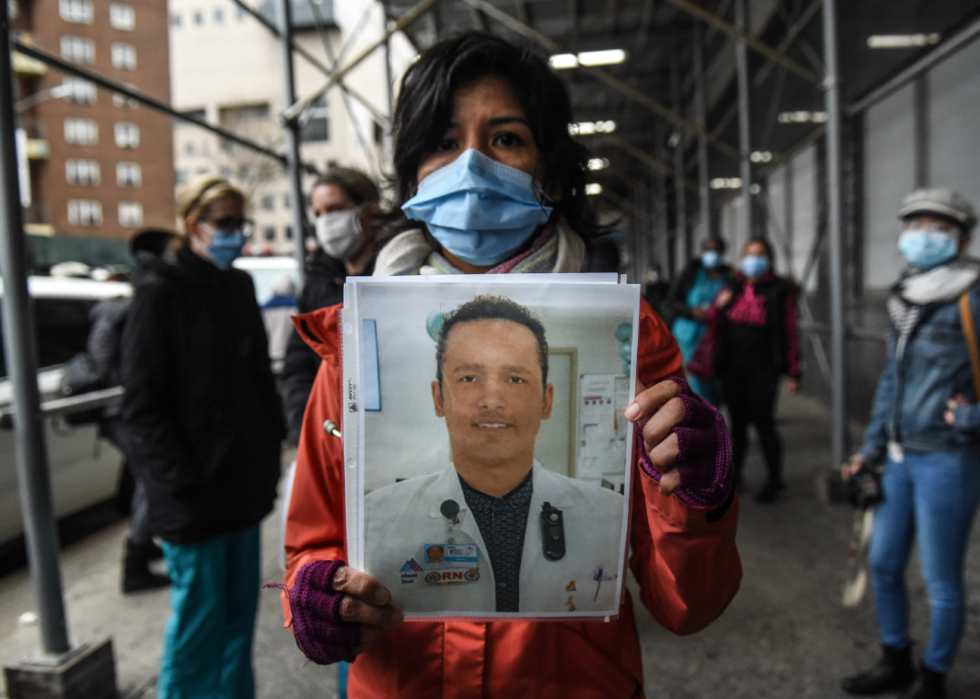 12 / 50
Stephanie Keith // Getty Images
Mt. Sinai medical workers protest over lack of PPE while fighting coronavirus
In New York City, Mt. Sinai employees hold up photos of fellow health care professionals who have died from the coronavirus during a protest. The medical workers were protesting the lack of personal protective equipment during a surge in coronavirus cases.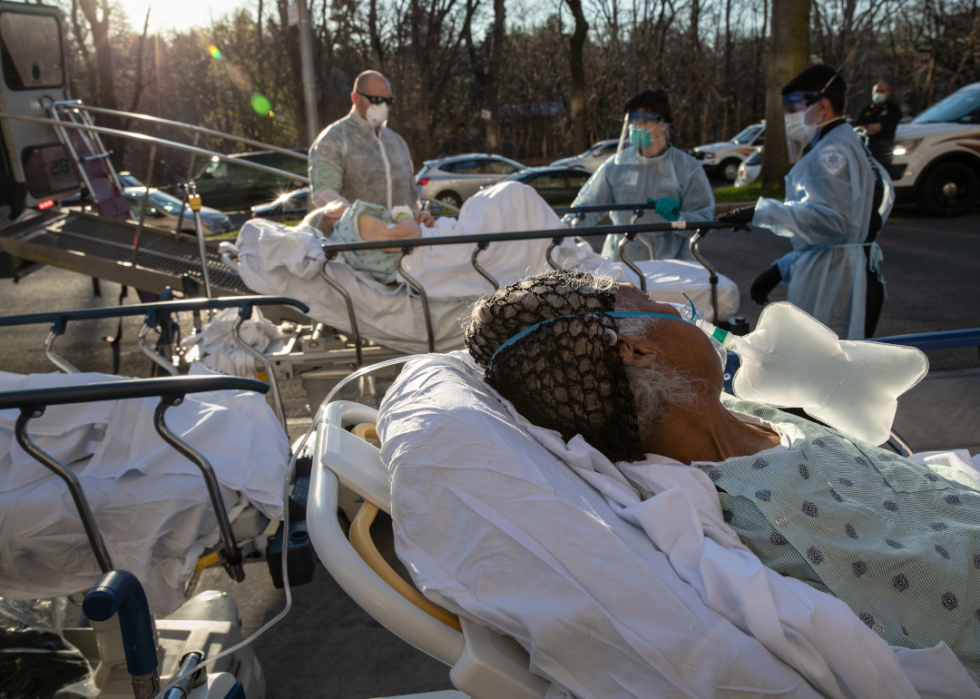 13 / 50
John Moore // Getty Images
Tri-state EMS workers confront growing number of coronavirus cases
A specialized bus called the Medical Evacuation Transport Unit carries coronavirus patients from one branch of the Montefiore Medical Center to another. These types of patient transfers were designed to help overwhelmed hospitals in Westchester County and New York City (then the center of the pandemic) even out caseloads.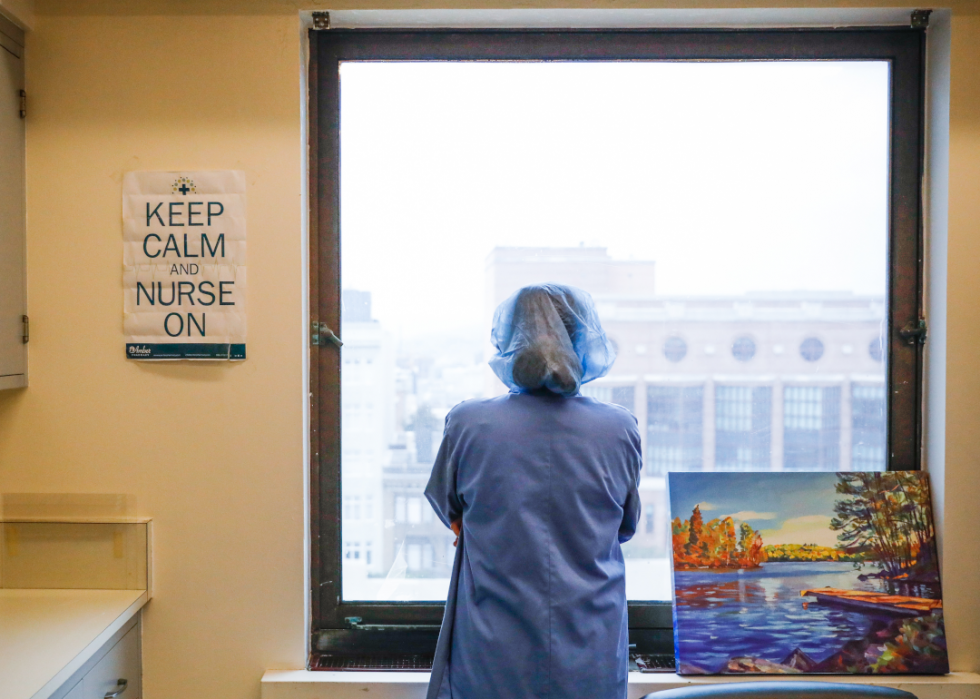 14 / 50
Gabrielle Lurie/The San Francisco Chronicle via Getty Images
A moment captured in Saint Francis Hospital in San Francisco
Supervising nurse Regina Truong looks out the window as she takes a break on the COVID-19 floor at Saint Francis Hospital in San Francisco on Monday, April 6, 2020.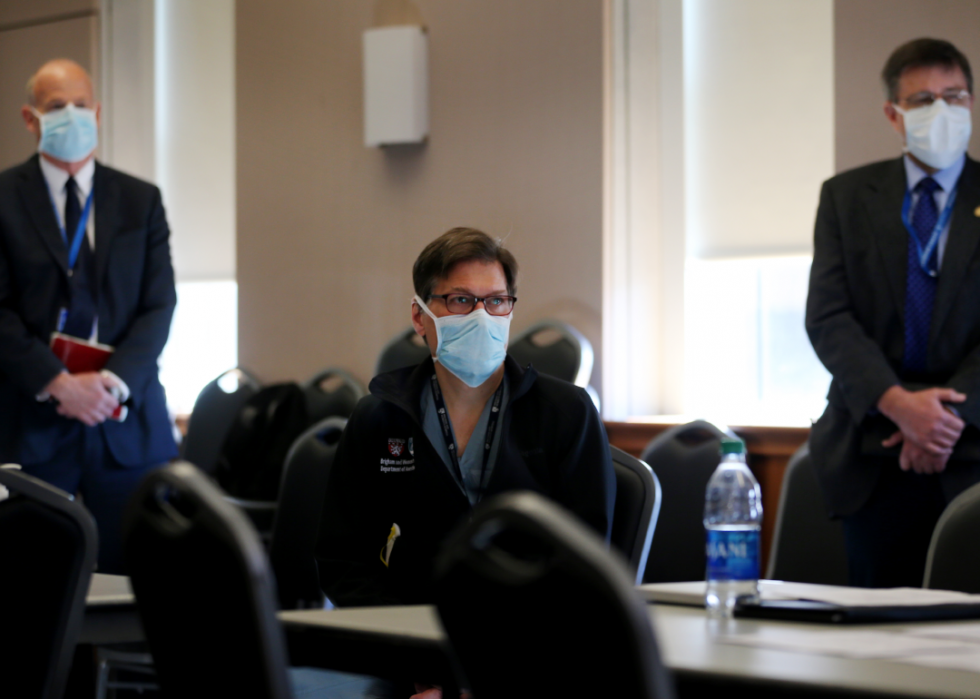 15 / 50
Craig F. Walker/The Boston Globe via Getty Images
Crisis standard of care simulation
As the pandemic grew, public health departments across the United States raced to finalize policies about how hospitals should make traumatic care choices, such as which patients to treat and which to let die. Here, Dr. James Rathmell listens during a Crisis Standard of Care team simulation to prepare for the possibility of rationing ventilators at Brigham and Women's Hospital in Boston.
You may also like: 50 US metro areas with the dirtiest air—and why they're at risk during COVID-19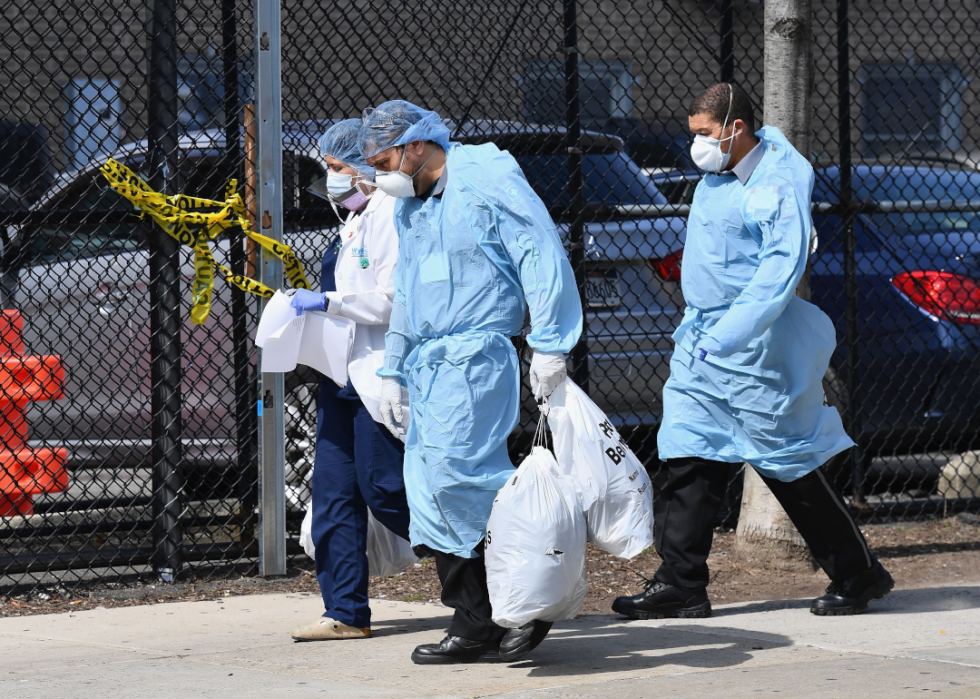 16 / 50
ANGELA WEISS/AFP via Getty Images
Death toll continues to rise
Medical staff walk with bags of a deceased patient's items removed from a refrigerated truck, outside Wyckoff Heights Medical Center on April 7, 2020 in Brooklyn, New York.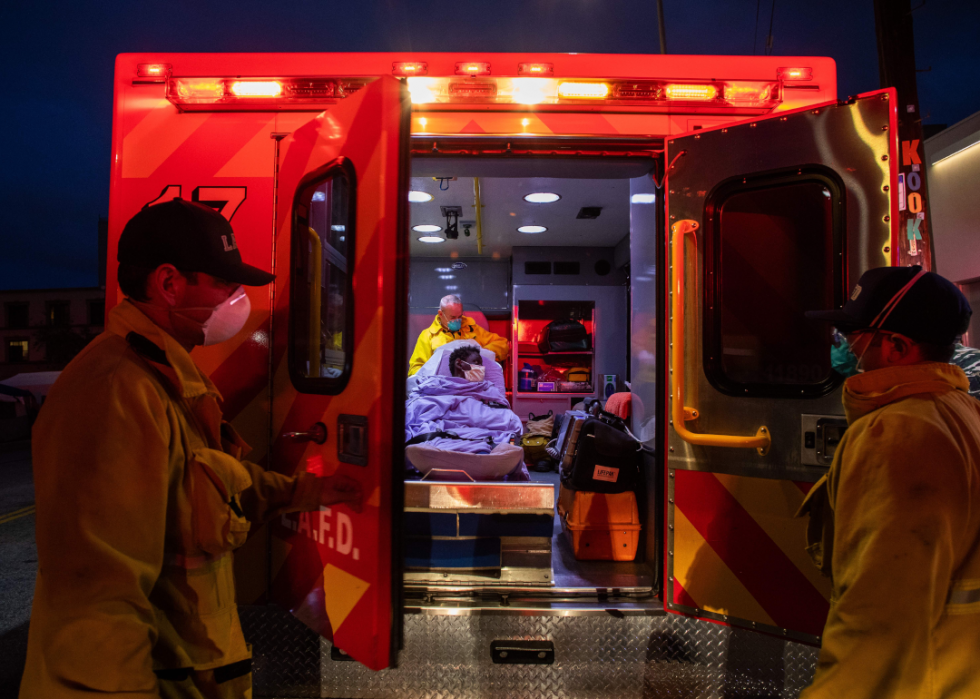 17 / 50
APU GOMES/AFP via Getty Images
Paramedics on the front lines of California's homeless crisis
Paramedics with the Los Angeles Fire Department wear face masks as a preventive measure while treating a homeless woman who suffered from seizures on the street. One of the busiest fire stations in the country, LAFD Station #9 served on the frontlines of both the coronavirus pandemic and the homeless pandemic in the western state.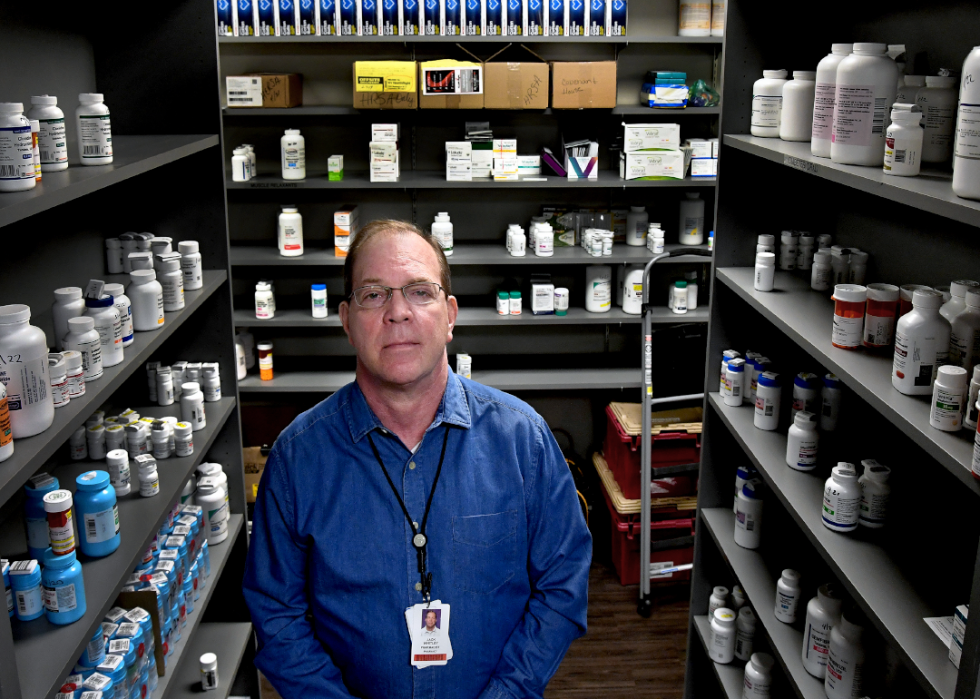 18 / 50
Michael S. Williamson/The Washington Post via Getty Images
After losing their jobs, many now are losing their insurance
For many, the coronavirus pandemic has led not just to job loss but also to insurance loss. Pharmacists like Jack Whitley, pictured here, report a significant increase in the number of middle-class people seeking help from nonprofits in order to obtain medicines that had previously been covered by their insurance.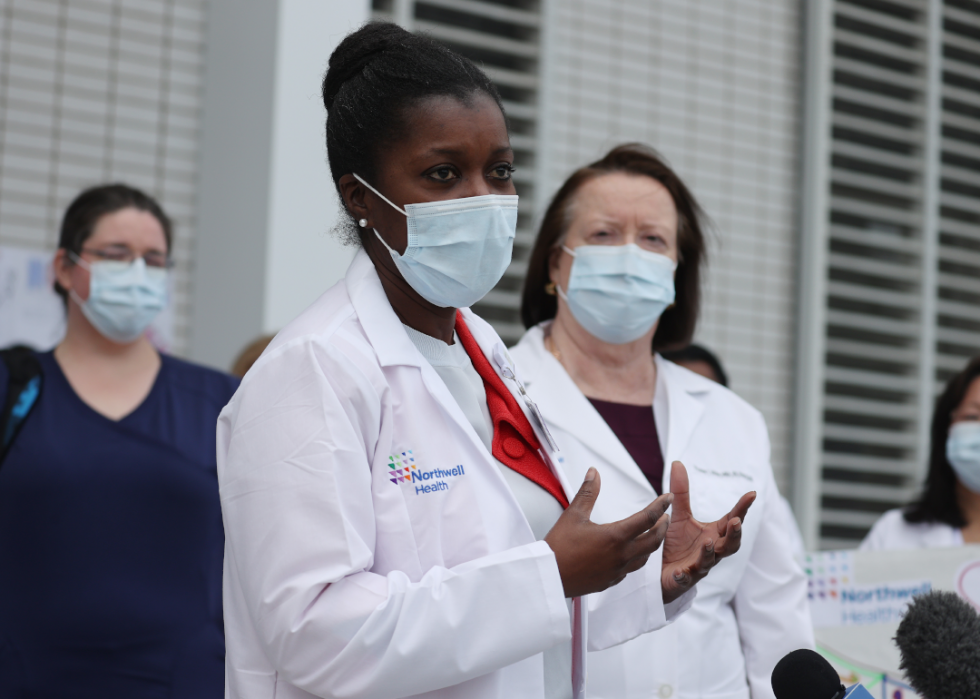 19 / 50
Long Island Nursing Institute holds "clap in" for nurses coming from outside areas to help in New York region
Launette Woolforde, vice president of the Northwell System Nursing Education program, speaks to the media at the Long Island Nursing Institute in New Hyde Park, New York. Staff nurses and administrators had gathered to welcome and "clap in" nurses arriving from around the country to help treat coronavirus patients.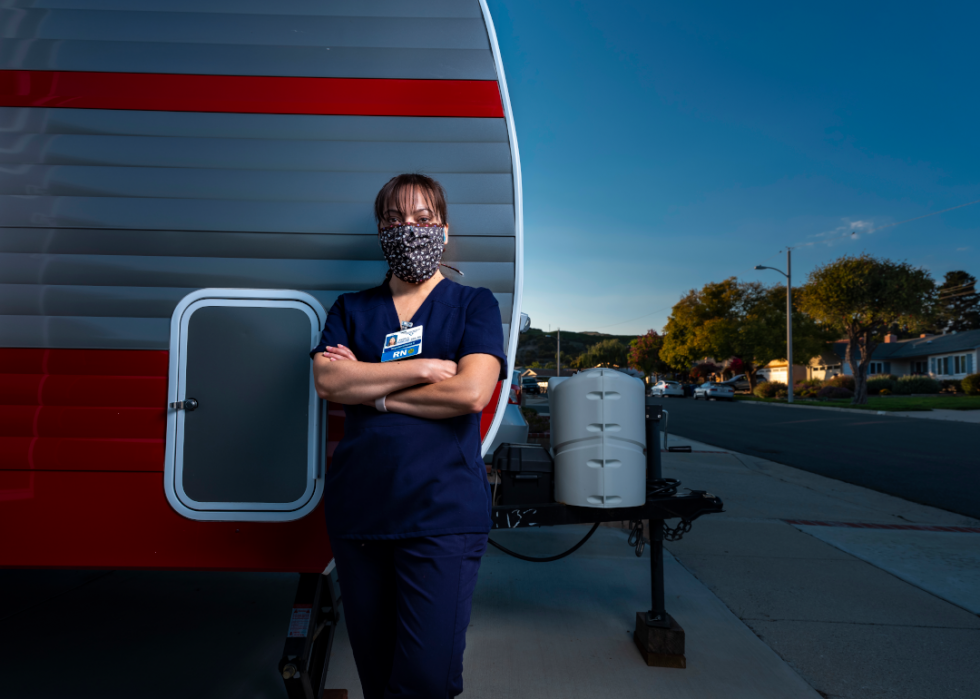 20 / 50
Brent Stirton // Getty Images
Essential workers keep American life going during coronavirus pandemic
Angela Mireles, organizer of the Trailers for Nurses project, which matches trailers and RVs with front line health care workers who need a safe place to quarantine from loved ones, stands outside one of the donated trailers. These portable homes allow medical staff to remain close to their families while ensuring they don't spread the virus.
You may also like: What we know about children and COVID-19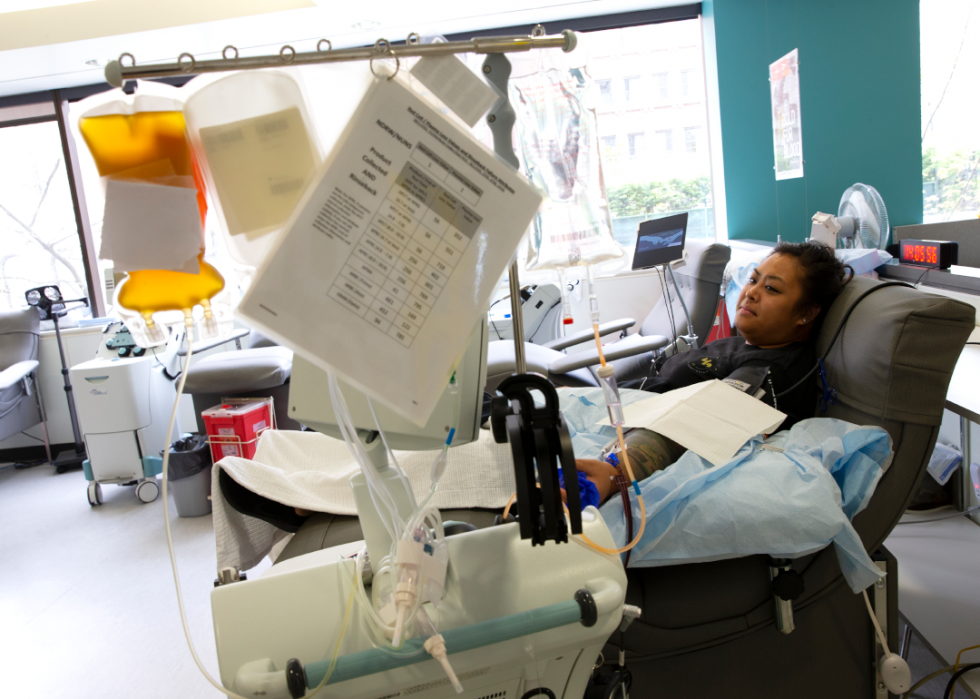 21 / 50
Karen Ducey // Getty Images
Recovered COVID-19 patients donate plasma for experimental antibodies treatment
Melissa Cruz donates COVID-19 convalescent plasma at Bloodworks Northwest in Seattle, Washington. Cruz contracted COVID-19 while she was a health care worker in the emergency room of Valley Medical Center in Renton, Washington. The plasma will be used in a new experimental treatment, in hopes that the antibodies will help others still battling the COVID-19 disease.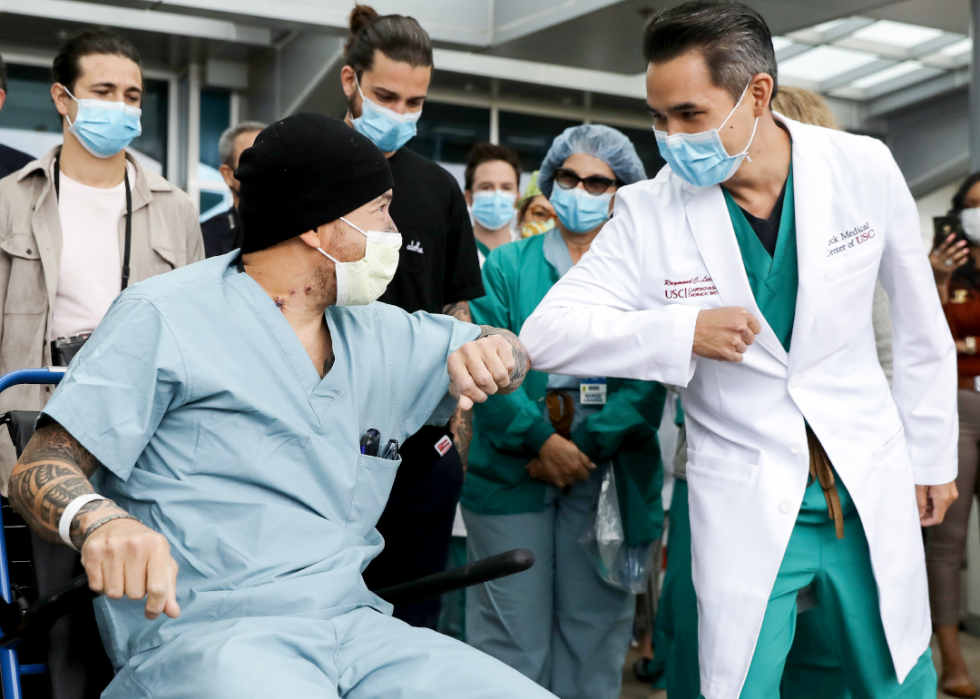 22 / 50
Mario Tama // Getty Images
Patient released from hospital after long battle with COVID-19
Los Angeles Police Department Detective Michaell Chang, who had been in critical condition with the novel coronavirus, elbow bumps his doctor, Raymond Lee, after being released from Providence St. John's Health Center in Santa Monica, California. Chang was infected with COVID-19 in March 2020.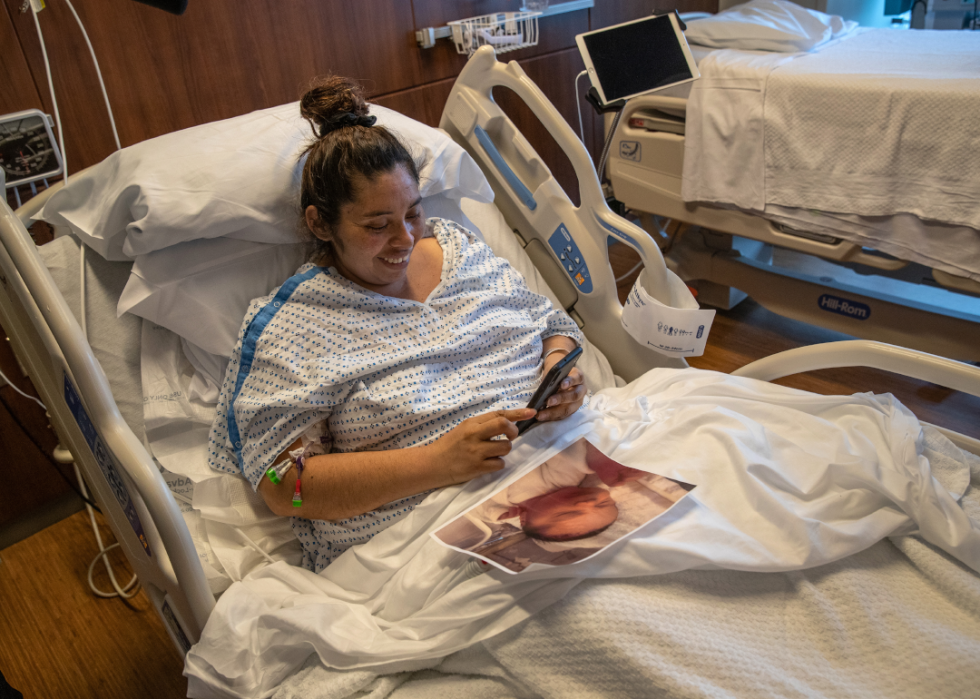 23 / 50
John Moore // Getty Images
Immigrant mother and family suffer with COVID-19
Days after being removed from a ventilator, Zully, a Guatemalan asylum seeker and COVID-19 patient, speaks with her husband and oldest son via video chat. Weeks earlier, Zully gave birth, via C-section, to a second son who she had yet to meet because to her illness.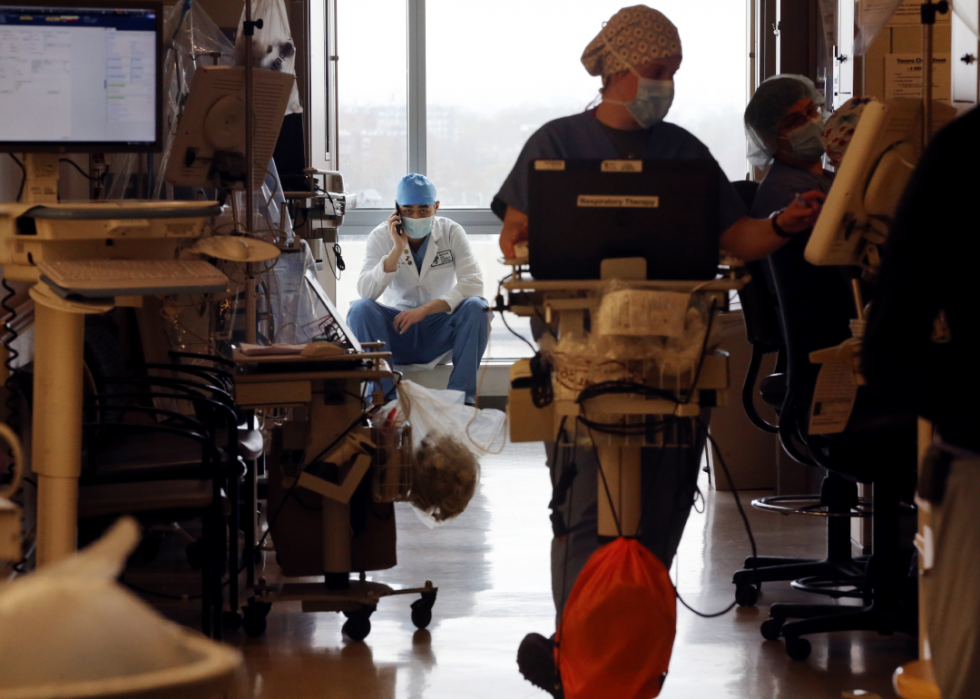 24 / 50
Craig F. Walker/The Boston Globe via Getty Images
Hospitals adapt to increase ICU space
Doctor David Enze Wang talks with a patient's family member on the phone in the Special Pathogen Unit ICU at Brigham and Women's Hospital in Boston. The hospital converted the cardiovascular center into a COVID-19 intensive care unit.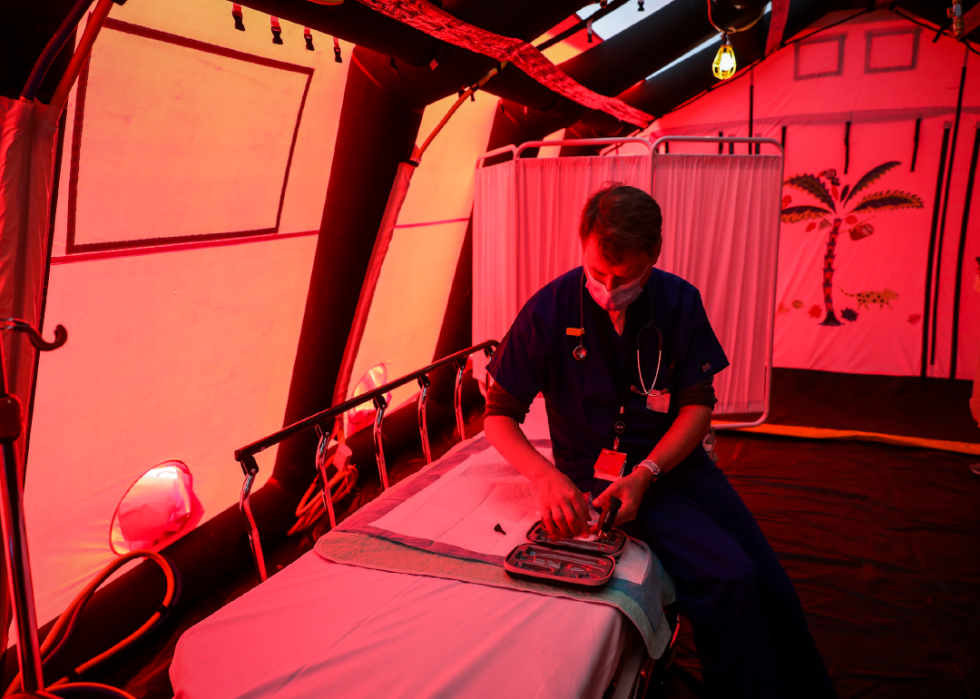 25 / 50
Erin Clark/The Boston Globe via Getty Images
Tent set up for pediatrics to avoid hospitals
Dr. Jack Maypole checks his equipment before seeing patients in a pediatrics tent set up just outside of the Boston Medical Center. In an effort to provide continual care for their patients while limiting possible exposures, BMC pediatricians also created an innovative "mobile clinic" with a donated ambulance that delivers care all across Boston.
You may also like: 50 charts showing the scale of COVID-19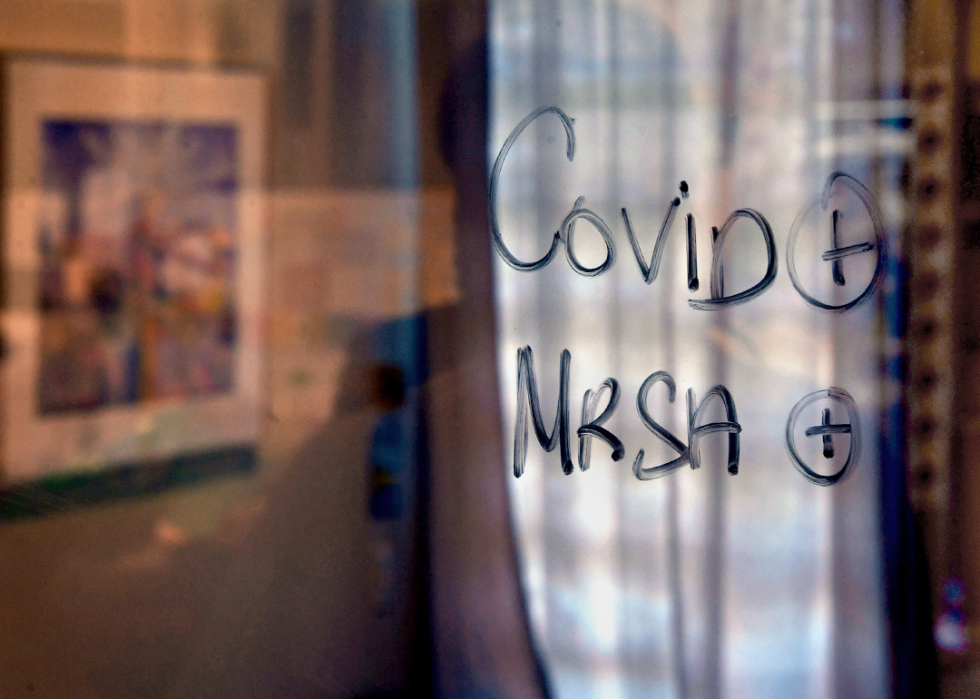 26 / 50
Michael S. Williamson/The Washington Post via Getty Images
Small Connecticut hospital is tested by the COVID-19 outbreak
The status of a seriously ill COVID-19 victim (also an MRSA patient) is written on the glass in the intensive care unit at Griffin Hospital in Derby, Connecticut. Griffin Hospital, a small town facility that's served its community for over 100 years, was hit hard by the coronavirus pandemic and was forced to improvise methods to handle the crisis in real time.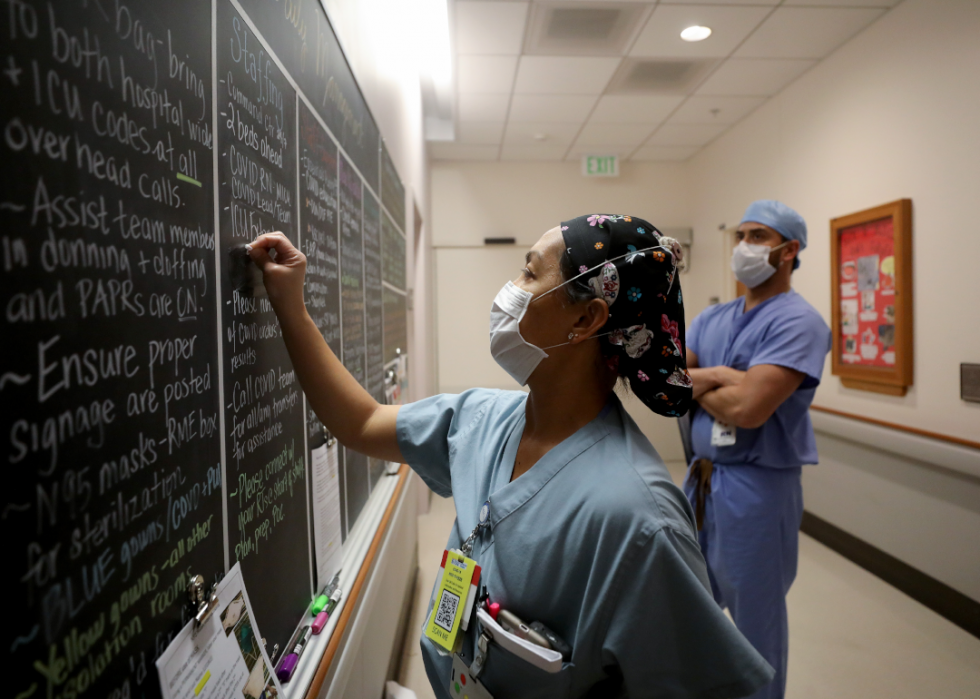 27 / 50
Mario Tama // Getty Images
San Diego-area hospitals treat coronavirus patients during COVID-19 pandemic
Charge nurse Martha Mathiesen writes daily COVID-19 updates on a chalkboard prior to a "shift huddle" at the intensive care unit at Sharp Grossmont Hospital in La Mesa, California. Sharp HealthCare is the largest health system in San Diego County, and, at the time, was treating more than 120 COVID-19 patients at all four of its locations.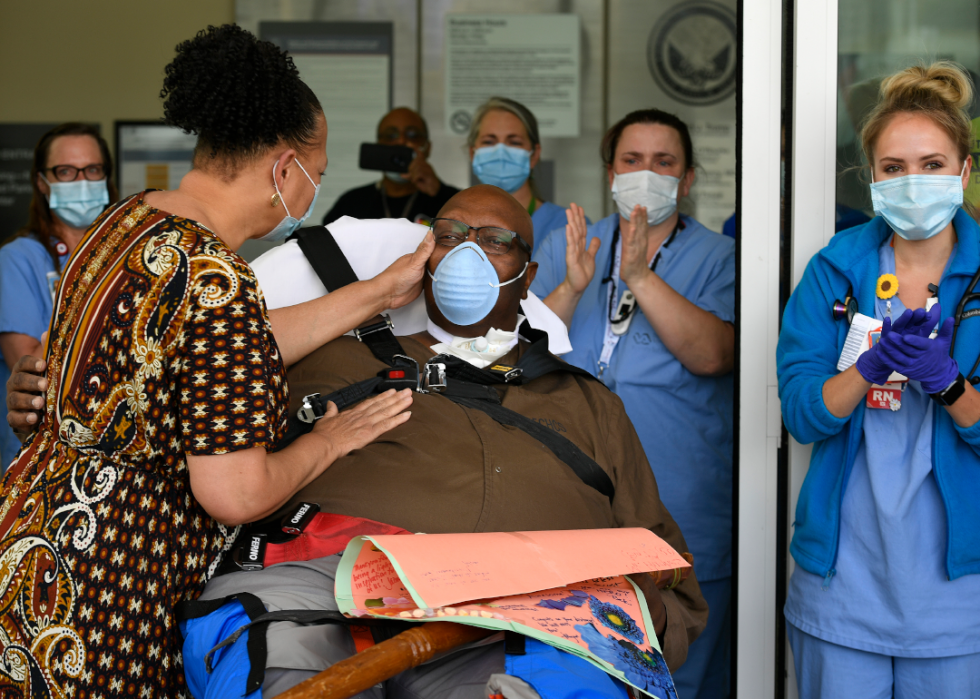 28 / 50
Helen H. Richardson/MediaNews Group/The Denver Post via Getty Images
Patient released from Aurora VA Hospital after 60 days of fighting the coronavirus
Doctors and nurses cheer as Rachel Hughes greets her husband, Reverend Terrence Hughes, upon his discharge from the Rocky Mountain Regional VA Medical Center in Aurora, Colorado. Reverend Hughes had spent 60 days in the facility, on and off a ventilator, fighting the coronavirus.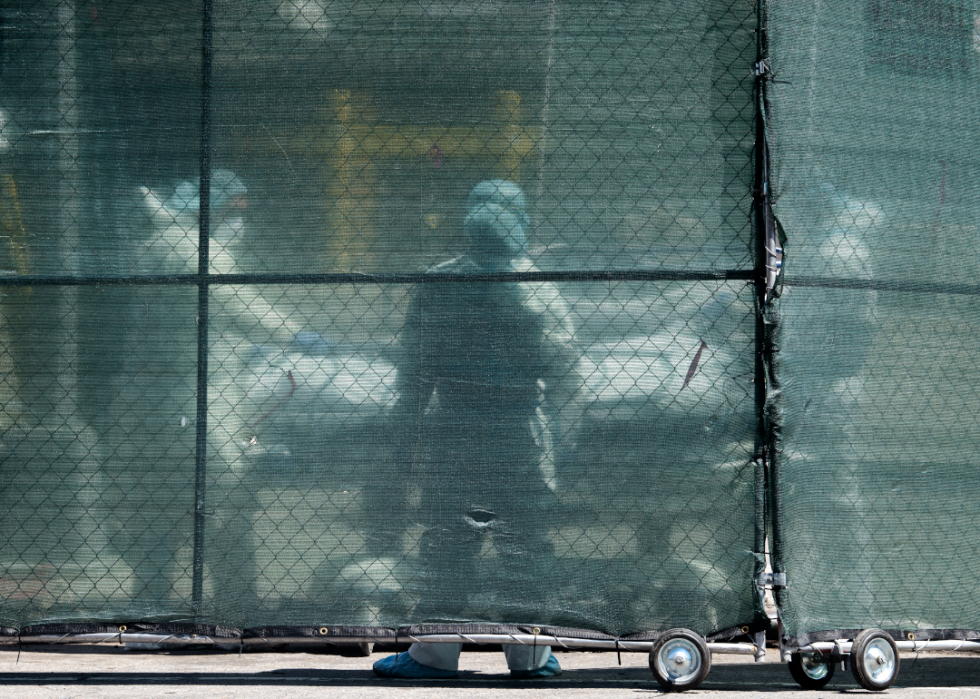 29 / 50
Bryan Thomas // Getty Images
New York City hospital morgues still overflowing as COVID-19 pandemic continues
Hospital personnel behind a barricade move deceased individuals to the overflow morgue trailer outside The Brooklyn Hospital Center in New York City. As the COVID-19 pandemic continues, hospitals remain overwhelmed by the number of deaths related to the coronavirus.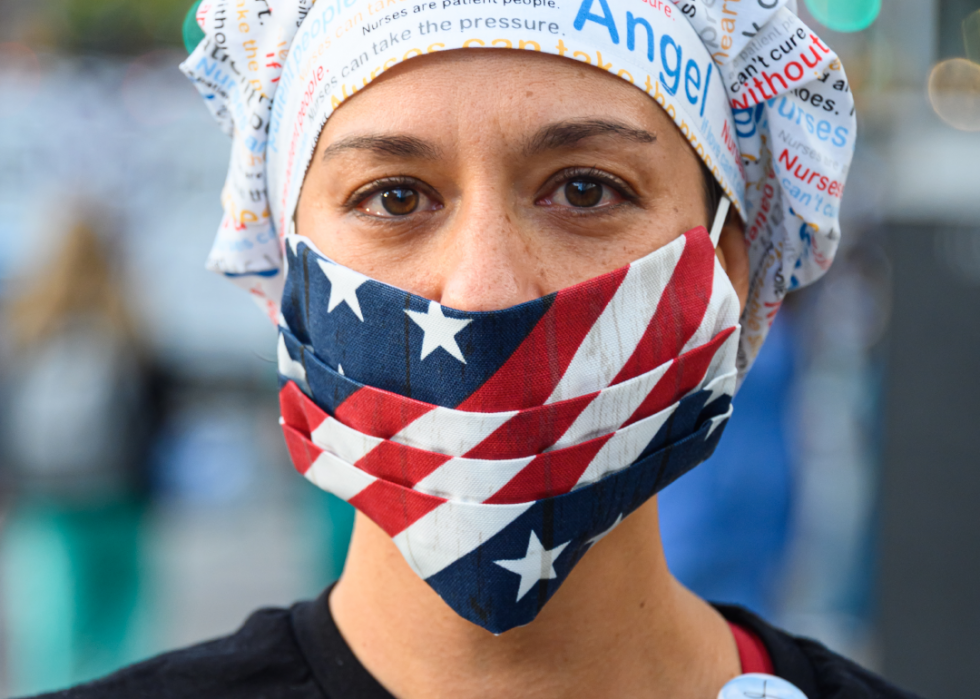 30 / 50
Noam Galai // Getty Images
New York continues to struggle with coronavirus spread as parts of US look to reopen
A medical worker poses for a portrait outside NYU Langone Health hospital as people applaud to show their gratitude to medical staff and essential workers during the coronavirus pandemic in New York City. By May 2020, COVID-19 had spread to most countries around the world, claiming over 239,000 lives and infecting over 3.4 million people.
You may also like: 20 ways COVID-19 is impacting children around the world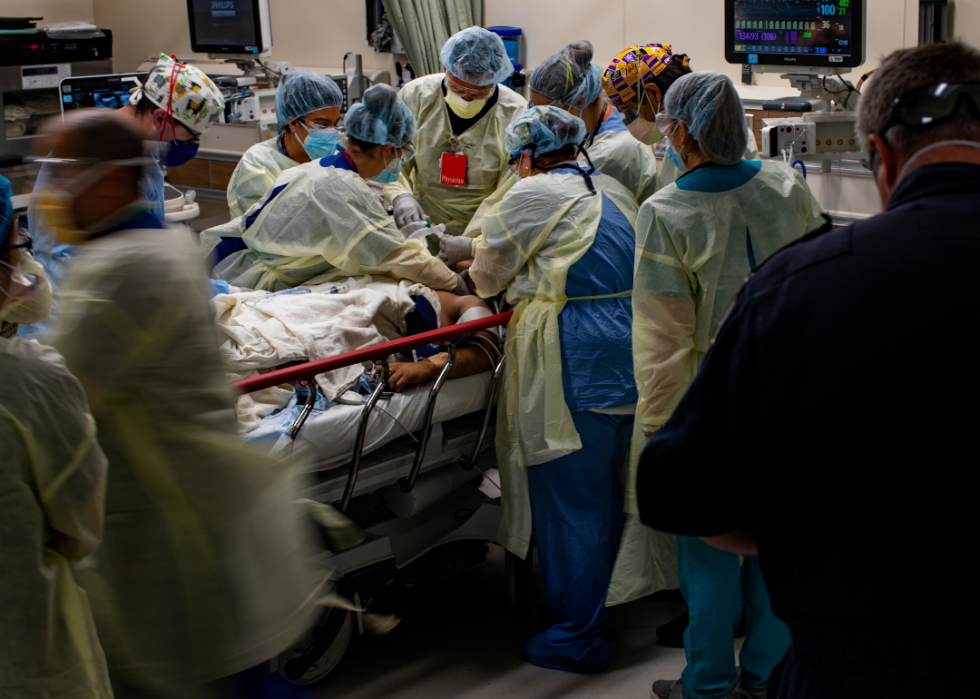 31 / 50
Gina Ferazzi/Los Angeles Times via Getty Images
First responders handle an increase in the ER and the ICU
An emergency room doctor tends to a trauma patient at a Riverside University Health System hospital. Earlier that week, the hospital set the record for having the most people hospitalized with COVID-19 anywhere in the country. As coronavirus cases increased in the county, so did trauma and emergency cases, stretching doctors to their very limits.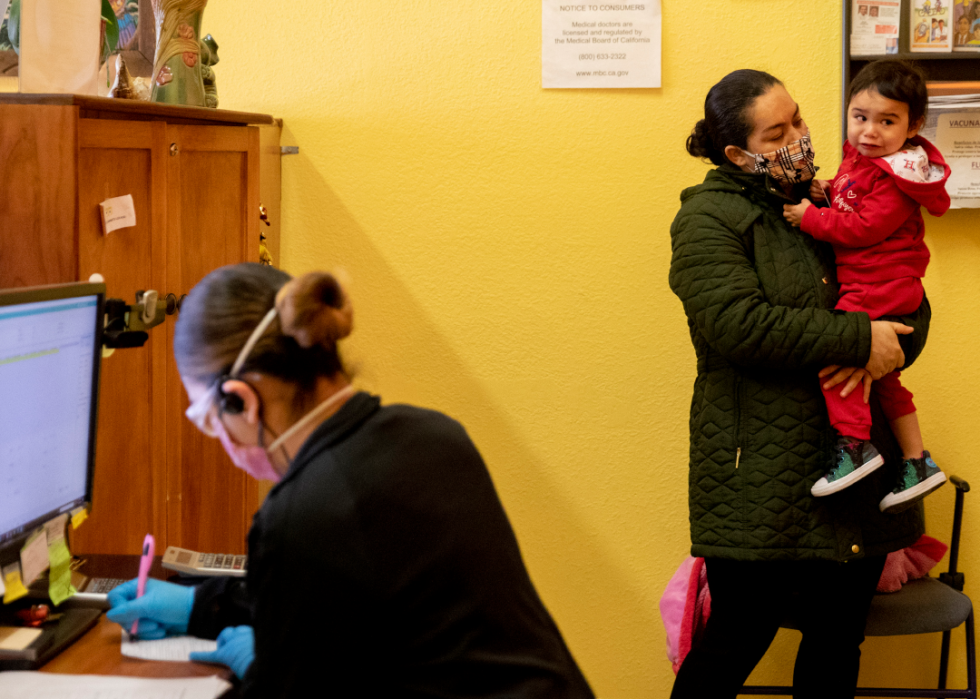 32 / 50
Jessica Christian/The San Francisco Chronicle via Getty Images
A clinic in Oakland serves the uninsured
The pandemic has closed many small medical clinics that serve poor, undocumented, and uninsured patients with free or low-cost health care. As a result, individuals are now forced to drive further for care that has often been put off for too long. Marlen Valencia, a Fremont resident pictured here, is one such woman, who drove to Oakland to visit the Terra Nova Clinic.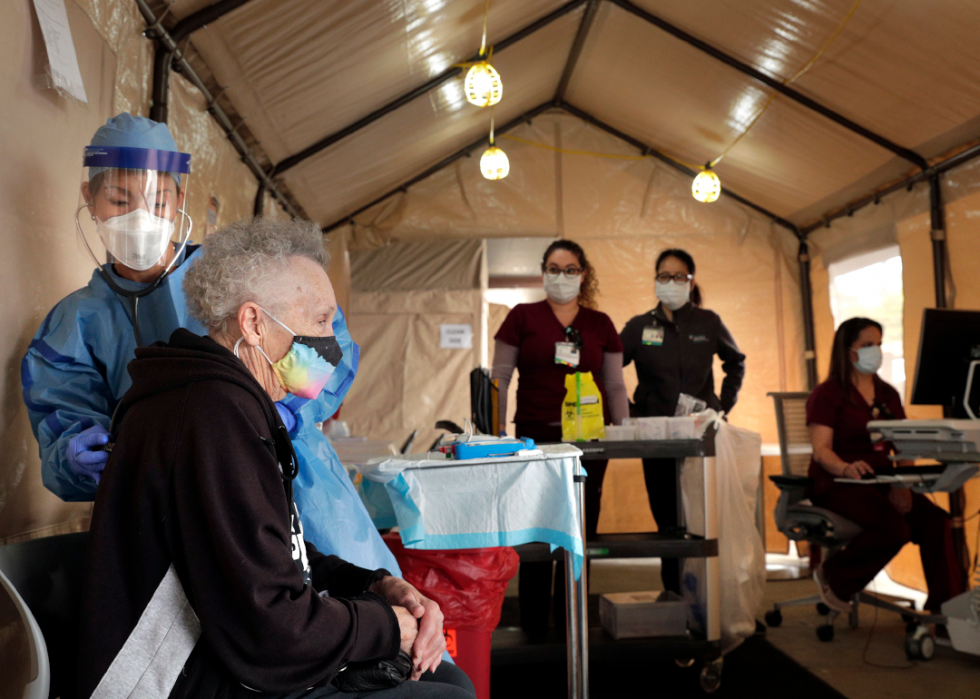 33 / 50
Carlos Avila Gonzalez/The San Francisco Chronicle via Getty Images
Drive through clinics set up to tend to patients' needs
Christine Tsang, a nurse practitioner in the Bay Area, checks a patient for signs of COVID-19 before preparing her for surgery. As the California hot spot prepares for a potential COVID-19/influenza double-punch this winter, drive-through clinics like this one remain in place in an effort to keep sick (but non-COVID-19) patients from flooding doctor's offices and emergency rooms.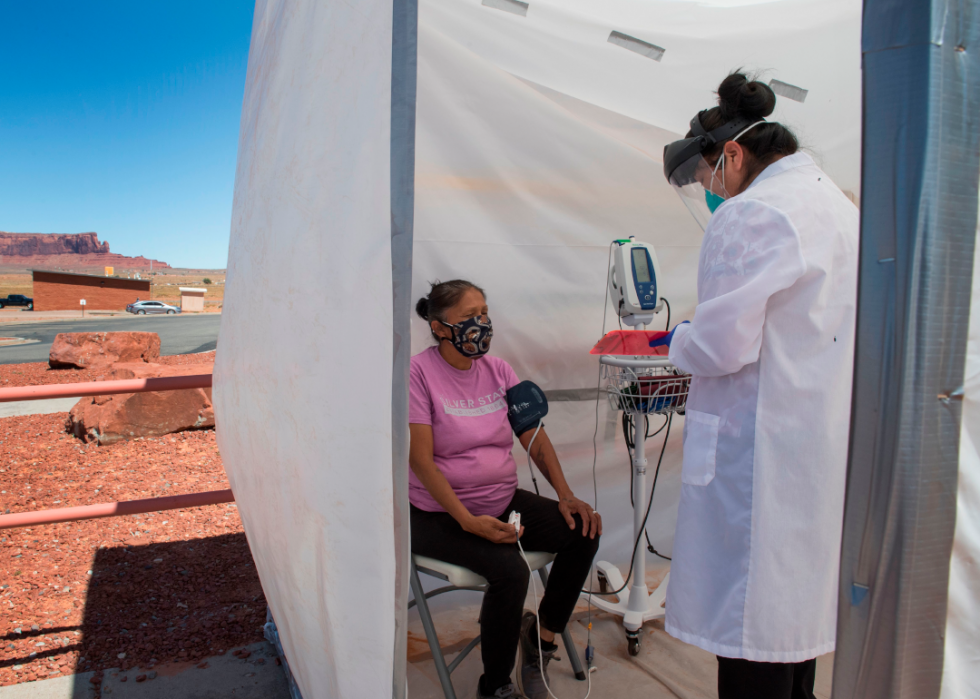 34 / 50
MARK RALSTON/AFP via Getty Images
Coronavirus inside the Navajo Nation Native American territory
Native American communities have been particularly hard-hit by the novel coronavirus. In the Navajo Nation town of Monument Valley, Arizona a nurse checks vitals from a Navajo Indian woman complaining of virus symptoms.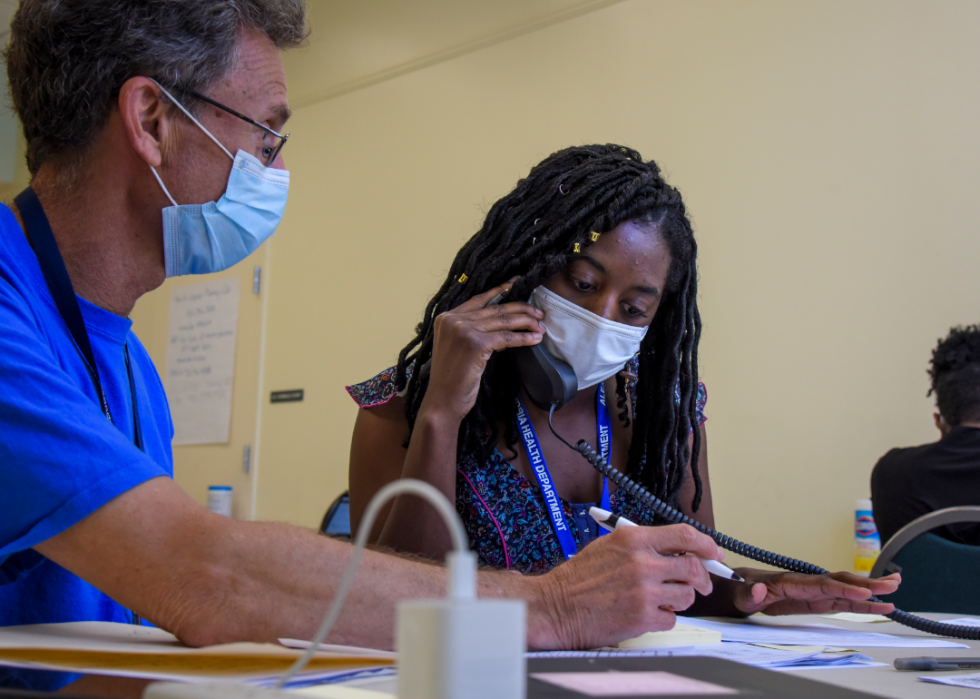 35 / 50
Jahi Chikwendiu/The Washington Post via Getty Images
Contact tracers in Virginia are being hired and trained to help stem the spread of the coronavirus pandemic
As the coronavirus continues to spread across the United States, health departments around the country have quickly established and staffed contact tracing programs. Here, a volunteer with the Alexandra medical reserve corps helps a newcomer through her first positive case call.
You may also like: Racial breakdown of COVID-19 cases in every state
36 / 50
Go Nakamura // Getty Images
Texas hospitals cope with state's surge in coronavirus cases
A medical staff member rests in front of a fan in the COVID-19 intensive care unit at the United Memorial Medical Center in Houston, Texas. COVID-19 cases and hospitalizations spiked after Texas first reopened on May 1, pushing intensive-care wards to full capacity and sparking concerns about a surge in fatalities as the virus continued to spread.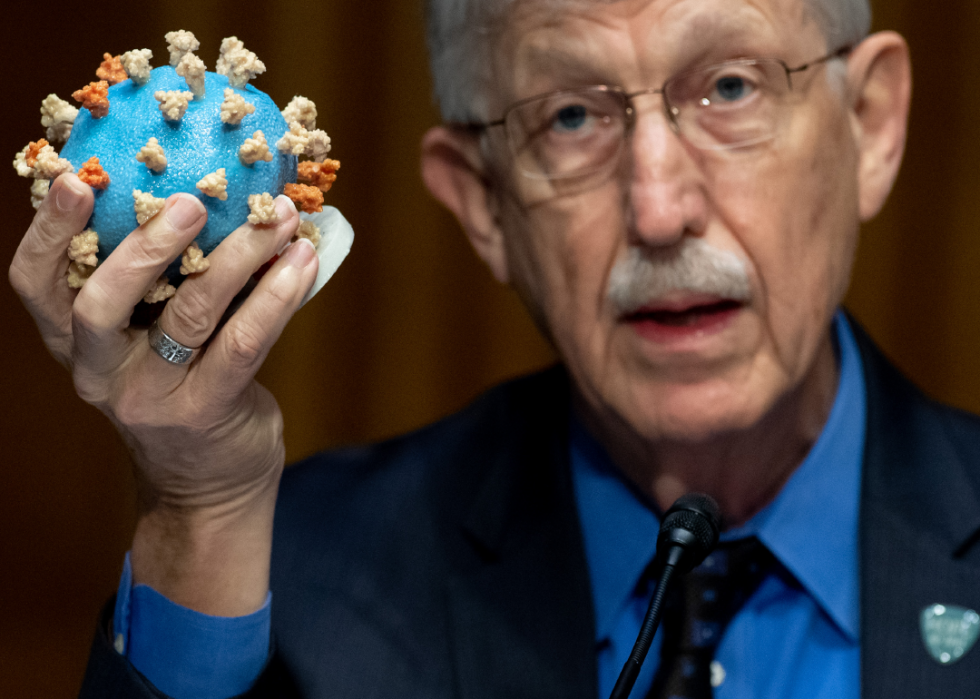 37 / 50
SAUL LOEB/POOL/AFP via Getty Images
U.S. Senate hearing to review Operation Warp Speed
Director of the National Institute of Health, Dr. Francis Collins, holds a model of the coronavirus as he testifies at a U.S. Senate hearing in Washington D.C., on July 2, 2020, where elected officials were reviewing Operation Warp Speed, the researching, manufacturing, and distribution of a safe and effective coronavirus vaccine.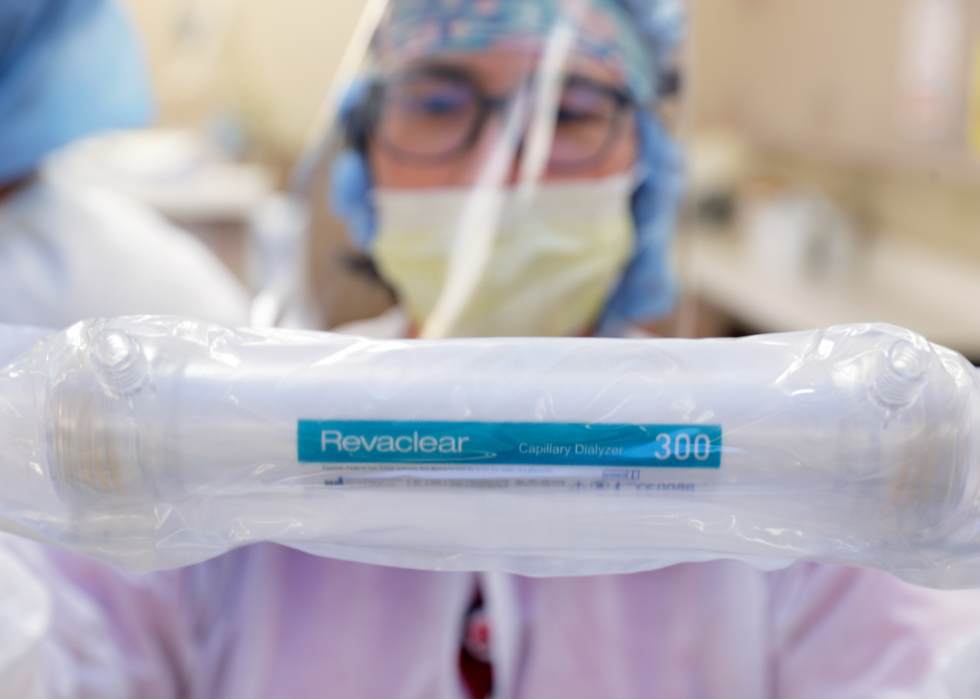 38 / 50
Carlos Avila Gonzalez/The San Francisco Chronicle via Getty Images
Coronavirus and dialysis patient concerns
Individuals undergoing regular dialysis treatment have been found to be highly susceptible to COVID-19. One U.S. Center for Medicare and Medicaid study found that dialysis patients had the highest rates of hospitalization among all Medicare beneficiaries with COVID-19, were more likely to have COVID-19 linked complications such as diabetes and heart failure, and were largely African American. Here, a dialysis nurse holds up a capillary dialyzer, a common component of dialysis treatment.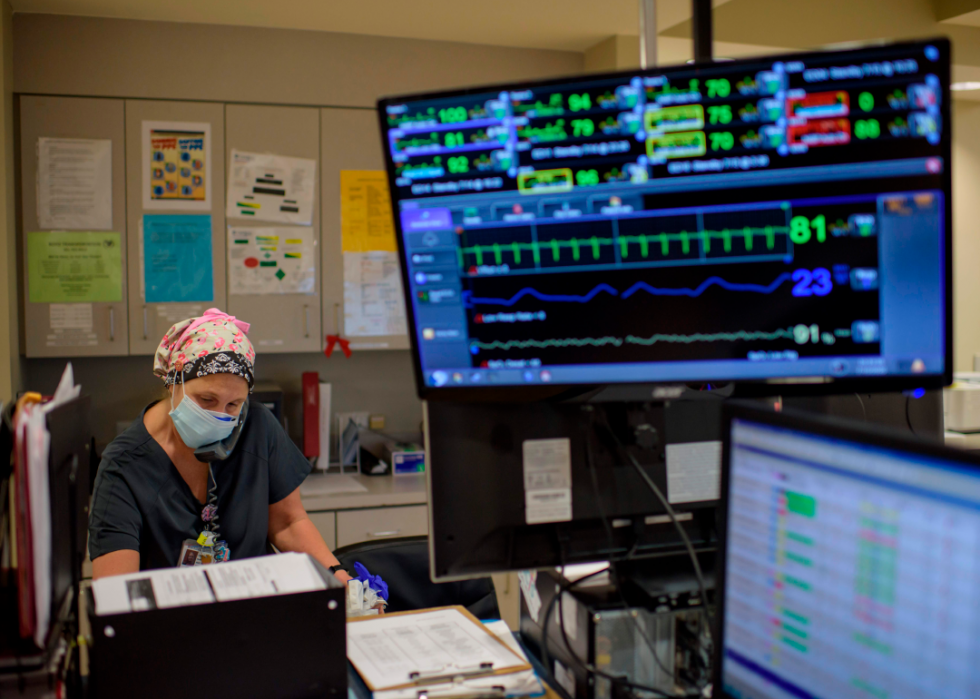 39 / 50
MARK FELIX/AFP via Getty Images
Wearing masks saves lives
Masks have become a part of daily life during the coronavirus pandemic. A recent study published in the Nature Medicine Projects journal suggests that universal mask-wearing could spare some 130,000 lives between October 2020 and February 2021. Here, a health care worker demonstrates proper mask usage while answering the phone at Oakbend Medical Center in Richmond, Texas.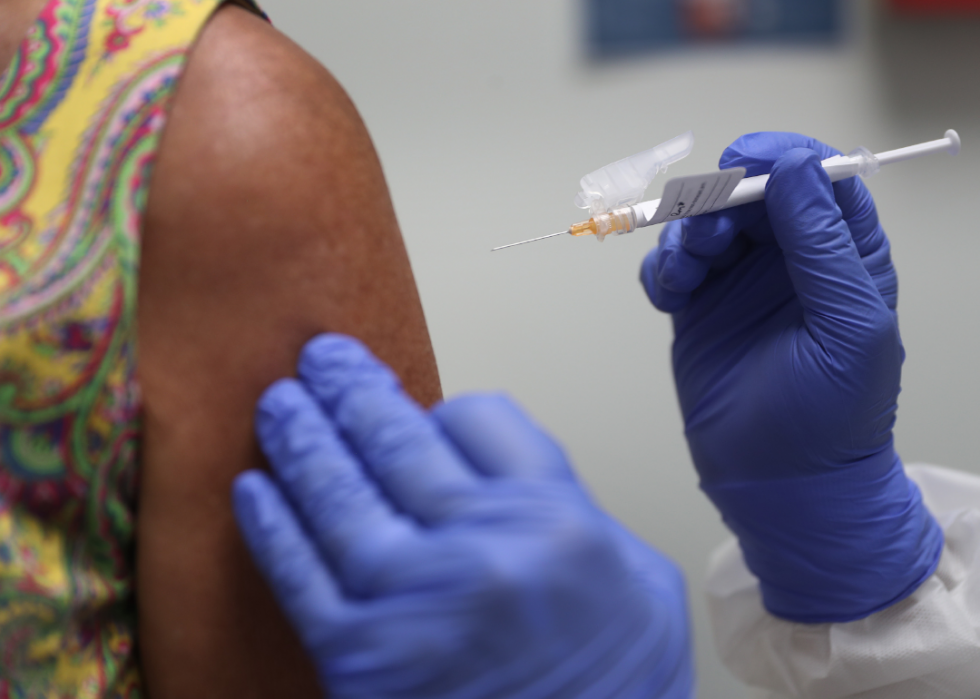 40 / 50
Joe Raedle // Getty Images
Florida volunteers take part in COVID-19 vaccine trials
For months several companies have been working on developing COVID-19 vaccines. Here, Lisa Taylor, a volunteer participant, is inoculated in a vaccine trial at the Research Centers of America in Hollywood, Florida. While some of these vaccines appear to be effective at this time, experts warn that it could still be months before they're available to the general public.
You may also like: COVID-19 stimulus bill by the numbers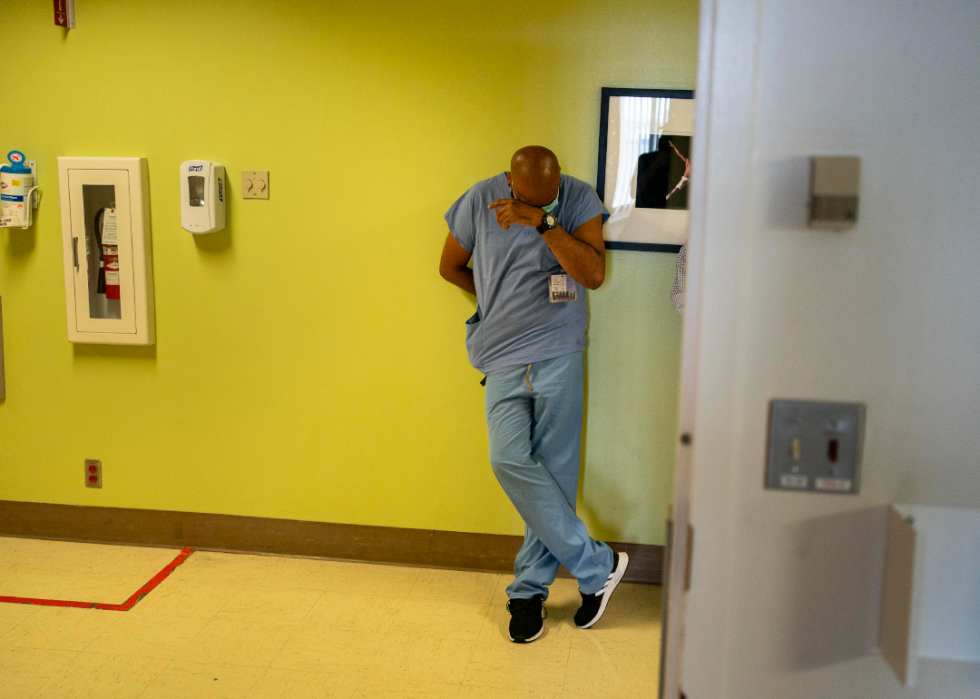 41 / 50
David Ryder // Getty Images
An emotional moment at Harborview Medical Center in Seattle
Gordon Narayan is overcome with emotion after visiting with a patient during his cleaning shift at Harborview Medical Center in Seattle, Washington. Narayan, a member of the hospital's environmental services department, cleans patient rooms while connecting with families and patients.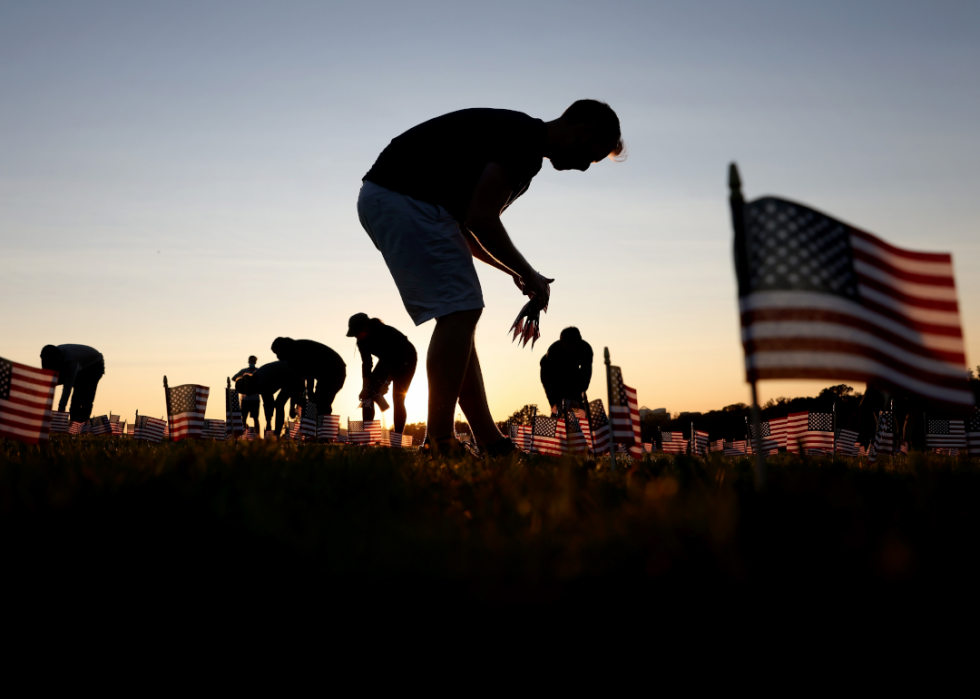 42 / 50
Win McNamee // Getty Images
200,000 American flags installed on National Mall to memorialize 200,000 COVID-19 deaths
Volunteers with the COVID Memorial Project install 20,000 American flags on the National Mall as the United States crosses the threshold of 200,000 lives lost in the COVID-19 pandemic as of Sept. 20, 2020. The flags are displayed on the grounds of the Washington Monument facing the White House.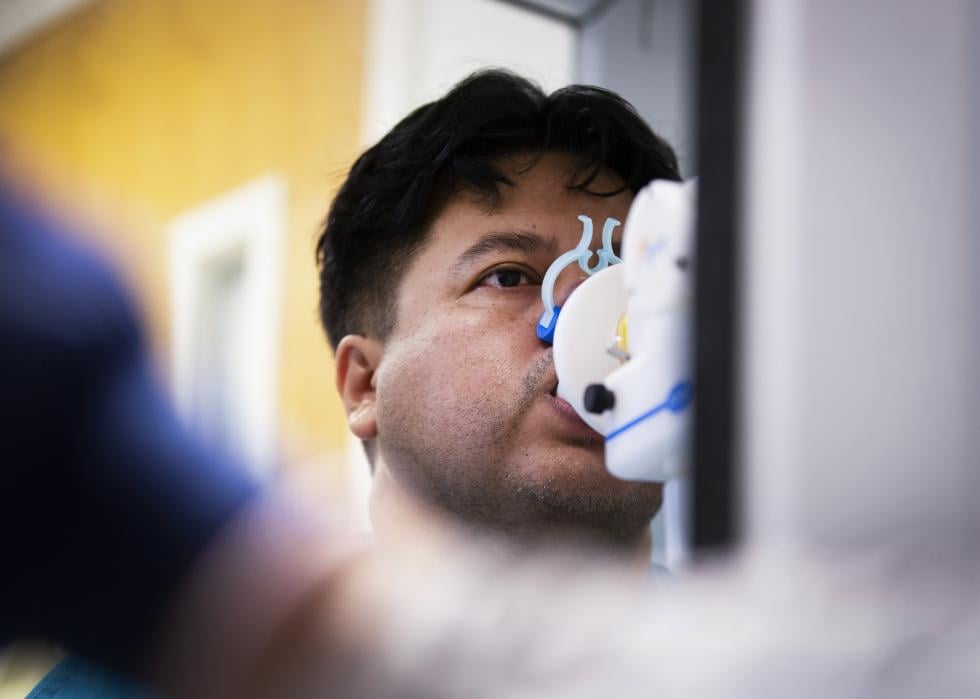 43 / 50
Stan Godlewski for the Washington Post // Getty Images
Yale New Haven Hospital post-COVID recovery program
Patient Edison "Eddie" Chiluisa undergoes testing with Respiratory Care Practitioner Shelly Mattei at the Post-COVID Recovery Program at the Winchester Chest Clinic at Yale New Haven Hospital. The clinic provides comprehensive evaluation of persistent respiratory symptoms related to prior COVID-19 infection. As the virus is a novel one, doctors are learning alongside patients about the various long-term effects of the illness.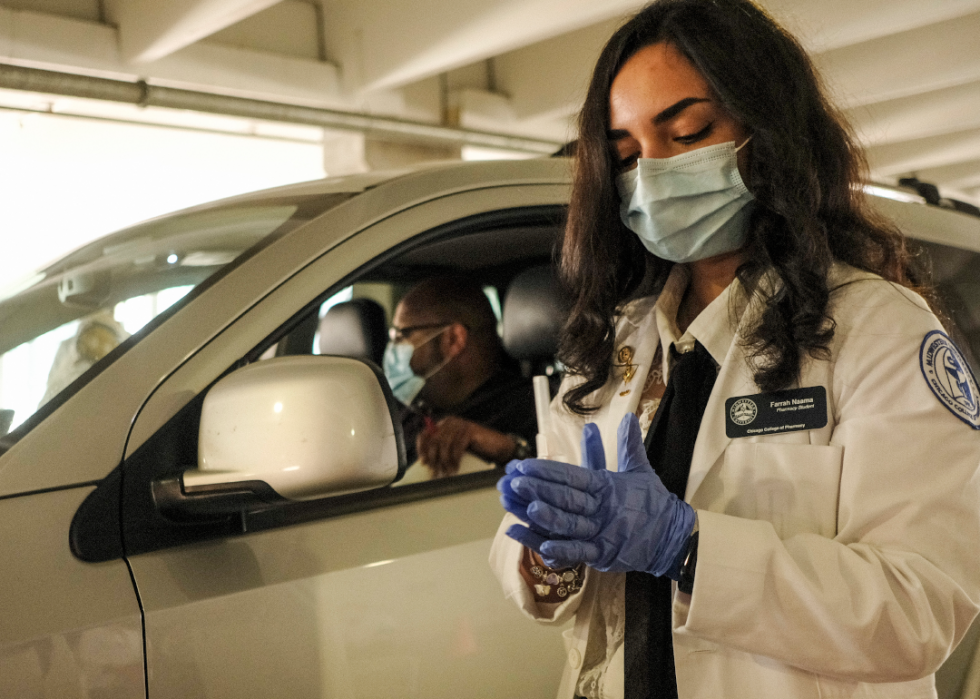 44 / 50
Matthew Hatcher // Getty Images
Free flu shots are administered at Comerica Park In Detroit
A medical worker prepares to administer a flu vaccination at a drive-through flu clinic held by Meijer at Comerica Park in Detroit, Michigan. With COVID-19 cases skyrocketing around the U.S., once again medical professionals fear that a bad flu season will only make things worse, further filling hospitals and depleting medical supplies around the nation.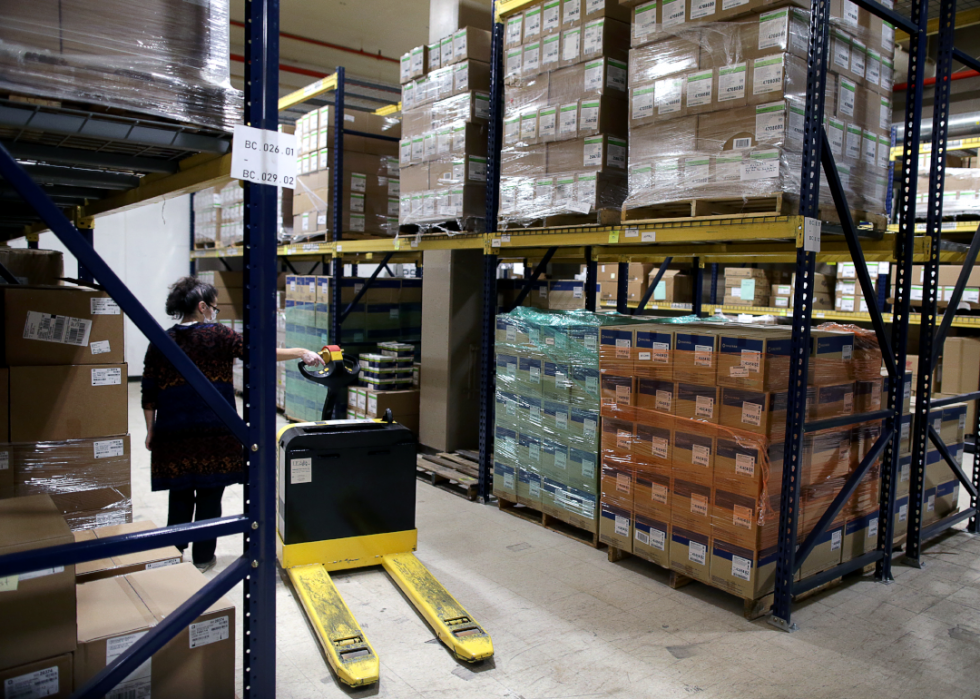 45 / 50
Jonathan Wiggs/The Boston Globe via Getty Images
Hospitals stock up on PPE
Southcoast Health material and distribution coordinator Anna Raposo walks around at the hospital's warehouse of personal protective equipment in Fairhaven, Massachusetts, on Oct. 16, 2020. Southcoast Health has a big supply of PPE in preparation for the second wave of COVID-19 that is already upon the hospitals. The facility has a variety of PPE, including hand sanitizer, masks, and other needed items.
You may also like: How COVID-19 is exposing inequality in America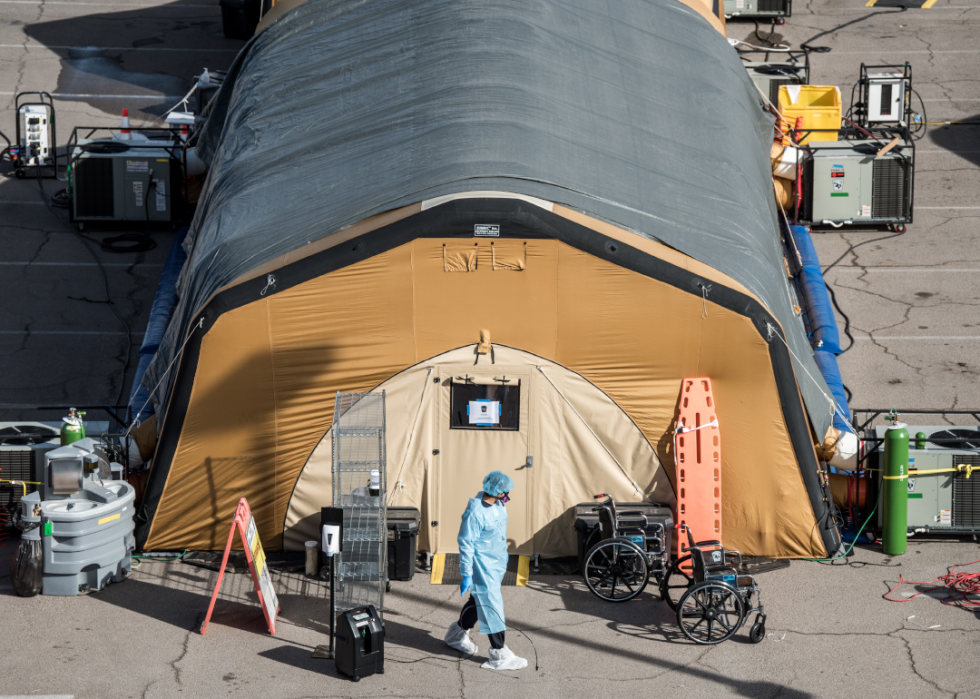 46 / 50
Cengiz Yar // Getty Images
El Paso imposes new lockdown measures as coronavirus infections soar
On Oct. 30, a nurse exits a tent for coronavirus patients set up at the University Medical Center in El Paso, Texas. As coronavirus cases surge in El Paso, overwhelmed hospitals have once again expanded their capacity to treat patients by erecting temporary tents.
47 / 50
Joe Raedle // Getty Images
President-elect Biden receives briefing from new COVID-19 Advisory Board
President-elect Joe Biden and Vice President-elect Kamala Harris receive a briefing from the transition COVID-19 advisory board on Nov. 9, 2020, in Wilmington, Delaware. The COVID-19 Advisory Board is comprised of 13 doctors and scientists, and will be led by Dr. David Kessler, former Food and Drug Administration commissioner; Dr. Vivek Murthy, former U.S. Surgeon General; and Dr. Marcella Nunez-Smith, a professor at Yale University.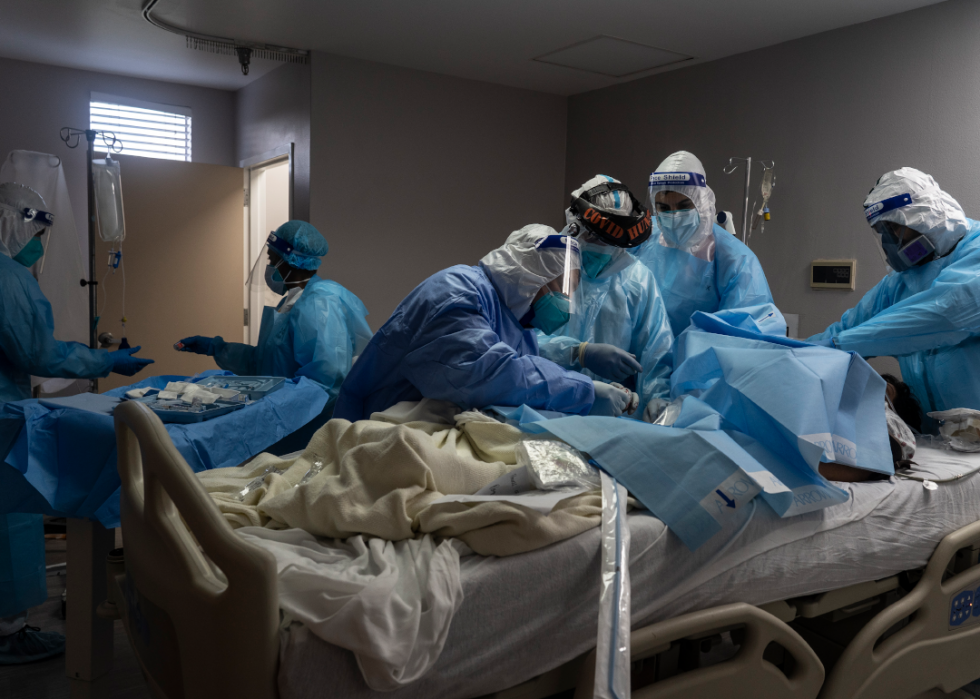 48 / 50
Go Nakamura // Getty Images
COVID-19 intensive care unit within a Houston hospital cares for patients as cases continue to rise
Medical staff members treat a patient suffering from coronavirus in the COVID-19 intensive care unit at the United Memorial Medical Center in Houston, Texas. According to reports, COVID-19 infections are on the rise in Houston, as the state of Texas has reached over 1,030,000 cases, including over 19,000 deaths.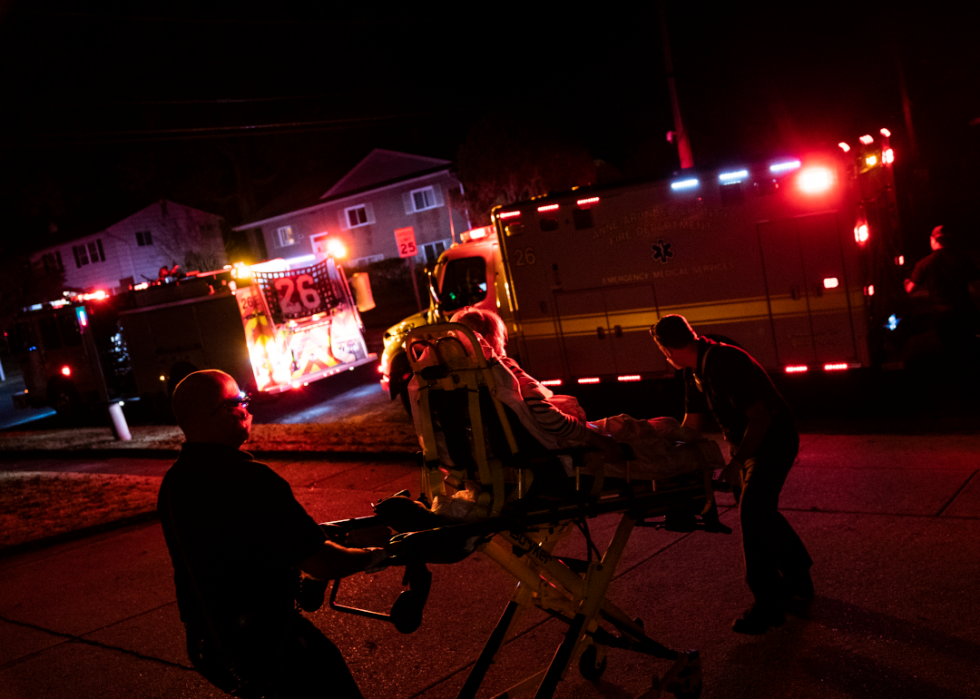 49 / 50
Alex Edelman // Getty Images
First responders in Maryland work as coronavirus cases rise across the nation
As COVID-19 numbers continue to climb, many states are reimposing statewide restrictions for the first time since the start of the pandemic. In Maryland, where COVID-19 cases reached record highs for the seventh day in a row on Nov. 10, 2020, paramedics and firefighters responded to a 911 call wearing PPE just after Governor Larry Hogan announced new lock-down measures.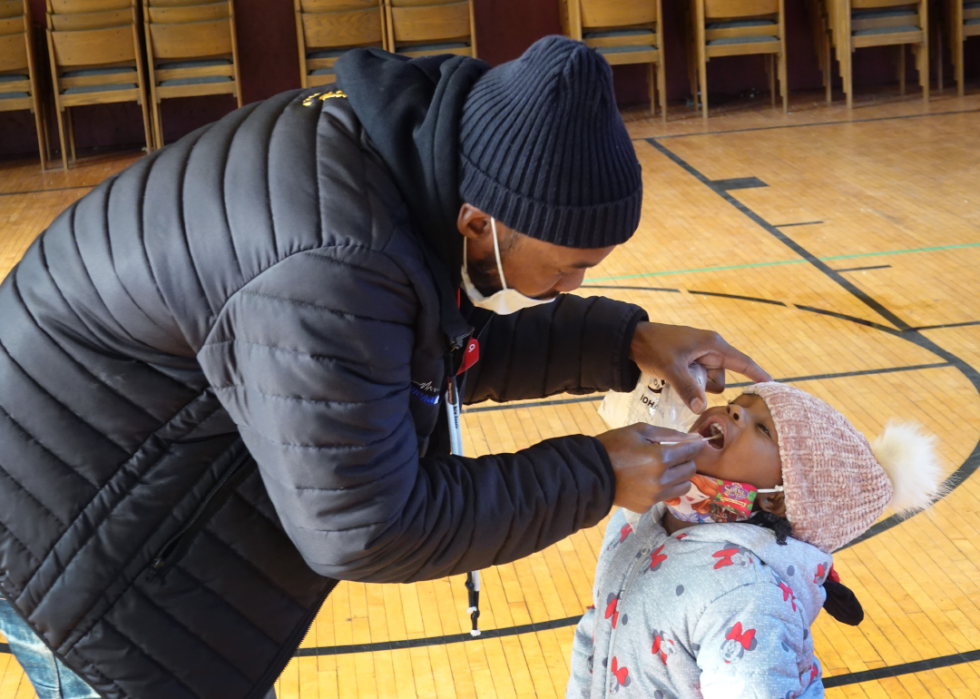 50 / 50
Scott Olson // Getty Images
Mobile sites continue coronavirus testing as Midwest cases surge