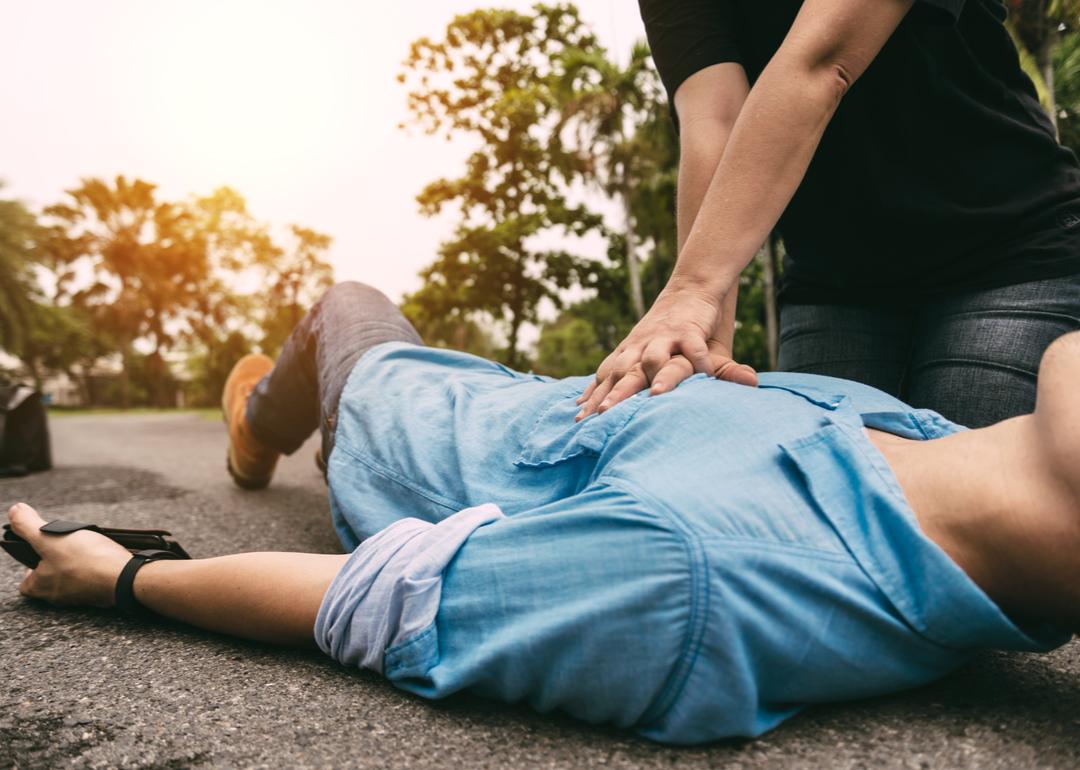 Stacker Studio
CPR can double or triple a person's chance of survival—here's how it was developed
PlatooStock // Shutterstock
CPR can double or triple a person's chance of survival—here's how it was developed
If you go into cardiac arrest outside of a hospital in the United States, your chances of surviving are not good: Some 70%–90% of people who experience out-of-hospital cardiac arrest die before reaching a hospital, according to the Centers for Disease Control and Prevention. The American Heart Association reports that, on average, someone dies as a result of cardiovascular disease every 36 seconds in the United States, or 2,380 people a day. As for strokes, someone dies every three minutes and 33 seconds, on average—about 405 deaths caused by stroke each day.
Cardiopulmonary resuscitation, or CPR, can change those numbers. If performed immediately, CPR can double or even triple your chances of surviving a cardiac arrest in your home (where 70% occur), out in public, or in a nursing home. The use of an automated external defibrillator, which delivers a shock through your chest to your heart, can also improve your odds of living. Attempts to resurrect victims of heart attacks, drownings, or other emergencies have a long history. Early references can be found in Egyptian mythology and the biblical Book of Kings, as well as in modern times, when CPR, a technique now taught in basic life support training, was developed in the 1930s.
Citing academic journals and news reports, ACLS Medical Training, a continuing education provider for advanced cardiac life support training, compiled a timeline of the history of CPR. Click through to learn more about this life-saving technique.
This story originally appeared on ACLS Medical Training and was produced and distributed in partnership with Stacker Studio.