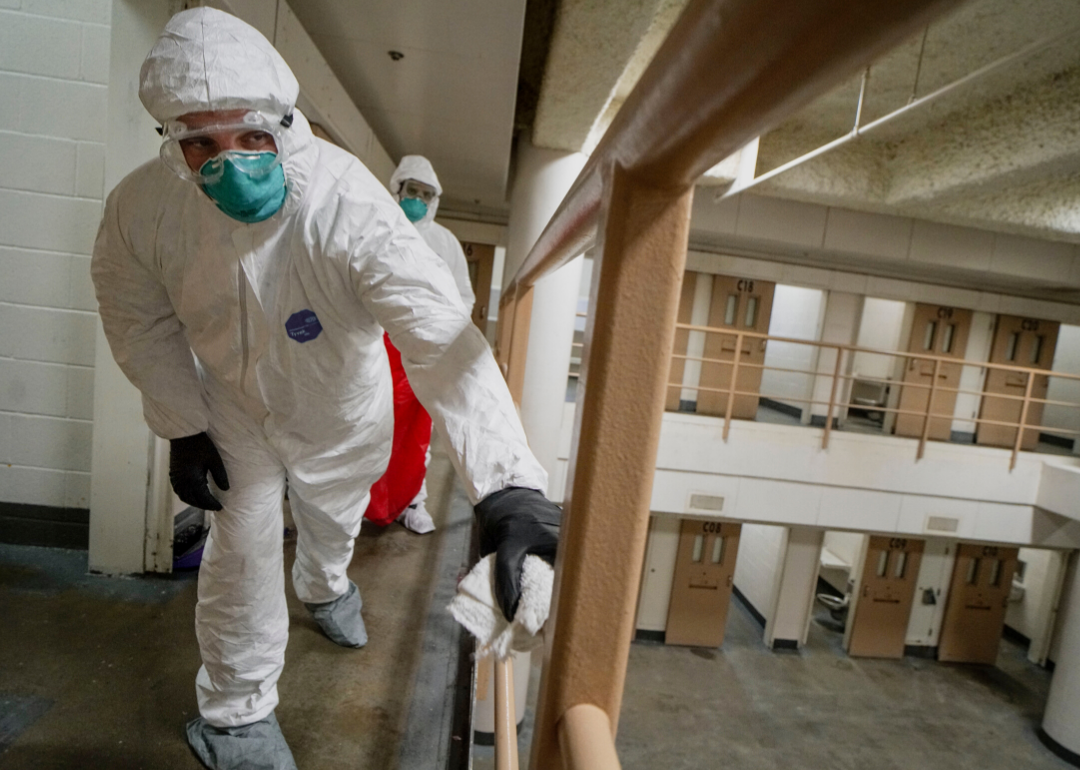 Here's where testing shows the biggest COVID-19 outbreaks in US prisons
Sandy Huffaker // Getty Images
Here's where testing shows the biggest COVID-19 outbreaks in US prisons
Social distancing is the best way to avoid spreading COVID-19, according to the Centers for Disease Control and Prevention (CDC).
But in today's prisons—designed in the late-18th century to mitigate the spread of disease and criminal behavior among prisoners—social distancing is virtually impossible except for those in solitary confinement. At any given time, nearly 2.3 million people are being held by the American criminal justice system. The facilities to house these individuals include 110 federal prisons and 1,833 state prisons. More than 55,000 people being held (often at local jails) have not been convicted or sentenced.
The U.S. has the highest prison rate in the world, with 698 people imprisoned for every 10,000 residents, according to the Prison Policy Initiative. The Department of Justice in a 2020 report stated federal prison inmate populations are, on average, 12% to 19% higher than the prisons' rated capacity. Overcrowding like this breeds higher contagion rates, increases the likelihood of insufficient medical care, and can spell a lack of access to personal hygiene products. When combined, it's a perfect storm for the spread of a virus such as COVID-19.
As of June 1, there were more than 10,000 confirmed cases of COVID-19 among staff at U.S. jails and prisons and over 43,000 confirmed cases among residents at those facilities, according to the University of California, Los Angeles (UCLA) COVID-19 Behind Bars Data Project, spearheaded by Professor Sharon Dolovich. The project is monitoring cases and deaths of residents in prisons and jails, as well as local correctional departments' responses to the pandemic, such as the release of prisoners. Stacker mined that data (updated as of June 1, 2020) to take a closer look at COVID-19 outbreaks in prisons and jails across the country. In basic terms, jail refers to a place that holds individuals who are being temporarily held for minor offenses or awaiting trial; prisons hold those who have been convicted of crimes and sentenced.
Because inmate access to COVID-19 testing and reporting of these results vary wildly from state to state, actual numbers of cases and deaths are likely higher. While such widespread testing remains out of reach for many prison population and staff, prison factories have remained open. In Ohio, mass testing was stopped despite outbreaks of the virus among inmates and staff. Elsewhere, as testing rates increase so too do COVID-19 cases. Complicating matters is the fact that prisoners statistically have higher instances of pre-existing health conditions that put them at more risk for serious symptoms from COVID-19. There are also many people going in and out of prisons all the time—from corrections officers and food service workers to visitors and inmates themselves, increasing the likelihood of spreading contagions. The CDC's prison guidelines only recommend tests for current inmates exhibiting symptoms.
Keep reading to see where outbreaks of COVID-19 have occurred, and how various states are dealing with these surges, whether by increasing testing, halting visitation, or releasing nonviolent or elderly offenders—as was the case with Paul Manafort's early release to home confinement.
You may also like: Worst-run cities in America