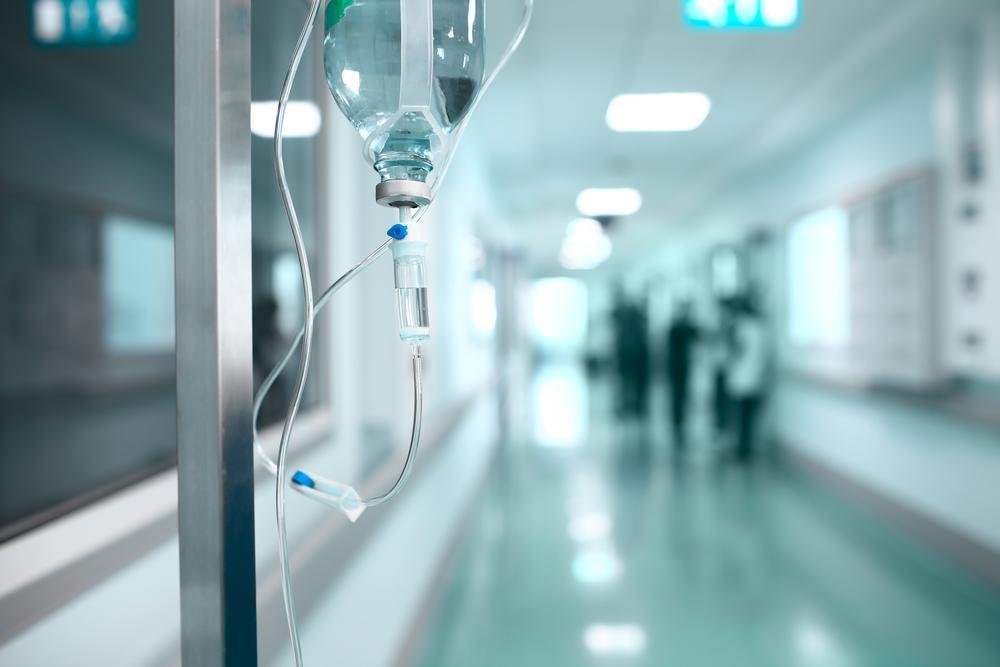 How much does your state spend on health care?
sfam_photo // Shutterstock
How much does your state spend on health care?
In 1965, President Lyndon B. Johnson instituted two new independent, government-operated programs with the purpose of providing an affordable alternative to private health care for those in need. Medicare is a federal program intended for individuals 65 years old and older, or those with a significant disability, while Medicaid is intended for low-income individuals.
In 2010, President Barack Obama sought to expand the latter of these through the Affordable Care Act, also known as Obamacare. His successor, Donald Trump, and Trump's Republican affiliates have actively been trying to undo this work since his 2016 inauguration. While more than 113 million people are enrolled in Medicare and Medicaid programs across the United States, there is a great deal of geographic discrepancy when it comes to the percentage of citizens who benefit from government health care.
Stacker referenced the Centers for Medicare & Medicaid Services to find out which states were spending the most on health care. Since certain states have larger populations which correlate to a larger number of people in need of these programs, the states are ranked according to per-capita government health care expenditure. These numbers were calculated by combining total Medicare and Medicaid spending for each state, then dividing the sums by the state's total number of beneficiaries.
Read on to discover where your state ranks in terms of health care spending.
RELATED: Click here to see which states are best for health care.
#51. New Mexico
Total Medicare spending: $2,935,255,592
Total Medicaid spending: $2,223,092,576
Total beneficiaries: 924,955
Average spending per beneficiary: $5,577
#50. California
Total Medicare spending: $59,998,777,292
Total Medicaid spending: $38,901,972,412
Total beneficiaries: 16,296,128
Average spending per beneficiary: $6,069
#49. Idaho
Total Medicare spending: $2,137,037,117
Total Medicaid spending: $1,052,715,489
Total beneficiaries: 493,835
Average spending per beneficiary: $6,459
#48. Hawaii
Total Medicare spending: $1,872,636,794
Total Medicaid spending: $1,473,582,722
Total beneficiaries: 517,621
Average spending per beneficiary: $6,465
#47. Utah
Total Medicare spending: $2,726,866,046
Total Medicaid spending: $1,597,408,201
Total beneficiaries: 663,374
Average spending per beneficiary: $6,519
#46. Washington
Total Medicare spending: $9,532,564,419
Total Medicaid spending: $5,838,655,102
Total beneficiaries: 2,314,173
Average spending per beneficiary: $6,642
#45. Oklahoma
Total Medicare spending: $6,521,921,210
Total Medicaid spending: $3,923,624,614
Total beneficiaries: 1,547,477
Average spending per beneficiary: $6,750
#44. Wisconsin
Total Medicare spending: $9,124,815,191
Total Medicaid spending: $5,729,666,584
Total beneficiaries: 2,152,638
Average spending per beneficiary: $6,901
#43. Illinois
Total Medicare spending: $21,251,557,639
Total Medicaid spending: $11,397,533,427
Total beneficiaries: 4,724,568
Average spending per beneficiary: $6,910
#42. South Carolina
Total Medicare spending: $8,663,232,762
Total Medicaid spending: $4,196,140,351
Total beneficiaries: 1,834,744
Average spending per beneficiary: $7,009
#41. Colorado
Total Medicare spending: $6,512,202,834
Total Medicaid spending: $3,688,020,124
Total beneficiaries: 1,436,538
Average spending per beneficiary: $7,101
#40. Alabama
Total Medicare spending: $9,104,573,698
Total Medicaid spending: $3,826,981,370
Total beneficiaries: 1,805,194
Average spending per beneficiary: $7,164
#39. Arizona
Total Medicare spending: $10,318,239,803
Total Medicaid spending: $8,056,590,626
Total beneficiaries: 2,550,891
Average spending per beneficiary: $7,203
#38. Arkansas
Total Medicare spending: $5,248,526,940
Total Medicaid spending: $3,534,378,412
Total beneficiaries: 1,210,749
Average spending per beneficiary: $7,254
#37. Maine
Total Medicare spending: $2,585,221,694
Total Medicaid spending: $1,951,673,886
Total beneficiaries: 624,719
Average spending per beneficiary: $7,262
#36. Vermont
Total Medicare spending: $1,075,153,355
Total Medicaid spending: $1,089,650,691
Total beneficiaries: 296,425
Average spending per beneficiary: $7,303
#35. Oregon
Total Medicare spending: $6,022,075,707
Total Medicaid spending: $3,693,179,834
Total beneficiaries: 1,329,858
Average spending per beneficiary: $7,305
#34. Montana
Total Medicare spending: $1,445,640,071
Total Medicaid spending: $800,277,865
Total beneficiaries: 305,552
Average spending per beneficiary: $7,350
#33. Iowa
Total Medicare spending: $4,817,166,695
Total Medicaid spending: $3,325,427,674
Total beneficiaries: 1,103,678
Average spending per beneficiary: $7,378
#32. Nevada
Total Medicare spending: $4,145,426,272
Total Medicaid spending: $1,440,328,911
Total beneficiaries: 755,614
Average spending per beneficiary: $7,392
#31. South Dakota
Total Medicare spending: $1,261,349,463
Total Medicaid spending: $762,837,219
Total beneficiaries: 271,478
Average spending per beneficiary: $7,456
#30. Louisiana
Total Medicare spending: $8,886,872,122
Total Medicaid spending: $5,580,846,259
Total beneficiaries: 1,938,742
Average spending per beneficiary: $7,462
#29. Georgia
Total Medicare spending: $13,915,073,958
Total Medicaid spending: $7,831,545,125
Total beneficiaries: 2,837,858
Average spending per beneficiary: $7,663
#28. Texas
Total Medicare spending: $39,130,179,343
Total Medicaid spending: $21,761,325,354
Total beneficiaries: 7,904,887
Average spending per beneficiary: $7,703
#27. North Carolina
Total Medicare spending: $16,282,359,291
Total Medicaid spending: $9,641,613,519
Total beneficiaries: 3,330,515
Average spending per beneficiary: $7,784
#26. Virginia
Total Medicare spending: $11,266,105,387
Total Medicaid spending: $6,182,636,440
Total beneficiaries: 2,233,108
Average spending per beneficiary: $7,814
#25. Kansas
Total Medicare spending: $4,428,320,187
Total Medicaid spending: $2,017,987,458
Total beneficiaries: 823,527
Average spending per beneficiary: $7,828
#24. Indiana
Total Medicare spending: $11,029,383,920
Total Medicaid spending: $6,373,332,936
Total beneficiaries: 2,206,092
Average spending per beneficiary: $7,888
#23. Michigan
Total Medicare spending: $19,421,944,839
Total Medicaid spending: $10,448,258,474
Total beneficiaries: 3,780,739
Average spending per beneficiary: $7,901
#22. Nebraska
Total Medicare spending: $2,805,886,197
Total Medicaid spending: $1,686,526,091
Total beneficiaries: 558,437
Average spending per beneficiary: $8,045
#21. Wyoming
Total Medicare spending: $750,026,491
Total Medicaid spending: $595,984,494
Total beneficiaries: 163,552
Average spending per beneficiary: $8,230
#20. New Hampshire
Total Medicare spending: $2,158,507,520
Total Medicaid spending: $1,081,218,614
Total beneficiaries: 389,475
Average spending per beneficiary: $8,318
#19. Mississippi
Total Medicare spending: $5,808,151,598
Total Medicaid spending: $3,773,880,760
Total beneficiaries: 1,147,949
Average spending per beneficiary: $8,347
#18. Kentucky
Total Medicare spending: $8,318,610,670
Total Medicaid spending: $5,261,034,081
Total beneficiaries: 1,613,039
Average spending per beneficiary: $8,419
#17. Missouri
Total Medicare spending: $10,963,837,198
Total Medicaid spending: $6,606,388,438
Total beneficiaries: 2,081,277
Average spending per beneficiary: $8,442
#16. Delaware
Total Medicare spending: $1,734,478,994
Total Medicaid spending: $1,562,931,058
Total beneficiaries: 389,018
Average spending per beneficiary: $8,476
#15. Ohio
Total Medicare spending: $22,096,095,786
Total Medicaid spending: $16,044,575,888
Total beneficiaries: 4,420,236
Average spending per beneficiary: $8,629
#14. Florida
Total Medicare spending: $45,508,407,782
Total Medicaid spending: $16,304,791,863
Total beneficiaries: 7,109,327
Average spending per beneficiary: $8,695
#13. Maryland
Total Medicare spending: $9,931,475,655
Total Medicaid spending: $7,336,188,365
Total beneficiaries: 1,958,409
Average spending per beneficiary: $8,817
#12. Minnesota
Total Medicare spending: $8,125,324,584
Total Medicaid spending: $8,417,020,471
Total beneficiaries: 1,860,265
Average spending per beneficiary: $8,892
#11. West Virginia
Total Medicare spending: $4,014,841,689
Total Medicaid spending: $2,721,116,267
Total beneficiaries: 753,961
Average spending per beneficiary: $8,934
#10. Rhode Island
Total Medicare spending: $2,067,880,062
Total Medicaid spending: $1,265,422,557
Total beneficiaries: 368,304
Average spending per beneficiary: $9,050
#9. Massachusetts
Total Medicare spending: $13,141,065,324
Total Medicaid spending: $10,577,952,071
Total beneficiaries: 2,591,386
Average spending per beneficiary: $9,153
#8. Alaska
Total Medicare spending: $530,521,470
Total Medicaid spending: $1,285,557,762
Total beneficiaries: 195,421
Average spending per beneficiary: $9,293
#7. North Dakota
Total Medicare spending: $1,008,235,908
Total Medicaid spending: $790,152,830
Total beneficiaries: 187,508
Average spending per beneficiary: $9,591
#6. Pennsylvania
Total Medicare spending: $26,821,836,560
Total Medicaid spending: $18,309,158,780
Total beneficiaries: 4,572,834
Average spending per beneficiary: $9,869
#5. New Jersey
Total Medicare spending: $16,885,109,972
Total Medicaid spending: $9,120,084,470
Total beneficiaries: 2,605,471
Average spending per beneficiary: $9,981
#4. Connecticut
Total Medicare spending: $6,863,105,954
Total Medicaid spending: $5,945,751,704
Total beneficiaries: 1,274,717
Average spending per beneficiary: $10,048
#3. New York
Total Medicare spending: $38,627,291,481
Total Medicaid spending: $47,864,024,796
Total beneficiaries: 8,392,992
Average spending per beneficiary: $10,305
#2. District of Columbia
Total Medicare spending: $999,384,731
Total Medicaid spending: $2,092,711,337
Total beneficiaries: 299,193
Average spending per beneficiary: $10,335
#1. Tennessee
Total Medicare spending: $12,069,508,040
Total Medicaid spending: $13,506,240,578
Total beneficiaries: 2,438,863
Average spending per beneficiary: $10,487