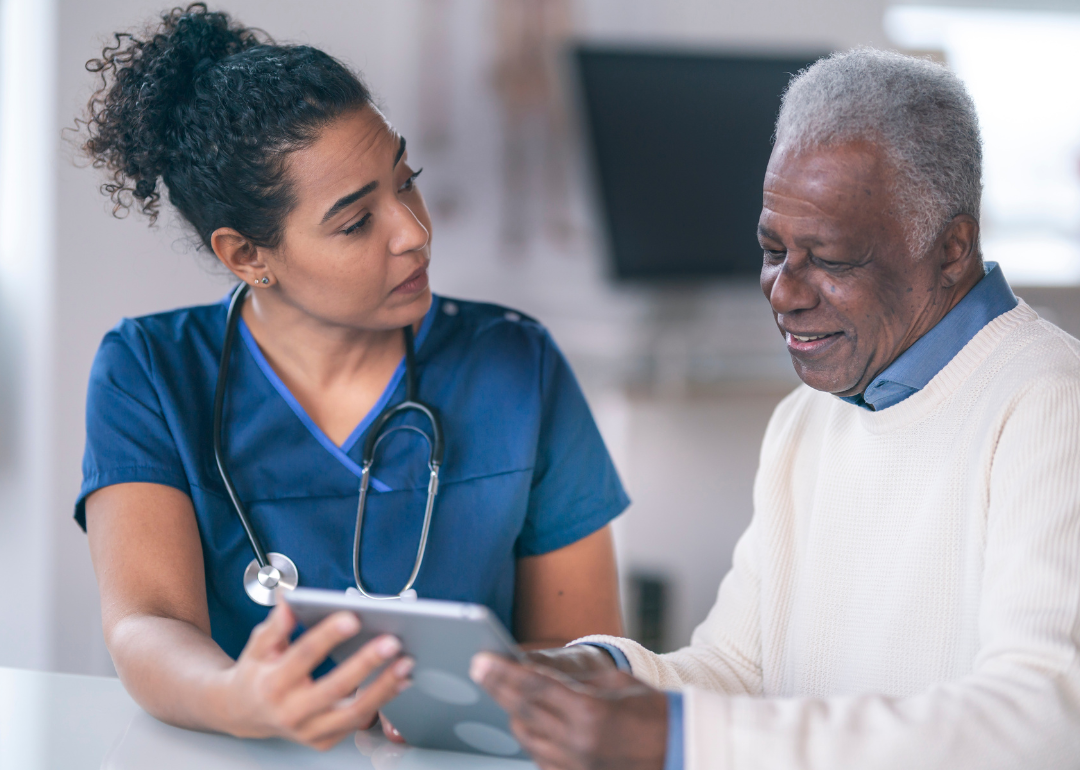 Stacker Studio
Jobs projected to grow the most in nursing—and how that compares to other health care roles
Jobs projected to grow the most in nursing—and how that compares to other health care roles
The U.S. population is aging. Today, 1 in 6 Americans are 65 or older; that demographic is expected to nearly double by 2060. The prevalence of chronic illness is also increasing, driving the frequency of medical procedures and the need for qualified medical professionals to perform them. Meanwhile, the U.S. faces a shortage of doctors and nurses, creating a reality where staffing doesn't meet demand. Almost 100 million Americans live in primary health care shortage areas.
A 2021 Association of American Medical Colleges study estimates the physician shortage could range from roughly 38,000 to 124,000 physicians by 2034. The nursing workforce is rapidly changing too. Many nurses are either leaving the profession entirely or are at retirement age—nearly 1 in 5 nurses are 65 or older, according to a 2020 study from the National Council of State Boards of Nursing.
The employment of advanced practice registered nurses, such as nurse midwives, nurse practitioners, and nurse anesthetists, is estimated to grow by 40% from 2021 to 2031. This projected growth reflects the health care system's need for additional primary care capacity, and these particular roles allow for greater clinical autonomy and, therefore, greater efficiency.
Job growth in nursing is expected to outpace growth in most other areas of health care, except for home health and personal care aides. The fear of violence among in-home health care aides, dangerous conditions, low wages, and weak regulatory protections are driving an enormous shortage in this area of critical care. However, these fears are not unfounded—1 in 5 home care workers reported being victims of verbal abuse from patients or family members.
Incredible Health used Bureau of Labor Statistics data to compile a list of jobs projected to grow the most in nursing, ranked by their percent of expected employment growth from 2021 to 2031. The analysis also compares growth in nursing professions to other health care roles expected to be in some state of flux over the next decade. As projections are based on assumptions and trends that may not hold true in the face of unforeseen circumstances, these numbers are subject to change.
This story originally appeared on Incredible Health and was produced and distributed in partnership with Stacker Studio.