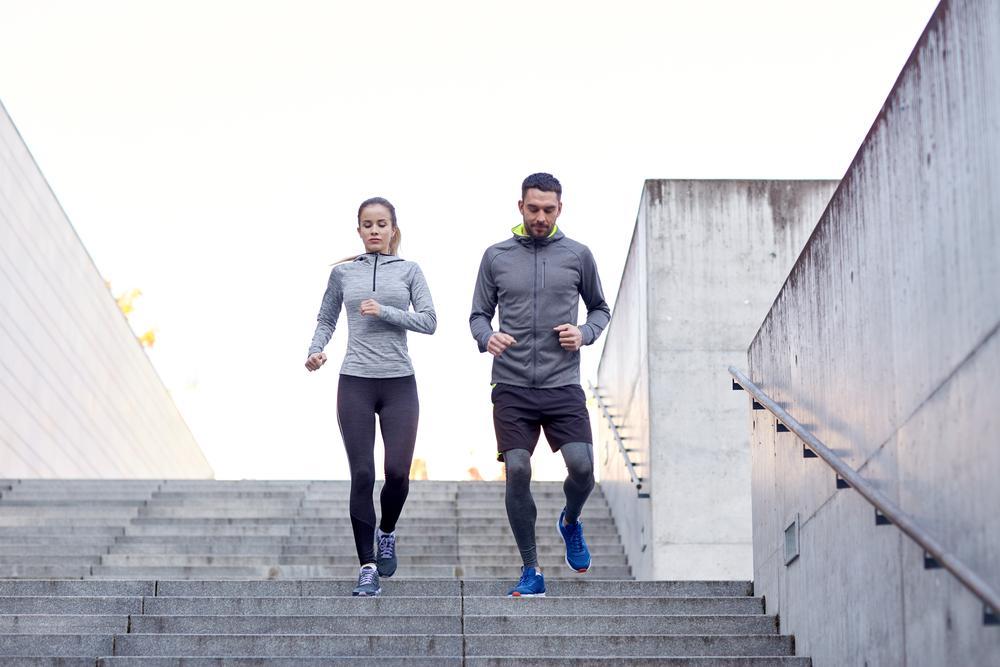 Least fit cities in America
Syda Productions // Shutterstock
Least fit cities in America
The fitness industry in the United States is booming, with more than 57 million people working out at 36,540 heath and fitness clubs across the country. The total revenue for the industry topped out at $27.6 billion in 2016 and is expected to hit $87.5 billion globally in 2018.
Despite these dramatic numbers, not all cities across the U.S. are following the trend. The American Fitness Index (AFI) ranked 100 of the largest cities in the U.S. from most to least healthy using an index that included personal and environmental health factors. While some places boast a supremely healthy population, others fall behind on the curve due to lack of physical activity, unhealthy diet, and the resulting obesity-related health conditions. Environment also comes into play, with the study factoring in a city's walk score, options for public transportation, and number of farmers markets. Learn all about the methodology here.
Stacker took the bottom 50 cities from this list and ranked them from most unhealthy to least. To come up with the data, the AFI provided the overall index score, the personal health score, and the community health score for each city. Read on to find out where your city stacks up.
RELATED: States where obesity is on the rise
#50. Garland, TX
2018 Fitness Index score: 48.9
City population: 234,588
Personal health score: 61.9
Community health score: 34.2
#49. New York, NY
2018 Fitness Index score: 48.6
City population: 8,537,673
Personal health score: 43
Community health score: 54.9
#48. Hialeah, FL
2018 Fitness Index score: 48.2
City population: 236,385
Personal health score: 59.1
Community health score: 36
#47. Irving, TX
2018 Fitness Index score: 48.1
City population: 238,284
Personal health score: 53.7
Community health score: 41.9
#46. Richmond, VA
2018 Fitness Index score: 47.7
City population: 223,170
Personal health score: 31.2
Community health score: 66.3
#45. Fort Worth, TX
2018 Fitness Index score: 47.6
City population: 855,897
Personal health score: 63.1
Community health score: 30.2
#44. St. Louis, MO
2018 Fitness Index score: 47.4
City population: 311,404
Personal health score: 29.7
Community health score: 67.2
#43. Glendale, AZ
2018 Fitness Index score: 47.3
City population: 245,849
Personal health score: 52.1
Community health score: 41.8
#42. Charlotte, NC
2018 Fitness Index score: 47.2
City population: 842,029
Personal health score: 64.7
Community health score: 27.5
#41. Houston, TX
2018 Fitness Index score: 46.9
City population: 2,304,388
Personal health score: 51.8
Community health score: 41.5
#40. Scottsdale, AZ
2018 Fitness Index score: 46.9
City population: 246,646
Personal health score: 52.1
Community health score: 41.1
#39. Riverside, CA
2018 Fitness Index score: 45.8
City population: 324,727
Personal health score: 48.7
Community health score: 42.7
#38. Las Vegas, NV
2018 Fitness Index score: 45.1
City population: 632,916
Personal health score: 38
Community health score: 53.2
#37. Jacksonville, FL
2018 Fitness Index score: 45
City population: 880,623
Personal health score: 35.4
Community health score: 55.9
#36. Nashville, TN
2018 Fitness Index score: 44.2
City population: 660,393
Personal health score: 38.7
Community health score: 50.3
#35. Bakersfield, CA
2018 Fitness Index score: 44
City population: 376,371
Personal health score: 50.2
Community health score: 37
#34. Baton Rouge, LA
2018 Fitness Index score: 43.4
City population: 227,707
Personal health score: 35.6
Community health score: 52.3
#33. San Antonio, TX
2018 Fitness Index score: 43.4
City population: 1,492,494
Personal health score: 47.9
Community health score: 38.2
#32. Jersey City, NJ
2018 Fitness Index score: 43.2
City population: 264,161
Personal health score: 35.8
Community health score: 51.6
#31. Lexington, KY
2018 Fitness Index score: 42.9
City population: 318,449
Personal health score: 43.2
Community health score: 42.7
#30. Greensboro, NC
2018 Fitness Index score: 42.8
City population: 287,019
Personal health score: 36.7
Community health score: 49.7
#29. Phoenix, AZ
2018 Fitness Index score: 42.5
City population: 1,615,041
Personal health score: 52.1
Community health score: 31.7
#28. Henderson, NV
2018 Fitness Index score: 42.4
City population: 292,977
Personal health score: 38
Community health score: 47.3
#27. Kansas City, MO
2018 Fitness Index score: 41.5
City population: 481,360
Personal health score: 32.9
Community health score: 51.3
#26. Chesapeake, VA
2018 Fitness Index score: 41.5
City population: 237,940
Personal health score: 35.4
Community health score: 48.3
#25. Chandler, AZ
2018 Fitness Index score: 40.9
City population: 247,459
Personal health score: 52.1
Community health score: 28.3
#24. Corpus Christi, TX
2018 Fitness Index score: 40.6
City population: 325,734
Personal health score: 28
Community health score: 54.7
#23. Baltimore, MD
2018 Fitness Index score: 40.5
City population: 614,664
Personal health score: 15.8
Community health score: 68.2
#21. Columbus, OH (tie)
2018 Fitness Index score: 40.3
City population: 862,643
Personal health score: 37.4
Community health score: 43.5
#21. El Paso, TX (tie)
2018 Fitness Index score: 40.3
City population: 683,088
Personal health score: 36.1
Community health score: 44.9
#20. Mesa, AZ
2018 Fitness Index score: 40.2
City population: 484,622
Personal health score: 52.1
Community health score: 26.8
#19. Philadelphia, PA
2018 Fitness Index score: 39.8
City population: 1,567,872
Personal health score: 20.3
Community health score: 61.7
#18. Arlington, TX
2018 Fitness Index score: 39.7
City population: 392,787
Personal health score: 47.2
Community health score: 31.3
#17. Fort Wayne, IN
2018 Fitness Index score: 39.2
City population: 261,342
Personal health score: 43.2
Community health score: 34.6
#16. Stockton, CA
2018 Fitness Index score: 38.8
City population: 307,057
Personal health score: 40.7
Community health score: 36.6
#15. Newark, NJ
2018 Fitness Index score: 38.6
City population: 281,770
Personal health score: 31.2
Community health score: 46.9
#14. Lubbock, TX
2018 Fitness Index score: 36.6
City population: 252,514
Personal health score: 37.8
Community health score: 35.3
#13. Memphis, TN
2018 Fitness Index score: 35.5
City population: 652,752
Personal health score: 33.9
Community health score: 37.3
#12. Laredo, TX
2018 Fitness Index score: 34.9
City population: 257,988
Personal health score: 34.4
Community health score: 35.5
#11. Winston-Salem, NC
2018 Fitness Index score: 34.5
City population: 242,200
Personal health score: 32.5
Community health score: 36.7
#10. Tulsa, OK
2018 Fitness Index score: 34.4
City population: 403,622
Personal health score: 29.8
Community health score: 39.7
#9. North Las Vegas, NV
2018 Fitness Index score: 34
City population: 238,689
Personal health score: 38
Community health score: 29.4
#8. Gilbert, AZ
2018 Fitness Index score: 33.5
City population: 237,120
Personal health score: 52.1
Community health score: 12.5
#7. Fresno, CA
2018 Fitness Index score: 33
City population: 522,021
Personal health score: 38.8
Community health score: 26.5
#6. Wichita, KS
2018 Fitness Index score: 32.5
City population: 389,927
Personal health score: 33
Community health score: 31.8
#5. Toledo, OH
2018 Fitness Index score: 30.3
City population: 278,512
Personal health score: 22.2
Community health score: 39.4
#4. Detroit, MI
2018 Fitness Index score: 30
City population: 672,829
Personal health score: 12.6
Community health score: 49.7
#3. Louisville, KY
2018 Fitness Index score: 27
City population: 616,261
Personal health score: 19.4
Community health score: 35.7
#2. Indianapolis, IN
2018 Fitness Index score: 26.9
City population: 852,506
Personal health score: 22.7
Community health score: 31.6
#1. Oklahoma City, OK
2018 Fitness Index score: 26.3
City population: 638,311
Personal health score: 23
Community health score: 30.1