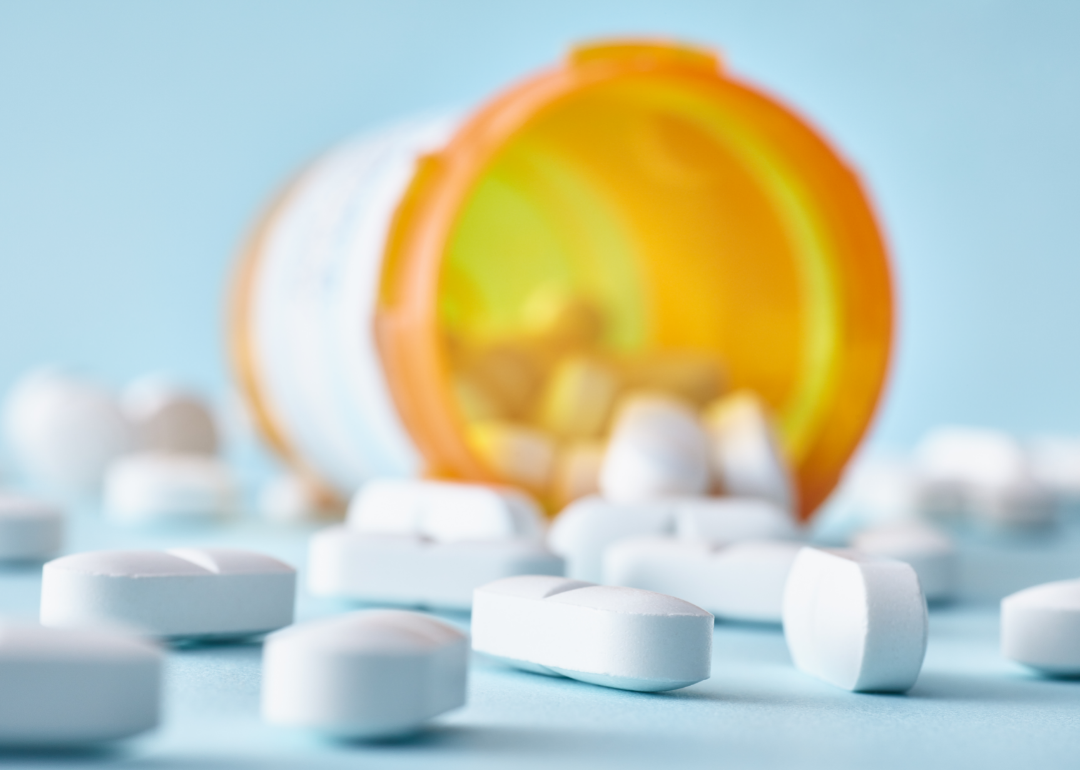 Stacker Studio
Most commonly misused prescription drugs in the US
Most commonly misused prescription drugs in the US
The Substance Abuse and Mental Health Services Administration, or SAMHSA, reported that among the people who misused prescription pain relievers in 2020, nearly 65% stated that their primary reason for doing so was to relieve physical pain. The percentage of people reporting drug misuse as a reason to get high was 11.3%.
Misuse is defined as patients taking prescription medications in a way other than what has been recommended by their doctor. It might look like taking someone else's prescription or taking one's own at larger or more frequent doses, or for a longer period of time.

Citing data from SAMHSA, Zinnia Health identified the most commonly misused prescription drugs in the United States, all of which are opioid analgesics, or opioid pain relievers. This class of drugs acts on the central nervous system by blocking pain signals to the brain. In addition to pain relief, these drugs also intensely trigger the brain's reward centers, releasing endorphins and creating positive feelings commonly referred to as euphoria. This is what makes prescription opioids—and all opioids, for that matter—so dangerously addictive.
Prolonged use of opioids can increase a patient's tolerance to a particular drug. With higher tolerance, the drug becomes less effective, and patients won't experience the same level of pain relief and feelings of euphoria, which often leads people to seek out opioids with higher potency. This could be why such a large percentage of people reported misusing prescription opioids to relieve pain. For example, a person who has misused and developed a tolerance to morphine may seek out something stronger like oxycodone or hydromorphone, the effects of which are felt more quickly and more intensely.
SAMHSA also found that nearly half of people who misused pain relievers (47.2%) reported getting these drugs from a friend or relative—by stealing, buying, or receiving them for free. Roughly 44% of people reported getting prescriptions from a healthcare provider. Drug diversion—or the disruption of a prescription drug along its legal and intended path from manufacturer to doctor to patient—is a contributing factor in drug misuse. Diversion happens through doctor shopping, theft, and forgery, among others.
The United States is in its third wave of an opioid crisis, but it is important to note this current wave is characterized by illicitly produced synthetic opioids. Overdose deaths from commonly prescribed opioids have been on the decline over the last several years. However, knowing the uses and risks associated with these drugs can be life-saving. Read on to learn the most commonly misused prescription drugs in the United States.
This story originally appeared on Zinnia Health and was produced and distributed in partnership with Stacker Studio.