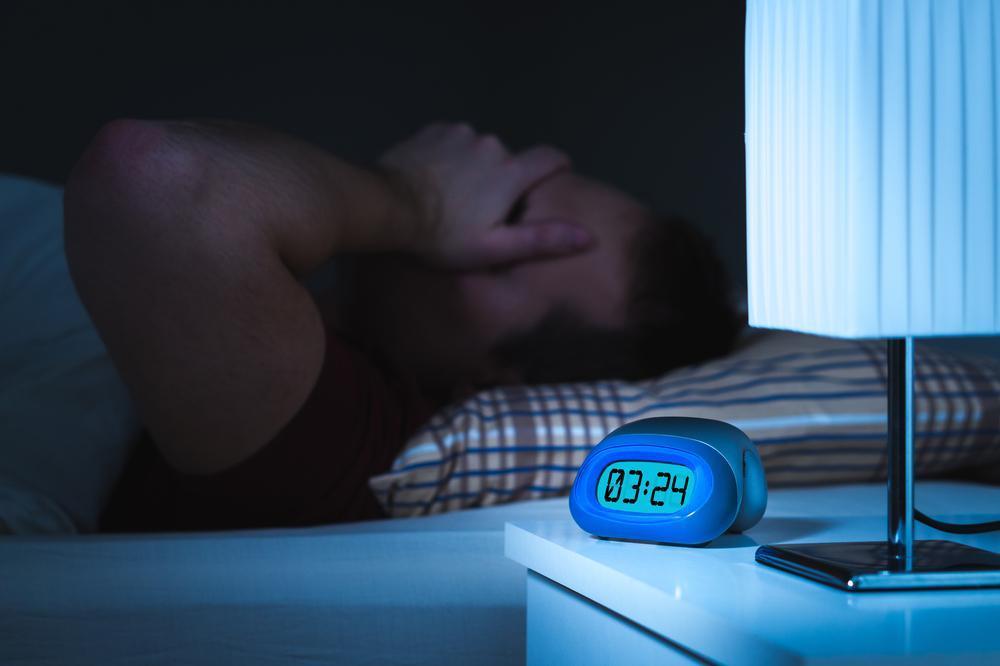 States getting the least sleep
Tero Vesalainen // Shutterstock
Sleep habits of every state
After 24 hours without sleep, a person may experience impairments to their judgment, memory, and coordination. Once that number gets to 72 hours, an individual may begin to hallucinate and major cognitive deficits could occur. Sleep deprivation on a smaller scale can negatively affect the immune system and can even increase the risk of developing cardiovascular disease, obesity, and diabetes. 
The average American worker clocks in just under 1,800 hours annually. With people across the nation working night and day while simultaneously juggling social obligations, household responsibilities, and family time, it stands to reason that sleep doesn't receive priority in the typical American workweek.
The United States is notorious for lack of sleep. According to the National Sleep Foundation, the majority of adults require between seven and nine hours of sleep per night, though a large number of American adults miss that mark regularly.
Using data from the Center for Disease Control and Prevention, Stacker listed the states getting the least sleep on average. The 50 states and the District of Columbia are ranked according to the percentage of adults who report getting fewer than seven hours of sleep per night, and ties are noted where applicable.
Read on to see the percentage of adults in your state that to hit the hay more regularly.
You may also like: Places where people work the longest hours
#51. Colorado
- Adults getting <7 hours of sleep per night: 28.5%
- Men getting <7 hours of sleep per night: 29.4%
- Women getting <7 hours of sleep per night: 27.6%
#50. South Dakota
- Adults getting <7 hours of sleep per night: 28.5%
- Men getting <7 hours of sleep per night: 29.9%
- Women getting <7 hours of sleep per night: 27%
#49. Minnesota
- Adults getting <7 hours of sleep per night: 29.3%
- Men getting <7 hours of sleep per night: 30.6%
- Women getting <7 hours of sleep per night: 27.8%
#48. Nebraska
- Adults getting <7 hours of sleep per night: 30.4%
- Men getting <7 hours of sleep per night: 30.9%
- Women getting <7 hours of sleep per night: 29.8%
#47. Idaho
- Adults getting <7 hours of sleep per night: 30.7%
- Men getting <7 hours of sleep per night: 30.6%
- Women getting <7 hours of sleep per night: 30.8%
#46. Montana
- Adults getting <7 hours of sleep per night: 30.9%
- Men getting <7 hours of sleep per night: 31%
- Women getting <7 hours of sleep per night: 30.8%
#45. Utah
- Adults getting <7 hours of sleep per night: 30.9%
- Men getting <7 hours of sleep per night: 31.9%
- Women getting <7 hours of sleep per night: 29.9%
#44. Kansas
- Adults getting <7 hours of sleep per night: 31.1%
- Men getting <7 hours of sleep per night: 31.4%
- Women getting <7 hours of sleep per night: 30.6%
#43. Iowa
- Adults getting <7 hours of sleep per night: 31.2%
- Men getting <7 hours of sleep per night: 33.2%
- Women getting <7 hours of sleep per night: 29.1%
#42. Vermont
- Adults getting <7 hours of sleep per night: 31.3%
- Men getting <7 hours of sleep per night: 33.1%
- Women getting <7 hours of sleep per night: 29.6%
#41. Wyoming
- Adults getting <7 hours of sleep per night: 31.4%
- Men getting <7 hours of sleep per night: 33%
- Women getting <7 hours of sleep per night: 29.9%
#40. Oregon
- Adults getting <7 hours of sleep per night: 31.8%
- Men getting <7 hours of sleep per night: 33.5%
- Women getting <7 hours of sleep per night: 30%
#39. Washington
- Adults getting <7 hours of sleep per night: 31.9%
- Men getting <7 hours of sleep per night: 33%
- Women getting <7 hours of sleep per night: 30.6%
#38. North Dakota
- Adults getting <7 hours of sleep per night: 32%
- Men getting <7 hours of sleep per night: 33.2%
- Women getting <7 hours of sleep per night: 30.5%
#37. New Mexico
- Adults getting <7 hours of sleep per night: 32.1%
- Men getting <7 hours of sleep per night: 33%
- Women getting <7 hours of sleep per night: 31.1%
#36. Wisconsin
- Adults getting <7 hours of sleep per night: 32.2%
- Men getting <7 hours of sleep per night: 34.6%
- Women getting <7 hours of sleep per night: 29.7%
#35. District of Columbia
- Adults getting <7 hours of sleep per night: 32.3%
- Men getting <7 hours of sleep per night: 31.5%
- Women getting <7 hours of sleep per night: 32.9%
#34. North Carolina
- Adults getting <7 hours of sleep per night: 32.5%
- Men getting <7 hours of sleep per night: 32.5%
- Women getting <7 hours of sleep per night: 32.3%
#33. New Hampshire
- Adults getting <7 hours of sleep per night: 32.6%
- Men getting <7 hours of sleep per night: 35.7%
- Women getting <7 hours of sleep per night: 29.6%
#32. Maine
- Adults getting <7 hours of sleep per night: 33.1%
- Men getting <7 hours of sleep per night: 35.2%
- Women getting <7 hours of sleep per night: 31%
#31. Texas
- Adults getting <7 hours of sleep per night: 33.1%
- Men getting <7 hours of sleep per night: 33%
- Women getting <7 hours of sleep per night: 33.2%
#30. Arizona
- Adults getting <7 hours of sleep per night: 33.4%
- Men getting <7 hours of sleep per night: 34.3%
- Women getting <7 hours of sleep per night: 32.5%
#29. California
- Adults getting <7 hours of sleep per night: 33.6%
- Men getting <7 hours of sleep per night: 33%
- Women getting <7 hours of sleep per night: 34%
#28. Missouri
- Adults getting <7 hours of sleep per night: 34.1%
- Men getting <7 hours of sleep per night: 36.5%
- Women getting <7 hours of sleep per night: 31.8%
#27. Illinois
- Adults getting <7 hours of sleep per night: 34.4%
- Men getting <7 hours of sleep per night: 34.6%
- Women getting <7 hours of sleep per night: 34.3%
#26. Massachusetts
- Adults getting <7 hours of sleep per night: 34.6%
- Men getting <7 hours of sleep per night: 35.5%
- Women getting <7 hours of sleep per night: 33.6%
#25. Alaska
- Adults getting <7 hours of sleep per night: 35.1%
- Men getting <7 hours of sleep per night: 36.9%
- Women getting <7 hours of sleep per night: 33%
#24. Connecticut
- Adults getting <7 hours of sleep per night: 35.2%
- Men getting <7 hours of sleep per night: 37.4%
- Women getting <7 hours of sleep per night: 33.1%
#23. Florida
- Adults getting <7 hours of sleep per night: 35.7%
- Men getting <7 hours of sleep per night: 35.1%
- Women getting <7 hours of sleep per night: 36.3%
#22. Oklahoma
- Adults getting <7 hours of sleep per night: 35.9%
- Men getting <7 hours of sleep per night: 37.4%
- Women getting <7 hours of sleep per night: 34.3%
#21. Virginia
- Adults getting <7 hours of sleep per night: 36.2%
- Men getting <7 hours of sleep per night: 37.6%
- Women getting <7 hours of sleep per night: 34.6%
#20. Louisiana
- Adults getting <7 hours of sleep per night: 36.4%
- Men getting <7 hours of sleep per night: 36%
- Women getting <7 hours of sleep per night: 36.7%
#19. Nevada
- Adults getting <7 hours of sleep per night: 36.5%
- Men getting <7 hours of sleep per night: 36.8%
- Women getting <7 hours of sleep per night: 36.1%
#18. Rhode Island
- Adults getting <7 hours of sleep per night: 36.8%
- Men getting <7 hours of sleep per night: 37.7%
- Women getting <7 hours of sleep per night: 36.1%
#17. Mississippi
- Adults getting <7 hours of sleep per night: 37.2%
- Men getting <7 hours of sleep per night: 37%
- Women getting <7 hours of sleep per night: 37.4%
#16. New Jersey
- Adults getting <7 hours of sleep per night: 37.2%
- Men getting <7 hours of sleep per night: 35.5%
- Women getting <7 hours of sleep per night: 38.8%
#15. Tennessee
- Adults getting <7 hours of sleep per night: 37.2%
- Men getting <7 hours of sleep per night: 36.9%
- Women getting <7 hours of sleep per night: 37.4%
#14. Pennsylvania
- Adults getting <7 hours of sleep per night: 37.5%
- Men getting <7 hours of sleep per night: 38.7%
- Women getting <7 hours of sleep per night: 36.3%
#13. Arkansas
- Adults getting <7 hours of sleep per night: 37.6%
- Men getting <7 hours of sleep per night: 38.6%
- Women getting <7 hours of sleep per night: 36.6%
#12. Delaware
- Adults getting <7 hours of sleep per night: 37.6%
- Men getting <7 hours of sleep per night: 36.9%
- Women getting <7 hours of sleep per night: 38.2%
#11. Ohio
- Adults getting <7 hours of sleep per night: 38.1%
- Men getting <7 hours of sleep per night: 38.5%
- Women getting <7 hours of sleep per night: 37.6%
#10. New York
- Adults getting <7 hours of sleep per night: 38.4%
- Men getting <7 hours of sleep per night: 38.4%
- Women getting <7 hours of sleep per night: 38.4%
#9. Indiana
- Adults getting <7 hours of sleep per night: 38.6%
- Men getting <7 hours of sleep per night: 39.4%
- Women getting <7 hours of sleep per night: 37.8%
#8. West Virginia
- Adults getting <7 hours of sleep per night: 38.6%
- Men getting <7 hours of sleep per night: 37.6%
- Women getting <7 hours of sleep per night: 39.6%
#7. South Carolina
- Adults getting <7 hours of sleep per night: 38.7%
- Men getting <7 hours of sleep per night: 40.5%
- Women getting <7 hours of sleep per night: 36.9%
#6. Georgia
- Adults getting <7 hours of sleep per night: 38.8%
- Men getting <7 hours of sleep per night: 37.2%
- Women getting <7 hours of sleep per night: 40.3%
#5. Michigan
- Adults getting <7 hours of sleep per night: 38.9%
- Men getting <7 hours of sleep per night: 40.9%
- Women getting <7 hours of sleep per night: 36.9%
#4. Alabama
- Adults getting <7 hours of sleep per night: 39%
- Men getting <7 hours of sleep per night: 39.3%
- Women getting <7 hours of sleep per night: 38.7%
#3. Maryland
- Adults getting <7 hours of sleep per night: 39%
- Men getting <7 hours of sleep per night: 40.2%
- Women getting <7 hours of sleep per night: 37.8%
#2. Kentucky
- Adults getting <7 hours of sleep per night: 40%
- Men getting <7 hours of sleep per night: 39%
- Women getting <7 hours of sleep per night: 40.8%
#1. Hawaii
- Adults getting <7 hours of sleep per night: 44.1%
- Men getting <7 hours of sleep per night: 44.4%
- Women getting <7 hours of sleep per night: 43.6%