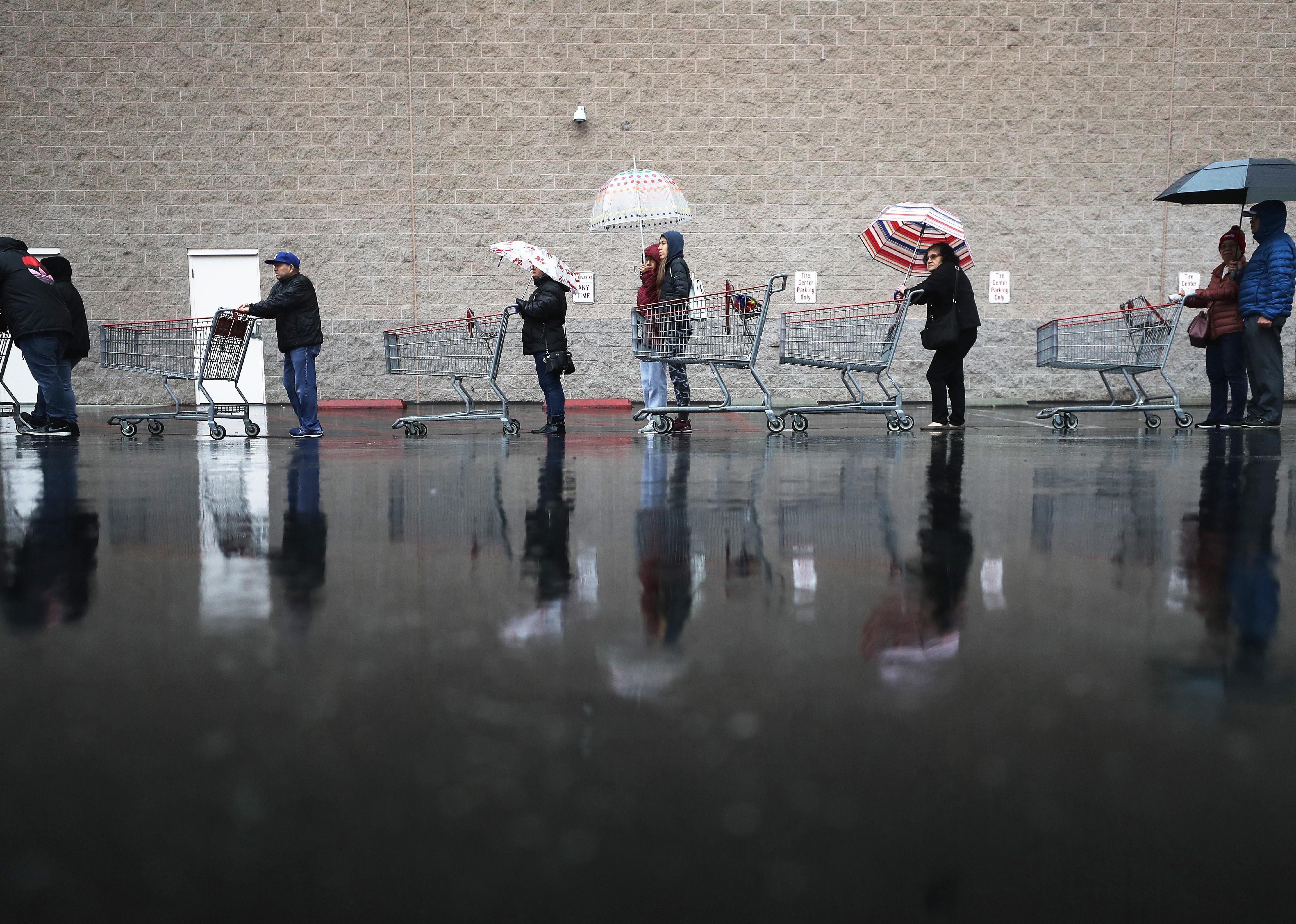 Where every state stands on flattening the curve
Mario Tama // Getty Images
Where every state stands on flattening the curve
Completely containing the coronavirus is an impossible mission. The next best thing we can do is "flatten the curve." You've probably heard that phrase regularly since the pandemic began, but what does it really mean? And more importantly, are states' efforts to flatten the curve paying off?
Flattening the curve is an epidemiological concept that focuses on slowing the spread of a particular virus to minimize the amount of people who need treatment at the same time. Steep curves, which tend to occur when precautions are not taken, indicate a rapid rise in infections and make it more likely that the health care system is overwhelmed—perhaps to the point of leaving patients untreated. Social distancing, mask-wearing, and avoiding large gatherings help to reduce the curve. The same number of people may still get sick, but those infections are spread out over a longer period of time, allowing hospitals to keep up with cases.
Every state has taken different measures to keep the coronavirus under control. Some, like South Dakota and Iowa, have been relatively hands-off, even avoiding stay-at-home orders. Others, like New York and California, issued a series of strict precautions early on and have only recently started reopening businesses that were shut down. Most recently, the entire Tri-State Area—New York, New Jersey, and Connecticut—on June 24 put into effect a required two-week quarantine period for anyone traveling to the region from states with COVID-19 cases exceeding a certain level. As of press time, residents traveling to the Tri-State Area from Alabama, Arizona, Arkansas, Florida, North Carolina, South Carolina, Utah, and Texas are subject to enforced, 14-day quarantine.
To examine how every state stands on flattening its curve of COVID-19 cases, Stacker used current and historical data from the COVID Tracking Project, a volunteer effort based at The Atlantic which compiles and standardizes daily testing and outcomes data from state health departments. We looked at the data and visualized how cases and deaths in every state have progressed over the past month. As supporting data, we've pulled out insights on how many new cases, deaths, and tests have occurred in each state over the past week (June 18 to June 24), as well as the weeks with the highest new case and death rates so far for each state. At least 16 states had record-breaking rates of new cases during the week of June 18 to June 24.
We also calculated the test-positivity ratio, or the share of tests that have returned positive results, for the week of June 18 to June 24. However, it is important to note that some states, such as Florida, may be inflating their test counts by conflating the results of viral and antibody tests and/or reporting the number of specimens tested rather than the number of people tested, so test-positivity ratios should be taken with a grain of salt.
Wondering how your state is doing with its efforts to flatten the curve? Click through to see the latest statistics from all 50 states, plus Washington D.C.
Editor's note: Betsy Ladyzhets, a research associate at Stacker who worked on this story, volunteers for the COVID-19 Tracking Project.
You may also like: Former jobs of the governor of every state