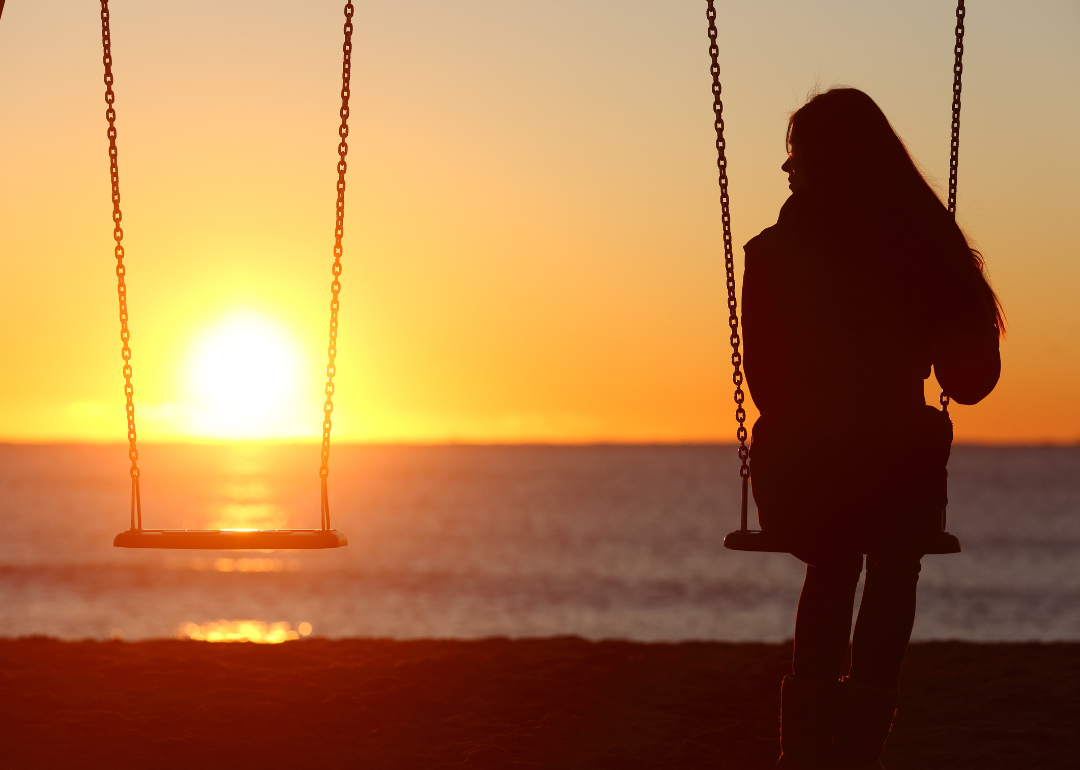 Stacker Studio
Young adults are the most lonely, data shows
Antonio Guillem // Shutterstock
Young adults are the most lonely, data shows
Loneliness is a deeply personal feeling. Some people might experience this emotion from being physically alone. For others, it might arise from feeling disconnected from or unfulfilled by the people in their lives or society more broadly. Whether it is a real or perceived absence of social connection, loneliness is a form of pain to all who feel it.
Charlie Health used data from various sources, including Ipsos, Harvard Graduate School of Education, BBC, and the American Enterprise Institute, to dig into loneliness among young adults and its possible causes.
Loneliness is such a powerful emotion that it can manifest as physical impairment and illness, leading to elevated cortisol levels, weakened immune systems, and inflammation. A breakthrough 2007 study from the University of California, Los Angeles, discovered that chronic loneliness could change someone's biology at a cellular level compared to people not experiencing loneliness. While these biological changes may not seem severe, they increase a person's risk of developing heart disease, infections, cancer, and other serious mental health issues.
No one is immune to loneliness, but some groups are more prone to it than others. According to a 2018 Ipsos survey of 20,096 adults—the most comprehensive U.S.-based study on the topic of loneliness—young adults between the ages of 18-25 are the loneliest segment, by age, of the U.S. population. To assess loneliness, the surveyors posed 20 questions about companionship, friendship, family life, feelings of being left out, shyness, and social media use.
The survey scored participants' loneliness on a scale from 20-80 (80 being the most lonely), with the average score across all generations being 44.03. Young adults averaged 47.87, while those 65 and older, often assumed to be the most at risk of loneliness, scored an average of 40—the lowest score of any generational group.
Simply living through a transitional stage of life into adulthood in today's world can be a lonely experience. Young adults may feel a distancing from or no connection at all with their inherited family and may have not yet built families or social circles of their own, creating a void of emotional support. Across generations, this transition to establish social and financial independence has always been a challenge, but for young adults today, it may be even more so: A 2021 Pew Research Center survey found that most Americans believe young adults have it substantially harder than their parents when it comes to saving for their futures, paying off student debt, and buying a home.
The world that young adults must navigate is also more connected and technologically driven than at any previous time in history. While this can help young people find their communities, it can also make it challenging to find quietude, separate reality from what's perceived online, and develop face-to-face interpersonal relationships. Young adults have never known a world without this instant digital connection, which likely contributes to their generation's feelings of isolation.
This story originally appeared on Charlie Health and was produced and distributed in partnership with Stacker Studio.