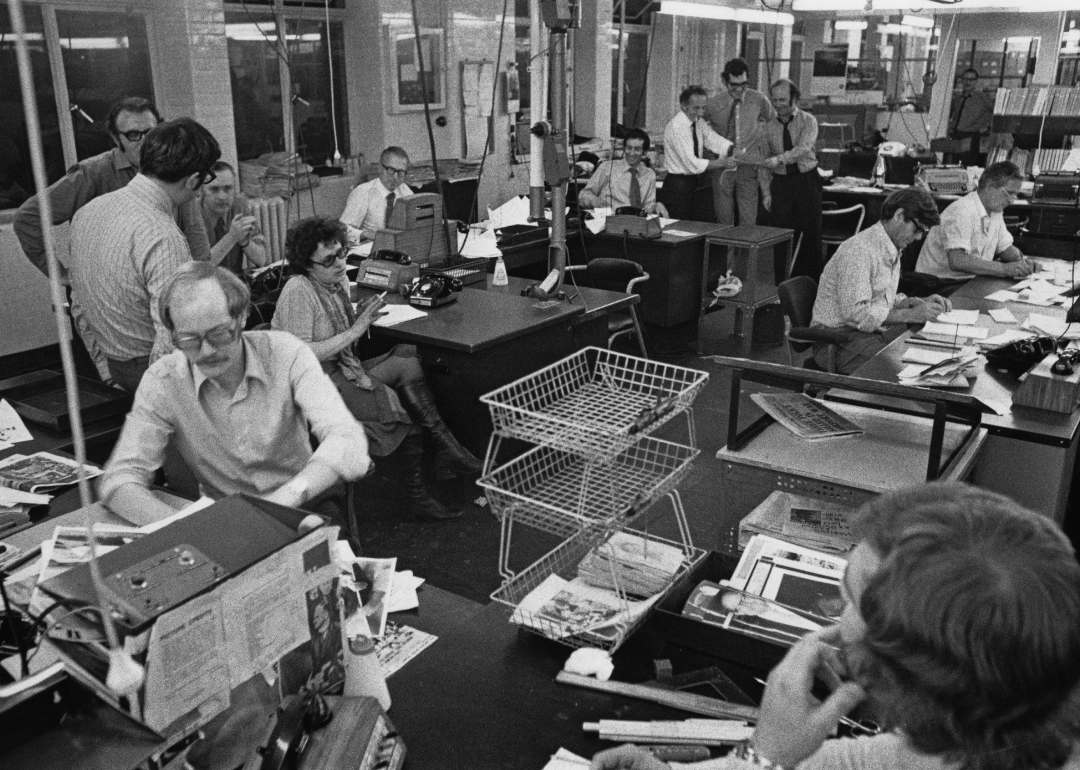 50 ways the news industry has changed in the last 50 years
Evening Standard // Getty Images
50 ways the news industry has changed in the last 50 years
A half-century ago, newsrooms were loud. Alarm bells rang out over the steady clickety-clack of typewriters when breaking news came in over the wire machine. Children on bicycles delivered newspapers to front porches across the country and the information most people received was limited to what news anchors like Walter Cronkite told them during regularly scheduled broadcasts. Today, the news is delivered in real-time through a dizzying variety of sources, and thanks to smartphones and social media, every person is a journalist whose impromptu videos can go viral with the push of a button.
In between were 50 years of changes so dramatic and all-encompassing that the people—nearly all of whom were white men—who delivered the news in 1969 would scarcely recognize the industry today. Massive corporations own 24-hour news networks that serve as the intellectual home bases for a hyper-partisan and politically polarized nation. Americans largely consume news inside of intellectual and political echo chambers, where their social media feeds, go-to online news sources, and network news channels reinforce beliefs they already have while working to discredit or simply shut out alternative points of view.
Some of the most powerful and influential news programs in the country are parody shows that started as comedies designed to mock the news, but evolved into potent media watchdogs that the masses turn to for actual information. The print newspapers that once dotted the country's lawns, driveways, and front porches every morning at sunrise are hemorrhaging subscribers to new and emerging digital alternatives.
The media, which is simply the plural of "medium," have been demonized for generations as a catchall boogeyman in any instance where information comes to light that doesn't fit into the narrative of one echo chamber or the other. A sitting president recently called the media—whose place in American society is enshrined in the First Amendment to the U.S. Constitution—"the true enemy of the people." Here's a look at the news industry and how it has changed over the past half-century.
You may also like: Most and least trusted news sources in America