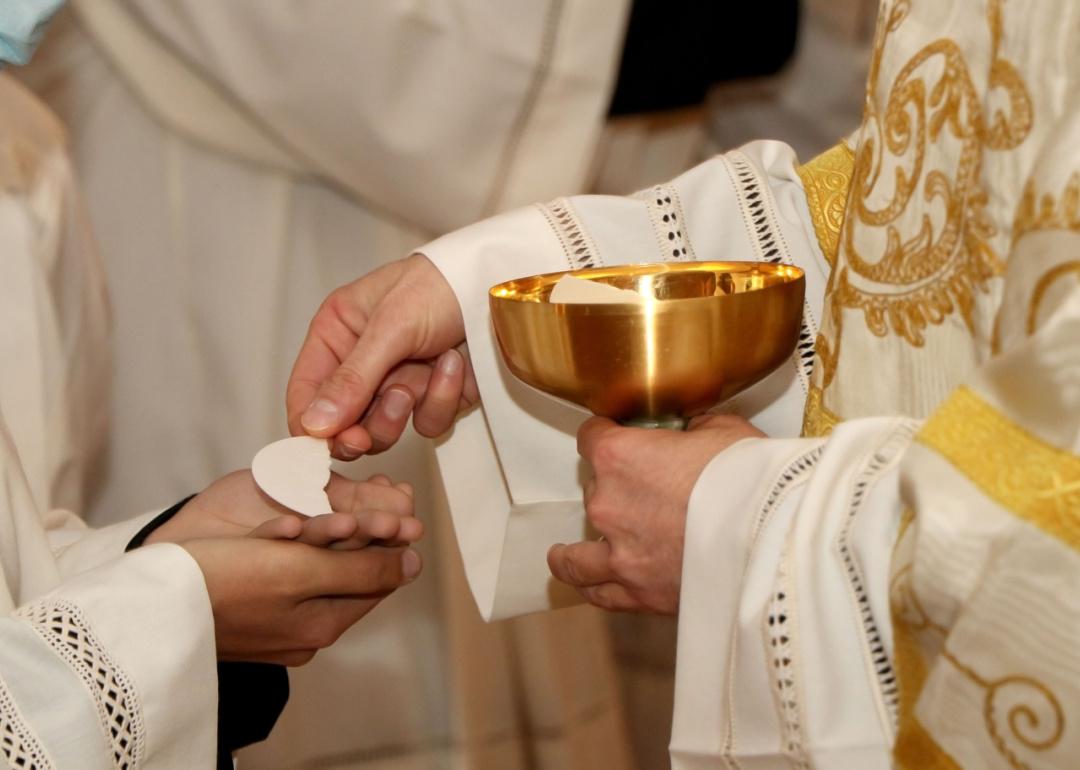 The Vatican is investigating a miracle at a Connecticut church. Here's every Eucharistic miracle visualized.
Massimo Todaro // Shutterstock
The Vatican is investigating a miracle at a Connecticut church. Here's every Eucharistic miracle visualized.
On March 5, during Sunday Mass at St. Thomas Church in Thomaston, Connecticut, a parishioner noticed that the wafers, or hosts, given during Communion—also called the Eucharist—multiplied themselves inside the ciborium just as they were about to run out. With no explanation available other than alleged divine intervention, the Vatican is now investigating whether it was a true Eucharistic miracle. If confirmed, which is unlikely now due to a lack of physical evidence, it would be the first miracle of any kind declared by the Catholic Church in the United States.
Believing in miracles is a prerequisite of Roman Catholicism. Church doctrine teaches that Jesus, the son of God, enters the world by immaculate conception, or virgin birth. He rises from the dead. And in between the bookends of his life, he performed many alleged miracles, including walking on water, turning water into wine, and feeding a crowd of 5,000 people with only two fish and five loaves of bread.
In Catholicism, miracles are perceptible events with no natural or scientific explanation. But not just any random, inexplicable phenomenon gets the holy seal of approval. These events typically involve healing, curing, or strengthening faith and are most often discussed in the context of canonization, as performing a miracle is a required criterion of sainthood.
Over time, verifying these events has become more rigorous and scientific. Miracles evolved from being supernatural signs of God, according to the church, to proof of God. Where science finds future progress and discovery in inexplicable events—things yet to be solved—the Catholic Church finds God. They are two sides of the same coin; which side is up depends on who is holding it.
The church has a long history of preempting the skeptics in order to strengthen their arguments for proof. In 1587 Pope Sixtus V established the position of advocatus diaboli. The primary function of this role was to find any and every reason to question a person's candidacy for sainthood. This went beyond questioning the validity of miracles they performed to even include identifying selfish reasons for good deeds completed by the person in question. Today, we call people who present counterarguments like this a devil's advocate—or, in Latin, advocatus diaboli.
To better understand the history of Eucharistic miracles specifically, Stacker visualized every Eucharistic miracle the Vatican has declared, charting their prominence over regions and time with help from a list compiled by miracolieucaristici.org. The events only include those in which some action occurred and exclude relics or feasts often grouped in with Eucharistic miracles.