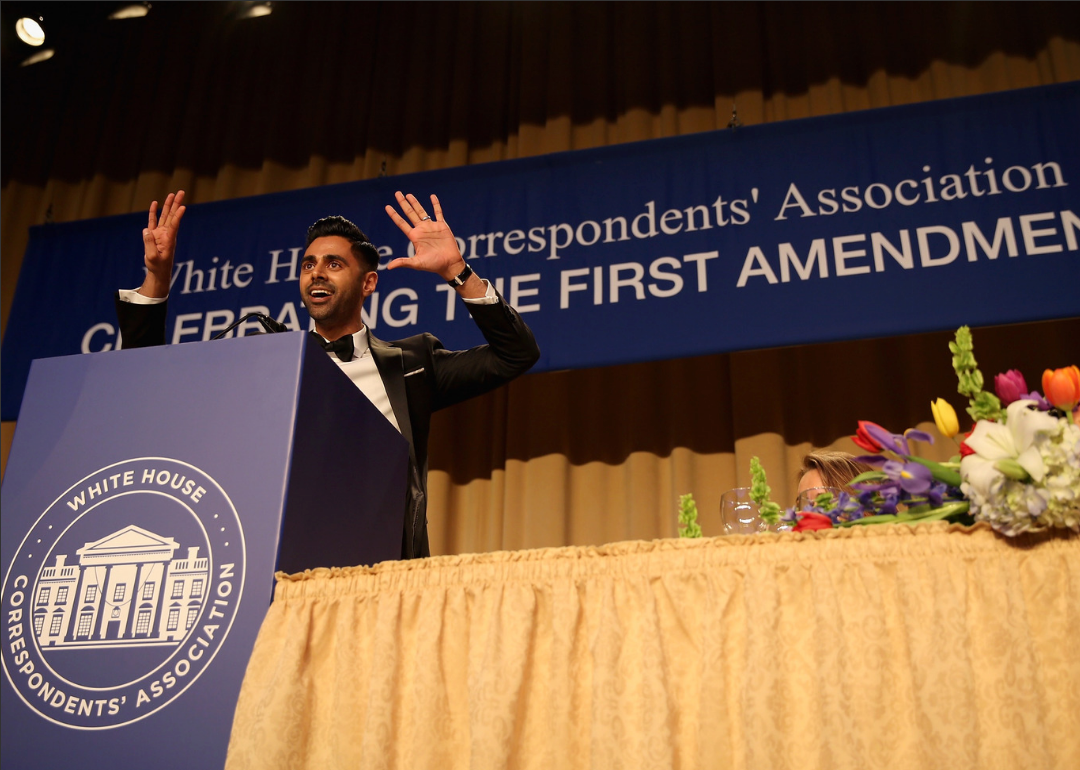 White House Correspondents Dinner hosts from the year you were born
Tasos Katopodis // Getty Images
White House Correspondents Dinner hosts from the year you were born
The annual White House Correspondents' Association (WHCA) Dinner has about 2,600 attendees, and people from all over the world look to it as a rare chance to see the media, presidents, comedians, and Hollywood stars interact. Though the WHCA Dinner began in 1921 as a gathering of just 50 people, it wasn't until 1944 that hosts were introduced. From the beginning, the dinner featured big names: Bob Hope and Frank Sinatra were among the first headliners. At that time, there weren't single performers, but rather a collection of hosts who sang, danced, or put on skits between speeches. Though female singers such as Patti Page and the McGuire Sisters performed for the WHCA's enjoyment, early dinners famously banned female writers. That changed in 1962, when President John F. Kennedy said he would boycott the event unless the invitation was open to women.
In 1968, stand-up comedian Richard Pryor was the event's sole host, setting the standard for future WHCA Dinners to come. By 1983, it became almost exclusively comedy-focused and has become known for featuring a roast of the president, their administration, and other political bigwigs. Particular comedians have come back time and time again, like Jay Leno, who has taken the stage four times. It's a chance for comedians to air their grievances against the status quo and, sometimes, the jokes don't over so well. When Stephen Colbert took the stage as his scathing right-wing parody character, the Bush administration was visibly upset, with several staffers even walking out. Michelle Wolf's 2018 monologue about the Trump administration set social media ablaze with her cutting humor and sometimes crude language.
Still, over the years, some of the presidents have been able to take a joke—and even make some at their own expense. In 1975 in the wake of the Watergate scandal, for example, President Gerald Ford said, "I do have one favor to ask of all the White House correspondents sitting here tonight. Every few years, we do have to paint the White House. It is done for reasons of maintenance, aesthetics, and appearance. So please, would you just refer to this as a paint job, not a cover-up?"
Presidents have occasionally eschewed humor in favor of a more serious act—in 2003, in the wake of the Iraq invasion, Ray Charles performed. This year, which will be the third WHCA Dinner that Trump will not attend during his presidency, another unconventional speaker will be hosting—though you'll have to read on to find out who.
This list, which is compiled from Wikipedia data, will help you discover who hosted the White House Correspondents' Dinner the year you were born. Don't see your birth year? That's no error: It may be because there were only 18 hosts between 1944 and 1985, with the dinner skipped several different years. However, from 1986 until now, there's been a host every year. Read on to learn more ahead of this year's dinner April 27.
You may also like: 50 famous White House visits
1944
Hosts: Bob Hope, Fred Waring, Robert Merrill, Gracie Fields, Pedro Vargas, Elsie Janis, Fritz Kreisler, Ed Gardiner, Nan Merriman, and Frank Black
1945
Hosts: Frank Sinatra, Fanny Brice, Danny Thomas, Jimmy Durante, Danny Kaye, and Garry Moore
1954
Hosts: Milton Berle, Jaye P. Morgan, The Four Step Brothers, Irving Berlin, and The McGuire Sisters
1956
Hosts: James Cagney, Nat King Cole, Patti Page, and Dizzy Gillespie
1961
Hosts: Mischa Elman, Julie London, The Peiro Brothers, Dorothy Provine, and Jerome Hines
1962
Hosts: Peter Sellers, Gwen Verdon, and Richard and Benny Goodman
1963
Hosts: Barbra Streisand, Merv Griffin
1964
Hosts: Duke Ellington, The Smothers Brothers
1969
Host: The Disneyland Golden Horseshoe Revue
1975
Hosts: Danny and Marlo Thomas
1976
Hosts: Bob Hope, Chevy Chase
2005
Host: Cedric the Entertainer