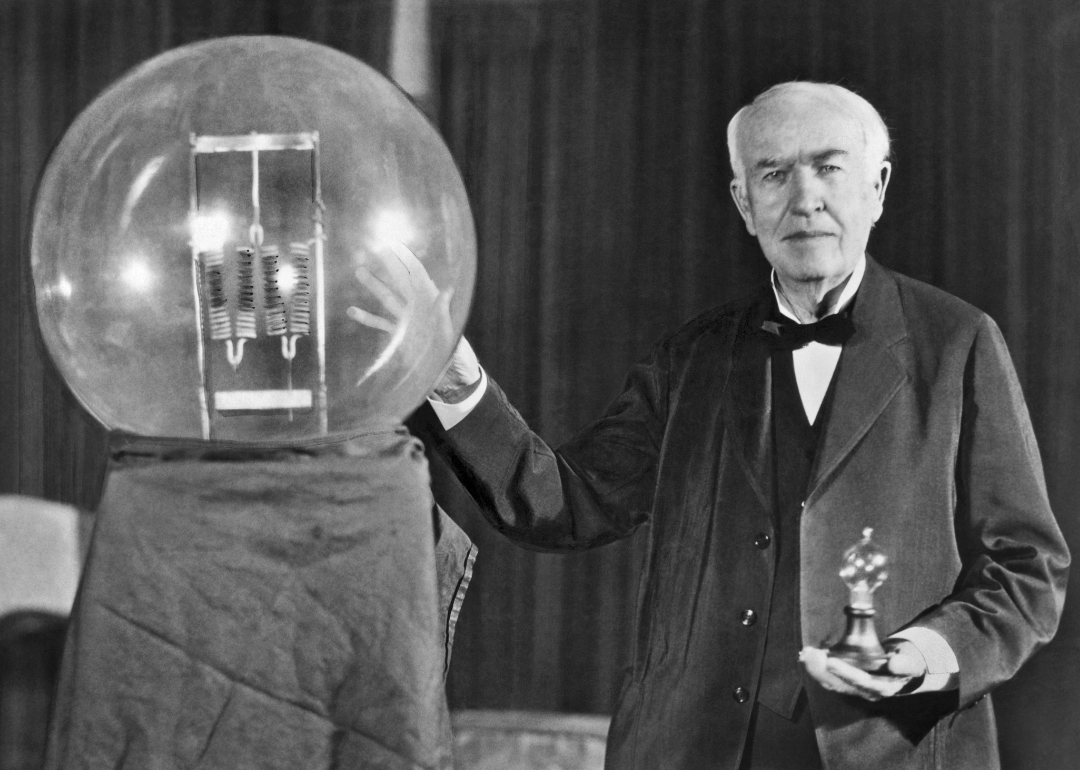 Stacker Studio
Who actually invented the lightbulb—and the illuminating history of modern lighting
Underwood Archives // Getty Images
Who actually invented the lightbulb—and the illuminating history of modern lighting
The story of humans trying to use light and heat to their benefit goes back to prehistoric times. The earliest use of fire for these purposes led to torches, oil lamps, candles, gas systems, and finally, lightbulbs. Up until the early years of the 19th century, electrical lighting technology was scant. Soon after, scientists and inventors were fixated on successfully controlling electricity in order to provide a continuous flow of illumination and energy.
Old and new lightbulbs may look similar, but they actually have very little in common. Incandescent and fluorescent lights brightened homes, offices, businesses, and streets for most of the 20th century. However, light-emitting diode technology—simply referred to as LED—has steadily taken over in the last two decades. Valued at just over $78 billion in 2020, the global LED lighting market is forecasted to be worth more than $192 billion by 2030 in its drive toward ubiquity.
In 2020, 57% of the LED lighting market share belonged to light fixtures, which are used in industrial and commercial settings; however, LED popularity has also grown significantly for residential use. Latest estimates from the Energy Information Administration show almost half of U.S. households use LED bulbs for the majority of their indoor lighting. This growth is attributed to the rising usage of LED A-type lamps due to low prices, available clean energy subsidies provided by agencies and governments, and their "plug-and-play" design, which does not require the rewiring of existing electricity sources.
LED Lighting Supply looked at the history of electric lighting, from early incandescent lightbulbs to LED technology. Scroll down and be dazzled by the illuminating history of modern lighting, and find out—once and for all—if Thomas Edison did indeed invent the incandescent lightbulb.
This story originally appeared on LED Lighting Supply and was produced and distributed in partnership with Stacker Studio.