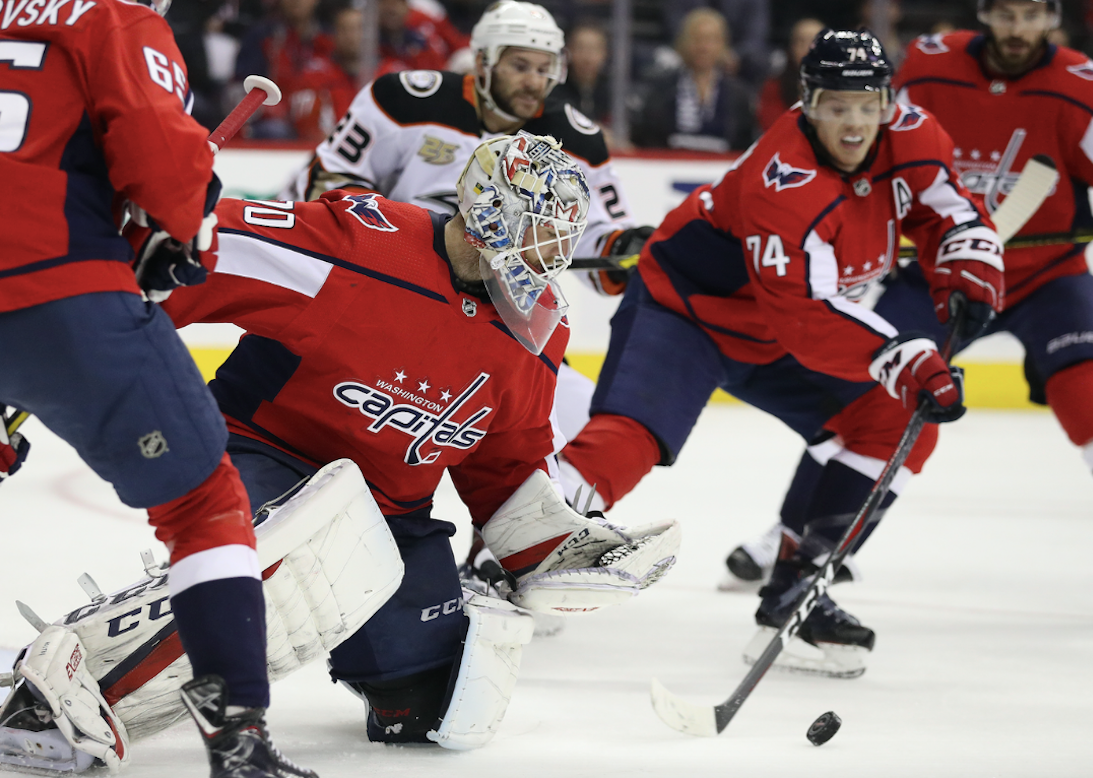 Favorites to win the Stanley Cup
Patrick Smith // Getty Images
Favorites to win the Stanley Cup
No matter which team had won last year's Stanley Cup Finals, it would have been an incredible story. The Las Vegas Golden Knights seemed poised to make history by becoming the first expansion team in a major American sport to win a championship in its first season in existence. Instead, it was a different heartwarming narrative that came to fruition. A modern-day legend, Alexander Ovechkin, finally overcame his postseason woes and led the Washington Capitals to their first Stanley Cup championship in franchise history by downing the Golden Knights in five games.
While the Golden Knights and the Capitals are very much in the middle of the playoff picture this time around, there are other franchises that are stealing the headlines and catching the eyes of the oddsmakers in Las Vegas. The Tampa Bay Lightning have put together their best season in franchise history, surpassing their franchise-best point total of 113 back on March 16. They are essentially a lock for the Eastern Conference's top seed, but unlike the NBA, an eight-seed in the Stanley Cup Playoffs is more than capable of pulling off a first-round upset. Since 2001, seven top-seeded teams have been defeated in the first round by their wild-card counterparts.
In the Western Conference, the Calgary Flames are top seed while the St. Louis Blues—who seemed left for dead before the All-Star break—dramatically increased their postseason odds by rattling off 11 straight wins from late January to late February. If they can string together another streak like that, they could be a dark horse to make a run in the Western Conference.
Crunching odds from Bovada and stats from ESPN (last updated April 6, 2019), Stacker is taking a look at the Stanley Cup odds for the final 16 contenders. Teams are ranked by their chances of winning, with ties broken by goal differential.
Will the Capitals get hot and make a bid to defend their championship from last season? Could the Islanders, with former Capitals coach Barry Trotz in tow, return to playoff prominence like that of the team's dynasty in the early '80s? Read on to discover the likelihood of those occurrences and all other outcomes.
You might also like: Best sports documentaries of all time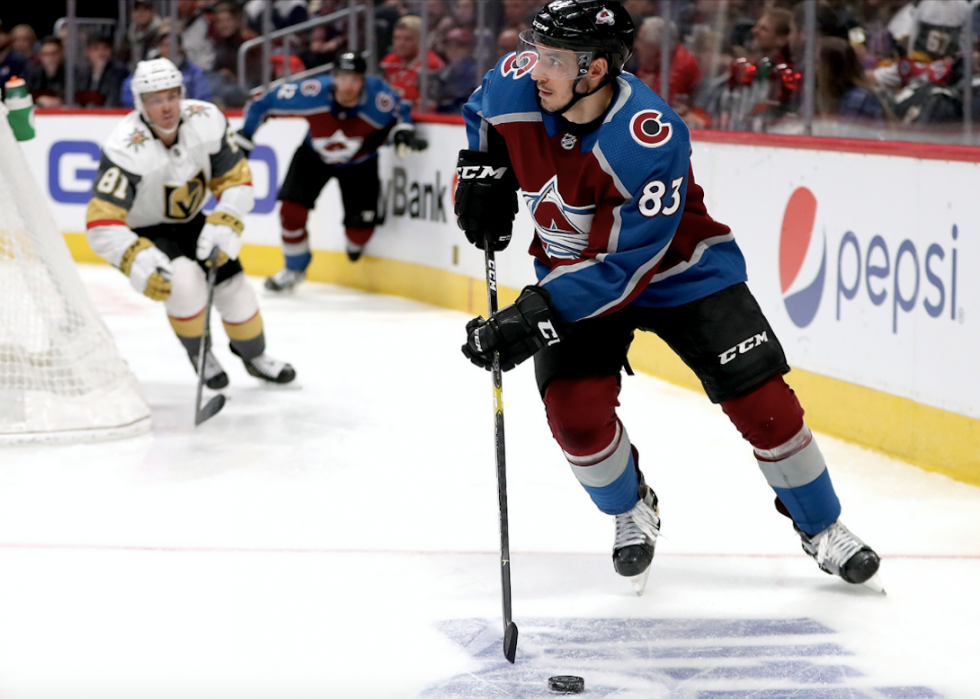 1 / 16
Matthew Stockman // Getty Images
#16. Colorado Avalanche
- Odds to win Stanley Cup: +2500
- Record: 38-30-14 (90 points)
- Goals for per game: 3.15 (Rank: 10)
- Goals against per game: 2.98 (Rank: 16)
- Goal differential: 0.17 (Rank: 15)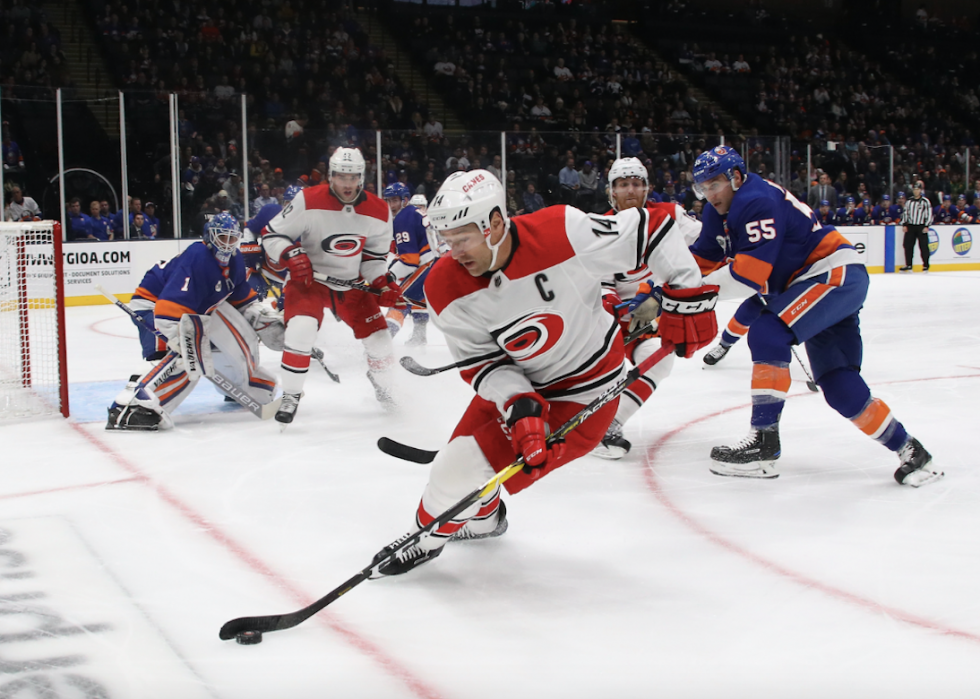 2 / 16
Bruce Bennett // Getty Images
#15. Carolina Hurricanes
- Odds to win Stanley Cup: +2500
- Record: 46-29-7 (99 points)
- Goals for per game: 2.96 (Rank: 16)
- Goals against per game: 2.70 (Rank: 7)
- Goal differential: 0.27 (Rank: 13)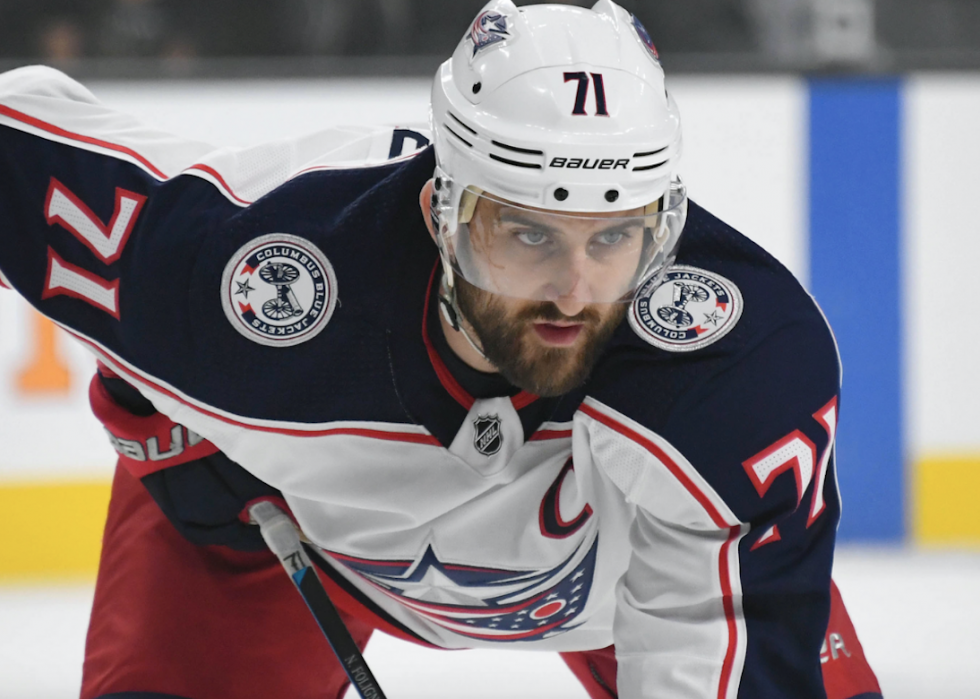 3 / 16
Ethan Miller // Getty Images
#14. Columbus Blue Jackets
- Odds to win Stanley Cup: +2500
- Record: 47-31-4 (98 points)
- Goals for per game: 3.12 (Rank: 12)
- Goals against per game: 2.82 (Rank: 11)
- Goal differential: 0.30 (Rank: 10)
4 / 16
Tom Pennington // Getty Images
#13. Dallas Stars
- Odds to win Stanley Cup: +2200
- Record: 43-32-7 (93 points)
- Goals for per game: 2.55 (Rank: 28)
- Goals against per game: 2.44 (Rank: 2)
- Goal differential: 0.11 (Rank: 17)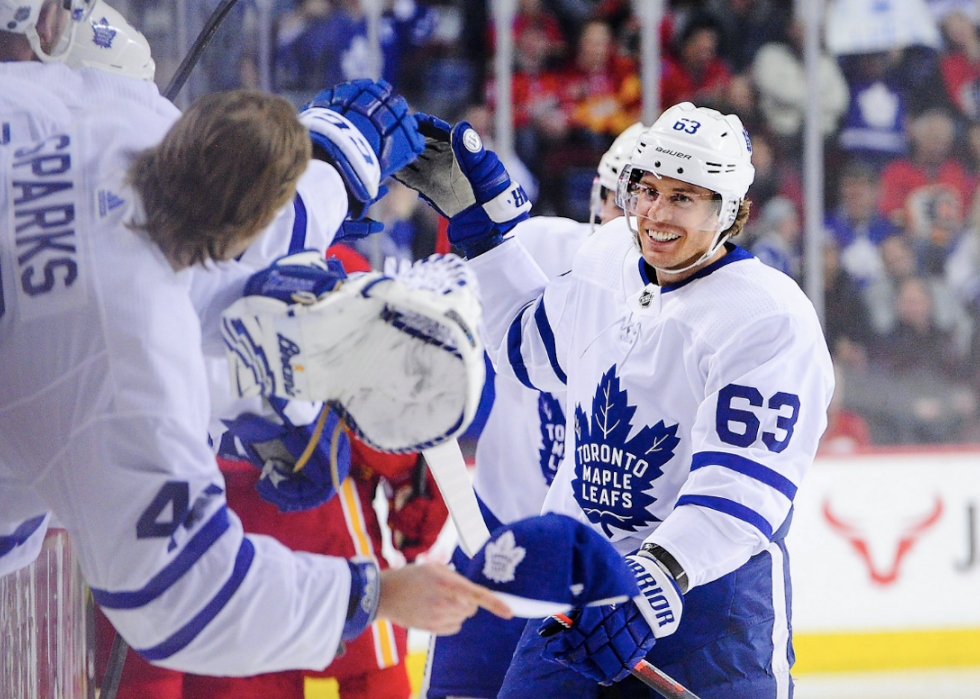 5 / 16
Derek Leung // Getty Images
#12. Toronto Maple Leafs
- Odds to win Stanley Cup: +1800
- Record: 46-28-8 (100 points)
- Goals for per game: 3.49 (Rank: 4)
- Goals against per game: 3.04 (Rank: 20)
- Goal differential: 0.45 (Rank: 4)
6 / 16
Bruce Bennett // Getty Images
#11. New York Islanders
- Odds to win Stanley Cup: +1600
- Record: 48-27-7 (103 points)
- Goals for per game: 2.72 (Rank: 22)
- Goals against per game: 2.33 (Rank: 1)
- Goal differential: 0.39 (Rank: 6)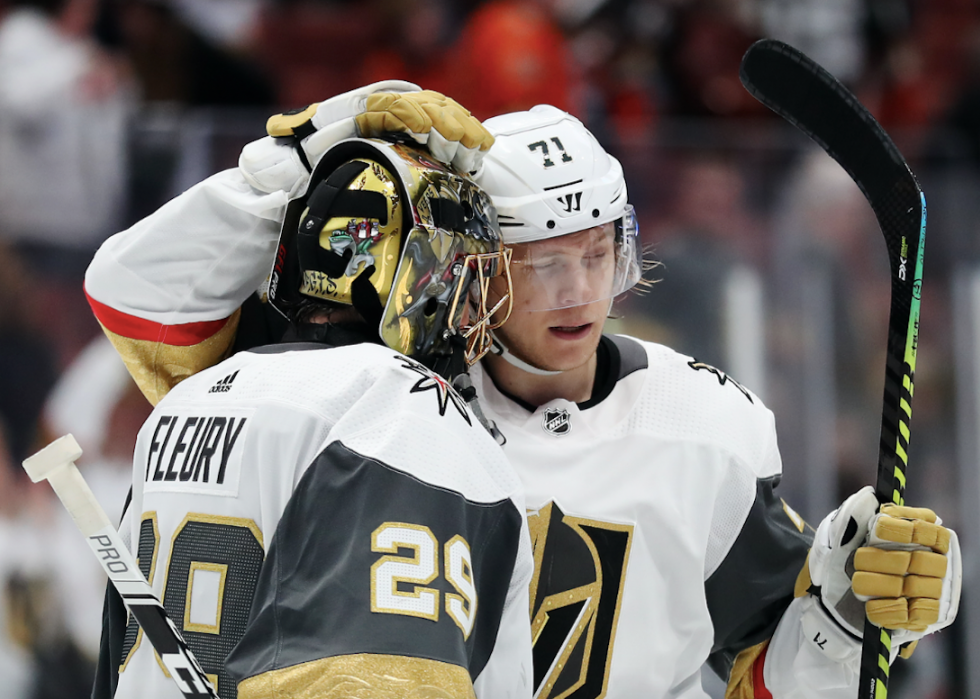 7 / 16
Yong Teck Lim // Getty Images
#10. Vegas Golden Knights
- Odds to win Stanley Cup: +1500
- Record: 43-32-7 (93 points)
- Goals for per game: 3.00 (Rank: 13)
- Goals against per game: 2.78 (Rank: 10)
- Goal differential: 0.22 (Rank: 14)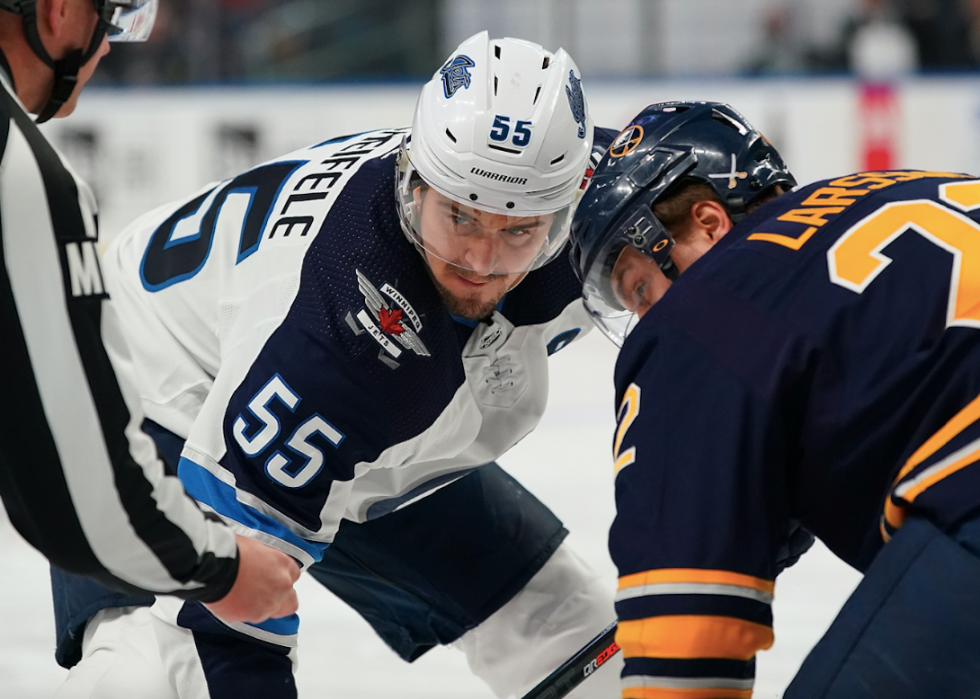 8 / 16
Kevin Hoffman // Getty Images
#9. Winnipeg Jets
- Odds to win Stanley Cup: +1400
- Record: 47-30-5 (99 points)
- Goals for per game: 3.29 (Rank: 7)
- Goals against per game: 2.96 (Rank: 15)
- Goal differential: 0.33 (Rank: 8)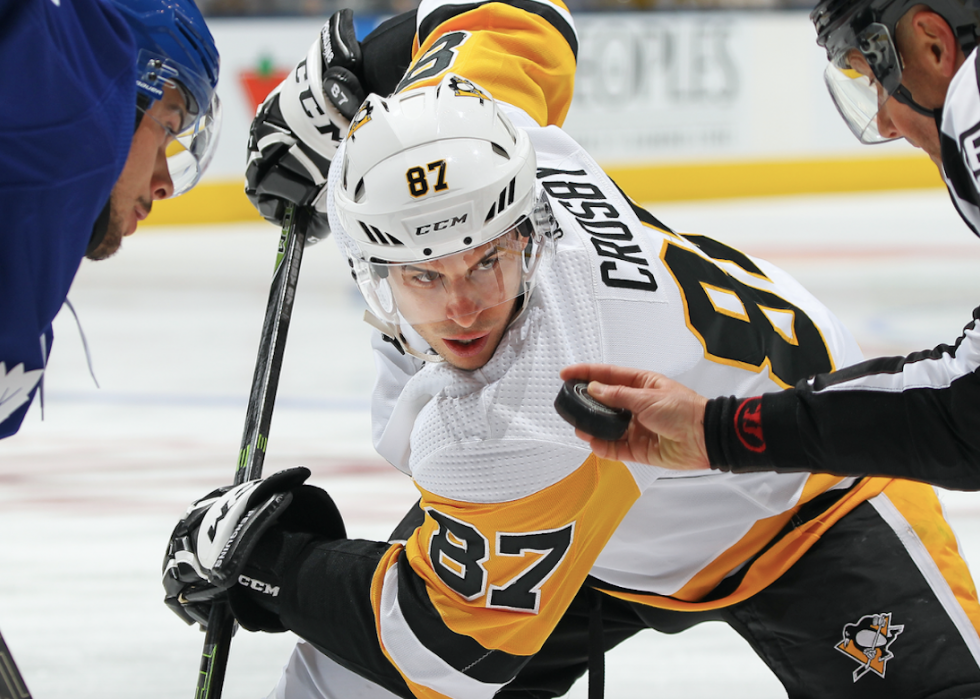 9 / 16
Claus Andersen // Getty Images
#8. Pittsburgh Penguins
- Odds to win Stanley Cup: +1400
- Record: 44-26-12 (100 points)
- Goals for per game: 3.30 (Rank: 6)
- Goals against per game: 2.90 (Rank: 14)
- Goal differential: 0.40 (Rank: 5)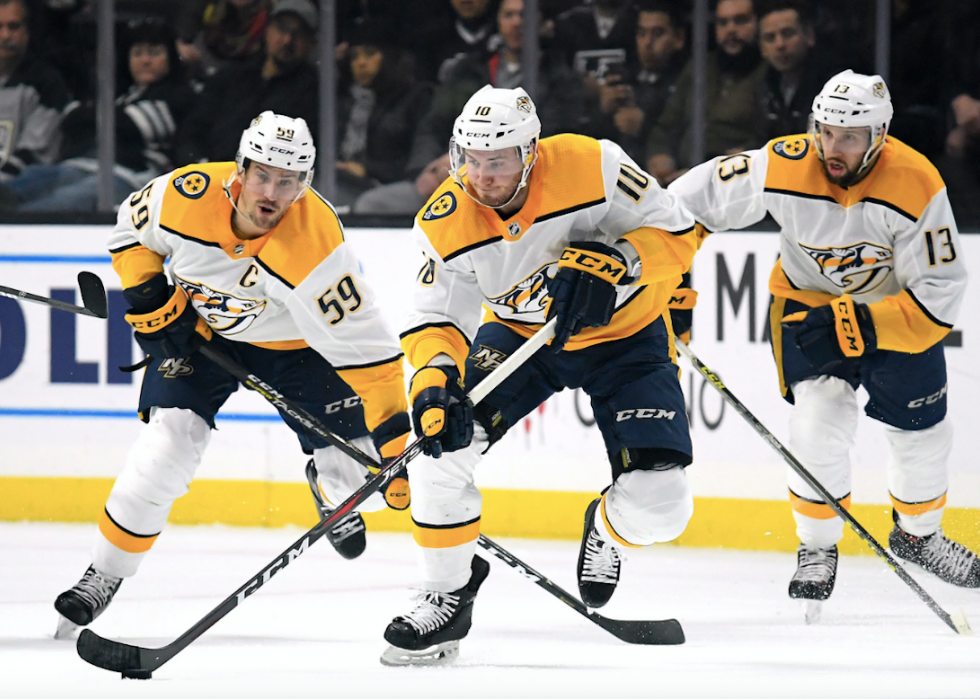 10 / 16
Harry How // Getty Images
#7. Nashville Predators
- Odds to win Stanley Cup: +1200
- Record: 47-29-6 (100 points)
- Goals for per game: 2.88 (Rank: 19)
- Goals against per game: 2.59 (Rank: 3)
- Goal differential: 0.29 (Rank: 11)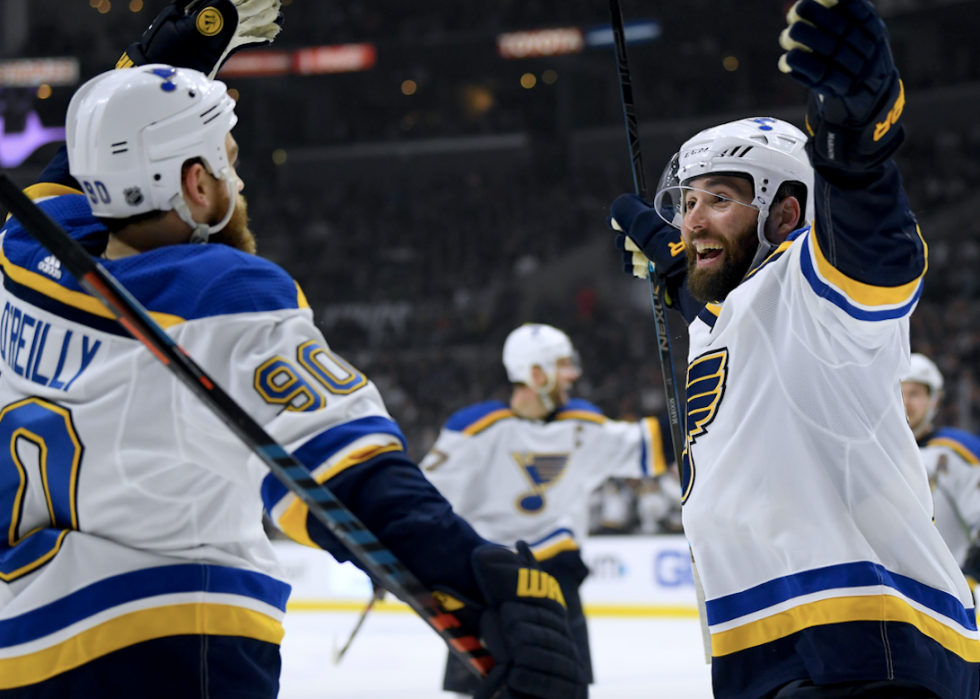 11 / 16
Harry How // Getty Images
#6. St. Louis Blues
- Odds to win Stanley Cup: +1100
- Record: 45-28-9 (99 points)
- Goals for per game: 2.98 (Rank: 15)
- Goals against per game: 2.68 (Rank: 5)
- Goal differential: 0.29 (Rank: 11)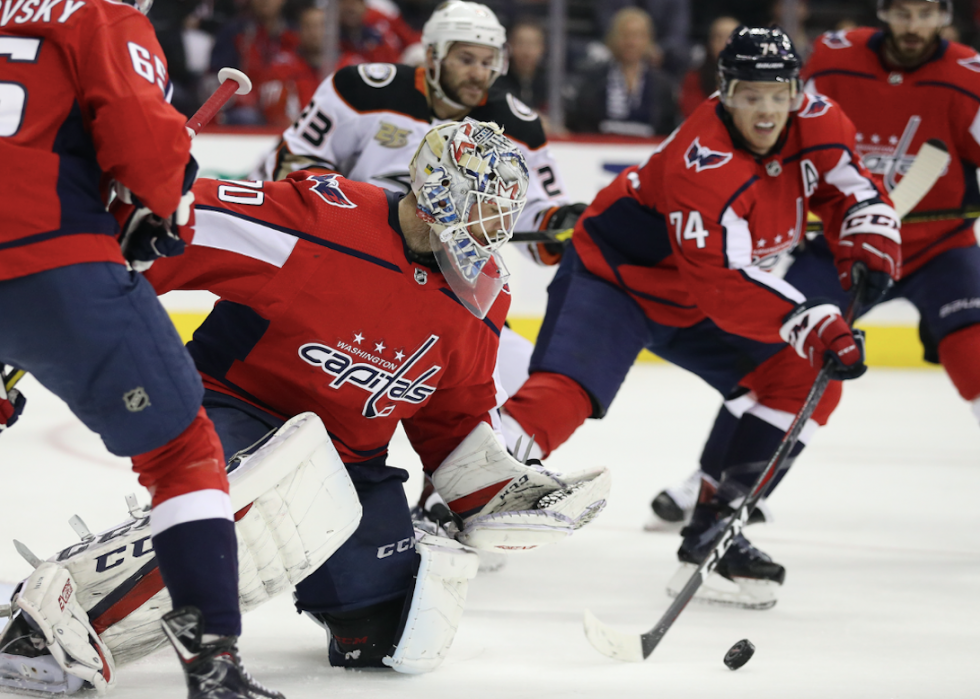 12 / 16
Patrick Smith // Getty Images
#5. Washington Capitals
- Odds to win Stanley Cup: +1100
- Record: 48-26-8 (104 points)
- Goals for per game: 3.34 (Rank: 5)
- Goals against per game: 3.02 (Rank: 17)
- Goal differential: 0.32 (Rank: 9)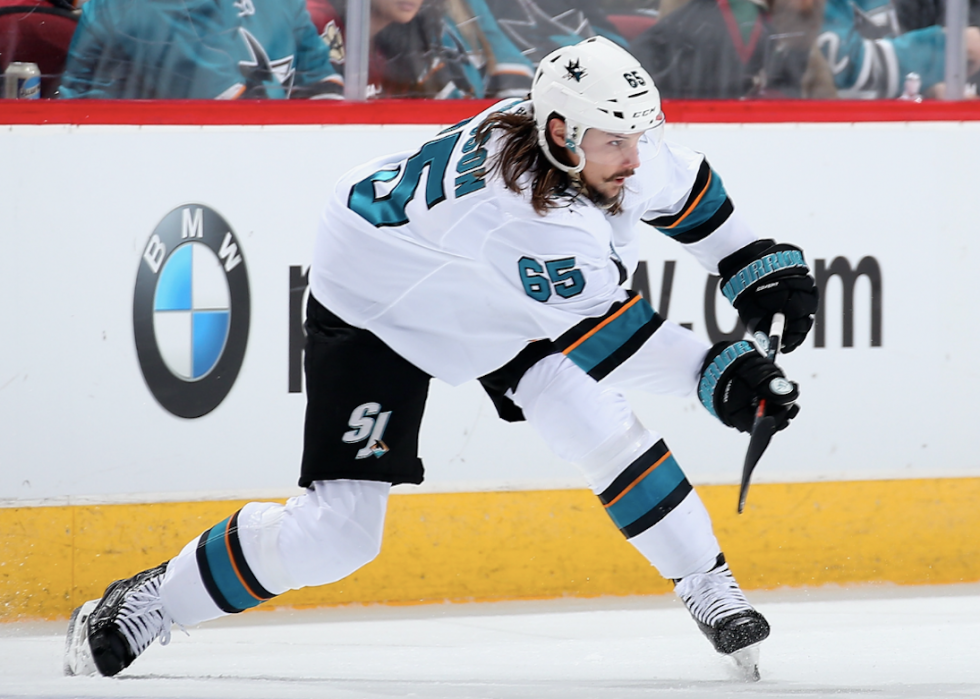 13 / 16
Christian Petersen // Getty Images
#4. San Jose Sharks
- Odds to win Stanley Cup: +1100
- Record: 46-27-9 (101 points)
- Goals for per game: 3.52 (Rank: 2)
- Goals against per game: 3.15 (Rank: 21)
- Goal differential: 0.38 (Rank: 7)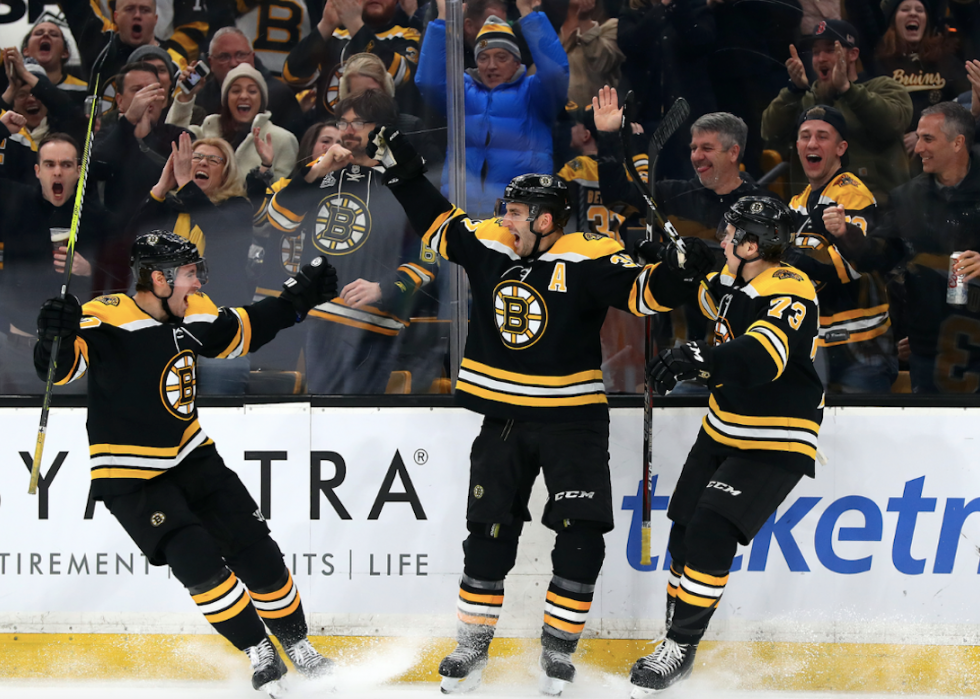 14 / 16
Maddie Meyer // Getty Images
#3. Boston Bruins
- Odds to win Stanley Cup: +900
- Record: 49-24-9 (107 points)
- Goals for per game: 3.13 (Rank: 11)
- Goals against per game: 2.59 (Rank: 3)
- Goal differential: 0.55 (Rank: 3)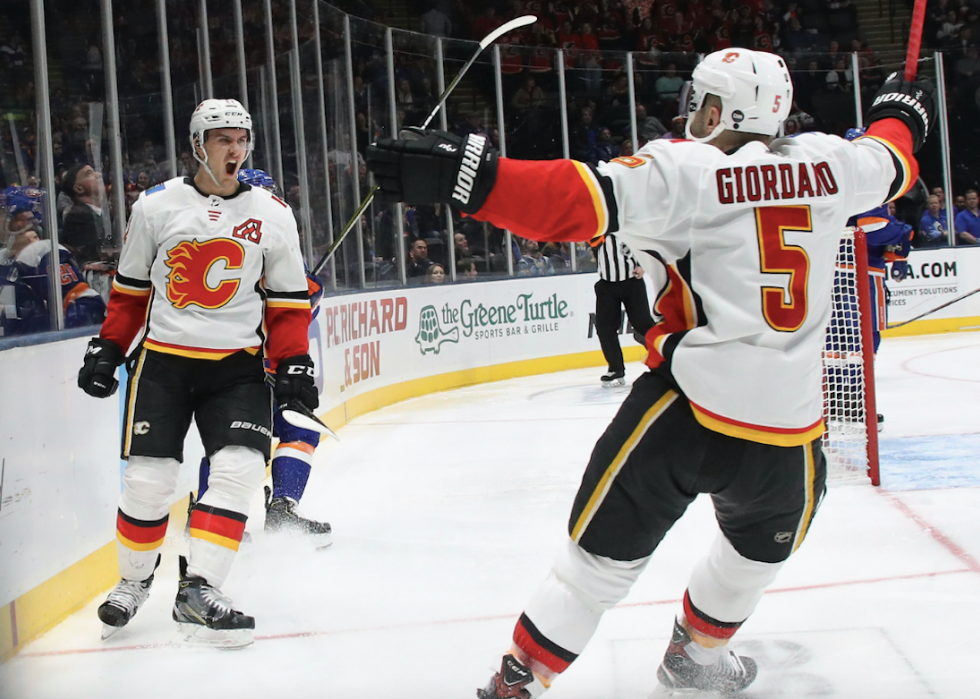 15 / 16
Bruce Bennett // Getty Images
#2. Calgary Flames
- Odds to win Stanley Cup: +700
- Record: 50-25-7 (107 points)
- Goals for per game: 3.52 (Rank: 2)
- Goals against per game: 2.72 (Rank: 9)
- Goal differential: 0.80 (Rank: 2)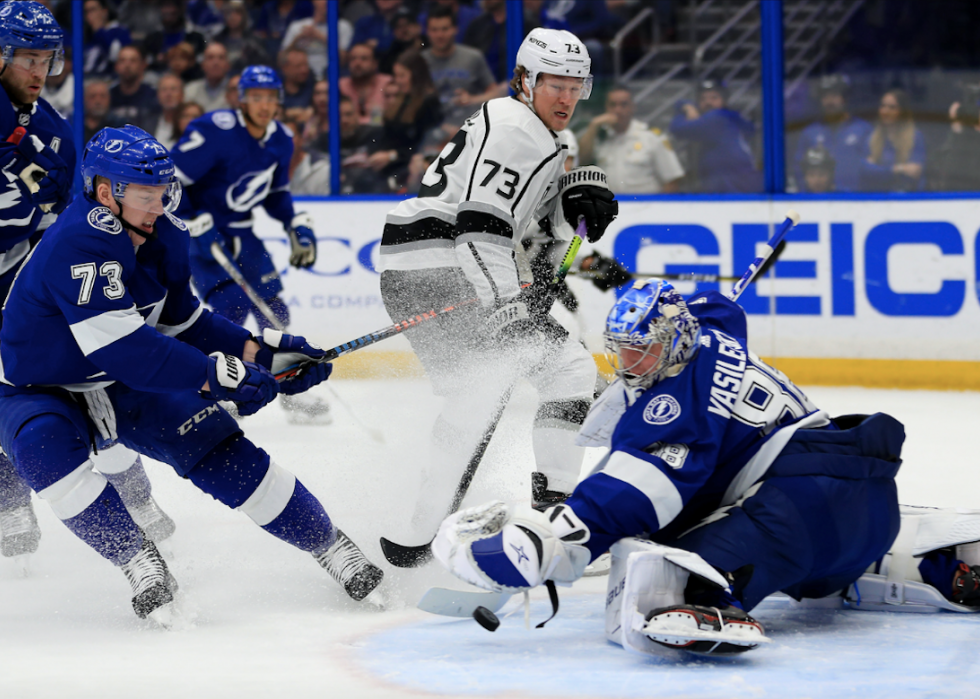 16 / 16
Mike Ehrmann // Getty Images
#1. Tampa Bay Lightning
- Odds to win Stanley Cup: +180
- Record: 62-16-4 (128 points)
- Goals for per game: 3.89 (Rank: 1)
- Goals against per game: 2.70 (Rank: 7)
- Goal differential: 1.20 (Rank: 1)