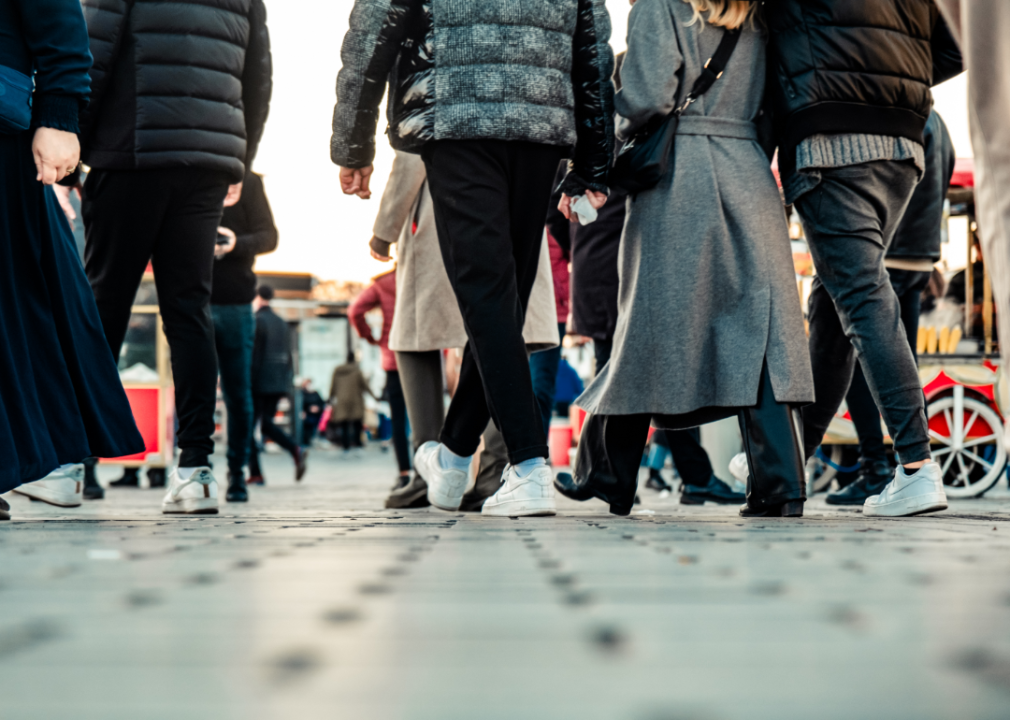 Counties with the highest unemployment rate in Kansas
Counties with the highest unemployment rate in Kansas
Unemployment rates, while significantly lower than the alarming pandemic peak of 14.7% experienced in April 2020, remain a subject of concern, notably as economic experts bandy around the idea of a potential recession by 2023. The last economic recession—the Great Recession of 2008-2010—sent rates up to 10% as of October 2009. It was not until the spring of 2019 that unemployment finally went down to the same level it sits at now.
As of October of this year, national unemployment is at 3.7%, 0.2% higher than in September. Seasonally adjusted unemployment rates by state demonstrate a rather sizable spectrum, ranging from just 2.0% in Minnesota, to 4.5% in Illinois and 4.7% in the District of Columbia. Further breakdown by the U.S. Bureau of Labor Statistics shows yet another county-based spectrum within each state.
To that end, Stacker compiled a list of counties with the highest unemployment rate in Kansas using data from the BLS. Counties are ranked by unemployment rate in September 2022.
#50. Morris County
- Current unemployment rate: 2.3%
--- 1 month change: -0.4%
--- 1 year change: +0.2%
- Total labor force: 3,081 (70 unemployed)
#49. Morton County
- Current unemployment rate: 2.3%
--- 1 month change: -0.8%
--- 1 year change: 0.0%
- Total labor force: 1,121 (26 unemployed)
#48. Ness County
- Current unemployment rate: 2.3%
--- 1 month change: -0.4%
--- 1 year change: +0.3%
- Total labor force: 1,256 (29 unemployed)
#47. Saline County
- Current unemployment rate: 2.3%
--- 1 month change: -0.5%
--- 1 year change: -0.2%
- Total labor force: 28,711 (666 unemployed)
#46. Seward County
- Current unemployment rate: 2.3%
--- 1 month change: -0.4%
--- 1 year change: 0.0%
- Total labor force: 9,991 (231 unemployed)
#45. Sherman County
- Current unemployment rate: 2.3%
--- 1 month change: -0.4%
--- 1 year change: +0.1%
- Total labor force: 2,771 (65 unemployed)
#44. Wabaunsee County
- Current unemployment rate: 2.3%
--- 1 month change: -0.3%
--- 1 year change: +0.2%
- Total labor force: 3,699 (84 unemployed)
#43. Barton County
- Current unemployment rate: 2.4%
--- 1 month change: -0.4%
--- 1 year change: 0.0%
- Total labor force: 12,902 (311 unemployed)
#42. Cloud County
- Current unemployment rate: 2.4%
--- 1 month change: -0.9%
--- 1 year change: 0.0%
- Total labor force: 3,780 (91 unemployed)
#41. Douglas County
- Current unemployment rate: 2.4%
--- 1 month change: -0.6%
--- 1 year change: -0.1%
- Total labor force: 65,630 (1,595 unemployed)
#40. Gove County
- Current unemployment rate: 2.4%
--- 1 month change: 0.0%
--- 1 year change: +0.6%
- Total labor force: 1,429 (34 unemployed)
#39. Grant County
- Current unemployment rate: 2.4%
--- 1 month change: -0.9%
--- 1 year change: -0.1%
- Total labor force: 2,884 (70 unemployed)
#38. Harvey County
- Current unemployment rate: 2.4%
--- 1 month change: -0.5%
--- 1 year change: -0.1%
- Total labor force: 17,098 (406 unemployed)
#37. Lyon County
- Current unemployment rate: 2.4%
--- 1 month change: -0.5%
--- 1 year change: +0.1%
- Total labor force: 16,501 (399 unemployed)
#36. Phillips County
- Current unemployment rate: 2.4%
--- 1 month change: -0.1%
--- 1 year change: +0.4%
- Total labor force: 2,598 (62 unemployed)
#35. Russell County
- Current unemployment rate: 2.4%
--- 1 month change: -0.2%
--- 1 year change: +0.2%
- Total labor force: 3,169 (77 unemployed)
#34. Butler County
- Current unemployment rate: 2.5%
--- 1 month change: -0.6%
--- 1 year change: -0.4%
- Total labor force: 32,722 (831 unemployed)
#33. Dickinson County
- Current unemployment rate: 2.5%
--- 1 month change: -0.4%
--- 1 year change: 0.0%
- Total labor force: 8,904 (220 unemployed)
#32. Elk County
- Current unemployment rate: 2.5%
--- 1 month change: -0.6%
--- 1 year change: +0.3%
- Total labor force: 1,161 (29 unemployed)
#31. Jewell County
- Current unemployment rate: 2.5%
--- 1 month change: -0.3%
--- 1 year change: +0.5%
- Total labor force: 1,223 (31 unemployed)
#30. Ottawa County
- Current unemployment rate: 2.5%
--- 1 month change: -0.3%
--- 1 year change: +0.1%
- Total labor force: 2,881 (73 unemployed)
#29. Riley County
- Current unemployment rate: 2.5%
--- 1 month change: -0.7%
--- 1 year change: +0.2%
- Total labor force: 35,336 (870 unemployed)
#28. Rooks County
- Current unemployment rate: 2.5%
--- 1 month change: -0.4%
--- 1 year change: +0.2%
- Total labor force: 2,411 (60 unemployed)
#27. Trego County
- Current unemployment rate: 2.5%
--- 1 month change: -0.2%
--- 1 year change: +0.5%
- Total labor force: 1,364 (34 unemployed)
#26. Cheyenne County
- Current unemployment rate: 2.6%
--- 1 month change: -0.2%
--- 1 year change: +0.7%
- Total labor force: 1,281 (33 unemployed)
#25. Leavenworth County
- Current unemployment rate: 2.6%
--- 1 month change: -0.6%
--- 1 year change: -0.2%
- Total labor force: 37,251 (969 unemployed)
#24. Osage County
- Current unemployment rate: 2.6%
--- 1 month change: -0.4%
--- 1 year change: +0.1%
- Total labor force: 7,914 (206 unemployed)
#23. Reno County
- Current unemployment rate: 2.6%
--- 1 month change: -0.6%
--- 1 year change: -0.1%
- Total labor force: 29,653 (763 unemployed)
#22. Shawnee County
- Current unemployment rate: 2.6%
--- 1 month change: -0.4%
--- 1 year change: 0.0%
- Total labor force: 90,951 (2,339 unemployed)
#21. Allen County
- Current unemployment rate: 2.7%
--- 1 month change: -0.6%
--- 1 year change: +0.2%
- Total labor force: 6,423 (172 unemployed)
#20. Chautauqua County
- Current unemployment rate: 2.7%
--- 1 month change: -0.6%
--- 1 year change: -0.8%
- Total labor force: 1,429 (39 unemployed)
#19. Cowley County
- Current unemployment rate: 2.8%
--- 1 month change: -0.6%
--- 1 year change: -0.1%
- Total labor force: 16,567 (469 unemployed)
#18. Crawford County
- Current unemployment rate: 2.8%
--- 1 month change: -0.6%
--- 1 year change: +0.1%
- Total labor force: 18,617 (523 unemployed)
#17. Lane County
- Current unemployment rate: 2.8%
--- 1 month change: -0.2%
--- 1 year change: +0.8%
- Total labor force: 719 (20 unemployed)
#16. Sumner County
- Current unemployment rate: 2.8%
--- 1 month change: -0.7%
--- 1 year change: -0.5%
- Total labor force: 10,767 (300 unemployed)
#15. Thomas County
- Current unemployment rate: 2.8%
--- 1 month change: +0.5%
--- 1 year change: +1.1%
- Total labor force: 4,214 (119 unemployed)
#14. Coffey County
- Current unemployment rate: 2.9%
--- 1 month change: -1.0%
--- 1 year change: +0.1%
- Total labor force: 4,111 (118 unemployed)
#13. Graham County
- Current unemployment rate: 2.9%
--- 1 month change: 0.0%
--- 1 year change: +0.5%
- Total labor force: 1,080 (31 unemployed)
#12. Wilson County
- Current unemployment rate: 2.9%
--- 1 month change: -0.5%
--- 1 year change: -0.4%
- Total labor force: 3,764 (108 unemployed)
#11. Labette County
- Current unemployment rate: 3.0%
--- 1 month change: -0.6%
--- 1 year change: -0.2%
- Total labor force: 9,172 (272 unemployed)
#10. Montgomery County
- Current unemployment rate: 3.0%
--- 1 month change: -0.6%
--- 1 year change: -0.2%
- Total labor force: 14,305 (424 unemployed)
#9. Sedgwick County
- Current unemployment rate: 3.0%
--- 1 month change: -0.6%
--- 1 year change: -0.7%
- Total labor force: 255,757 (7,594 unemployed)
#8. Woodson County
- Current unemployment rate: 3.0%
--- 1 month change: -0.7%
--- 1 year change: +0.1%
- Total labor force: 1,448 (43 unemployed)
#7. Atchison County
- Current unemployment rate: 3.1%
--- 1 month change: -0.8%
--- 1 year change: +0.1%
- Total labor force: 6,603 (206 unemployed)
#6. Bourbon County
- Current unemployment rate: 3.1%
--- 1 month change: -0.5%
--- 1 year change: +0.1%
- Total labor force: 6,313 (195 unemployed)
#5. Wyandotte County
- Current unemployment rate: 3.1%
--- 1 month change: -0.8%
--- 1 year change: -1.0%
- Total labor force: 77,790 (2,443 unemployed)
#4. Linn County
- Current unemployment rate: 3.3%
--- 1 month change: -0.8%
--- 1 year change: -0.1%
- Total labor force: 4,312 (141 unemployed)
#3. Neosho County
- Current unemployment rate: 3.5%
--- 1 month change: -0.7%
--- 1 year change: -0.2%
- Total labor force: 5,951 (206 unemployed)
#2. Decatur County
- Current unemployment rate: 3.6%
--- 1 month change: 0.0%
--- 1 year change: +1.2%
- Total labor force: 1,179 (42 unemployed)
#1. Geary County
- Current unemployment rate: 3.7%
--- 1 month change: -0.7%
--- 1 year change: 0.0%
- Total labor force: 11,400 (421 unemployed)