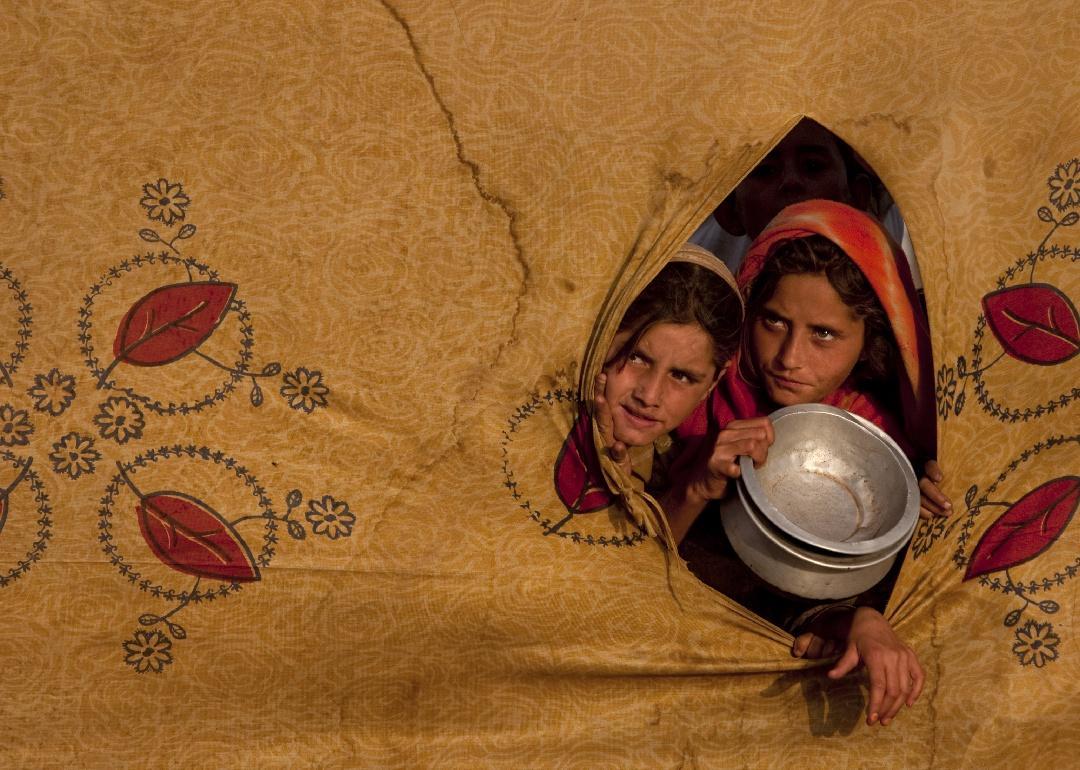 15 ways you can help refugees around the world
Paula Bronstein // Getty Images
15 ways you can help refugees around the world
Care, a global leader within a worldwide movement dedicated to ending poverty, reports that 24 people around the world every minute are forced to flee their homes because of persecution, war, or violence. That's 34,560 people a day who cannot return home or who are afraid to do so. At the end of 2018, the United Nations announced that an unprecedented 70.8 million people had been displaced, including 30 million classified as refugees. More than half of these refugees are younger than 18.
As a result of this staggeringly high level of displacement, the work of the UNHCR, or the UN Refugee Agency, is more important than ever before. Established Dec. 14, 1950, UNHCR was given a three-year mandate to complete its work of helping Europeans displaced by WWII before disbanding. Instead, a year later, a basic statute guiding UNHCR's work, the United Nations Convention Relating to the Status of Refugees was adopted, and the agency has been working to end the refugee crisis ever since.
But the UNHCR isn't the only organization working to supply refugees with the essential resources, support, and the items they need. There are thousands of charities and services around the world, providing everything from shoes to medical supplies to legal aid. And as the spotlight on the refugee crisis becomes brighter, more and more people are looking to get involved in any way they can.
In light of that growing desire to help, Stacker used a variety of charity and service resources to develop a gallery of 15 ways you can help refugees around the world. From financial gifts to volunteering at the heart of the conflict, donating time and skills to connecting with isolated newcomers, these opportunities have the potential to deeply impact those who have been displaced from their homes and communities.
You may also like: Charities working to strengthen homes and communities across America
Host with Airbnb Open Homes
One of the biggest challenges faced by new refugees is access to affordable, stable housing. Airbnb's newest project, Open Homes, seeks to eradicate this issue by providing free, temporary housing to refugees and asylum seekers, offering them peace of mind as they begin their new lives. Those with a spare room or guest house can create a profile on Open Homes, list their space, and host a newcomer for two or more weeks, all with support from the vacation rental website.
[Pictured: Cameroonian refugee Emilien Atanga, 24, (left) sits next to Joel Elbaz, 57, the host who lent him an apartment through Airbnb on July 18, 2017, in Paris. ]
Help refugees integrate with local programs
Refugees relocated to a new country often struggle with a feeling of isolation as they acclimate to a new culture and restart their lives. Communities around the country are stepping up, creating charities that extend the hand of friendship to newcomers. Organizations like Access California Services and US Together provide community and student services, bringing together new refugees to local residents. A quick Google search can help you identify charities doing this work in your region.
Donate to Nobody Left Outside
A global campaign raising funds to shelter refugee families around the world, Nobody Left Outside has raised $21 million since May 2016. Your donation goes directly to funding a durable, sustainable housing unit for a family in need. Each unit costs $1,500, but Nobody Left Outside accepts gifts of all sizes.
[Pictured: Evicted migrants board buses during a police operation in the center of Athens, 2019.]
Volunteer to teach languages in Germany
Go Overseas reports that Germany has taken on the most refugees in Europe to date. Thousands of newcomers now call Germany home but aren't able to speak a word of German. Those who speak both German and Arabic can donate their time by volunteering to teach a German class through organizations like Network "German Courses For All!" or can commit to smaller projects (both locally and from abroad) through Give Something Back to Berlin.
[Pictured: Reinhard Fischer, who works for the city's Administration for Education, Youth and Science, points to a map of Germany as he leads men from Syria and Iraq in a class to instruct them in Germany's democratic political system at the shelter for refugees and migrants.]
Hold fundraising events
Limited funds drastically affect the reach that many of the charities and organizations can have. Holding a fundraising event in your town, whether it's a yard sale, a movie screening, or a sponsored road race, can help drum up extra cash that can be donated to any number of these strapped agencies. If you'd like to use UN Refugee Agency materials and resources for your event, you can contact your local UNHCR office.
[Pictured: Yemenis displaced from areas near the border with Saudi Arabia receive humanitarian aid given by the Norwegian Refugee Council (NRC) and the UN High Commissioner for Refugees (UNHCR) in the northern province of Hajjah, 2019.]
Give your shoes to Soles4Souls
Soles4Souls believes that everyone around the world deserves a good pair of shoes. After all, shoes do more than just protect our feet—they also help prevent disease, allow children to meet uniform requirements to attend school, and provide a basic level of dignity. You can donate your gently used shoes to the Nashville-based charity, who will pass them along to refugees and communities around the world.
Work with the International Refugee Assistance Project
The International Refugee Assistance Project helps line up legal help for those who need it. There are multiple ways to get involved with the organization: those with language skills can volunteer their time as intake contacts. Attorneys and law students can help provide pro bono legal services, and one-time or ongoing donations can be made to help support the charity's mission.
[Pictured: Becca Heller, director and co-founder of the International Refugee Assistance Project, speaks at the 2016 Concordia Summit.]
Give a Refugee Survival Kit
The International Rescue Committee has been working to respond to the world's worst humanitarian crises and help people whose lives and livelihoods are shattered by conflict and disaster for years. One way they do this is through their Refugee Survival Kits. Those looking to help a refugee can buy a kit, which will give shelter materials and emergency cookstoves to a refugee family in need.
Provide employment opportunities for refugees
Not everyone is in a position to offer employment to new refugees, and in some countries, refugees aren't legally allowed to work. However, those who can offer safe and stable job opportunities to refugees will most likely make a significant impact on a new transplant's life. Companies like Chobani have been leading the way for years, and now 30% of its employees are refugees or immigrants. Those who aren't able to offer work can still make an impact by petitioning local companies to hire more refugees.
[Pictured: Chobani founder and CEO Hamdi Ulukaya and Louise Vongerichten (center) and Syrian Refugees and Save the Children beneficiaries Faiqa Aloqla, Ezaat Aloqla, Faour Aloqla, Bashar Aloqla, Mohammad Aloqla, Ziad Aloqla, and Mahmoud Aloqla attend the Fifth Annual Save the Children Illumination Gala.]
Donate to Heart to Heart International
In 1992, Heart to Heart International began improving health access, providing humanitarian development, and administering crisis relief worldwide. They've since delivered $1.7 billion in aid to 131 countries. Donations made to the charity go, in part, toward funding medical and hygiene supplies that are sent to refugees around the world.
Encourage universities to offer higher education for refugees
Southern New Hampshire University in 2017 announced its major refugee education initiative. The program dedicated $10 million to help 50,000 refugees earn bachelors and associate degrees they wouldn't otherwise have been able to afford. Education can be a powerful tool for a refugee looking to begin a new life and career in a new country, and encouraging colleges and universities in your area to support refugees in this way can make an enormous difference.
[Pictured: Refugee students attend a class on at the Kiziba camp in Rwanda.]
Donate to UNICEF
Working in more than 190 countries and territories to save children's lives and defend their rights from infancy through adolescence, UNICEF reports that between 2005 and 2015, the number of child refugees more than doubled from 4 million to 9 million. In light of that, and to continue fulfilling their mission of ensuring that every child has a safe and inclusive place to live, UNICEF needs donations more than ever. Those looking to get involved can become a donor, volunteer with the charity, or sign an online petition that calls on world leaders to fulfill the rights of every child.
Volunteer with Relief & Reconciliation for Syria
Those looking to make an impact right at the heart of the conflict can volunteer with Relief & Reconciliation for Syria. Located in the North of Lebanon, a mere 12 kilometers from the Syrian border, this charity undertakes both long term projects, like language teaching and project development, and short term projects where volunteers can teach skills, recreational activities, and artistic workshops. Potential volunteers can complete an application on the Relief & Reconciliation website.
[Pictured: Syrian refugees wait their turn to receive humanitarian aid on the Lebanese-Syrian border northern Lebanon.]
Donate to Globus Relief
The mission of Globus Relief is to improve the delivery of healthcare worldwide by gathering, processing, and distributing surplus medical supplies to charities at home and abroad. Globus Relief is unique in that it both assesses what supplies and technologies would be most helpful at each site, rather than just sending whatever, wherever, and that it provides training to medical caregivers in third-world countries. Those looking to get involved can donate either money or give their time to sort donations or pack shipments.
Speak out!
Over the past several years, government officials have proposed increasingly strict refugee policies in America. For example, in the upcoming fiscal year, the current administration announced that it would set a refugee cap of 18,000 people, and allow states to ban resettlement. Speaking out, whether by signing online petitions or calling your local representative, can have an impact on policies and refugee resettlement infrastructure, potentially having a life-changing impact on those looking to resettle in the United States.
[Pictured: Cathleen Schaller (left), a protestor from Los Alamos is pictured speaking to Trump supporters about refugees outside a campaign rally by President Trump held at the Santa Ana Star Center in Rio Rancho, N.M., 2019.]