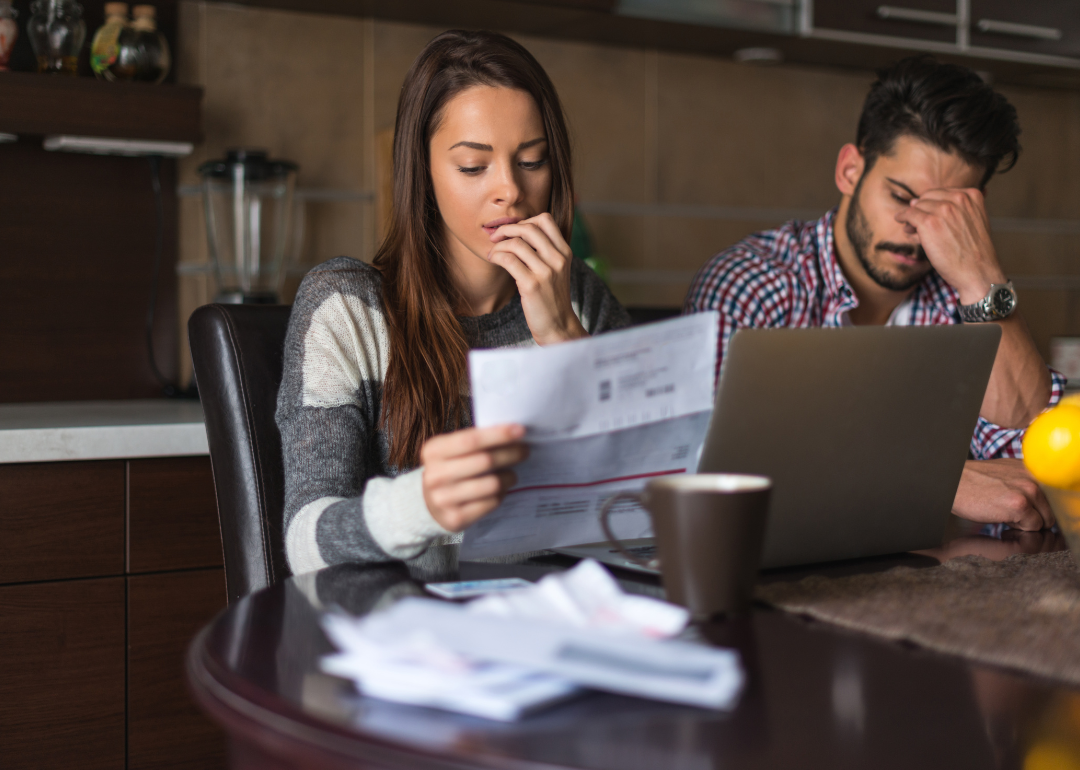 Stacker Connect
5 steps to a debt-free life
5 steps to a debt-free life
Americans' credit card debt reached $1.02 trillion in the second quarter (Q2) of 2023, according to Experian data. That marks the first time credit card balances have ever surpassed the $1 trillion mark.
Overall debt levels are also up 4.5% from the same time last year, according to Experian data. Credit card debt and personal loan debt are two primary drivers of the rise: Credit card balances grew by 16.3%, while personal loan balances are up 21.3% since mid-2022.
Both of these types of debts tend to have the highest interest rates when compared to other types of debt, including mortgages and student loans. Finding yourself in high-interest debt can be overwhelming. Large balances accruing interest can feel difficult to overcome, but the good news is getting out of debt is possible. With balances reaching record highs, Experian outlines 5 ways to get out of debt—and stay debt-free.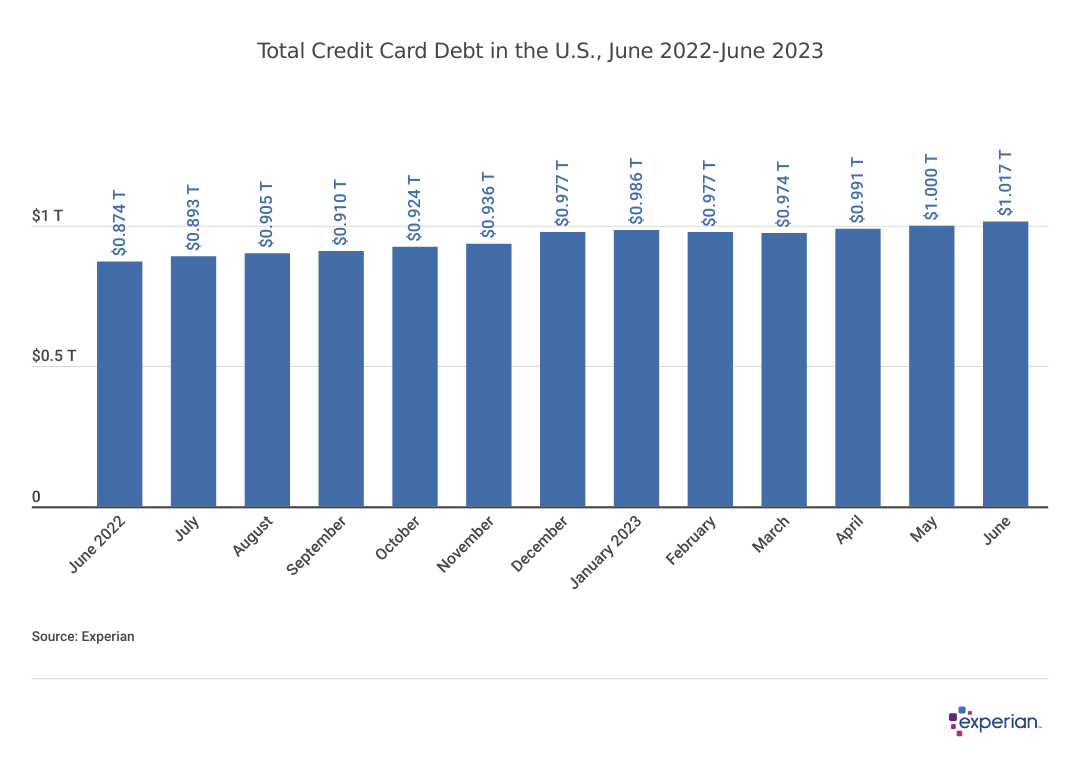 1 / 1
5 steps to becoming debt-free
1. List everything you owe
Take a detailed inventory of your debt to get a clear picture of where you're at now. Start by listing all of your debt accounts and what you owe:
Write down all your debts. Note everything you owe, including credit card balances, personal loans, auto loans, student debt, your mortgage, and any other debt. If you aren't sure exactly what you owe,

check your credit report for free

to get a clear view of your debts, including any in collections. Keep in mind that your lender will have the most up-to-date information on your balances.

Record payment information. Next to each debt, write down the interest rate, minimum monthly payment, and due date.
Calculate your total minimum monthly payment. Add up the minimum payments of all your debts to find the

bare minimum

amount you need to pay every month to stay current on your debt.
2. Decide how much you can pay each month
While making all of your minimum monthly payments on your debts will keep your payment history in good shape, it will mean staying in debt longer and paying more in interest. The more you can pay above the minimum each month, the faster you can get out of debt.
That can be easier said than done, however, especially when money's tight. Here's how to assess how much you can afford to pay each month, plus find extra money to put toward your debt:
3. Reduce your interest rates
It can be difficult to pay off debt when you're battling with high interest rates. Reducing your rates is a promising strategy to make getting out of debt more manageable and affordable. Consider one of these options:
Ask your lender for a lower rate

. If you have a good payment history with them and good credit, you may be able to negotiate a lower rate with your lender for a period of time, or even permanently. Calling your lender and asking for a lower interest rate costs you nothing and doesn't affect your credit report or credit score.

Consider a balance transfer credit card

. One way to save interest while you pay off your debt is to transfer balances to a

balance transfer card

with an introductory 0% APR. You'll need to meet the balance transfer card issuer's qualifications, which often include having good credit. You'll also typically need to pay a transfer fee of 3% or 5% of the balance you're transferring.

Consider debt consolidation

. A debt consolidation loan can help you save on interest and streamline debt repayment by combining multiple high-interest credit card or loan balances into one lower-interest loan. Reducing interest expenses may make it easier for you to put more money toward paying down the principal of the debt.
4. Use a debt repayment strategy
You'll need a plan for which balances to prioritize paying down first. Keep in mind that your mortgage is one debt that may be impossible to pay off in a short period of time—instead, focus on debts such as credit card balances and other loans that you can pay down more quickly. Consider these strategies for paying down debt:
Deal with any debts in collection. If you've fallen behind on paying a debt and now it's in collections, prioritize paying it off.

Bringing collection accounts current

can help reduce their negative impact on your credit, which is a good reason to put it at the top of your to-do list. Plus, reducing calls from debt collectors can help relieve some of the stress of being in debt.

Put extra money toward the debt with the highest interest rate. Called the

debt avalanche strategy

, this method will save the most money on interest in the long run. Make the minimum payments on all of your debts, and then funnel any extra money you have toward paying off your highest-interest debt. Next, concentrate on the debt with the next-highest rate, and so on.

Put extra money toward the credit card or debt with the smallest balance. The

debt snowball strategy

is a method that can help you knock out your smallest balances more rapidly, providing quick wins and reducing the total number of accounts you have to deal with. With this method, you make minimum payments on all accounts, and put extra toward your smallest balance until it's paid off. Then focus on the account with the next-smallest balance, and so on.
Each time you successfully pay off a debt, put the money you freed up toward paying off your other debts. You can also direct any extra funds that come your way, such as your tax refund or work bonus, toward making additional payments on your debt.
Also keep your credit in mind as you pay down debt. One of the single best things you can do for your credit score is to pay your bills on time every month. To ensure you never miss a payment on debts or any other services, consider setting up automatic payments or payment reminders through your bank.
5. Avoid taking on new debt
Getting out of debt is challenging. As you make progress toward paying off your debts, be sure to reward your progress and take pride in how far you've come.
Make a commitment to avoid taking on any new debt that isn't absolutely necessary. Be especially careful if you plan to use a personal loan or balance transfer card to consolidate credit card debt. If you aren't confident that you can resist the temptation to charge up the cards you just paid off, then it's best to avoid consolidating your debt.
What to do if you still need help getting out of debt
It can be extremely stressful to find yourself in deep debt, especially when you can't see a way out. Whether you need additional support or are looking for a last resort option, consider these measures:
Credit counseling

: Talking to a nonprofit credit counselor can help you better understand tactics for managing your money and reducing your debt, such as creating and following a budget.

Debt management plan

: A credit counseling organization may suggest a debt management plan, which is designed to help you manage repayment if you are deep in debt, particularly with credit cards. A credit counselor negotiates with your creditors to see if they'll accept reduced interest rates or monthly payments, or waive fees. Then you pay the credit counseling agency once a month and the organization distributes the funds to your creditors per the agreement.

Bankruptcy

: Declaring bankruptcy is one of the most harmful circumstances for your credit, and it should only be a last resort. Depending on the type of bankruptcy you declare, the negative information will remain on your credit report for seven to 10 years. You may either have all your debts eliminated or have to agree to a plan to repay at least part of your debt.
The bottom line
Paying off high-interest debt is a huge step toward your long-term financial health. There's a lot you can do on your own to gain control of debt, such as starting a budget, using a debt repayment strategy, and consolidating your debts. If you need additional support, a credit counselor can help you make a plan individualized to your finances.
Once you've reduced or even eliminated your debt, you can begin rebuilding your credit by practicing good credit and financial management. Pay all your bills on time, and avoid carrying credit card balances from month to month. To keep track of your credit going forward, you can check your credit score or enroll in ongoing credit monitoring.
This story was produced by Experian and reviewed and distributed by Stacker Media.