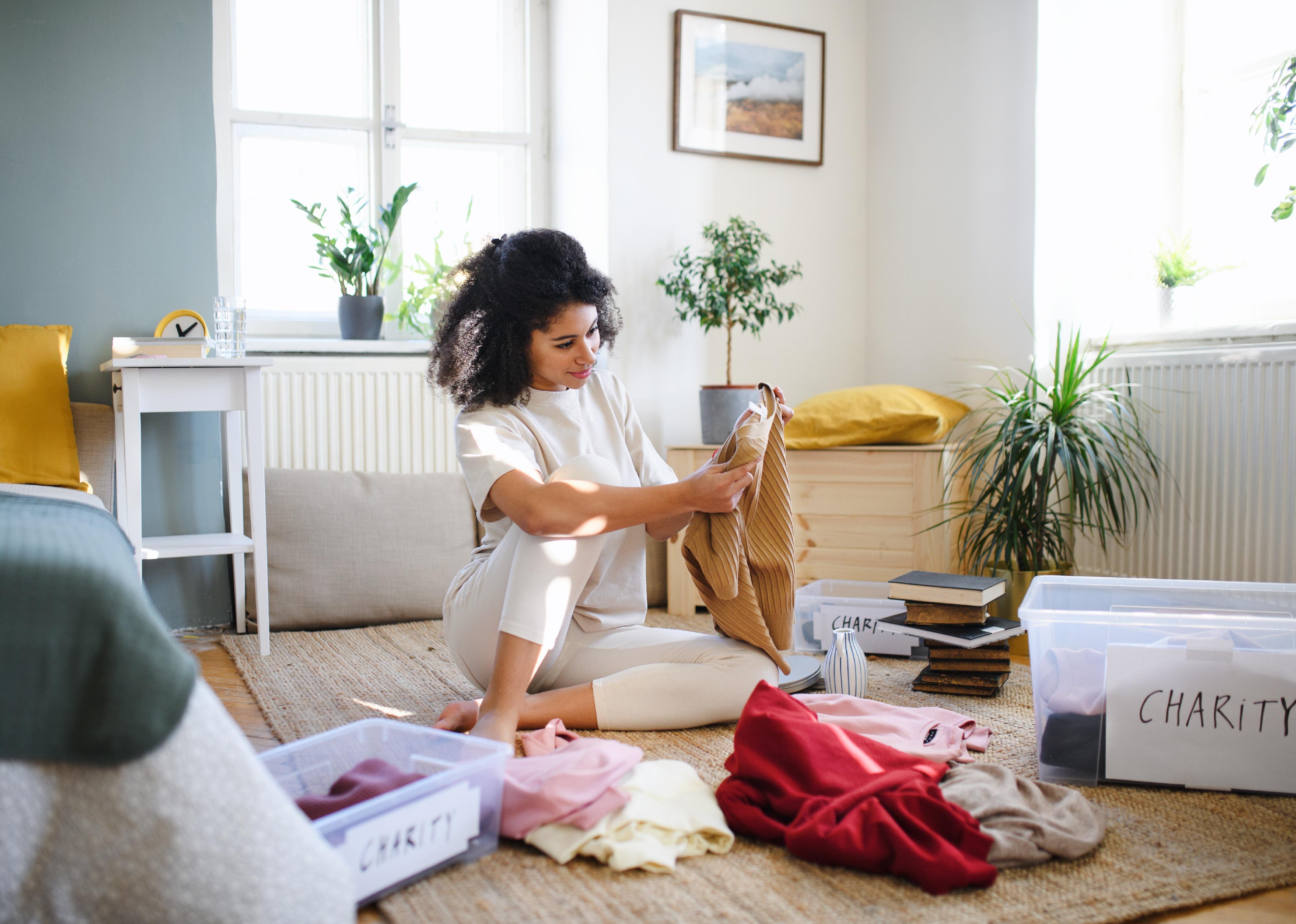 Decluttering tips from experts to help you get organized
Halfpoint // Shutterstock
Decluttering tips from experts to help you get organized
Decluttering and organizing an entire home can be an overwhelming task. Clutter can cause anxiety, affect our ability to focus, and generally make us less productive and comfortable in our homes. A study titled "Procrastinators and Clutter: An Ecological View of Living with Excessive Stuff" published in 2017 found there exists "behavioral procrastination tendencies related only to clutter," which, in simple terms, means people living in spaces with too many possessions often feel overwhelmed. Whether we realize it or not, our brains actually prefer order. Another study showed physical order helps us to improve our behavior, make healthier choices, and even influence us to become more generous.
The idea that physical order can help one overcome a sense of being overwhelmed was echoed by Klara Carames, the president of the New York chapter of the National Association of Productivity and Organizational Professionals. She told Stacker she finds productivity to be a challenge for many reasons, but prioritizing and tackling the most important tasks can lead to a sense of accomplishment.
"As we all know, productivity is the art of getting stuff done, so the biggest challenge is knowing what needs to get done that moment, that day," Carames said. "Priorities shift so you have to be able to shift with the moment or day. ... I recommend my clients pick three things for the day, as minor as it may be, and focus on those."
In order to get a handle on how anyone can successfully declutter their own lives, Stacker spoke to several experts to gather their expertise on how to tackle the challenge of decluttering.
Many Americans tend to dedicate more time to organizing their homes before the start of a new year and then during what is traditionally considered to be "spring cleaning." But the COVID-19 pandemic has certainly played a role in inspiring a decluttering craze. Cinch Home Services surveyed over a thousand Americans about their organizing, cleaning, and decluttering habits during the pandemic. In the survey, 70% of respondents reported cleaning more frequently since the start of the pandemic, but after a year under its restrictions, about 46% admitted to being embarrassed by the cleanliness of their homes.
The origins of spring cleaning come from a variety of sources, but spring cleaning is mostly linked to religious traditions. In Jewish customs, spring cleaning has been affiliated with Passover in March and April, which marks the freedom of Jewish people who were enslaved in Egypt. Prior to the start of the holiday, a cleaning would take place in the home. In Christian customs, the church altar is cleaned and stripped, a practice that takes place just prior to Good Friday.
In the 1860s, Lydia Maria Child, a women's rights activist and writer, kept a journal detailing house cleaning habits and why they occurred during the spring, a so-called drudgery journal. During those times, homes were lit with whale oil or kerosene, which in the winter months left traces of soot and grime. Upon the arrival of Spring, when it became warmer outdoors, women would take bed linen and rugs outside and beat the dust out of them and scrub the floors. It was a time of renewal.
Fast forward to more modern times, and it often seems there's little time for anyone to clean and organize. Most people struggle to balance work with at-home responsibilities, including cleaning, organizing, and dealing with all the possessions they've accumulated.
Read on to see the expert tips and how you can perhaps strategize and live a more clutter-free lifestyle.
You may also like: What marriage was like the year you were born