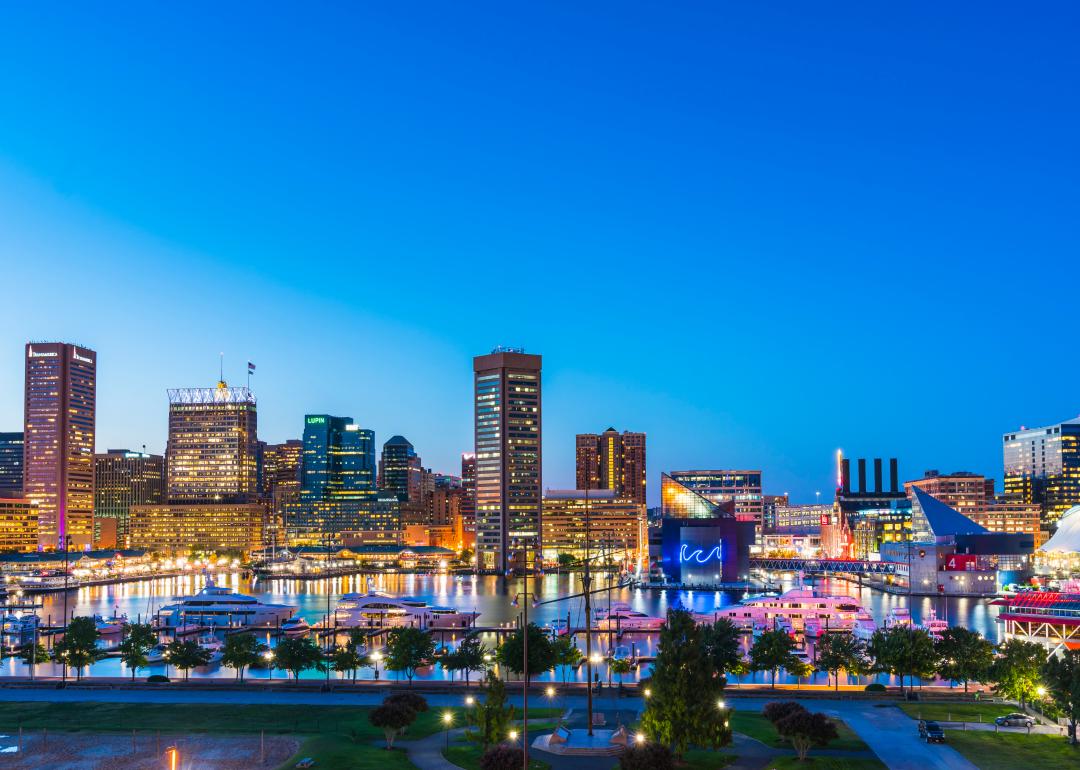 Richest and poorest places in Baltimore
Richest and poorest places in Baltimore
Maryland has the highest median household income across all states in the U.S., standing at $78,945 as of 2017's Census release. However, drilling deeper into the data for Baltimore reveals that economic circumstances can vary significantly depending on where you live in the state.
To help understand differences in income levels throughout Baltimore, Stacker analyzed data from the most recent American Community Survey from the U.S. Census. Stacker looked at the 23 Public Use Microdata Areas (PUMAs) that encompass the Baltimore metropolitan statistical area to identify the places with the lowest and highest median income per capita. PUMAs are defined as statistical geographic areas with populations of over 100,000.
For each area, the Stacker research team has included supporting data around the population, unemployment rates, and median rental rates to help understand the economic hardships or good fortunes within these communities.
Read on to discover the richest and poorest places in Baltimore. 
RELATED: Highest-paying jobs in Baltimore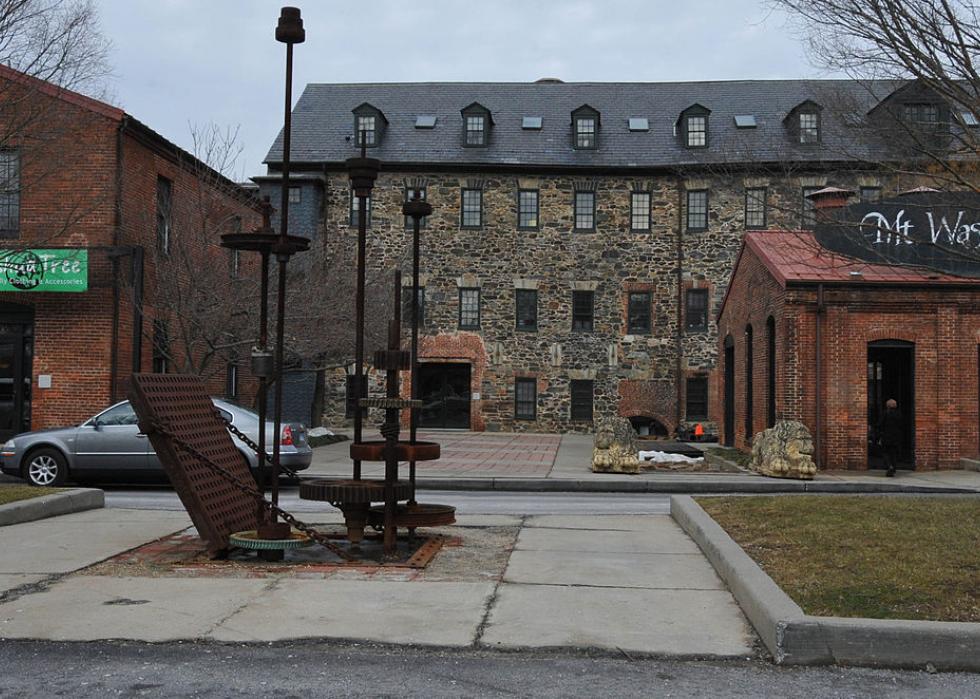 1 / 23
Jerrye & Roy Klotz, MD // Wikimedia Commons
#23. Baltimore City—Sandtown-Winchester, Ashburton, and Mount Washington
- Median income: $24,662
- Total population: 139,219
- Unemployment rate: 11.9%
- One-bedroom median gross rent: $640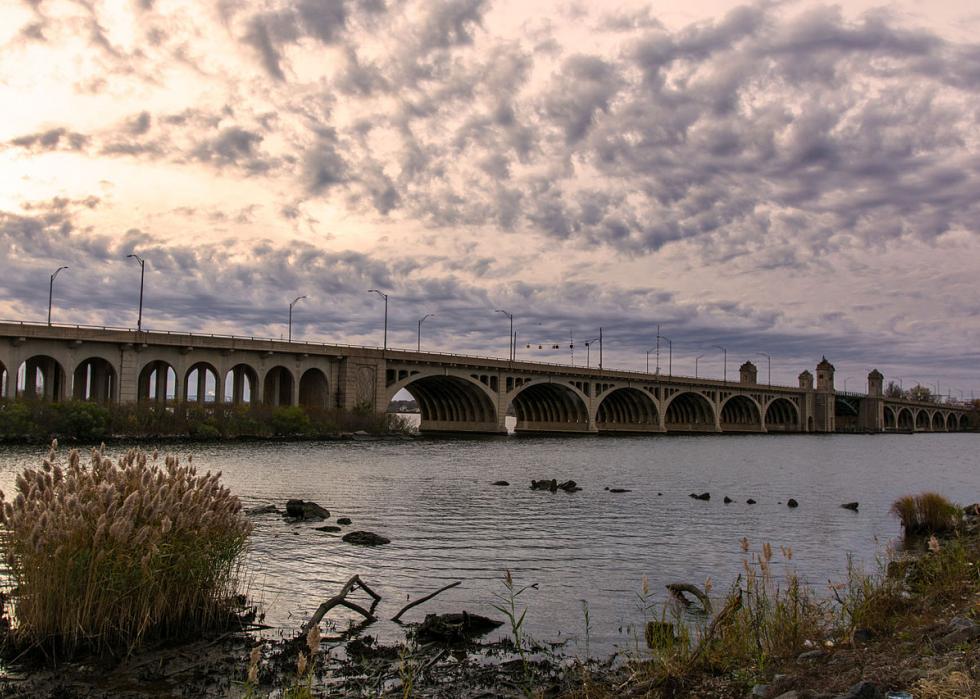 2 / 23
Patorjk // Wikimedia Commons
#22. Baltimore City—Irvington, Ten Hills, and Cherry Hill
- Median income: $25,011
- Total population: 118,360
- Unemployment rate: 11.8%
- One-bedroom median gross rent: $657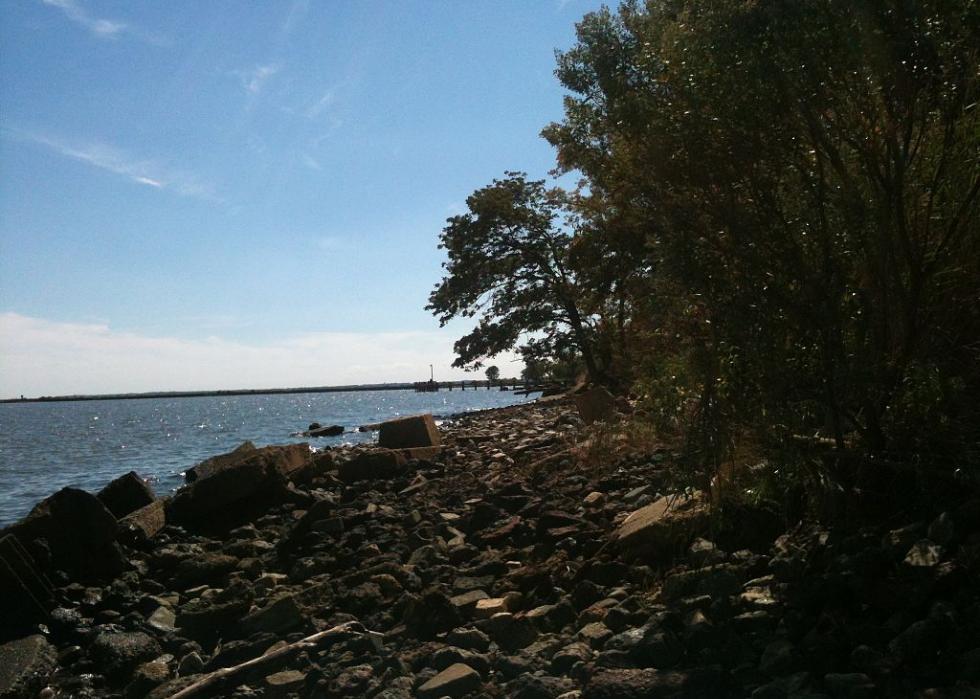 3 / 23
boothy443 // Wikimedia Commons
#21. Baltimore County—Dundalk, Essex, and Edgemere
- Median income: $29,471
- Total population: 118,947
- Unemployment rate: 5.7%
- One-bedroom median gross rent: $811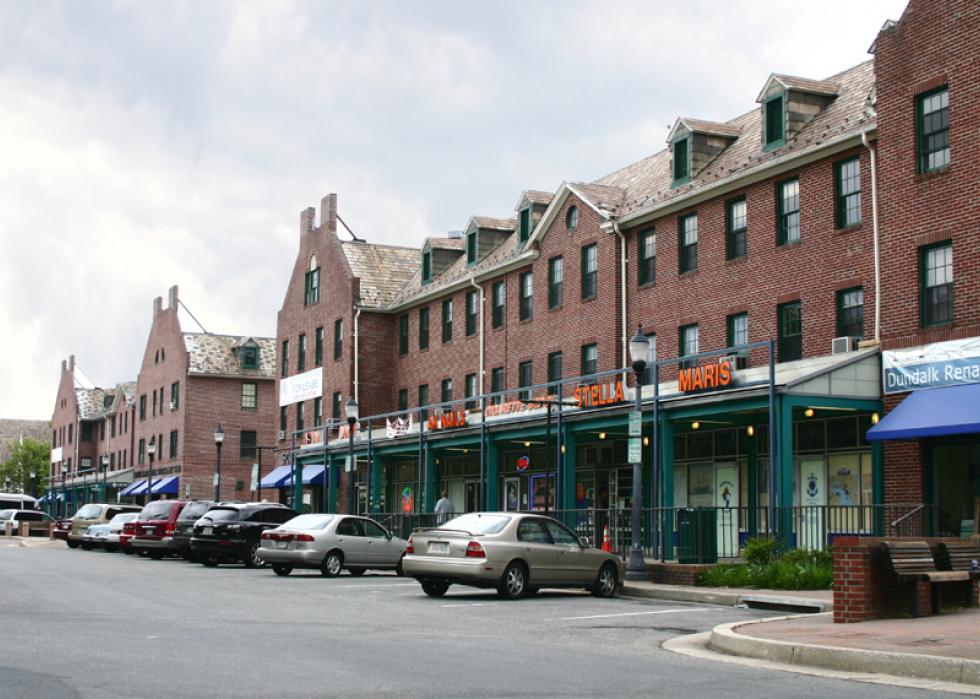 4 / 23
Hawkeye58 // Wikimedia Commons
#20. Baltimore City—Guilford, Roland Park, and Druid Lake
- Median income: $29,958
- Total population: 110,573
- Unemployment rate: 6.7%
- One-bedroom median gross rent: $835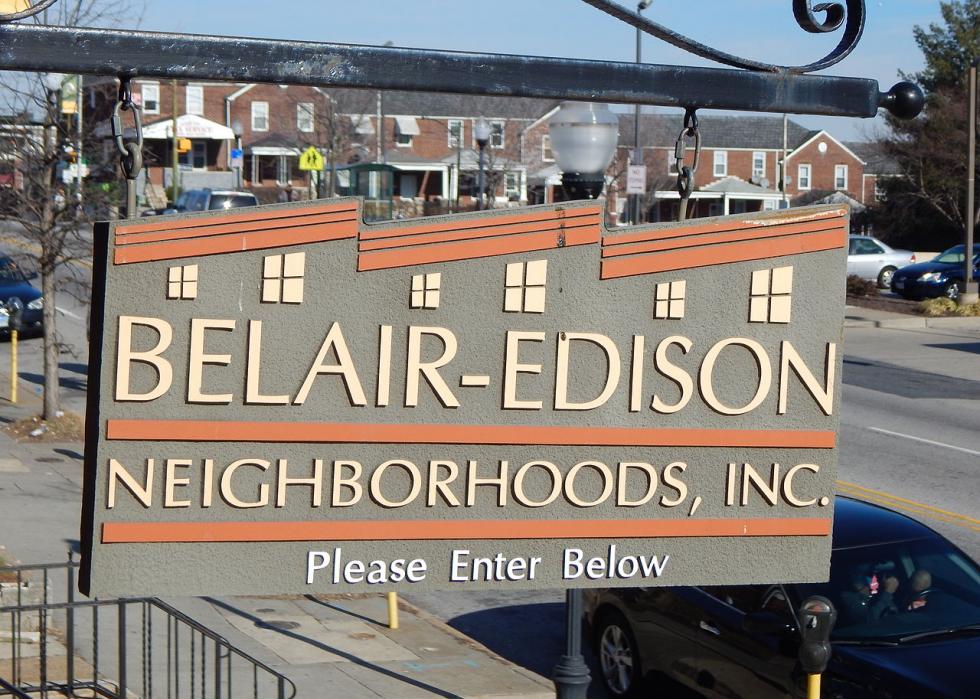 5 / 23
Belairedison // Wikimedia Commons
#19. Baltimore City—Frankford, Belair-Edison, and Loch Raven
- Median income: $30,572
- Total population: 111,461
- Unemployment rate: 7.7%
- One-bedroom median gross rent: $820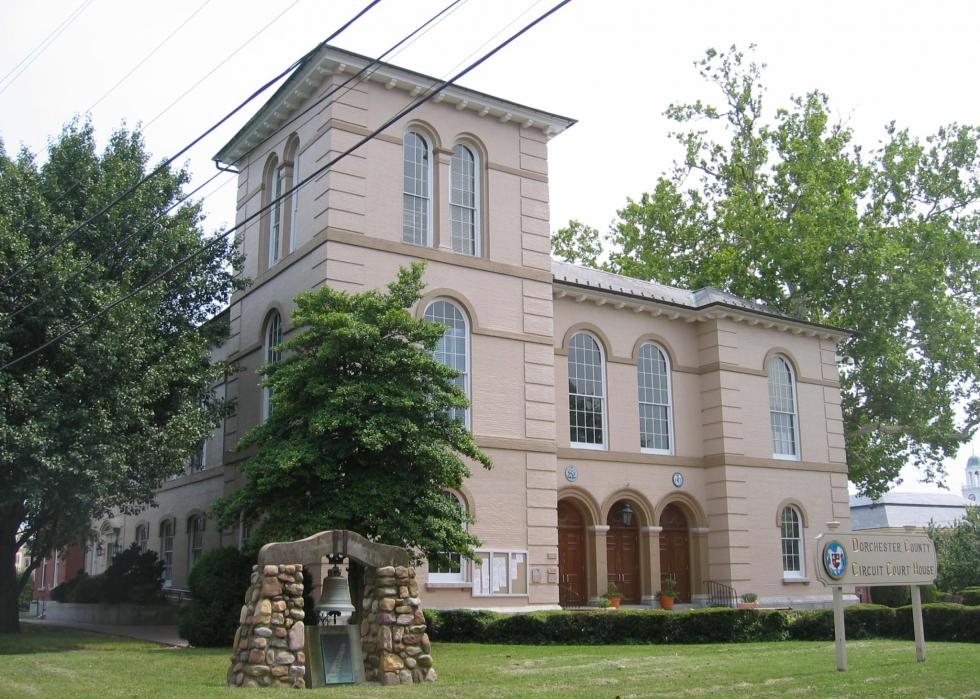 6 / 23
Eli Pousson // Wikimedia Commons
#18. Queen Anne's, Talbot, Caroline, Dorchester, and Kent Counties
- Median income: $30,799
- Total population: 171,045
- Unemployment rate: 4.8%
- One-bedroom median gross rent: $584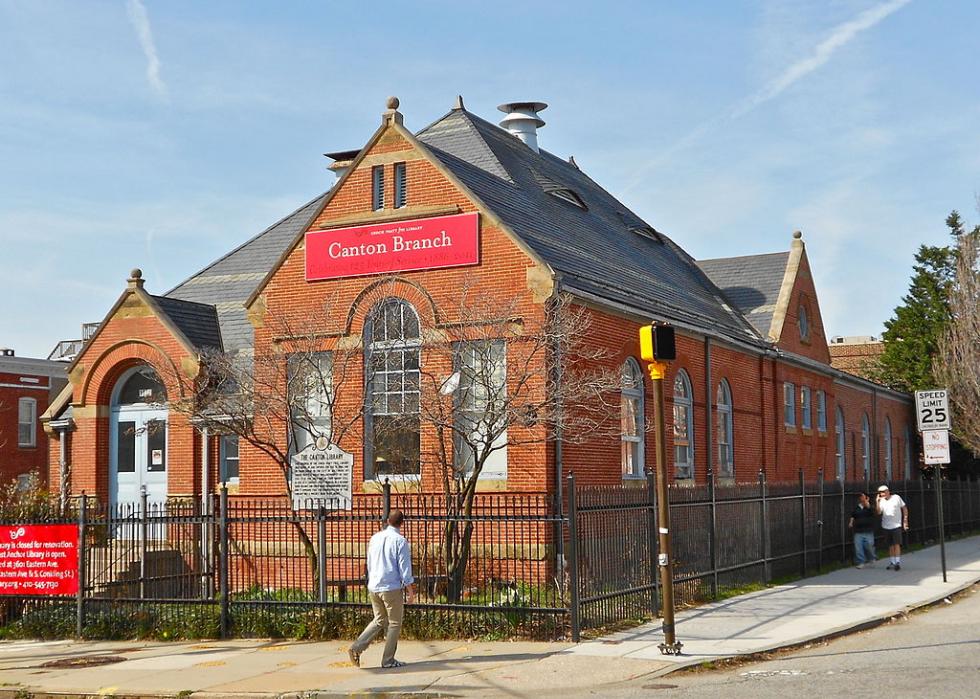 7 / 23
Smallbones // Wikimedia Commons
#17. Baltimore City—Inner Harbor, Canton, and Bayview
- Median income: $31,780
- Total population: 135,051
- Unemployment rate: 6.7%
- One-bedroom median gross rent: $972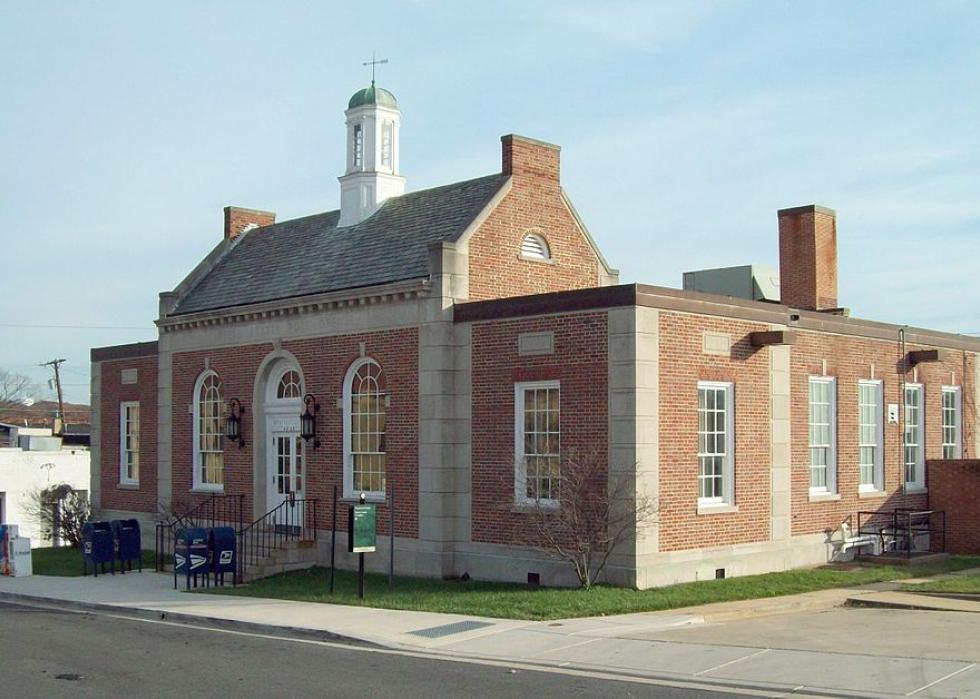 8 / 23
Pubdog // Wikimedia Commons
#16. Prince George's County (Northwest)—New Carrollton and Hyattsville (Southeast)
- Median income: $31,804
- Total population: 111,801
- Unemployment rate: 4.7%
- One-bedroom median gross rent: $1,106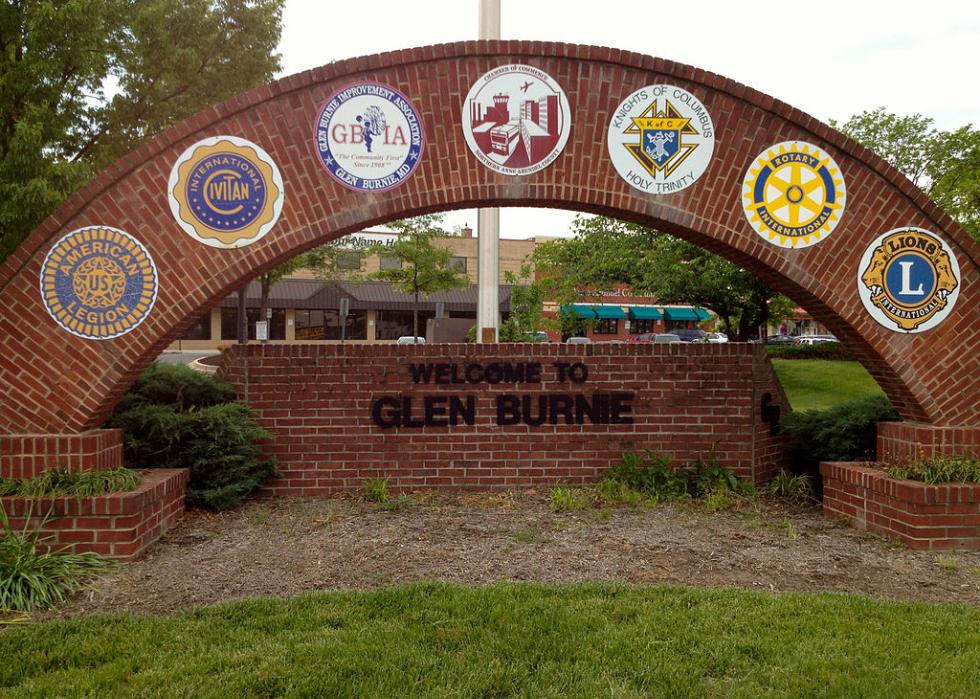 9 / 23
Djembayz // Wikimedia Commons
#15. Anne Arundel County (North)—Glen Burnie, Pasadena, Ferndale, and Brooklyn Park
- Median income: $32,845
- Total population: 120,315
- Unemployment rate: 4.4%
- One-bedroom median gross rent: $1,072
10 / 23
J. G. Howes // Wikimedia Commons
#14. Baltimore County—Towson (East and Central), Parkville, and Carney
- Median income: $34,203
- Total population: 121,234
- Unemployment rate: 3.8%
- One-bedroom median gross rent: $1,159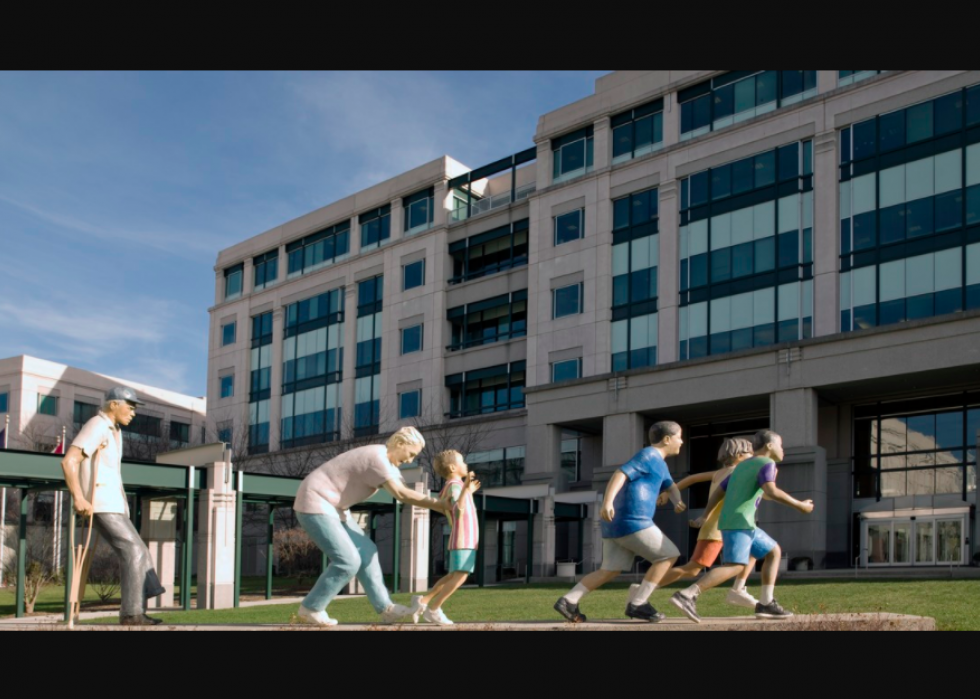 11 / 23
Carol M. Highsmith // Wikimedia Commons
#13. Baltimore County—Catonsville, Woodlawn, and Arbutus
- Median income: $36,480
- Total population: 108,665
- Unemployment rate: 5.6%
- One-bedroom median gross rent: $987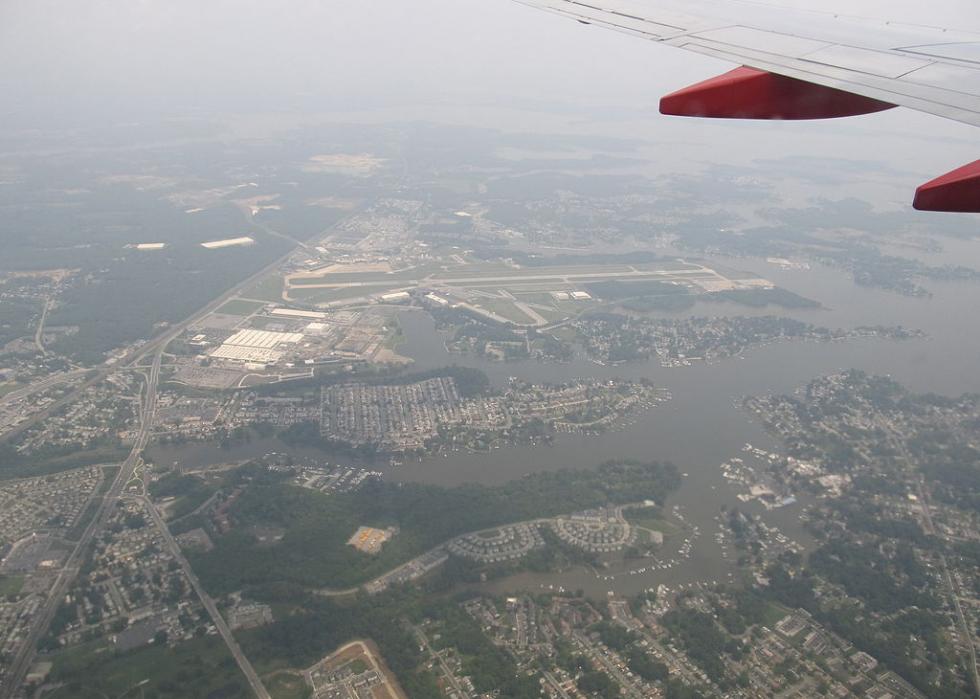 12 / 23
Ken L. // Wikimedia Commons
#12. Baltimore County—Perry Hall, Middle River, and Rosedale
- Median income: $37,064
- Total population: 111,601
- Unemployment rate: 5.3%
- One-bedroom median gross rent: $1,014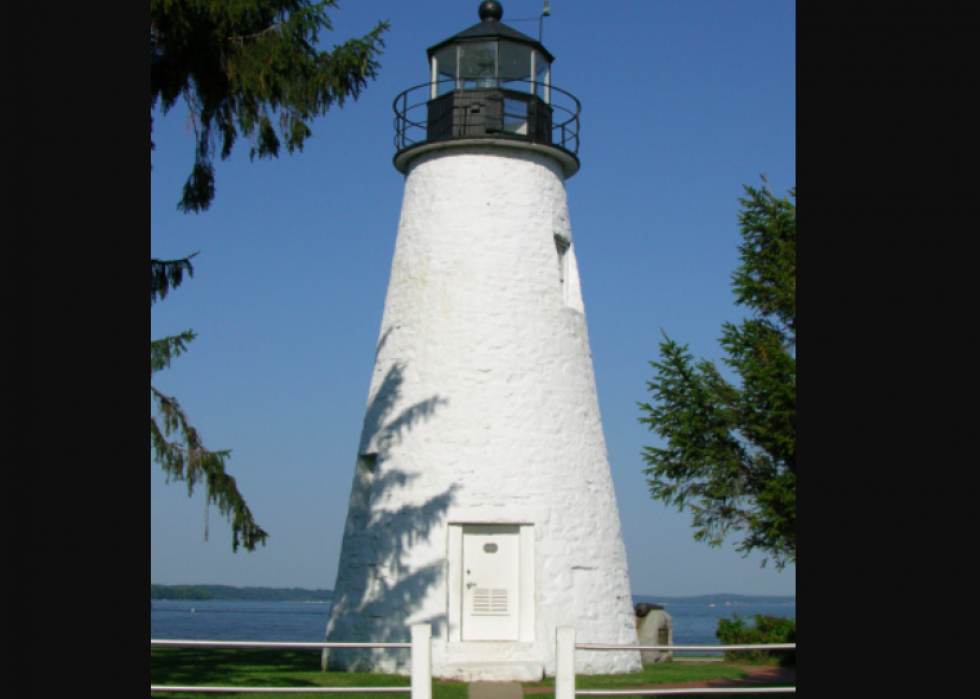 13 / 23
Ram-Man // Wikimedia Commons
#11. Harford County (South and East)—Aberdeen and Havre de Grace
- Median income: $37,512
- Total population: 113,297
- Unemployment rate: 5.1%
- One-bedroom median gross rent: $794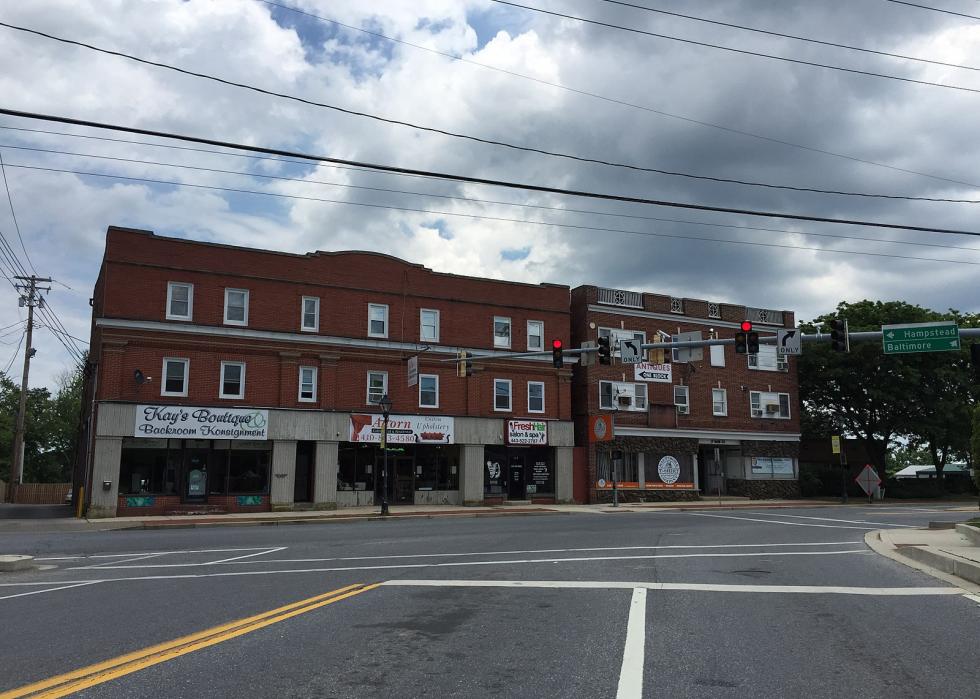 14 / 23
Famartin // Wikimedia Commons
#10. Baltimore County—Randallstown (East), Owings Mills, Milford Mill, and Reisterstown
- Median income: $38,228
- Total population: 131,565
- Unemployment rate: 4.1%
- One-bedroom median gross rent: $1,134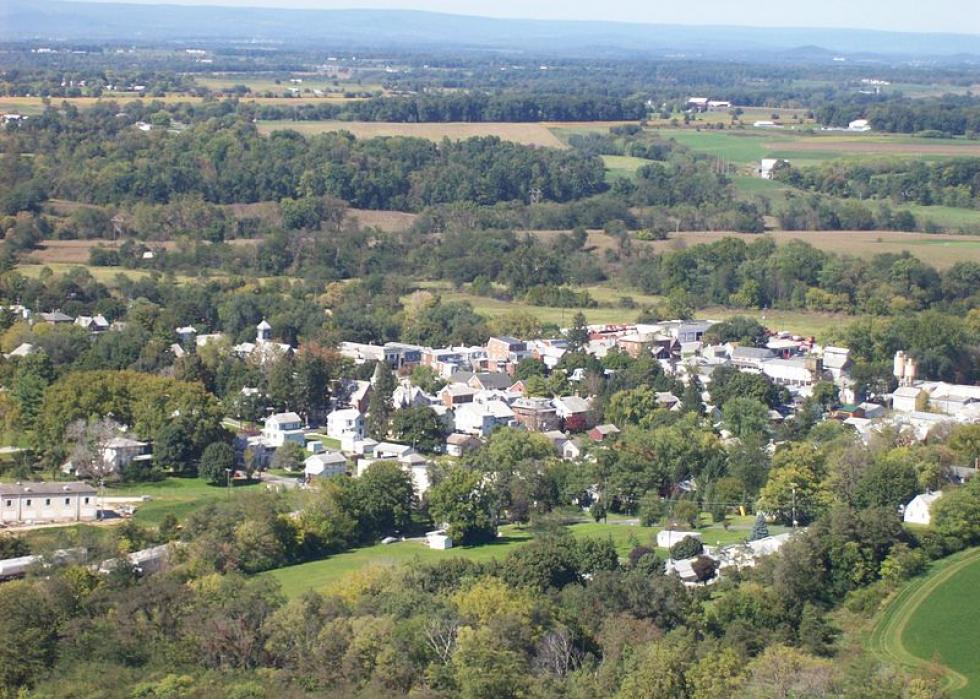 15 / 23
Ottava Rima // Wikimedia Commons
#9. Carroll County
- Median income: $40,234
- Total population: 167,656
- Unemployment rate: 3.9%
- One-bedroom median gross rent: $618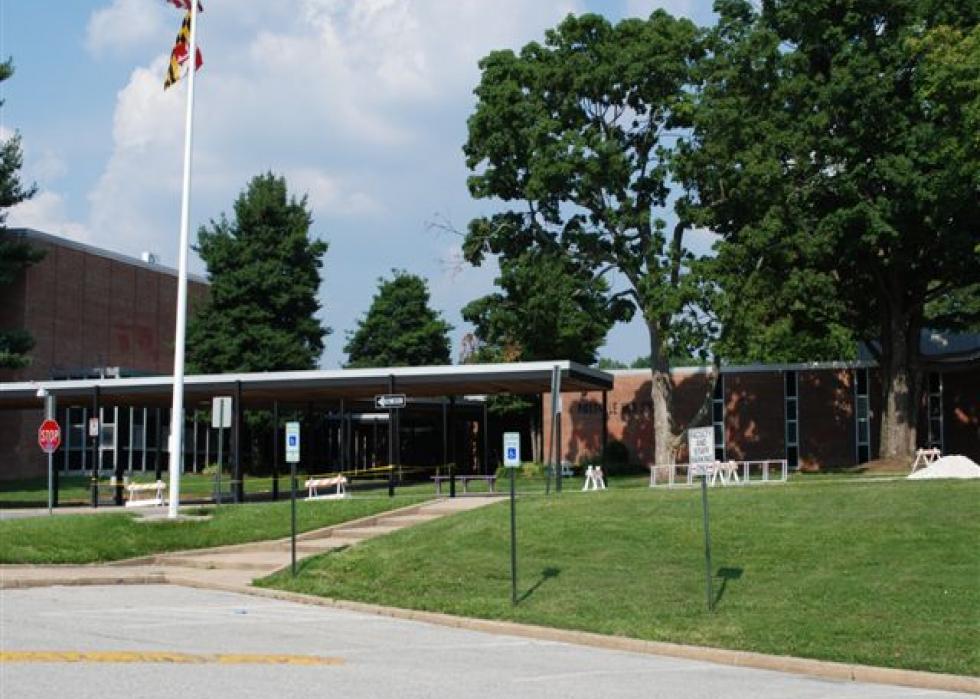 16 / 23
Wallstreethotrod // Wikimedia Commons
#8. Baltimore County—Pikesville (South), Lochearn, Cockeysville, and Mays Chapel
- Median income: $41,053
- Total population: 118,450
- Unemployment rate: 4.3%
- One-bedroom median gross rent: $961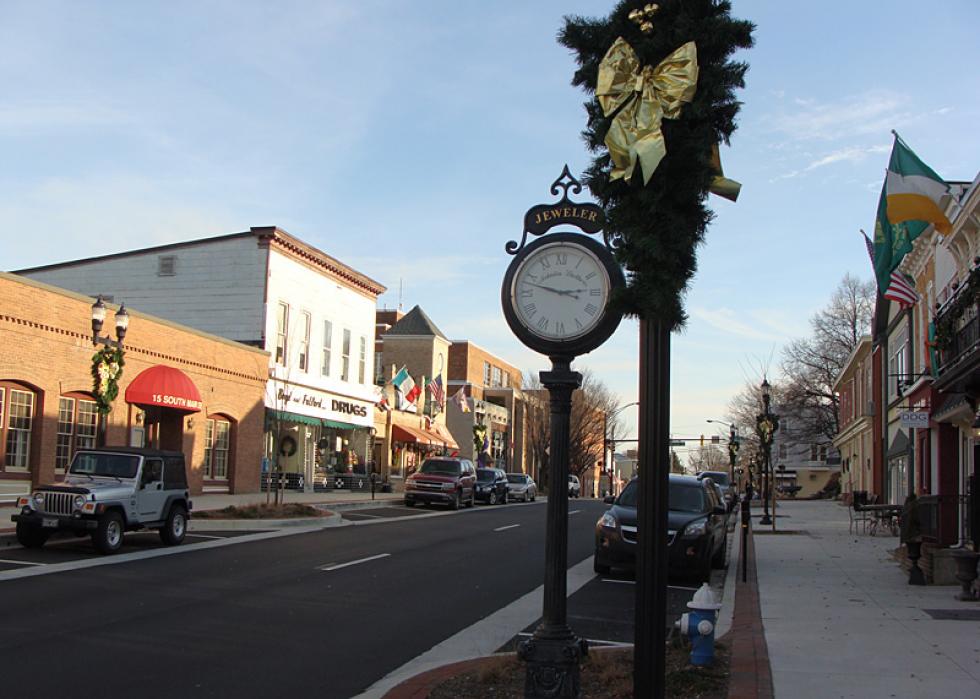 17 / 23
Orade // Wikimedia Commons
#7. Harford County (North and West)—Bel Air Town, Fallston, and Jarrettsville
- Median income: $41,356
- Total population: 137,735
- Unemployment rate: 5.5%
- One-bedroom median gross rent: $984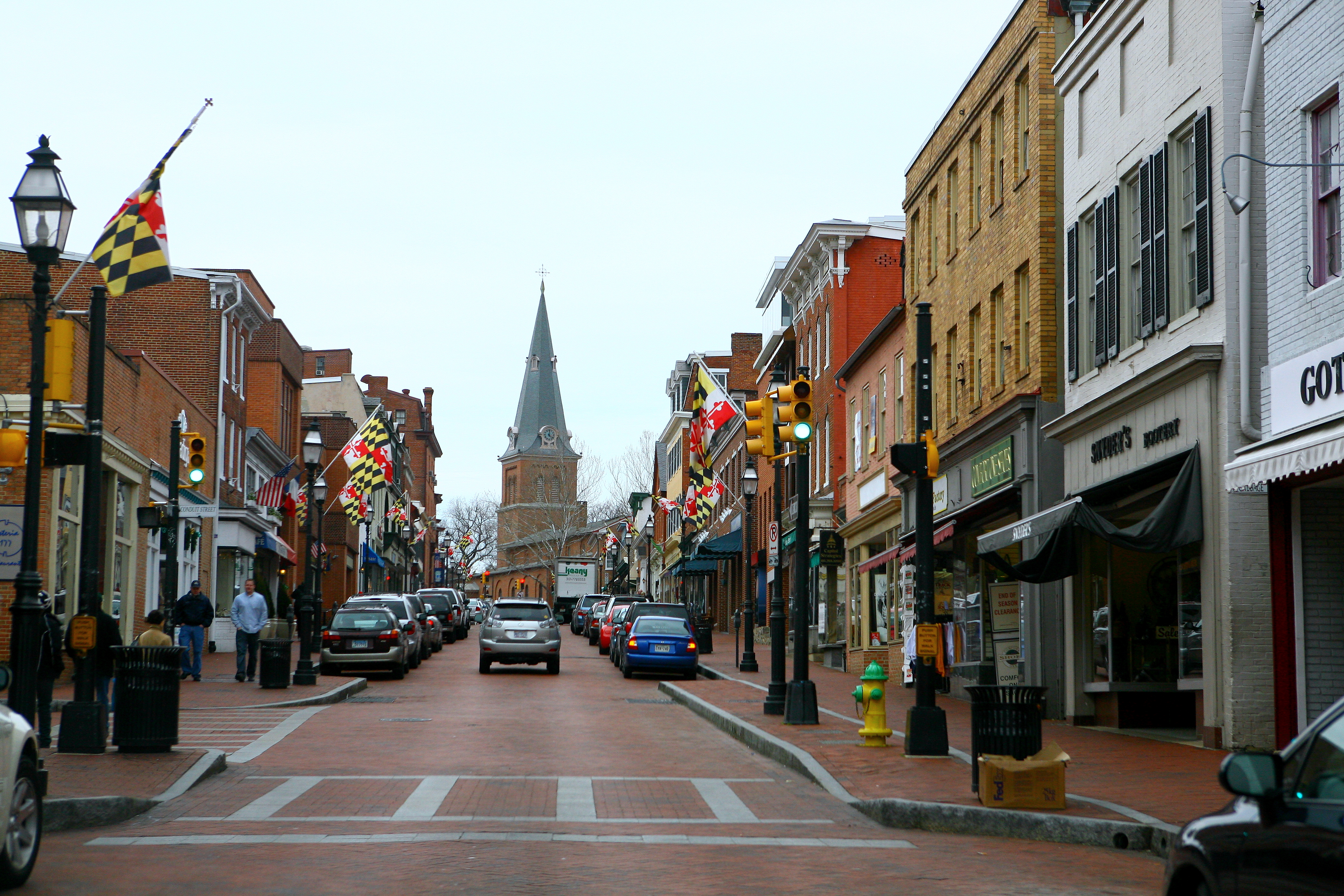 18 / 23
high limitzz // Wikimedia Commons
#6. Anne Arundel County (Southeast)—Annapolis City, Parole, Annapolis Neck, and Edgewater
- Median income: $43,347
- Total population: 142,382
- Unemployment rate: 4.2%
- One-bedroom median gross rent: $1,285
19 / 23
Famartin // Wikimedia Commons
#5. Baltimore County (Outer)
- Median income: $43,547
- Total population: 120,564
- Unemployment rate: 3.9%
- One-bedroom median gross rent: $1,101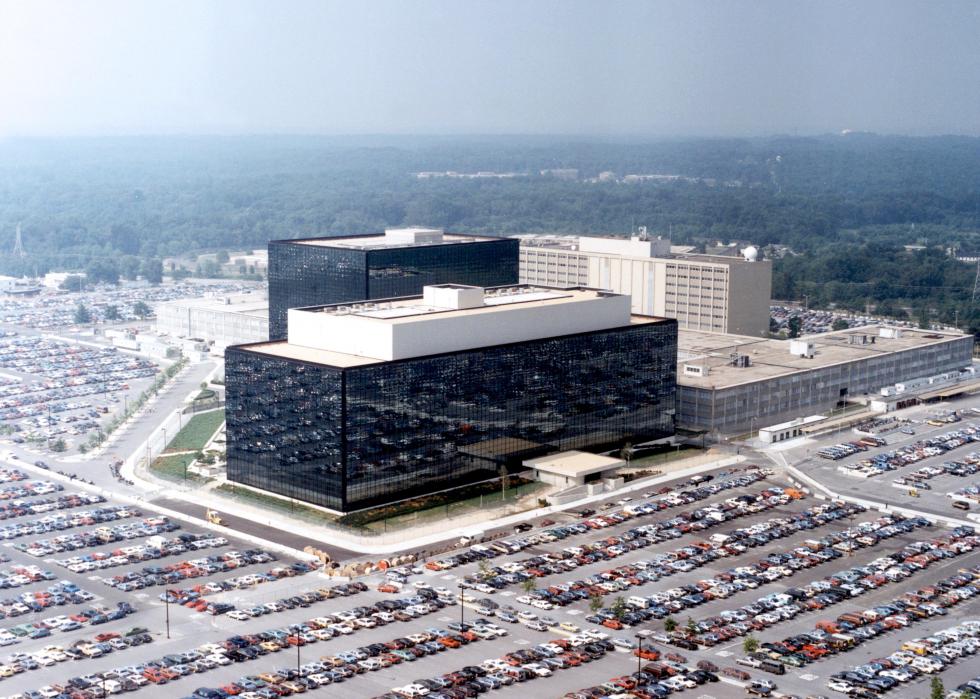 20 / 23
National Security Agency // Wikimedia Commons
#4. Anne Arundel County (Northwest)—Severn, Odenton, Crofton, Maryland City, and Fort Meade
- Median income: $44,026
- Total population: 170,540
- Unemployment rate: 4.1%
- One-bedroom median gross rent: $1,522
21 / 23
Famartin // Wikimedia Commons
#3. Anne Arundel County (Central)—Severna Park, Arnold, and Lake Shore
- Median income: $45,963
- Total population: 135,109
- Unemployment rate: 4.7%
- One-bedroom median gross rent: $1,100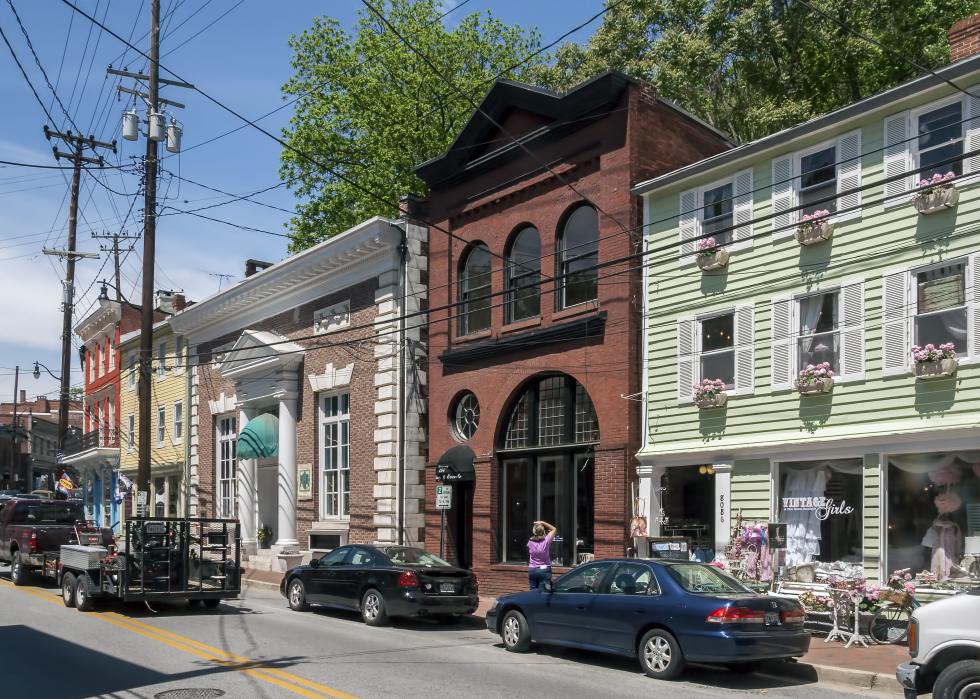 22 / 23
Acroterion // Wikimedia Commons
#2. Howard County (East)—Columbia (East), Ellicott City (Southeast), and Elkridge
- Median income: $51,049
- Total population: 181,040
- Unemployment rate: 3.2%
- One-bedroom median gross rent: $1,328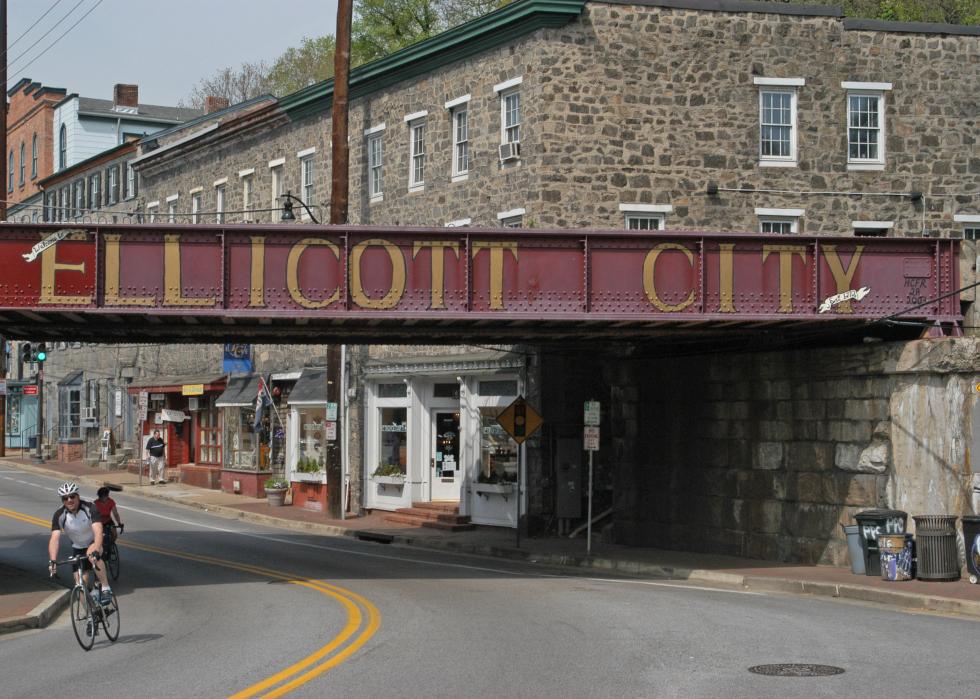 23 / 23
Scott Saghirian // Wikimedia Commons
#1. Howard County (West)—Columbia (West) and Ellicott City (Northwest)
- Median income: $56,708
- Total population: 136,193
- Unemployment rate: 3.9%
- One-bedroom median gross rent: $1,401