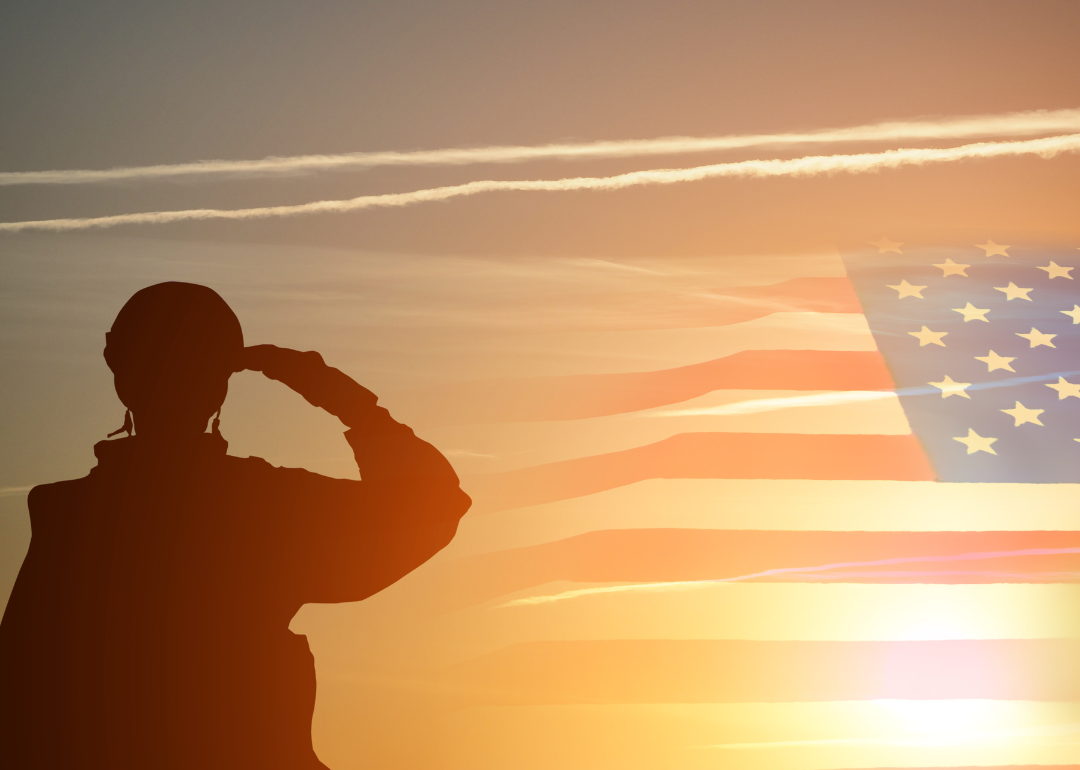 Counties with the most veterans in Michigan
Counties with the most veterans in Michigan
There are roughly 19 million veterans living in the U.S., according to data from the Department of Veterans Affairs. Though, the VA anticipates the percentage of the U.S. population with military experience will continue to decline over the next couple of decades—by 2046, it expects the number of living U.S. veterans to decrease by 35%.
Stacker compiled a list of the counties with the most veterans in Michigan using data from the U.S. Census Bureau. Counties are ranked by the highest percent of residents that are veterans based on the Census' 2020 5-year estimate.
California, Texas, and Florida are home to the most veterans, and Wyoming, Vermont, and Washington D.C. home to the least. American veterans live in virtually all of the country's 3,142 counties.
Keep reading to see where the most veterans live in your home state.
#50. Monroe County
- Percent of residents that are veterans: 8.2% (9,703 veterans)
- Veterans by war:
--- World War II: 297
--- Korean War: 812
--- Vietnam War: 3,429
--- Gulf War (08/1990 to 08/2001): 1,609
--- Gulf War (09/2002 or later): 1,315
#49. Tuscola County
- Percent of residents that are veterans: 8.3% (3,477 veterans)
- Veterans by war:
--- World War II: 70
--- Korean War: 320
--- Vietnam War: 1,474
--- Gulf War (08/1990 to 08/2001): 563
--- Gulf War (09/2002 or later): 372
#48. Oceana County
- Percent of residents that are veterans: 8.3% (1,709 veterans)
- Veterans by war:
--- World War II: 41
--- Korean War: 160
--- Vietnam War: 748
--- Gulf War (08/1990 to 08/2001): 235
--- Gulf War (09/2002 or later): 177
#47. Mecosta County
- Percent of residents that are veterans: 8.4% (2,962 veterans)
- Veterans by war:
--- World War II: 52
--- Korean War: 220
--- Vietnam War: 1,027
--- Gulf War (08/1990 to 08/2001): 449
--- Gulf War (09/2002 or later): 611
#46. Muskegon County
- Percent of residents that are veterans: 8.5% (11,376 veterans)
- Veterans by war:
--- World War II: 307
--- Korean War: 926
--- Vietnam War: 4,707
--- Gulf War (08/1990 to 08/2001): 2,033
--- Gulf War (09/2002 or later): 1,447
#45. Missaukee County
- Percent of residents that are veterans: 8.5% (993 veterans)
- Veterans by war:
--- World War II: 23
--- Korean War: 87
--- Vietnam War: 467
--- Gulf War (08/1990 to 08/2001): 158
--- Gulf War (09/2002 or later): 136
#44. St. Clair County
- Percent of residents that are veterans: 8.6% (10,781 veterans)
- Veterans by war:
--- World War II: 437
--- Korean War: 883
--- Vietnam War: 4,188
--- Gulf War (08/1990 to 08/2001): 1,501
--- Gulf War (09/2002 or later): 1,536
#43. Hillsdale County
- Percent of residents that are veterans: 8.6% (3,064 veterans)
- Veterans by war:
--- World War II: 66
--- Korean War: 189
--- Vietnam War: 1,355
--- Gulf War (08/1990 to 08/2001): 352
--- Gulf War (09/2002 or later): 401
#42. Calhoun County
- Percent of residents that are veterans: 8.6% (8,864 veterans)
- Veterans by war:
--- World War II: 195
--- Korean War: 630
--- Vietnam War: 3,475
--- Gulf War (08/1990 to 08/2001): 1,772
--- Gulf War (09/2002 or later): 1,412
#41. Grand Traverse County
- Percent of residents that are veterans: 8.6% (6,337 veterans)
- Veterans by war:
--- World War II: 287
--- Korean War: 591
--- Vietnam War: 2,343
--- Gulf War (08/1990 to 08/2001): 1,172
--- Gulf War (09/2002 or later): 1,055
#40. Baraga County
- Percent of residents that are veterans: 8.7% (595 veterans)
- Veterans by war:
--- World War II: 28
--- Korean War: 48
--- Vietnam War: 217
--- Gulf War (08/1990 to 08/2001): 77
--- Gulf War (09/2002 or later): 82
#39. Charlevoix County
- Percent of residents that are veterans: 8.8% (1,865 veterans)
- Veterans by war:
--- World War II: 57
--- Korean War: 207
--- Vietnam War: 704
--- Gulf War (08/1990 to 08/2001): 285
--- Gulf War (09/2002 or later): 249
#38. Sanilac County
- Percent of residents that are veterans: 8.9% (2,873 veterans)
- Veterans by war:
--- World War II: 50
--- Korean War: 238
--- Vietnam War: 1,174
--- Gulf War (08/1990 to 08/2001): 583
--- Gulf War (09/2002 or later): 326
#37. Bay County
- Percent of residents that are veterans: 8.9% (7,347 veterans)
- Veterans by war:
--- World War II: 237
--- Korean War: 670
--- Vietnam War: 2,697
--- Gulf War (08/1990 to 08/2001): 1,274
--- Gulf War (09/2002 or later): 1,003
#36. Mason County
- Percent of residents that are veterans: 9.0% (2,081 veterans)
- Veterans by war:
--- World War II: 21
--- Korean War: 153
--- Vietnam War: 974
--- Gulf War (08/1990 to 08/2001): 317
--- Gulf War (09/2002 or later): 232
#35. Newaygo County
- Percent of residents that are veterans: 9.4% (3,555 veterans)
- Veterans by war:
--- World War II: 104
--- Korean War: 297
--- Vietnam War: 1,409
--- Gulf War (08/1990 to 08/2001): 426
--- Gulf War (09/2002 or later): 489
#34. Arenac County
- Percent of residents that are veterans: 9.5% (1,165 veterans)
- Veterans by war:
--- World War II: 24
--- Korean War: 86
--- Vietnam War: 469
--- Gulf War (08/1990 to 08/2001): 196
--- Gulf War (09/2002 or later): 157
#33. Otsego County
- Percent of residents that are veterans: 9.7% (1,888 veterans)
- Veterans by war:
--- World War II: 33
--- Korean War: 161
--- Vietnam War: 660
--- Gulf War (08/1990 to 08/2001): 357
--- Gulf War (09/2002 or later): 277
#32. Chippewa County
- Percent of residents that are veterans: 9.8% (2,994 veterans)
- Veterans by war:
--- World War II: 33
--- Korean War: 368
--- Vietnam War: 945
--- Gulf War (08/1990 to 08/2001): 601
--- Gulf War (09/2002 or later): 648
#31. Schoolcraft County
- Percent of residents that are veterans: 9.8% (655 veterans)
- Veterans by war:
--- World War II: 10
--- Korean War: 81
--- Vietnam War: 248
--- Gulf War (08/1990 to 08/2001): 124
--- Gulf War (09/2002 or later): 90
#30. Ogemaw County
- Percent of residents that are veterans: 9.9% (1,680 veterans)
- Veterans by war:
--- World War II: 50
--- Korean War: 159
--- Vietnam War: 671
--- Gulf War (08/1990 to 08/2001): 277
--- Gulf War (09/2002 or later): 210
#29. Marquette County
- Percent of residents that are veterans: 9.9% (5,396 veterans)
- Veterans by war:
--- World War II: 163
--- Korean War: 792
--- Vietnam War: 2,236
--- Gulf War (08/1990 to 08/2001): 1,012
--- Gulf War (09/2002 or later): 594
#28. Manistee County
- Percent of residents that are veterans: 10.1% (2,044 veterans)
- Veterans by war:
--- World War II: 131
--- Korean War: 166
--- Vietnam War: 843
--- Gulf War (08/1990 to 08/2001): 307
--- Gulf War (09/2002 or later): 238
#27. Antrim County
- Percent of residents that are veterans: 10.2% (1,956 veterans)
- Veterans by war:
--- World War II: 72
--- Korean War: 183
--- Vietnam War: 785
--- Gulf War (08/1990 to 08/2001): 284
--- Gulf War (09/2002 or later): 119
#26. Cheboygan County
- Percent of residents that are veterans: 10.3% (2,173 veterans)
- Veterans by war:
--- World War II: 114
--- Korean War: 185
--- Vietnam War: 1,051
--- Gulf War (08/1990 to 08/2001): 335
--- Gulf War (09/2002 or later): 219
#25. Gladwin County
- Percent of residents that are veterans: 10.3% (2,107 veterans)
- Veterans by war:
--- World War II: 66
--- Korean War: 235
--- Vietnam War: 920
--- Gulf War (08/1990 to 08/2001): 268
--- Gulf War (09/2002 or later): 227
#24. Dickinson County
- Percent of residents that are veterans: 10.4% (2,112 veterans)
- Veterans by war:
--- World War II: 51
--- Korean War: 163
--- Vietnam War: 708
--- Gulf War (08/1990 to 08/2001): 533
--- Gulf War (09/2002 or later): 416
#23. Osceola County
- Percent of residents that are veterans: 10.6% (1,915 veterans)
- Veterans by war:
--- World War II: 33
--- Korean War: 211
--- Vietnam War: 794
--- Gulf War (08/1990 to 08/2001): 321
--- Gulf War (09/2002 or later): 138
#22. Iron County
- Percent of residents that are veterans: 10.7% (992 veterans)
- Veterans by war:
--- World War II: 53
--- Korean War: 84
--- Vietnam War: 457
--- Gulf War (08/1990 to 08/2001): 98
--- Gulf War (09/2002 or later): 86
#21. Clare County
- Percent of residents that are veterans: 10.7% (2,631 veterans)
- Veterans by war:
--- World War II: 142
--- Korean War: 200
--- Vietnam War: 1,266
--- Gulf War (08/1990 to 08/2001): 245
--- Gulf War (09/2002 or later): 221
#20. Alger County
- Percent of residents that are veterans: 10.8% (830 veterans)
- Veterans by war:
--- World War II: 29
--- Korean War: 101
--- Vietnam War: 338
--- Gulf War (08/1990 to 08/2001): 178
--- Gulf War (09/2002 or later): 93
#19. Oscoda County
- Percent of residents that are veterans: 10.9% (727 veterans)
- Veterans by war:
--- World War II: 33
--- Korean War: 53
--- Vietnam War: 348
--- Gulf War (08/1990 to 08/2001): 47
--- Gulf War (09/2002 or later): 104
#18. Lake County
- Percent of residents that are veterans: 11.0% (1,092 veterans)
- Veterans by war:
--- World War II: 50
--- Korean War: 81
--- Vietnam War: 504
--- Gulf War (08/1990 to 08/2001): 163
--- Gulf War (09/2002 or later): 51
#17. Gogebic County
- Percent of residents that are veterans: 11.1% (1,377 veterans)
- Veterans by war:
--- World War II: 73
--- Korean War: 146
--- Vietnam War: 574
--- Gulf War (08/1990 to 08/2001): 124
--- Gulf War (09/2002 or later): 151
#16. Delta County
- Percent of residents that are veterans: 11.4% (3,284 veterans)
- Veterans by war:
--- World War II: 47
--- Korean War: 300
--- Vietnam War: 1,250
--- Gulf War (08/1990 to 08/2001): 668
--- Gulf War (09/2002 or later): 442
#15. Luce County
- Percent of residents that are veterans: 11.4% (600 veterans)
- Veterans by war:
--- World War II: 20
--- Korean War: 33
--- Vietnam War: 229
--- Gulf War (08/1990 to 08/2001): 65
--- Gulf War (09/2002 or later): 39
#14. Kalkaska County
- Percent of residents that are veterans: 11.6% (1,624 veterans)
- Veterans by war:
--- World War II: 40
--- Korean War: 118
--- Vietnam War: 690
--- Gulf War (08/1990 to 08/2001): 242
--- Gulf War (09/2002 or later): 222
#13. Menominee County
- Percent of residents that are veterans: 11.7% (2,186 veterans)
- Veterans by war:
--- World War II: 109
--- Korean War: 191
--- Vietnam War: 936
--- Gulf War (08/1990 to 08/2001): 433
--- Gulf War (09/2002 or later): 406
#12. Alpena County
- Percent of residents that are veterans: 11.7% (2,694 veterans)
- Veterans by war:
--- World War II: 63
--- Korean War: 201
--- Vietnam War: 985
--- Gulf War (08/1990 to 08/2001): 511
--- Gulf War (09/2002 or later): 543
#11. Wexford County
- Percent of residents that are veterans: 11.8% (3,036 veterans)
- Veterans by war:
--- World War II: 80
--- Korean War: 281
--- Vietnam War: 1,061
--- Gulf War (08/1990 to 08/2001): 624
--- Gulf War (09/2002 or later): 515
#10. Montmorency County
- Percent of residents that are veterans: 11.9% (938 veterans)
- Veterans by war:
--- World War II: 43
--- Korean War: 78
--- Vietnam War: 536
--- Gulf War (08/1990 to 08/2001): 93
--- Gulf War (09/2002 or later): 95
#9. Mackinac County
- Percent of residents that are veterans: 12.1% (1,092 veterans)
- Veterans by war:
--- World War II: 15
--- Korean War: 113
--- Vietnam War: 494
--- Gulf War (08/1990 to 08/2001): 166
--- Gulf War (09/2002 or later): 145
#8. Roscommon County
- Percent of residents that are veterans: 12.1% (2,456 veterans)
- Veterans by war:
--- World War II: 58
--- Korean War: 207
--- Vietnam War: 1,250
--- Gulf War (08/1990 to 08/2001): 185
--- Gulf War (09/2002 or later): 173
#7. Benzie County
- Percent of residents that are veterans: 12.1% (1,754 veterans)
- Veterans by war:
--- World War II: 96
--- Korean War: 134
--- Vietnam War: 701
--- Gulf War (08/1990 to 08/2001): 296
--- Gulf War (09/2002 or later): 216
#6. Presque Isle County
- Percent of residents that are veterans: 12.4% (1,319 veterans)
- Veterans by war:
--- World War II: 34
--- Korean War: 100
--- Vietnam War: 615
--- Gulf War (08/1990 to 08/2001): 161
--- Gulf War (09/2002 or later): 91
#5. Crawford County
- Percent of residents that are veterans: 13.1% (1,484 veterans)
- Veterans by war:
--- World War II: 74
--- Korean War: 51
--- Vietnam War: 513
--- Gulf War (08/1990 to 08/2001): 321
--- Gulf War (09/2002 or later): 299
#4. Iosco County
- Percent of residents that are veterans: 13.8% (2,912 veterans)
- Veterans by war:
--- World War II: 137
--- Korean War: 223
--- Vietnam War: 1,372
--- Gulf War (08/1990 to 08/2001): 543
--- Gulf War (09/2002 or later): 347
#3. Alcona County
- Percent of residents that are veterans: 14.6% (1,322 veterans)
- Veterans by war:
--- World War II: 31
--- Korean War: 140
--- Vietnam War: 520
--- Gulf War (08/1990 to 08/2001): 172
--- Gulf War (09/2002 or later): 106
#2. Ontonagon County
- Percent of residents that are veterans: 14.6% (748 veterans)
- Veterans by war:
--- World War II: 13
--- Korean War: 49
--- Vietnam War: 322
--- Gulf War (08/1990 to 08/2001): 84
--- Gulf War (09/2002 or later): 74
#1. Keweenaw County
- Percent of residents that are veterans: 15.5% (278 veterans)
- Veterans by war:
--- World War II: 2
--- Korean War: 18
--- Vietnam War: 139
--- Gulf War (08/1990 to 08/2001): 53
--- Gulf War (09/2002 or later): 27