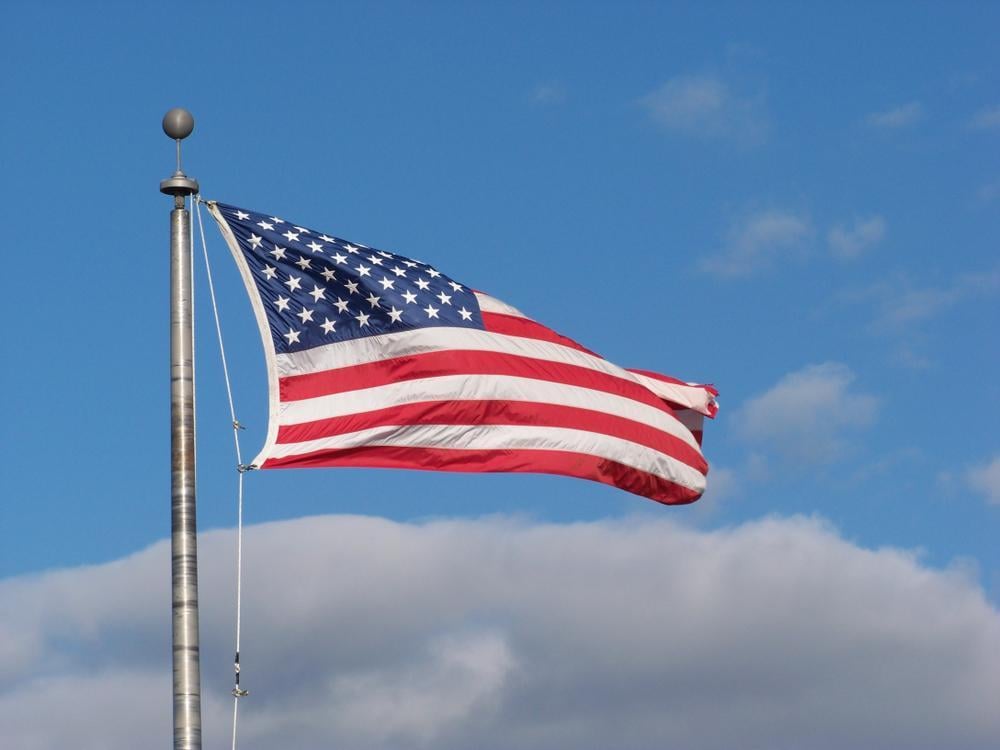 Cities with the most veterans
Tyrone Rollins // Shutterstock
Cities with the most veterans
Americans hold a collective responsibility to provide for the hundreds of thousands of men and women in the Armed Forces who put their own lives aside to defend the United States. In his discretionary spending budget request for 2019, President Trump asked that $83.1 billion be set aside for the Department of Veterans' Affairs. While this is a positive step, there is still much work to be done, especially in communities with more substantive veteran populations.
Stacker referenced U.S. Census data to list the 50 cities with the most veterans. The communities are ranked according to the percentage of the total civilian population made up by veterans using data from the 2016 American Community Survey. For the purposes of this ranking, only cities with at least 10,000 residents ages 18 and older were considered.
Read on to see which cities have the strongest veteran presence in the nation.
#50. Coronado, CA
Estimated civilian population 18+ years: 15,411
Estimated total veterans: 2,961 (19.2% of civilian population)
- Gulf War II (Sep '01 or later): 1,003
- Gulf War I (Aug '90 - Aug '01): 913
- Vietnam War: 1,236
- Korean War: 376
- World War II: 222
#49. Jacksonville, AR
Estimated civilian population 18+ years: 19,791
Estimated total veterans: 3,819 (19.3% of civilian population)
- Gulf War II (Sep '01 or later): 1,484
- Gulf War I (Aug '90 - Aug '01): 1,094
- Vietnam War: 1,229
- Korean War: 204
- World War II: 28
#48. Holiday City-Berkeley, NJ
Estimated civilian population 18+ years: 11,774
Estimated total veterans: 2,289 (19.4% of civilian population)
- Gulf War II (Sep '01 or later): 63
- Gulf War I (Aug '90 - Aug '01): 75
- Vietnam War: 627
- Korean War: 616
- World War II: 450
#47. O'Fallon, IL
Estimated civilian population 18+ years: 20,259
Estimated total veterans: 3,927 (19.4% of civilian population)
- Gulf War II (Sep '01 or later): 1,758
- Gulf War I (Aug '90 - Aug '01): 2,253
- Vietnam War: 1,206
- Korean War: 166
- World War II: 27
#46. Warrington, FL
Estimated civilian population 18+ years: 10,067
Estimated total veterans: 1,961 (19.5% of civilian population)
- Gulf War II (Sep '01 or later): 196
- Gulf War I (Aug '90 - Aug '01): 432
- Vietnam War: 974
- Korean War: 165
- World War II: 17
#45. Hot Springs Village, AR
Estimated civilian population 18+ years: 12,709
Estimated total veterans: 2,481 (19.5% of civilian population)
- Gulf War II (Sep '01 or later): 128
- Gulf War I (Aug '90 - Aug '01): 221
- Vietnam War: 1,091
- Korean War: 495
- World War II: 235
#44. Lakewood, WA
Estimated civilian population 18+ years: 44,053
Estimated total veterans: 8,605 (19.5% of civilian population)
- Gulf War II (Sep '01 or later): 2,807
- Gulf War I (Aug '90 - Aug '01): 2,608
- Vietnam War: 3,229
- Korean War: 602
- World War II: 195
#43. Punta Gorda, FL
Estimated civilian population 18+ years: 16,809
Estimated total veterans: 3,355 (20.0% of civilian population)
- Gulf War II (Sep '01 or later): 70
- Gulf War I (Aug '90 - Aug '01): 216
- Vietnam War: 1,388
- Korean War: 600
- World War II: 371
#42. St. Marys, GA
Estimated civilian population 18+ years: 12,084
Estimated total veterans: 2,430 (20.1% of civilian population)
- Gulf War II (Sep '01 or later): 1,113
- Gulf War I (Aug '90 - Aug '01): 952
- Vietnam War: 769
- Korean War: 35
- World War II: 22
#41. Montclair, VA
Estimated civilian population 18+ years: 14,379
Estimated total veterans: 2,888 (20.1% of civilian population)
- Gulf War II (Sep '01 or later): 883
- Gulf War I (Aug '90 - Aug '01): 1,427
- Vietnam War: 947
- Korean War: 109
- World War II: 26
#40. Fortuna Foothills, AZ
Estimated civilian population 18+ years: 23,314
Estimated total veterans: 4,684 (20.1% of civilian population)
- Gulf War II (Sep '01 or later): 631
- Gulf War I (Aug '90 - Aug '01): 498
- Vietnam War: 1,630
- Korean War: 1,098
- World War II: 310
#39. Alamogordo, NM
Estimated civilian population 18+ years: 23,102
Estimated total veterans: 4,678 (20.2% of civilian population)
- Gulf War II (Sep '01 or later): 1,045
- Gulf War I (Aug '90 - Aug '01): 1,380
- Vietnam War: 2,005
- Korean War: 373
- World War II: 102
#38. Silverdale, WA
Estimated civilian population 18+ years: 15,214
Estimated total veterans: 3,081 (20.3% of civilian population)
- Gulf War II (Sep '01 or later): 1,054
- Gulf War I (Aug '90 - Aug '01): 1,405
- Vietnam War: 1,051
- Korean War: 101
- World War II: 116
#37. Enterprise, AL
Estimated civilian population 18+ years: 19,709
Estimated total veterans: 4,004 (20.3% of civilian population)
- Gulf War II (Sep '01 or later): 1,426
- Gulf War I (Aug '90 - Aug '01): 1,887
- Vietnam War: 1,349
- Korean War: 206
- World War II: 84
#36. Black Forest, CO
Estimated civilian population 18+ years: 10,279
Estimated total veterans: 2,112 (20.5% of civilian population)
- Gulf War II (Sep '01 or later): 630
- Gulf War I (Aug '90 - Aug '01): 1,023
- Vietnam War: 817
- Korean War: 83
- World War II: 38
#35. Sun City, AZ
Estimated civilian population 18+ years: 39,124
Estimated total veterans: 8,061 (20.6% of civilian population)
- Gulf War II (Sep '01 or later): 88
- Gulf War I (Aug '90 - Aug '01): 336
- Vietnam War: 3,136
- Korean War: 2,256
- World War II: 1,328
#34. Clarksville, TN
Estimated civilian population 18+ years: 95,060
Estimated total veterans: 19,571 (20.6% of civilian population)
- Gulf War II (Sep '01 or later): 9,468
- Gulf War I (Aug '90 - Aug '01): 7,639
- Vietnam War: 4,298
- Korean War: 425
- World War II: 54
#33. Twentynine Palms, CA
Estimated civilian population 18+ years: 12,860
Estimated total veterans: 2,664 (20.7% of civilian population)
- Gulf War II (Sep '01 or later): 1,333
- Gulf War I (Aug '90 - Aug '01): 699
- Vietnam War: 587
- Korean War: 105
- World War II: 70
#32. Fayetteville, NC
Estimated civilian population 18+ years: 134,947
Estimated total veterans: 28,385 (21.0% of civilian population)
- Gulf War II (Sep '01 or later): 11,728
- Gulf War I (Aug '90 - Aug '01): 11,211
- Vietnam War: 8,066
- Korean War: 1,301
- World War II: 377
#31. Universal City, TX
Estimated civilian population 18+ years: 15,022
Estimated total veterans: 3,174 (21.1% of civilian population)
- Gulf War II (Sep '01 or later): 1,118
- Gulf War I (Aug '90 - Aug '01): 1,430
- Vietnam War: 1,289
- Korean War: 251
- World War II: 66
#30. Leavenworth, KS
Estimated civilian population 18+ years: 25,423
Estimated total veterans: 5,354 (21.1% of civilian population)
- Gulf War II (Sep '01 or later): 2,557
- Gulf War I (Aug '90 - Aug '01): 2,138
- Vietnam War: 1,391
- Korean War: 145
- World War II: 88
#29. Jacksonville, NC
Estimated civilian population 18+ years: 33,498
Estimated total veterans: 7,104 (21.2% of civilian population)
- Gulf War II (Sep '01 or later): 3,960
- Gulf War I (Aug '90 - Aug '01): 2,461
- Vietnam War: 1,481
- Korean War: 392
- World War II: 88
#28. Junction City, KS
Estimated civilian population 18+ years: 14,829
Estimated total veterans: 3,168 (21.4% of civilian population)
- Gulf War II (Sep '01 or later): 1,684
- Gulf War I (Aug '90 - Aug '01): 1,170
- Vietnam War: 633
- Korean War: 114
- World War II: 60
#27. Callaway, FL
Estimated civilian population 18+ years: 11,108
Estimated total veterans: 2,389 (21.5% of civilian population)
- Gulf War II (Sep '01 or later): 698
- Gulf War I (Aug '90 - Aug '01): 986
- Vietnam War: 889
- Korean War: 283
- World War II: 45
#26. Converse, TX
Estimated civilian population 18+ years: 14,414
Estimated total veterans: 3,110 (21.6% of civilian population)
- Gulf War II (Sep '01 or later): 1,469
- Gulf War I (Aug '90 - Aug '01): 1,529
- Vietnam War: 624
- Korean War: 113
- World War II: 20
#25. Cimarron Hills, CO
Estimated civilian population 18+ years: 11,851
Estimated total veterans: 2,577 (21.7% of civilian population)
- Gulf War II (Sep '01 or later): 1,121
- Gulf War I (Aug '90 - Aug '01): 1,075
- Vietnam War: 674
- Korean War: 112
- World War II:
#24. Myrtle Grove, FL
Estimated civilian population 18+ years: 11,260
Estimated total veterans: 2,458 (21.8% of civilian population)
- Gulf War II (Sep '01 or later): 777
- Gulf War I (Aug '90 - Aug '01): 947
- Vietnam War: 1,088
- Korean War: 109
- World War II: 74
#23. Wright, FL
Estimated civilian population 18+ years: 17,036
Estimated total veterans: 3,829 (22.5% of civilian population)
- Gulf War II (Sep '01 or later): 1,707
- Gulf War I (Aug '90 - Aug '01): 1,358
- Vietnam War: 1,169
- Korean War: 213
- World War II: 76
#22. Sun City Center, FL
Estimated civilian population 18+ years: 20,680
Estimated total veterans: 4,671 (22.6% of civilian population)
- Gulf War II (Sep '01 or later): 160
- Gulf War I (Aug '90 - Aug '01): 164
- Vietnam War: 1,756
- Korean War: 1,108
- World War II: 809
#21. Sun Lakes, AZ
Estimated civilian population 18+ years: 14,705
Estimated total veterans: 3,336 (22.7% of civilian population)
- Gulf War II (Sep '01 or later): 23
- Gulf War I (Aug '90 - Aug '01): 152
- Vietnam War: 1,463
- Korean War: 818
- World War II: 428
#20. Green Valley, AZ
Estimated civilian population 18+ years: 21,723
Estimated total veterans: 5,073 (23.4% of civilian population)
- Gulf War II (Sep '01 or later): 75
- Gulf War I (Aug '90 - Aug '01): 164
- Vietnam War: 1,985
- Korean War: 1,291
- World War II: 715
#19. Security-Widefield, CO
Estimated civilian population 18+ years: 24,102
Estimated total veterans: 5,632 (23.4% of civilian population)
- Gulf War II (Sep '01 or later): 1,994
- Gulf War I (Aug '90 - Aug '01): 2,330
- Vietnam War: 1,825
- Korean War: 300
- World War II: 87
#18. The Villages, FL
Estimated civilian population 18+ years: 69,310
Estimated total veterans: 16,207 (23.4% of civilian population)
- Gulf War II (Sep '01 or later): 287
- Gulf War I (Aug '90 - Aug '01): 819
- Vietnam War: 8,160
- Korean War: 3,225
- World War II: 817
#17. Sun City West, AZ
Estimated civilian population 18+ years: 24,893
Estimated total veterans: 5,852 (23.5% of civilian population)
- Gulf War II (Sep '01 or later): 42
- Gulf War I (Aug '90 - Aug '01): 82
- Vietnam War: 2,001
- Korean War: 1,791
- World War II: 1,007
#16. Schertz, TX
Estimated civilian population 18+ years: 27,139
Estimated total veterans: 6,419 (23.7% of civilian population)
- Gulf War II (Sep '01 or later): 2,504
- Gulf War I (Aug '90 - Aug '01): 3,312
- Vietnam War: 1,944
- Korean War: 348
- World War II: 123
#15. Harker Heights, TX
Estimated civilian population 18+ years: 18,534
Estimated total veterans: 4,472 (24.1% of civilian population)
- Gulf War II (Sep '01 or later): 2,440
- Gulf War I (Aug '90 - Aug '01): 2,256
- Vietnam War: 954
- Korean War: 75
- World War II: 15
#14. Niceville, FL
Estimated civilian population 18+ years: 10,293
Estimated total veterans: 2,498 (24.3% of civilian population)
- Gulf War II (Sep '01 or later): 999
- Gulf War I (Aug '90 - Aug '01): 1,209
- Vietnam War: 1,008
- Korean War: 84
- World War II: 36
#13. Sierra Vista Southeast, AZ
Estimated civilian population 18+ years: 12,089
Estimated total veterans: 2,965 (24.5% of civilian population)
- Gulf War II (Sep '01 or later): 723
- Gulf War I (Aug '90 - Aug '01): 1,165
- Vietnam War: 1,244
- Korean War: 165
- World War II: 84
#12. Cibolo, TX
Estimated civilian population 18+ years: 16,713
Estimated total veterans: 4,107 (24.6% of civilian population)
- Gulf War II (Sep '01 or later): 2,112
- Gulf War I (Aug '90 - Aug '01): 2,651
- Vietnam War: 683
- Korean War: 121
- World War II: 55
#11. Badger, AK
Estimated civilian population 18+ years: 13,792
Estimated total veterans: 3,436 (24.9% of civilian population)
- Gulf War II (Sep '01 or later): 1,461
- Gulf War I (Aug '90 - Aug '01): 1,532
- Vietnam War: 904
- Korean War: 102
- World War II: 32
#10. Oak Harbor, WA
Estimated civilian population 18+ years: 14,583
Estimated total veterans: 3,745 (25.7% of civilian population)
- Gulf War II (Sep '01 or later): 1,934
- Gulf War I (Aug '90 - Aug '01): 1,341
- Vietnam War: 775
- Korean War: 228
- World War II: 145
#9. Hinesville, GA
Estimated civilian population 18+ years: 22,061
Estimated total veterans: 5,686 (25.8% of civilian population)
- Gulf War II (Sep '01 or later): 3,214
- Gulf War I (Aug '90 - Aug '01): 2,323
- Vietnam War: 1,152
- Korean War: 38
- World War II:
#8. Navarre, FL
Estimated civilian population 18+ years: 23,475
Estimated total veterans: 6,163 (26.3% of civilian population)
- Gulf War II (Sep '01 or later): 2,622
- Gulf War I (Aug '90 - Aug '01): 3,122
- Vietnam War: 1,513
- Korean War: 212
- World War II: 25
#7. Radcliff, KY
Estimated civilian population 18+ years: 15,955
Estimated total veterans: 4,220 (26.4% of civilian population)
- Gulf War II (Sep '01 or later): 1,636
- Gulf War I (Aug '90 - Aug '01): 2,067
- Vietnam War: 1,249
- Korean War: 314
- World War II: 42
#6. Crestview, FL
Estimated civilian population 18+ years: 15,827
Estimated total veterans: 4,190 (26.5% of civilian population)
- Gulf War II (Sep '01 or later): 2,156
- Gulf War I (Aug '90 - Aug '01): 2,154
- Vietnam War: 911
- Korean War: 58
- World War II: 25
#5. Fountain, CO
Estimated civilian population 18+ years: 16,926
Estimated total veterans: 4,576 (27.0% of civilian population)
- Gulf War II (Sep '01 or later): 2,669
- Gulf War I (Aug '90 - Aug '01): 2,101
- Vietnam War: 661
- Korean War: 53
- World War II: 17
#4. Havelock, NC
Estimated civilian population 18+ years: 10,153
Estimated total veterans: 2,762 (27.2% of civilian population)
- Gulf War II (Sep '01 or later): 1,704
- Gulf War I (Aug '90 - Aug '01): 954
- Vietnam War: 644
- Korean War: 95
- World War II: 8
#3. Sierra Vista, AZ
Estimated civilian population 18+ years: 29,042
Estimated total veterans: 8,041 (27.7% of civilian population)
- Gulf War II (Sep '01 or later): 2,672
- Gulf War I (Aug '90 - Aug '01): 3,077
- Vietnam War: 2,670
- Korean War: 616
- World War II: 205
#2. Copperas Cove, TX
Estimated civilian population 18+ years: 21,618
Estimated total veterans: 6,230 (28.8% of civilian population)
- Gulf War II (Sep '01 or later): 2,592
- Gulf War I (Aug '90 - Aug '01): 3,158
- Vietnam War: 1,625
- Korean War: 220
- World War II: 62
#1. Killeen, TX
Estimated civilian population 18+ years: 86,995
Estimated total veterans: 25,544 (29.4% of civilian population)
- Gulf War II (Sep '01 or later): 15,872
- Gulf War I (Aug '90 - Aug '01): 11,495
- Vietnam War: 3,710
- Korean War: 371
- World War II: 236