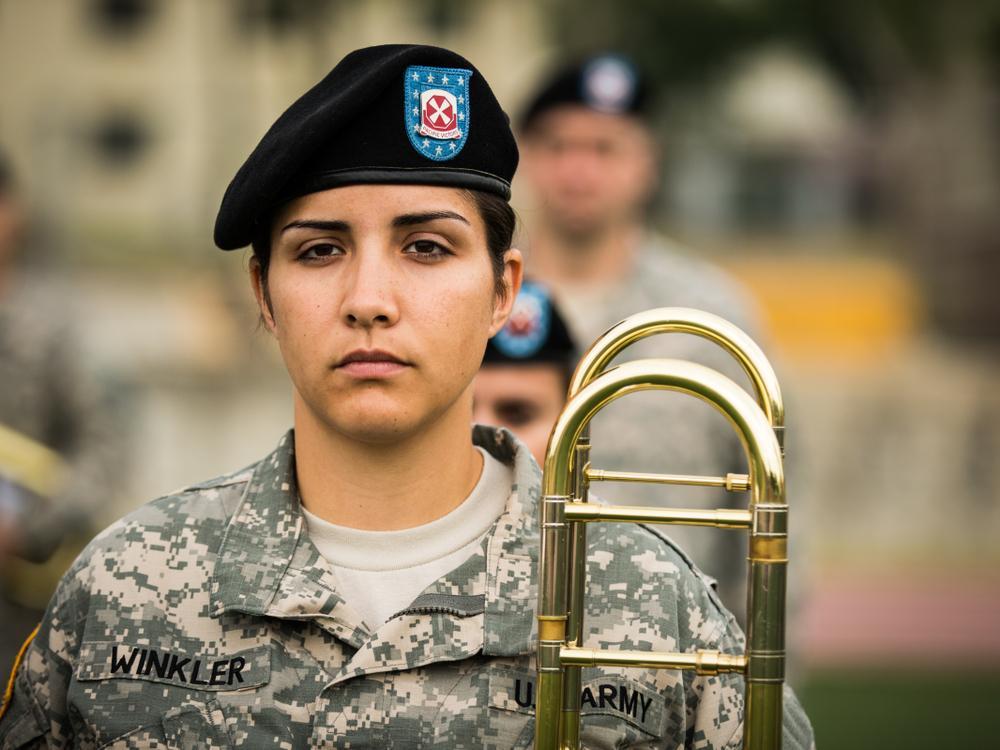 The impact of the military on every state economy
Johnny Silvercloud // Shutterstock
The impact of the military on every state economy
Of the $1.11 trillion set aside by Congress for discretionary spending in 2015, 54 percent was reserved for the military. This left less than half of available funds to cover Medicare, education, housing, agriculture and other essential areas. While this speaks to the inseparable nature of the military and the economy at the national level, the relationship is more variant at the state level. National defense has proven to be more of a pressing issue for certain regions than others.
Using 2015 Department of Defense data via the National Conference of State Legislatures, Stacker listed the states where DoD spending represents the greatest percentage of state gross domestic product. The 50 states and the District of Columbia are each listed along with their total DoD spending, as well as the total number of DoD personnel in the state.
Read on to see how heavily the military impacts your state's economy.
#51. Oregon
DoD spending as a percent of total state GDP: 0.6%
Total DoD spending: $1.3 billion
Total DoD personnel: 13,356
#50. New York
DoD spending as a percent of total state GDP: 0.6%
Total DoD spending: $9.1 billion
Total DoD personnel: 61,765
#49. Michigan
DoD spending as a percent of total state GDP: 0.6%
Total DoD spending: $2.9 billion
Total DoD personnel: 25,689
#48. West Virginia
DoD spending as a percent of total state GDP: 0.7%
Total DoD spending: $527 million
Total DoD personnel: 10,204
#47. Wisconsin
DoD spending as a percent of total state GDP: 0.8%
Total DoD spending: $2.3 billion
Total DoD personnel: 18,035
#46. Tennessee
DoD spending as a percent of total state GDP: 0.8%
Total DoD spending: $2.4 billion
Total DoD personnel: 71,441
#45. Iowa
DoD spending as a percent of total state GDP: 0.8%
Total DoD spending: $1.4 billion
Total DoD personnel: 12,969
#44. Wyoming
DoD spending as a percent of total state GDP: 0.9%
Total DoD spending: $370 million
Total DoD personnel: 7,171
#43. Illinois
DoD spending as a percent of total state GDP: 0.9%
Total DoD spending: $7.0 billion
Total DoD personnel: 57,078
#42. Vermont
DoD spending as a percent of total state GDP: 1.0%
Total DoD spending: $295.5 million
Total DoD personnel: 4,931
#41. South Dakota
DoD spending as a percent of total state GDP: 1.0%
Total DoD spending: $456.8 million
Total DoD personnel: 9,257
#40. Idaho
DoD spending as a percent of total state GDP: 1.0%
Total DoD spending: $643.3 million
Total DoD personnel: 10,436
#39. Delaware
DoD spending as a percent of total state GDP: 1.0%
Total DoD spending: $676.8 million
Total DoD personnel: 9,959
#38. Montana
DoD spending as a percent of total state GDP: 1.1%
Total DoD spending: $519 million
Total DoD personnel: 9,185
#37. Ohio
DoD spending as a percent of total state GDP: 1.2%
Total DoD spending: $6.9 billion
Total DoD personnel: 60,224
#36. New Jersey
DoD spending as a percent of total state GDP: 1.2%
Total DoD spending: $6.6 billion
Total DoD personnel: 33,834
#35. Indiana
DoD spending as a percent of total state GDP: 1.2%
Total DoD spending: $3.9 billion
Total DoD personnel: 31,376
#34. Arkansas
DoD spending as a percent of total state GDP: 1.2%
Total DoD spending: $1.4 billion
Total DoD personnel: 20,229
#33. Nebraska
DoD spending as a percent of total state GDP: 1.3%
Total DoD spending: $1.5 billion
Total DoD personnel: 16,776
#32. Minnesota
DoD spending as a percent of total state GDP: 1.3%
Total DoD spending: $4.3 billion
Total DoD personnel: 21,823
#31. North Dakota
DoD spending as a percent of total state GDP: 1.4%
Total DoD spending: $747.2 million
Total DoD personnel: 13,296
#30. Louisiana
DoD spending as a percent of total state GDP: 1.5%
Total DoD spending: $3.8 billion
Total DoD personnel: 41,250
#29. Nevada
DoD spending as a percent of total state GDP: 1.6%
Total DoD spending: $2.3 billion
Total DoD personnel: 20,683
#28. Pennsylvania
DoD spending as a percent of total state GDP: 1.9%
Total DoD spending: $12.7 billion
Total DoD personnel: 57,919
#27. North Carolina
DoD spending as a percent of total state GDP: 2.0%
Total DoD spending: $9.8 billion
Total DoD personnel: 144,881
#26. New Hampshire
DoD spending as a percent of total state GDP: 2.0%
Total DoD spending: $1.4 billion
Total DoD personnel: 6,350
#25. Florida
DoD spending as a percent of total state GDP: 2.0%
Total DoD spending: $17.6 billion
Total DoD personnel: 126,292
#24. California
DoD spending as a percent of total state GDP: 2.1%
Total DoD spending: $49.3 billion
Total DoD personnel: 269,540
#23. Utah
DoD spending as a percent of total state GDP: 2.2%
Total DoD spending: $3.2 billion
Total DoD personnel: 30,486
#22. Texas
DoD spending as a percent of total state GDP: 2.3%
Total DoD spending: $37.9 billion
Total DoD personnel: 218,523
#21. Kansas
DoD spending as a percent of total state GDP: 2.3%
Total DoD spending: $3.3 billion
Total DoD personnel: 41,152
#20. Oklahoma
DoD spending as a percent of total state GDP: 2.6%
Total DoD spending: $4.7 billion
Total DoD personnel: 57,080
#19. Massachusetts
DoD spending as a percent of total state GDP: 2.6%
Total DoD spending: $12.2 billion
Total DoD personnel: 24,174
#18. Georgia
DoD spending as a percent of total state GDP: 2.6%
Total DoD spending: $12.6 billion
Total DoD personnel: 129,463
#17. South Carolina
DoD spending as a percent of total state GDP: 2.7%
Total DoD spending: $5.3 billion
Total DoD personnel: 65,632
#16. Colorado
DoD spending as a percent of total state GDP: 2.8%
Total DoD spending: $8.7 billion
Total DoD personnel: 61,294
#15. Washington
DoD spending as a percent of total state GDP: 2.9%
Total DoD spending: $12.6 billion
Total DoD personnel: 107,341
#14. New Mexico
DoD spending as a percent of total state GDP: 3.4%
Total DoD spending: $3.1 billion
Total DoD personnel: 23,539
#13. Arizona
DoD spending as a percent of total state GDP: 3.4%
Total DoD spending: $10.0 billion
Total DoD personnel: 42,547
#12. Rhode Island
DoD spending as a percent of total state GDP: 3.5%
Total DoD spending: $2.0 billion
Total DoD personnel: 12,216
#11. Missouri
DoD spending as a percent of total state GDP: 3.7%
Total DoD spending: $10.6 billion
Total DoD personnel: 43,020
#10. Connecticut
DoD spending as a percent of total state GDP: 3.8%
Total DoD spending: $9.7 billion
Total DoD personnel: 15,414
#9. Maine
DoD spending as a percent of total state GDP: 4.7%
Total DoD spending: $2.6 billion
Total DoD personnel: 11,794
#8. Kentucky
DoD spending as a percent of total state GDP: 4.7%
Total DoD spending: $9.0 billion
Total DoD personnel: 57,080
#7. Mississippi
DoD spending as a percent of total state GDP: 4.9%
Total DoD spending: $5.2 billion
Total DoD personnel: 37,006
#6. Maryland
DoD spending as a percent of total state GDP: 5.7%
Total DoD spending: $20.5 billion
Total DoD personnel: 93,183
#5. District of Columbia
DoD spending as a percent of total state GDP: 5.7%
Total DoD spending: $6.8 billion
Total DoD personnel: 25,550
#4. Alabama
DoD spending as a percent of total state GDP: 5.9%
Total DoD spending: $12.2 billion
Total DoD personnel: 52,116
#3. Alaska
DoD spending as a percent of total state GDP: 6.1%
Total DoD spending: $3.3 billion
Total DoD personnel: 27,764
#2. Hawaii
DoD spending as a percent of total state GDP: 9.8%
Total DoD spending: $7.8 billion
Total DoD personnel: 73,487
#1. Virginia
DoD spending as a percent of total state GDP: 11.2%
Total DoD spending: $53.0 billion
Total DoD personnel: 246,553