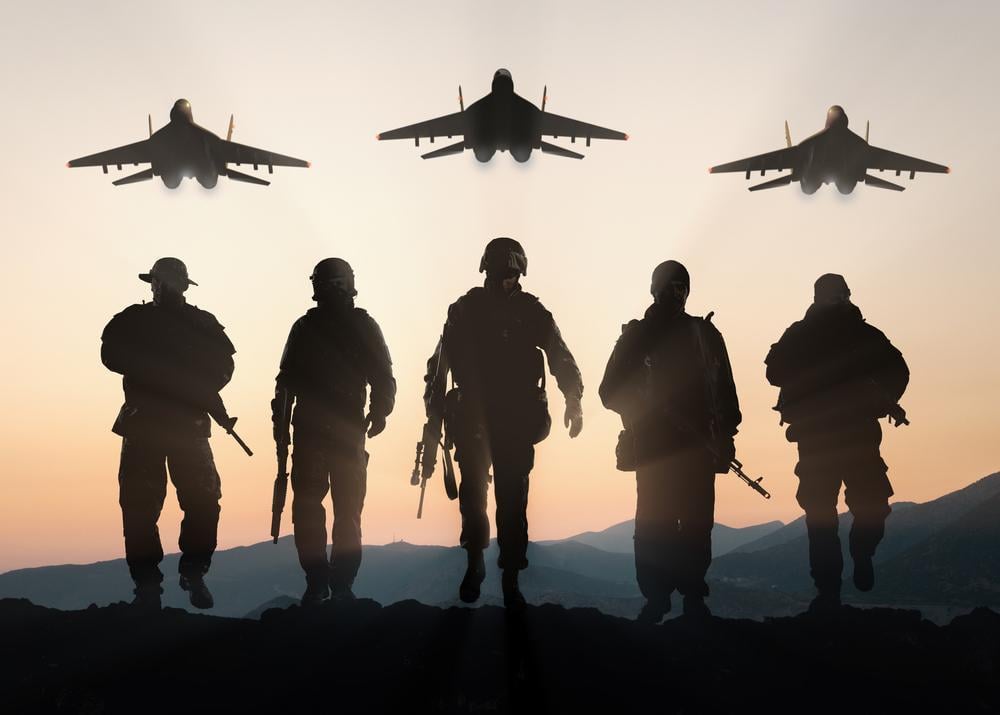 States with the highest rates of military enlistment
States with the highest rates of military enlistment
Roughly 1.35 million Americans serve in the United States Armed Forces, down from 2.24 million in 1989, according to data from the World Bank. Enlistment rates, however, are by no means uniform across the country.
Using data from the Center for Naval Analyses (CNA), a defense research and analysis organization, Stacker ranked all 50 states and the District of Columbia in terms of military enlistment rates. States are ranked by a representation ratio, which looks at the number of recruits as a share of a state's population of 18 to 24 year olds. A ranking of 1 is exactly neutral, implying that the state's share of recruits is equal to its share of America's population in the 18- to 24-year-old demographic. The total number of enlistees is also noted, and all data is taken from 2016 recruitment numbers. Southern, western, and southwestern states dominate the overrepresented side of the list while states in the northeast are more likely to be underrepresented.
Read on to find out how your state measures up in terms of American military enlistment.
#51. District of Columbia
Representation ratio: 0.29 — underrepresented
Total number of enlistees: 99
#50. North Dakota
Representation ratio: 0.53 — underrepresented
Total number of enlistees: 203
#49. Massachusetts
Representation ratio: 0.57 — underrepresented
Total number of enlistees: 1,913
#48. Rhode Island
Representation ratio: 0.58 — underrepresented
Total number of enlistees: 316
#47. New York
Representation ratio: 0.65 — underrepresented
Total number of enlistees: 6,378
#46. Utah
Representation ratio: 0.69 — underrepresented
Total number of enlistees: 1,051
#45. Iowa
Representation ratio: 0.7 — underrepresented
Total number of enlistees: 996
#44. Minnesota
Representation ratio: 0.71 — underrepresented
Total number of enlistees: 1,609
#43. New Jersey
Representation ratio: 0.71 — underrepresented
Total number of enlistees: 2,901
#42. Vermont
Representation ratio: 0.71 — underrepresented
Total number of enlistees: 184
#41. Wisconsin
Representation ratio: 0.75 — underrepresented
Total number of enlistees: 2,033
#40. Pennsylvania
Representation ratio: 0.79 — underrepresented
Total number of enlistees: 4,924
#39. Nebraska
Representation ratio: 0.8 — underrepresented
Total number of enlistees: 766
#38. Michigan
Representation ratio: 0.81 — underrepresented
Total number of enlistees: 3,800
#37. Connecticut
Representation ratio: 0.83 — underrepresented
Total number of enlistees: 1,347
#36. Illinois
Representation ratio: 0.83 — underrepresented
Total number of enlistees: 5,261
#35. South Dakota
Representation ratio: 0.84 — underrepresented
Total number of enlistees: 318
#34. Kentucky
Representation ratio: 0.86 — underrepresented
Total number of enlistees: 1,750
#33. California
Representation ratio: 0.88 — underrepresented
Total number of enlistees: 17,729
#32. Louisiana
Representation ratio: 0.88 — underrepresented
Total number of enlistees: 2,099
#31. Kansas
Representation ratio: 0.9 — underrepresented
Total number of enlistees: 1,202
#30. West Virginia
Representation ratio: 0.91 — underrepresented
Total number of enlistees: 767
#29. Montana
Representation ratio: 0.93 — underrepresented
Total number of enlistees: 454
#28. Mississippi
Representation ratio: 0.95 — underrepresented
Total number of enlistees: 1,428
#27. Indiana
Representation ratio: 0.98 — underrepresented
Total number of enlistees: 2,922
#26. Delaware
Representation ratio: 1 — equally represented
Total number of enlistees: 372
#25. Maryland
Representation ratio: 1.05 — overrepresented
Total number of enlistees: 2,841
#24. New Hampshire
Representation ratio: 1.05 — overrepresented
Total number of enlistees: 624
#23. Ohio
Representation ratio: 1.06 — overrepresented
Total number of enlistees: 5,368
#22. Tennessee
Representation ratio: 1.06 — overrepresented
Total number of enlistees: 3,239
#21. Idaho
Representation ratio: 1.08 — overrepresented
Total number of enlistees: 876
#20. New Mexico
Representation ratio: 1.09 — overrepresented
Total number of enlistees: 1,058
#19. Wyoming
Representation ratio: 1.09 — overrepresented
Total number of enlistees: 278
#18. Arkansas
Representation ratio: 1.11 — overrepresented
Total number of enlistees: 1,370
#17. Maine
Representation ratio: 1.11 — overrepresented
Total number of enlistees: 562
#16. North Carolina
Representation ratio: 1.11 — overrepresented
Total number of enlistees: 5,453
#15. Oklahoma
Representation ratio: 1.11 — overrepresented
Total number of enlistees: 1,977
#14. Oregon
Representation ratio: 1.11 — overrepresented
Total number of enlistees: 1,928
#13. Washington
Representation ratio: 1.14 — overrepresented
Total number of enlistees: 3,347
#12. Missouri
Representation ratio: 1.17 — overrepresented
Total number of enlistees: 2,948
#11. Texas
Representation ratio: 1.2 — overrepresented
Total number of enlistees: 16,139
#10. Alabama
Representation ratio: 1.24 — overrepresented
Total number of enlistees: 2,915
#9. Alaska
Representation ratio: 1.26 — overrepresented
Total number of enlistees: 460
#8. Hawaii
Representation ratio: 1.28 — overrepresented
Total number of enlistees: 892
#7. Colorado
Representation ratio: 1.29 — overrepresented
Total number of enlistees: 2,774
#6. Arizona
Representation ratio: 1.31 — overrepresented
Total number of enlistees: 3,947
#5. Nevada
Representation ratio: 1.31 — overrepresented
Total number of enlistees: 1,614
#4. Virginia
Representation ratio: 1.37 — overrepresented
Total number of enlistees: 4,900
#3. South Carolina
Representation ratio: 1.42 — overrepresented
Total number of enlistees: 3,014
#2. Florida
Representation ratio: 1.43 — overrepresented
Total number of enlistees: 11,552
#1. Georgia
Representation ratio: 1.50 — overrepresented
Total number of enlistees: 6,758