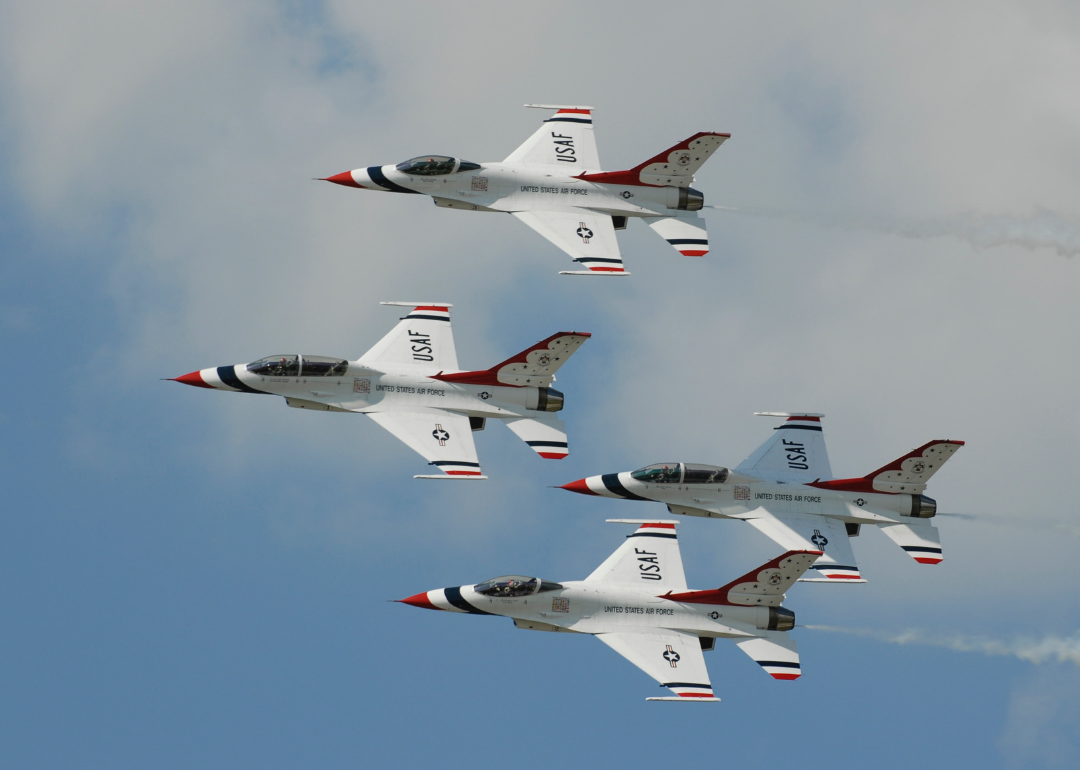 U.S. Air Force by the numbers
U.S. Air Force by the numbers
The Wright Brothers invented, and then flew, the first viable airplane in 1903. This monumental achievement inspired not only aggressive aviation innovations but other transformative technologies that would impact life in the United States. It was in this climate of radical change climate that an American air force was born. The first charge of the Aeronautical Division of the Signal Corps—the original name of what would later become the Air Force—was all matters pertaining to military ballooning, air machines, and related subjects, with focus on testing and experiments.
With the United States' entry into World War I in 1917, the division made its defense debut. Retitled the Air Service, these aviation units supported ground strategy and engaged in dog fights. The planes were best equipped for reconnaissance and photography, not an actual battle. Still, these military aviators ("aces"), with the experienced assistance of their European allies, learned that machine guns and bombs are as impactful in the air as on the ground.
The bombing of Pearl Harbor and the geographical breadth of World War II proved the critical importance of aerial power and excellence. Two years after the end of the war, the Air Force became its own branch of the military, allowing for growth and development as well as earned recognition. By the time of U.S. entry into Vietnam, advanced technology would demonstrate air superiority that changed the future of military thinking across the globe. U.S. involvement in Kuwait in the late 1990s led precision and safety to become key focuses in the present day Air Force, along with a general commitment to air, space, and cyberspace defense.
The evolution of the USAF from balloon reconnaissance to unmanned aerial vehicles is a testament to technology and tenacity. To further explore this history, Stacker reviewed primary sources as well as online data and statistics to find 25 key statistics to illustrate the past, present, and future of the Air Force. Click through to learn more about the numbers behind this branch of the military and the story of the brave men and women who take to the skies in defense of our country.
You may also like: 100 years of military history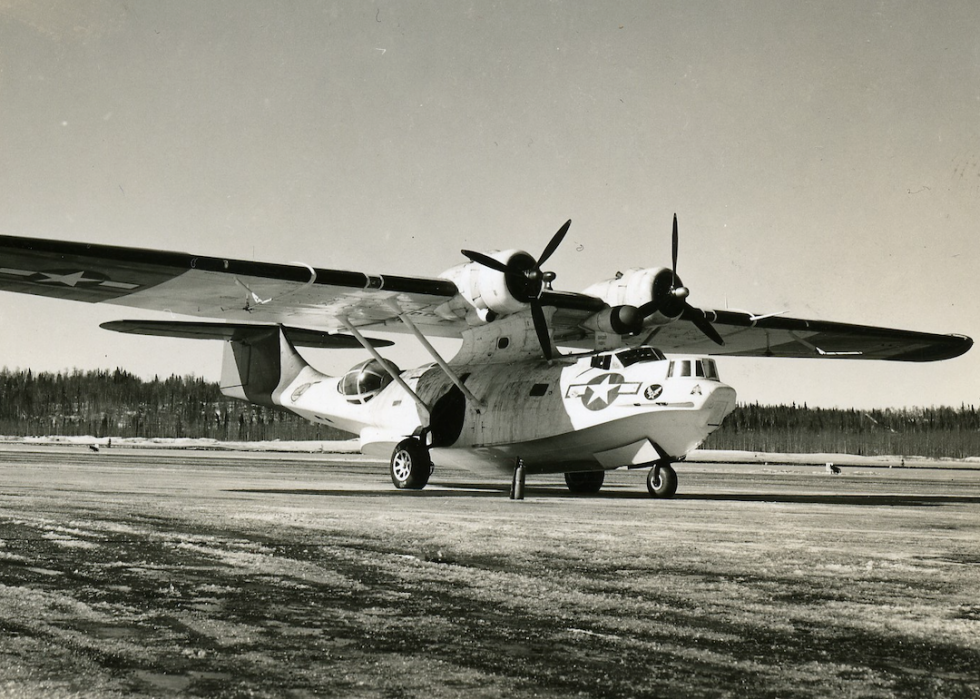 1 / 25
6 predecessors
The U.S. Air Force had six predecessor organizations under the Army umbrella, including the Aeronautical Division of the Signal Signal Corps (1907–1913), U.S. Army Air Corps (1926–1931), and U.S. Army Air Forces (1941–1947). Though its responsibilities grew and changed, the Air Force remained part of the Army until The National Security Act of 1947.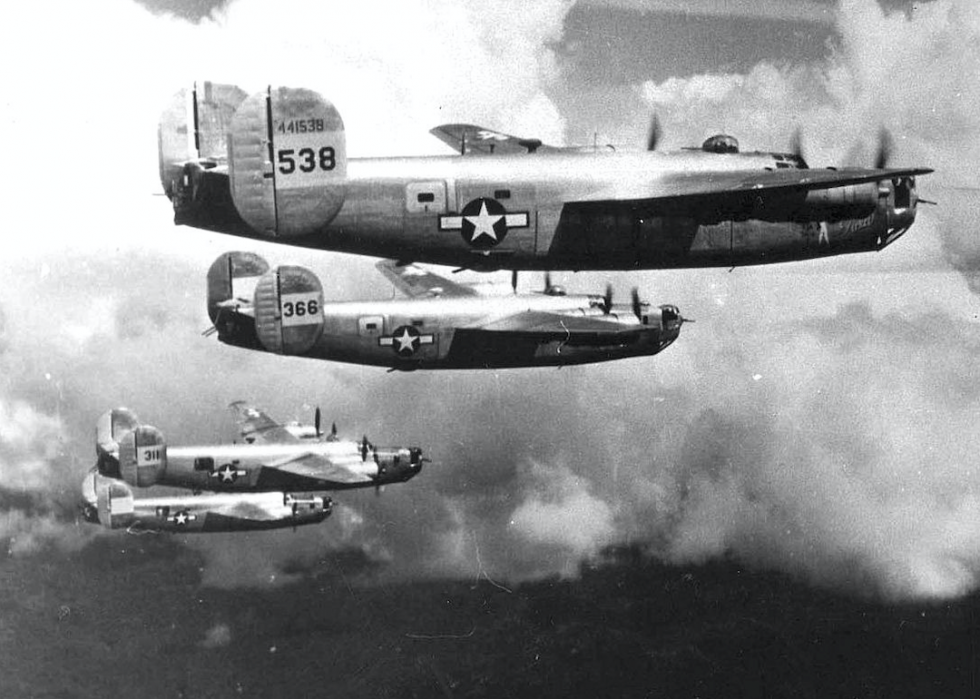 2 / 25
United States Army Air Forces // Wikimedia Commons
18,500 B-24 Liberators
The Consolidated B-24 Liberator is the most produced bomber in aircraft history. Many of these units were manufactured by Ford Motor Company. Used in World War II, it primarily served the Army, Navy, Royal Air Force, and Royal Australian Air Force and flew in every theater of war due to its superior design.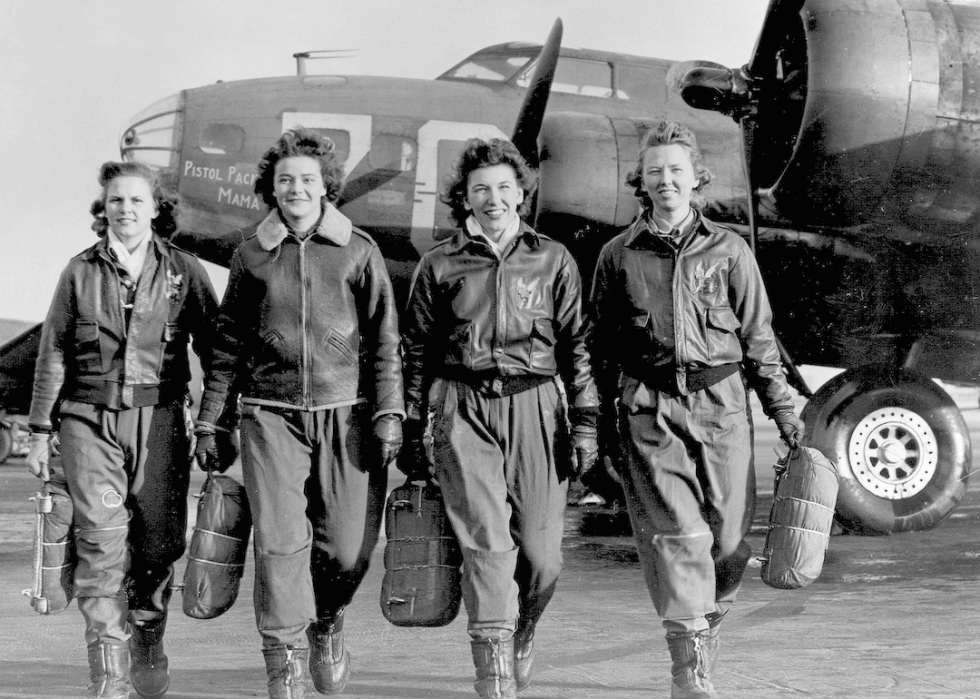 3 / 25
1,100 WASP members
With a pilot shortage challenging the U.S. Army Air Forces during World War II, the Women Airforce Service Pilots (WASP) was founded in 1942 to assist with domestic operations. The women flew 60 million miles on training, transport, and other missions. The program was canceled after just two years and the women involved weren't recognized with military status until the '70s.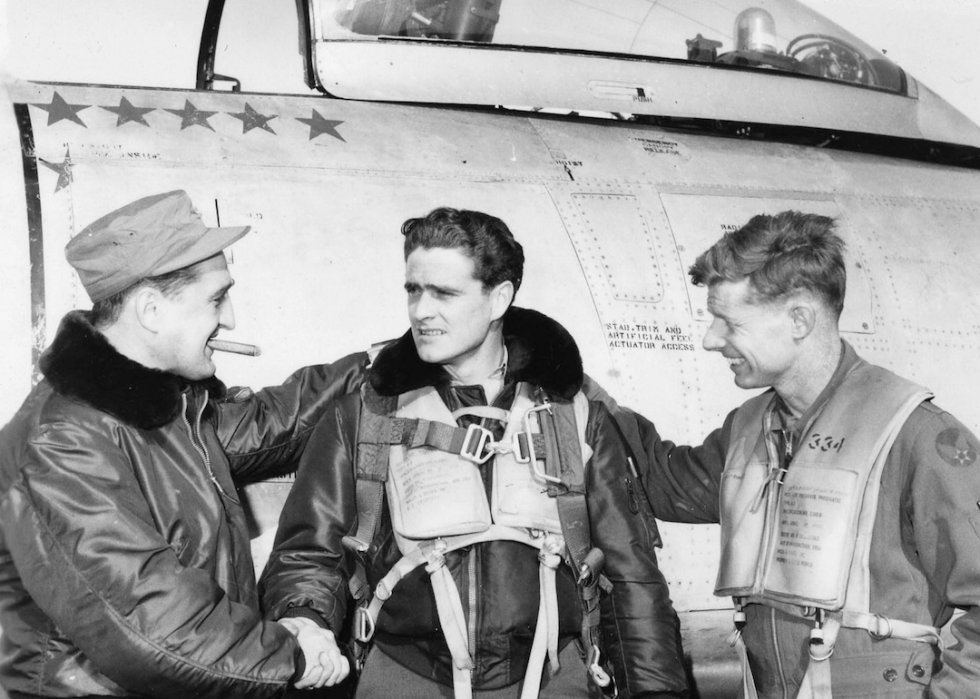 4 / 25
38 Ace-status USAF pilots
The Korean War was the first conflict for the newly independent Air Force service branch and was significant for its intense air battles. Thirty-eight men were credited with downing five or more enemy aircraft to be known as a flying ace.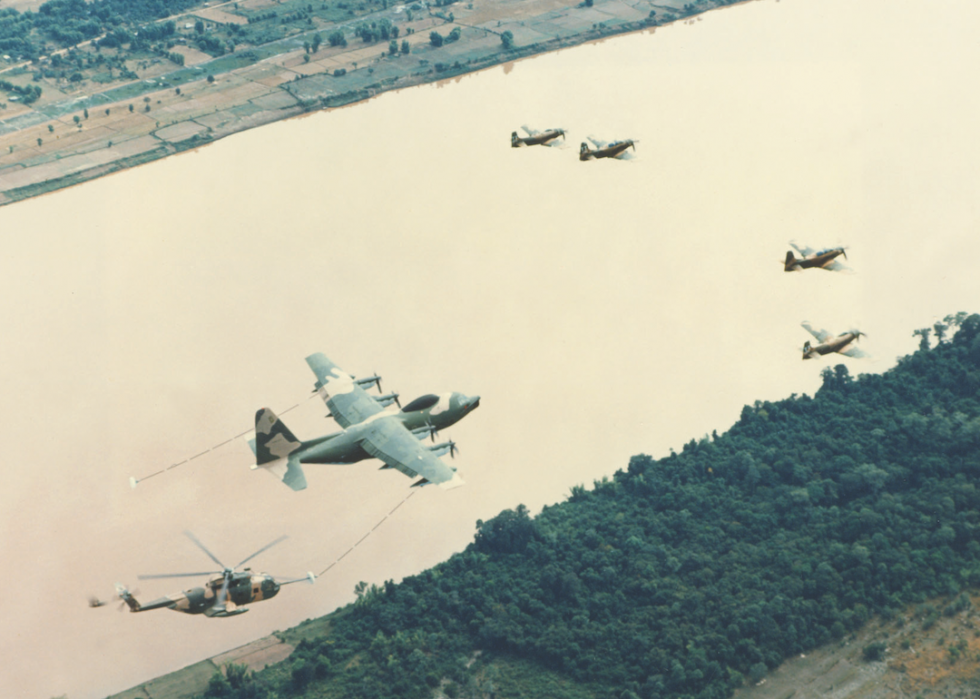 5 / 25
5.25 million sorties flown in Vietnam
The U.S. Air Force flew 5.25 million sorties (defined by the Department of Defense as one operational flight by one aircraft) over South Vietnam, North Vietnam, northern and southern Laos, and Cambodia during the Vietnam War. The USAF suffered heavy casualties during the war, losing thousands of soldiers and 2,251 aircraft: 1,737 to hostile action and 514 in accidents.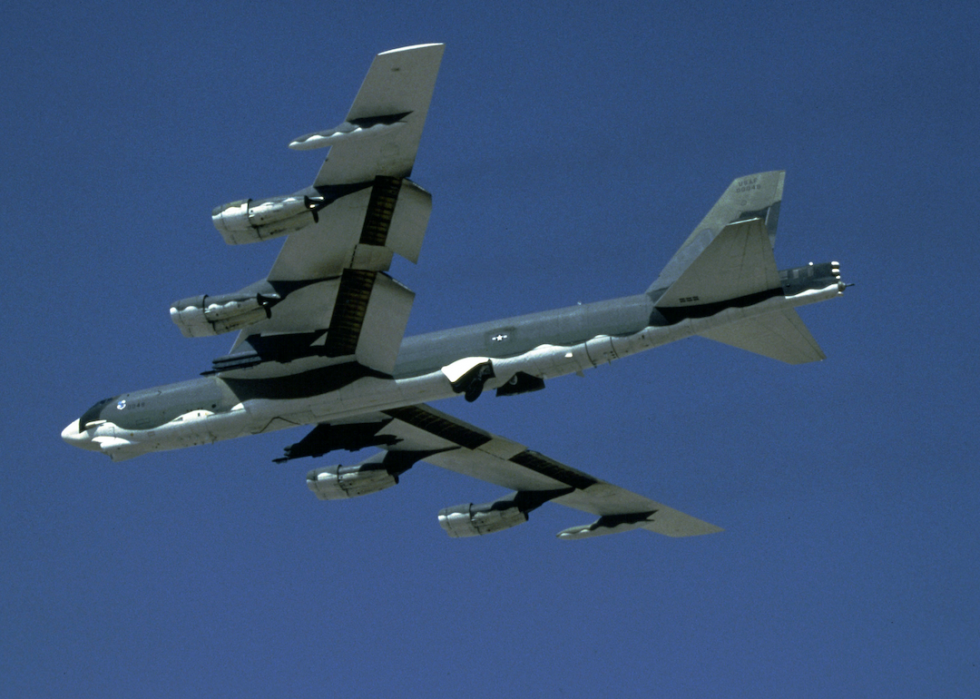 6 / 25
185-foot wingspan
The B-52's 185-foot wingspan is too wide to take off and land in traditional fashion, so it has specially designed landing gear that swivels. The B-52 is the most enduring military bomber, having first been put into action in 1961 and a predicted lifespan into 2040.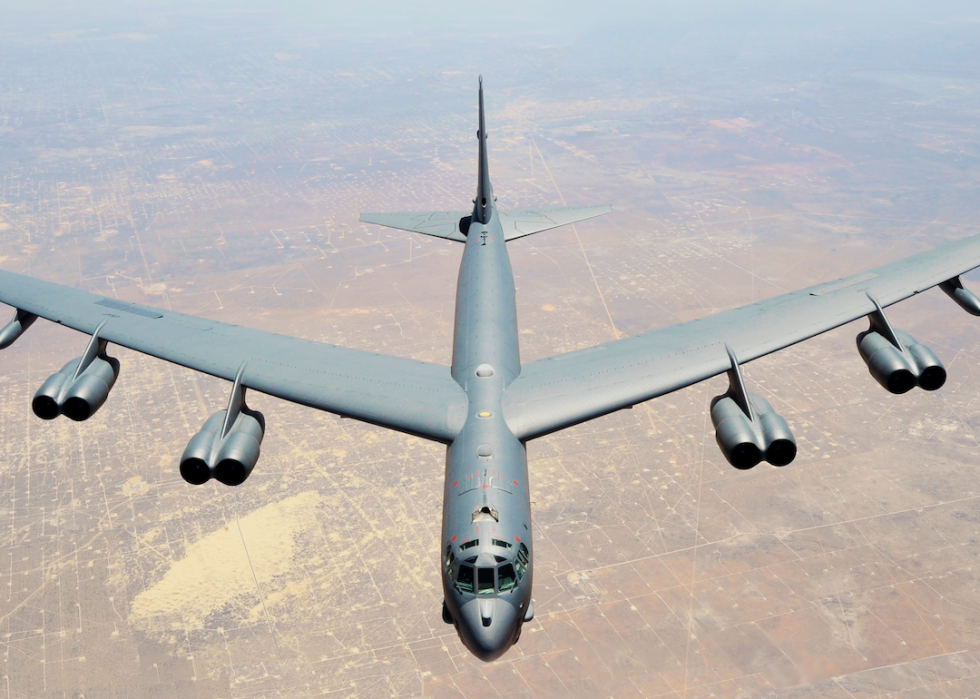 7 / 25
Airman 1st Class Victor J. Caputo/U.S. Air Force photo // WIkimedia Commons
16,000 miles
On Sept. 2–3, 1996, two USAF B-52H's traveled 34 hours to complete an important Operation Desert Storm mission. The 16,000-mile roundtrip from Barksdale Air Force Base in Louisiana to Baghdad represents the longest distance flown for a combat mission.
8 / 25
20 tons of military ordinance
The B-2 isn't just stealthy—it's sturdy. It can carry 20 tons of conventional and nuclear ordinance (meaning weapons and other ammunition). Its precision and long-range capability made the stealth bomber a key factor in combat scenarios including Operation Iraqi Freedom and Operation Odyssey Dawn.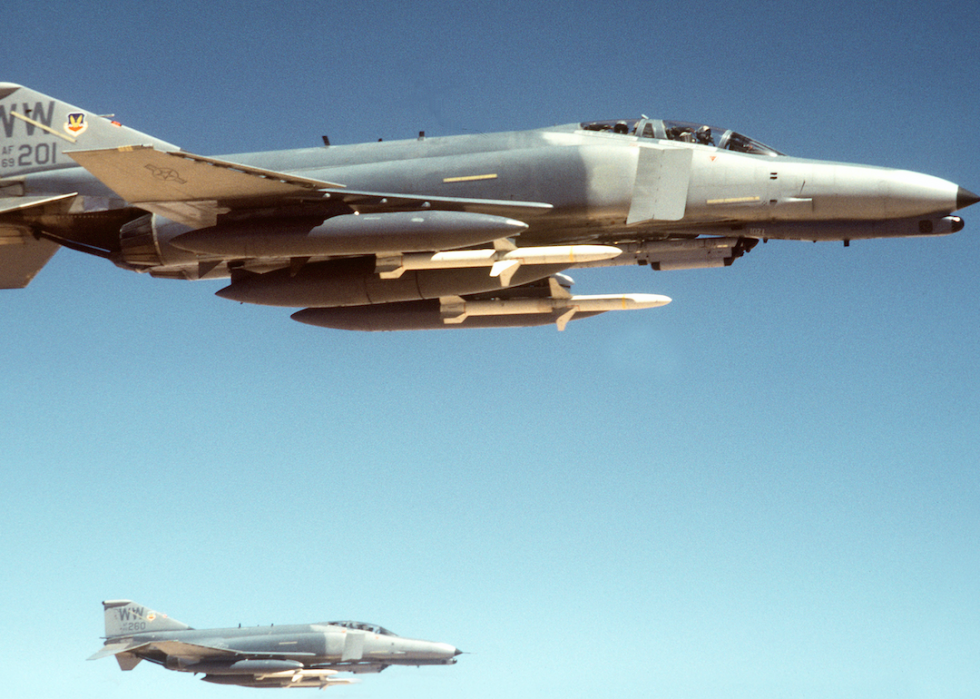 9 / 25
160,000 USAF munitions
The USAF was a major part of the Gulf War beginning in 1990. It represented 58% of the U.S. support assets and flew 38,000 sorties. There were 160,000 USAF weapons and ammo dropped during the Persian Gulf War.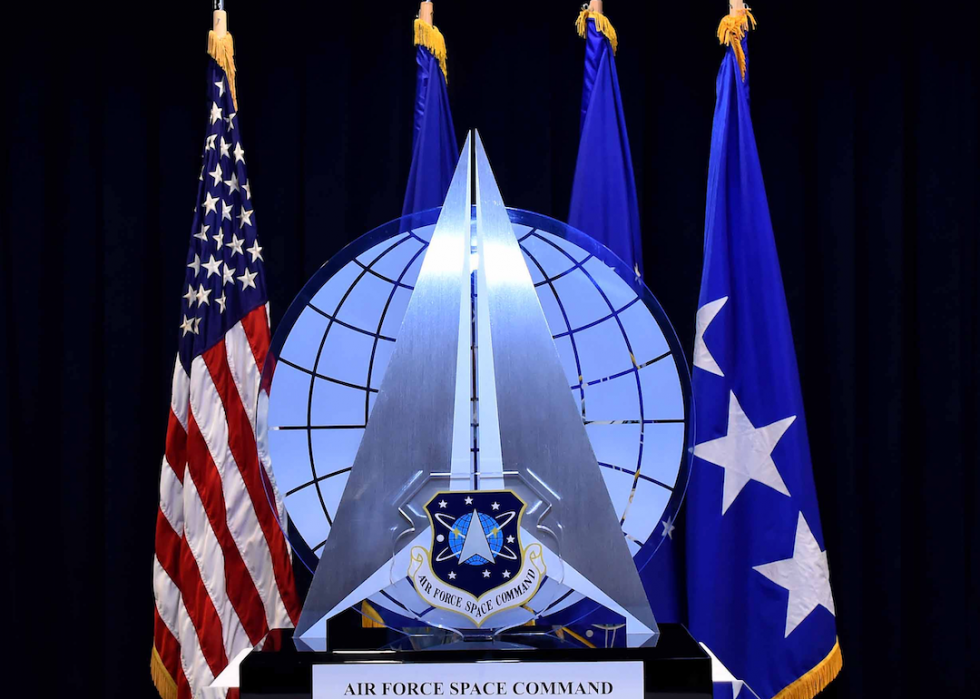 10 / 25
Sarah Corrice // U.S. Air Force photo
26,000 space professionals
The Air Force Space Command was activated on Sept. 1, 1982. The AFSPC numbers 26,000 professionals worldwide who provide space capabilities and expertise including missile warning, satellite control, and space surveillance.
11 / 25
Stephanie Chasez // Official White House photo
$156.3 billion
To reverse recent declines in personnel, training, and equipment, the Trump Administration has steadily increased the USAF budget, reaching $156.3 billion in 2019. As a result, an additional 4,000 active duty personnel were added in 2017 and 362 aircraft authorized in 2019.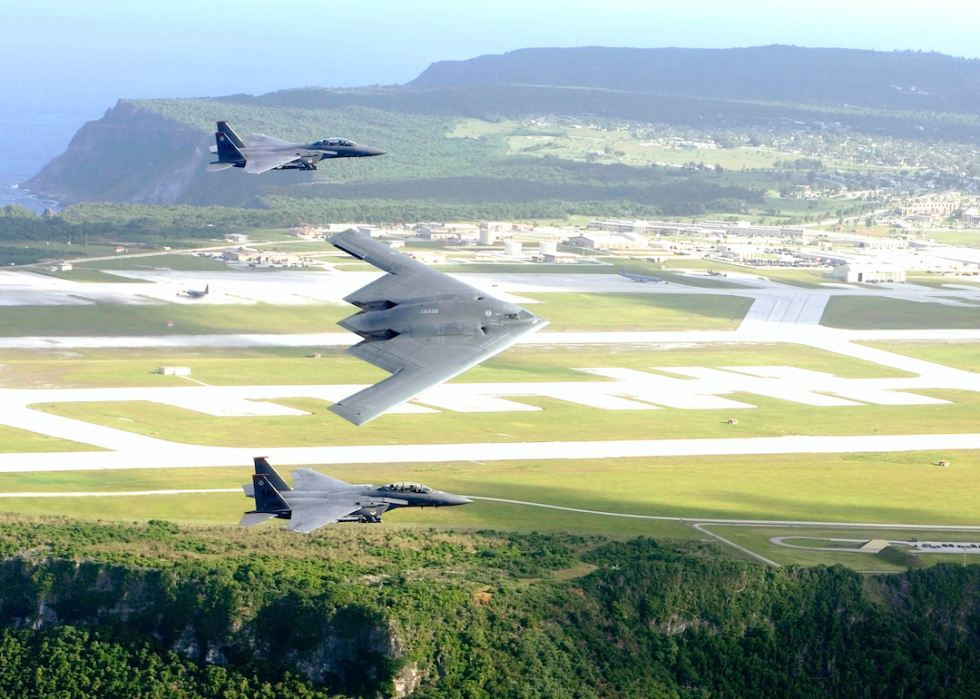 12 / 25
Tech. Sgt. Cecilio Ricard // Wikimedia Commons
78 Air Force installations
Texas has the most USAF bases with eight of 78 U.S. installations. Nearly every state in the country has at least one, as does the U.S. territory of Guam. Additionally, there are six bases in Europe and five in Asia.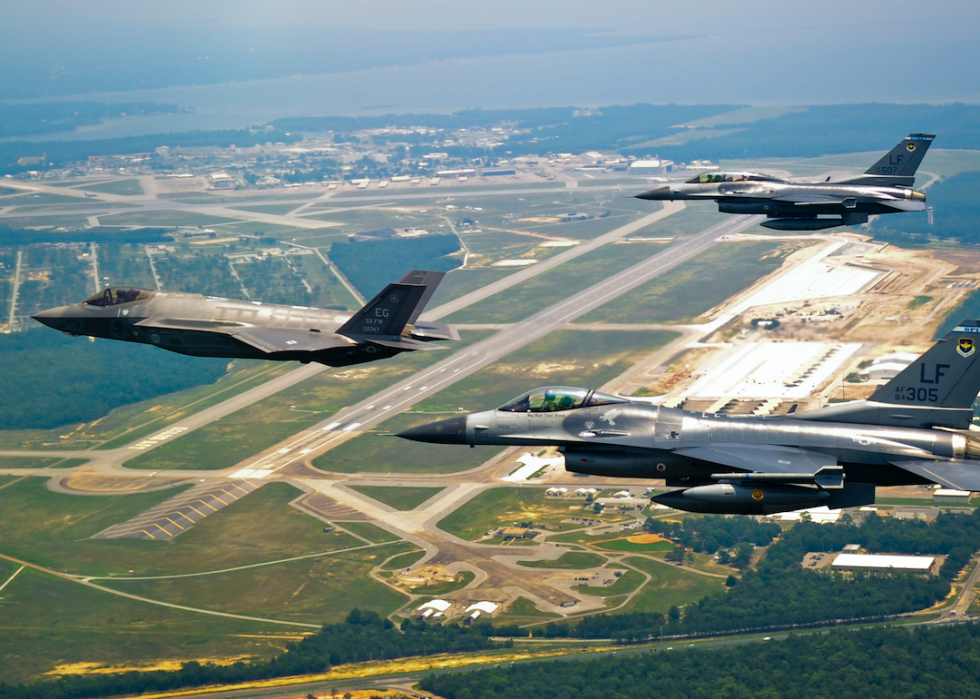 13 / 25
Staff Sgt. Joely Santiago // U.S. Air Force photo
464,000 acres
At 464,000 acres, Eglin Air Force Base is the largest air force installation in the world, spanning three Florida counties. It contains two National Historic Landmark Districts and its McKinley Climatic Laboratory is on the National Register of Historic Places.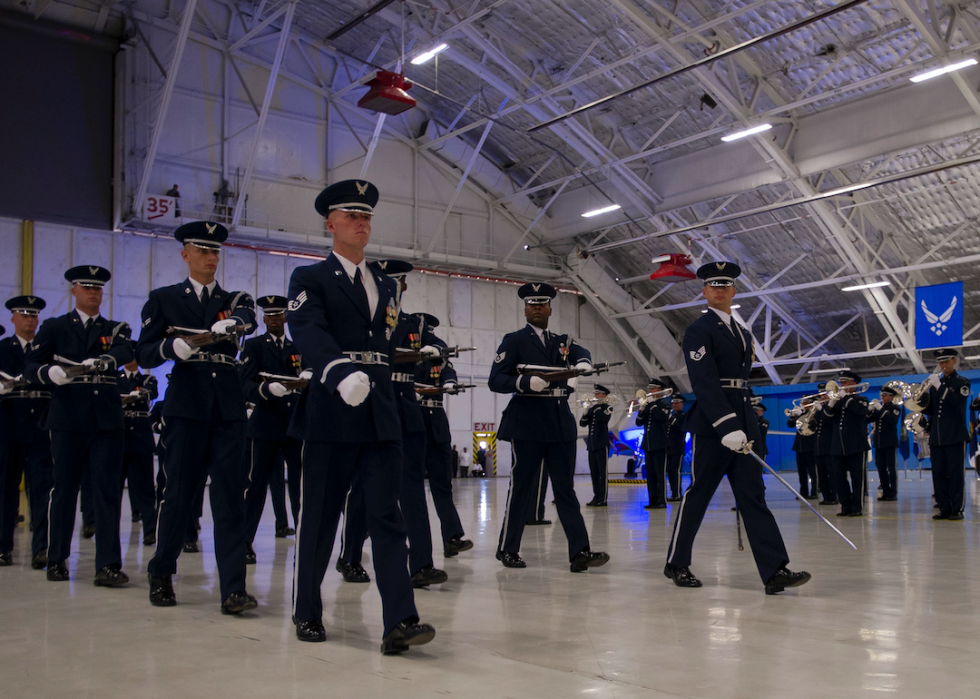 14 / 25
Senior Airman Perry Aston // U.S. Air Force photo
323,904 active duty members
This USAF's 323,904 active duty members include 12,349 pilots, 3,232 navigators, and 1,279 air battle managers. The Air Force currently has a pilot deficit and plans to bring at least 1,200 more into the ranks for the next two years.
15 / 25
Master Sgt. Cecilio Ricardo // U.S. Air Force photo
8.5 weeks
Basic Military Training (BMT) for the USAF is held over eight and a half weeks in San Antonio, Texas. In addition to weapons, security, and flight training, cadets learn mental prep and recovery, leadership, and ethics.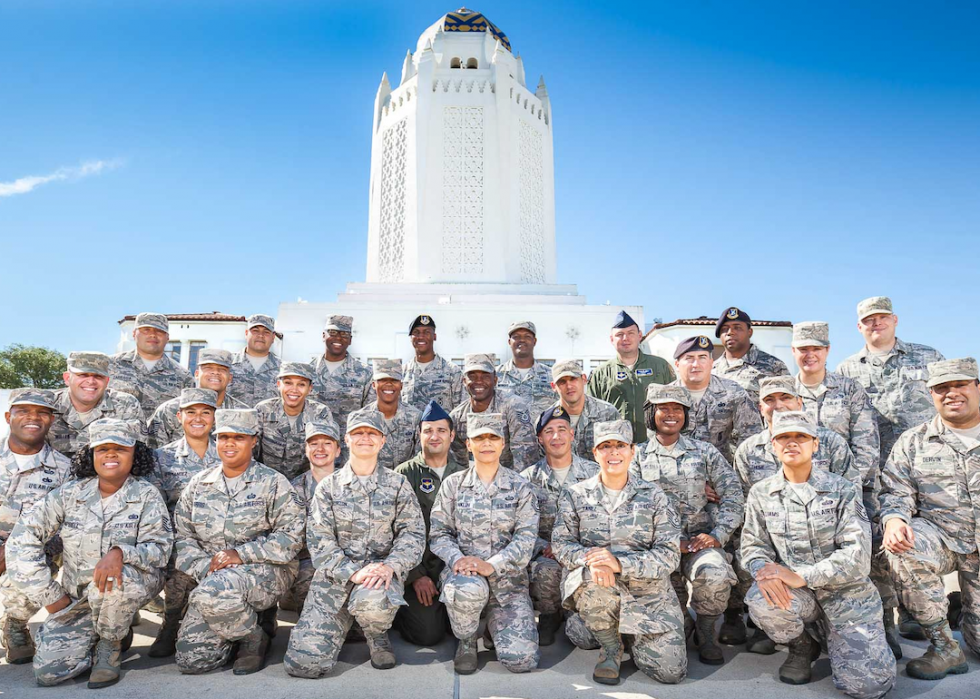 16 / 25
Master Sgt. Kal Slater // U.S. Air Force photo
$1,680.90
According to the 2019 pay table, the lowest monthly salary for an enlisted AF servicemember is $1,680.90. An E-7 Master Sergeant, one of the highest ranks for non-commissioned officers, makes $3,020.70. Officer salaries range from $3,188.40 to $6,722.70 per month.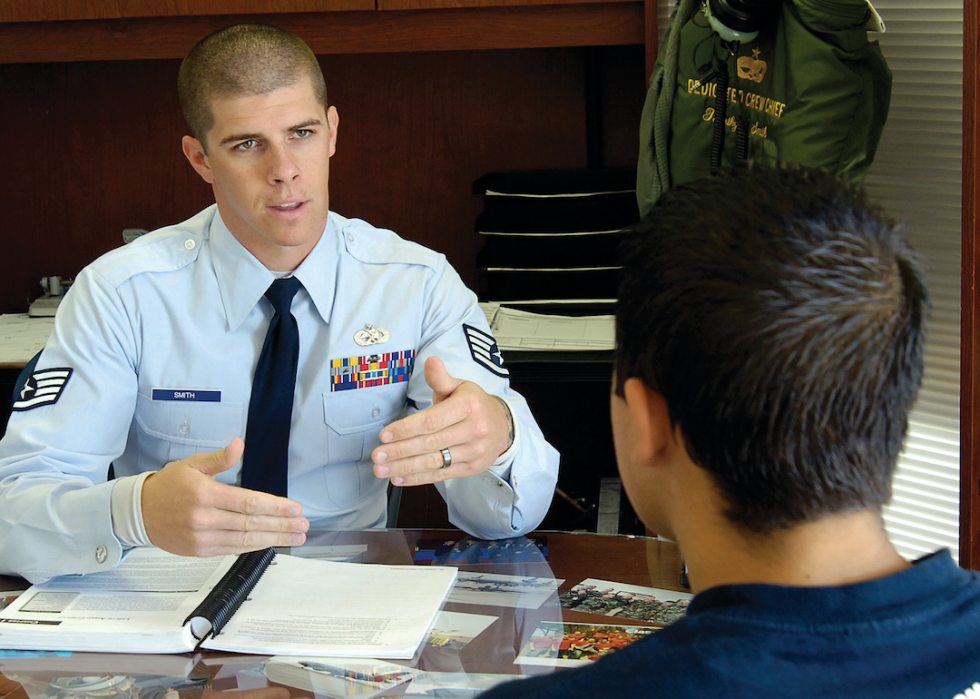 17 / 25
Margo Wright // Air Force photo
39 years old
In 2014, the Air Force raised its maximum age for enlistment from 27 to 39. To join as a health care, law, or ministry professional, the maximum age is 48. To enlist, you cannot be younger than 17 (18 for GED holders).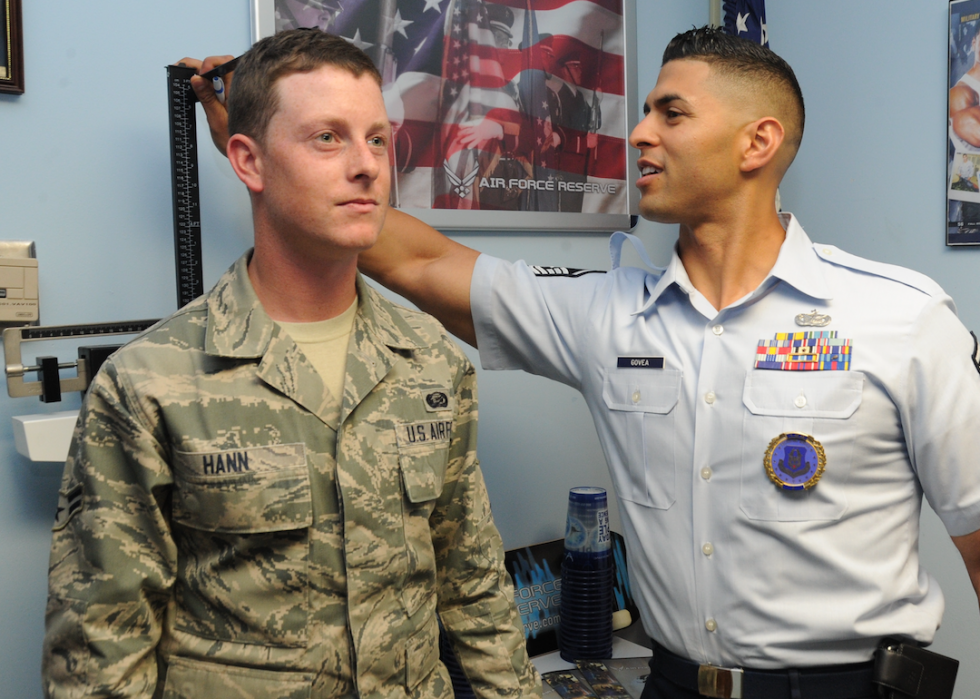 18 / 25
Staff Sgt. Rachelle Blake // U.S. Air Force photo
180 pounds
Air Force height and weight standards are the same for men and women. If you're over the maximum weight for your height, you will not be allowed to start basic training. For example, a 5-foot-8-inch person may not weigh more than 180 pounds.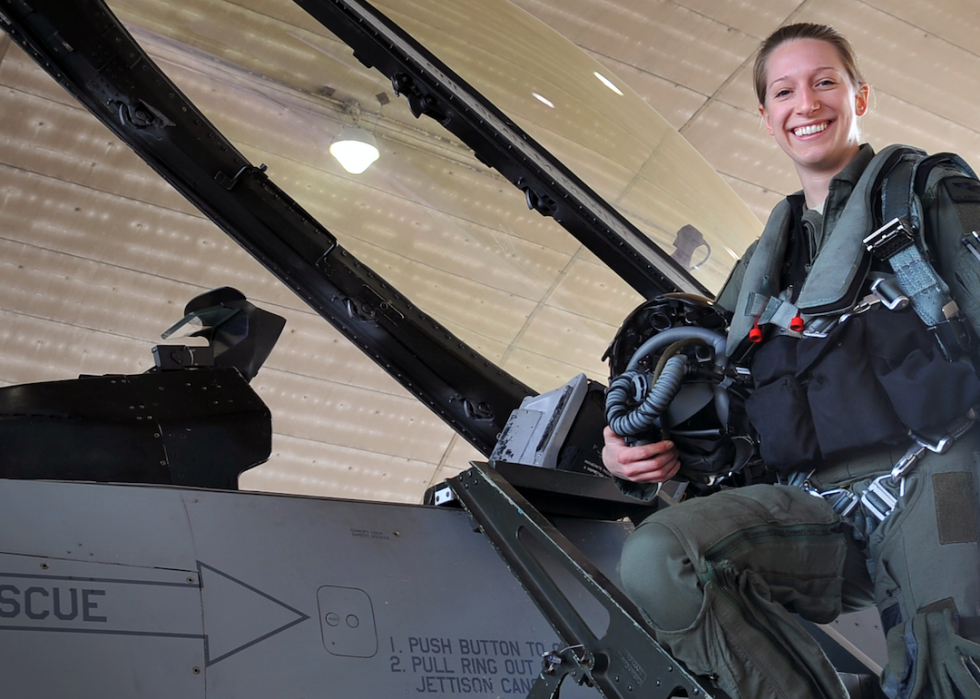 19 / 25
Senior Airman Alexis Siekert/U.S. Air Force // Wikimedia Commons
766 woman pilots
Women were first allowed to enter pilot training in 1976, and fighter pilot training in 1993. Of the 66,345 women currently in the USAF, 766 are pilots, 335 are navigators, and 229 are air battle managers.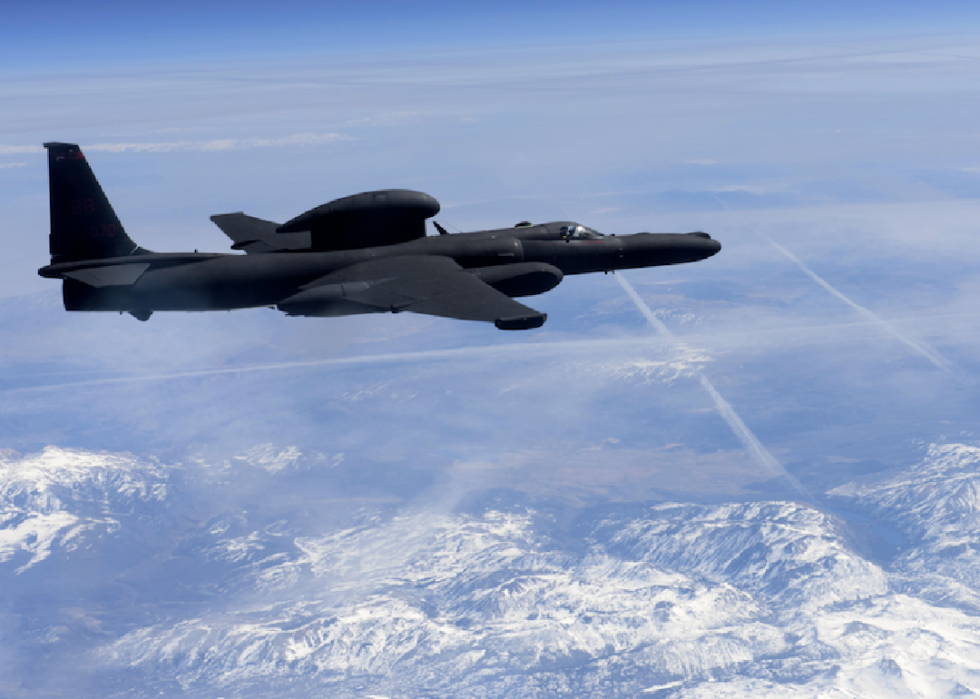 20 / 25
Staff Sgt. Robert M. Trujillo // U.S. Air Force photo
70,000 feet
The U-2, which flies at 70,000 feet, is considered one of the most difficult aircraft in the world to fly due to altitude pressure and tricky control. In 2015, Merryl Tengesdal became the first African American woman to fly the U-2 Dragon Lady spy plane.
21 / 25
Staff Sgt. Jacob Corbin // U.S. Air Force photo
170,000 civilian employees
In tandem with USAF military personnel, thousands of civilians support and sustain its aircraft, facilities, and infrastructure. In 6,000 occupations from physicians to electricians, these important workers number 170,000.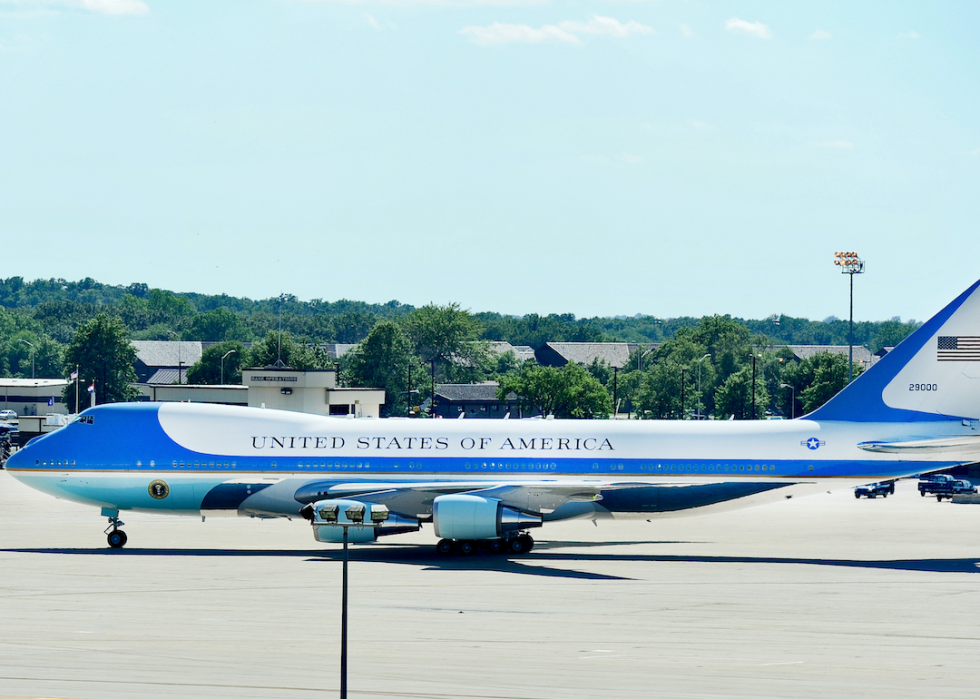 22 / 25
Staff Sgt. Nick Wilson // U.S. Air Force photo
Tail number 28000
The presidential air transport fleet consists of two VC-25 aircraft with tail numbers 28000 and 29000. Tail number 28000 flew Presidents Jimmy Carter, George H.W. Bush, and Bill Clinton. It was also the aircraft that carried President Barack Obama on his historic 2016 trip to Cuba.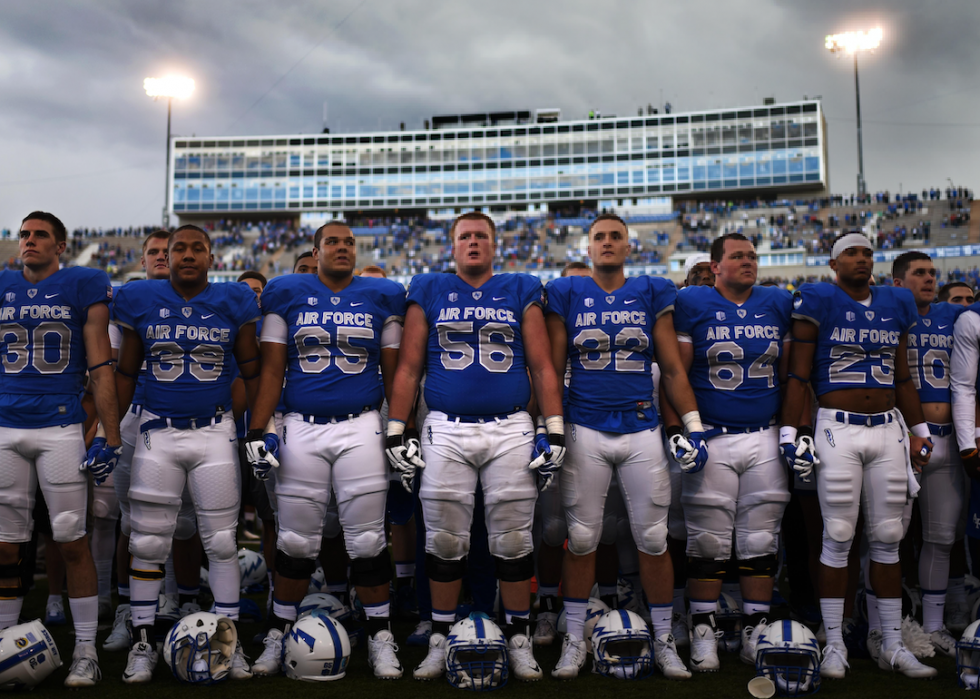 23 / 25
Airman 1st Class Dennis Hoffman // U.S. Air Force photo
18 NFL members
The Air Force Falcons football team is in the Mountain West Conference of the NCAA since the conference was founded in 1999. The team has sent 18 players onto pro careers, including Chad Hennings (Dallas Cowboys), Ben Garland (San Francisco 49ers), and Chris Gizzi (Green Bay Packers).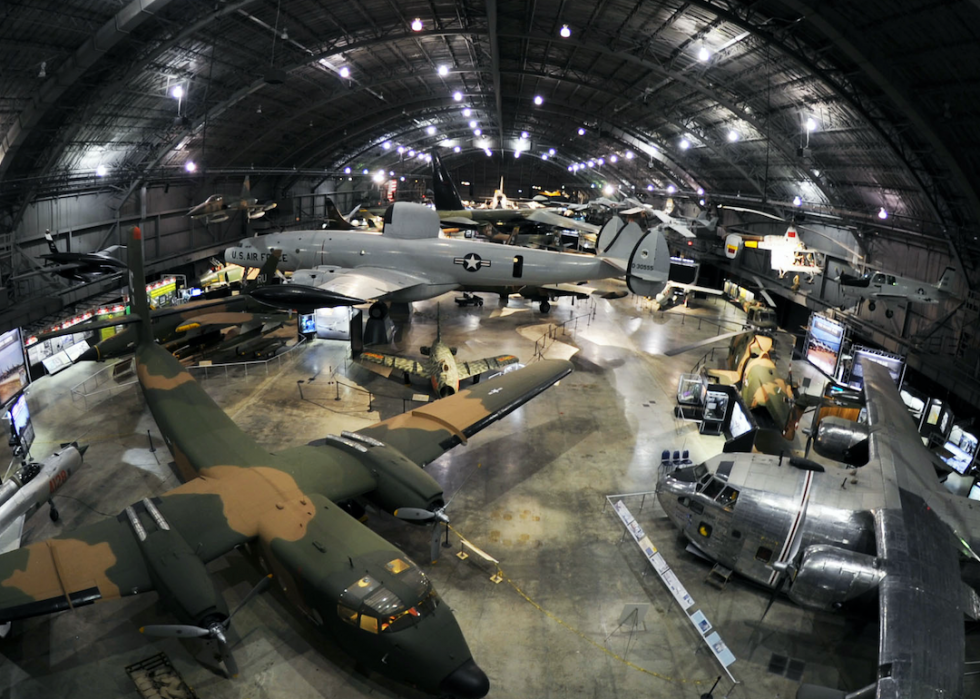 24 / 25
96 years old
The official museum of the USAF in Dayton, Ohio, is 96 years old, making it the oldest military and aviation museum in the world. It's also the largest with 360 vehicles and missiles, including the "Memphis Belle," a WWII bomber that inspired a 1990 film, and John F. Kennedy's Air Force One plane.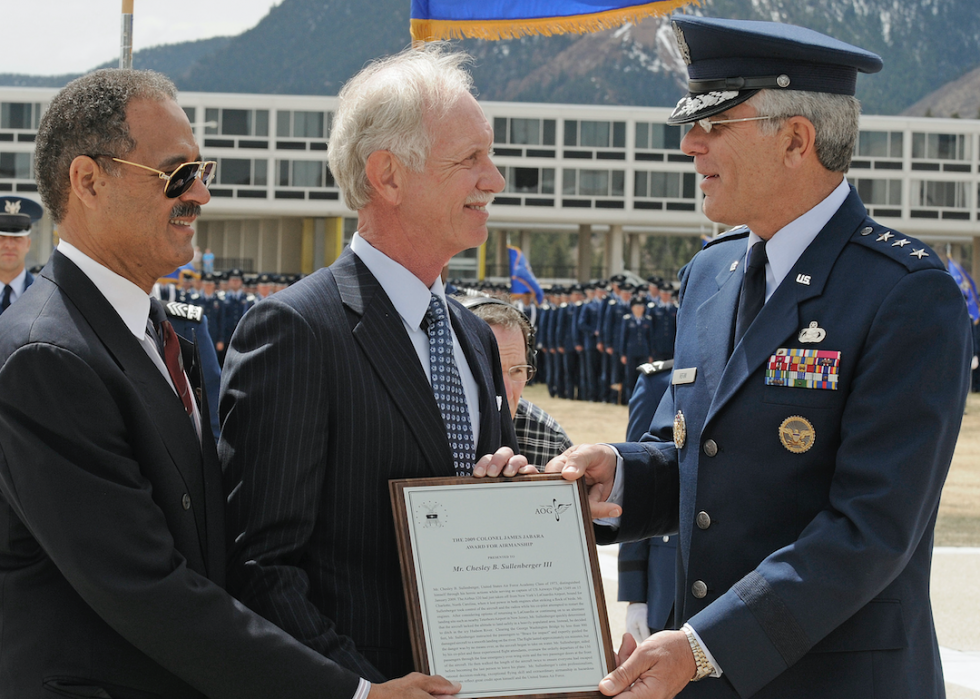 25 / 25
Mike Kaplan // U.S. Air Force photo
155 people saved
In 2009, United States Air Force Academy graduate Chesley "Sully" Sullenberger landed a US Airways plane safely in the Hudson River, saving all 155 people on board. The Academy has been providing four-year education to cadets since 1954.