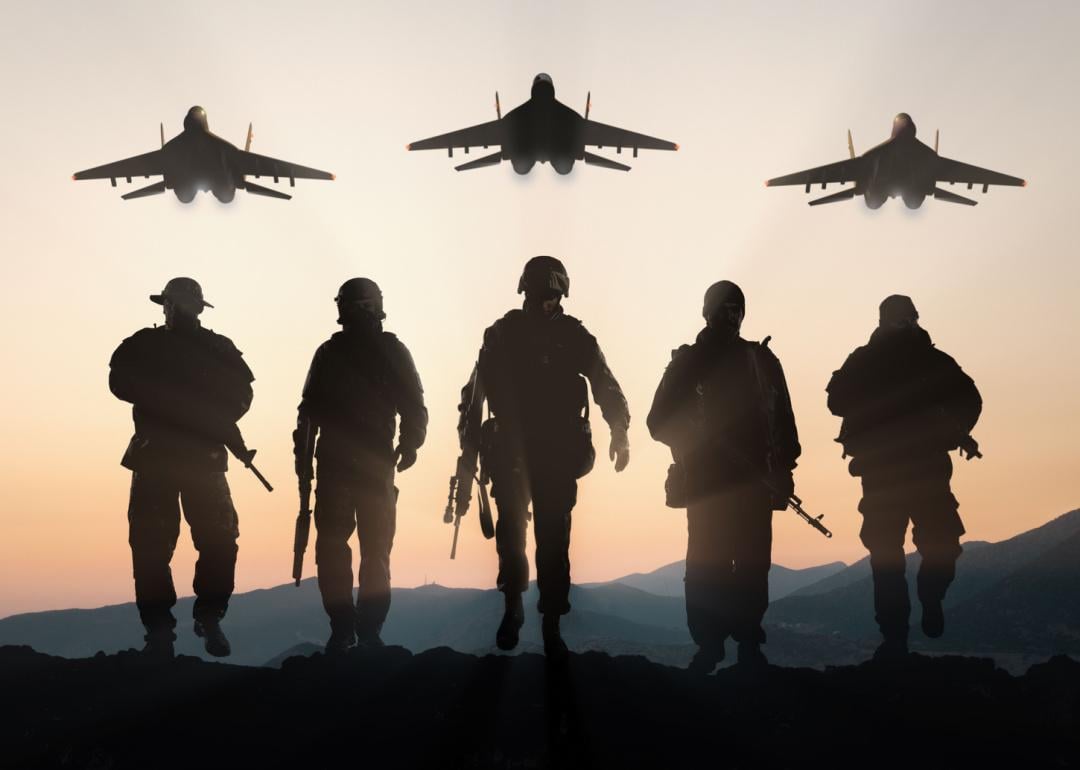 U.S. military branches by the numbers
U.S. military branches by the numbers
While a great deal of noise has been made about the politicization of the military in recent years, people on both sides of the aisle can step back from politics and simply appreciate the bravery put on display by the more than one million active service members in the armed forces. Not only do they put their lives on the line in the pursuit of defending the United States, but they come from all different walks of life, having various ethnic backgrounds, educational history, and unique skill sets.
To provide more context on military diversity, Stacker used data from CNA that provides specific breakdowns of the American armed forces by various demographics. This story focuses on Department of Defense services branches, specifically the Army, Navy, Air Force, and Marines. Data was unavailable for the U.S. Coast Guard. For each branch, we've included 2016 statistics about the makeup of their personnel across various categories.
Read on to get a better idea of what the large coalition of brave servicemen and servicewomen protecting our nation actually looks like.
Active duty personnel – Army
2016 active duty personnel: 378,835
Percent of total personnel: 35.7%
Active duty personnel – Navy
2016 active duty personnel: 265,716
Percent of total personnel: 25.1%
Active duty personnel – Air Force
2016 active duty personnel: 252,762
Percent of total personnel: 23.8%
Active duty personnel – Marines
2016 active duty personnel: 162,828
Percent of total personnel: 15.4%
Breakdown by gender – Army
2016 active duty males: 325,603 (85.9%)
2016 active duty females: 53,232 (14.1%)
Breakdown by gender – Navy
2016 active duty males: 215,540 (81.1%)
2016 active duty females: 50,176 (18.9%)
Breakdown by gender – Air Force
2016 active duty males: 204,476 (80.9%)
2016 active duty females: 48,286 (19.1%)
Breakdown by gender – Marines
2016 active duty males: 149,497 (91.8%)
2016 active duty females: 13,331 (8.2%)
Breakdown by race/ethnicity – Army
2016 active duty members:
White: 65.1%
Black: 24.3%
Asian: 4.5%
Unknown: 4.12%
Native Hawaiian, Pacific Islander: 1.2%
American Indian, Alaska Native: 0.8%
Two or more: 0.0%
Breakdown by race/ethnicity – Navy
2016 active duty members:
White: 58.3%
Black: 19.1%
Asian: 5.6%
Unknown: 3.5%
Native Hawaiian, Pacific Islander: 1.2%
American Indian, Alaska Native: 3.0%
Two or more: 9.3%
Breakdown by race/ethnicity – Air Force
2016 active duty members:
White: 70.2%
Black: 16.4%
Asian: 4.5%
Unknown: 3.4%
Native Hawaiian, Pacific Islander: 1.3%
American Indian, Alaska Native: 0.7%
Two or more: 1.3%
Breakdown by race/ethnicity – Marines
2016 active duty members:
White: 79.4%
Black: 11.5%
Asian: 2.7%
Unknown: 3.2%
Native Hawaiian, Pacific Islander: 1.2%
American Indian, Alaska Native: 1.1%
Two or more: 0.9%
Percent who graduated high school – Army
2016 active duty members:
Who graduated high school: 96.35%
Who have a GED or equivalent: 3.50%
Who did not graduate high school: 0.15%
Percent who graduated high school – Navy
2016 active duty members:
Who graduated high school: 98.37%
Who have a GED or equivalent: 1.21%
Who did not graduate high school: 0.42%
Percent who graduated high school – Air Force
2016 active duty members:
Who graduated high school: 99.96%
Who have a GED or equivalent: 0.04%
Who did not graduate high school: 0.00%
Percent who graduated high school – Marines
2016 active duty members:
Who graduated high school: 99.60%
Who have a GED or equivalent: 0.37%
Who did not graduate high school: 0.03%
Percent who continue serving after several years – Army
2016 active duty members who continue serving after:
5 years of service: 80.3%
10 years of service: 84.8%
30 years of service: 73.2%
Percent who continue serving after several years – Navy
2016 active duty members who continue serving after:
5 years of service: 81.5%
10 years of service: 91.7%
30 years of service: 12.6%
Percent who continue serving after several years – Air Force
2016 active duty members who continue serving after:
5 years of service: 93.1%
10 years of service: 91.7%
30 years of service: 8.6%
Percent who continue serving after several years – Marines
2016 active duty members who continue serving after:
5 years of service: 51.9%
10 years of service: 84.3%
30 years of service: 2.2%
Occupations with the most men – Army
Occupation with the most men: Infantry, Gun Crews and Seamanship (98,062)
Occupation with the highest percentage of men: Infantry, Gun Crews and Seamanship (98.29%)
Occupations with the most men – Navy
Occupation with the most men: Electrical (65,732)
Occupation with the highest percentage of men: Other Technical (91.50%)
Occupations with the most men – Air Force
Occupation with the most men: Supply (29,866)
Occupation with the highest percentage of men: Electrical (93.49%)
Occupations with the most men – Marines
Occupation with the most men: Infantry, Gun Crews and Seamanship (35,073)
Occupation with the highest percentage of men: Infantry, Gun Crews and Seamanship (99.01%)
Occupations with the most women – Army
Occupation with the most women: Administrators (17,790)
Occupation with the highest percentage of women: Medical (26.88%)
Occupations with the most women – Navy
Occupation with the most women: Electrical (12,974)
Occupation with the highest percentage of women: Administrators (28.54%)
Occupations with the most women – Air Force
Occupation with the most women: Administrators (13,916)
Occupation with the highest percentage of women: Medical (48.79%)
Occupations with the most women – Marines
Occupation with the most women: Administrators (4,072)
Occupation with the highest percentage of women: Administrators (19.20%)
2016 enlistees – Army
2016 enlistees: 62,362
Percent change from 2015: +5.38%
2016 enlistees – Navy
2016 enlistees: 30,624
Percent change from 2015: -12.44%
2016 enlistees – Air Force
2016 enlistees: 32,279
Percent change from 2015: +24.92%
2016 enlistees – Marines
2016 enlistees: 30,378
Percent change from 2015: +2.59%